Crew and passengers must keep noses and mouths from terminal to taxing and disembarkation
By Patti Pietschmann Travel Diva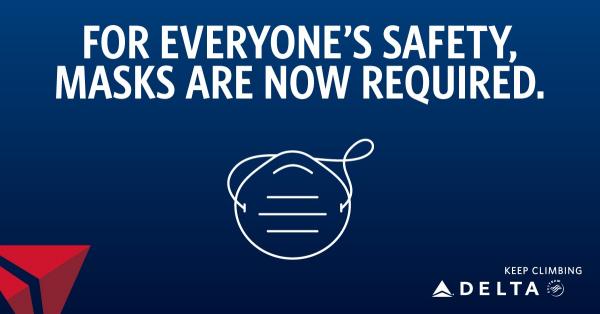 It was bound to happen. Airlines are beginning to require face masks for everybody to be worn in the check-in lobby, restrooms, at the gate, in the Sky Club lounges and on its planes. You'll be glad to know you may remove your mask when meals are served on the flight.
Today's announcement from Delta says the new rule takes effect on Cinco de Mayo eve (or May 4th for those of you who don't know the Mexican holiday).
No mask, now worries any good covering can do
No worries if you don't have a mask. Delta says it will accept appropriate face coverings. Along with masking up, Delta wants us to go along with the best practice guidelines from the Centers for Disease Control.
Today's move comes on the heels of Delta's declaration earlier this week requiring employees worldwide to wear face masks if unable to maintain six feet of distance between customers or each other.
It's a brave move that hopefully will curtail the spread of the evil Coronavirus. Delta is also taking employee temperatures, enhancing cleaning measures and increasing electrostatic spraying. The latter disinfects crew work and break areas.
"Nothing is more important than the health and safety of our people and our customers," said Bill Lentsch, Chief Customer Experience Officer. "We the CDC guidelines seriously. Which is why we're adding this extra layer of protection. We believe this change will give customers and employees some additional comfort when traveling with us."
Resources
• Recommendations for masks, including how to make one at home
• Use of Cloth Face Covering to Help Slow the Spread of COVID-19
Delta Clean
Delta is also super-sizing sanitation and safety with the following methods.
• New electrostatic sanitizing spraying  and extensive pre-flight cleaning practices that disinfect high-touch areas. It's also utilizing  state-of-the-art air circulation systems with HEPA filters. These filters  extract more than more than 99.999% of even the tiniest viruses,
• Delta is also adding more space for safer travel on the ground and in the air by blocking middle seats,  It's  also reducing the number of customers on each flight and pausing automatic Medallion Complimentary Upgrades.
• It's streamlining food and beverage service. Not only that but Delta's encouraging customers to pack their own food and beverages to decrease touch points.
No need to BYO
•  Delta's arming passengers with hand sanitizers, amenity kits and other protective equipment to minimize the spread of COVID-19 and other viruses.
• Connecting with health experts, partners and healthcare industry leaders on best practices.
Like all airlines Delta is operating a limited schedule these days. To see where it's flying in May click here.
You can find a comprehensive list of requirements at delta.com.  And of course help with any travel plans at Pavlus Travel 800-528-9300.