What cruise region is "super hot" this summer? Yes, Alaska is highly popular, and so are America's rivers. But we're talking about an entirely different region — the Great Lakes of North America.
Also called the Laurentian Great Lakes, these five major bodies of water straddle the Canadian and U.S. border region. They're big, they're connected via both natural and manmade waterways (locks) and they're freshwater.
For 2022, they're increasingly in demand as a vacation destination, and not simply from consumers just a few hundred miles away. Today, Lake Superior, Lake Huron, Lake Michigan, Lake Ontario and Lake Erie are a bit of a "secret treasure," now being rediscovered by travelers from across the U.S. and Canada. 
The Great Lakes: Growing Demand
Americans who may not have visited for decades are now returning. Definitely, "we're seeing a spike in U.S. travelers," reports Bill Annand, vice president of marine operations for the "Lakes, Oceans and Expeditions" division of American Queen Voyages (AQV). "Americans desiring travel closer to home are beginning to realize what they have in their own backyards."
Born and raised in Michigan, Annand still resides there, so he's a cornucopia of knowledge about the Great Lakes region. In fact, he has 40-plus years of passenger vessel experience for the lakes.
For two decades, he was a Great Lakes' merchant marine captain. Then he shifted to shoreside management of passenger vessels including high speed ferries, harbor vessels and AQV's small oceangoing ships.
Annand and AQV's operational team have just launched the 2022 Great Lakes season with the 202-passenger Ocean Navigator (see photo at the top of this story) and sister vessel Ocean Voyager. But those AQV vessels aren't alone.
Small-Ship Options 
Another small-ship line, Pearl Seas Cruises, is also seeing growth in demand for its Great Lakes itineraries. That oceangoing cruise line is an affiliate brand of American Cruise Lines.
"Pearl Seas' Great Lakes cruises have always been among our most popular itineraries, and this year's summer season is already nearly sold out," reports Susan Shultz-Gelino, vice president of trade relations, Pearl Seas Cruises.
That brand's Pearl Mist is a fully stabilized, 210-passenger, all-balcony vessel. While space in 2022 is limited, the line also offers a full range of 2023 voyages in the Great Lakes.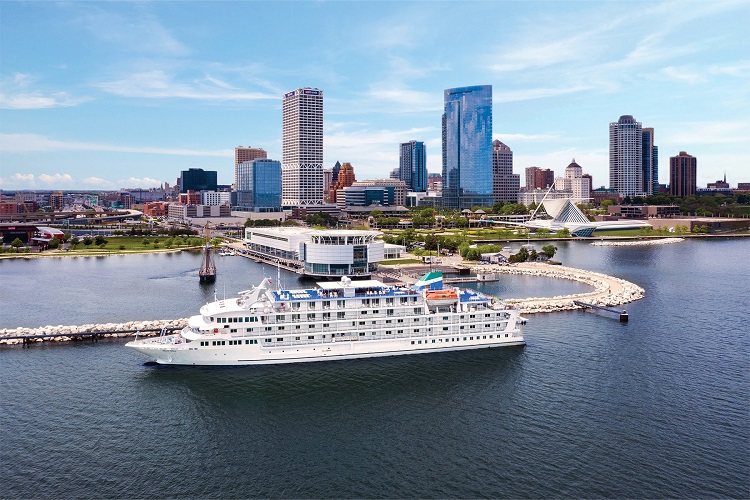 "There is so much great small-ship cruising available right here, closer to home, and more than ever before," Shultz-Gelino emphasizes. Bottom line? "Americans are finding little need to fly across oceans in order to embark on an extraordinary cruise experience."  
More Cruise Options
Ponant, the French-flagged, small-ship luxury line, is offering voyages on two Explorer-class ships this year. One is the 184-passenger Le Bellot, the other is sister vessel Le Dumont d'Urville. 
Both ships offer a fabulous, underwater Blue Eye Lounge. Sipping a drink here, cruisers will have a multi-sensory experience with whale sounds and a video wall of jellyfish. Best of all, the lounge's whale-eye-shaped viewing portals offer a peek at the outside marine world.
In addition, Viking's first new expedition ship, the 378-passenger Viking Octantis, is also now sailing in Great Lakes waters. Featuring modern Scandinavian design and multiple restaurants, this Polar Class 6 vessel carries a full expedition team plus Zodiacs, kayaks and a submarine.
If consumers are seeking an expeditionary experience, this ship is built for the task. Check out its weather-protected interior "Hangar" for Zodiac boat launches (see photo below).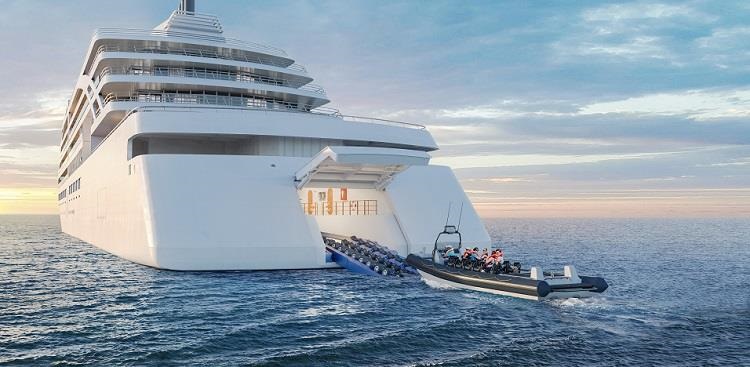 Great Lakes 101: Facts & Tidbits
Important Note to Readers: In Part 2 of this Great Lakes series in early June, we'll introduce itineraries for each of the small-ship lines with sample pricing, examples of shore excursions and more.
So stay tuned for that. But for Part 1, our goal is to solely to focus on the geography and other basics — "Great Lakes 101."
For example, what are the Great Lakes? Geographically, where are they? How were they formed? How do they compare in size? What states/provinces do they touch? Any special characteristics?
Also, how is the weather? How smooth are border arrivals (for port calls in the U.S. and Canada)? When's the cruise sailing season? What impacts the size of cruise ships? And more…
Great Lakes Insight 
For much of this we turned to Annand. Given his personal background, he's a "local" and a fountain of free-flowing Great Lakes information. Here are some "Great Lakes 101" tidbits from Annand and others that we'd like to share:
Inland Seas:

In totality, the lakes are so large that Annand says they're often considered more as "inland seas." He adds:

"

The lakes are so large that you can't see land over the horizon in certain areas."
Above Sea Level: Another tidbit is that Lake Superior is actually 600 feet above sea level, likely adding to its characterization as a lake rather than a sea. To navigate the elevation changes, ships go through a series of locks.
Lake Superior: Of all the Great Lakes, "the largest lake is Lake Superior," he adds. How large? Let's just say it's humongous. Lake Superior reigns as the world's largest freshwater lake spanning 31,700 square miles. Larger in area than Scotland or South Carolina, it's also the world's third largest lake by volume. It graces the shores of Wisconsin, Minnesota and Michigan's Upper Peninsula.
Lake Huron: As the second largest of the Great Lakes by area, third largest by volume, Lake Huron covers 23,007 square miles. French explorers named the lake after the local Huron people. Touching both Michigan and Ontario, Canada, it includes picturesque Georgian Bay, which is entirely within Ontario.
More Great Lakes Facts & Tidbits
Same Lake or Not?: Lake Huron and Lake Michigan are connected by the five-mile-wide Straits of Mackinac; so technically, it's Lake Huron-Michigan. That said, the characterization of the lakes over time has been as separate bodies of water, so they're treated as such.
Lake Michigan: Annand points out one tidbit about the 300-mile long Lake Michigan: "It's the only one of the Great Lakes that's totally within the borders of the United States." At 22,404 square miles, it's also the second largest of the Great Lakes by volume and the third largest by area. It touches Wisconsin, Michigan, Indiana and Illinois.
Lake Erie: Spanning 9,910 square miles, Lake Erie is the smallest of the five lakes in volume, second smallest in area and the shallowest. Its waters touch Michigan, Ohio, Pennsylvania, New York and Ontario.
Lake Ontario: Bordering Ontario and New York, this lake is the second smallest of the Great Lakes in volume and smallest in area at 7,340 square miles. Notable tidbit? It's much lower in elevation than the other lakes.
Connected to the Atlantic Ocean: The five lakes are interconnected by manmade and natural waterways, and connected to the Atlantic Ocean by the St. Lawrence Seaway.
Locks, Locks, Locks
Now, here's a bit of "lock intel" so that if you cruise on the Great Lakes, you'll know the scoop.
Two sections of locks form the St. Lawrence Seaway, with locks situated in both the United States and Canada. The Welland Canal Section (consisting of eight locks) was completed in 1932.
In the 1950s, a new era in marine transportation began with construction of the Montreal – Lake Ontario Section between Montreal and Lake Ontario. Seven locks (five Canadian and two U.S.) were built to lift ships 246 feet above sea level in their transit. 
Together, the two sections of locks allow ships to transit between sea level at Montreal to Lake Erie. 
Separately, the Soo Locks, which are managed by the U.S. Army Corps of Engineers, enable ships to reach Lake Superior.
Great Lakes: One Fifth of Earth's Fresh Water 
The Great Lakes account for one-fifth of the Earth's freshwater. That's estimated at six quadrillion gallons!
Considered fairly young on the Earth timeline, the lakes were formed some 10,000 years ago, according to geology experts.
Today, the waterways form a commercial pathway for trade shipments such as steel, automobiles, oil, coal, wheat and other agricultural products. "Every day, ships are coming into the Great Lakes from all over the world," emphasizes Annand.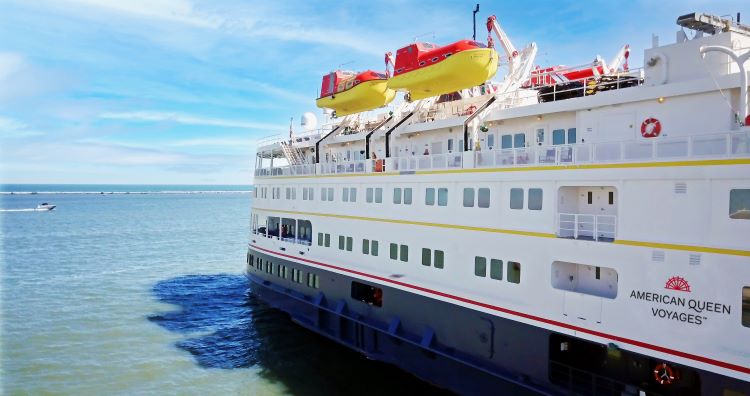 Of course, "there are also the passenger ships," he says, also noting that "mega-cruise ships can't transit the seaway,."
That's because the St. Lawrence Seaway's locks limit vessel size. To navigate the seaway, a ship must be no more than 740 feet long and 78 feet wide.
Annand tells The Meandering Traveler that the locks themselves are only 80 feet wide. For a 78-foot-wide vessel, that's only one foot of space on either side. It's a tight fit!
AQV's Ocean Navigator (shown in the photo above) is among the small ships that can handle the locks.
Weather & Border Arrivals
The Great Lakes are known for challenging weather at times, aka "the gales of November," as Annand notes. The good news? Small ship lines typically deliver a smoother ride for guests as the scheduling is advantageous.
Small cruise ships typically operate on the Great Lakes only between May and early October. Those are the good weather months. Annand says harsh weather is "much more common in late fall and early spring." 
What else is good to know on the weather-front? If cruisers sail on the Great Lakes, they'll not typically see the kinds of "swells" that people observe on the world's oceans. "If there's a bit of wind, the seas could start to get a little choppy, but it's a shorter chop," he notes. 
He told The Meandering Traveler that the lakes aren't nearly as susceptible to rough weather (in the cruise sailing season) as is the open ocean.
Speaking to border arrivals and entry requirements, Annand cites a "very good relationships between the U.S. and Canada," adding that "it's a very seamless system" for cruise port calls.
Duluth Cruises
Ports within the region are also smoothing the way for cruise travelers. For example, on May 30, 2022, the first cruise ship since 2013 will arrive in the harbor at Duluth, MN, at the head of Lake Superior.
That's Viking Octantis, which will dock at a new customs facility in the Duluth Entertainment Convention Center.
More Americans in 2022 & 2023
Before the COVID-19 pandemic, international passengers were the prime group of guests sailing the Great Lakes, but now many more Americans are staying close to home. So, they're discovering North America and booking a Great Lakes vacation.
Varying by itinerary, cruisers will go ashore at such cities as Cleveland, Milwaukee (see skyline photo below), Chicago, Detroit and others, plus smaller, off-the-beaten-path destinations and eco-sites.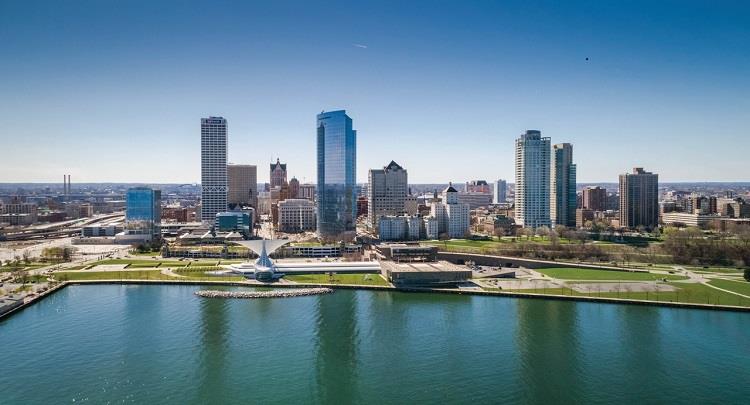 Individual state or city tourism bureaus can assist with information about Great Lakes destinations. The official St. Lawrence Seaway site is here.
Plus, The Meandering Traveler also likes these online resources:
Editor's Note: This blog was Great Lakes 101. Definitely, we'll "dive deeper" into the Great Lakes experience in Part 2 of this blog, which will be posted in early June. In that second blog, we'll focus on:
So, stay tuned for Part 2 coming soon!
Important Information from Pavlus Travel
This blog site is designed for "basic, general information" about travel; it's not designed to provide specific pricing nor is it staffed by travel advisors.
So, please don't use the Reply Section below if you're asking for pricing, travel dates, accommodations, brochures or other specific requests. 
That said, we are most happy and eager to assist you. Here's how…
If anything does tweak your interest in the story and you DO have questions about specific pricing, brochures, savings, itineraries, dates of travel, accommodations, accessible options and so on, please contact us at 800-528-9300.
Or visit us online at Pavlus Travel's official agency Web site; you can "live chat" with us online too!
Thanks for reading!