Seeking a vacation closer to home in 2022 or 2023? Want someone else to handle the details? Then check out these five, fun, enticing vacations from Tauck Tours.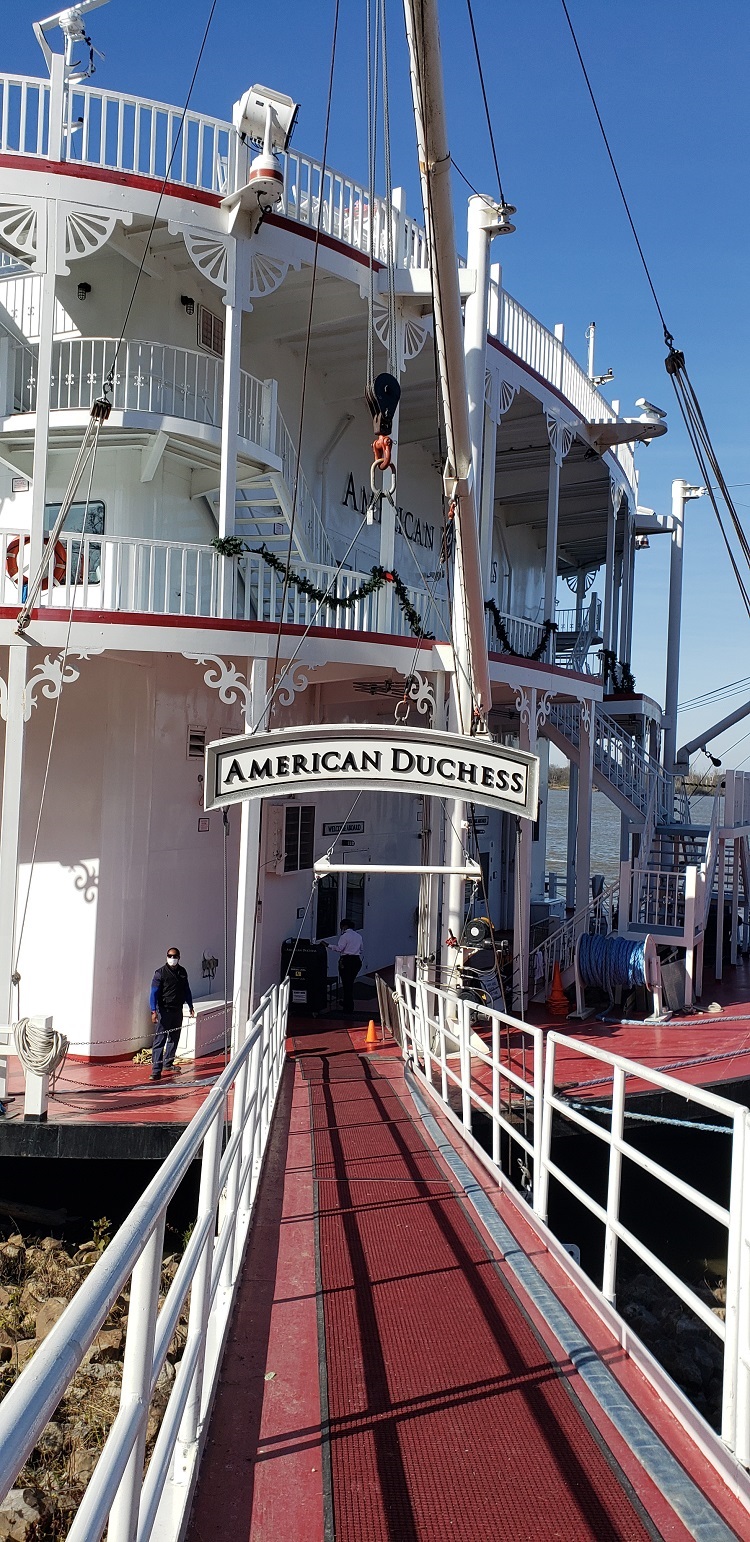 One fact to consider. Just because the itinerary is closer to home, that doesn't mean it's ordinary or boring. In fact, the reality is just the opposite.
Travelers can savor a lobster bake with pretty coastal scenery while exploring New England or dive into Gold Rush history or look for wildlife in Alaska. Or, how about pulling up a chair to savor views from the porch at the Grand Hotel in Mackinac Island, MI, or to learn about Henry Ford's legacy in Detroit. 
In addition, experiences range from Cape Cod in summer to Yellowstone National Park in winter. Or, how about sailing the Mississippi River and visiting southern ports in much the way that Mark Twain did while watching the red paddlewheel turn. But, a hint? You'll sail in more comfort too.
Best of all, diversity rules. Varying from eight to 15 days, all of these five Tauck itineraries offer unique Tauck exclusives. All had some space available at press time. The first four are for 2022, while the Yellowstone option is for winter 2023.
So come along…
Tauck Tours: "Life on the Mississippi"
Tauck's 11-day "Life on the Mississippi" itinerary plies the mighty Mississippi River between New Orleans, LA, and Memphis, TN. Guests will sail on American Queen Voyages' boutique-style American Duchess.
Sporting a red paddlewheel in contrast with its exterior white paint scheme, this vessel looks traditional outside. So, yes, peer down from the top deck aft and watch that big wheel turn.
But inside, you'll find a modern, contemporary – yet warm and welcoming – interior. Check out our photos of the vessel's two-level Loft Suite from a cruise in late 2021.
Northbound, guests start in New Orleans with a two-night stay at the luxurious Four Seasons New Orleans. They'll tour the French Quarter and enjoy a private cooking demonstration and lunch at the New Orleans School of Cooking.
Private Jazz Performance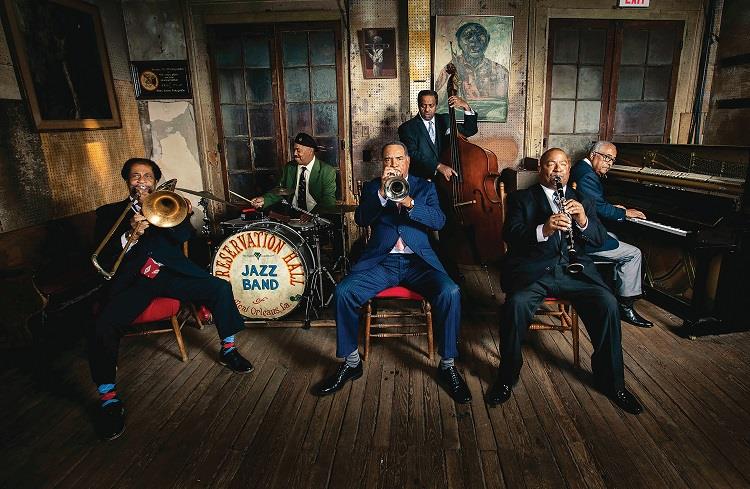 A highlight? One Tauck exclusive is a private jazz performance in New Orleans' Preservation Hall. On a second day, guests will embark on a walking tour of the Garden District with a local guide – with views of live oaks, stately mansions and manicured parks.
Guests, who are free for lunch, will then join the afternoon tour of the National World War II Museum; one highlight is viewing the 4D film, "Beyond All Boundaries," narrated by Tom Hanks.
After two days of exploring New Orleans, guests will board American Duchess for a seven-night cruise to Memphis, TN. As we experienced last year while sailing as a "regular" AQV passenger on this ship, a Tauck group was aboard with its own Tauck director handling every detail.
All transportation and experiences were arranged for Tauck guests — many times, those were separate from the line's own excursions — a "cruise within a cruise" in some ways. When it was time to explore ashore, Tauck guests often boarded a Tauck motorcoach.
Louisiana Wetlands Tour
After sailing from New Orleans, Tauck's guests will go ashore and then take a boat ride into the bayous of picturesque Manchac Swamp. A wetlands expert will provide insight about life in the Louisiana Wetlands. Tauck guests will learn about the swamp's inhabitants including alligators.
Tour goers will also hear stories about the Cajun town of Frenier, considered a ghost town with many haunted tales. Then, it's on to lunch and tour of Nottoway Plantation, a Greek Revival and Italianate styled home. At 53,000 square feet, it's the largest antebellum home in the U.S. South.
The next day, American Duchess will dock near St. Francisville, LA. Tauck's guests will explore with a local guide who will share anecdotes about the people who lived here in the past. Among them is artist John James Audubon, famed for his bird paintings.
Natchez and Vicksburg, MS
The following day American Duchess docks at Natchez, MS, home to more than 500 pre-Civil War building. Did you know that before the U.S. Civil War, Natchez had more millionaires per capita than any U.S. city? It's true.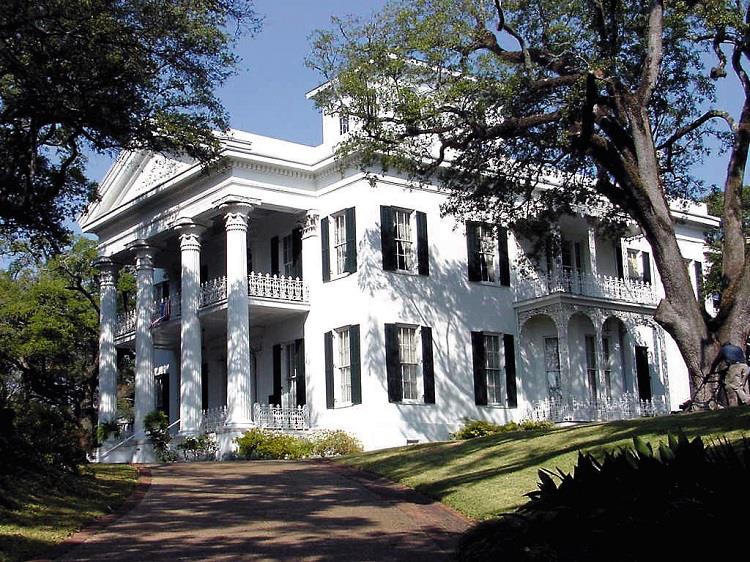 For example, Stanton Hall is shown in the photo above. But why did so much of Natchez's antebellum past survive the war?
It's because city leaders of the 1860s proactively went out to meet the advancing Union Army and surrendered. That spared Natchez the destruction inflicted on Vicksburg, MS, which endured a 47-day siege.
That said, Vicksburg is also fascinating as a port of call. Frankly, it's one of our favorite spots along the river.
In the morning, Tauck's tour guests will visit Vicksburg National Military Park. There, they'll gain U.S. Civil War perspective from a U.S. National Park Service guide.
One highlight is seeing the U.S.S. Cairo, one of the first U.S. ironclad warships; it was raised from the river bottom.
In the afternoon, Tauck guests will explore 19th-century Vicksburg on a guided tour of the city's oldest neighborhood. Guests will go inside the 1846-era Christ Episcopal Church and the Duff Green Mansion, owned by seven generations of the same family.
The next day, the ship calls at the Mississippi Delta with docking in Greenville, MS. Nearby Indianola, MS, is the birthplace of blues legend B.B. King, and Tauck's guests can explore the B.B. King Museum and Delta Interpretive Center.
On to Memphis
Guests then enjoy a last day on the river before the ship arrives in Memphis, TN. Tauck's guests will stay one night at the Guest House at Graceland.
On an included Tauck tour of Memphis, travelers will see such famed sites as Sun Studio, Beale Street, Stax Studio, Cotton Row, Overton Park, Historic Central Gardens, and St. Jude's Children's Research Hospital. The tour will pass by the homes where Elvis Presley, B. B. King and Johnny Cash lived.
Tauck's guests will visit the Rock 'n Soul Museum, and after a Memphis-style barbecue lunch, head to the Lorraine Motel; that's where Dr. Martin Luther King, Jr. was assassinated while a guest at the motel. That motel site is now part of the National Civil Rights Museum, which Tauck's guests will tour.
Many Inclusions
At press time, Tauck's pricing for this escorted program and river cruise journey started at $7,690 per person, double occupancy; single occupancy pricing began at $12, 290. Some accessible accommodations are available.
Check with your travel advisor for the latest pricing, cabin availability and departure information.
While this itinerary is "sold out" on spring 2022 dates, at press time, limited space was available on the northbound October 7, 2022, sailing. In addition, more space was available on both the southbound November 26 and northbound December 2 voyages.  
What's included in Tauck's pricing? In addition to the pre- and post-cruise hotel stays and the cruise itself, guests also receive airport transfers and arrivals. Also included are: 27 meals, service charges, gratuities to local guides, admission fees, taxes, porterage and port charges.
Onboard American Duchess, all soft-drinks, specialty coffees and teas, and house beer, wine and spirits are included at no additional cost; premium wines, beers and spirits may be purchased as a small additional cost.
Some accessible cabins are available on American Duchess. Check with your travel advisor or consult the travel agency contact information at the end of this story — to receive the latest details, pricing and availability.
Tauck Tours: "Michigan's Lakes & Mackinac Island"
Another itinerary, "Michigan's Lakes & Mackinac Island," is an escorted land journey that begins with an included transfer from the Cherry Capital Airport to the Grand Traverse Resort & Spa in Traverse City, MI.
Tauck has reserved Tower Rooms at this resort and guests will enjoy a welcome cocktail reception and dinner. Nestled amid 900 scenic acres, the resort was previously named among the top 50 domestic destinations by Conde Nast Traveler.  
The next day, guests head out for the Pierce Stocking Scenic Drive. Motoring along the Sleeping Bear Dunes National Lakeshore (see photo below), travelers will gaze at vineyards, sandy beaches and sand dunes. These aren't tiny dunes — some are 400-feet high!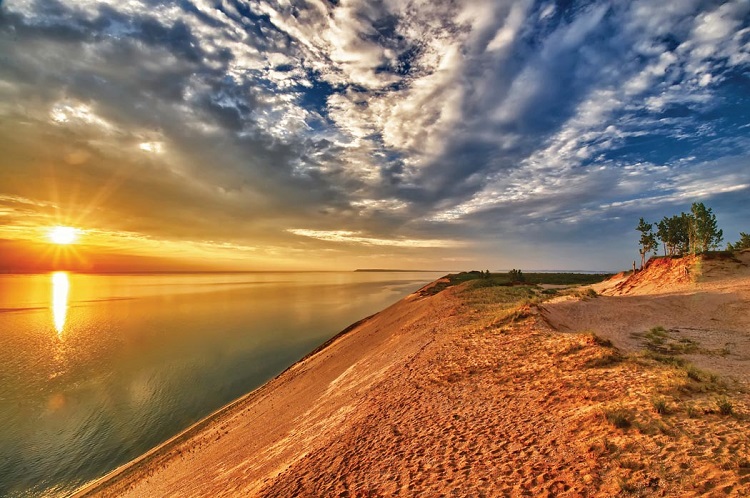 In the afternoon, Tauck's guests will board the 114-foot schooner Manitou for a private tall-ship cruise on Lake Michigan's Grand Traverse Bay. They'll finish up their day with a winery tour and wine-pairing dinner at Chateau Chantal Winery on the Old Mission Peninsula in Grand Traverse Bay.
During a second day in Traverse City, Tauck's touring includes a visit to the Music House Museum, displaying rare antique musical instruments and music-making machines from 1870 to 1930.
Then, it's on to the Straits of Mackinac, a strip of water connecting Lake Michigan and Lake Huron. The tour group will stop for lunch en route to Mackinaw City. Next, a ferry will take guests to the idyllic Mackinac Island, a car-free destination.
Idyllic Mackinac Island
What's nifty is that a horse-drawn carriage will be waiting to transport Tauck guests on an island tour and to their accommodations at the world-famous Grand Hotel.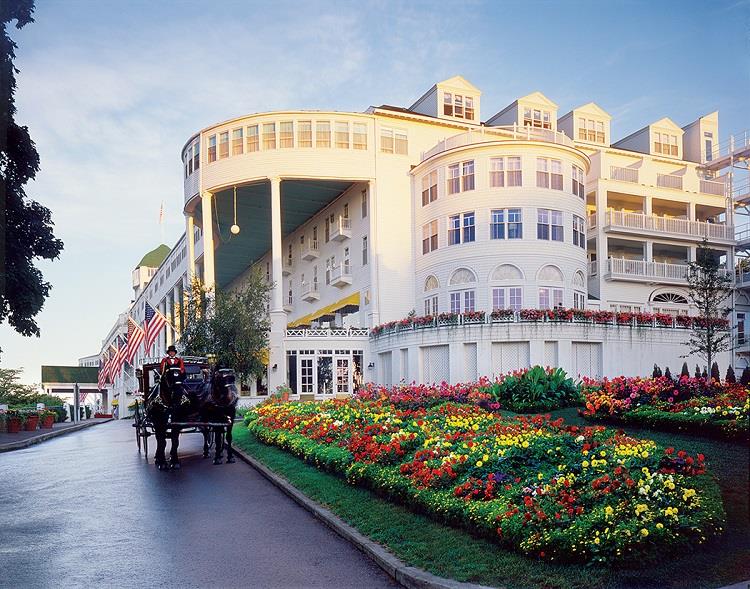 When built in 1887, the hotel's front porch was said to be the world's longest. Today, guests and local residents still love pulling up a rocking chair and gathering here. It's been the island's place to "see and be seen" over the decades.
In addition, Tauck's guests will learn more about the Grand Hotel and the island during a private presentation by a local historian during their two-night stay.
As the tour continues, though, they'll leave peaceful Mackinac Island behind — boarding a ferry to the mainland. In Midland, MI, they'll tour the home and studio of noted 20th-century architect Alden B. Dow; he was a student of Frank Lloyd Wright. This attraction is a National Historic Landmark.
Guests will stay for one night at the riverfront Doubletree by Hilton Hotel Bay City. For automobile buffs, the next day is something to look forward to, with the Ford Rouge Factory Tour in Dearborn, MI.
Tauck Tours: Detroit, Here We Come
Next, it's a tour of Detroit to see the Renaissance Center, Comerica Park (home of the Detroit Tigers), the Fox Theatre and more. Return to Dearborn, where the afternoon is free. Perhaps head to the Henry Ford Museum, which displays automobiles, airplanes and historical artifacts.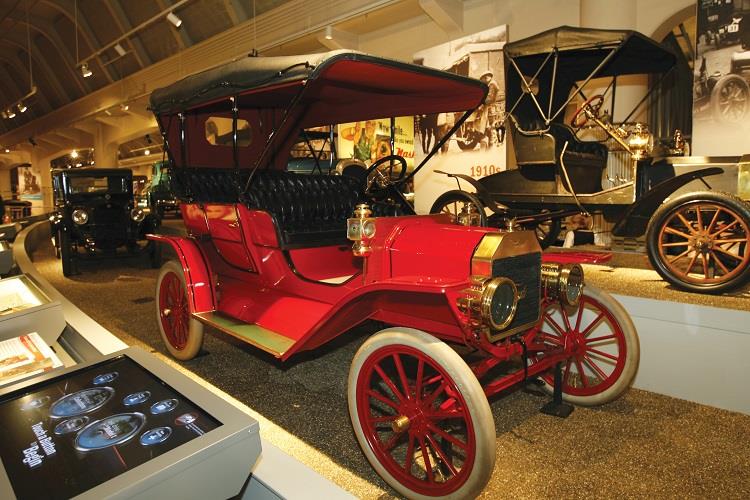 In Tauck style, you'll then be treated to a spin in a Model T, followed by a farewell cocktail reception and dinner. During that meal, a Tauck exclusive for guests is a private live Motown band performance.
After an overnight at the Dearborn Inn, a Marriott Hotel, guests can fly home at their leisure with an airport transfer included to Detroit Metro Airport.
Pricing for this escorted tour begins at $3,390 per person, double occupancy. Departures operate from June 2022 through early October 2022.
Nine departures still had availability while 10 others were sold out. But there was still a good range of options at press time. Here's the link to the Tauck site with more details. Contact a travel advisor to assist in exploring all the options for pricing, availability and accommodations choices.
Tauck Tours:  "Grand Alaska"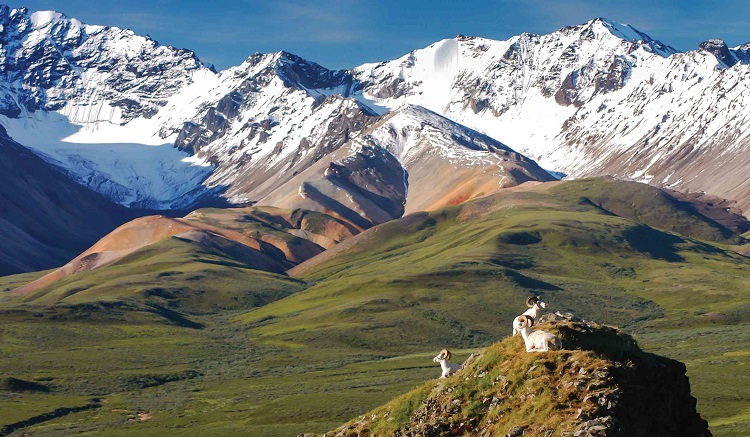 For a fabulous, two-week adventure in America's "Last Frontier," one enticing vacation option is Tauck's 15-day "Grand Alaska" itinerary. This combination land -and-sea vacation includes lodge stays and a week-long voyage on one of three Princess Cruises' ships — Grand Princess, Majestic Princess or Royal Princess.
Guests will venture from Anchorage to Denali National Park, from Ketchikan to Skagway, and to the pristine waters of Glacier Bay, the Inside Passage and Prince William Sound.
Tauck's guests will enjoy many special experiences. Among them are a private float-plane flightseeing tour over Denali National Park, private whale watching cruise, visit to a family homestead in Trapper Creek to learn about modern pioneer life and a Chilkat Bald Eagle Preserve rafting adventure.
During the journey, guests travel with Tauck's private group and are accompanied by a Tauck director. Private shore excursions and inclusions are valued at $1,400 per person.
Anchorage Bound
A transfer is included from Anchorage International Airport to the Hotel Captain Cook, overlooking Cook Inlet, downtown Anchorage, and the Chugach Mountains. Tauck offers a welcome reception and dinner.
The following day, guests will learn about the lifestyles, traditions and crafts of Alaska's indigenous tribes on a visit to the Anchorage Museum.
Then it's into the air for a scenic flight to Talkeetna, near the base of Denali (North America's highest peak, formerly known as Mount McKinley). Next is a drive to the Mt. McKinley Princess Wilderness Lodge in Trapper Creek for a two-night stay.
One unique experience? Tauck will take guests to the private homestead of Joanne Porterfield, nestled in the Alaska wilderness; her family's gardens and farm have flourished near Mount Denali for more than four decades.
Thrills are on tap for the afternoon, as guests set off on a wilderness jet boat adventure.
The Main Event
En route to exploring the six-million-acre Denali National Park, a UNESCO Biosphere Reserve and one of the world's last unspoiled frontiers, guests will stay two nights at the Denali Princess Wilderness Lodge. 
One fun outing before entering the park? Tour goers will visit Husky Homestead, home of Jeff King, four-time Iditarod champion musher, and of course, his sled dogs.
Guests will get up early for a "Tundra Wilderness Tour," taking them deep into the wilds of Denali National Park. They'll see everything from forests to alpine tundra and high mountain passes.
Along the tour route, they'll possibly spot moose, caribou, Dall sheep, wolves and grizzly bears. Depending on the weather and visibility, they may see the summit of North America's highest peak at 20,310 feet.
After exploring Denali National Park, the Tauck group will head to another remote region situated along the Copper River in the small town of Copper Center. It's a gateway to the massive Wrangell-St. Elias National Park, known as "North America's Mountain Kingdom."
They'll stay two nights at the Copper River Princess Wilderness Lodge. What's to see at Wrangell-St. Elias? Well, it has more glaciers and mountains above 16,000 feet in height than any spot in North America. It's part of a UNESCO World Heritage Site situated on both sides of the U.S. and Canadian border.
Tauck guests will receive a private tour of the park's visitor center with a park ranger. They'll also get a glimpse of the Trans-Alaska Pipeline, transporting crude oil from Prudhoe Bay to the port of Valdez.
Passing through the Chugach Mountains en route to Valdez, the group will stop at Worthington Glacier. Then it's a boat ride across Prince William Sound, home to whales, seals and eagles, to the port at Whittier.
There, they'll board their Princess Cruises' ship to begin their week-long cruise.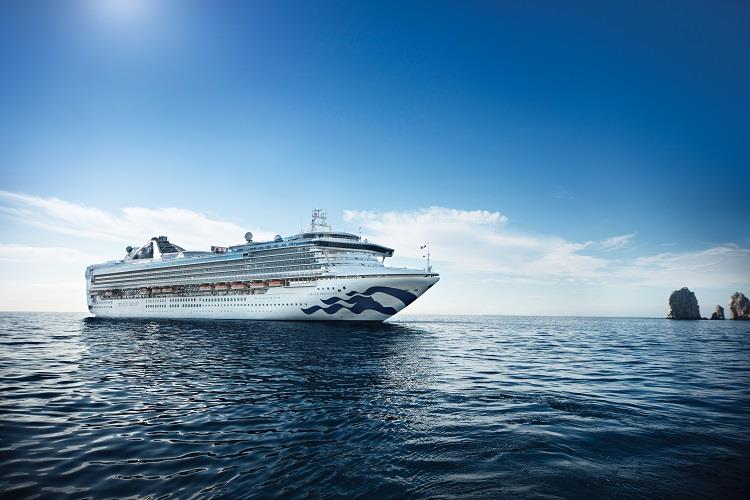 A Week of Cruising
On the first full day aboard their Princess ship, guests will enjoy a day at sea including sailing to the Hubbard Glacier, Alaska's longest tidewater glacier. The ice's blue color is created by its denseness, which absorbs all colors of the spectrum except blue.
Next up is Glacier Bay National Park, a highlight for many cruisers. Definitely, keep your eyes peeled for the possibility of seeing humpback whales, orcas and seals, not to mention many seabirds. A Tauck exclusive cocktail party with hors d'oeuvres and an open bar is on tap this day too. 
During a port call at Skagway, guests will go ashore to explore Gold Rush era history. They'll enjoy a tour in antique vehicles before boarding a ferry on the Lynn Canal to Haines.
Then it's a mild, river rafting trip through the Chilkat Bald Eagle Preserve, home to large concentrations of bald eagles at certain times of the year.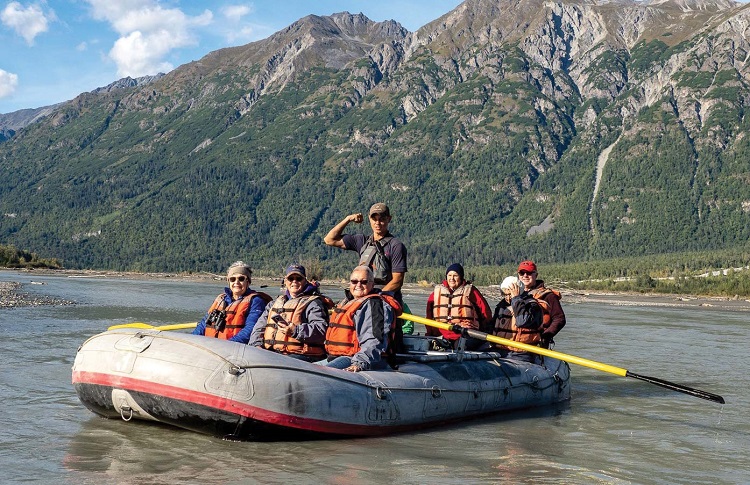 For many travelers, one top highlight of a day in Skagway is a ride on the White Pass & Yukon Route narrow-gauge railway, built in 1898.
Scenic views are amazing as the train heads up steep grades, around cliff-hugging turns and over high bridges.
After the ship arrives in Juneau, Alaska's capital city, Tauck's guests head out for a tour that stops at the Mendenhall Glacier. Then it's on to a private whale-watching cruise.
In Ketchikan, guests will head to Saxman Native Village to learn about Tlingit heritage, view totem poles and watch totem carvers. They'll also see Tlingit and Haida dances.
During free time, they might stroll down Creek Street, a historic boardwalk over Ketchikan Creek, or hit the local shops in town, before reboarding the ship.
Sailing the Inside Passage
The following day is spent cruising the Inside Passage as the Princess ship heads southward. It's a great time for catching the views, indulging with a pampering spa treatment, enjoying pool relaxation, listening to an enrichment lecture or working out in the fitness center.
Golfers might tee off in the golf simulator. A farewell cocktail party and dinner await prior to the cruise's end in Vancouver the next morning. For information about what's new in Alaska for 2022, see our previous blog about this topic.
This 15-day "Grand Alaska" itinerary is one of Tauck's most popular Alaska options. At press time, prices started at $7,690 per person, double occupancy, from $9,636 solo occupancy; prices are subject to change.
Some accessible accommodations are available. Contact your travel advisor for the latest pricing, availability of rooms/cabins/suites and departure specifics. For more details about this land-and-sea touring package, visit Tauck's site.
Tauck Tours: "Cape Cod, the Islands & Newport"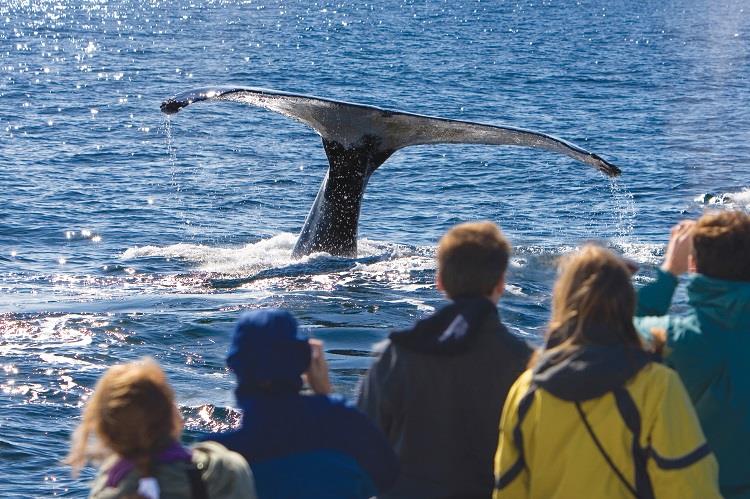 Another Tauck option we like is the eight-day "Cape Cod, the Islands and Newport" tour.  Guests fly into Boston Logan International Airport, and Tauck provides a transfer to the Lenox Hotel in Boston's Back Bay neighborhood, where guests overnight.
The next day, guests will travel to Plymouth, MA, to Plimoth Patuxet, a re-created 17th-century village with costumed living historians (see photo below).
These historians will create an enriching folkloric experience for guests, who will learn about the former English colony, one of the earliest English settlements in North America.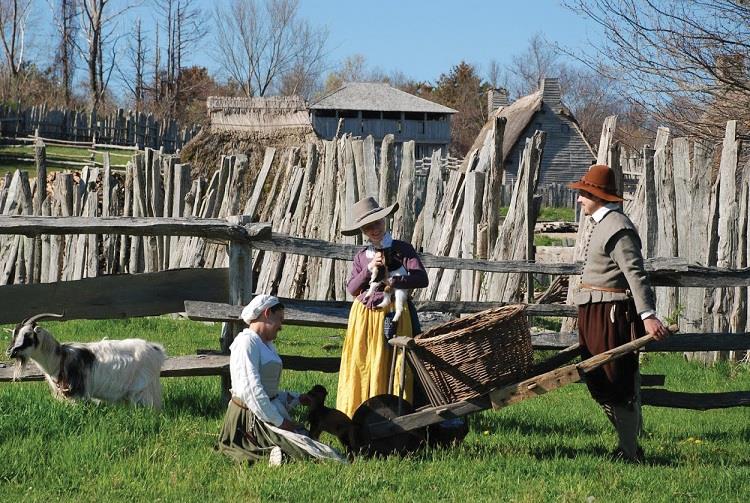 Tauck's guests will also see Plymouth Rock, marking the Pilgrims' 1620 landing site. After some free time in Falmouth, a ferry ride from the mainland will transport them to the island of Martha's Vineyard.
They'll stay here for two nights in the former whaling center of Edgartown at the Harbor View Hotel & Resort. Included touring on Martha's Vineyard will take guests sightseeing in Oak Bluffs and Vineyard Haven, as well as yacht harbors, before visiting the Carnegie Museum in Edgartown. 
Built in 1904, the Carnegie Museum was given to the town as a gift by Andrew Carnegie. For more than a century, it was the town library, and reopened as a museum in 2018.
Nantucket Island
Weather permitting, the next day the tour group will take a 15-minute flight to Nantucket Island. Three centuries ago, it was considered the whaling capital of the world. Today, it's home to lovely beaches, lighthouses, sea captains' houses and art galleries
While on the island, guests will receive guided sightseeing plus a chance to visit the Nantucket Whaling Museum at their leisure.
When it's time for dinner, "yum, yum" is all we can say, as Tauck's guests will feast on a New England lobster and clam dinner in Chatham.
The following day, it's a trip to Cape Cod National Seashore, with its massive sand dunes. Then guests will be transported to Provincetown on the tip of the Cape. Once a whaling town, it's now an arts colony and a major summer resort.
Weather permitting, Tauck will take guests on a whale watching cruise, prior to the return to Yarmouth for the night. The next day, the group will travel to historic Newport, Rhode Island.
Throwback to "The Gilded Age"
This haven for yachting enthusiasts is also home of America's Cup. During the 19th century, though, it was renowned as a playground of the rich and famous. Proof is in the Gilded Age mansions along the ocean, which tour goers will see on the so-called "Ten Mile Drive."
Overnight is at the Newport Marriott. The following morning, the Tauck director will lead a guided stroll along Newport's Cliff Walk.
In addition, guests will tour The Breakers, a 70-room Italian Renaissance mansion, built as a "summer cottage" by Cornelius Vanderbilt. It's a National Historic Landmark.
Then it's on to a cruise through Newport Harbor and Narragansett Bay. The afternoon is free for guests to explore on their own. 
In the evening, Tauck will host guests at Forty 1° North Marina Resort, the city's newest luxury waterfront venue. Expect an exclusive farewell cocktail reception and dinner overlooking Newport Harbor. The next morning guests return to Boston and the tour ends at Boston Logan International Airport. 
Touring Options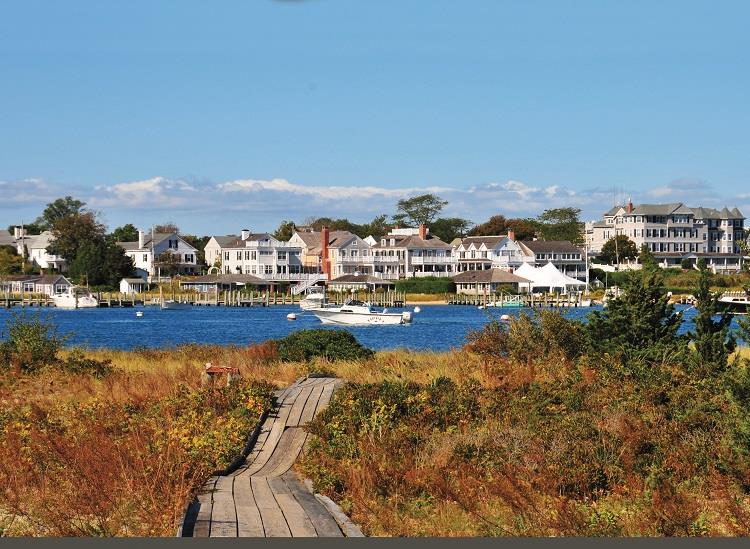 At press time, pricing for this tour package depended on whether guests selected the "Classic" package, starting at $4,890 per person, double occupancy, or the "Small Group" package for travel with only 24 guests maximum, starting at at $5,490 per person, double occupancy.
Available departure dates at press time included August 13, 2022, August 27, 2022 and September 13, 2022, as well as later dates in the year. Some other departures were sold out.
Solo savings departures with single prices started at $4,290, and those options were mostly sold out at press time. That said, the October 15, 2022 departure was still showing solo savings availability.
Check with a travel advisor for the latest pricing, availability and departure information For those wanting to know more about the programming, Tauck's Web site provides more details on this land tour.
Tauck Tours: "Wonderland: Yellowstone in Winter"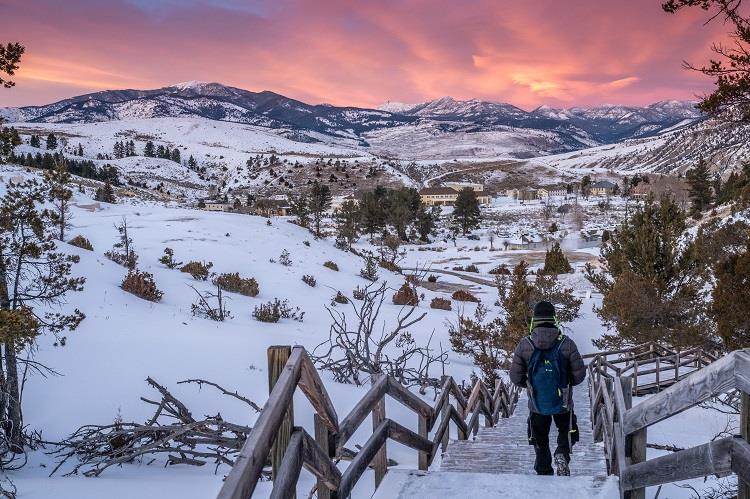 Not all tours are in spring, summer and fall. Yellowstone National Park is exceptionally busy in all those periods, but in winter, the landscape takes on a snowy look. So fewer guests visit, but for those who do, it's a magical eco-experience.
Tauck's eight-day "Wonderland: Yellowstone in Winter" departures are all themed as "Ken Burns American Journeys."
A Tauck exclusive is that guests will enjoy "filmed vignettes" by Ken Burns and Dayton Duncan, Burns' long-time collaborator and friend. They'll share their own personal stories, plus offer tales of those who shaped the creation and preservation of America's first national park, Yellowstone.
After arrival at Bozeman Yellowstone International Airport, guests are transferred to the historic Chico Hot Springs Resort & Day Spa in Pray, Montana, for a one-night stay. Built in 1900, it's located in the foothills of the Absaroka Mountains, not far from Yellowstone's north entrance.
Guests can expect two restaurants, a Western saloon, two mineral hot pools, and a full-service spa. On the first night, Tauck hosts a welcome reception and dinner.
The next morning, tour guests can take a dip in the resort's swimming pool, heated by natural underground hot springs. Following a viewing of a Ken Burns' film, Tauck will take guests to Mammoth Hot Springs and Yellowstone National Park.
Then, guests will settle in for a two-night stay at the Mammoth Hot Springs Hotel. There, they'll enjoy a presentation by noted naturalist and wildlife photographer MacNeil Lyons. He'll talk about some of the park's wildlife including bears, wolves and bison.
In the morning, guests will head out to explore Yellowstone's Lamar Valley. Located on the park's northeastern side, it's a quieter locale — eerily peaceful and pristine.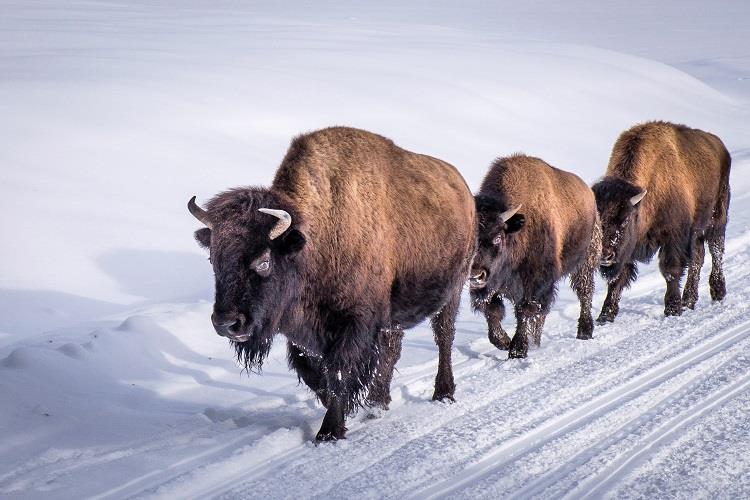 While winter temperatures can reach 40 below zero, the ground steams. Hidden fissures and hot springs waft great clouds across the white landscape. It's stunningly gorgeous to spot distant herds of bison and elk — which appear akin to apparitions in the white fog.
Boarding a Snowcoach
You've heard of a motorcoach. Well, how about a snowcoach? Yes, guests will board a specially designed snowcoach, capable of gliding over the snow and plying Yellowstone's snow-covered trails.
Along the route, sites include boiling springs, fumaroles, mud volcanoes and geysers. Travelers will gaze at Gibbon Falls, an 84-foot frozen cascade of ice and the Norris Geyser Basin. They'll walk around Black Sand Geyser and Midway Geyser Basin.
Near midday, they'll arrive at Old Faithful Snow Lodge for a two-night stay. Best of all, they'll only have to walk outside to witness the eruption (on average, every 94 minutes) of "The Old Faithful Geyser." An 180-foot-high plume of boiling water is visible for about a minute.
Later on, Tauck guests can join a local guide for a snowshoeing trek through some of the less-visited places in the Lower Geyser Basin near Old Faithful.
The next morning, guests will set out via snowcoach again — but this time to visit the Grand Canyon of the Yellowstone. Nearly a mile wide and plunging 1,200 feet with two waterfalls, it's essentially a deep gorge blown open by an ancient volcanic eruption. Later it was also carved out by glaciers and the Yellowstone River.
Grand Tetons and Elk 
On the sixth day of this tour, Tauck will transport guests to the Grand Tetons and the National Elk Refuge. First, it's a snowcoach tour via Kepler Falls and the West Thumb Geyser Basin. Then it's on to Flagg Ranch, a former army station.
Following lunch at Flagg Ranch, a horse-drawn sleigh will take guests into the National Elk Refuge. Typically, 7,500 elk winter here. Then it's on to Jackson, WY, and a two-night stay at the historic Wort Hotel.
The following day is free for guests to pursue their own interests in Jackson — perhaps dog sledding, snowmobiling, gallery hopping or boutique shopping. Guests can even go downhill skiing at the nearby Grand Teton Resort or Snow King. Advance bookings are required for some of these activities.
The final night's farewell reception and dinner is at the National Museum of Wildlife Art. The next day guests are transferred back to the airport for their flights home.
We've provided some highlights of this Tauck itinerary here but for the complete program, visit Tauck's page about this journey. 
Small Group Journeys
All "Wonderland: Yellowstone in Winter" departures are "Small Group" journeys, with no more than 24 guests. At press time, pricing started at $6,290 per person, double occupancy. Solo pricing started at $7,420, but availability was limited.
Pricing is subject to change and availability of accommodations. Departures are between January 5 and February 24; some dates were available, others sold out at press time. Talk with a travel advisor for the latest information. 
Our goal with this blog is to showcase  five of the "close to home" Tauck options available. Other itineraries are also available. It's a great time to begin planning that summer or fall 2022 vacation, or a wintertime getaway to Yellowstone in early 2023.
Important Notes from Pavlus Travel:
This blog site is designed for "basic, general information" about travel; it's not staffed by travel advisors.
So, please don't use the Reply Section below if you are asking for pricing, travel dates, accommodations, brochures or other specific requests. 
That said, we are most happy and eager to assist you. Here's how…
If anything does tweak your interest in the story and you DO have questions about specific pricing, brochures, savings, accommodations, accessible options and so on, please contact us at 800-528-9300.
Or visit us online at Pavlus Travel's official agency Web site; there you can "live chat" with us online too!
Thanks for reading!