Aloha spirit at its low as Islands suffer low tourism and visitor frustration
Patti Pietschmann, Travel Diva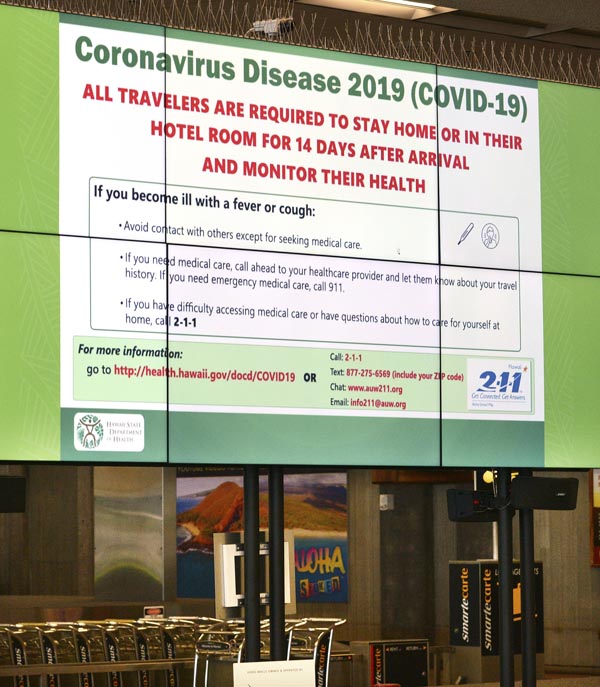 Swaying palm trees, white sand beaches, heady scents of plumeria and vibrant rainbows normally welcome visitors  Hawaii's archipelago paradise. But anyone going to Hawaii between now and June 30 will get a different greeting. Once at their hotel they must self quarantine for 14 days.  This is a  rule effectuated by  Gov. David Ige  last March.  Although due to expire June 1 but Ige changed his mind.
This is disheartening for many folks planning trips to the islands this summer.  And those who own condo rentals there.  Yours truly and her husband  have a condo on Maui at ManaKai Maui. Like all condos and hotels the property is closed.   This not only prevents owners from going but it also prevents us from renting units. Hawaii put on a ban on short-term rentals during the coronavirus shut down, too.
Soft reopening possible
In a recent proclamation Gov. Ige  says some businesses will begin opening in June.  However beaches are off limits except for  walking, jogging and swimming but no sunbathing or picnics.
According to Ige's  most recent proclamation on Monday, some business such as gyms, theaters and churches could reopen in June. But they will have  to practice safety procedurds outlines by the CDC and WHO.
As of today restaurants are open only for takeout. But they may get be able to open in June for dine-in options.  Larger venues and bars and clubs will remain shut according to the state's plan.
Hawaii depends of tourism for nearly all its revenue and this isn't setting well with many.  Especially the quarantine factor. Who wants to go on vacation only to have to spend two weeks in isolation? Not many. But a steadfast souls are still traveling to the Aloha State.
Tourism down from 30,000 to 125 a day
According to a Travel Weekly report,  from March 26 when the quarantine orders  began to April 30 around 125 people flew into island airports daily.  The normal traffic is around 30,000 daily.
Hawaii's hoping nobody would go in an attempt to hold Covid19 spread at bay. And because too many tourists are not complying with the quarantine and social distancing rules.
Many hotels are closed but 91 have are open, some of which are housing health care  workers.
Serious punishment for quarantine violators
If you don't think Hawaii is serious about the 14  quarantine, they are. Violators are subject to arrest and a $5,000 fine.
The following is excerpted from a Maui News article by Melissa Tanji:
Hawaii reported no new COVID-19 cases Monday and Maui County has now gone nine consecutive days without reporting a new case.
The state said its reopening strategy for businesses and operations is informed by the World Health Organization, the Centers for Disease Control and Prevention and the Johns Hopkins University Bloom-berg School of Public Health.
When asked why other states with higher case numbers have been quicker to reopen than Hawaii, Ige cited the state's isolation as a major factor. He agreed that others may choose to open up quicker, but in consultation with health experts and county mayors, local officials wanted to take a slower approach.
"We have limited health care resources here in the islands," Ige said.
In response to questions about when the state might end the travel quarantine, Ige feels that lifting it is not currently included in any of the phases and is being considered separately.
On Sunday, 1,073 passengers arrived by air to Hawaii, including 272 visitors and 400 returning residents, according to the Hawaii Tourism Authority. On Maui, there were 21 returning residents and 12 visitors, with two flights arriving from out of state.
Covid19 cases
Case numbers statewide remained at 640 on Monday, including 415 on Oahu, 117 in Maui County, 77 on Hawaii island and 21 on Kauai.
For more information on Ige's reopening plan, visit governor.hawaii.gov.