When a new cruise line sets sail, is exciting. But it's may take a bit of time before people understand what the brand is all about. One new, small-ship expedition line, Atlas Ocean Voyages, launched in August 2021, so what's to know? What's up for 2022 and planned for 2023?
The Meandering Traveler sailed on this new line's first ship, the 196-passenger World Navigator, in the Caribbean in November 2021. Here's our "take" as well as tidbits of intel about the new line.
Atlas Ocean Voyages Taps Small Ships  
With World Navigator now sailing and a sister ship, World Traveller, launching later this year, Atlas Ocean Voyages is on a growth course.
On the horizon, three more sister ships — World Seeker, World Adventurer and World Discoverer — will join Atlas' fleet through 2024.
In addition, the line has two more order "options" that it can exercise, should it decide to build additional ships.
The Approach: Fun, Friendly "Luxe-Adventure"
As for its style of cruising, Atlas' approach is "luxe-adventure." Yes, the product is luxurious in many ways. But it's more low-key luxury and "expeditionary" or exotic in delivering great adventures.
Bottom line? Don't expect the type of luxury product you may have experienced on another mainstream luxury cruise.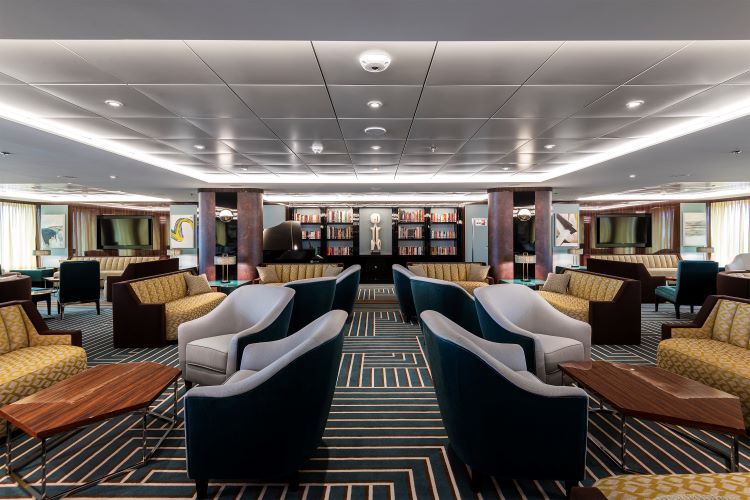 No, you won't find razzle-dazzle shows, nor do guests need formal evening attire. If you sail on Atlas, expect a bit more fun, friendly style of cruising. Think "casual luxury" with a relaxed style.
Inquisitive Guests Who Like Meeting Others
Over the years, we've sailed on several hundred cruise ships — big and small. Many were luxury or premium products, other expedition ships.
But one fact was clear from our Atlas cruise. We observed that most guests were incredibly inquisitive (by any standard). In fact, we've never observed a more proactive crowd of individual travelers.
Possessing both a passion for travel and a "discovery mindset," many of these guests simply couldn't wait to meet people from other walks of life. They'd simply plop down alongside another guest and strike up a conversation.
Yes, they certainly desired fine dining, luxury service, great enrichment and unique shore expeditions. But some told me that they truly liked Atlas because the voyage was a fun, friendly style of travel.
Some guests we met also were sailing for the second or even the third time on World Navigator, despite the ship only sailing for a few months. Clearly, they had found something that fit their travel style.  
My "take" is that from our time aboard is that Atlas is a great brand for those who seek and value camaraderie on vacation — sharing experiences with strangers who they've just met aboard.
Atlas Ocean Voyages' Crew – Genuine & Eager to Please
Personally, our view of the crew was that the team was customer centric. For instance, purser's office crew members, the cruise director and shore excursion folks — while walking through corridors — stopped on multiple occasions to proactively engage guests in conversation.
We're not just talking about a simple "hello," or "good morning," but a true conversation.
Yes, as with any new product, there were a few hiccups. But, overall, crew members valued each other in a teamwork focus.
Overall, we felt that bar staff, cabin stewards and purser's desk crew members, among many others, strived to provide friendly, attentive service to guests.
Atlas Ocean Voyages' Onboard Spaces 
Okay, so now you're saying to yourself:  "But what's the shipboard experience like? What about the accommodations? What's notable about  in talking about spaces, places and suites? What will I find? How can you describe the spaces? How was the food?"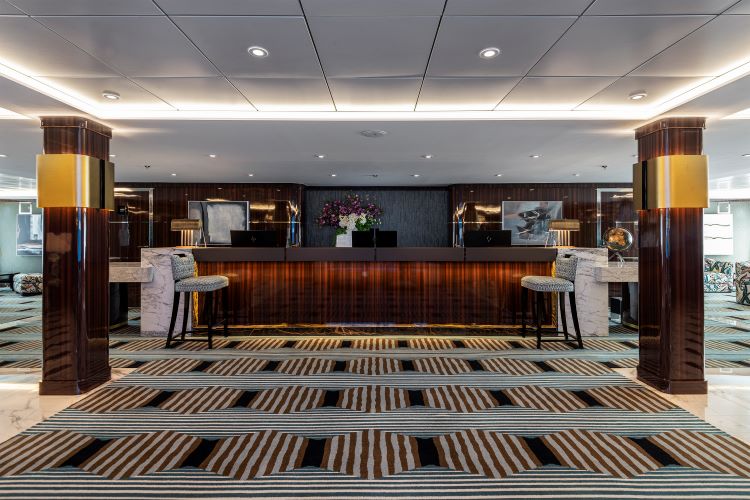 Since we sailed on World Navigator in late 2021, we'd already written a cruise review outlining most of that in a major travel industry trade publication. 
So, rather than reinvent the wheel, we'd suggest you read our first-hand perspective about World Navigator's public spaces, our Verandah stateroom, #505, and experiences. 
So, JUST click here to read about what we encountered aboard, how we liked the spaces, what was in our suite and more. 
That said, be sure to hit your back button when you're finished. Come back here for the rest of this blog. It includes new intel on Atlas Ocean Voyages focused on pricing, schedules and inclusions.  
Notably, some inclusive features also have changed since that story was published earlier this year. Read on for the scoop on that.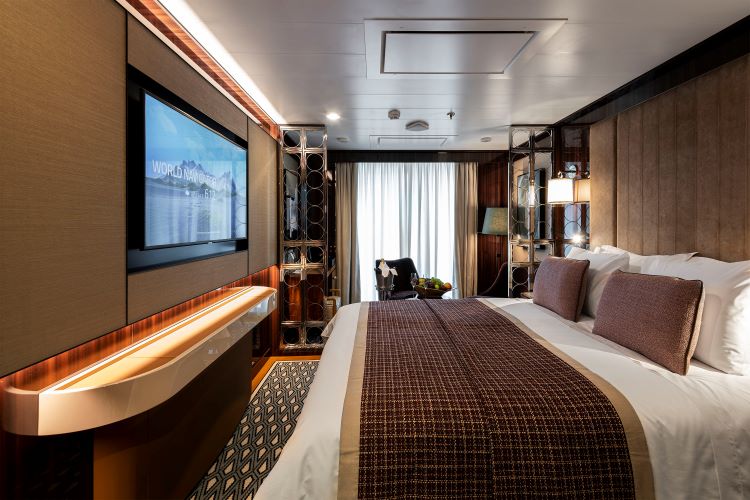 Atlas Ocean Voyages Adjusts "Inclusivity" 
From its founding, Atlas Ocean Voyages offered highly inclusive luxury fares. The line's goal was not to "nickel and dime" guests at every turn.
Today, guests receive the following — covered within their cruise fare:
Five included onboard dining options including room service;

Unlimited premium pours of wine, beer, spirits and cocktails;

Personalized in-room bar service including a bottle of the guest's pre-selected liquor waiting in the stateroom/suite upon arrival;

L'Occitane bath amenities;

Nespresso coffee and teas in the stateroom/suite;

A personal, reusable water bottle;

Limited Wi-Fi;

Butler service in Navigator, Discovery and Journey Suites.

…and more.
One major, recent change? Previously, Atlas had also included shore excursions and air tickets (including charter air flights for Antarctica) within its fares.
But, as the new Explora Journeys also has discovered (see our separate recent blog on that line ), Atlas learned after several months of guest feedback that many luxury travelers simply don't want or need those inclusions.
Seeking more flexibility, they prefer to make their own air reservations. They desire to use their mileage or upgrades.  
Maximum Flexibility
Some also prefer to arrive pre-cruise at odd times — not the day of the cruise nor the night before — but even days or a full week early  in the embarkation destination.  Some desire a resort or hotel stay, others simply want to arrive early to stay with friends.  
In ports, they also prefer to set up their own private tours. Or, they turn to friends in the destination to show them the sights. Many other prefer to hire a private-car or driver they know from a past trip. 
So, starting with summer 2022 voyages, Atlas will no longer include air travel and shore excursions as part of its fares.
It's also developing "smaller group" shore excursions with more ease of meeting minimal participation requirements.
The line still describes its luxe-adventure product as all-inclusive for shipboard elements. The good news? Recent changes will mean an average 20 percent reduction in pricing.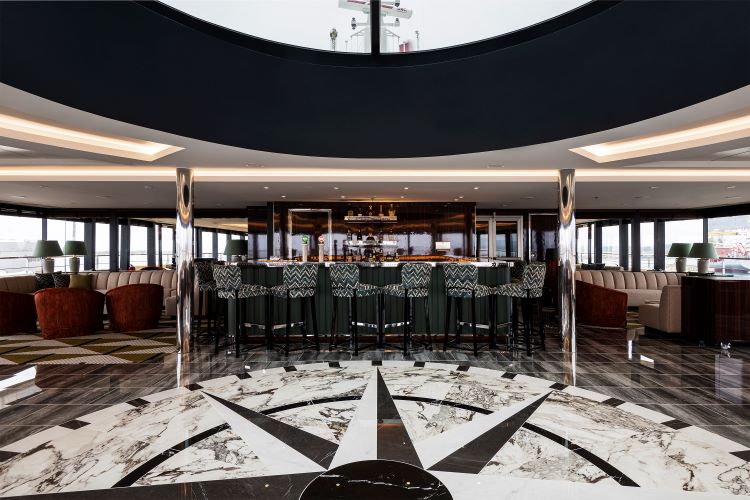 An Experienced "Parent" for  Small-Ship Operations If you're saying, I've never heard of Atlas, you're not alone.  You might be surprised to learn that Atlas is based in downtown Fort Lauderdale, FL. It's heavily sourcing guests from both the U.S. and Canada.
Atlas's parent company is Mystic Invest Holdings, a well-known Portuguese company with more than 25 years of hospitality experience. Mystic Invest is a business leader in European travel and tourism with sizable experience in river cruises, tours and attractions.
Besides operating the small-ship, oceangoing European line, Mystic Cruises, the company also owns and operates the world's third largest river cruise fleet (FYI, those ships sail for some well-known river brands.)
Mystic Invest also owns its own shipyard, WestSea Viana, in Portugal. World Navigator's sister ships are currently under construction there.
Affable Aliberti
In addition, the affable Alberto Aliberti, Atlas' president, has a strong management vision for the new brand. For 15 years, he previously led strategic development and commercial operations for Mystic Invest.
A graduate of the U.S. Naval Academy in Annapolis, MD, Aliberti was also previously part of Cunard Line's and Seabourn's shoreside management teams.
He also understands onboard service. Serving on cruise ships for many years as a crew member, he started years ago on the Stella Solaris as a receptionist.
Atlas Ocean Voyages' Upcoming Itineraries 
So, where is the new line sailing? After completing its first Antarctica season, World Navigator is now making its way to the Baltic and Arctic for a summer season of sailings.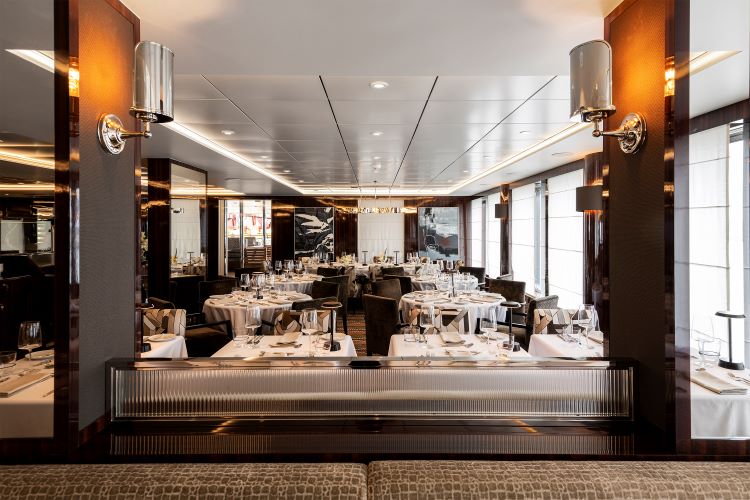 For 2022's late summer Baltic season, as a result of regional tensions, Atlas has replaced its planned Russian port calls with other destinations in Finland and Estonia.
So, World Navigator has dropped St. Petersburg, Russia, and will instead call at Kotka and Mariehamn, Finland during two cruises.
The first is the 12-night Hamburg-to-Kiel itinerary,  departing August 26, 2022; prices start at $9,499 per person, double occupancy. That voyage will also now include a transit of the Kiel Canal
The second is a Kiel-roundtrip itinerary, departing September 7, 2022; it starts at $8,999 per person, double occupancy. That departure will add Saaremaa, Estonia, as a call. World Navigator will dock in the city center, adjacent to the Medieval Castle of Kuressaare.
Caribbean, South America & Antarctica
This fall, World Navigator will then sail voyages within the Caribbean and along South America's western coastline. 
In one South American pricing example, on November 5, 2022, a seven-night Balboa, Panama to Callao (Lima), Peru sailing starts at $3,599 per person. 
The next nine-night sailing will operate from Callao (Lima) to Santiago, Chile, departing November 12, 2022. Sample pricing starts at $4,699 per person double.
Those examples are based on fare at press time. Fares do change rapidly, so chat with your travel advisor for the latest pricing as well as "added deals" that may be in effect.
Sailing within Antarctica
When World Traveller joins the fleet later this year and becomes the line's second ship sailing in Antarctica, Atlas will gain itinerary flexibility. For instance, that new ship will sail longer, more far-flung Antarctica voyages.
In turn, sister World Navigator will operate the shorter Antarctic voyages. 
To see what the experience is all about, Atlas and Porthole Cruise and Travel Magazine recently partnered to create an 18-minute Antarctica documentary about the polar experience.
Filled with scenes of penguins, whales, seals, icebergs and discovery, the documentary is hosted by Bill Panoff, the magazine's editor in chief. Video was filmed in January 2022 aboard World Navigator. 
If you sail with Atlas in a polar region, one facet of the journey is the line's 12-member expedition team that sails with guests throughout the cruise. They'll lead enrichment discussions and accompany guests on shoreside adventures.  
Guests will explore via the ship's 12 Zodiacs, 12 sea kayaks (six tandem and six solo ones), 12 paddleboards, two Zodiac pros for jet skiing and two Yamaha Waverunners.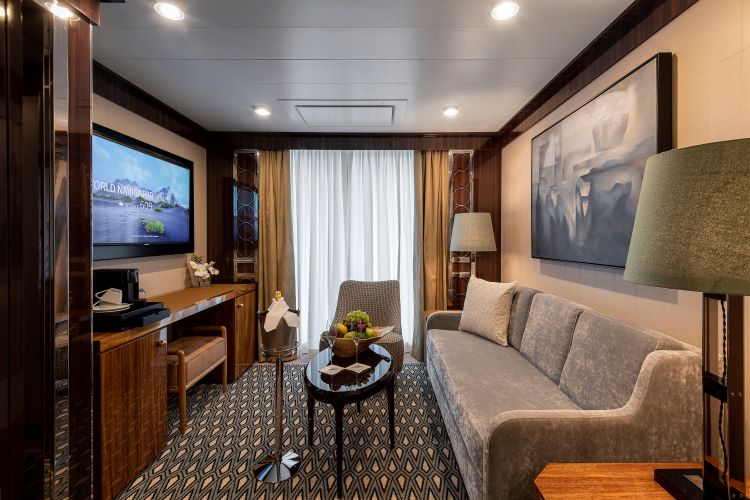 Fun in Antarctica
Adding to the fun? On the ship's Deck 5, guests also might head to the Water's Edge bow are, where they can sit on "heated" benches to get up close to the action — in viewing spectacular scenery and wildlife or marine life. 
On select Antarctica and Arctic voyages, Atlas may also choose to offer "Zodiac safaris" – so truly adventurous guests can even choose to sleep ashore in the open air.
Coincidentally, this past Antarctica season, Atlas became the first cruise line to conduct legal weddings on the seventh continent. Nothing beats a once-in-a-lifetime experience including the possibility of penguins dropping in as wedding guests!
Atlas Ocean Voyages: New Voyages for 2023 
Atlas recently announced 34 voyages aboard World Navigator and World Traveller for the 2023 summer season. Talk to your travel advisor about the full line-up. 
For a highly exotic voyage, though, The Meandering Traveler likes World Traveler's 21-night, Africa voyage, departing April 19, 2023.
Sailing from Cape Town, South Africa, to Tenerife, Canary Islands, Portugal, the ship will overnight in Cape Town and Walvis, Bay, Namibia. So guests will have two days to explore both destinations.  
Also, this Africa voyage will calls at other ports in Namibia, Angola, the Gambia, Senegal and the Canary Islands. Pricing starts at $4 ,399 per person, double occupancy, or alternatively, $5,299 for single occupancy in a Solo Suite. 
Solo Suites and Accessible Options
For all departures after March 22, 2022, Atlas offers six Solo Suites with no single supplement. Permanently designated for single occupancy, these 183-square-foot, oceanview cabins each have a window, not simply a porthole. (see the photo below).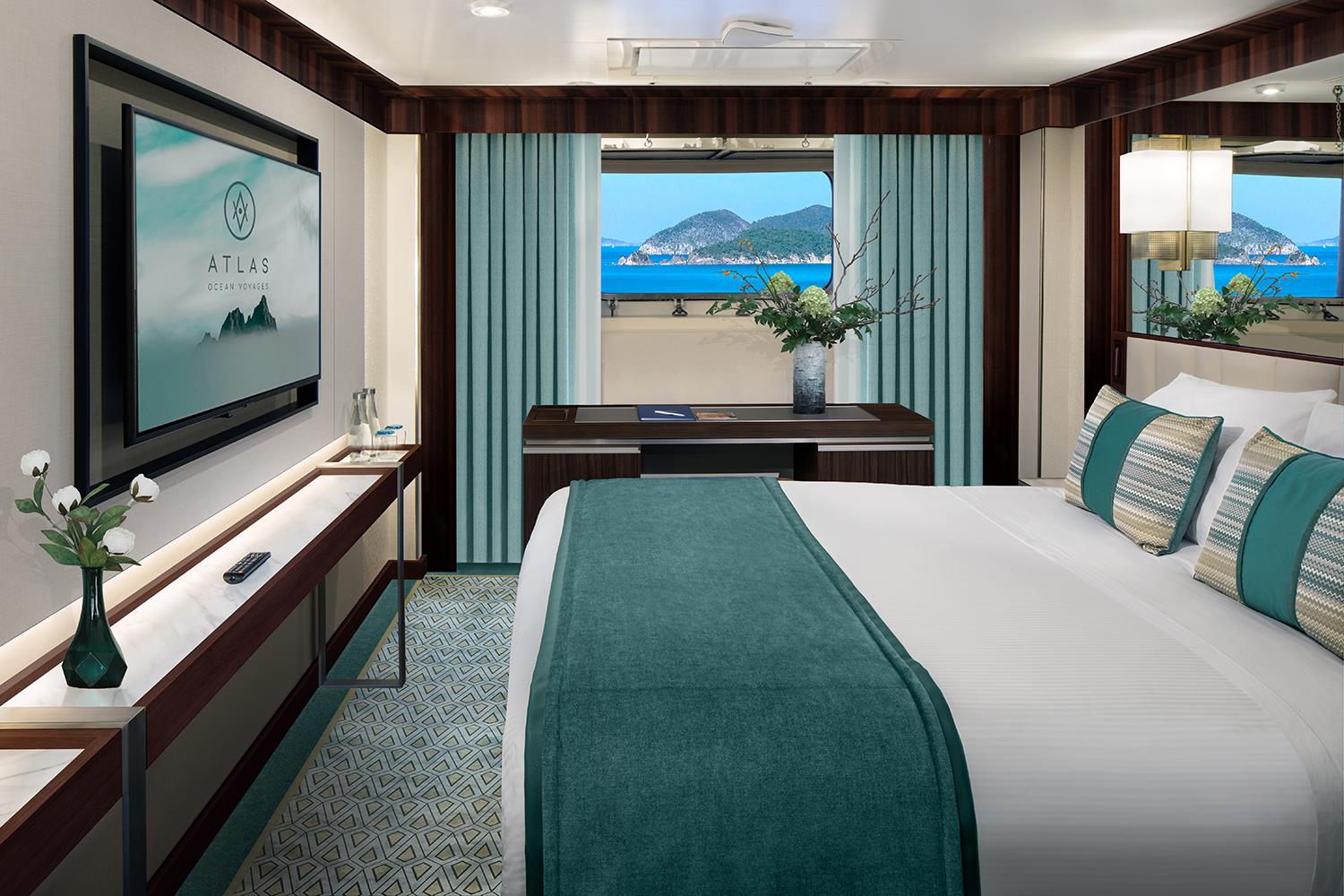 Even though these Solo Suites are less spacious than Veranda and Horizon accommodations, they offer elevated perks — such as butler service, suite level privileges and no single supplement.
As for accessible options, yes, the ship has some accessible accommodations, plus elevator service.
That said, expedition cruising differs from a typical cruise. It's often more active, particularly for how guests go ashore and what they'll need to do physically to reach the points of interest.
So, discuss any specific mobility needs with your travel advisor before booking. Definitely ask about Zodiac use or guide-led adventures ashore.
Atlas Ocean Voyages: Parting Thoughts
To enhance health/safety on board, World Navigator's staff and crew are all vaccinated with COVID-19 booster shots. Atlas also says it's the first and only cruise line to include emergency evacuation insurance with every booking.
On the sustainability side,  Atlas Ocean Voyages ships incorporate hydrojets. That means a virtually silent propulsion system to minimize underwater noise, a plus for not disturbing marine life.
Moving forward, you'll likely be hearing a lot more about Atlas Ocean Voyages. This new small-ship line is giving cruisers a new way to experience exotic adventures across the globe.
Important Notes from Pavlus Travel
This blog site is designed for "basic, general information" about travel; it's not designed to provide specific pricing nor is it staffed by travel advisors.
So, please don't use the Reply Section below if you are asking for pricing, travel dates, accommodations, brochures or other specific requests. 
That said, we are most happy and eager to assist you. Here's how…
If anything does tweak your interest in the story and you DO have questions about specific pricing, brochures, savings, accommodations, accessible options and so on, please contact us at 800-528-9300.
Or visit us online at Pavlus Travel's official agency Web site; there you can "live chat" with us online too!
Thanks for reading!