In an exciting fleet announcement on Tuesday, American Cruise Lines (ACL) unveiled its initial plans for "Project Blue." Let's just say this new project should tweak the interest of luxury travelers. That's particularly true for those who'd love to cruise on an innovative, new coastal ship that sails close to home.
What's on tap? Well, cruisers can expect ACL to construct 12 identical new sister ships – all hybrid catamarans in design. They'll offer what ACL terms "unprecedented near-shore operating versatility."
In laymen's terms, these vessels will sail along U.S. coastlines, visiting small-town destinations and offering unique landside adventures.  Frankly, they'll also be able to handle lakes, rivers and lock transits.
We've corraled a number of renderings of the new ships' interior design. Keep reading as throughout this blog, you'll see the "visual look" that ACL expects to deliver.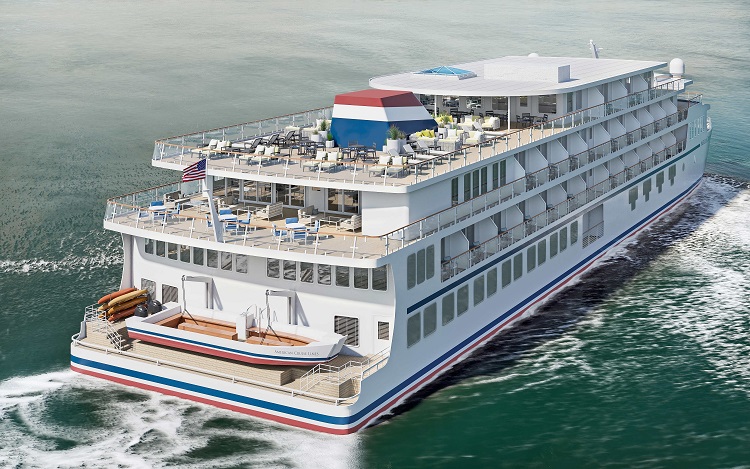 Our "take" is that travelers will board an intimate vessel with cutting-edge design. In addition, they'll enjoy a good dose of exclusivity. That's because each ship will carry only 109 passengers maximum, plus 50 crew members.
Project Blue: Sailing Solely Along U.S. Coastlines
Don't expect to see these new coastal voyagers in Europe, Central America or Asia. Nope. They'll solely operate itineraries focused on U.S. coastal destinations. Consider the new Project Blue vessels as "close-to-home cruisers."
"Project Blue started as a design challenge to create a boat small enough for New England harbors and stable enough for the Alaska Inside Passage, with a draft shallow enough for the Atlantic Intracoastal Waterway," explains Charles B. Robertson, president and CEO, American Cruise Lines.
Robertson emphasizes that the project "reinforces the growing interest in small ship experiences and personalized cruising. He also notes that the Project Blue small ships "can run almost anywhere."
Because there will be a dozen such vessels, they'll be deployed throughout the U.S. – from the East Coast to Alaska, the West Coast to the Gulf of Mexico and the Great Lakes.
Built in the USA, Coming in 2023
As with all American Cruise Lines' new ships, the Project Blue fleet will be built at a U.S. shipyard – Chesapeake Shipbuilding in Salisbury, MD. In fact, that shipyard is also owned by ACL. It's carefully honed its craft over more than 30 years of building small ships including ACL's recent Modern Riverboat series.
"Together with Chesapeake Shipbuilding, we built the first modern riverboats in the country," says Roberton. "Now we are proud to introduce another new ship design for domestic exploration."
For Robertson, "continuing to innovate and expand the possibilities for cruising close to home is central to our mission."
Looking at the numbers, the new coastal cruisers will be 241 feet long and 56 feet wide. In addition, their hybrid- catamaran design will enable both shallow draft access and stable sailing along lakes, rivers, bays and America's coastline.
ACL describes Project Blue as creating small ships with a "go-anywhere" agility that can combine the adventure of an expedition with the luxury of the finest river cruises.
Things are moving fast, we learned today. The first two Project Blue ships are already under construction. Look for deliveries of both to ACL in 2023. And so, the anticipation builds…
Project Blue: Elegant Modern Décor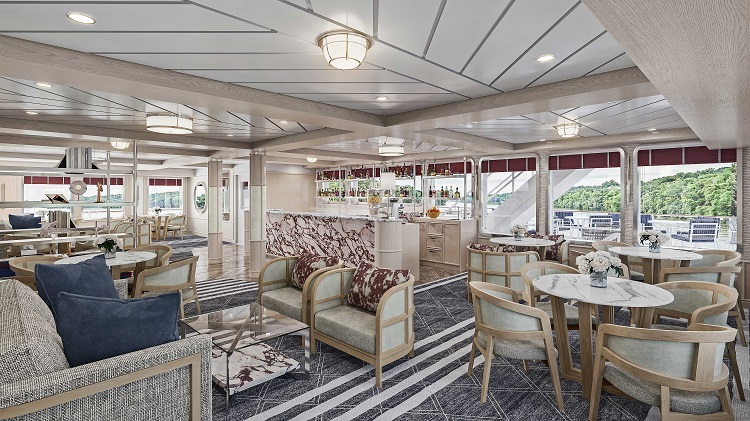 When the small ships hit the water and begin carrying guests, cruisers can expect interior design that's elegant and modern.  Yet, examining the line's renderings, the new ships look quite comfortable too. That's in great part to the creative genius of Studio DADO of Miami, FL.
Sound familiar? Studio DADO also created a new Modern Riverboat series design look that recently debuted on American Melody.  In addition, the design firm was recently tasked by ACL to redesign the interiors of ACL's existing paddlewheel river fleet.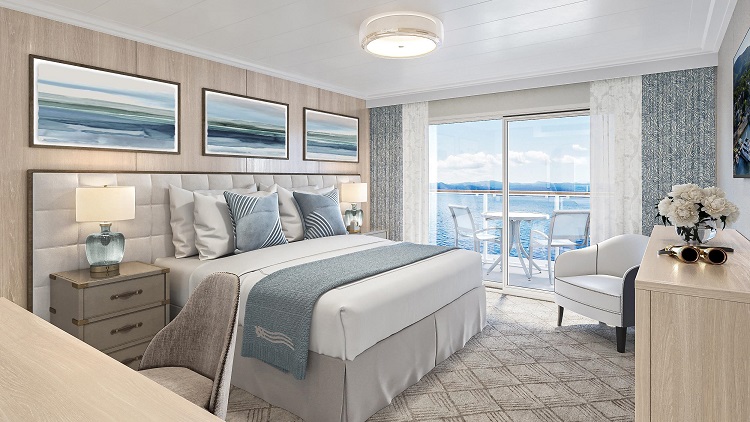 As for accommodations, the new hybrid catamarans will each offer 56 spacious staterooms. Guests will choose from a range of large standard staterooms, sumptuous suites and single accommodation.
And yes, cruisers will enjoy "private perches" for watching the scenery. Nearly all accommodations will have private balconies.
To get a sense of the stateroom and suite "look," check out the photos below. In both cases, there appears to be much space and a luxurious, yet comfortable feel to the design, decor and furnishings.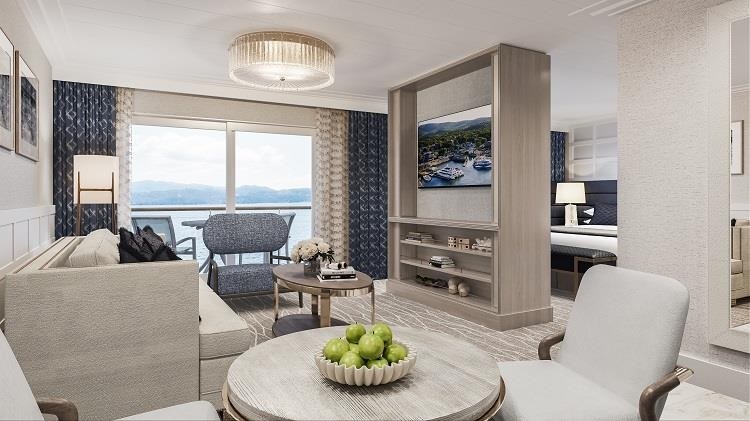 A Peek at Public Spaces
Project Blue ships' public spaces will include observation and sitting areas at the bow, both inside and outside. We can't wait to see the expansive Forward Lounge that will provide 270-degree views.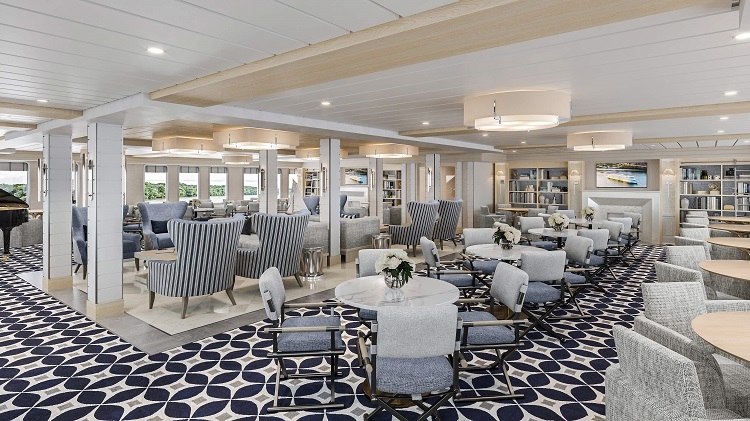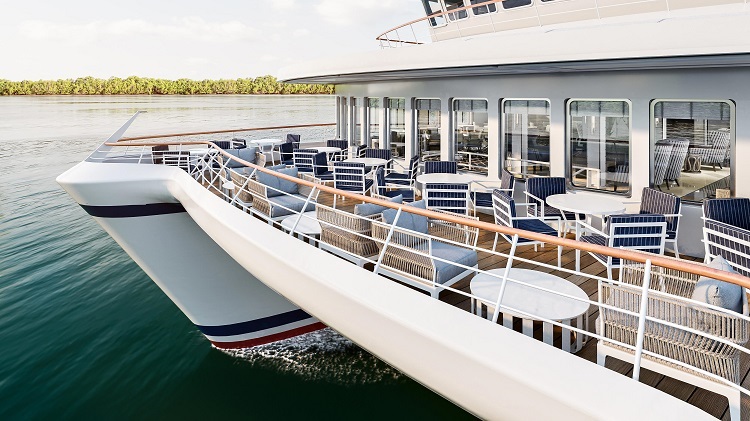 At the stern, each ship will offer guests a new adventure deck equipped with kayaks, a tender (capable of holding 49 people, which will be used for beach landings and so on), and other activity-related equipment. Usage will vary based on the specific itinerary.
Dining-wise, guests will enjoy two elegant dining venues. And yes, there will be room service, something not always available on similar ships of this small size. Check out the rendering of one of the restaurants below.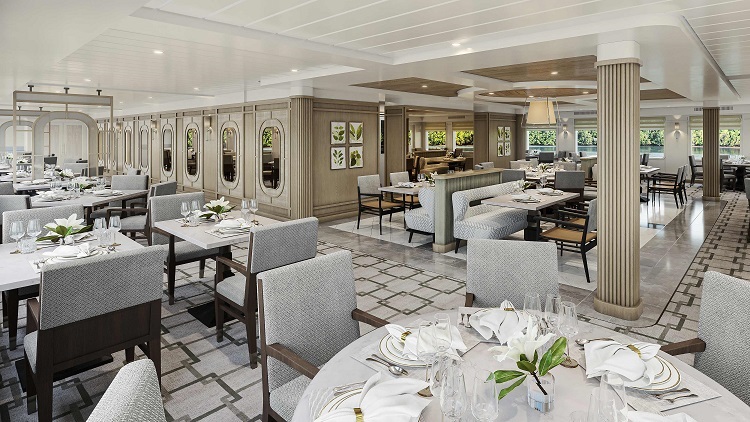 Project Blue: American Eagle, American Glory
Look for the first two Project Blue ships to debut along the East Coast. They'll be named American Eagle and American Glory. Sound familiar? Cruisers may remember those names, which are tribute throwbacks to the company's first two small U.S.-built ships of the same names.
Here's the initial 2023 schedule line-up provided by ACL:
American Eagle's first voyages will include a "Chesapeake Bay Cruise" on July 15, 2023; and four "Cape Codder" cruises on July 24, 2023; July 31, 2023; August 7, 2023; and August 14, 2023.
American Glory's initial line-up of voyages will include the "American Revolution Cruise," on October 29, 2023; November 8, 2023; and November 18, 2023. The ship will also operate an "East Coast Inland Passage Cruise" on November 28, 2023,  and a "Historic South and Golden Isles" cruise on December 12, 2023.
For more than 30 years, ACL has built, introduced and operated 100 percent U.S.-built, crewed, and registered ships. The company takes great pride in its specializing in close-to-home cruising across the U.S.
So in 2023, look for the latest innovations to debut with American Eagle and American Glory.
Editor's Note:  Moving forward, look for updates on Project Blue and other coverage of ACL as well as American Queen Voyages and Viking River Cruises. In fact, check out our a first-hand look at a pampering Two-Level Loft Suite on AQV's American Duchess. And, of course, we'll continue to focus on the rise of river cruising and the rise of new options across the globe.
Note from Pavlus Travel, if you'd like to discuss close-to-home sailing opportunities, talk with your travel advisor or contact us at 800-528-9300 or visit us online.