Active, fitness-focused consumers who love hiking, biking or working out at home, initially might say "no" to a European river cruise. Yes, these luxury travelers typically "get" that pampering river cruises are an incredible way to float through the continent with close-up views of fairytale-like towns, storied cities, vineyards and gorgeous landscapes.
But, at the same time, they often ask: "Is a river cruise the right fit for my lifestyle? I'm fit and active. I don't want my grandparents' river cruise experience of the 1980s or 1990s."
Fortunately, today's European river cruises are a world apart from past voyages on those same waterways. They're highly personalized, guest-centric and brimming with choices including many active adventures.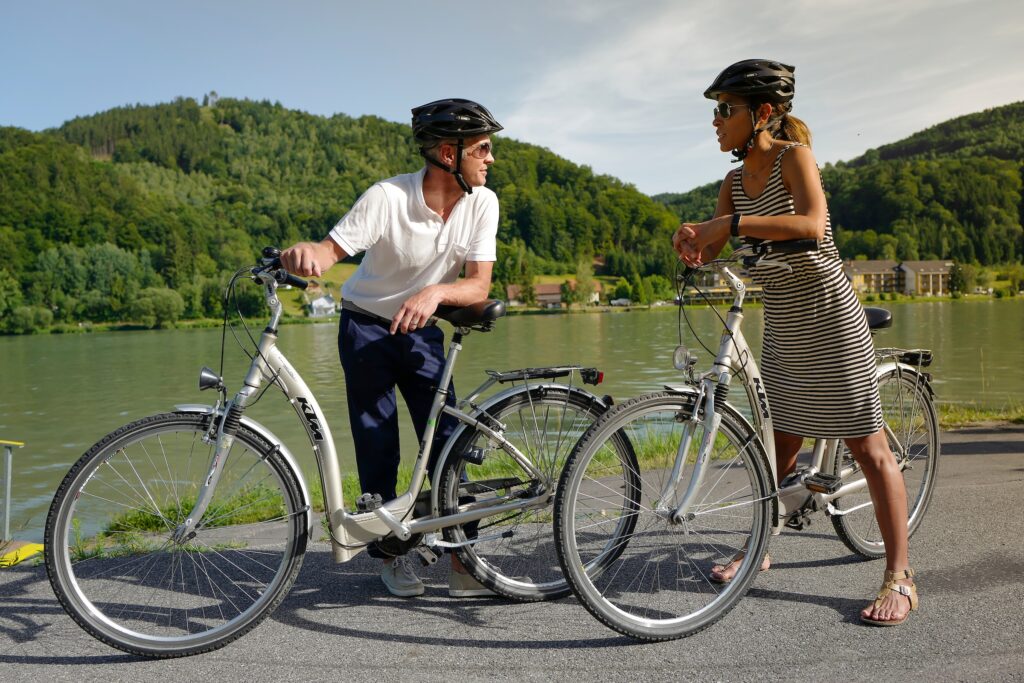 Fleets of Bicycles
Did you know that many upscale river lines transport "fleets of bicycles" aboard their European river vessels? It's true. So, it's super easy to grab a bike and go. Cruisers can pedal out independently to explore a port destination or sign up for guided bike shore excursions.
In 2006, AmaWaterways was the first major European river cruise line to introduce a "fleet of bicycles" carried on its river ships. Today, all the upscale line's vessels (except for those in Portugal) each carry 25 bicycles, plus two child-sized bikes. Sailing the Danube River, the larger AmaMagna carries 50 bicycles and four child-sized bikes.
So, in Vienna, the line's guests might pedal away independently to see the Austrian Parliament building, churches and historic squares. At the exterior of the Spanish Riding School, they might even spot white Lipizzaner stallions popping their heads out from stable stalls.
AmaWaterways' guests also might choose a guided bike excursion through French wine country, Austria's Wachau Valley or the Dutch countryside. Ratcheting up the intensity level, AmaWaterways also partners with Backroads for select "active itinerary" and full-ship charter sailings. Guests are accompanied by Backroads' expert trip leaders.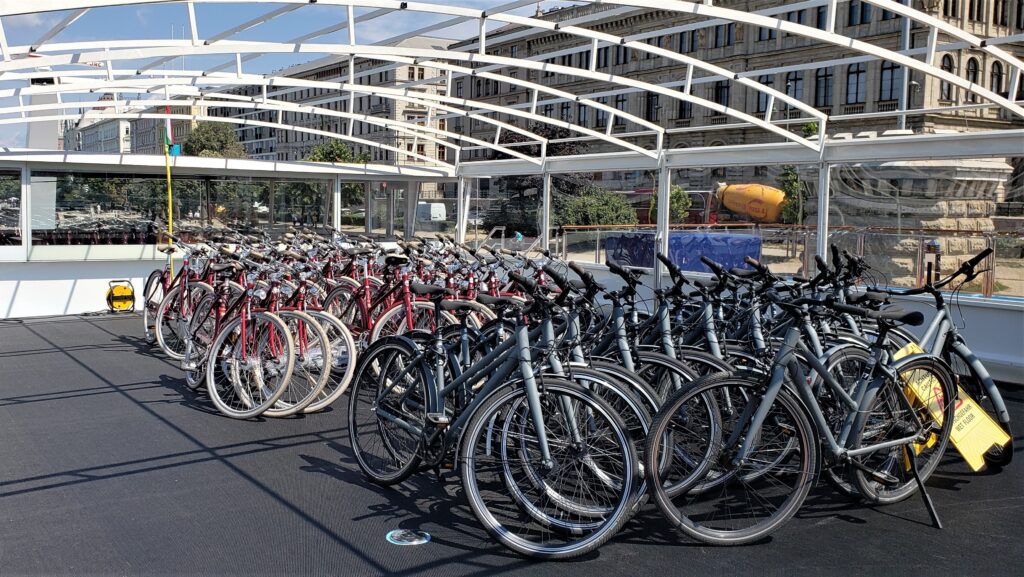 River Cruises for Cyclists
Ultra-luxury Crystal River Cruises also carries road bikes for independent guest use or for guided biking shore excursions. One nice perk is that Crystal offers three complimentary guided bike excursions during each seven-night voyage between April and late October; those don't operate later in the year due to weather-related safety concerns.
Crystal Mahler's seven-night Amsterdam to Basel, Switzerland voyage during 2022, offers a complimentary "Bike Tour through Waterland" excursion from Amsterdam. During this three-hour, guided bike tour, cruise guests will pedal into the Dutch countryside.  While staying active, they'll view bucolic scenes of windmills, farms, flowers and charming villages.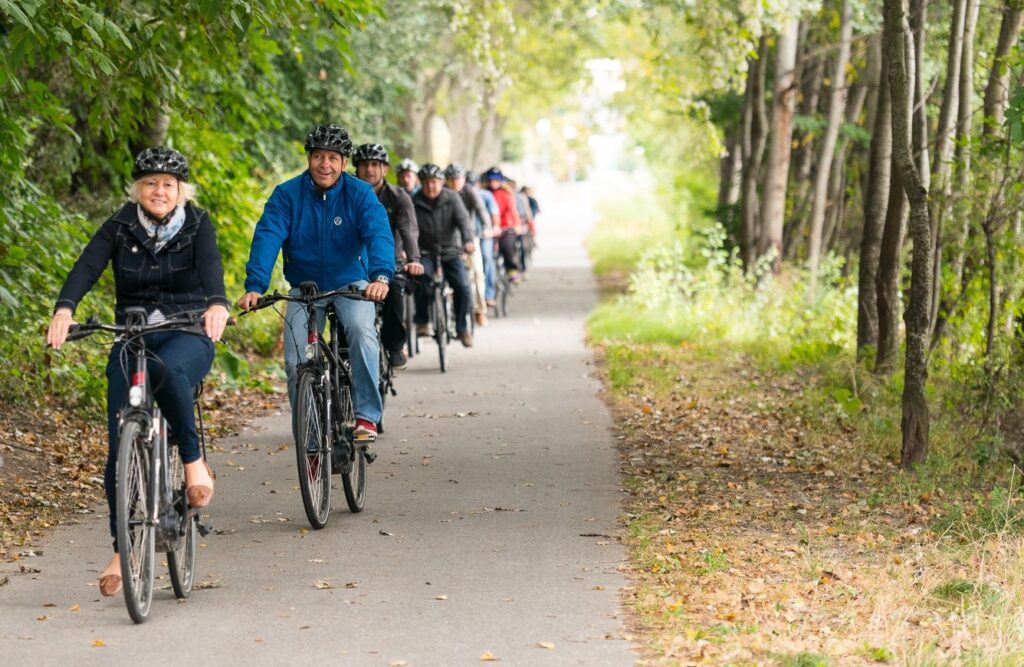 The active "Let's Go" program by Uniworld Boutique River Cruises also opens a world of lively activities for guests who wish to keep moving. Cruisers can concoct their own personalized bike tour, based on their personal interests. Or, they can join a Uniworld-arranged, guided bike shore excursion, at times accompanied by a sports guide or expert naturalist.
Uniworld's "Brilliant Bordeaux" voyage from Bordeaux, France offers a "'Let's Go' Bike in the Medoc Vineyards" excursion. Active cruisers will climb aboard their bicycle in Pauillac, France, and wheel through wine country with an expert cycling guide. It's a fresh-air experience with views of prestigious wine estates.
Adventure Hosts on River Cruises
Another major European river line, Avalon Waterways carries 16 complimentary bicycles on each of its European river ships. Plus, the line offers two electronically assisted bikes (e-bikes) on every Suite Ship. What's an e-bike? These offer motorized propulsion or pedal power assistance, depending on the specific e-bike type. So, less active cruisers – perhaps accompanying a more fit companion – can pedal as much or little as desired.
Avalon Waterways provides "Adventure Hosts" on all ships too. They'll take guests out for guided bike rides or recommend "on-your-own" biking routes.
Cruisers booking the line's "Active & Discovery on the Danube" itinerary can head out on bike shore excursions. Among them are a route pedaling between Spitz and Krems in Austria. In Durnstein, bikers will stop to see the blue Stiftskirche, a gorgeous, Baroque-style church. It was constructed in the 1400s and rebuilt in the 1700s. An added treat for cyclists is the opportunity to taste local culinary specialties.
Alternatively, cruisers might check out Avalon Waterways' "Active and Discovery on the Rhone" excursion. That's a guided e-bike ride through the Gard region (the area around Nimes, France).
River Cruises in Europe
Luxury river line, Tauck, also carries between six and 10 regular bicycles (not e-bikes) aboard its European river vessels. Tauck's directors will provide recommended cycling routes for those bikers desiring to tour independently.
In select locations, that river line also works with a local partner-supplier to provide river cruisers with guided cycling excursions. Those Tauck tours feature either regular bicycles or e-bikes, depending on destination and specific excursion.
During Tauck's "Rhine and Moselle" cruise between Amsterdam and Basel, Switzerland, four different biking options await. Guests will spend the morning in Boppard, Germany, and after lunch, they have two choices. They can either  cruise the Middle Rhine aboard their river vessel. Or, they can head out for a three-hour, e-bike cycling excursion along the same stretch of river.
Past guests report that this bike excursion is a hoot. Why so? It gives guests a chance to "chase the ship." That's done safely, of course and doesn't jeopardize the bike experience of castle views and guide-provided commentary. But it's fun to see whether the river vessel or the cyclists arrive first in Bacharach, Germany.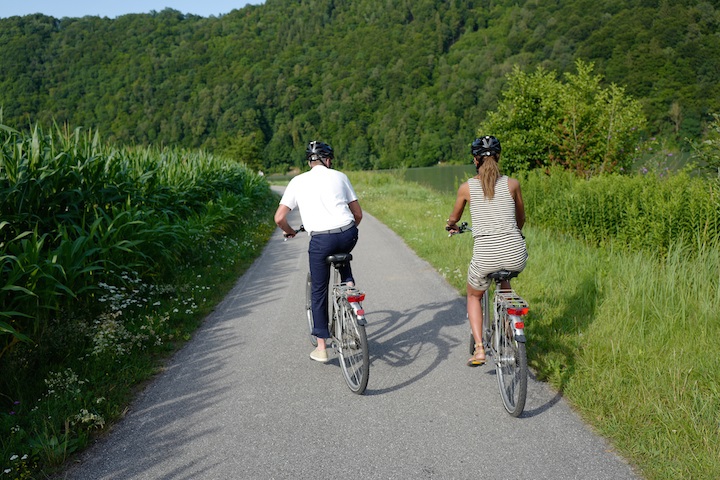 Biking along the Rivers
While Viking River Cruises doesn't carry a fleet of bikes on its river voyages, fitness-focused guests can book bicycle shore excursions. Upon arrival at Cologne, Germany, Viking's active-minded guests traveling on the "Grand European Tour," "Rhine Getaway" or "European Sojourn" itineraries will meet their biking guide, take a short safety briefing, don a helmet and set off to explore.
Along the way, they'll see the famous equestrian statue of Friedrich Wilhelm III (King of Prussia). Other route highlights include Germany's oldest City Hall and the magnificent, Gothic-styled Cologne Cathedral. The cycling route will take them into Cologne's Old Town and along the Rheinauhafen waterfront.
Alternatively, guests traveling on Viking's "Holland & Belgium" itinerary can opt for "Antwerp by Bicycle" shore excursion. That includes popping into the Gothic Cathedral of Our Lady, home to much impressive art including works by Rubens.
Cyclists on this excursion will pedal along the Scheldt quays and check out Antwerp's former harbor and the MAS Museum. They'll also eyeball the Havenhuis, Antwerp Port Authority's iconic new headquarters designed by architect Zaha Hadid.
Seeking a week-long voyage on the Danube River? Another option is European river line, CroisiEurope, which offers a "Beautiful Blue Danube" itinerary.  While the line also doesn't carry bikes aboard its river ships, on that itinerary,  one highlight is a DISCOVERY guided bike tour of Budapest, Hungary.
Active River Cruises
Scenic, a luxury river line sailing in Europe, has developed a robust Scenic Freechoice program. Travelers personalize their days ashore – selecting excursions or activities tailored to their specific interests. Yes, guided bike excursions are one option. Guests can also explore independently via e-bike — following their chosen route with the Scenic Tailormade App.
During Scenic's eight-day "Bordeaux Affair" itinerary operated by Scenic Diamond in 2022, cycling enthusiasts can head ashore at Blaye, France. During a Scenic Freechoice 18-mile bicycle excursion, they'll pedal along Captain's Road. It's named in honor of the World War I captains who bought homes along this stretch of riverfront.
Attracting many active, younger and young-at-heart guests for its focus on active river adventures is Scenic's sister line, Emerald Cruises. The line's dedicated activity managers support all EmeraldACTIVE shore excursions including guided bicycle excursions.
During the past five years, that EmeraldACTIVE tour program has increased its offerings by more than 50 percent. Those activity managers will help guests scope out individual bike tour routes, if cruisers prefer to head out independently.
Uniworld's sister river cruise line, U by Uniworld, also draws an often younger, more active clientele. U by Uniworld's eight-day "Vienna Vibe" voyage sails eight days from Vienna to Nuremberg, Germany.
Biking fans can opt for this voyage's Passau bike tour as well as a "Wachau Wheels" excursion in Melk, Austria. During that latter outing, guests will bike along the Danube, view castles and vineyards, and enjoy a "blanket picnic."
Beyond Biking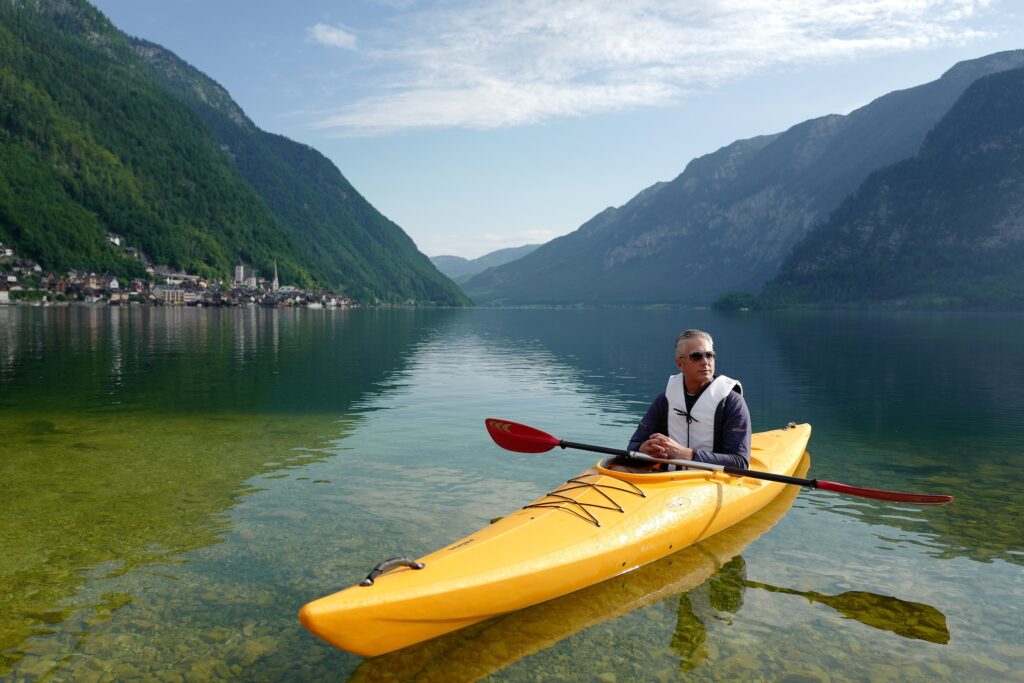 Active adventures on a European river cruise certainly go beyond biking too. Most notably, river travelers can "dive into" destinations via guided hiking, biking, climbing, canoeing, rafting and more.
For example, Avalon Waterways offers kayaking and canoeing on certain itineraries, while EmeraldACTIVE shore excursions include urban and rural hikes and canoeing.
For those who love hiking and walking, CroisiEurope has created  "themed hiking cruises." One 2022 itinerary is roundtrip from Porto, Portugal. Guests will get plenty of fitness steps while hiking in Porto, the Douro Valley and Salamanca, Spain. Hiking/walking tours are led by a qualified mountain guide.
With the "Let's Go" program, Uniworld guests can go kayaking or borrow a Nordic walking stick to explore on their own. Or, they might tee off at Golf d'Etretat, perched atop Normandy's cliffs in France. U by Uniworld's fitness-focused guests visiting Rotterdam in the Netherlands can head out jogging on local running paths.
During a port call at Rudesheim, Germany, AmaWaterways' guests can choose a guided vineyard hike. Or, during that line's call at Bratislava, Slovakia, travelers can take a guided hike to the Bratislava Castle ruins.
If vacationing on Viking's "France's Finest" and "Lyon & Provence" itineraries, canoeing is possible too. For example, Viking's cruisers booking the "Canoe the Rhone River" shore excursion will enjoy a 2.5-hour downstream paddle. While admiring Avignon's sites, they'll learn about the Rhone River ecosystem.
Fitness Afloat
When travelers return from an active adventure ashore, they'll discover that their river vessel often has its own fitness-focused facilities or activities. So they can stay in shape afloat, not simply ashore.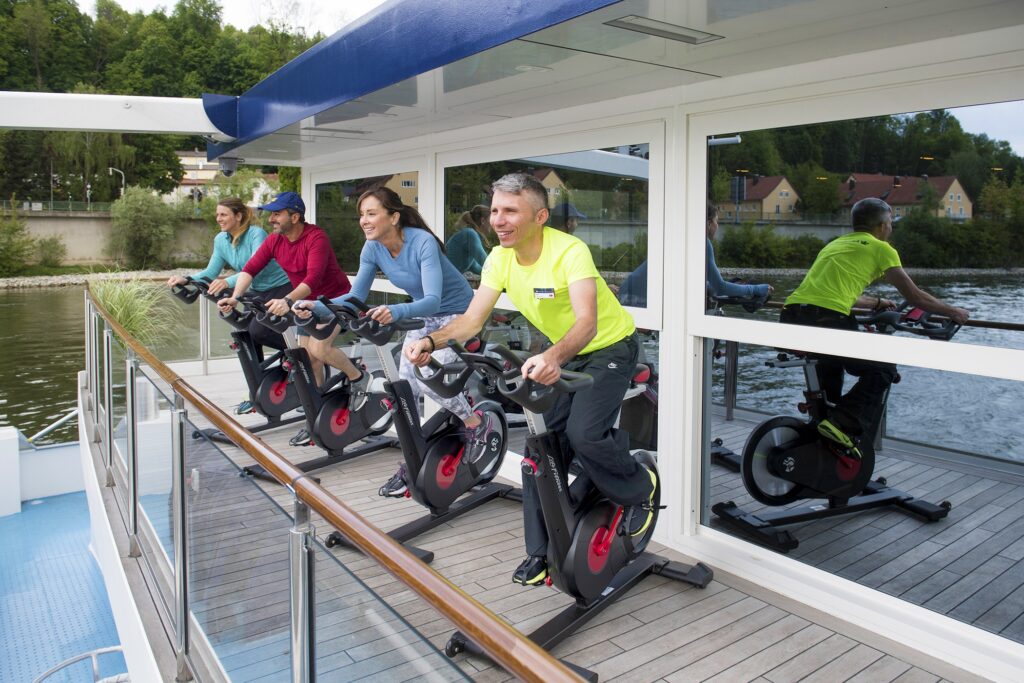 Many lines offer small exercise facilities outfitted with state-of-the-art fitness machines and weights. Some have unique options.
AmaWaterways' largest river vessel, AmaMagna, has a row of spinning bikes outside the ship's fitness center. So, cruisers "spin away" while watching day-to-day life unfold along the river.
On select Uniworld sailings, guests can begin the day with a TRX Suspension Training class by a certified wellness instructor.
At Scenic Cruises' onboard fitness center, cruisers might tackle the "Five Tibetan Rites." That's a set of exercises to help reverse the effects of aging.
Fitness-minded Crystal guests can get their heart rate up with state-of-the-art cardio equipment. Guests can also take yoga and stretching classes.
It's also easy for travelers to maintain their "walking regimen" or achieve a certain number of fitness steps daily. Just head for the top-deck walking track on many river lines including Viking.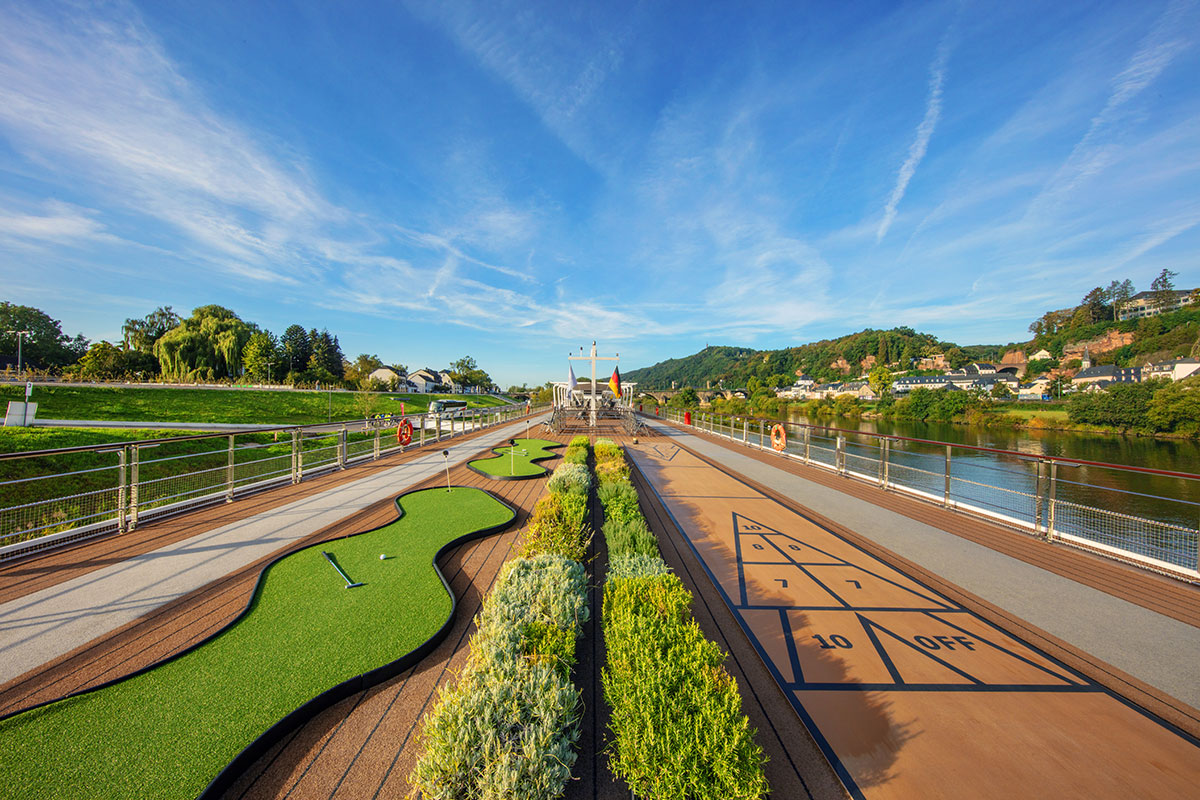 Emerald's onboard activity managers will set up "walk a mile" classes on the Sun Deck, plus yoga and Pilates sessions. For fitness coupled with fun, Emerald's guests can enjoy aqua aerobics in a small pool.
Other lines too have active options. Just be sure to ask about what's offered fitness-wise for any itinerary and ship before booking a river cruise. Find the best match. Facilities and activities vary sizably ship to ship, line to line. For example, Viking's river vessels have top-deck walking tracks but not fitness centers.
Parting Thoughts
While afloat on Europe's rivers, it's heavenly to kick back, relax and sip on a glass of wine while taking in the scenery. Travelers get "up close" views of storied destinations. They become fully immersed in the European experience.
But today's European river voyages also offer fresh, appealing and often-active choices for daily activities. Cruisers with a fitness bent can simply pick their pleasure.
Perhaps that's bicycling, canoeing, paddleboarding, climbing or hiking ashore. On board, it might entail a gym work-out, aerobics class or fitness laps on the top deck.  
But, overall, this this definitely isn't your grandparents' river cruise experience. It's more personalized, choice-driven, and brimming with fantastic, new active adventures.