Behind the scenes for Holland America Line's culinary offerings is an invaluable "secret sauce," the affable Rudi Sodamin, master chef and chairman of the line's Culinary Council.
His enthusiastic passion for life, food and people is evident at every turn. Yet, he's not a secret to many of Holland America's loyal past guests. In fact, those who've met him say they'll likely never forget him.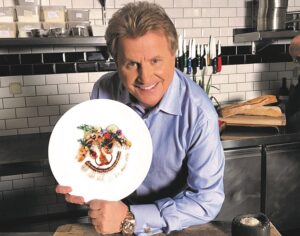 Most notably, day after day, he exudes a "can-do" attitude that's infectious (in a good way) to people around him. He's "down to Earth" in connecting with people.
Yet, he's also "up in the clouds" when it comes to developing tasty dishes that "ooze" creativity in presentation.
In addition, he has just released his 13th cookbook. He's also a food pop artist – using food not simply for cooking but for art and fun.
So, read on to learn more about Rudy Sodamin and what he brings to the table.
Editor's Note: This is the first of a series of blogs throughout the year focused on cruise line chefs and culinary consultants. 
Food Orchestration   
All 11 Holland America ships will be back sailing cruises with guests aboard by May 2022. When that occurs, the upscale line will serve up to 40,000 meals a day. That's a conservative estimate, the line says. It's based on three meals a day and the ships are not sailing at full capacity yet.
While that's not as many meals as usual (given that lower capacity), it's still a lot. Just keep in mind that many cruise lines are still tweaking culinary offerings in this "return to service" period. Also, throughout the cruise industry, the Omicron variant of COVID-19 has impacted levels of crew staffing on certain ships at times, which can slow service delivery.
So, it's good advice for anyone sailing in early 2022 to pack not only their suitcase but also a proactive dose of patience and flexibility. That said, during our recent, five-night Rotterdam voyage roundtrip from Port Everglades, FL, we found the Holland America cruising experience quite positive.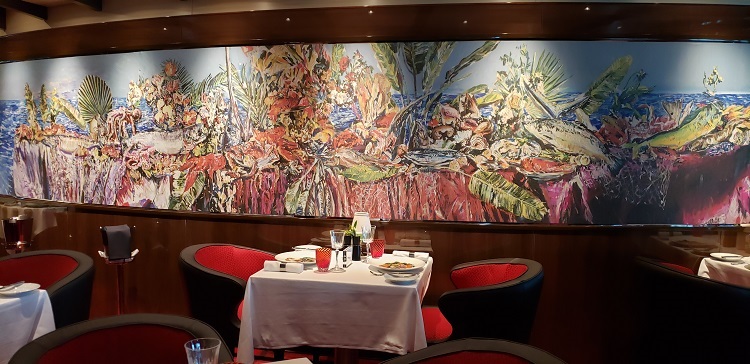 As for onboard restaurants, we enjoyed our dining experiences at the ship's main dining room, casual Lido Restaurant, and three specialty restaurants — Rudi's Sel de Mer (shown above), the Pinnacle Grill and Tamarind. Overall, the cuisine throughout our five days aboard Rotterdam was tasty and well-presented.
Austria, France & Beyond
Born in Austria, Rudy Sodamin grew up in a close-knit family of 11 children. He learned to cook alongside his mother and absolutely loved the craft. Leaving home at age 14, he began a four-year culinary apprenticeship in the Kurhotel Heilbrunn in Bad Mitterndorf, Austria.
At the age of 22, he became a chef on Cunard Line's Vistafjord (later renamed Caronia) and became the executive chef there at age 23. He also became the youngest corporate executive chef on Cunard's Queen Elizabeth 2.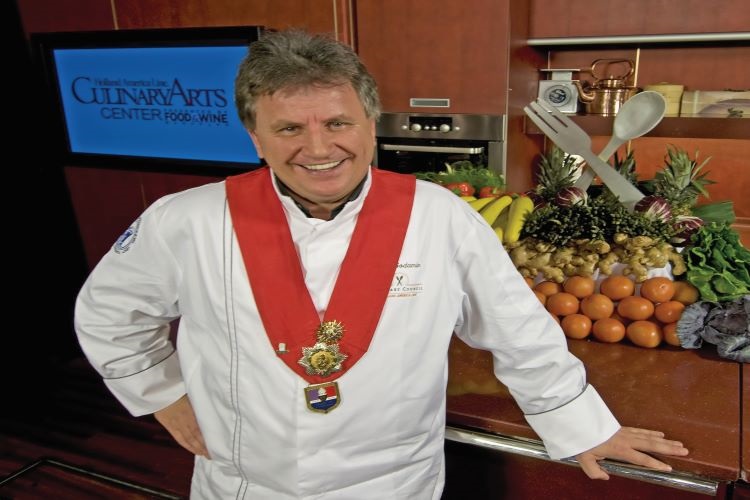 Joining Holland America Line in 2005, Sodamin today is a member of the Academie Culinaire de France, the Maîtres Cuisiniers de France and the prestigious Club des Chefs des Chefs.
In 2010, he also founded Holland America's own Culinary Council, which he chairs. That's a small group of top chefs who meet monthly. Sodamin loves the ideas that flow from the group – helping assure the line's menus remain fresh, vibrant and appealing, both for new cruisers and loyal past guests.
Rudi Sodamin's Sel de Mer
In 2016, Sodamin launched the Mediterranean seafood brasserie, Rudi's Sel de Mer, on the Pinnacle-class Koningsdam. In French, that name means "salt of the sea." Guests dining here can expect classic French cuisine reimagined with a contemporary flair.
This intimate, specialty restaurant is also now on Nieuw Statendam as well as the new Rotterdam. In addition, on other ships, it's available as a "pop-up restaurant" concept on select evenings in Pinnacle Grill.
Dining at Rudi's Sel de Mer on Rotterdam, we easily slipped into the mindset of savoring a brasserie experience in Nice or Marseille, France. The eatery's menu brims with fresh fish and seafood choices. Steak fare and casoullet dishes are available too.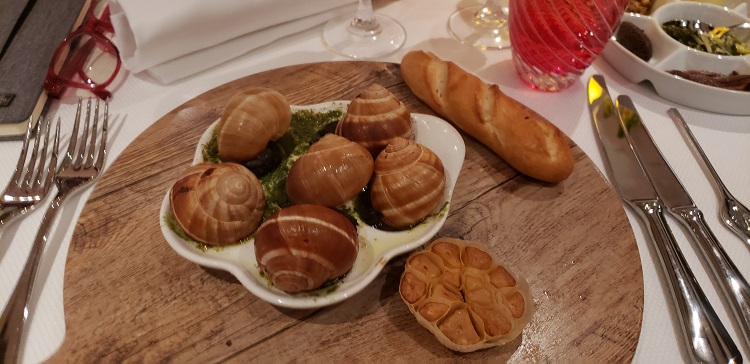 Appetizer choices included Escargots Bourguignonne (see photo above),  Bouillabaisse Marseillaise, steak tartare, tuna salad Niçoise and foie gras torchon.
In addition to ensuring the dishes are tasty, "for me, it's always about the presentation," Sodamin explains. So, not surprisingly, his "Fruits de Mer," a tall appetizer serving two people, impressed many diners during our dinner.
Sporting a robust array of lobster claws, langoustine, crab claws, jumbo shrimp, mussels, clams and oysters, the appetizer was artistically presented around, along and atop a "mountain-like" ice structure. Let's just say that when it was placed on the table, guests at surrounding tables couldn't keep their eyes off it.
Rudi's Main Course
When it's time for the main event at Rudi's Sel de Mer,  diners will find such entrées as the broiled fish catch of the day, broiled Maine lobster tail, whole Dover sole meuniere, rack of lamb persillade, salt-crust baked Branzino, steak frites, duck cassoulet or souffle au fromage.
Side dishes? Guests can order French fries, cauliflower puree, wild rice, ratatouille, green beans truffle and mashed potatoes.
For dessert, profiteroles, crepes suzette, apple tarte tatin, Rudi's souffle or an artisanal French cheese plate await. Setting off the meal are petits fours and gourmet French press coffee.
We asked Sodamin what feedback he receives from guests who've dined at Rudi's Sel de Mer. "I receive weekly overwhelming positive responses from many guests," he says, noting that they often comment on "the presentation."
What dish gets the most raves from cruise guests? Sodamin cites the seafood soup as well Rudi's food-face chocolate dessert.
As a specialty dining experience in an intimate setting, Rudi's Sel de Mer is priced at $49 per person for adults, half price for kids 12 and under. Or, kids can eat free when they order from the kids' menu.
Tamarind by Rudi Sodamin
The Meandering Traveler also asked Sodamin what he personally loves to eat at home and aboard a ship at sea. "Simple," he responds. At home, "I enjoy a nice piece of salmon." But if fresh salmon isn't available, he enjoys "a nice steak."
And when sailing on certain Holland America ships, "I love to eat at Tamarind, an Asian restaurant I created," he says. That restaurant is currently on Eurodam, Nieuw Amsterdam, Koningsdam, Nieuw Statendam and Rotterdam.
Holland America also offers a pop-up Tamarind menu (with limited menu items) in Pinnacle Grill for other ships operating Grand World Voyages (Zuiderdam) and Asian/Australian itineraries (Noordam and Westerdam).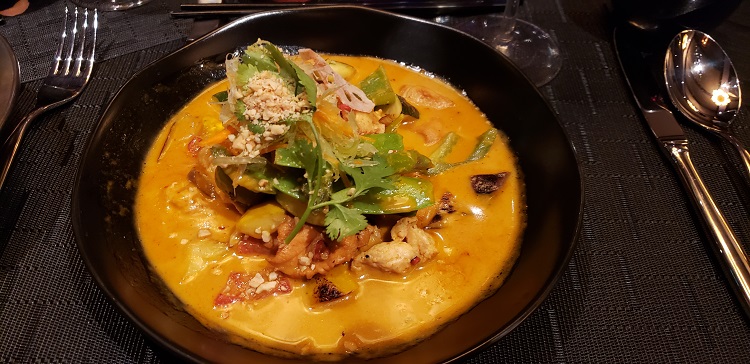 During a November 2021 Rotterdam voyage, we ordered a Panang Red Curry Coconut Chicken entrée in Tamarind. This photo above shows that dish when spiced as an eight on a scale of 10 as hottest. But guests also could order it as a mid-range 5 or even a mild 1. The galley aims to please.
Rudi's New Cookbook
Over the years, Sodamin has written 13 cookbooks including his newest, "Rudi's Sel de Mer – For the Love of Seafood." Among its draws, it provides photos of specific dishes in that specialty restaurant as well as recipes for making them.
Nifty is that this new cookbook is small (5 ½ inches by 6 inches), so it's easy to hold. It can easily slip into a purse or tote bag. It's also written in a breezy, easygoing style.
One highlight is a photo of Sodamin buying fish, plus helpful tips for what consumers should look for in doing that.
"Buy whole fresh fish with firm flesh, reddish pink gills and clear eyes," Sodamin says. "Also, make sure it has no fishy odor."
If people aren't sure how to prepare a whole fish, he'll give them "intel" to assist. He outlines everything from sauteed fish to fish that's battered, deep-fried, broiled, seared, roasted, grilled, baked and wrapped inside parchment paper.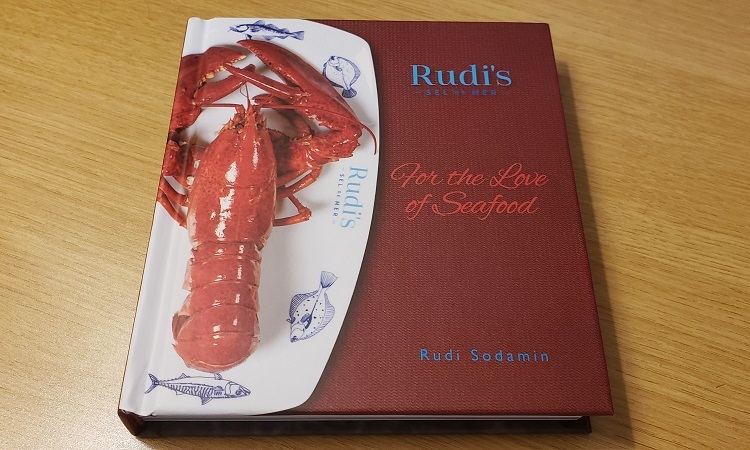 Salts & Spices
Another nice touch in this small book is its explanation of basic characteristics/flavors of popular "supporting elements.' Think spices, peppercorns, salts, herbs, fruits, sauces and oils that cooks might use at home but not truly understand.
For example, Hawaiian black lava sea salt has large black crystals, as this salt is combined with charcoal before it's dried. It has an earthy, mildly smoky flavor. It's best added to dishes at the end of the cooking time.
In contrast, Himalayan pink salt comes from ancient seabeds in Asia's Himalayan mountains. Rich in minerals, its flavor is subtle and earthy, and it's considered one of the more healthy salts.
Ever wonder about the differences in tastes for green, black, white and red peppercorns? Or how about the flavor traits of capers, lemongrass, coconut flakes and seaweed? This little book briefly explains those too.
Overall, the information Sodamin provides is helpful both for those cooking at home and those desiring to dine out.
By January 22, the new book, "Rudi's Sel de Mer – For the Love of Seafood" will be available for guest purchase ($13.50) on all Holland America's ships. For readers who'd like to buy it but aren't sailing soon, we'll update this blog with information about any online purchasing options as that information becomes available.
For more "Rudi recipes," check out a few postings on Holland America's blog too.
Rudi Sodamin: The Culinary Pop Artist
Another creative side to Sodamin is his food pop art. Simply put, he loves dreaming up whimsical food-face creations. Using a spontaneous process, he simply "plays around with the food." He doesn't sketch the images first.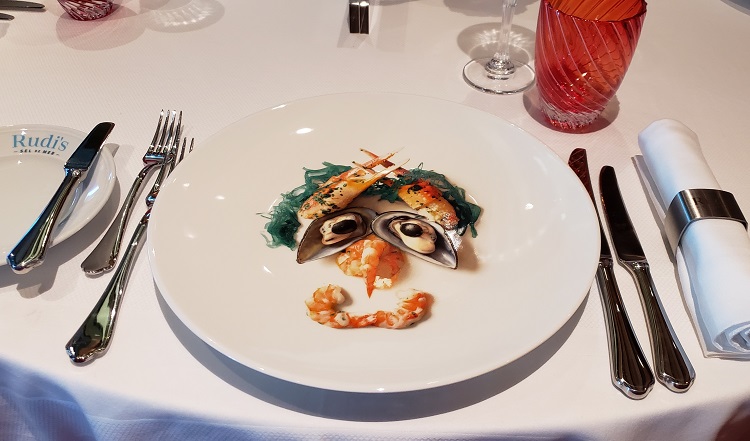 Presto, the new fantastic, food faces emerge. So, when guests dine at Rudi's Sel de Mer, they'll gaze down at their decorative charger plate and likely chuckle. On our Rotterdam voyage, we snapped photos (see above and below) of two of those plates. 
Extending the food fun to the highest level, Sodamin also "names" his creative plate designs.  So, diners might sit down at their table and be looking at a charger plate that's named "Don't Be So Crabby to the Admiral," "Love My New Hairdo" or "G'Day Mate."
Bernardaud a leading French manufacturer of Limoges porcelain, makes these plate chargers. If cruisers love a plate and would like to take one home, they can buy the plates aboard Holland America's ships.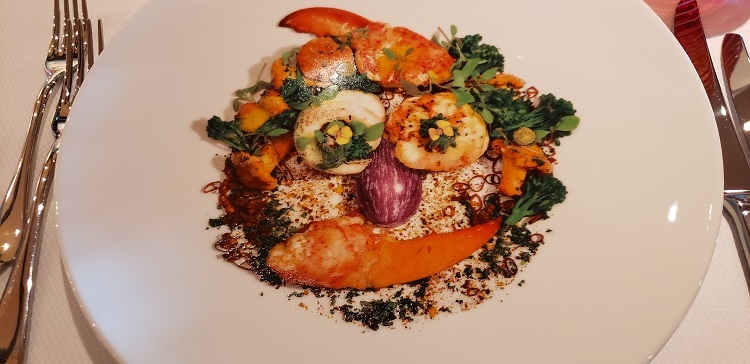 Rudi Sodamin's 3D Approach
As a talented pop artist, Sodamin continues to evolve his "food faces."  For the new book, he took food and "adorned the heads" of his friends and family members with edible elements. Yes, that means using fresh vegetables, meat, fish, seafood, sweets and other fresh ingredients.
He then asked them to pose in his photography studio and snapped photos of them graced with the 3-D food art.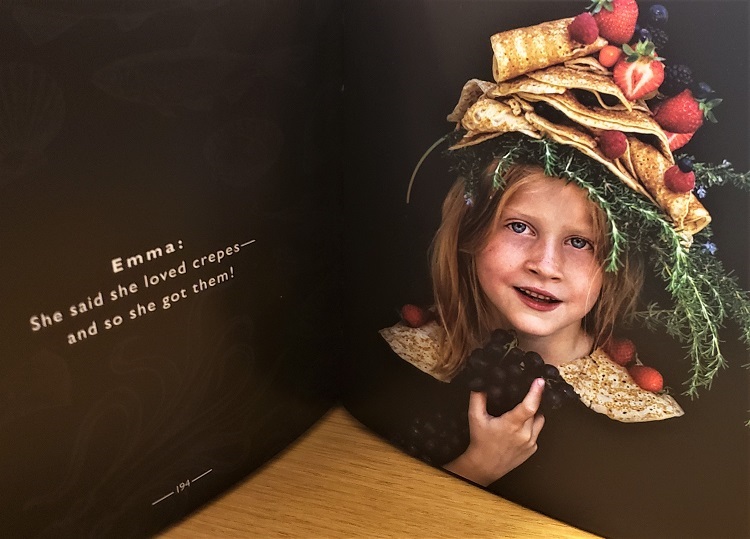 "I like to think of this pop art as a combination of joy, culinary ingredients and the power of human expression," notes Sodamin. He hopes all his food-faces art will keep bringing smiles to people's faces.
He also encourages his foodie fans to have fun themselves – to be creative while concocting their own culinary art.
Work Hard, Have Fun
Many celebrated chefs are employed by cruise lines as master chefs or serve as culinary consultants. Some have designed their own specialty restaurants. Many have received global honors in the culinary arena.
Rudy Sodamin too has done all that. While he's had the usual work challenges over the years, he says that if his culinary career wasn't fun, "I wouldn't still be doing it."
He's adamant about exceeding guest expectations for those who dine in Rudi's Sel de Mer and other eateries (large or small) on Holland America's ships.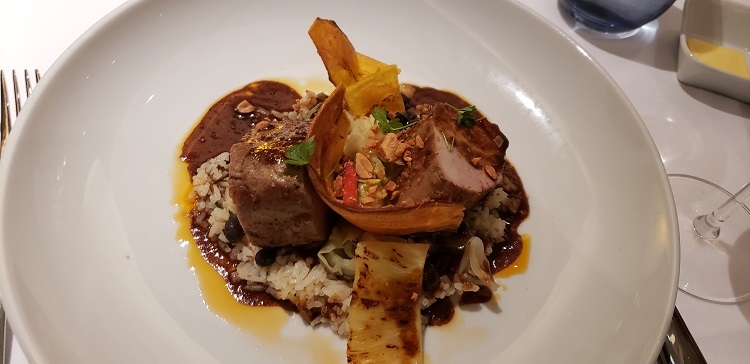 For example, shown above is an "Exc. Port to Table" entree served in the Caribbean on our recent Holland America cruise. This tasty jerked pork tenderloin was paired with peanuts, black beans, rice pilaf and collard greens.
As a consultant, Sodamin also brings his culinary magic to several sister Carnival Corporation brands.  For example, last fall he opened the new Rudi's Seagrill eatery on Mardi Gras, Carnival Cruise Line's newest ship.
Wherever food is served, whether on sea or land, and "whether it's for 10 people, 100 people or a thousand people, it simply has to be good food," he believes.
After more than three decades in the cruise and hospitality arena, Sodamin still gets excited about each new creative opportunity. His life philosophy?: "Have fun, have a passion and work hard."
To learn more about Rudi Sodamin, check out Holland America's blog interview here.