Creating the "perfect" vacation is all about matchmaking. While no two vacations are like, more importantly, people aren't "cookie cutter" either. So, what's the best approach for customizing your trip?
First, select the right vacation match — one that's dovetails with your lifestyle, personal likes/dislikes, travel style and vacation personality. Chat with a travel advisor, as they may suggest options that you hadn't even thought about. Also, let them know about what you like to see and do on vacation.
Pick the right vacation for your style. Then, get creative. It's simple. No matter whether you select an ocean cruise, hosted city stay, escorted tour, river cruise or beach getaway, it's crucial to then "layer in" your favorite activities – your personal passions.
Customize your trip to make it your own. First, read the first five tips in Part One of this series by  clicking here.   Second, then check out our five additional tips in Part 2, as detailed below.  
6. Customizing a Trip: Mix Things Up
Life in 2022 remains a roller-coaster ride for many consumers. They're eager for a much deserved vacation. In fact, they just can't wait to leave all the stress behind and relax on a beach or by the pool.
Not surprisingly, all-inclusive beach resort stays have burgeoned in appeal. Two big perks? Travelers enjoy their vacation in one pampering spot — avoiding additional travel time and stress — and are treated to a wealth of "creature comforts."
For example, the luxurious Moon Palace Resort in Ochos Rios, Jamaica, delivers all-inclusive value, with such perks as free WiFi and a complimentary airport shuttle. Gorgeous beach sands and pool play await, as do multiple dining venues and on-site entertainment.
Ever wanted to "Hang 10"? Yes, you can learn to surf at the resort's FlowRider Double Wave Simulator. Or, if a soothing spa treatment is preferred, just head for the resort's Awe Spa, one of Jamaica's largest. Family-friendly Moon Palace also has a Playroom with supervised activities for kids 4 and up.
Beyond picking and choosing activities on site, though,  consider a day outing (or two) from the resort into the local area. Mix things up. It's a great way to have all the benefits of an all-inclusive resort stay, but also to customize your trip to your personal interests. Here's a good example…
Reggae Fun in Jamaica
Reggae music fan? Moon Palace and other Jamaican resorts can easily arrange for music fans to head out on a "Bob Marley Tour." Both organized tours and private cars will transport visitors to Nine Mile in the Jamaican Highlands where Marley (1945-1981) was born.
Upon arrival at the Marley compound, participants will hear his music, tour his former home and see his bedroom. Also they'll visit a small, on-site church, see a rock where Marley loved to sit, and pay tribute at his grave site.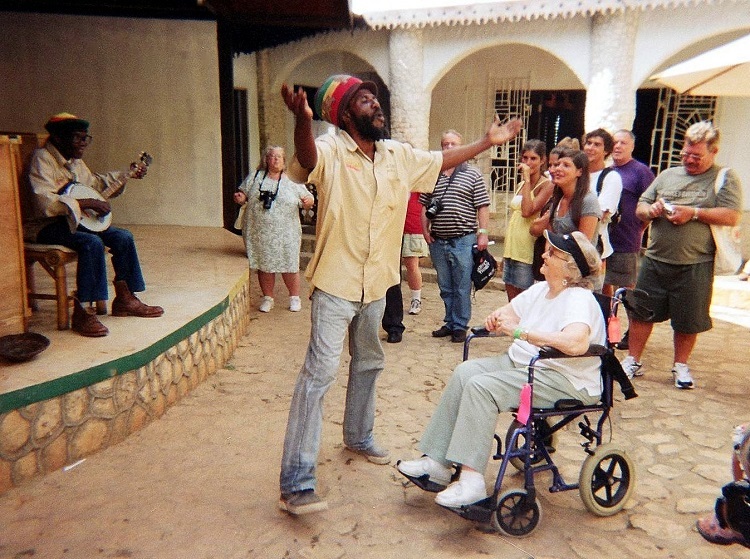 Many cruise lines also offer a Bob Marley tour. We previously took a colorful jitney bus for our shore excursion to Nine Mile. It's easy to get into the "Get Up, Stand Up" spirit as the jitney bus or car motors through the Blue Mountains to Nine Mile.
Our driver played Marley's music over the PA system, while the guide sang the tunes and encouraged everyone to join in. Upon arrival, cruise guests (as shown in the photo above) soaked up the reggae artist's music and heritage inside the Marley compound.
Reggae fans might also head out in a private car to visit the Bob Marley Museum in Kingston. After Marley's death,  his wife Rita opened their former home as a spot to celebrate the songwriter's life and music. Just check that attraction's web site for any visitation restrictions and advance ticket requirements.
Whether you love reggae or art, hiking or pottery, chat with the all-inclusive resort's concierge or the cruise line's shore desk to find out about the range of local options. Adding on a day trip to indulge one of your interests is a great way to customize your trip.
7. Customizing a Trip: Combine & Conquer
Sometimes a couple or two friends absolutely want to travel together but can't "synch" their views. They just can't agree on just one type of trip as the one best vacation choice.
So combining two different approaches or even two different travel products is one "customizing" option.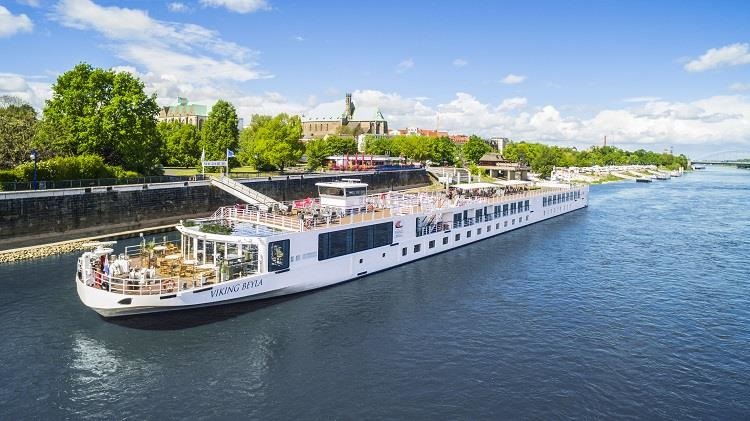 Making it simple, some cruise lines offer itineraries "built" with this in mind. For example, on multiple departure dates this year and in 2023, Viking's 10-day "Elegant Elbe" river cruise itinerary operates between Berlin, Germany and Prague. It's a mix of river and land adventures.
For those who love exploring on land, that vacation begins with a two-night included hotel stay in Berlin, Germany. So people have time for touring, dining ashore, museum hopping and soaking in the nightlife of the German capital.
Then, Viking's guests proceed on a motorcoach trip to Wittenburg, Germany. After a tour there, they board their Viking river vessel and sail to Meissen and Dresden, Germany. Upon arrival in Saxon, Switzerland, guests explore before disembarking and heading for Prague, for a two-night land stay.
This journey's seamless land-and-cruise elements make it a breeze for travelers to have different experiences within the "same" trip. So, if one spouse loves a river cruise, but the other prefers hotel stays and land touring, they can have both.
Two Different Companies & Trip Types
Another enticing option to customize your trip by combining two completely different types of trips into one multi-faceted vacation. For example, a couple might take a week-long Caribbean cruise from Florida, which the wife desires most.
But after the cruise,  the couple could then take a self-drive Florida land trip that dovetails more closely with the husband's desire for Everglades ecoadventure or theme park action in Orlando.
While not a solution for all, for flexible people with enough "time," combining trips is a viable option.
In another example, maybe a wife desires an ocean cruise to explore Europe's historic sites. But perhaps she also wants to relax at the ship's pool and float along from Point A to Point B without a care.
In contrast, her husband is a passionate railroad enthusiast. So, while he enjoys cruising, he'd really love a rail journey and some land-based touring.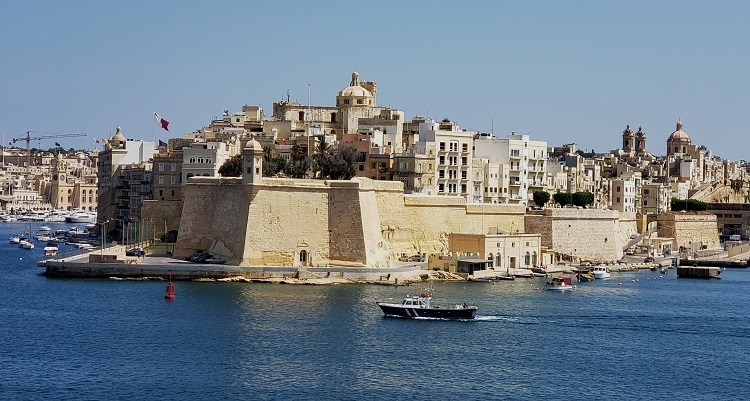 One hot spot for those interested in history is Valletta, Malta. It's easily visited via a cruise ship. Photo by Susan J. Young
One solution could be as follow. Yes, the wife gets her wish with an ocean cruise taking her to historical sites in the Adriatic region. But when the cruise ends in Venice, Italy, the couple could then begin Luxury Gold's escorted "Ultimate Italy with Venice Simplon-Orient Express" journey.
It's an easy fix. She gets the cruise she wants, but he also gets the post-cruise, luxury railroad journey he desires.
8.  Add On a Themed Resort/Hotel Stay
Timing-wise, travelers may need to stay one night at an airport hotel prior to an overseas flight early the next day.  While a necessary part of the journey, it's often boring.
So, why settle for ordinary? Look for hotels or resorts with that extra something — unique theming to tweak your personal passion.
For example, die-hard aviation enthusiasts might opt for a pre-flight stay at the TWA Hotel  in Queens, New York; it's adjacent to Terminal 5 at John F. Kennedy International Airport.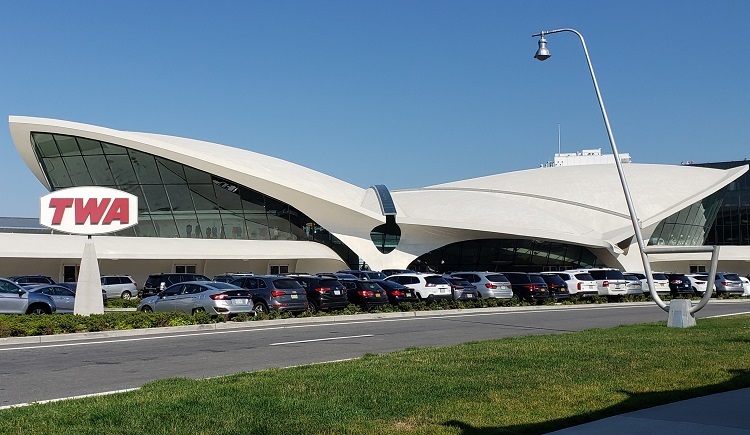 One can't help humming "Up, Up and Away" during a stay here.  Hotel guests enjoy a throwback, 1960s-era experience celebrating the legacy of Trans World Airlines (TWA), an international U.S. airline that operated between 1930 and 2001.
While the TWA Hotel is contemporary, a portion of it lies within the former, historic TWA Flight Center, designed by architect Eero Saarinen. You'll find TWA's red-and-white coloring everywhere, plus check-in desks that resemble airline ticket counters.
Other fun highlights are walls of TWA travel posters, a rooftop pool area that's fabulous for plane watching, and even the former desk of Howard Hughes. Gaining control of TWA in 1939, Hughes owned it for several decades.
During our stay at the TWA Hotel last summer, we peered out from out hotel room window. Below on the ramp we spotted an original, four-engine Lockheed Constellation or "Connie," as the classic plane was affectionately called. It's decked out in TWA's livery.
During certain hours, hotel guests can even pop into the plane for a cocktail – yet another "step back in time" experience.  As a result, many aviation enthusiasts (this writer included) say a one-night stay here isn't just a stay, it's about indulging a personal passion.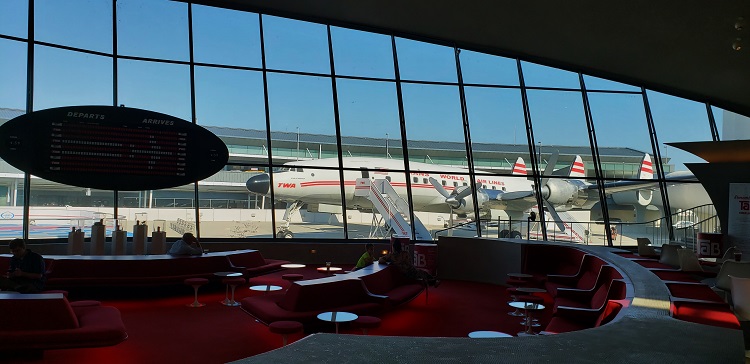 Look for Excitement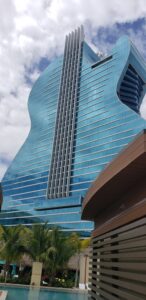 Another customization trick is to pick a hotel for a pre-flight or post-cruise stay that delivers an exciting, out-of-the-ordinary experience.
Music lovers and fans of night-time light shows might disembark their ship at Port Everglades, FL, in Greater Fort Lauderdale and head by car/taxi to the Guitar Hotel for a night or two.
Shaped in the form of a massive guitar, this new hotel tower opened in late 2019 as part of a $1.9 billion expansion of the Seminole Hard Rock Hotel & Casino in Hollywood, FL.
Soaring 450 feet into the air, the hotel tower is a magnificent site to behold from land or air.  In the evening, creative LED light shows unfold on the Guitar Hotel's exterior.
Think Vegas on the East Coast. Choreographed to different songs played over the PA system, the lights change color and intensity with the music.
Six high-powered beams of light also mimic the strings of an imaginary guitar neck and project at least 20,000 feet into the sky.
The hotel also offers multiple dining venues including a Hard Rock eatery displaying music memorabilia. And several "live" performance venues await.
So, when a hotel stay is needed, consider a themed hotel or a resort stay. It's a great way to customize your trip, based on your personal interests, and that can increase vacation satisfaction.
9. Travel with Like-Minded People
A "natural" way to indulge your personal interests on vacation is to select a vacation experience that embodies your own personal style.
That way, you'll have a better chance of traveling with like-minded people. You'll be able to chat about shared personal interests (art history, cultural interactions, castle exploring and so on) in a more "organic" and natural way.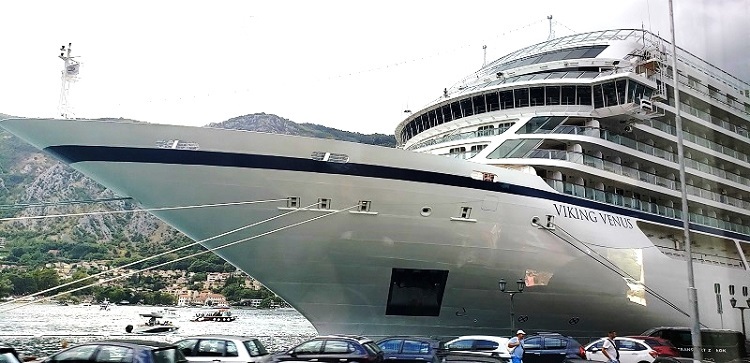 For example, Viking bills itself as "the thinking person's cruise." No, there aren't casinos or zip lines aboard.  In fact, there aren't kids either; passengers must be 18 or older to sail with Viking.
But the product has a strong focus on culture, heritage, literature, art, cuisine and global discovery. Bottom line? You'll likely find some guests aboard that line who enjoy learning about those.
So, if those are also the things you love, well, you get the picture.
Bring Along a Group of Friends
Upping the chance of success in finding like-minded people on vacation is to simply bring along members of a particular club you belong to back home.
Are you a member of a birdwatching, cooking, literature or scuba or ski club? Or, how about a book club or church group?
With your travel advisor's help, you can put together a small group cruise or tour "within a regularly scheduled cruise or tour departure." You'll get advantageous group rates, but also some other nifty perks too.
Let's say your club is birding focused and many members have young children. Then check out such options as the week-long G Adventures' "Family Costa Rica Adventure," operating roundtrip from San Jose, Costa Rica.
Getting a hands-on look at nature in the wild, kids will learn about biology and ecology. But learning is accomplished in ways not found in textbooks.
Families will bond as they spend their time studying flora and fauna. Highlights include exploration of Manuel Antonio National Park and the Monteverde Cloud Forest.
For Maritime Lovers
Or, if you're alternatively part of a club that's maritime-focused (with no kids in tow), a good vacation choice might be a Baltic cruise itinerary on a luxury cruise line. In  Stockholm, the group can head out on the cruise line's offered shore excursion to the Vasa Museum.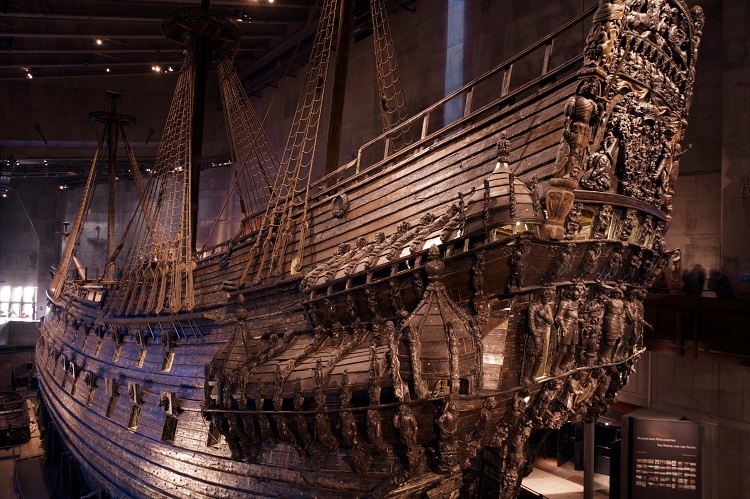 Inside, they'll gaze at the Vasa, a wooden 17th century Viking warship. What's notable is that the ship sank in Stockholm's harbor, was perfectly preserved in mud along the sea floor, and salvaged 333 years later.
Seeing the Vasa is fantastic, but doing so with like-minded people who love "anything maritime" can elevate the vacation experience. At dinner, for instance, club members can dive into a discussion about the ship's design.
But what happens when the ship calls at other destinations? Perhaps the luxury line's tours don't specifically fit the more targeted maritime sightseeing that your group desires.
So, customize your trip by asking the shore desk about setting up a private transfer for the group. Or just grab a couple of taxis. That way, club members can spend hours exploring such regional attractions as the International Maritime Museum in Hamburg, Germany.
Your advisor also might ask the cruise line about setting up a chat with a ship's officer for the group. Or, he or she might suggest a good spot at a storied seagoing harbor for a group lunch.
Plan Early, Reap the Rewards 
Start early in planning a group cruise or tour, at least three to seven months in advance. Many clubs like to start a year or so out. That gives them time to promote to members and plan the trip's special activities.
Typically, groups of at least 10 or more people traveling as a group get advantageous cruise fare rates; some travel suppliers may even have lower minimums.
Group rates, depending on the group size, could include such special perks as priority boarding or an onboard credit, Or, larger groups might receive a welcome cocktail reception or a dedicated concierge/host to assure individual details of the trip are handled.
So consider the choices. Perhaps ask fellow book club members if they'd like to travel on a literary tour of Ireland. Or, fellow scuba divers might appreciate a value-added tour in the South Pacific.
Small group tours are a great way to customize your trip to indulge your personal interests — assuring that you're traveling with like-minded travelers.
10. Customizing the Trip: Look at Full-Ship Charters
While a group cruise on any ship is great, another option is to go for the full shebang. Just pick a smaller ship product you like and then charter the "entire ship." It's the perfect way to accommodate your personal interests to the fullest.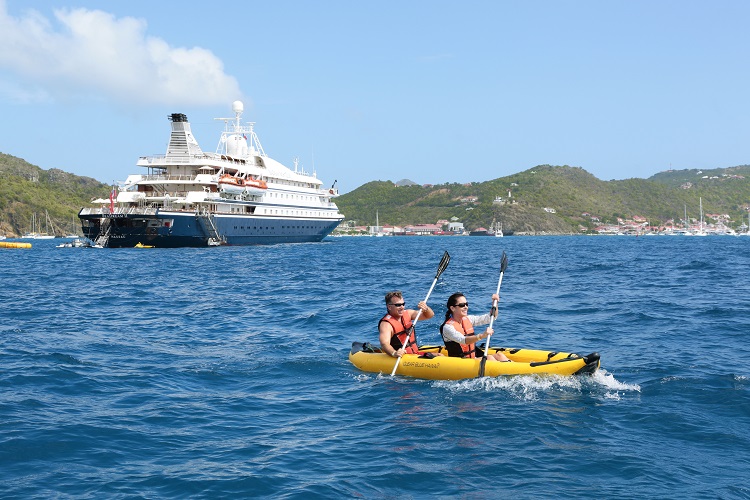 With enough advance notice, most river, yacht and expedition cruise lines will "charter" their small ships. Among those are Ponant, Uniworld Boutique River Cruises, Sea Cloud Cruises, UnCruise Adventures, Windstar Cruises, Viking River Cruises, Riviera River Cruises and Sea Dream Yacht Club, to name just a few.
A full-ship, small-ship charter – essentially a buy-out of the ship for a week or even two — is the ultimate way to customize your trip. Who's in charge of what you see and do? You are.
And that applies not only to time ashore, but to activities, dining style, entertainment and pace of travel on the ship itself.
Best of all, the charterer chooses his or her own guest list.
Types of Charter Groups
A couple might create a charter group with a group of like-minded friends who love golfing, wine tasting or scuba diving. Or, they might just prefer a pampering, relaxing yacht adventure with spa treatments, fine dining and lounging on deserted beaches.
While clubs offer great opportunities for full-ship charters, so do large family groups eager to bond over a special occasion. That could be a 40th birthday, college graduation or a couple's 50th wedding anniversary.
For the best choice of ships and regions of sailing, though, start planning far in advance. Many lines won't charter vessels after their regularly scheduled voyages on that vessel open for sale to the public.
That said, during this pandemic era, charters are available in a shorter time frames too, varying by line. For example,  SeaDream Yacht Club, for example, is offering full-ship charters in 2023 for its two, 112-passenger yachts.
Guests are pampered by an experienced crew of 95, plus charter rates include such perks as gratuities and open bar. It's customization to the max.
Customizing the Trip: A Bonus Awaits
In Part One of this blog, we also provided five other ways to customize your trip. We hope these ideas are helpful for starting a discussion with your travel advisor.  He or she may have other great ideas too.
Most notably, be sure to explain your likes/dislikes, personal interests, hobbies and favorite style of travel. Tell the advisor about what you consider "the greatest vacations" that you've taken in the past.
That way, he or she will be on the look-out for opportunities that dovetail closely with your personal passions.  The advisor will know "what floats your boat."
And that could deliver even greater satisfaction in future vacations.
Note from Pavlus Travel: For more information about how to customize your vacation, talk with your personal travel advisor, contact us at 800-528-9300 or visit us online.