How do you customize a trip to "make it your own"?  How do you avoid the dreaded "cookie cutter" experience? The good news is that travelers don't have to be a magician to personalize and customize a trip.
Nope, no magic wand is required. Simply tap into cruise, tour, hotel and destination experiences that dovetail closely with your hobbies or personal interests.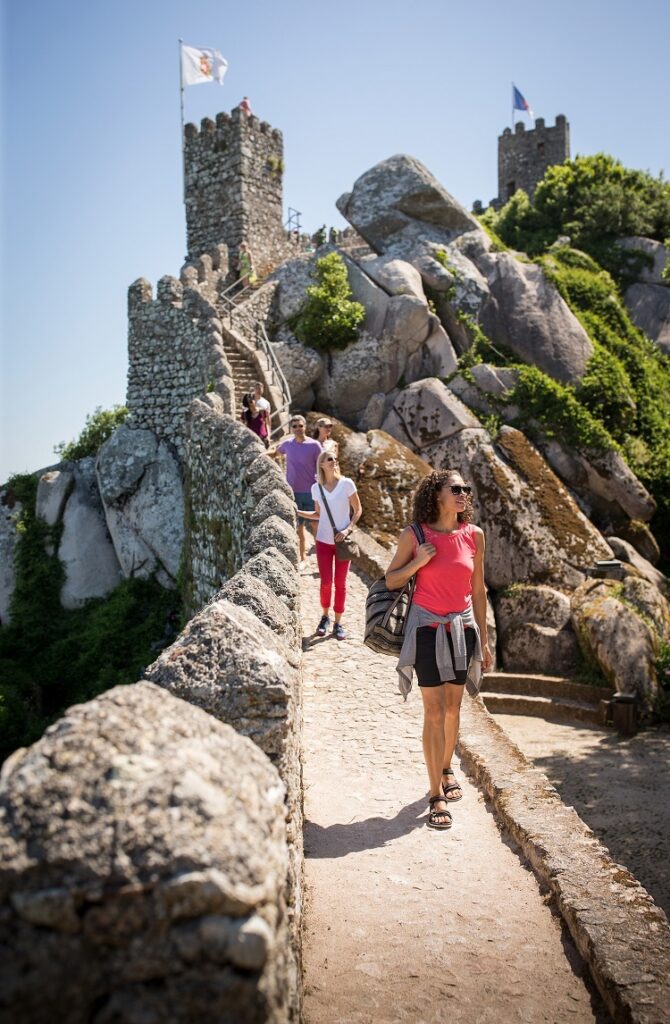 Dive into the history of past civilizations. Learn to cook paella. Tee off on a world-class golf course. Head out biking through the countryside or hiking to a castle.
Or, simply chat up "the locals," learning about their lifestyle and traditions — and similarly, sharing yours with them.
Enough said… With that, here are the first five of our "Top 10 Easy Ways to Customize a Trip to "Make it Your Own."
1. Customizing a Trip: Tap into Curated Tours or Excursions
Thankfully, today's day tour options extend far beyond one-size-fits-all tours. New choices "dig down" culturally into the heart, soul and workings of a destination.
For example, veteran tour operator, Globus, recently unveiled Choice Touring by Globus with an array of new YourChoice excursions." They're nicely "included" within the tour's package price, a plus for the wallet.
One Globus' eight-day Choice Touring by Globus itinerary is "Rocks & Rhythm: Portugal by Design." Operating roundtrip from Lisbon on multiple dates this year, it blends medieval majesty with cinematic scenery and tradition-rich towns.
And yes, there's also "vinho verde" (translation "green wine"), a Minho regional specialty.
Guests can "dive deeper" into the destinations visited too by customizing their trip, using those new YourChoice excursions. For example, in Tomar, Portugal, the tour company offers "STROLL: Wax Poetic in Portugal."
Guests who enjoy walking and viewing historic and cultural sites will stroll through Constancia village. They'll see the Parish Church and Camoes vegetable garden.
Then it's on to the River and Maritime Arts Museum, before boarding a boat. Gazing at the castle of Almourol, they'll hear tales of the Knights Templar.
But if travelers prefer to "taste" on a walking tour, a better option to personalize the trip may be "TASTE: Tapas This!" While it also includes a walk through Tomar, the touring takes a different slant. Globas' guests will pop into three local taverns in the city's historical core to taste local specialties.
Seagoing Choices Too 
Cruise lines too have developed more specialized shore excursions. Crystal's 11-night "Caribbean Treasures and Canal Wonders" voyage of Crystal Serenity sails from Miami to Caldera, Costa Rica, on November 4, 2022. Luxury cruisers can choose from 45 different shore options with varying fees. 
In Aruba, cruisers might walk underwater to view tropical fish via "helmet diving" or, alternatively, relax on a submarine ride. Nature lovers might choose a tour focused on eco-highlights and a butterfly farm.
Keep in mind that new tours or more intimate, smaller group tours for both cruise lines and tour operators often fill up quickly. For the best chance of nailing down a desired tour slot, book early, if possible.
That also could help avoid hassles at the start of any vacation. Why stand in line at a shore excursion or hospitality desk waiting to book ? You'll also avoid disappointment if the tour has no space available.
Yes, a cruise line might hold a limited number of slots for sale "after embarkation." But if other guests beat you to the shore deck, well, you might not score the tour ticket you want.
2. Customizing A Trip: Go All In, Book a Themed Vacation
It's a no brainer. One of the best ways to indulge your personal passions is simply to select a themed cruise, package stay or tour itinerary.
Many European river lines including Uniworld Boutique River Cruises and others have themed voyages. For example, during 2022 and 2023, AmaWaterways plans five wine-themed cruises per year on its "Melodies of the Danube" itinerary between Budapest, Hungary and Vilshofen, Germany.
On AmaVerde's wine-themed cruise departing October 31, 2022, wine aficionados will hobnob with special wine host, Stephen Reustle. He's the owner of Reustle Prayer Rock Vineyards, Roseburg, OR.
Reustle will lead enrichment discussions and chat about his passion and vision for crafting premium hand-crafted wines.
If wine enthusiasts prefer a different itinerary, in 2023, AmaWaterways will offer two wine-themed departures of its "Vineyards of the Rhine & Moselle" itinerary and three wine-themed cruises for he "Europe's Rivers and Castles" itinerary.
Big ship lines such as Royal Caribbean International, Norwegian Cruise Line and others also offer select themed options. For example, those might range from a Star Trek fan cruise to a music, scrapbooking or Latin dance cruise.
U.S. River Rambling
Sailing U.S. rivers, American Queen Voyages (AQV) and American Cruise Lines (ACL) typically offer a portfolio of themed cruises — everything from music to Civil War history, from art appreciation to Mark Twain. 
Both lines' vessels will return to America's rivers in a few months. The good news is that many voyages are planned on multiple rivers.
That said, some themed cruises may be available, others not. We'd suggest checking with your travel advisor, based on your area of interest.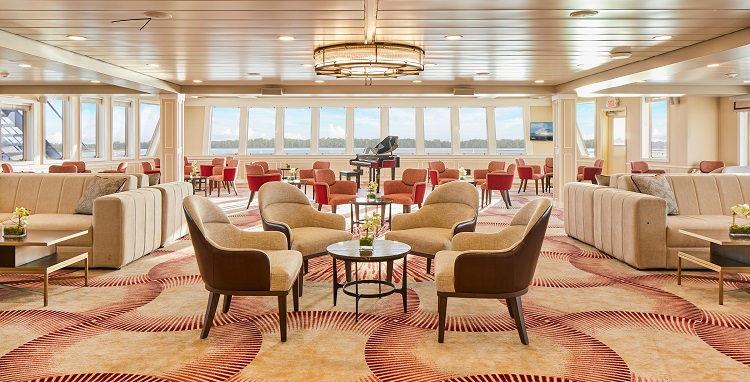 ACL's guests this year can opt for two sparkling new ships, both Modern Riverboat-class vessels. The first, the 175-passenger American Melody, entered service in late 2021. As an added bonus, it reflects ACL's new interior design look by Miami's Studio DADO.  New sister ship, American Serenade, will begin sailing this year too.
"Naturally Themed" Vacations
Sometimes, a themed vacation isn't a special offering. Rather, it's  a normal tour or expedition cruise. But it's one that "by its nature" reflects a specific interest.
Good examples are Antarctica expedition cruises (for eco-adventure) or African safaris (for nature and animals). Vacation choices in both categories are prolific.
In one example, Cosmos offers an "On Safari in Kenya & Tanzania 2023" escorted tour package. Traveling between Nairobi, Kenya and Arusha, Tanzania, guests can kick back, relax and let Cosmos handle the details.
On many morning and afternoon game drives, travelers will venture out in a four-wheel-drive safari vehicle. A pop-up roof will make it easy for game viewing and photography. Cosmos will also limit capacity to six people.
So, all travelers will have a window seat for the animal action in Kenya's Masai Mara National Reserve. They'll look for "lions and tigers and bears, oh my" (just kidding). But yes, they'll possibly see lions, cheetahs, leopards, hyenas, wildebeests and zebras.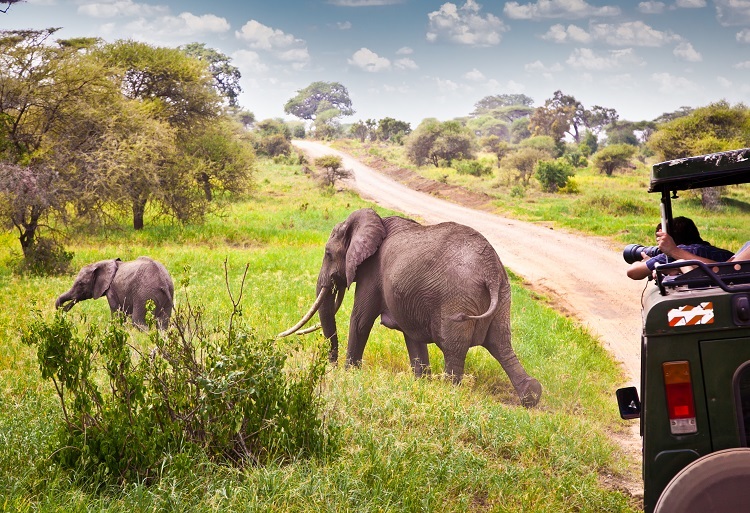 This escorted tour also will travel to Amboseli National Park, offering spectacular views of the snow-capped, 19,341-foot-high Mount Kilimanjaro. On game drives here, travelers often spot elephants and Cape Buffalo.
Crossing the border into Tanzania, the tour then will proceed to Lake Manyara National Park. A wildlife highlight? Tour goers can look up for tree-climbing lions.
Cosmos' guests also will visit the Ngorongoro Conservation Area — descending into the famous crater that's 2,000 feet deep. It's a great vantage point for viewing lions, hippos, elephants and flamingos.
The tour concludes with a stay in Serengeti National Park, offering year-round game viewing.
Simply stated, a safari is a themed vacation in and of itself. It superbly indulges a traveler's passion for nature and wild animals.    
3. Customizing a Trip: Look for Sports Options as a Fan or Player 
Sports fans are often rabidly passionate about their favorite team, player or driver. Fortunately, some cruises, tours or hotels/resorts offer easy ways to view world-class sporting action. It's a rewarding way for travelers to customize a trip.
Desire to root for your favorite Formula One team and cheer in person as high-powered racecars zoom through the tight streets of Monte Carlo? For Formula One fans, Azamara plans two voyages — one on Azamara Journey and the other on Azamara Pursuit — during the Grand Prix of Monaco weekend, starting May 25, 2023.
Beyond watching the Formula One racing action first-hand, guests on those voyages can explore more of the Mediterranean too. The itinerary includes Civitavecchia (Rome) and Livorno (Florence), Italy; Marseille, France; and Menorca, Palma de Mallorca, Ibiza, and Barcelona, Spain.
Another viewing option? Some cruise lines or tour operators also create itineraries to coincide with championship golf tournaments such as the British Open.
At times, cruisers can head to their ship's outdoor deck or theater for "live" viewing of a football play-off or basketball championship game. Cruise lines may even serve popcorn as the sports action unfolds on the big screen.
Don't Just Watch…Let's Play
Watching sports is great, but playing is sometimes better. Sports fans sailing the Caribbean or Mediterranean might head to the ship's sports area for an exciting game of hoops. Or, how about ping-pong or volleyball play?
During a beach resort stay, couples might challenge each other to a lively tennis match on the resort's courts. Golfers on all types of vacations can play on world-class links across the globe.
For example, through a partnership with PerryGolf, a leading provider of international luxury golf vacations, Azamara's 2023 schedules will include 13 "golf voyages." They're essentially add-on golf packages (on top of the regular cruise fare).
But golfers likely will love the perks. Most notably, they'll tee off on marquee courses.  On June 13, 2023, Azamara plans a  "2023 Irish Links Golf Cruise" between Dublin, Ireland and Southampton, U.K.  During this 11-night voyage, golf package participants can head out for six "included" rounds of golf.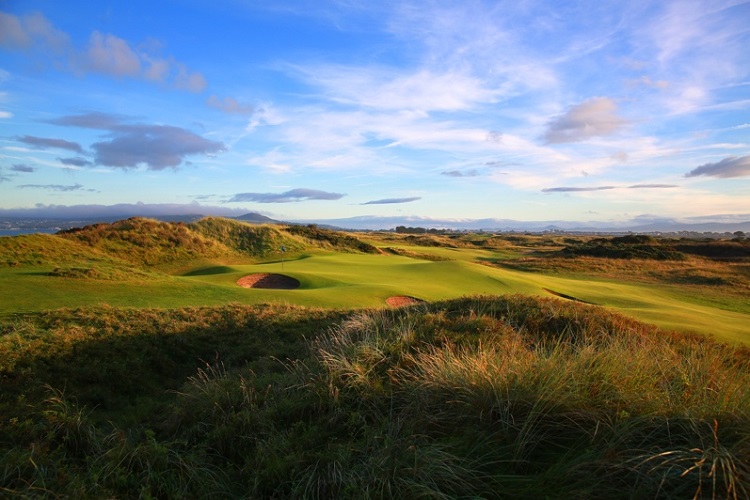 For instance, they'll tee off at Ireland's Portmarnock Links (shown in the photo above) as well as at Royal County Down, Royal Portrush, Adare Manor and Old Head. Also included in the golf packages,  PerryGolf's experts will sail with golfers and accompany them ashore.
So, all golf-trip ground transportation is arranged and golf equipment is handled and set up in advance.
Golfers also needn't worry about green fees, cart fees and gratuities. Yep, they're all covered. So, is an on-course lunch and clubhouse post-round of drinks.
Back on board, exclusive golf-group social gatherings round out the experience; non-golfing partners are invited too.
4. Customizing a Trip: Explain Interests, Go Exclusive
If viewing Roman ruins is your passion, talk to your travel advisor in advance of your vacation. That's the case for any special interest whether music, art, wine tasting or hiking.
Even if you've already booked a cruise, tour, city or resort stay but aren't traveling for a month or so, there's likely still time to personalize the vacation to rachet up your satisfaction.
Ask your advisor about any specialized tours or unique destination attractions that might dovetail with your interests. While traveling, hotel concierges, tour directors or cruise lines' shore desk experts are also good resources, in case you find yourself with free time.
Don't be shy. Ask away. For instance, if you've "been there, done that" in seeing the Roman Colosseum and nearby Roman Forum, ask about any specialty tours.
Talk about lesser-known Roman sites. Are there options for less-crowded, after-hours visits to an archaeological museum?
Share details about your interests. Explain what you'd like to see and do. That way, customization flows easily.
And for the ultimate flexibility, book a private local guide or private car with driver/guide. During a Rome visit, the private car might zip you outside the city to Ostia Antica, once Rome's port.
While your private guide imparts expert commentary about life back in the day, you'll stroll amid magnificent ruins. 
Private tours also guarantee that travelers won't find themselves at a group lunch for hours on end.  So no waiting for 20-35 people to finish eating and use the restrooms before everyone can reboard the motorcoach to begin touring once again.
Also, a group tour might only cover two or three sites. A private car can assure travelers move at their desired pace. Often, that means seeing and doing more.
5. Customizing a Trip: Indulge Your Foodie Passions
More than half of all Americans describe themselves as "foodies." That's a growing trend for consumers globally too. Not surprisingly, cruise lines have tapped into travelers' desires for robust "foodie culture" on vacation.
First, that's resulted in an extensive cruise industry portfolio of cooking classes, tasting sessions and culinary activities. For example, during Marina's and Riviera's voyages,  Oceania Cruises' guests can take "hands on" cooking classes at shipboard Culinary Centers. Alternatively, they might head ashore on new, foodie-focused "Culinary Discovery Tours." 
Second, world-renowned chefs are helping design cruise line menus. Among them, famed Master Chef Jacques Pepin serves as Oceania's executive culinary director. While sailing on ultra-luxury Seabourn, diners can enjoy elegant, fine dining at The Grill by Thomas Keller.
Holland America Line's Master Chef Rudi Sodamin has opened an intimate seafood brasserie, Rudi's Sel de Mer, on some of the line's ships. And the list goes on…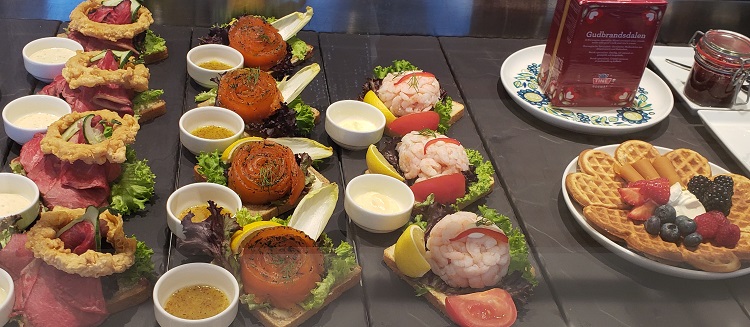 On Viking's upscale ocean ships, guests can chow down on tasty Norwegian dishes and traditional snacks at Mamsen's.  That name is translated from Norwegian as "mum." Not surprisingly, many Mamsen's recipes originate from the late mother of Torstein Hagen, Viking's chairman and CEO.
For "creative culinary entertainment," head aboard Celebrity Cruises for its humorous, animated Le Petit Chef experience on some ships. Let's just say characters/animals and scenes unfold across the table. People and critters appear to jump on and off your plate. To sum up, it's a fantastic fusion of entertainment and cuisine.
New Culinary Sailings or Tours 
A masterful aficionado of U.S. southern cuisine is Chef Regina Charboneau. Serving as culinary ambassador for American Queen Voyages, she'll host eight AQV sailings during the 2022 season. The diverse itineraries will range from North America's rivers and lakes to ocean journeys.
During the voyages, Chef Charboneau will conduct onboard cooking demonstrations/presentations. She'll also mingle ashore with guests and regional chef friends, sharing stories and recipes along the way.
When she's not sailing, chances are she'll be in Natchez, MS, where she owns and operates a cooking school. With her current schedule, Charboneau no longer hosts regular cooking classes (as she did in previous years). But special custom experiences can be arranged when her schedule permits.
On the ocean side, ultra-luxury Regent Seven Seas Cruises offers enticing "Gourmet Explorer Tours" on Seven Seas Splendor and Seven Seas Explorer; they're available for an added fee. 
For example, in Bilbao, Spain, Regent Seven Seas' guests can opt for the "Chef's Market Tour and Tapas Class." A chef from the ship's onboard Culinary Arts Kitchen will accompany tour participants ashore. Exploring Basque culture, they'll visit the Mercado de la Ribera in central Bilbao.
Next, they'll chow  down on tasty tapas and pintxos snacks in Plaza Nova. After a short photo stop at the Guggenheim museum's exterior, the group will return to the ship for a 90-minute Tapas and Pintxos experience.
Culinary Extravaganza
Certainly, one exciting, new culinary offering that's a cut above is Silversea Cruises' recently introduced S.A.L.T. (Sea and Land Taste) program. Unveiled on Silver Moon and Silver Dawn, it's not hoity-toity in approach. Rather, it's local and authentic.
Most importantly, programming focuses on traditional dishes and favorite drinks from the region of sailing – and in some cases, even the specific port of the day. Silversea's guests can choose to participate in the whole shebang, just pick and choose individual activities, or do none of it.  The buzzword is "choice."
Silver Moon and Silver Dawn each have three dedicated, onboard S.A.L.T. venues. A new S.A.L.T. restaurant on those two ships is drawing "oohs" and "aahs" from guests. Why? It serves authentic, local cuisine and culinary specialties from the region of sailing.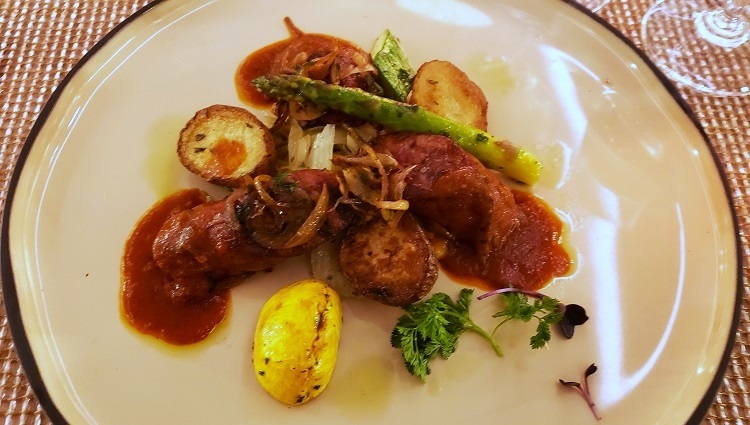 Nightly, one part of the S.A.L.T. Restaurant menu even drills down further — showcasing dishes from the specific port of call visited that day. On sea days, regional specialties are substituted.
In addition, a separate "Voyage" section of the restaurant's nightly menu also reflects regional dishes.
After our port day ashore in Syros, Greece in 2021, one S.A.L.T. Restaurant entree was the island's traditional "Syros Loukanika."
This flavorful, melt-in-your-mouth dish was created with sausages, roasted potatoes and braised fennel. It's pictured in the photo above.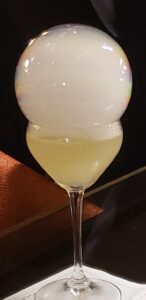 Appealing S.A.L.T. Cocktails, Classes & Tours
Nearby at the intimate S.A.L.T. bar, we also watched as a woman at the next table ordered a "Selene, the Moon," inspired by the ancient Greek Moon goddess. This puffy drink boasts a "dome." It's shown in the photo at right.
But as the bar waiter sat the drink in front of the guest, she bent down to check out its unusual shape.  Suddenly, "poof," the drink's dome collapsed, eliciting raucous laughter from her table mates.
Another new onboard venue on Silver Moon and Silver Dawn is the S.A.L.T. Lab, a culinary center with hands-on classes. So, on a Silver Moon cruise visiting Cozumel, Mexico, guests might participate in the lab's class about "The Art of Making Tamales."
Silversea's philosophy of "diving deep" into the local food and beverage scene ashore also provides guests with many, new S.A.L.T. shore excursion options.
Customizing a Trip: More to Come
Stay tuned later this week for Part Two of this two-part series. It continues our look at how travelers can customize a trip to indulge their personal passions.
For instance, Part Two will reveal tips for adding on a themed resort/hotel stay; mixing things up with trip variety; traveling with like-minded people including small groups; chartering a small-ship, yacht or river vessel; and personalizing with an eye to the future. So, check back here at week's end.