It's always exciting when a new cruise line takes to the water. On the horizon for a 2023 launch is a new luxury-lifestyle brand, Explora Journeys. It promises a pure luxury travel experience.
Yes, it's a cruise line, but its officials much prefer the word, "journey," rather than "cruise" or "voyage" to describe their new luxury travel experience.
From the ship side, in May 2023, Explora Journeys will set sail with its first ship, the 63,900-gt Explora I, offering 461 staterooms and suites. Sisters Explora II, Explora III and Explora IV will follow, one ship delivery per year through 2026.
Plus, the line has two "options" for orders, so if the line so chooses, it could also welcome two more ships in 2027 and 2028. Presto, that's six ships over six years.
So, let's look at the "experience" that the new luxury travel brand says it will deliver.
1. I Love My Sister, But….
Owned by MSC Group, Explora Journeys is a "sister brand" of MSC Cruises. So, it's easy to think there might be similarities. But officials say, "not so."
First, MSC Cruises is a big-ship product with a wide range of accommodations, and lots of razzle-dazzle activities. Its  upscale,  ship-within-a-ship, key-card accessible MSC Yacht Club definitely draws many luxury guests. But the line also has many other, more affordable accommodations.
Sizewise, MSC Seaview, a new ship operating in the Caribbean, offers 2,066 cabins. Other MSC Cruises' vessels including MSC Meraviglia, sailing from Port Canaveral, FL, offer even more accommodations.
In contrast, Explora Journeys' vessels will be more intimate with 461 staterooms and suites, each with floor-to-ceiling windows and private terraces. From top to bottom, the line's new vessels are expected to deliver a complete luxury lifestyle experience.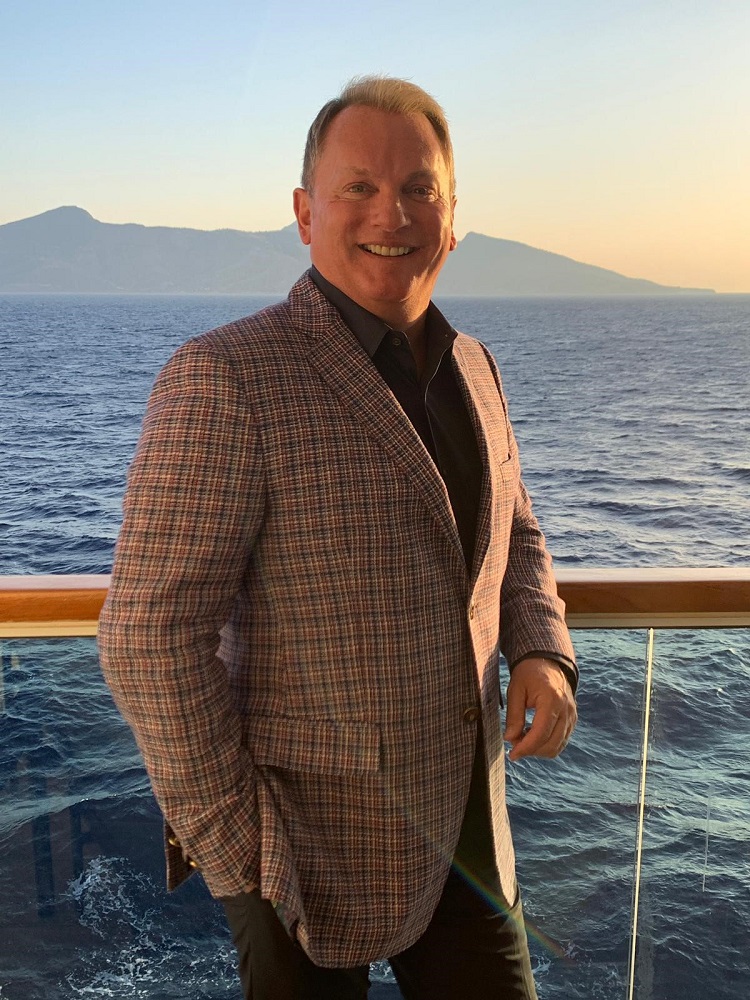 Put another way, each Explora Journeys' ship will carry approximately 900 guests maximum. In contrast, MSC Cruises' vessels often carry 4,000 to 5,000 guests aboard.
Certainly well-known to many luxury travelers is Chris Austin, Explora Journey's chief sales officer. He was a former Seabourn executive.
Austin tells The Meandering Traveler that it's been a life-long dream of Pierfrancesco Vago, MSC Cruises' chairman, and his wife Alexa, to create a pure luxury brand. So, that's how Explora Journeys' is being designed.
Different Personalities
The sister brands will be very different in "personality." Explora Journeys is designed as pure luxury. Appealing to a much broader audience is MSC Cruises, which has more razzle-dazzle activities and big theater shows.
Despite Austin's view that the experiences will differ, he acknowledges that "why" a person travels is important too.
While both sister brands will have their own loyalists, he acknowledges that future Explora Journeys loyalists planning a family reunion for multiple generations might instead head for MSC Cruises and a bigger ship for that event.
In turn, an MSC Yacht Club loyalist also might book a luxury travel experience on Explora Journeys as a 25th or 40th anniversary celebration with their spouse.
2. Nomenclature Matters 
Austin says that "nomenclature" is important to this new brand. Much as Virgin Voyages does by calling its guests "sailors," Explora Journeys is calling its crew members "hosts." Balconies are instead called "terraces.
The philosophy is designed to cover every element of the travel experience. So, by the way, guests will experience port calls during "destination experiences," not shore excursions.
In addition, Austin emphasizes that this luxury travel experience will be a "journey" of the mind, connections with others and discovery of the places visited.
3. Design Innovation: Superyacht & Luxury Hospitality
Can't wait to see what's planned for Explora I's ship design and innovative features? Explora Journeys has released a few renderings thus far — giving a sense of what's planned for certain spaces. We've displayed some of those below.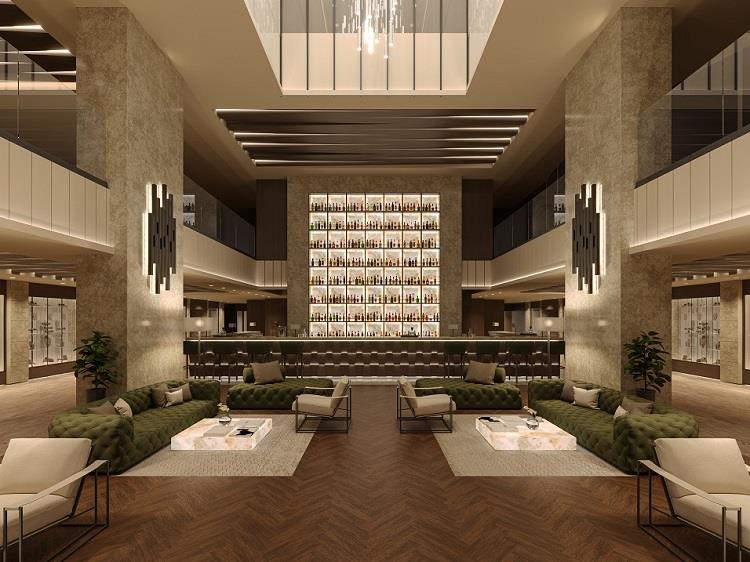 Right now, what's known is that Explora 1's architecture and style is being created by both superyacht and luxury hospitality designers. More details are expected to emerge as the delivery date nears.
4. Luxury Travel – Slower & Deeper
In its start-up efforts, Explora Journeys did a ton of research — interviewing more than 20,000 potential guests and travel advisors about what luxury travelers are seeking.
One philosophy emerged. Austin says they absolutely wanted itineraries that were "slower and deeper."
As a result, Explora Journeys' voyages will start at seven nights minimum. In many cases, those are easily combined into 14-night or even much longer voyages with few repeated ports.
Also, don't look for this ship to sail a series of 20 voyages roundtrip from Barcelona, Venice, Miami or any other homeport worldwide. There is "no home porting," says Austin.
Austin also says the line will have non-standard arrival and departure times in port destinations. Plus, it will offer guests many late night stays in port and many overnights in destinations too.
In terms of the non-traditional arrival times, here's how the brand envisions the experience. An itinerary might allow guests to get up, enjoy a relaxing breakfast al fresco while the ship offers scenic cruising along the French Riviera.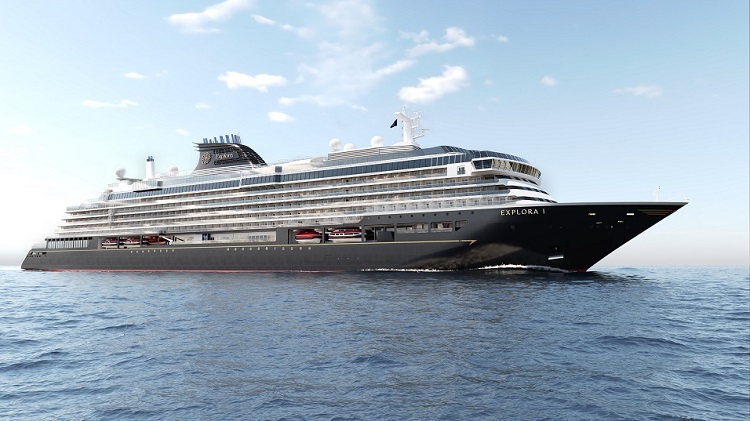 Then, the ship might dock late morning or mid-day so guests can head ashore for activities. But travelers often won't have to be back to the ship at 5 p.m. or 6 p.m.
Instead, the ship might stay until 11 p.m. So, guests can go ashore, go farther beyond the port destination itself, and return after enjoying a relaxing dinner ashore.
Of course, other luxury lines often do this as well, but it's good to know that this new ship will offer a relaxing onboard aura – not racing guests ashore on every day.
5. Luxury Travel: Celebrate the Sea 
Focus group participants also told Explora Journeys that they valued "a sea day." So, look for this line to give guests those, where possible, with time to enjoy the ocean's beauty.
Austin says that the brand's founding family have a passion for the ocean and that they absolutely desire that to be evident within this brand. The goal is to create "an ocean state of mind," Austin says.
Sea days are perfect for relaxing, enjoying a pampering spa treatment, reading a good book or listening to an enrichment lecture. Or, guests might plan an al fresco lunch on their private terrace or sunbathe and enjoy a pool dip.
6. Plenty of Space for Spreading Out
When it comes to space, Explora I is well blessed. The ship will offer 178,680 square feet of total public space, 67,275 of that outdoor public space.
Putting that in perspective, the latter number equates to 70 square feet of outside public space per guest. Sister vessels that follow will offer the same.
One design focal point is "water," so guests can expect to find more than 26,910 square feet of deck space. Guests will discover 64 private cabanas and multiple pools.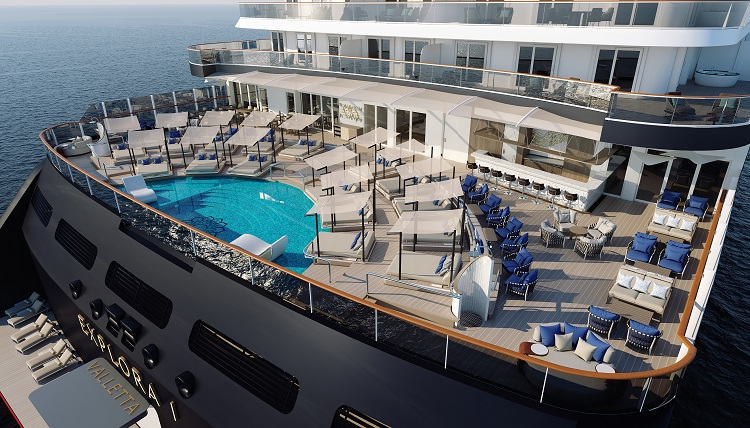 Three of those pools are outdoors (including the one shown in the photo above). The fourth has a retractable glass roof, (see photo below)  so guests can swim in any weather.
The ship's Promenade Deck will offer both indoor and outdoor whirlpools. Of course, there's a full-service spa with indoor and outdoor space, plus a well-equipped fitness center.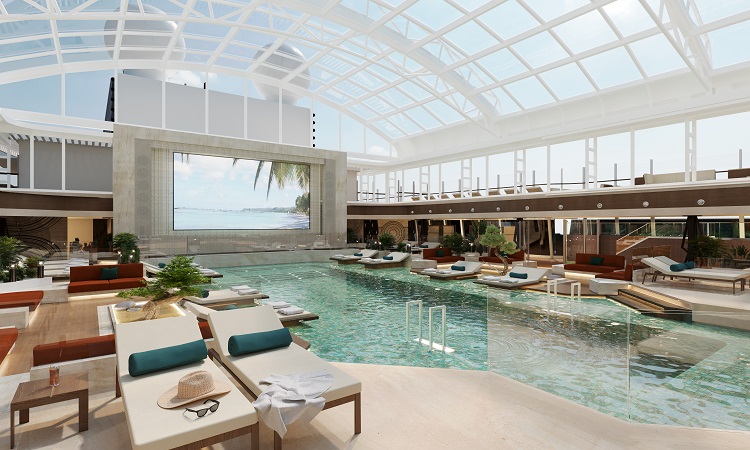 7. Ultra-luxury Suites
Austin says the brand's research showed that luxury guests want three things – space, choice and their privacy. Thus, the line designed its luxurious accommodations with that in mind. We've asked for photos of some of the accommodations, and will post them here when received.
Until then, what's good to know is this. Most notably, the "entry level" suite is a robust 377 square feet, the highest in that category among luxury brands, according to Austin. Explora I also will be all-suite, all oceanfront and all balconies (or as the line calls them, "terraces.")
If cruisers are seeking the top accommodation, then get ready to book the 3,014-square-foot Owner's Residence. Vacationers will also find 22 Ocean Residences, 67 Ocean Penthouses and 371 Ocean Suites.
For travelers who desire to bring along parents or adult children on vacation, or perhaps are traveling with another couple, the line has created 82 "connecting" accommodations. So, the door between two accommodations can be opened to create a larger private living space.
Again, accommodations are being designed to provide a pure luxury travel experience. Explora will assist guests desiring to entertain — say with a private cocktail party en suite.
8. Dining and Entertainment
On the culinary side, guests will have nine different dining experiences including room service. Look for everything from Pan-Asian to Mediterranean, a steakhouse and international cuisine.
Within both interior and al fresco lounges – 10 in total – guests will find plenty of watering holes. Plus, those lounges will host enrichment lectures and programming, plus entertainment.
That said, don't expect either a big onboard theater or to see any Broadway show extravaganzas. Focus group research showed that those were not desired for a luxury travel experience.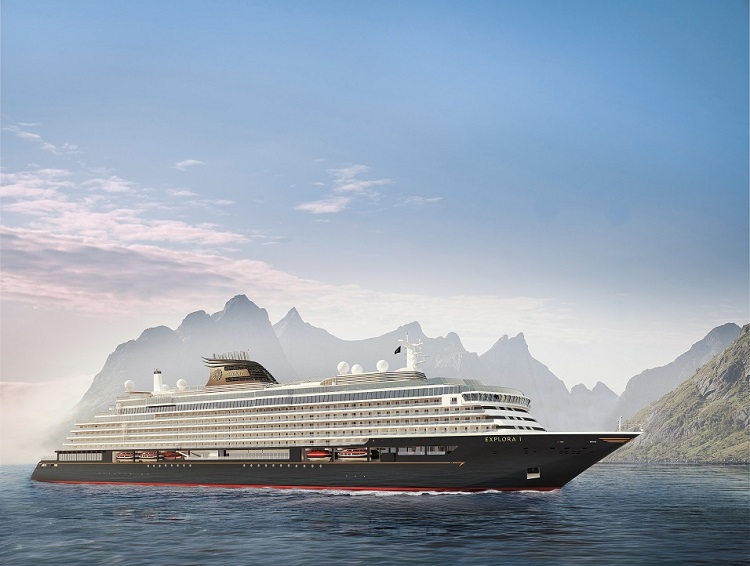 9. Luxury Travel: International Hosts
Parent company, MSC Group, is headquartered in Geneva, Switzerland, but Austin says the new line isn't only for Europeans. More than half of all guests expected to sail will hail from the U.S. and Canada.
Other guests are expected from such English-speaking countries as Australia, the United Kingdom and South Africa, among others. But the new line's ships will also attract guests from Mexico, Brazil, eastern Europe and beyond.
Look for English to be the prime language spoken aboard, but the crew (or hosts) will be international and speak many other languages.
Stellar, highly personalized service is the goal, says Austin, and the guest-to-crew ratio of 1:25-to-1 will assure the brand is delivering a luxury travel experience.
10: Sustainability Efforts
Equipped with ship-to-shore power capabilities, Explora I and its sister ships will plug into the shoreside power grid in ports that offer that capability.
In other words, they won't be "running their engines" in port and emitting CO2 emissions.
At sea, they'll be powered by marine gas oil. Sea creatures will appreciate that the ships will be RINA DOLPHIN-certified. What does that mean? Simply put, they'll generate a reduced level of underwater noise.
Design-wise, the vessels also will allow for battery storage, providing the potential for future hybrid power generation. They'll also feature the latest selective catalytic reduction (SCR) technology – reducing nitrogen oxide (NOx) emissions by 90 percent.
Also, single-use plastics such as water bottles will not be used onboard nor offered during land-based experiences. The goal is a luxurious journey but in an eco-friendly way.
11. Luxury Travel Inclusions
As with most luxury lines, Explora Journeys' fares will be highly inclusive. Guests who buy a cruise will receive these inclusions:
Pre-paid gratuities;
Welcome bottle of champagne and spirit bottle upon arrival;
Unlimited beverages, fine wines and premium spirits, specialty coffees, teas and soft drinks available anytime, including in-suite mini-bar;
Access to the thermal spa area;;
Wellness and fitness programs onboard and ashore; and
Nine distinct culinary experiences including in-suite dining; and
High-speed, unlimited WiFi throughout the ship.
What guests will pay for are things like a specialty, high-end bottle of champagne or a humongous steak (beyond the already ample steaks offered).
Also not included are air tickets and shore excursions. Why not?  Focus group participants said they absolutely didn't want those included in a new luxury travel product.
That's because most luxury travelers like making their own airline reservations. Sometimes travelers desire to fly in a few days or even a week prior to a cruise in the embarkation destination. Luxury travelers also often prefer to use mileage upgrades or even fly via private plane.
Similarly, many prefer to do their own thing in port – booking their own independent tour, having lunch with their friends who live in a particular destination, or hiring a private car and driver.
A word about pricing…
Pricing details vary significantly based on the ship's accommodation category chosen. Frankly, cruise fares even for one specific category can change multiple times daily, depending on the stateroom/suite category's popularity.  So, talk with your travel advisor about pricing available "in that moment," travel dates and what product matches best with your vacation personality.
12. Inaugural Year Journeys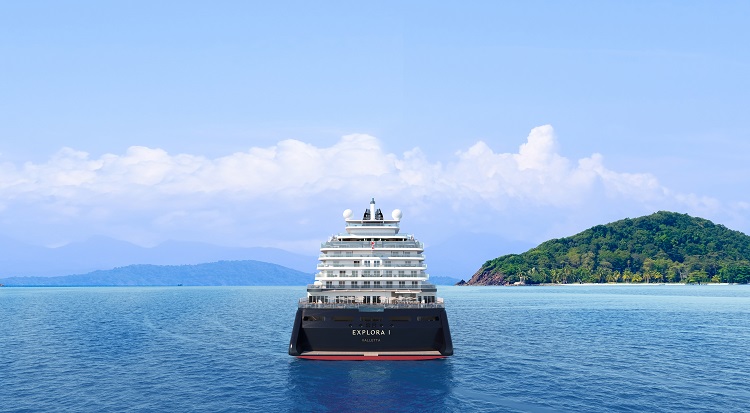 Now under construction at Fincantieri's Monfalcone shipyard near Naples, Italy, Explora I will operate its "inaugural journey," an 11-night voyage from Barcelona to Athens, on May 31, 2023.
That Mediterranean voyage is one of eight such designated inaugural journeys offered throughout the year.
In the first year of sailing, Explora I also will sail to the Scandinavian fjords and the Baltic region as well as Iceland and Greenland. Plus, the ship will sail to the eastern coast of the U.S. and Canada, plus the Caribbean, South America and Hawaii.
Look for marquee destinations such as Saint-Tropez, France, but also remote such remote spots as Norways' Lofoten Islands Norway or Bozcaada, a Turkish Aegean island.
During the holidays in late 2023 and into early 2024, Explora I will sail Caribbean waters. Then the vessel will depart for South America.
Interested in the festive Carnivale in Rio de Janeiro? Yep, the ship will can take you there. In addition, two voyages between Vancouver and Hawaii should appeal to those who love days at sea.
Travel agencies are now selling these cruises. The schedule line-up for the second vessel will be revealed in a few months.
So, we'll anxiously await the final product reveal in little over a year. For travelers seeking a luxury travel experience, Explora Journeys is certainly one to watch.
Important Note from Pavlus Travel: For more information about Explora Journeys' pricing, departure dates or product features, talk to your personal travel advisor, contact us at 800-528-9300 or visit us online.