Ready for a grand voyage to a southern continent on a snazzy new, ultra-luxury ship? Then Silversea's new 71-day "Grand Voyage" to Central and South America in 2024 should tweak your interest.
Setting sail on January 4, 2024, the new 728-passenger Silver Nova will sail roundtrip from Port Everglades (Greater Fort Lauderdale), FL, to 38 destinations in 18 countries. But it's not simply the itinerary that's an enticing perk.
For the first time and for all subsequent "Grand Voyages," Silversea plans to include roundtrip, business-class air tickets within those itineraries' cruise fares.  Silversea's pricing is already highly inclusive, but this is an added perk for booking a complete Grand Voyage (not individual segments of a Grand Voyage).
Around South America
"Curated by our destination experts, our new South America Grand Voyage 2024 – hosted aboard the pioneering Silver Nova – will link the continent's most enriching experiences for our well-traveled guests," says Barbara Muckermann, chief commercial officer, Silversea Cruises.
So, what's the itinerary? What are the highlights? Well, Silversea's new, robust "Grand Voyage" will transit the Panama Canal, circumnavigate South America and sail inland on the Amazon River to Manaus, Brazil.
Among other pluses, cruise guests will enjoy a Silversea maiden call at Ilhabela, Brazil, home to a UNESCO-listed biosphere reserve. They'll also explore Ushuaia, Argentina in southern South America. Certainly, they'll have fabulous eco-views including glaciers and fjords.
Culturally, luxury cruisers can interact with the locals, savor local cuisine and visit top museums. For instance, Silver Nova will call at the cultural hot spots of Lima, Peru; Buenos Aires, Argentina; and Montevideo, Uruguay.

In addition, this Grand Voyage will deliver an extended port call — three nights — in Rio de Janeiro during Carnival, the world's largest of those festive carnival celebrations.
So, if you go, be sure to pack festive party attire. Above all, get ready to wade into the pulsating energy of this iconic annual event. In addition, keep reading this story to learn how Silversea will help you celebrate.
But first, back to the itinerary highlights. After circumnavigating the South American continent, Silver Nova then will head into the Caribbean. Look for port calls at Spanish Town, Jamaica; Castries, St. Lucia; and Bequia, St. Vincent and the Grenadines.
The voyage concludes at Port Everglades (Greater Fort Lauderdale), FL, on March 15, 2024. The complete itinerary is shown in the map above.
The Luxurious Silver Nova
Silversea promises that Silver Nova's luxury guests will be pampered with stellar service including butler service in all suites. Cruisers will relax in a wide range sumptous accommodations; enjoy a full-service spa and fitness center; watch diverse entertainment; and savor delectable cuisine in multiple dining venues.
A crew of 556 will serve a maximum of 728 guests, for a high crew-to-guest ratio of 1:1.3.
The top suite on Silversea's new ship will be the 1,324-square-foot Otium Suite including a 431-square-foot private balcony. Located in a premium aft corner, this suite will deliver magnificent 270-degree views.
The line is also debuting a new wellness program, Otium, this year on Silver Dawn. As a result, this program will be available on Silver Nova at its launch. You can read a previous Meandering Traveler story about that wellness announcement here. 
Savory S.A.L.T. Culinary Program
One tasty highlight of this voyage is the opportunity to experience Latin America's "authentic" culinary flavors – both on board and ashore. Get ready for Silversea's newly introduced, innovative S.A.L.T. (Sea and Land Taste program).
We've recently experienced this in-depth culinary program first-hand on Silver Moon. Our "take" is that it truly dives deeply into the down-home "local" dishes and beverages popular and traditional in each port destination.
Guests will taste those in the S.A.L.T Restaurant and S.A.L.T Bar. Or, alternatively, they'll learn how to make some of those dishes at the ship's S.A.L.T Lab. It's the spot for hands-on culinary classes, again focused on those local flavors and specialties.
Of course, Silver Nova has plenty of other fine dining options too including the specialty La Dame restaurant. Caviar to start anyone?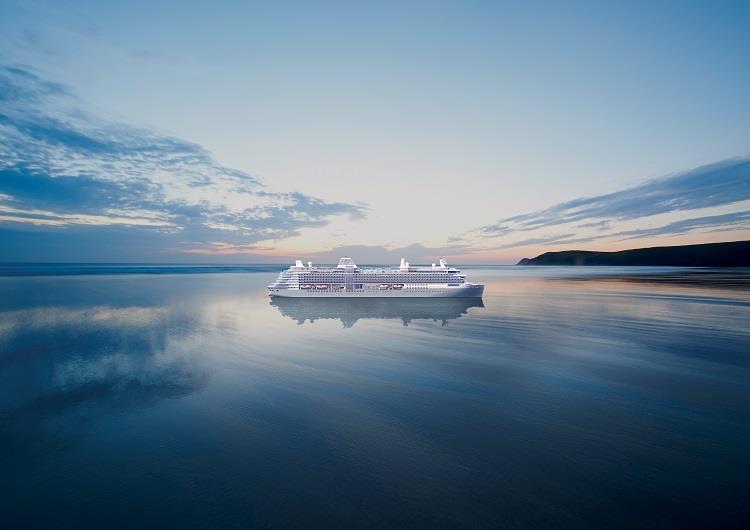 Creature comforts, savory tastes and fun spaces aside, though, Silver Nova also is being built with an eye toward the environment. So, those who book this 71-day journey will sail on a ship with innovative, state-of-the-art technological solutions.
Featuring fuel cells, the vessel will become the industry's first hybrid, ultra-luxury cruise ship to be free of local emissions at port. To learn more, here's a link to Silversea's ship information.
Exclusive Grand Voyage Events
For guests on the full "Grand South America" voyage in 2024, another benefit is a curated line-up of exclusive, included events. Here's a look, for example.
Folklore Festivities along the Panama Canal:  Grand Voyage guests will enjoy a traditional folkloric show, followed by a Carnival party. Expect a fun aura with Panama hats and spirited salsa dancing.
Callao Monumental: Cultural immersion awaits as Silversea is curating a personalised, private tour of Callao Monumental, depicting social transformation through art. Afterward, guests will enjoy a salsa fiesta with locally prepared, authentic cuisine and cocktails.
Best Seats at the World's Biggest Carnival:  If you arrive in Rio de Janeiro at Carnival, it's a "must" to revel in this annual festival's rhythmic energy. For three days, Silver Nova's Grand Voyage guests will enjoy exclusive parade access. Silversea will arrange great seats too — perfect for watching the colorful hoopla unfold.
More Exclusive Events
Operatic Delights in the Amazon Rainforest: Located in the Amazon rainforest region, Manaus' historical opera house sports gorgeous Renaissance architecture. Luxury guests will experience an unforgettable night at the opera while watching an exclusive performance. 
An Exclusive Evening with Bridgetown's Polo Elite: Guests can hobnob with the polo players of Bridgetown, Barbados, during an intimate dinner following a polo match. Guests will savor local delicacies prepared by an award-winning Bajan Master Chef. They'll sip champagne while chatting with the island's polo elite.
Summing it Up
"From three overnights to celebrate Rio de Janeiro's famous carnival to an exclusive evening at Manaus' beautiful opera house in the heart of the Amazon Rainforest, the range of experiences on offer with this once-in-a-lifetime voyage is unique," says Muckermann.
Desire to know more? Then click this link to see the full 2024 itinerary of Silversea's new "Grand South America Voyage" as well as a full list of inclusions. Brochure prices start at $49,900 per person, double occupancy, with door-to-door transportation.
Important Note from Pavlus Travel: Seeking the latest pricing and savings? Want to learn about all the accommodations choices? Desire to book this voyage or simply to ask a few questions? Then, talk to your personal travel advisor, contact us at 800-528-9300 or visit us online.  You can "live chat" with us online too!