In this once-monthly feature, The Meandering Traveler picks a potpourri of 10 enticing travel announcements revealed during the past month.  We hope these will tweak your interest. Some constitute big news, others are simply interesting "news tidbits" about air, land and sea travel. So, let's dig into what's happened in travel news for February 2022.
 1. Travel News; Sea Cloud "Sale" on the Horizon
In 1931, Marjorie Merriweather Post, heiress to the Postum Cereal Company (later General Foods), and her husband, financial giant E.F. Hutton, built a luxurious, three-masted, fully rigged sailing ship, called the Hussar.
Their daughter, Dina (later to become actress Dina Merrill) grew up on the couple's grand ship. When Post and Hutton later divorced, Post renamed the ship Sea Cloud and continued to sail on it as her private yacht for many years.
Later, the ship became the private yacht of a Dominican dictator. Then, it was laid up for eight years "awaiting a rescue." But fortunately, that rescue finally came.
In the 1970s, the vessel became the 64-passenger, luxury flagship of the new Sea Cloud Cruises. The Meandering Traveler sailed on Sea Cloud in early 2020, just before cruising shut down for a year and a half.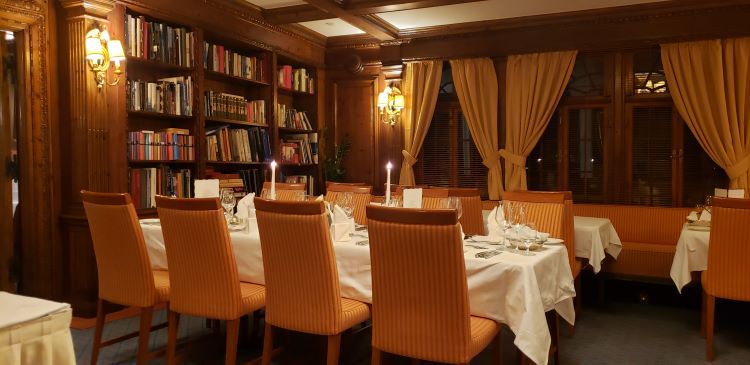 A Majestic Experience
Simply put, we felt that sailing on Sea Cloud was a "majestic experience." As the ship's sails were unfurled and wind power began propelling the ship forward, it was lovely to look up and watch beauty in action.
Sea Cloud also has lovely interiors with hand-crafted woodwork, such as in the dining area and library, for instance. shown in the photo above). Guests can expect an upscale yet casual approach to cruising.  Most notably, 20th century yachting heritage awaits around every corner.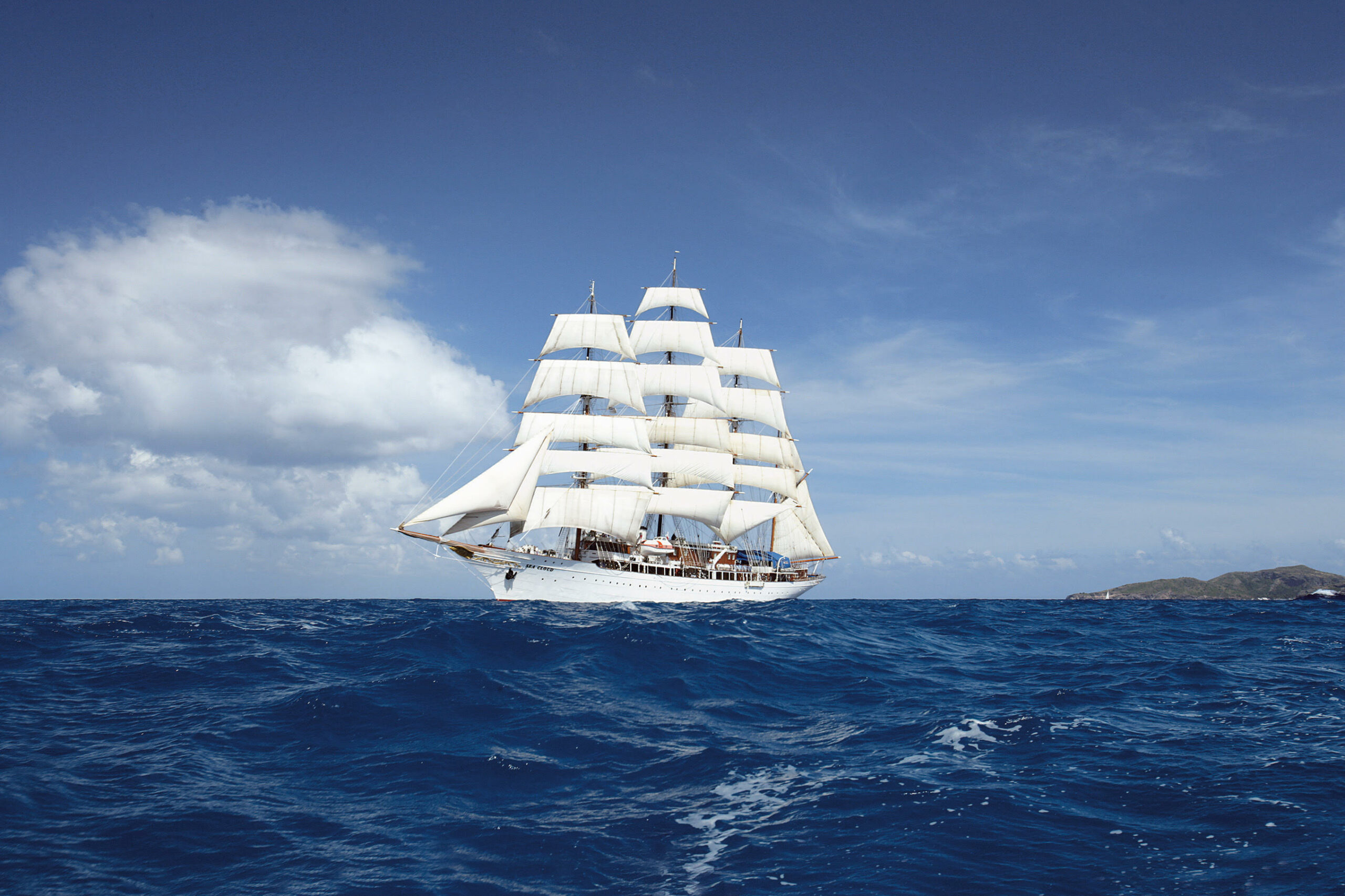 In the 2000s, Sea Cloud Cruises, based in Hamburg, Germany, added a second, fully rigged, 64-passenger Sea Cloud II sailing ship.
During 2021, the line's newest vessel, the 136-passenger Sea Cloud Spirit, was christened as well. It will restart cruising in a few months.
The Next Chapter
In February, a new chapter for the line was announced, though. The Yacht Portfolio, a strategic maritime investment company, has entered into a letter of intent to acquire Sea Cloud Cruises.
"Sea Cloud offers such a unique, environmentally-friendly experience in the cruise space, which aligns well with our continued focus on building a strong portfolio of niche luxury brands," says Douglas Prothero, CEO of The Yacht Portfolio.
"We look forward to completing a transaction with the Sea Cloud team and supporting the brand's next phase of growth in the luxury cruise space," he adds.
If the deal is finalized, Sea Cloud Cruises would become the second cruise brand for The Yacht Portfolio. That company will launch the new Ritz-Carlton Yacht Collection this year — in partnership with Marriott International.
 2. Travel News: Silversea Unveils Silver Nova's Suite Details
The arrival of any new class of ship is always exciting. When it's an ultra-luxury ship, that's even a more enticing draw.
In 2023, Silversea Cruises will debut its new 728-passenger Silver Nova, the first in its new Nova-class. Earlier this month, the ultra-luxury line unveiled a few more details about the ship's collection of 364 suites.
In total, guests will choose from 13 different suite categories that range from 357 square feet to 1,324 square feet. Of particular interest? This suite collection reflects a new design approach for Silversea.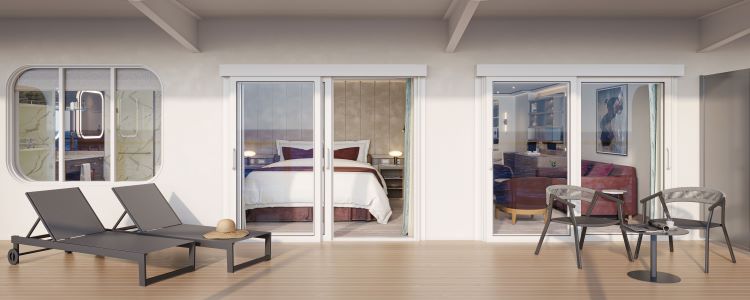 Architect Giacomo Mortola and his firm GEM spearheaded the design of Silver Nova's suites.  Encompassing four decks, they'll be positioned in a horizontal layout and run the entire length of the ship.
Plus, there will be greater variety including new premium aft suites – a first for Silversea.
"With her asymmetrical configuration and horizontal layout, Silver Nova will offer guests a new generation of spacious suites that are unseen in Silversea's fleet," says Barbara Muckermann, Silversea's chief commercial officer.
Describing the suite experience as "an evolution," she adds that Silver Nova will be "one of the most environmentally conscious cruise ships ever built."
Suite Types 
Here's a brief snapshot of two of Silver Nova's many suite types.
Signature Suite: With sweeping views from all interior spaces, this 700-square-foot suite offers dining, living and sleeping areas as well as a luxurious bathroom. Its private balcony is a roomy, 172 square feet.
The Signature Suite also includes custom-made luxury mattresses, two large flat-screen televisions, a sound system with Bluetooth connectivity and an espresso machine.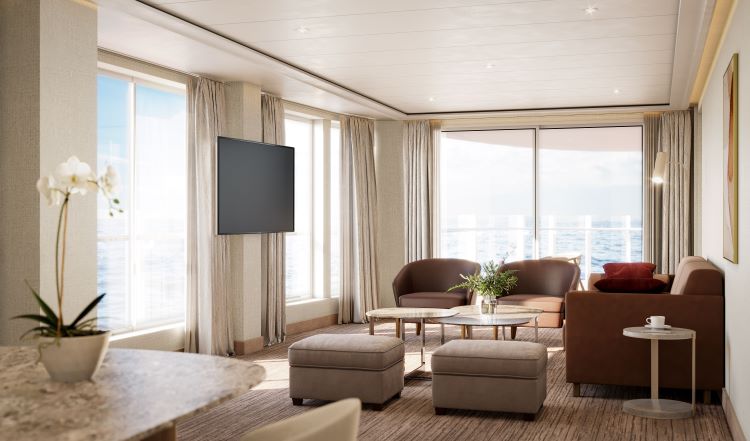 The Otium Suite is a new suite type to debut on Silversea Cruises' new Silver Nova. Photo by Silversea Cruises.
The Otium Suite:  Inspired by Silversea's new Otium wellness program, the 1,324-square-foot Otium Suite is the ship's most spacious. Fielding a 431-square-foot balcony with private whirlpool, this suite is positioned aft.
Guests will have 270-degree views and floor-to-ceiling windows in all living areas. These suites will offer custom-made luxury mattresses, two large flat-screen televisions, a sound system with Bluetooth connectivity and an espresso machine.
More Suite Details
Silver Nova's color palette will blend soft and neutral tones, with accents inspired by the sea and earth. The ship also introduces elegant, soft lighting; headboards with integrated reading lights; and a reimagined walk-in closet design.
Those closets will be more open (particularly for Veranda Suites) and have dedicated compartments for personal jewelry. Suite bathrooms will have a modern oversized mirror, large vanity with two faucets, walk-in shower and a bathtub or whirlpool.
Another plus of Silver Nova is that guests in all suites will have enhancements from Silversea's new Otium wellness program.
In addition, a new 24-7 comfort food menu is designed to enhance in-suite movie nights, pre-dinner aperitifs and other moments of leisure; snacks include lobster and caviar in brioche rolls, a selection of gourmet popcorns and other premium bites.
3. Travel News: A Passion for Literature
If books "float your boat," then check out Cunard Line's newly announced plans for return of the "Literature Festival at Sea," curated by the programming team of The Times and The Sunday Times.
This popular Cheltenham Literature Festival kicks off aboard a seven-night transatlantic crossing on Queen Mary 2, departing December 3, 2022. (The ship's Grand Lobby is shown in the photo below.)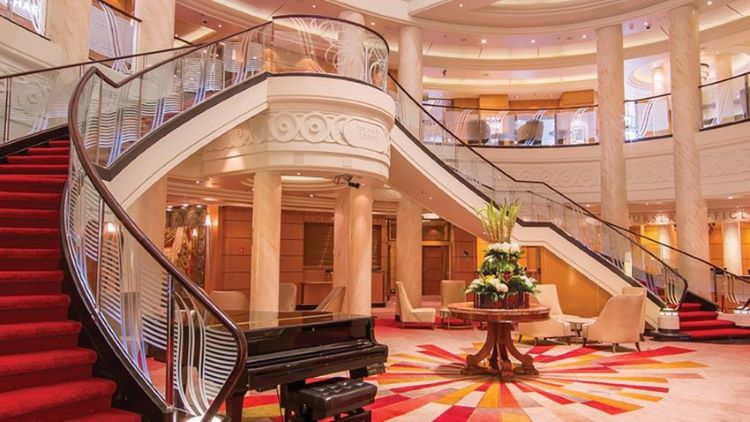 Departing New York for Southampton, U.K., guests will sail with a host of acclaimed authors. Among them are Damian Barr, Bernardine Evaristo, Ian Rankin, Alexander McCall Smith, Mary Beard and Richard Osman, for example.
Literary buffs can attend workshops, lectures and book readings as Queen Mary 2 sails across the Atlantic. The authors will relate stories about their lives and works.
An added perk? In the literary workshops, guests will learn how to improve their writing skills from The Times' journalists and literary experts.
"I am beyond excited to travel, speak and engage with guests on a literary festival on the high seas," says Beard, an English scholar and one of Britain's best-known "classicists." She adds that while there will be plenty of distractions, "the pleasures of being literally away from it all with a chance to discuss bookish things…what could be better?"
"Books are a world away from the one we're all in—a portal to other places, an escape," says Barr. Some loyal Cunard guests may recall that he participated in the 2019 literature festival. He's looking forward to returning this year.
A Feeling of Freedom
To Barr, the floating literature festival "adds another dimension to that feeling of freedom we get when we're lost in a good book."
He says that "away from the world and all its concerns, I find that I think more deeply and have richer conversations with fellow writers and chance chats with passengers along the way."
Cruise pricing for this literary cruise is priced from $1,039 per person. Talk to a travel advisor about options for bookings, availability, cabin type and occupancy specifics.
If you're interested in a different type of themed cruise, then check out our recent blog on themed cruises. We outline everything from wine to music, from family travel to holiday offerings.
4. Travel News:  Luxury Gold Incentive
So, it's nice to see that Luxury Gold is offering travelers an enticing incentive to plan a five-star vacation in 2022 with a limited time offer of a free, one-night luxurious hotel stay before or after their tour.
For new bookings made between February 1 and March 31, 2022, guests who make a deposit within 72 hours and pay in full for the trip by March 31, 2022, can choose their extra hotel stay for any Luxury Gold tour.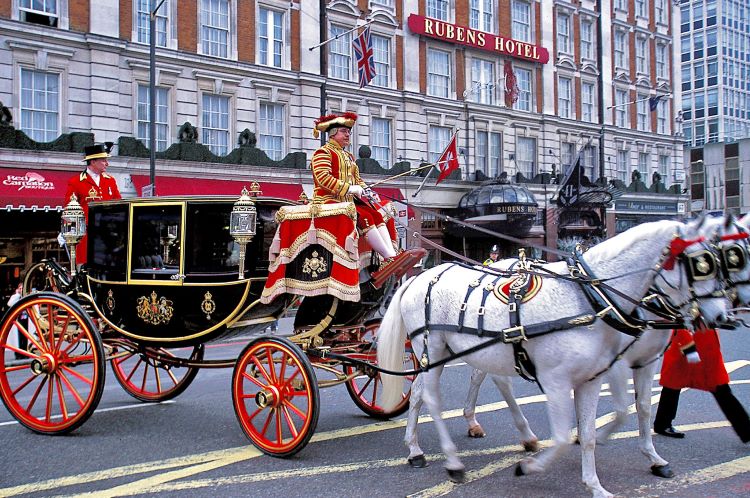 The promotion applies to journeys in the Americas, Europe, Asia, South Africa, Australia and New Zealand. It also applies to two new itineraries to southern France and Croatia.
Guy Young, president of Luxury Gold, says this: "Adding an extra night at the beginning or end of the tour, compliments of Luxury Gold, is a great way for our guests to enhance their trip."
Here's a look what hotels Luxury Gold might offer for a free one-night stay on certain tours:
Pre-trip at the Rubens at the Palace, London, directly across from Buckingham Palace, on the "British Royale" itinerary.
Post-trip at the Bauer Palazzo, close to St. Mark's Square, Venice, on the company's "Ultimate Italy" itinerary.
Pre-trip at the five-star Mena House Hotel (pyramid view), Cairo, on the "Elegance of the Pharaohs" itinerary.
Pre-trip at Fairmont Banff Springs in Canada's Banff National Park on the "Majesty of the Rockies" tour.
Small Group Tours
Owned by the Globus Family of Brands, Luxury Gold is decidedly high end. Also new for 2022, all tours with Luxury Gold are small groups with no more than 24 guests and additional, exclusive, VIP experiences.
These small group tours also include more activity choices. With "Journey, Your Way," travelers can select unique local experiences that suit their own interests. "Make Travel Matter" experiences are aimed at advancing 11 of the United Nations' Sustainable Development Goals (UNSDGs).
Bottom line? Make Travel Matter is designed to positively impact the communities that Luxury Gold's guests visit. 
Separately, Luxury Gold will include a specially trained and dedicated well-being director on departures with 15 or more guests; he or she will work alongside the tour group's traveling concierge and coach driver.
All Luxury Gold journeys include complimentary, private VIP door-to-door airport transfers with a chauffeur on the start and end dates of the tour.
5. Travel News: Air Travel Is Taking Off 
Travelers are returning to U.S. skies. While not back to 2020 pre-pandemic levels, the numbers are edging upward.
U.S. Transportation Security Administration data shows that 2,098,325 million people went through TSA security checkpoints at U.S. airports on Friday, February 25, 2022. That compares with 1,096,348 people on the same day in 2021
That said, the statistics are still a bit down from the 2,441,643 people who went through the checkpoints on the same day in 2020. That was just prior to the COVID-19 pandemic's impact of shutting down travel.
TSA numbers posted passenger checkpoint visits on Saturday, February 26 and Sunday, February 27 show similar trends — up sizably from the same date in 2021, but down somewhat from 2020.
Still, the rising numbers are encouraging for many in aviation who cite a return to some level of travel normalcy – and as a positive sign for summer travel as COVID-19 cases drop. If you want to check out the TSA passenger numbers day-by-day, click here. 
6. Travel News: Medallion Perks Head Ashore
Techies who like sailing on Princess Cruises can celebrate. The high-technology perks of the line's MedallionClass ships have now begun to navigate ashore for purchases in certain port destinations.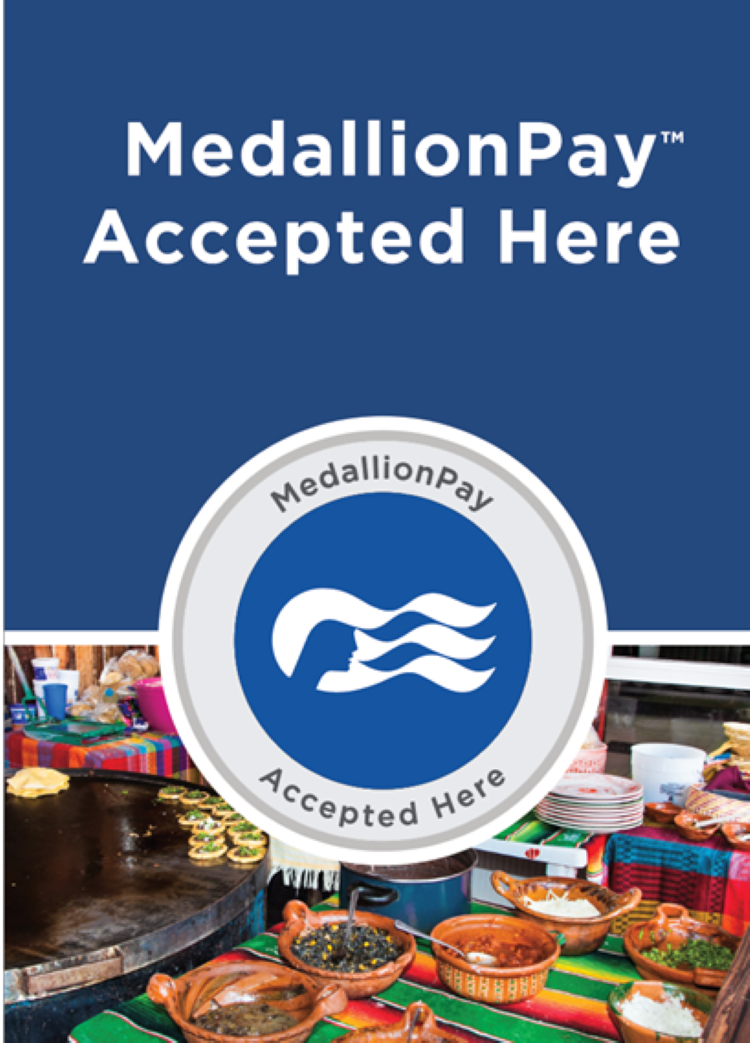 Introduced in 2017, MedallionClass allows guests to use a wearable device to automatically open their stateroom door or order drinks wherever they are on the ship.
Princess has offered MedallionPay contactless payment for all onboard purchases since the system debuted.
But in February 2022, the line announced an expansion of MedallionPay. Guests now have a contactless purchasing option with a number of merchants in ports of call in the Caribbean, Mexican Riviera and Alaska.
So, guests can use their Princess Medallion wearable device to shop, play, eat and drink ashore. Right now, MedallionPay is available in St. Thomas, U.S. Virgin Islands, as well as Cabo San Lucas, Cozumel and Puerta Vallarta, Mexico.
Simply look for stores that display the MedallionPay seal in their storefronts. More destinations and merchants will be added in the near future. Princess says that will include all its Alaska ports.
The merchants currently accepting MedallionPay range from Diamonds International and Cariloha to more than 65 other retailers — restaurants, bars, souvenir stores, jewelers, museums and excursion operators.
Bonus 7 Percent Onboard Credit
A bonus is that for the inaugural year of the program, guests who use MedallionPay ashore – and have associated a credit card with a MedallionPay account — will receive 7 percent back on those qualified shoreside purchases as an onboard ship credit.
Just in case you're wondering, no credit card or personal information is stored on the Medallion. So if it's lost there's no issue.
In addition, Princess also says the MedallionPay system exceeds the security levels used in financial institutions and passports by using the latest methods of tokenization, abstraction and encryption.
When cruisers make a purchase with participating retail locations in select ports of call, merchants securely confirm the transaction with two-factor authentication that exceeds typical credit card transaction.
7. Travel News: New Mandarin Oriental Hotel in Greece
Do you enjoy staying at Mandarin Oriental Hotel Group properties across the globe? Well, soon you'll have a new option — in Greece.
In spring 2023, the hotel group and TEMES, S.A., a leading high-end tourism and real estate developer, announced that they're soon going to introduce the first Mandarin Oriental property in Greece. In spring 2023, the hotel will open on Navarino Bay — nestled within the integrated resort area of Costa Navarino.

Opening in spring 2023 is the beachfront Mandarin Oriental, Costa Navarino in the southern Peloponnese.
Crafted by Greek architects, Tombazis & Associates Architects and K-Studio, this ultra-premium resort's unique design will feature sustainable principles.
One unique feature? "Planted roofs" (see photo above) will blend into the natural topography of the land. Local materials will be used in the hotel construction and design.
Some 99 guest rooms will include 48 spacious "Earth-sheltered" pool villas, all with outdoor terraces and sea views.
The new resort will offer five restaurants and bars. Spa fans will appreciate a 16,000-square-foot spa and fitness center with an indoor-outdoor pool.
Golf and Shopping 
Navarino Bay is already home to the Bay Course, an 18-hole signature golf course designed by Robert Trent Jones II. It also offers the Bay Clubhouse, harmoniously blending into the landscape overlooking the bay.
Also on site are other resort areas. Guests can head out for biking, hiking, rock climbing, tennis, water sports and three more signature golf courses. Other dining venues and leisure activities are available across Navarino Dunes and Navarino Waterfront.
We particularly like the new resort's location. Why? It's being built adjacent to Navarino Agora. By day and night, this open marketplace offers retail, artisanal street food, open-air cinema, and authentic local experiences.
For more information, please visit www.costanavarino.com.
8. Travel News: Ponant Partners With Smithsonian
For the second year, small-ship, luxury Ponant will offer 2023 sailings in collaboration with Smithsonian Journeys. That's the travel program of the Smithsonian Institution.
Focusing on cultural immersion and discovery, these 21, designated sailings will feature notable experts and cultural experiences. So, cruisers can learn more about a destination's history, cuisine, language, environment and wildlife.
Where do the specific itineraries go? Travelers have many options including itineraries that touch the Saudi Arabian Coast, Australia's Kimberley, the Mediterranean, St. Lawrence River and Northern Africa. Guests will sail with experts ranging from archaeologists and scientists to anthropologists and historians.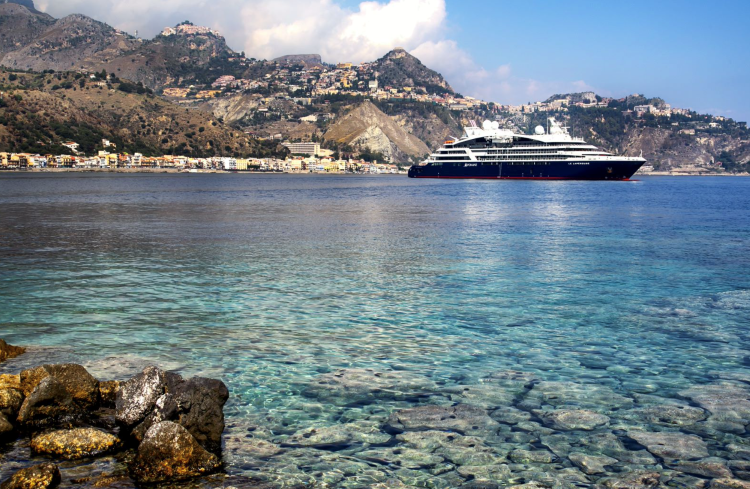 During these itineraries, Ponant also will sail to some "maiden" ports — destinations that it's never visited in the past. Those include Ploče, Croatia and Charlottetown, Prince Edward Island. The full list of sailings can be viewed here.
For example,there's a new 14-night "Symphony on the St. Lawrence: From Québec to the Canadian Maritimes" itinerary. Departing on October 16, 2023, Le Bellot will sail from Toronto, Ottawa, Canada. Guests will visit destinations in eastern Canada and northern New England before the cruise ends in Gloucester, MA.
But for music buffs, one special attraction is a musical program curated by Keith Lockhart, legendary Boston Pops conductor. That program will be performed aboard by six musicians. Better yet, Lockhart himself will conduct four exclusive performances throughout the sailing.
Pricing for this two-week journey starts at $11,860 per person, double occupancy.
Morocco to Spain
Another Smithsonian Journey is "Cruising from Morocco to Spain's Andalusian Coast." Le Dumont-d'Urville departs April 20, 2023, from Casablanca, Morocco to the Portuguese, Moroccan and Spanish coasts. Prices start at $4,530 per person, double occupancy.
The small ship will sail from Casablanca to Lisbon with a stop in Tangier, Morocco. Guests will also visit Marbella and Granada, Spain, as well as Cadiz, Spain, the gateway to Seville.
One highlight for guests is an exclusive, private, after-hours visit of the Alhambra in Granada. It's a UNESCO World Heritage Site.
On board the ship, Smithsonian Journeys' discussions will be hosted by Alia Kate, North African international relations expert, and Rafael Chacon, art historian. Kate is founder of Kantara, a fair-trade design business specializing in Moroccan rugs woven in women's weaving cooperatives.
Chacon has twice walked the Camino de Santiago, the ancient pilgrimage route stretching more than 500 miles across France and Spain.
Circumnavigation of Sicily
In another option, "A Circumnavigation of Sicily," on Le Bougainville, guests will be joined by Albert Leonard. He's an archaeologist who has directed excavations at sites around the Mediterranean during his 30-year career.
Setting sail on May 4, 2023, travelers will visit the well-preserved Greek ruins in Agrigento, one of Sicily's oldest cities dating to 581 B.C.
Elsewhere in Sicily, guests will explore ancient Segesta and Taormina; the latter has an ancient third-century-B.C. Greek theater, which is still in use.
Another highlight is seeing Byzantine-Arab mosaics while visiting Palermo. But for something one doesn't see every day, the ship will offer an evening sail-around the fiery Stromboli Volcano, one of the world's most active volcanoes. Best seen at night, it spews glowing red lava every few hours.
Prices for the "Circumnavigation of Sicily" itinerary start at $5,120 per person, double occupancy. For more information, visit https://us.ponant.com.
9. Travel News: Cheeseburger In Paradise Plus Perks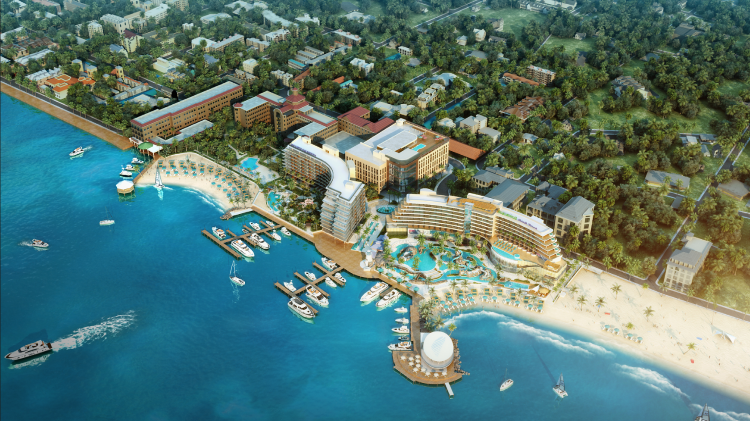 Fun and escapism are on tap in a stay at Margaritaville Hotels & Resorts and Compass Hotels with 20 resorts throughout the world. In February, the hotel group rolled out a new hospitality affinity program called Margaritaville Perks.
So, you're thinking, "oh, it's another loyalty program for repeat guests." Yes, it is, but it's a departure in style from traditional loyalty programs.
It's designed to be simple and straightforward. First, there are no points, Second, there are no levels to reach. Third, there is no waiting for qualification.
Margaritaville Perks
Margaritaville Perks offers guests simple and immediate perks and value-added benefits. Yet, those will improve over time too. They'll become more personalized with member engagement, frequency and feedback.

It's important to know as well that you'll find different Margaritaville Perks at each hotel, resort, or destination.
Any perk that applies can be selected by the guest during their booking process or at the front desk. Examples of perks might include:
Cocktails & Concoctions
Welcome Amenities
Fruit & Cheese Plate
Movie Pack
Early Check-In
Late Check-Out
For more information or to sign up for Margaritaville Perks, visit www.margaritavilleperks.com/sign-up. Currently, only U.S. residents, 21 years or older with a valid e-mail address can join Margaritaville Perks.
10. American Queen Back on Lower Mississippi in June
With more interest in close-to-home cruises, American Queen Voyages has moved its flagship American Queen to the Lower Mississippi River in June. Four new, nine-day voyages — departing June 5, June 12, June 19 and June 26 — await guests in that popular sailing region.
The 417-passenger American Queen will sail the mighty Mississippi between New Orleans and Memphis, TN.  Originally, the ship was set to sail on the Upper Mississippi River during this time frame.
If you sail, you'll likely enjoy a "grand experience." For example, check out the photo below of the paddlewheeler's magnificent Grand Salon.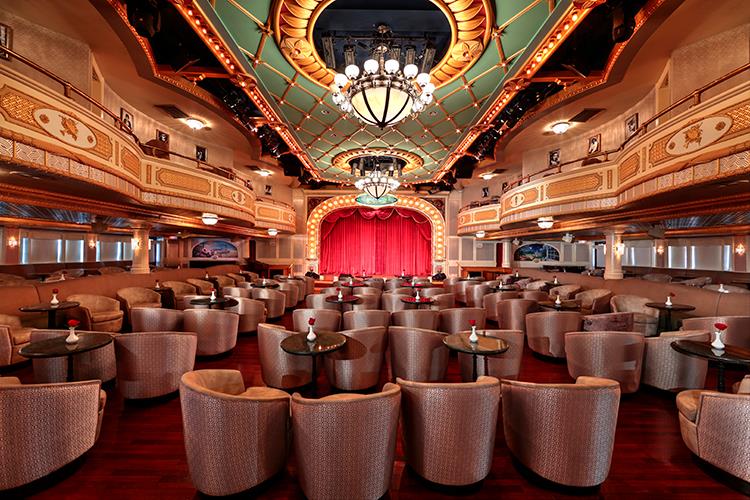 What's enticing? To celebrate the company's 10th anniversary, guests booking a Luxury Suite or Owner's Suite on American Queen for any of those four new departure dates in June will receive an exclusive cooking class and brunch. It will be hosted by Regina Charboneau, AQV's culinary ambassador.  She'll conduct those classes at her Natchez cooking school while the ship is in port.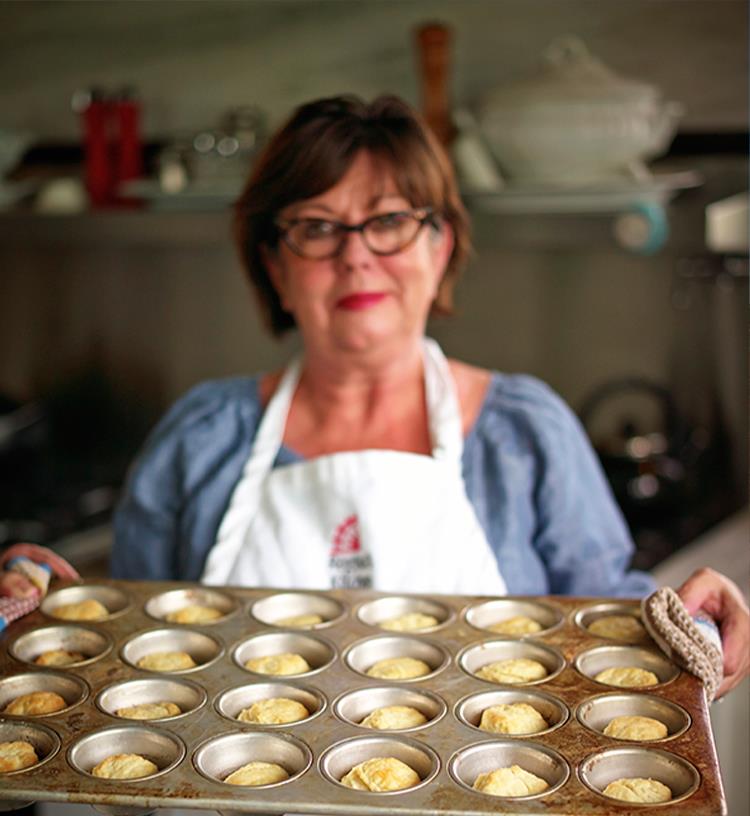 In addition, all guests will be joined on board by Charboneau for a special pre-sailaway biscuit demonstration and champagne toast before the ship departs Natchez.
Pricing for the June sailings starts from $2,599 per person, double occupancy. For those desiring a Luxury Suite or Owner's Suite, pricing begins at $7,699 per person, double occupancy. 
While these are just a few of the many travel developments during the past month, we hope you've enjoyed our list. They're designed to show the vitality of the travel industry and what's ahead.
Important Notes from Pavlus Travel:
This blog site is designed for "basic, general information" about travel; it's not staffed by travel advisors.
So, please don't use the Reply Section below if you are asking for pricing, travel dates, accommodations, brochures or other specific requests. 
That said, we are most happy and eager to assist you. Here's how…
If anything does tweak your interest in the story and you DO have questions about specific pricing, brochures, savings, accommodations, accessible options and so on, please contact us at 800-528-9300.
Or visit us online at Pavlus Travel's official agency Web site; there you can "live chat" with us online too!
Thanks for reading!