Editor's Note: This is Part One of a two-part series.
For a large family reunion or special multi-generational celebration such as great grandma's 85th birthday, a mega-ship can deliver robust entertainment, dining, kids' club and activities to satisfy all. Currently, The Meandering Traveler is sailing aboard Royal Caribbean International's newest, Oasis-class ship Wonder of the Seas.
From our perspective, it's perfect for such multigenerational trips, as there's something for guests 2 years of age to 100-plus years of age. And, yes, it's big.
As the world's largest cruise ship, the 236,857-gross ton Wonder of the Seas can accommodate 5,734 guests, double occupancy or 6,988 guests maximum. Guests are served by an international crew of 2,300.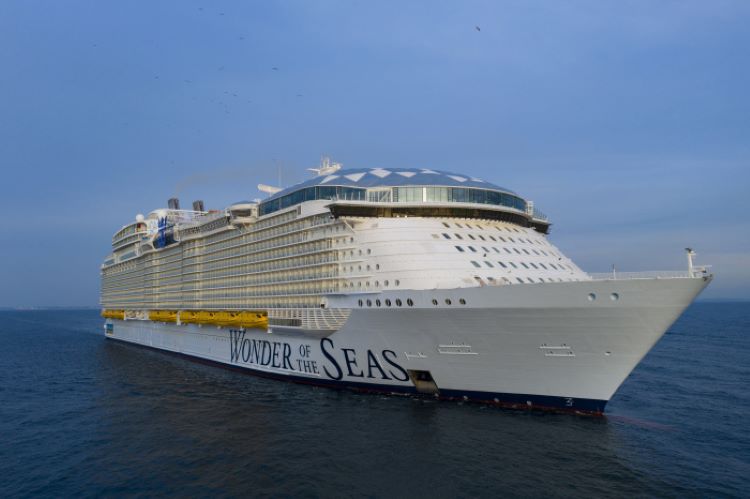 That said, Royal Caribbean International is limiting capacity right now. So, for our sailing, approximately 4,300 guests are aboard.
Regions of Sailing
Our seven-night Bahamas and Caribbean cruise is sailing roundtrip from Port Everglades, FL. The ship will sail from South Florida through spring.
For the summer season 2022, Wonder of the Seas will operate in the Mediterranean — sailing from Barcelona and Rome. Later this fall, the ship returns to the U.S. and will home port at Port Canaveral, FL, for Caribbean cruises.
Designed to Spread People Out
We personally love sailing on intimate, small ships, river vessels and expedition ships, but we also like the vibrancy and activities on larger ships too.
But among those larger ships, we actually prefer this humongous class of ship to some others (even those with 1,500 or so fewer guests). Why? Simply put, the well-designed neighborhoods — such as Central Park detailed below — effectively spread out the guests.
While some neighborhoods are busier than others, there are plenty of nooks and crannies for relaxing or reading a good book. Of course, those who want active, razzle-dazzle or kid-friendly activities will find those on Wonder of the Seas too.
Since we've only been aboard for 48 hours, here are a few initial impressions about the boarding process, our Ocean View Balcony accommodations, the Central Park neighborhood and two specialty dining experiences.
In Part 2 of this series, coming soon, we'll showcase specific family-focused spaces, thrill experiences, waterpark play and the new suite neighborhood. We'll be touring those spaces as the week progresses. 
Bottom line? We've just started to explore. But, this will get you started thinking about the ship…
Wonder of the Seas: A Breeze to Board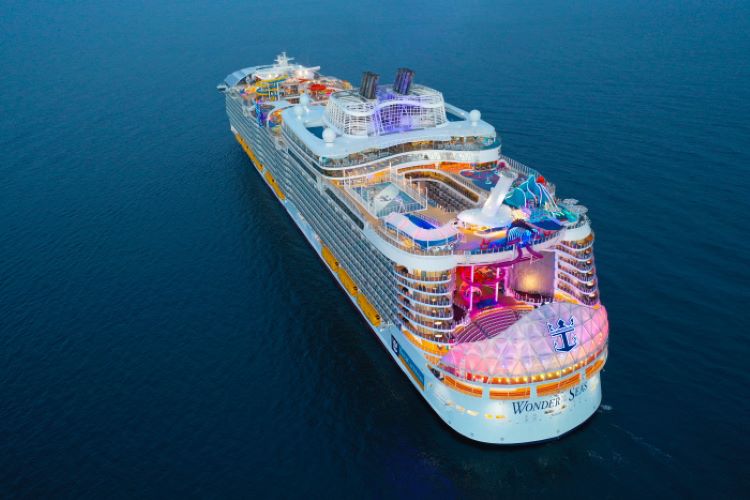 As for boarding at Port Everglades, FL, at 2 p.m. on Friday, March 4, we found the process amazingly easy. Royal Caribbean has been handling these large Oasis-class ships for several years at this port, so it has the terminal facilities and well-honed processes that work well.
With more than 4,000 people boarding, staggered arrival times are a must. We were assigned a check-in time of 2 p.m. and arrived a few minutes early.
We were quickly waved to a curbside, drop-off spot by Port Everglades Police. A baggage porter was immediately there to take our bag.
Zipping Aboard 
Notably, there were only 30 or so other people in the vicinity of the terminal entrance. We navigated quickly inside.
Overall, the boarding process — presenting our Sign-and-Sail digital pass, negative Covid-19 test, vaccination card and passport — was smooth. Royal Caribbean had plenty of staff to assist guests.
Bottom line? We were aboard the ship within 15 minutes from the time we arrived by car at the terminal entrance. It was "easy-peasy." Staterooms were ready at 2 p.m., our key was waiting in an envelope outside our door.
Wonder of the Seas: Stateroom Basics
Ocean View Balcony Stateroom
Wonder of the Seas offers 2,867 staterooms and suites with a wide range of accommodation categories. This week, we're staying in #7308, an Ocean View Balcony stateroom (see photos above and below).
With 182 square feet inside and 52 square feet on the private balcony, this balcony stateroom can accommodate up to four people. So, it's easily able to accommodate parents and up to two children.
The look and feel of our stateroom is straightforward with few frills. Yet, it's also pleasant and comfortable. Sound-wise, it seems well-insulated; we've heard no noise from the cabins on either side, yet we know they're occupied.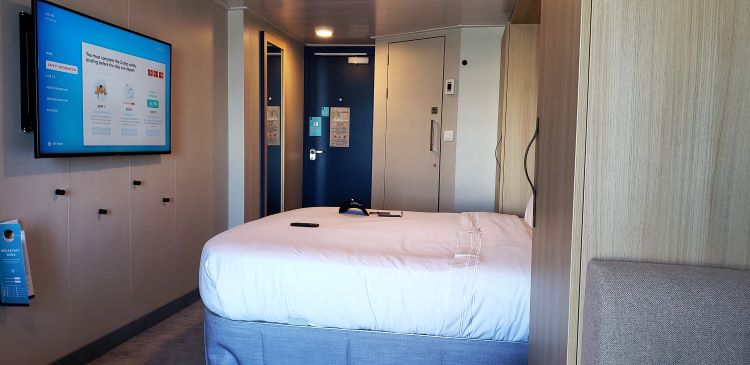 When it's time for sleep, this stateroom offers a king-sized bed, sheets, a fluffy duvet and bed pillows, which are all comfortable. Simply put, we've slept well here.
After dinner on one night, we also arrived back at our stateroom/suite one night to find a lovable "towel animal" creation occupying our bed.
A Bit about Storage
Royal Caribbean tends to be a more casual cruising experience for most guests. Most people don't dress for dinner every night, and some not on any night. Guests don't typically bring numerous long dresses or much, if any, formal attire.
With that in mind, space for hanging clothing in our stateroom is comprised of two tall storage cabinets that grace either side of the bed (see photos below).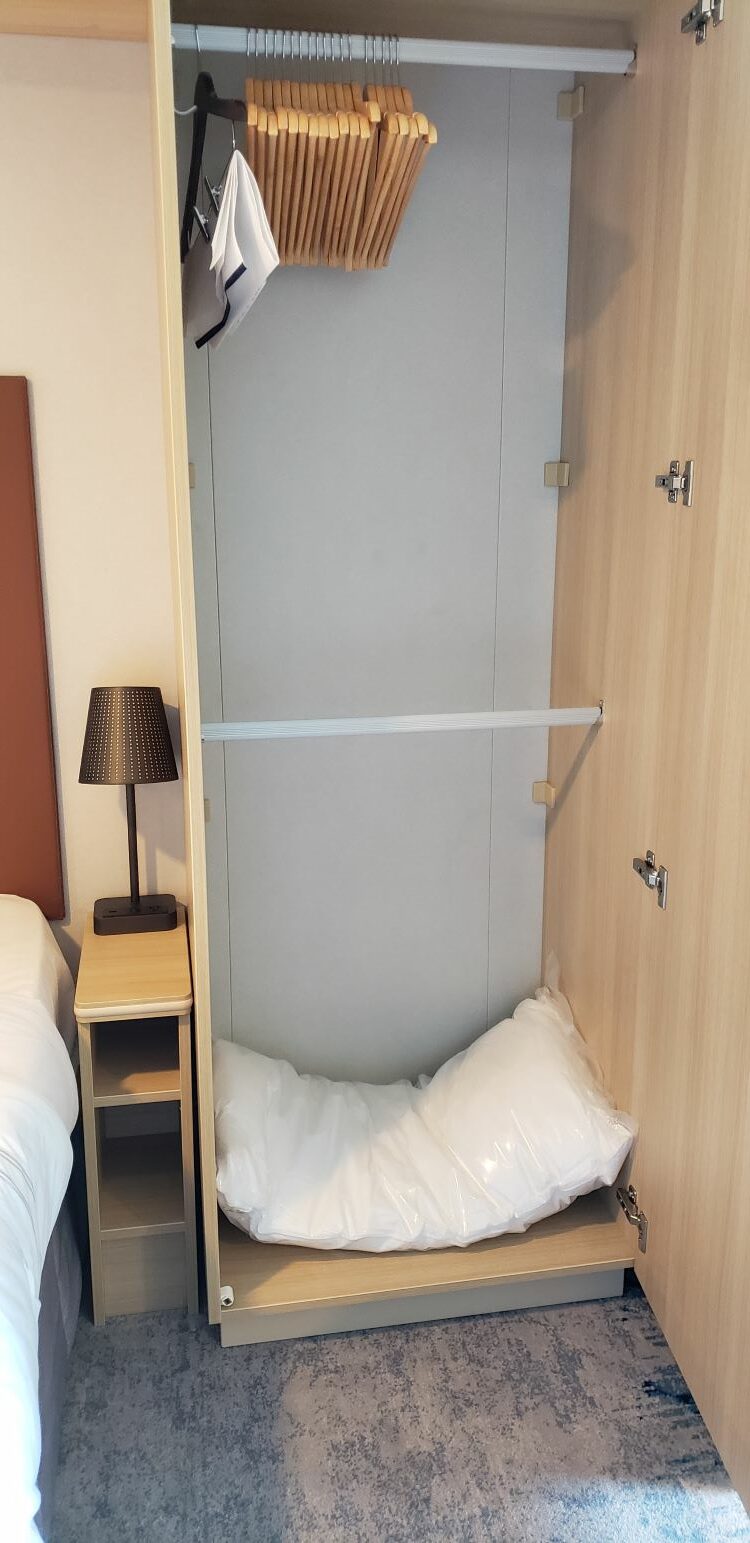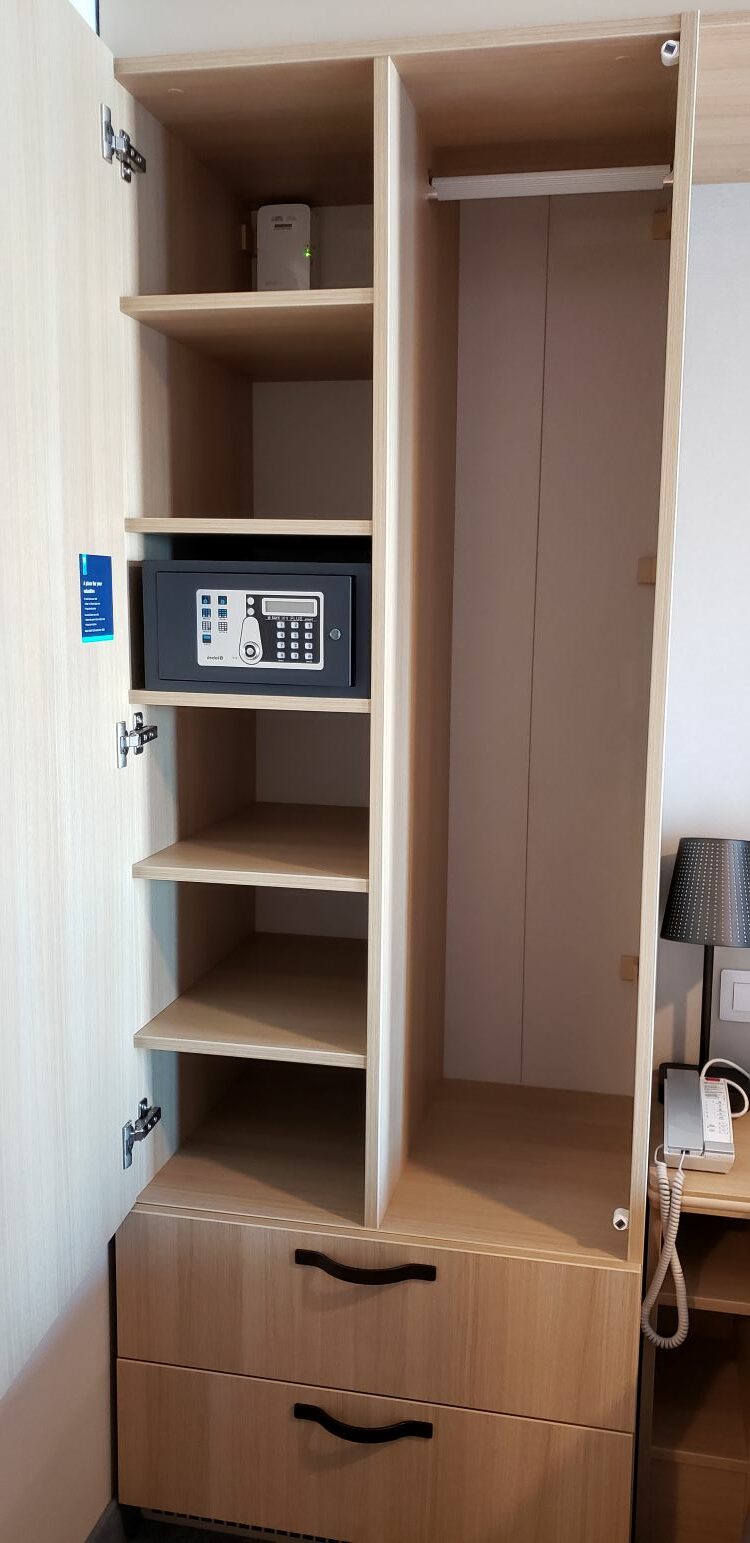 One storage closet (see photo above left) has multiple open shelves, a personal safe and a narrow hanging space for some longer clothing, plus two drawers. The elongated cabinet on the bed's other side (see photo above right) has a full-width closet with two hanging rods.
For us this was the perfect amount of hanging space. But if you're a "clothes horse," just be aware that these two cabinets above reflect the extend of this stateroom's hanging space.
In terms of drawer space, as you can see, there are two large drawers shown in the photo above left. Those drawers are both wide and deep.
In addition, guests can use the five large drawers in the living area's separate armoire/storage cabinet, adjacent to the desk (see photos below). One has a hair dryer inside for guest use.
Desk & Living Area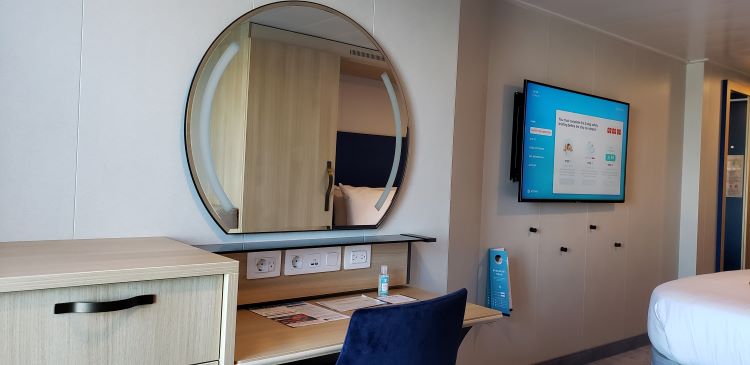 We particularly like the flexibility of our desk area. How so? Well, the desk top is essentially a table that can be pulled completely away from the wall. It nicely "doubles" for in-room dining use, with the desk chair also
The upholstered desk chair also doubles as a chair for dining. Or, it's a seat within the living area — which has a large, elongated couch. In this and some other balcony staterooms, that sofa can convert into an extra bed for two.
This stateroom's large flat-screen TV faces the bed and is also viewable from the living room couch. So, guests can sit on the sofa and use that pull-out table for holding drinks or snacks while watching a movie.
Actually, we used the table as a work space while sitting on the sofa and watching "No Time to Die," the James Bond "pay-on-demand" flick (at $11.99 for a 24-hour rental).
The entertainment system has many free channels too; they include news, movies and child-appropriate programming.
Above the desk is a large, round mirror and a narrow ledge. It's great for holding hand sanitizer (a small plastic container provided by the line), ladies' make-up or small, personal items.
Plug-wise, just under the ledge are two European plugs, three U.S. three-prong plugs and two USB plugs.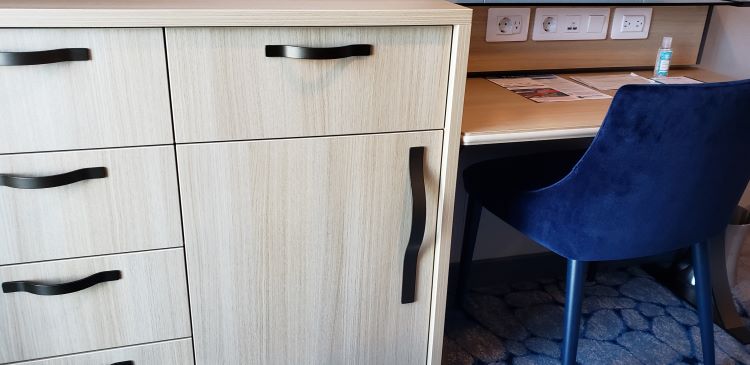 Storage space adjacent to the desk includes five deep drawers and a mini-refigerator. Photo by Susan J. Young
Three panels of floor-to-ceiling windows allow plenty of natural light to stream into the stateroom. Continuing outside, guests have a private balcony with two chairs, two movable foot rests and a small table.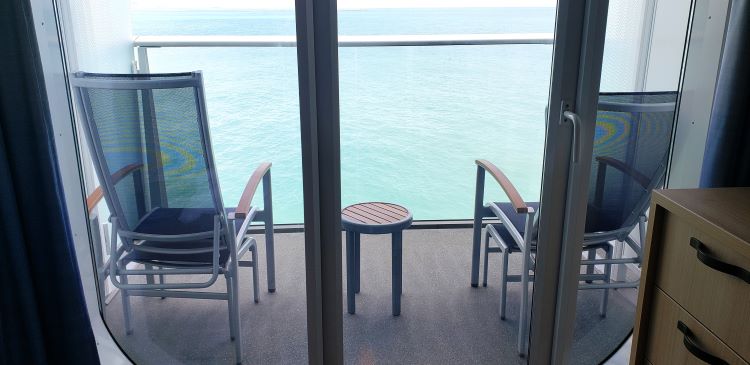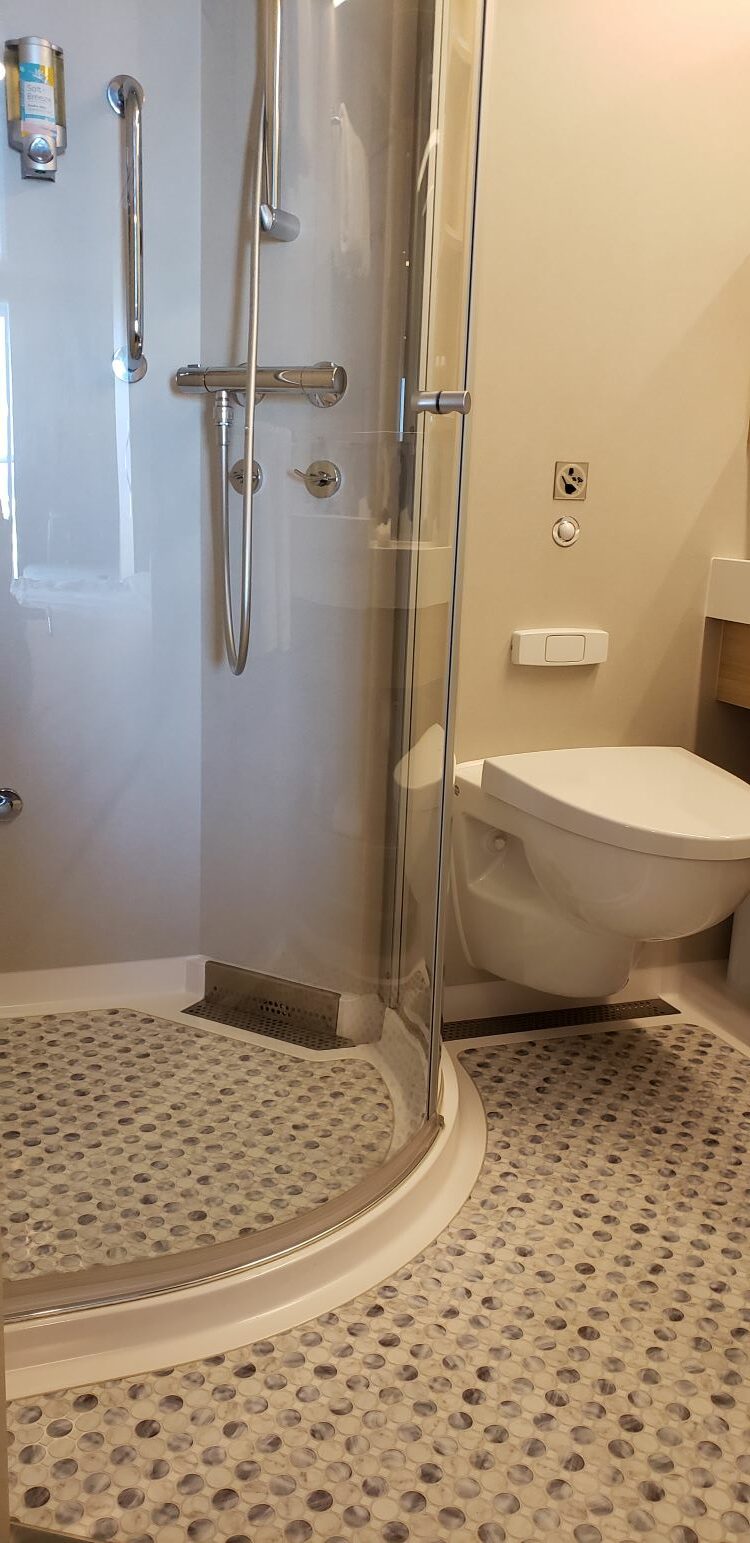 #7308 Bathroom
Our suite bathroom is compact but pleasant in appearance. This bathroom has a curved, walk-in-shower area, plus a toilet and vanity with one sink.
A large mirror extends across the space above the vanity. We particularly like this space's blue-and-white-patterned backsplash above that vanity surface.
In addition, the light-colored flooring that extends from within the shower to the regular floor space. That creates an airy feel — making this bathroom seem a bit larger than it is.
In addition, we love the nightlight that softly illuminates the space when the main lighting isn't on.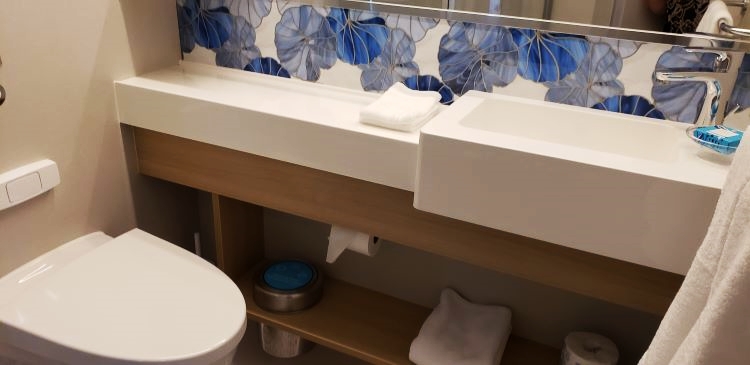 Wonder of the Seas: Central Park 
Heading beyond one's stateroom or suite, the ship has eight neighborhoods to explore. Let's start with our favorite, Central Park. A more low-key spot than some other neighborhoods, it's brimming with greenery — trees, shrubs and plants.
So, guests can soak up the fresh air as they stroll along flora-lined walkways. Couples can drop into a wine bar or enjoy lunch or dinner at one of the restaurants.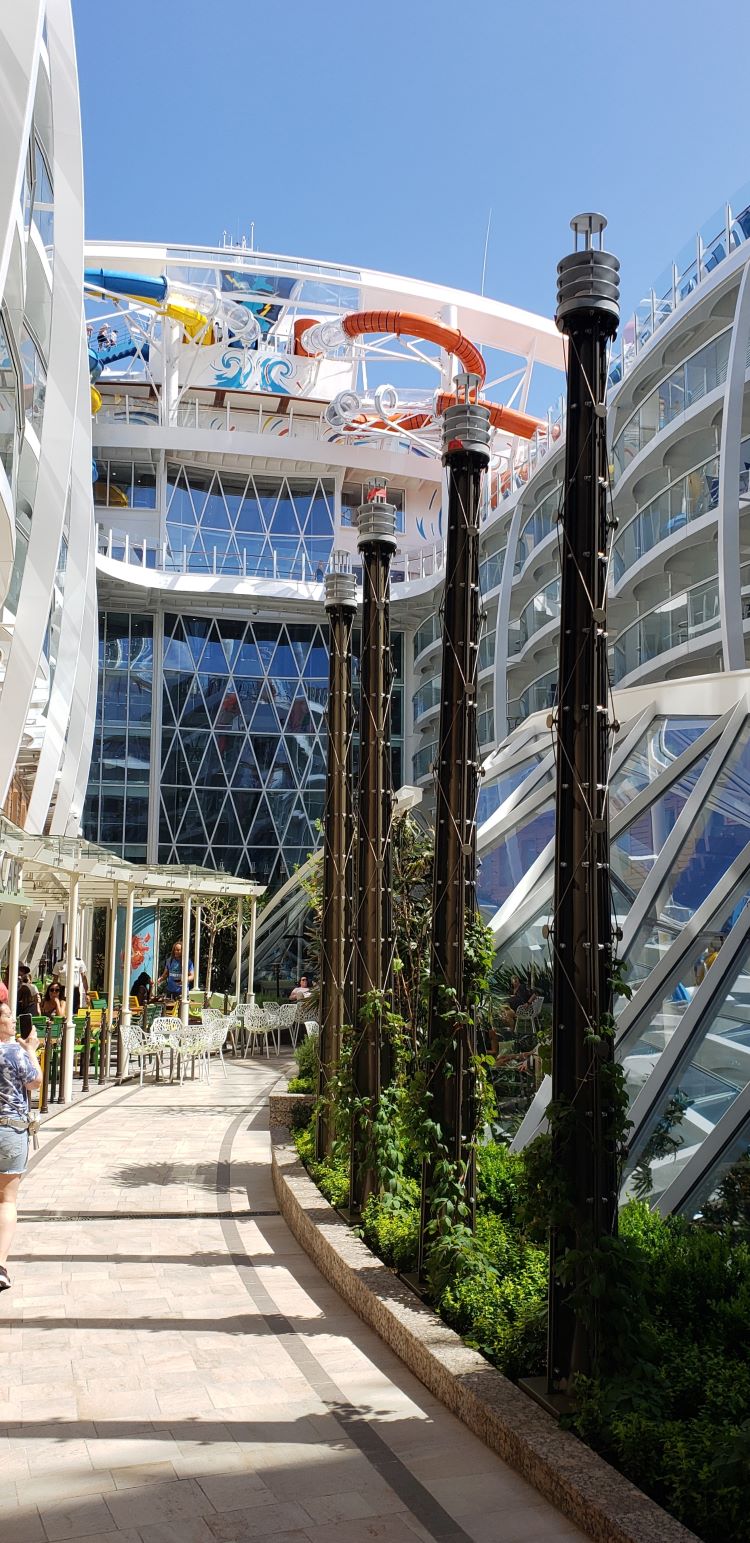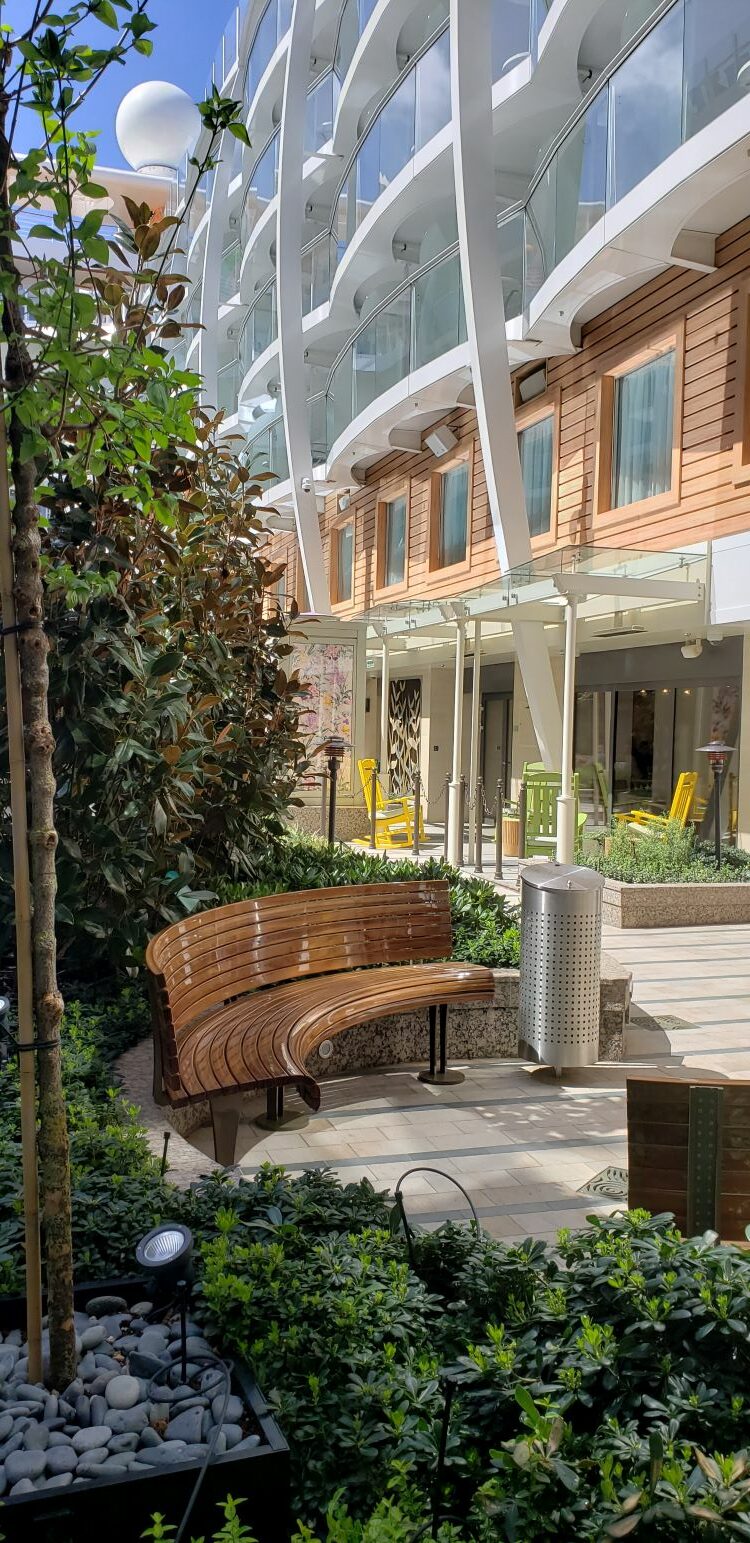 Popular spots are the casual Park Cafe for light food, drinks at the Trellis Bar or Giovanni's Wine Bar, and the Coca Cola Machine.
One unique experience worth doing at least once on your cruise? It's a hoot to board the Rising Tide Bar. This elongated open-air platform is an elevator, essentially. Guests sit at tables and enjoy a cocktail or soadadrink, as there's a full bar aboard.
But after a time, the bar itself floats upward or lowers downward — traveling up and down between Central Park's Deck 8 and Promenade's Deck 5.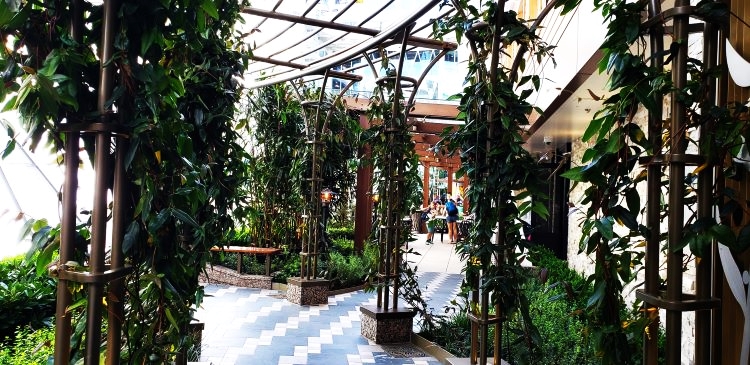 Central Park is popular as a dining spot too. Reservations are a "must" for dining at the specialty restaurants including Chops Grille (see below for our look at our dining experience here), 150 Central Park and Giovanni's Italian Restaurant.
What else is in the park? Shopaholics will discover a Regalia Fine Jewelry shop with gems and creative, high-quality bangles.
Look Up
We love an ocean view while at sea. But one neat attribute about Central Park is that it offers balcony accommodations that are open-air, but they overlook this eco-park, rather than the ocean.
Sitting on their private balcony, cruisers can soak in the fresh air, enjoy pre-dinner drinks and hors d'ouevres and peer down to the greenery.
We've stayed in these accommodations twice on previous cruises on Oasis-class ships. It's lovely to look downward at dusk with the evening lighting, as guests stroll in a relaxed fashion along the pathways.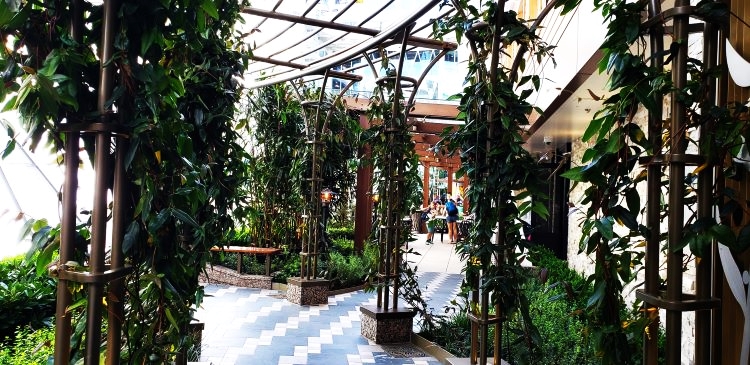 Central Park often attracts Boomers and Traditionalists sailing within a large, multigenerational family group. They might desire a quieter atmosphere, while younger family members might, in contrast, choose accommodations overlooking the fun-filled Boardwalk, for example.
Wonder of the Seas: Hooked & Chops Grille
Specialty Dining at Hooked
Located on Deck 16 forward, Hooked is a specialty seafood dining experience on Wonder of the Seas. It's casual and family-friendly. 
On our boarding day, we enjoyed a tasty dinner here (see photos of Hooked's bar and dining room areas below).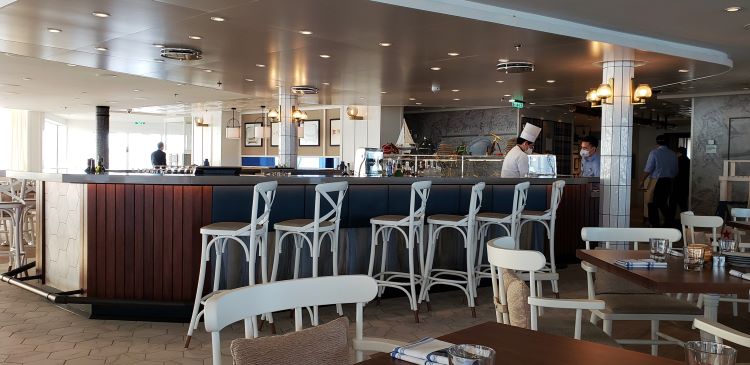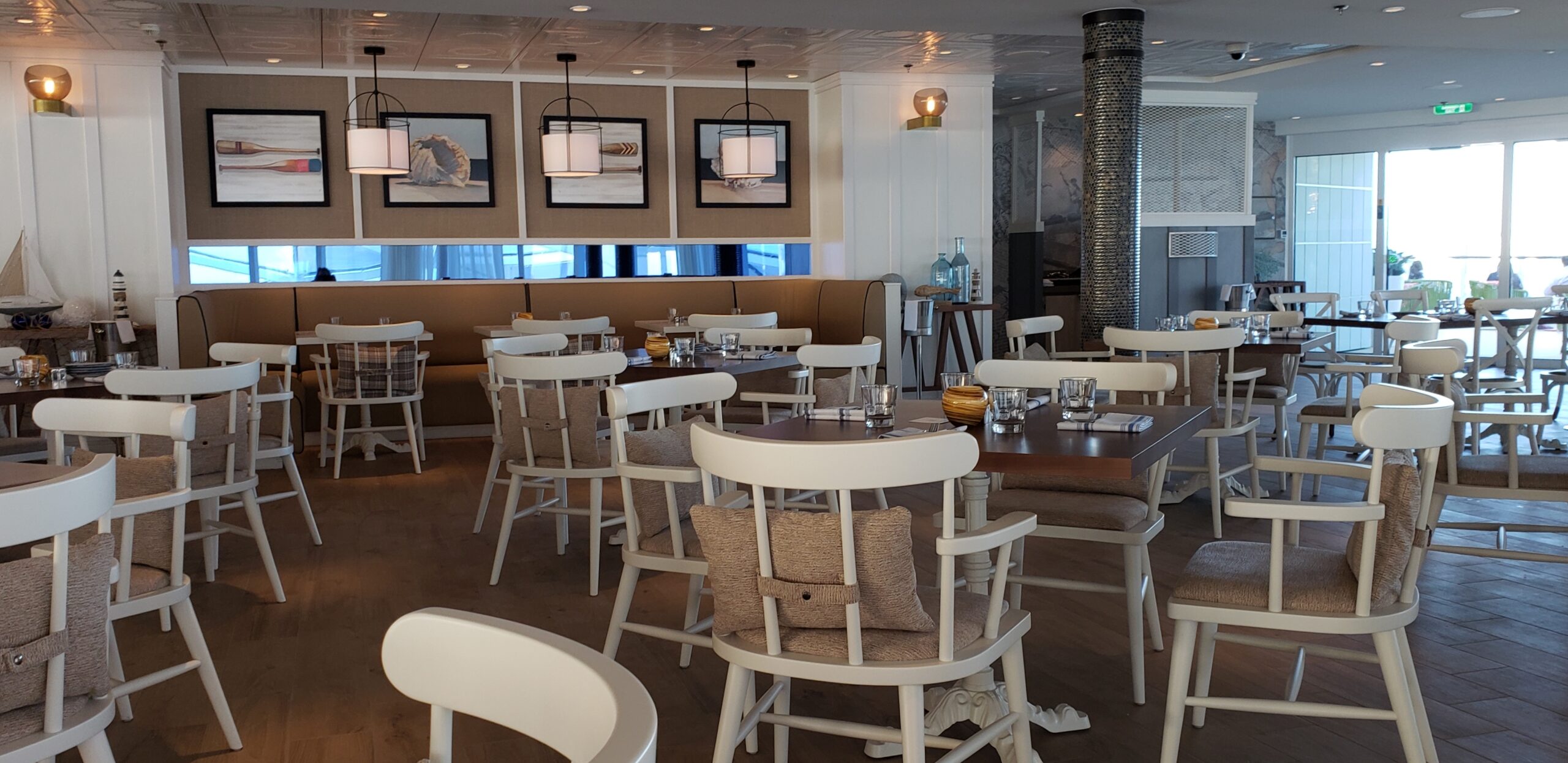 Our starter was a yummy "Clam and Crab Chowder" (see photo below). It was robust in density –not "soupy" — and savory in taste. Small clams and small round crackers topped this tasty chowder.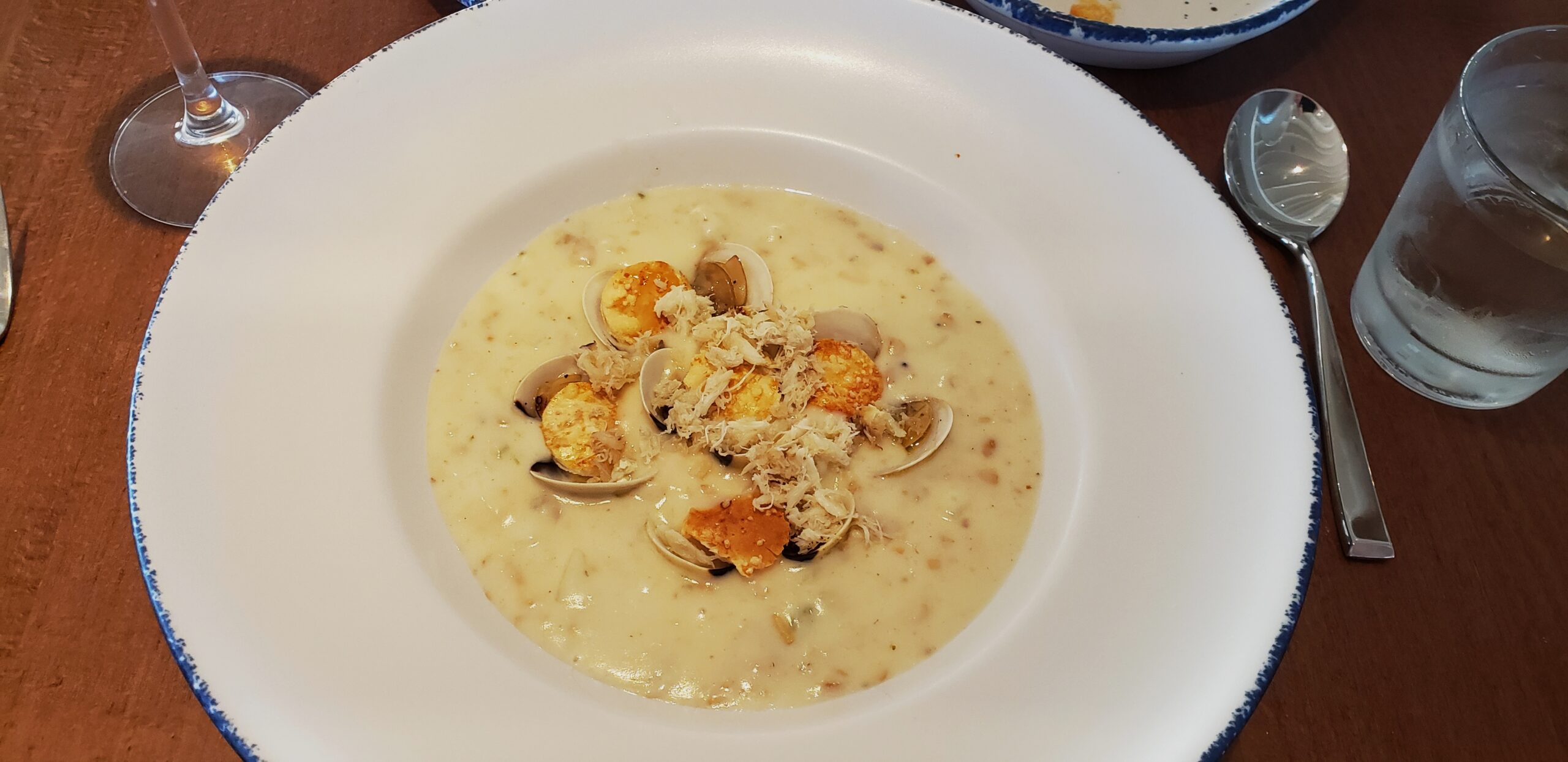 For our main course, we took the server's suggestion and ordered the "Royal Seafood Platter" (see photo below). It consists of lightly battered, deep-fried cod, a soft shelled crab, tiger prawns, scallops and black mussels.
We don't do fried often, but hey, we followed his advice. The reality is that it proved quite tasty. Two boiled crawfish also provided a pop of color. Seafood inclusions can vary given seasonality and availability.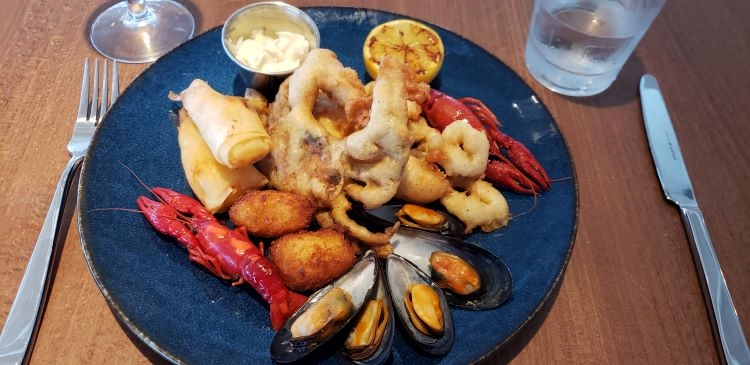 Yummy Dessert
For dessert, we opted for the "Decadent Chocolate Brownie" (see photo below) with chocolate fudge, salted caramel sauce and vanilla ice cream .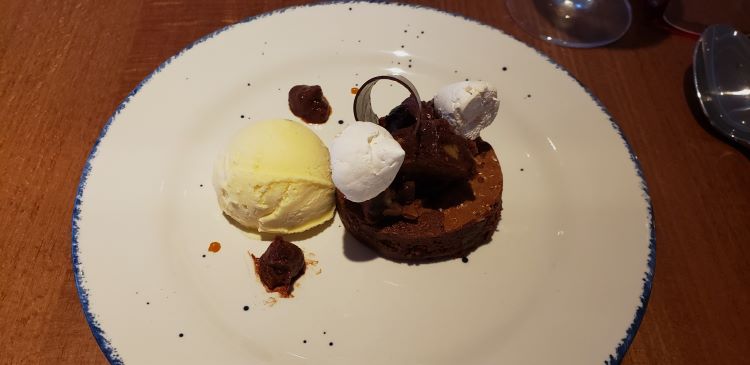 Overall, we enjoyed our tasty, seafood dinner at Hooked. Service was superb. Our server and the restaurant manager were attentive and friendly.
What else can you order at Hooked? The menu at Hooked ranges from ceviche iche to a whole Maine lobster, from a grilled seafood platter to baked oysters.
Just fyi, though, the cover charge is $24.99 for lunch and $52.99 per person for dinner. The charge for kids is $10.99 with a kids menu request.  That didn't include tax or the added gratuity for our excellent waiter.
Lunch at Chops Grille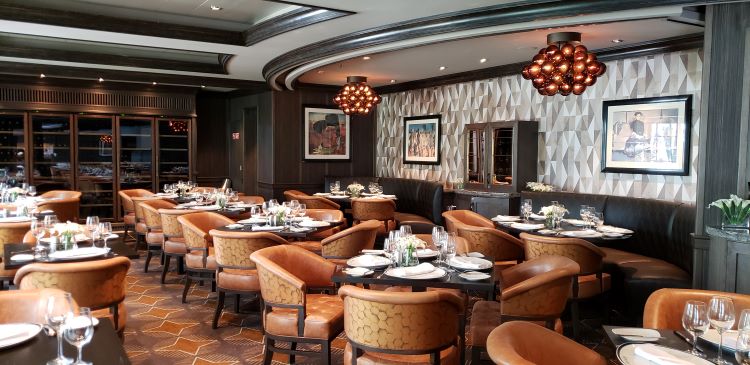 At lunch on the second day aboard, we also dined at Chops (see photo above), the specialty steakhouse within Central Park. While children are enjoying activities within the ship's supervised kids' club, parents might get away for a romantic, savory lunch here.
Tender, dry-aged beef is the focus of the menu, but guests can also order fresh game, poultry and seafood.
We ordered an appetizer of "Shrimp Cocktail" and, for our entree, an eight-ounce "Angus Prime Rib Steak," plus a mix of luscious sides.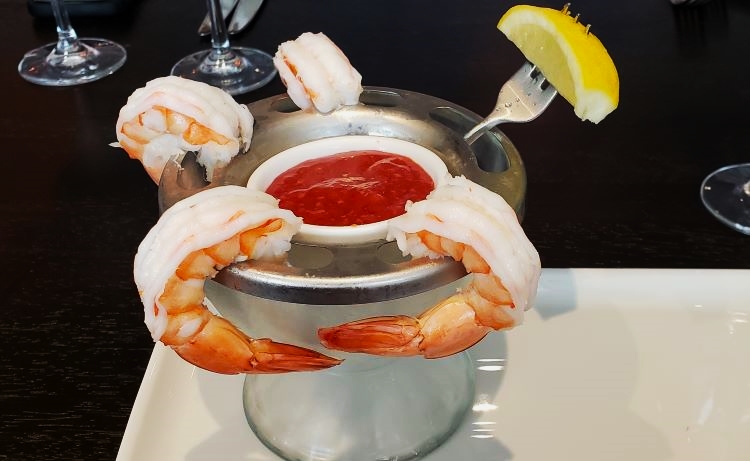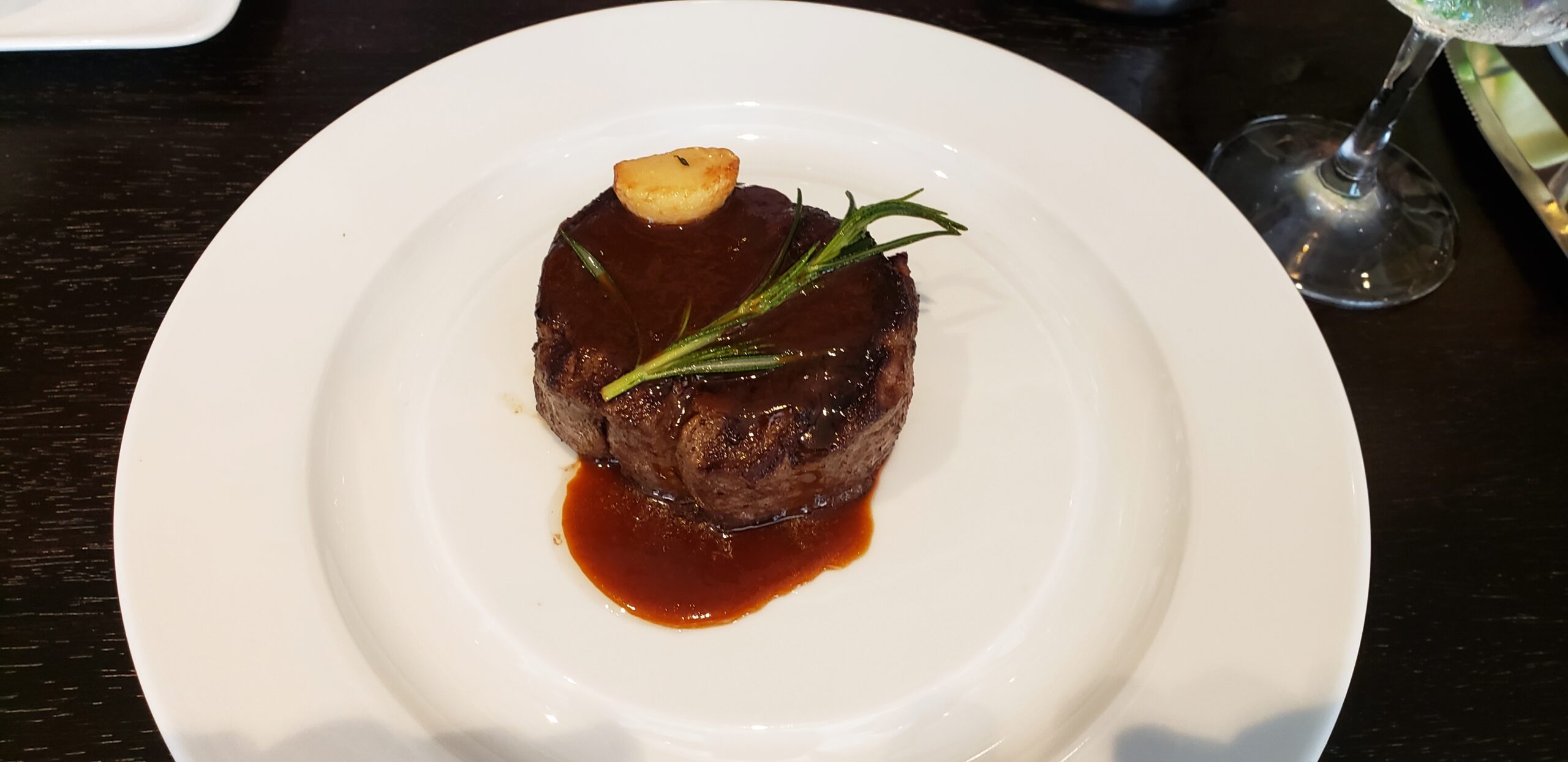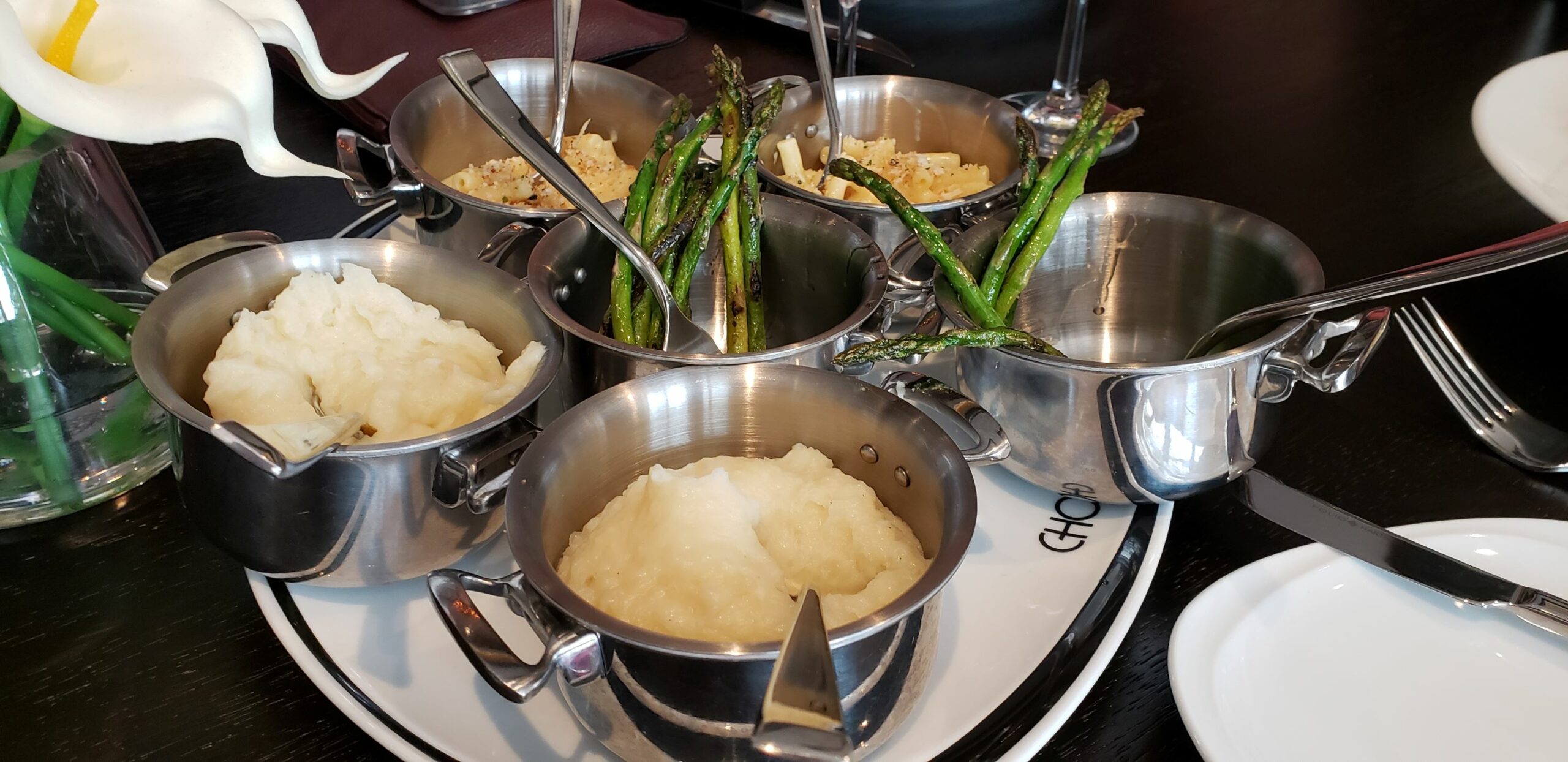 Our dessert choice at Chops was the "Key Lime Meringue Pie" with a graham-cracker crust (see photo below).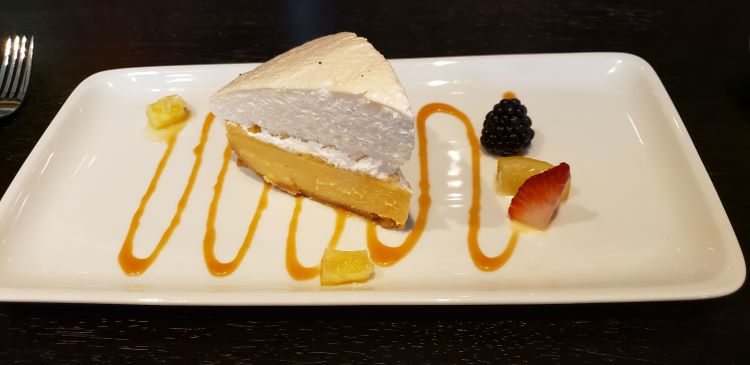 Chops Grille has a dining charge of $24.99 for lunch and $54.99 for dinner. In addition, there's a $10.99 dining charge for kids 6 to 12 years of age with a kids menu request.  An 18 percent gratuity is automatically added to the check as well.
Wonder of the Seas: More to Come in Part 2
Wonder of the Seas has eight distinct neighborhoods – a Royal Caribbean first. Since we've only had two days aboard, in Part 2, coming later, we'll talk about and offer photos of the new Suite Neighborhood; Wonder Playscape, an interactive, outdoor play area for kids; The Mason Jar, a new southern style restaurant; and the cantilevered Vue Bar.
Many signature adventures that Royal Caribbean loyalists love are also found on Wonder of the Seas. Those include The Ultimate Abyss, the tallest slide at sea, and the FlowRider surf simulator.
But there are classic draws too on this ship, among them a vintage Ford Mustang (see photo below). Displayed in the ship's interior Promenade, it's particularly popular with Boomers who can't stop taking selfies with it.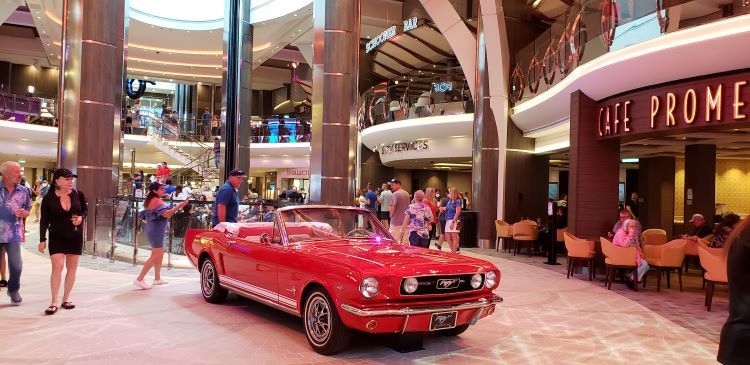 And, of course, Wonder of the Seas has thrilling waterslides (see photo below) and plenty of water play spots and pools on this ship too.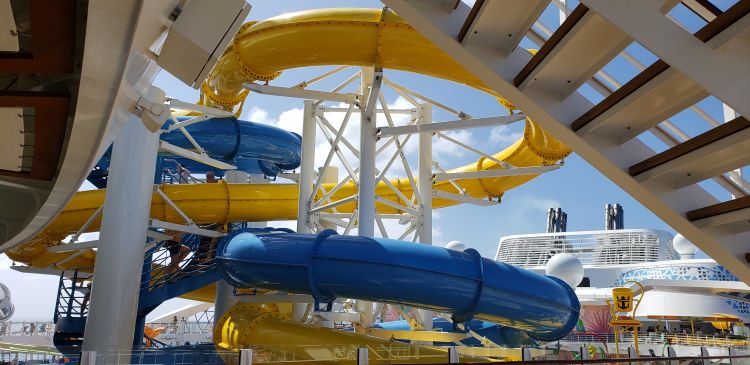 Wonder of the Seas: Sample Itineraries 
At press time, cruise fares for a seven-night "Eastern Caribbean and Perfect Day" itinerary, began at $745 per person, double occupancy for an interior cabin. Balcony cabin fares started at $966 per person, double occupancy for a balcony cabin. That is based on an April 1, 2022, departure.
That itinerary includes Labadee, Haiti, one of Royal Caribbean's private island experiences; San Juan, Puerto Rico; Charlotte Amalie, St. Thomas; and Perfect Day at CocoCay, the cruise line's private Bahamian island experience. The ship is also operating western Caribbean itineraries right now.
At press time, a seven-night "Western Mediterranean Cruise" roundtrip from Barcelona, Spain, started at $870 per person double, for an October 9, 2022, departure. That's for an interior cabin, with pricing going up from there throughout summer 2022.
Port calls include: Palma de Mallorca, Spain; Provence (Marseilles), France; Florence/Pisa (La Spezia); Rome (Civitavecchia); Naples (Capri) 
Other itineraries, other fare categories and accessible accommodations also are available. Visit www.royalcaribbean.com or contact your travel advisor for all the options.
Also, stay tuned for Part 2 of Wonder of the Seas coming soon here. We'll be touring more spots around the ship throughout this week.
Important Notes from Pavlus Travel:
This blog site is designed for "basic, general information" about travel; it's not staffed by travel advisors.
So, please don't use the Reply Section below if you are asking for pricing, travel dates, accommodations, brochures or other specific requests. 
That said, we are most happy and eager to assist you. Here's how…
If anything does tweak your interest in the story and you DO have questions about specific pricing, brochures, savings, accommodations, accessible options and so on, please contact us at 800-528-9300.
Or visit us online at Pavlus Travel's official agency Web site; there you can "live chat" with us online too!
Thanks for reading!
.