Thinking of a cruise vacation, but concerned about the caloric temptations — delicious food, colorful cocktails and snacks galore? The good news is that staying fit or keeping off the pounds on a cruise vacation isn't an impossible dream.
It's not about deprivation. Heck no! Rather, it's about relaxing, having fun, enjoying the cruise and making smart choices. In fact, some cruisers report they even "come back better" fitness-wise or weight-wise than when they boarded!
The Meandering Traveler chatted with many consumers of various fitness and age levels. Here's our collection of anecdotal travel tips and tidbits. It's a look at how you can stay fit and avoid putting on a slew of pounds on a cruise.
1. Keep Doing Your Regular Fitness Regimen
Have a fitness regimen at home? Well, don't throw it overboard when you start the cruise. Keep doing what you always do fitness-wise.
That way, it's okay to indulge a bit at dinner a few nights on the cruise, or enjoy cocktails with friends at times. Just getting your regular caloric burn daily will better your chances of keeping off extra pounds.
What's super helpful is that cruise ships usually have excellent fitness facilities. This varies line-to-line, but on many oceangoing cruise lines, you'll find the following:
Robust fitness centers with state-of-the-art exercise machines, free weights and more; 
Top-deck running/walking tracks to help you keep up your "mileage" quota; 
Work-out stations adjacent to the running track on some ships (for example, on Princess Cruises' Royal-class ships).
Aerobics/Pilates spaces with classes conducted at certain times of the day.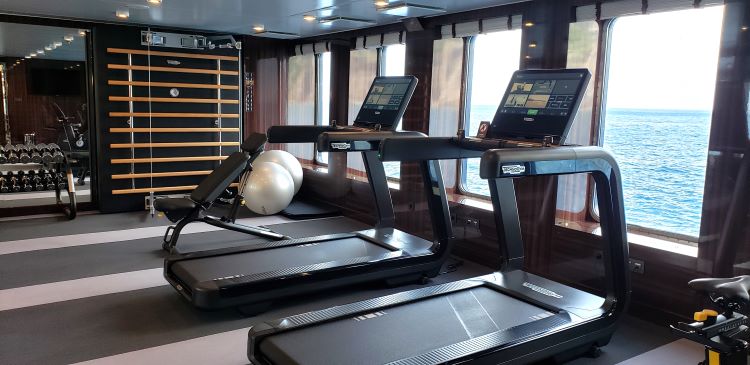 In addition, many expedition and river cruise lines often have a small fitness center/room. For example, on AmaWaterways' AmaMagna on the Danube River, the fitness center even has a separate outdoor area with spinning machines (see the photo at the top of this page).
River cruise lines also typically offer an open top deck with a walking track or exercise space. So, it's easy to get up in the morning, do a few laps and then enjoy your day.
A big bonus? River cruises sail close to land typically. So, while exercising, cruisers will have terrific scenic views of life along the river, as well as quaint towns and storied cities.
For more fitness options when taking a river cruise, read our earlier blog about Active River Adventures.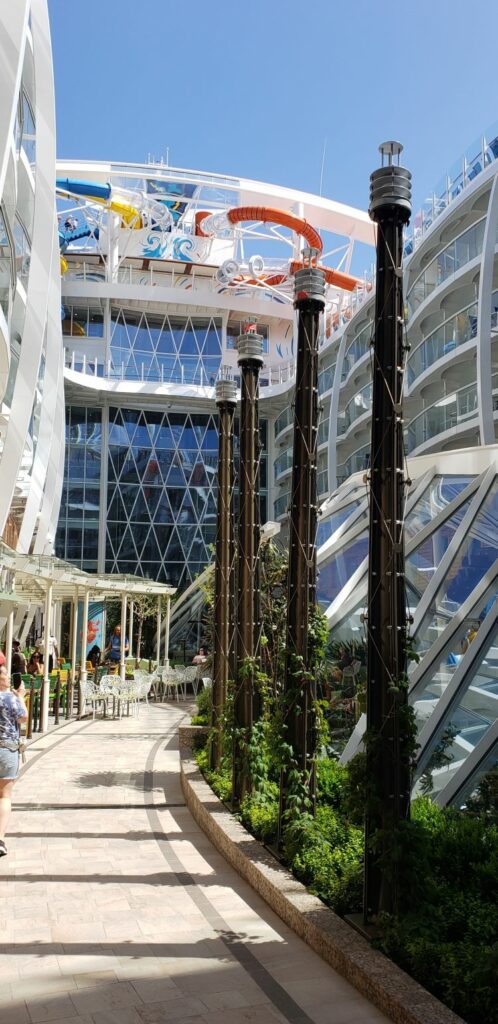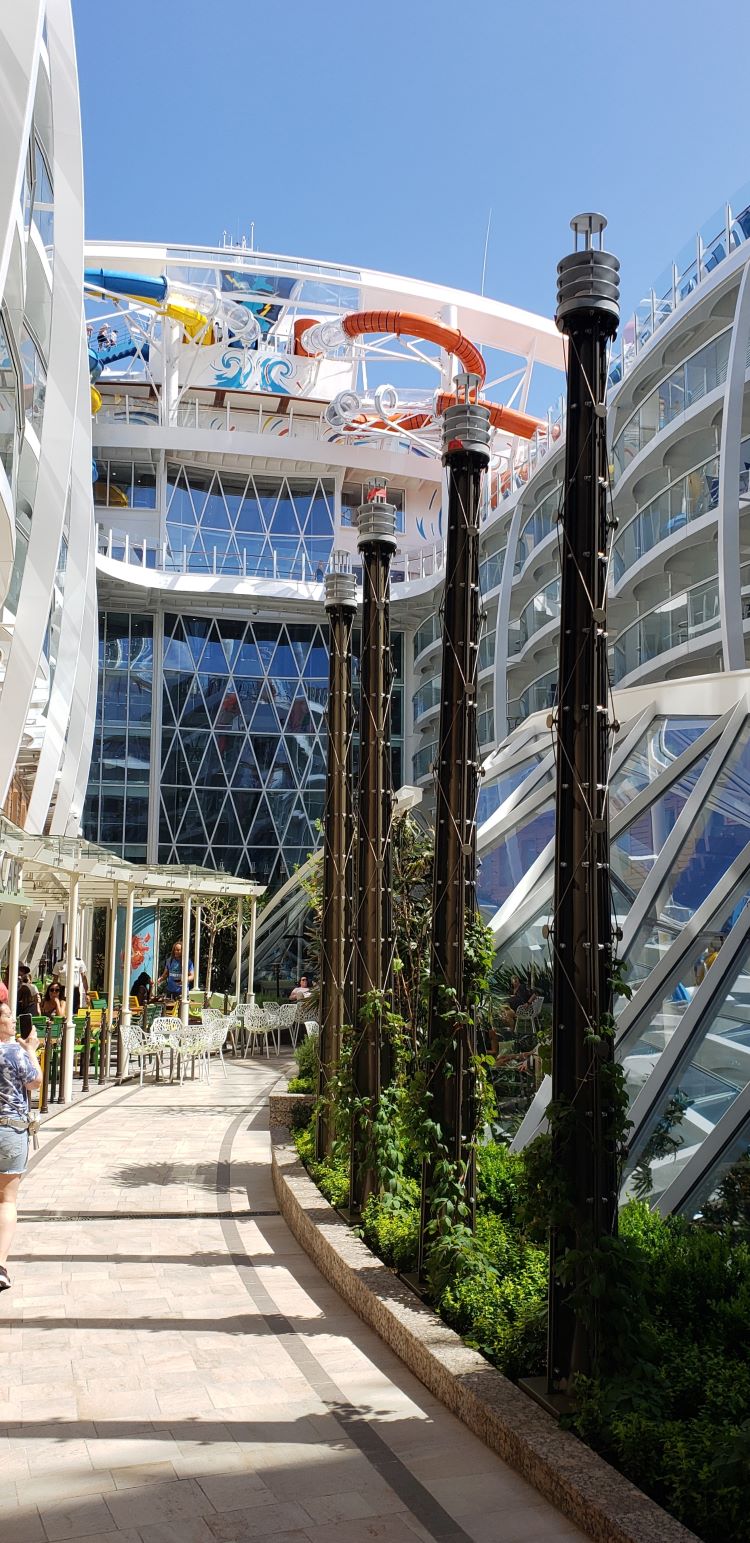 2. Don't Forget Your Fitness/Step Tracker
If you use a wearable fitness/step tracker, consider it your best friend on the cruise. Definitely don't forget it.
Aboard your cruise, it's easy to feel a bit guilty about enjoying a tasty sweet dessert or a second helping of a dish at the buffet. But it's okay to indulge a bit here or there.
One reason is that you may find that you'll actually be "covering more territory" — walking more steps — on a cruise vacation than you do at home.
That's particularly true if you're sailing on a large cruise ship (See photo at right of Royal Caribbean International's Wonder of the Seas.)
Even on smaller vessels, though, you'll still be walking from Point A to Point B every day.
For example, guests will head from their stateroom or suite to any onboard activities, restaurants, lounges, the theater, pool areas, the fitness center or elsewhere.
It adds up to more steps. Ditto for walking on and off the ship or on shore trips.
Circle Around 
However, if you're coming up short on steps, then try this tip: When you reach your deck and are headed to your stateroom or suite, don't go there just yet.
Instead, take a loop around the interior corridor of that accommodations deck before heading into your cabin or suite. The Meandering Traveler has done this many times. It's an easy, quick way to add more steps on any given day.
3. Don't Wait for an Elevator: Take the Stairs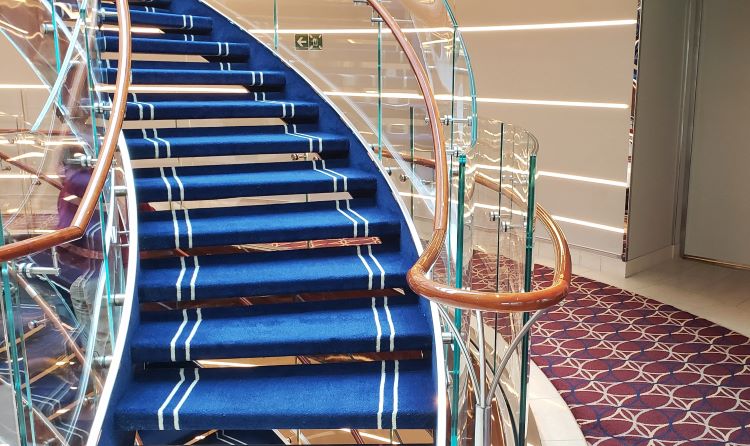 If you're physically able, take the stairs rather than simply waiting to hop on an elevator. It's a simple, but effective, fitness task that's also good for burning calories.
For example, Royal Caribbean International's Wonder of the Seas has 18 passenger decks. That makes a jaunt up the stairs between decks quite a workout in its own right!
As a result, go ahead and plan to enjoy a drink with friends at the ship's Lime and Coconut on Deck 15 or Deck 16. But, again, if you're physically able to do so, take the stairs to get there.
Too much for you to to climb eight or 10 decks? No worries. Perhaps take an elevator to Deck 14 or Deck 15 and walk up that one last flight of stairs. Again, it's just another tool to keep your body moving.
For a look at  the benefits of stair climbing, check out this interesting list from Duke University.
4. Play Ball or Putt-Putt Too
Many big ships have sizable sports courts or top-deck areas. Why not grab your family, friends or people you've just met aboard and head to the basketball court for a game of hoops?
Or, perhaps get competitive on the volleyball court, if the ship has one. It's fun, a great way to soak up some rays and burn calories. And it can provide "athletic tall tales" to tell at dinner throughout the cruise!
But, if you're saying, "I'm no longer able to do that physically or I simply don't want to be that active," there are other options.
For sure, then go easier, go at your own pace and capabilities. There's something for all.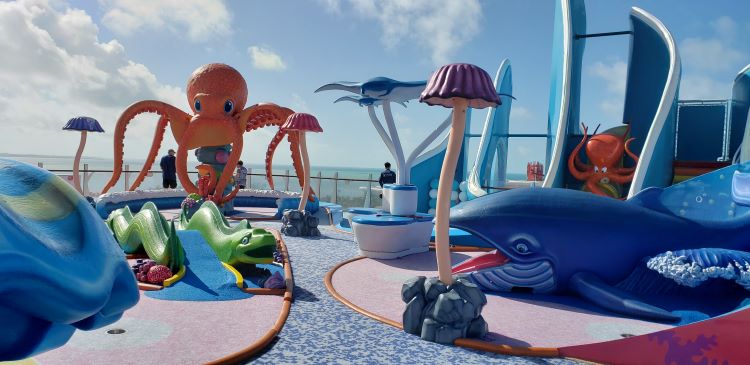 Consider this: Most cruise ships have a fun — often creatively designed — putt-putt golf course. Playing with a spouse, friend or even solo will keep you moving, walking and, of course, putting.
In addition, onboard gyms often are staffed by physical fitness trainers. They'll answer questions about use of the equipment. Plus, they'l happily create a personalized fitness regimen that fits your specific needs; that's usually at an added fee.
So, if you desire a strenuous workout, that's doable. However, if you can't get on a running machine due to mobility challenges, the trainer might instead suggest lifting weights or other exercises. Again, the regimen will be customized to your needs.
Other activities too help build steps and fitness. It's a hoot to set off walking around the ship on a fun scavenger hunt, for instance.
5. Be a Water Fanatic
Be a water hogger. Keep an eco-friendly, reusable bottle (see photo below) filled with fresh water with you throughout the day and on tour.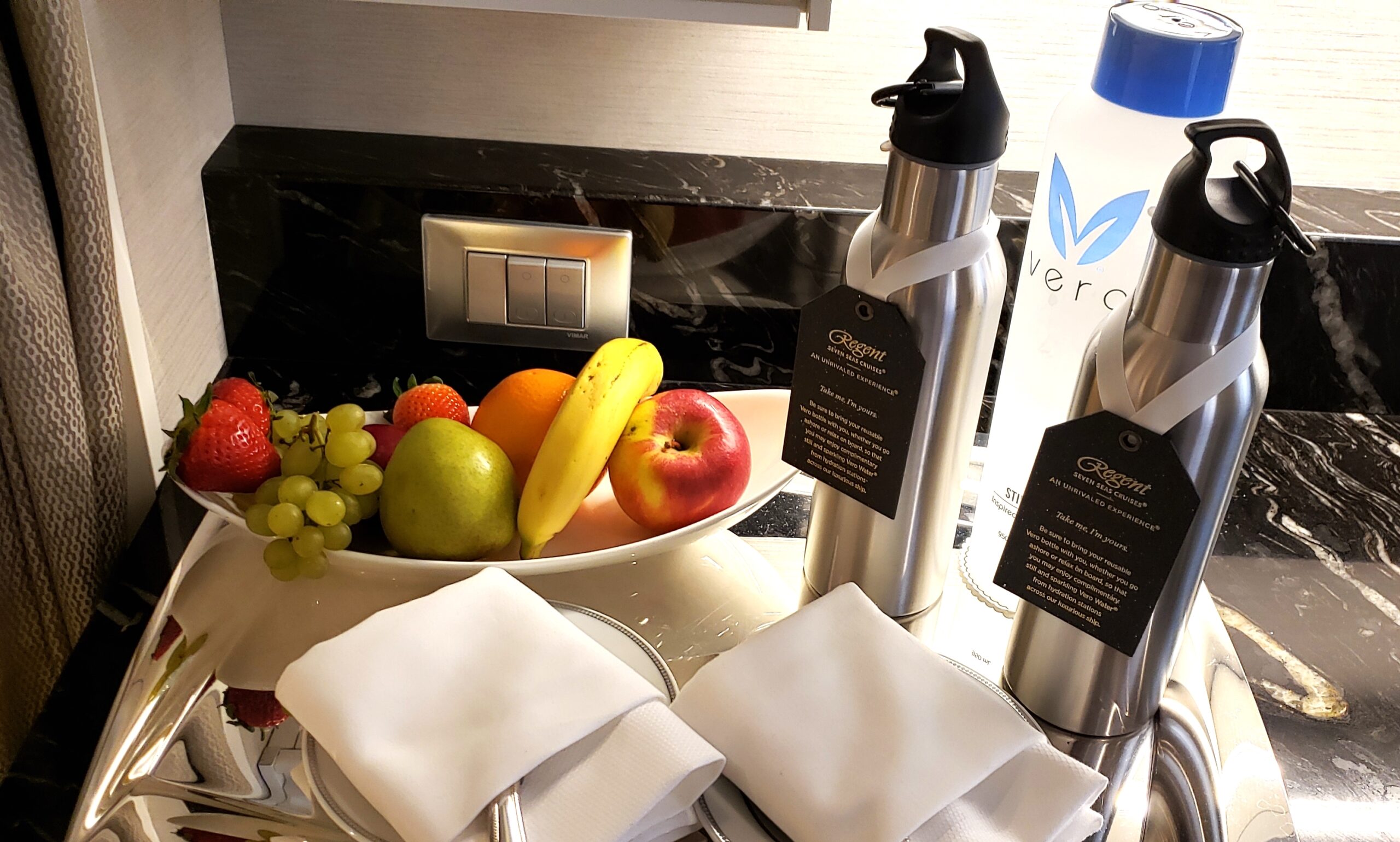 Most lines now shun plastic bottles. Instead, many now provide refillable water containers for guest use (see photo above). Water is often delivered in glass bottles to the stateroom, refilled as needed by the cabin steward or butler. Many lines also offer water filling stations around the ship.
Drinking water will keep you hydrated. That's good for your health. The big perk, though, is that drinking water will help fill you up — making you less ravenous prior to meals. So, you'll be less inclined to over-indulge.
 6. Hit the Pool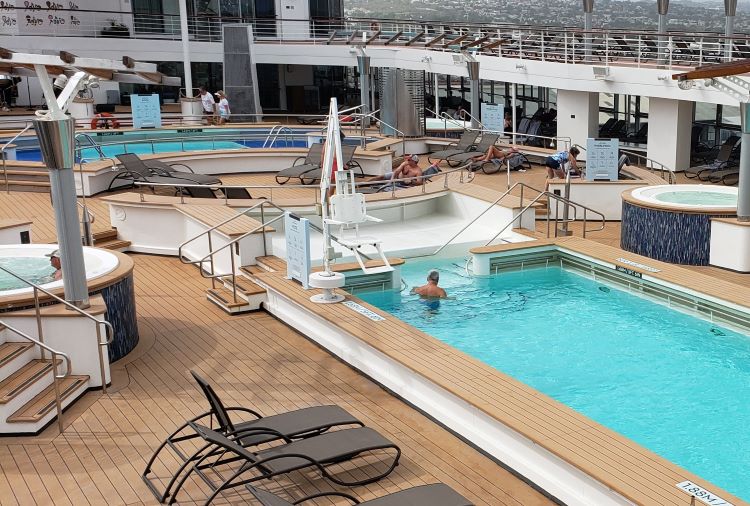 Check the opening hours of the onboard pool. Talk to pool staffers about when it's typically less crowded. Usually, that's not in the middle of a sunny day at sea.
But perhaps consider swimming early in the morning, at dinnertime, or early during a port day when most guests have headed ashore. So, head to the pool deck, do a few laps (or a lot) back and forth in the pool.
In a 10-minute swim, you might consume 408 calories; increasing the speed/intensity can also increase the caloric burn.
Pool Walking, Aerobics
Not into laps? It's great exercise to walk in the pool. Some cruise lines will set up water aerobics classes in the pool on certain days. Check the line's daily program.
Did you know that heavier resistance in water engages muscles more fully? Yes, aquatic exercises burn more calories in a shorter amount of time than the same exercises would on land. Another perk is that the water's buoyancy helps support muscles and joints.
7. Socialize and Work Out in a Fitness Class 
Most lines offer a daily program of fitness or other activities that are fun and will keep you moving. Head out for a Zumba class or take a top deck yoga or fitness class.
Fitness classes also give cruisers the opportunity to make friends. Some folks are more likely to keep coming back for more exercise, if they've meet newfound friends in the fitness facilities aboard and hope to see them in class again.
8.  Dance, Dance, Dance
Many lines offer dance classes. So, check the daily program for any opportunities. Head out for Latin dance classes, or perhaps learn how to do country line dancing.
Many ships, though, provide great opportunities for dancing with a spouse, partner, friend or even a gentleman host (a crew member hired by the line to dance with ladies who are traveling solo, or perhaps have husbands who don't want to dance). 
For example, Cunard Line's Queens Room ballrooms are the largest at sea. So, travelers can dance the night away under gorgeous crystal chandeliers, and often to the company of a live orchestra. Royal Night Themed Balls are always spectacular.
Spontaneous Dance Opportunities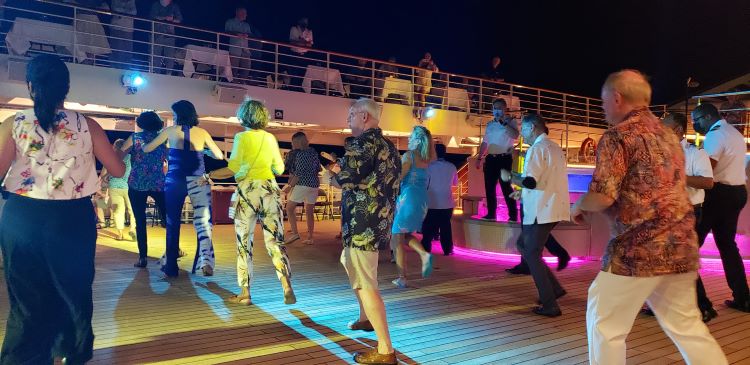 In addition, spontaneous top deck activities such as evening line dancing keeps guests active too. For example, in summer 2021, we watched guests and crew members on Windstar Cruises' Star Breeze eagerly take to the open deck to show their moves. (See photo below).
Inside the ship many lounges offer live dance music too. Nightly, along Holland America Line's "Music Walk," guests take to dance floors in multiple venues that play jazz/blues, pop hits, rock anthems and more.
9. Proactively Make a Few Healthy Food & Drink Swaps
You'll find a cornucopia of delicious cuisine on most ocean, river or expedition cruises. In addition to a main dining room, your ship likely has a specialty restaurant or two (or more), outdoor dining options, and yes, the infamous cruise buffet!
On your vacation, you'll want to taste the best of those venues, and you don't want to feel deprived. You want to indulge.
That's fine, but here are a few ways to assure that when you do that, you'll also be using a balanced approach that doesn't add on the pounds.
Swap Things Out
If you're into healthy eating, vegetarian choices or vegan dishes, so much the better. But if you pretty much eat what you want, consider these "swap out" tips.
At breakfast, if you love the full shebang — perhaps bacon, hash browns and eggs; French toast and sausage; or syrup-laden waffles or pancakes — go ahead and enjoy on a few days.
But just proactively avoid that every day. Instead, swap that out for a lighter breakfast, perhaps a healthy breakfast smoothie or yogurt on a couple of mornings.
Buffets truly give cruisers "permission" to overload on eating. So, when you head for the buffet restaurant for lunch or dinner, it's advantageous calorie-wise to amble up to the salad bar first.

At the salad bar, load up your plate with veggies, olives and nuts. Choose a light salad dressing — perhaps balsamic vinegar or even just a spritz of lemon or lime juice.
Then, sit down and enjoy your fresh selections. What's optimum is that the salad will partially fill you up before you hit the main buffet line.
So, you'll likely need less to feel satisfied. And best of all, you may not go back for "seconds."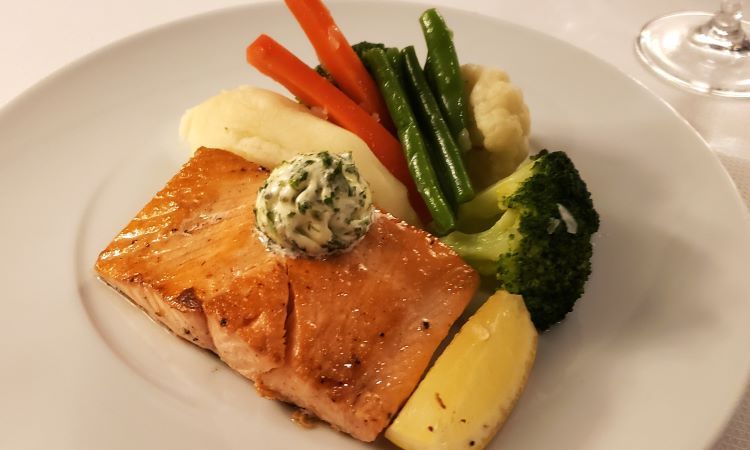 Eat what you want aboard a ship. After all, it's your vacation. But if you have multiple "likes," it's helpful calorie-wise to mix things up too.
Perhaps pick a healthy lean salmon with veggies entree one night (perhaps foregoing the dab of sauce shown in the photo above). Then, go ahead and enjoy an appetizer, soup, robust entree with sauce, all the fixings and dessert the next evening in a specialty restaurant.
And when it's dessert time, on certain days, sure have one serving of fancy dessert you can't wait to taste. But on other days, perhaps swap that out for fresh berries or a lighter dessert. Or skip dessert entirely. Just order a cup of tea or even leave the dining room after completing the main course.
A recent positive trend is that many cruise lines have incorporated more healthy choices into both their main and specialty restaurant menus. So, you'll likely have a wide range of good options.
Healthy Spa Cafes
In addition, some cruise lines have added spa cafes with healthy food and beverage choices.  For example, see the photo below of Celebrity Cruises' spa cafe and juice bar on its Edge-class ships.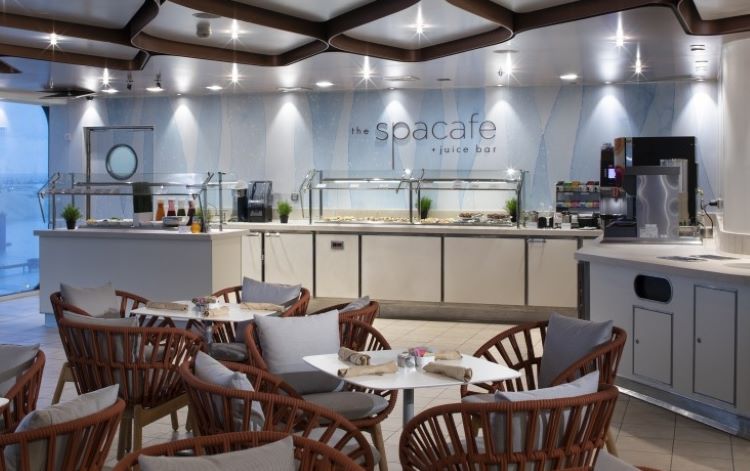 MSC Cruises plans to add a new Wellness Cafe to its new MSC World Europa. This new class of ship will debut later this year.
Sometimes, though, let's face it. Travelers want what they want. For example, burger fans might have to have their Johnny Rockets or Guy Fieri burger fix with, of course, all the trimmings.
That can heap on the calories for sure, so hold that indulgence to once or twice during your cruise. The key is to think: "Just not every day!"
10. Tap a Personal Trainer for a Customized Fitness Program
If you're in great shape, that's great. If you're thinking that you're not or you want to take off a few pounds, one option is to consult with the fitness center's personal trainer.
Most bigger ships and upscale ocean ships have these fitness experts who can provide a one-on-one consultation. The fitness guru will design a customized fitness program just for your individual desires and needs.
Extra fees usually apply. That said, you'll arrive home after the cruise with more than memories. You'll have a fitness regimen that helps you in your day-to-day life.
11. Go Ashore and Often
Definitely, explore ashore. First, it's a big part of why most people take a cruise — to see exotic locales, storied cities and "bucket list" destinations.
So, when in Rome, stroll through the Roman Forum, visit the adjacent Palatine Hill, and check out the nearby Forum of Augustus or the Colosseum or Circus Maximus.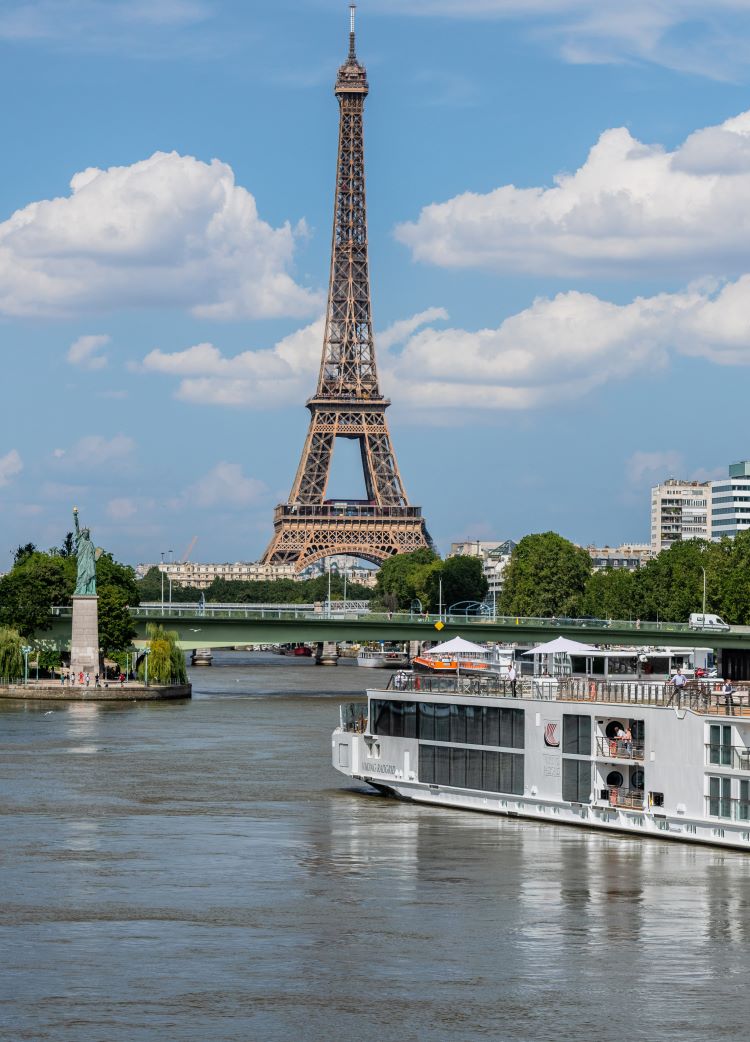 Enjoy a scenic bike ride along the Danube River. Hike in stunningly gorgeous Norwegian fjord country. Stroll from a Viking river ship to the nearby Eiffel Tower in Paris (see photo above).
Take a leisurely walking tour in a Douro Valley hillside village in Portugal or explore the ancient sites in Egypt's Valley of the Kings. Or, hop on and hop off motorcoaches at Mississippi River ports to visit top sites.
Shore Excursion Choices
Shore excursions are a great way to keep fit and active. Most lines provide descriptions of their shore trips with "fitness levels" included, such as easy, moderate or strenuous. 
So, if you're super fit, then you might take an active river cruise excursion. In Durnstein, Austria, for example, you will walk from the river vessel into the outskirts of town, climb the adjacent hill, and then head into town to tour. 
In contrast, if you pick the regular fitness level outing, you'll walk with the guide into the city center for touring. 
But if you need a gentle tour, you might instead board a small motorized tram for a ride throughout the nearby vineyards, and then be dropped off "in" town but with the opportunity to walk around there too.
All three provide some level of movement. You just choose what works for you in touring.
Expedition cruises typically offer even more active adventures. Cruisers can take guided hikes ashore in Antarctica to commune with penguins. Or, they might go kayaking within Alaska's Inside Passage or along South Carolina's Low Country waterways.
12. Watch the Drink Calories
Yep, it's tempting to drink three glasses of wine at dinner, enjoy a couple of fruity, tropical cocktails with friends or order a slew of sodas throughout the day.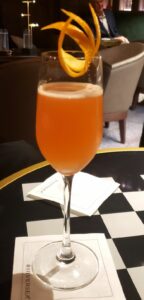 Again, all that's fine on certain days to fully enjoy your cruise experience. Of course! Just avoid doing that every day of the cruise.
Instead, on certain days, try swapping those drinks out. Perhaps order club soda with a twist of lime or lemon or a dash of cranberry juice.
Or perhaps order one alcoholic drink, then try a glass of water or a club soda, then another alcoholic drink. It will cut your calorie count in half. Again, no deprivation — just cutting down a bit on the calorie intake.
Compare Drinks, Order Wisely 
Another thing to consider is that some alcoholic beverages may have many more calories than others. If you like multiple types of drinks, that's great.
If so, consider your choices. You could swap a Pina Colada at 300 calories for a Fuzzy Navel at only 120 calories.
Having one isn't really an issue. But having two or three over the course of a long afternoon at the pool is another matter. Suddenly, three Pina Coladas equate to 900 calories, versus only 360 for the Fuzzy Navels.
You get the point. Here's a link to an article by Business Insider about nine drinks to swap out for another alcoholic beverage.
13. Try Unusual Activities You Typically Don't Do at Home
Part of the enjoyment of a cruise is stepping out of your comfort zone. Fortunately, cruise ships have enjoyable activities that are a bit different than what most of us find at home.
Many are active options. Here are some examples from contemporary, family-focused lines.
Norwegian Cruise Line has a top-deck ropes course on its Breakaway- and Breakaway-Plus-class vessels. Let's just say it's an exhilarating experience. You'll get both an adrenaline rush and physical activity at the same time.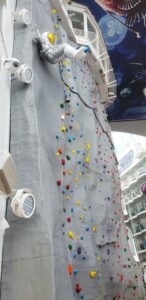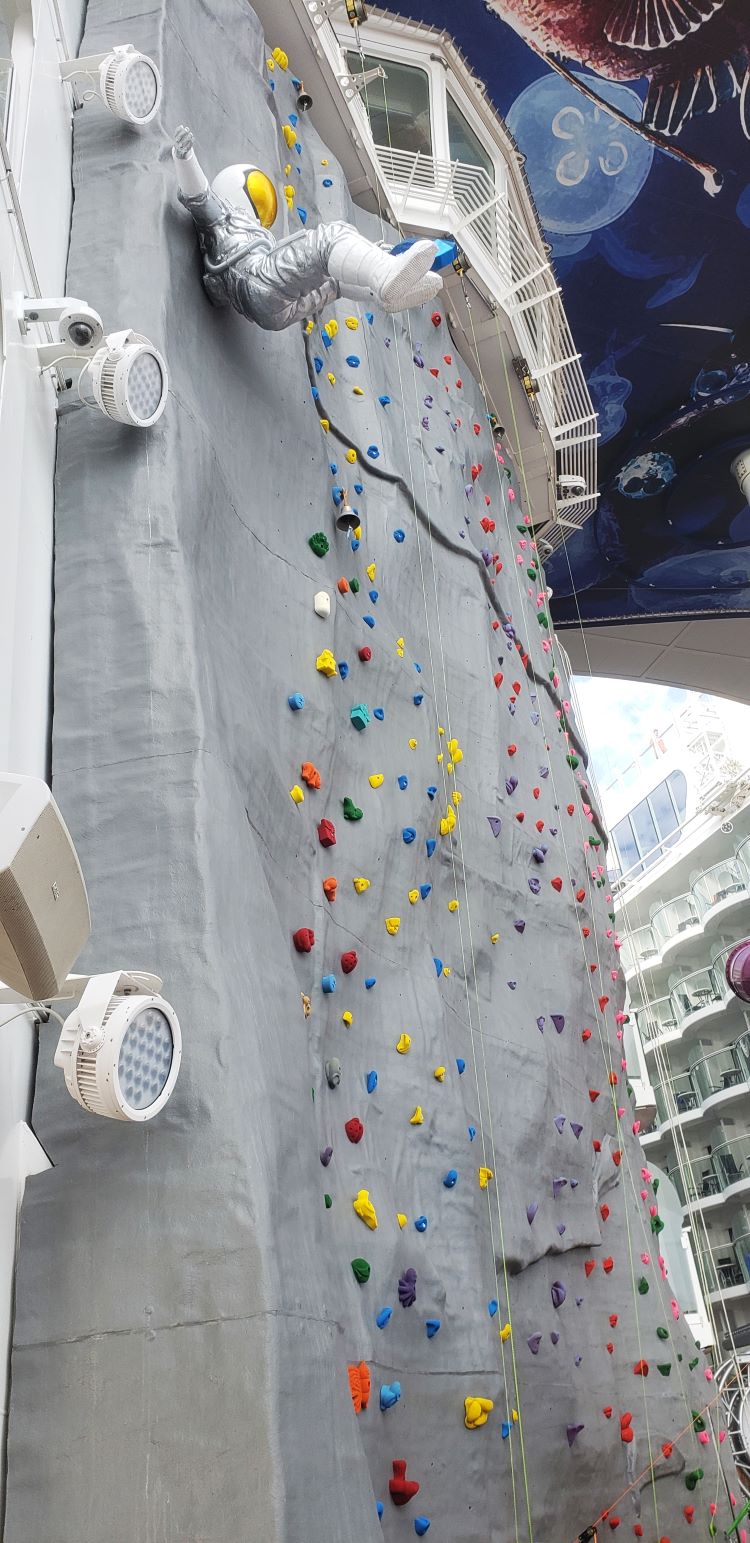 Royal Caribbean International is known for its rock-climbing walls (see photo at right showing one from Wonder of the Seas) and surf simulators. So, get up on the board and surf, or head up the side of a ship and give yourself kudos when you reach the top!
Carnival Cruise Line's new Mardi Gras offers The Ultimate Playground including Bolt, the first roller-coaster at sea, plus the largest Carnival WaterWorks ever with three huge spiraling slides, plus SportSquare with a mini-golf course, full-court basketball and a ropes course.
MSC Cruises' new MSC Europa, debuting later this year, will debut an Aquapark that's the largest in the MSC Cruises fleet — offering splashable exercise and slides for the entire family.
Other options for cruisers? How about paddleboarding, kayaking or ice skating? Those are possible too, depending on the ship and itinerary.
In the reply section below, tell us what fitness activities you do on a cruise or how you keep weight off.  We'll publish some of the best responses.
14. Parting Thoughts: Keep Moving within Your Comfort Zone & Enjoy the Cruise
Whether you want to hike until you work up a sweat, pound laps in the pool, enjoy an intense workout in the ship's fitness center, or do some of that, or alternatively, very little of that, it's okay. You can often still retain your fitness and avoid weight gain on a cruise simply by doing little things.
Virgin Voyages puts its multi-faceted, personal approach as follows; "For the 'do nothings,' 'do some things' and the 'do literally everythings' (you know who you are), we have a way to sweat that suits you. From sun-rise yoga to outdoor boxing, meditation to HIIT workouts, and even specifically curated hikes at our ports, our approach to working out is that it works for you."
Hopefully some of these tips and tidbits above have helped give you ideas for your next cruise. Definitely enjoy the voyage. Don't think "deprivation." Instead think "indulgence" but in moderation.
Try new things to keep moving. And have a great time!
Important Notes from Pavlus Travel
This blog site is editorial in nature. It's designed for "basic, general information" about travel; it's not designed to provide specific pricing nor is it staffed by travel advisors.
 So, please don't use the Reply Section below if you're asking for cruise or land pricing, travel dates, accommodations, brochures or other specific requests. 
That said, we are most happy and eager to assist you. Here's how…
If anything does tweak your interest and you DO have questions about specific  cruise lines, itineraries, pricing, brochures, savings, dates of travel, accommodations, accessible options and so on, please contact us at 800-528-9300.
Or visit us online at Pavlus Travel's official agency Web site; there you can "live chat" with us too!
Thanks for reading!