The award-winning 2021 movie "Belfast" tells the tale of a loving young family living in the city during 1969, the era of "The Troubles." It's a poignant story, revealing the difficulties of life back in the day. Fortunately, in the 21st century, Northern Ireland is chugging along in a new era. So, with more cruise and tour guests heading to Belfast, it's a great time to reveal our picks for the best Belfast attractions! 
As Northern Ireland's capital city, Belfast is brimming with creative energy. It's dynamic. It's fun. But most importantly, it's a city with a heart and lots of friendly locals.
Travelers will discover eclectic art galleries in Cathedral Quarter, lovely historic buildings, savory restaurants, welcoming pubs, Irish music and more. St. George's Market bustles with vendors selling artisan foods and crafts. And in the city's top tourism news, the newly revitalized Titanic Belfast has just reopened!
King Charles III's recent coronation is stoking interest in travel to the U.K. including Northern Ireland. So, we've also included below a small sample of the many escorted tours or luxurious cruises that include a visit to Belfast. Let's explore! 
Best Belfast Attraction: #1 Titanic Belfast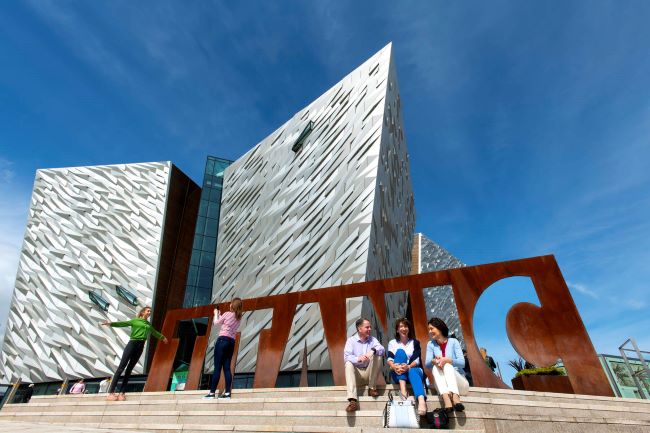 Shipbuilding is a centuries-old tradition in Belfast. Of course, the most famous ocean liner of the early 20th century was RMS Titanic, built for the White Star Line. Today, the Titanic Belfast attraction tells the story of the ship, which sank in the North Atlantic on April 15, 1912, after hitting an iceberg on its maiden voyage to New York.
Located beside the Titanic Slipways, the Harland and Wolff Drawing Offices and Hamilton Graving Dock, Titanic Belfast is the world's largest Titanic experience. Even if you've been there in the past, you'll find significant updates this year.
Reopening its doors in March 2023, Titanic Belfast is fresh from a multimillion-dollar update. A new emotive theme, "The Pursuit of Dreams" was added and several new galleries have opened.
New artifacts have also been added. So, for example, you can see an original Titanic deck chair, one of only six known to have survived the sinking. In addition, visitors can see the world-famous violin belonging to the ship's hero musician, Wallace Hartley.
Be sure to look up. An illuminated 25-foot-long scale model of Titanic is suspended from the ceiling and fully rotates!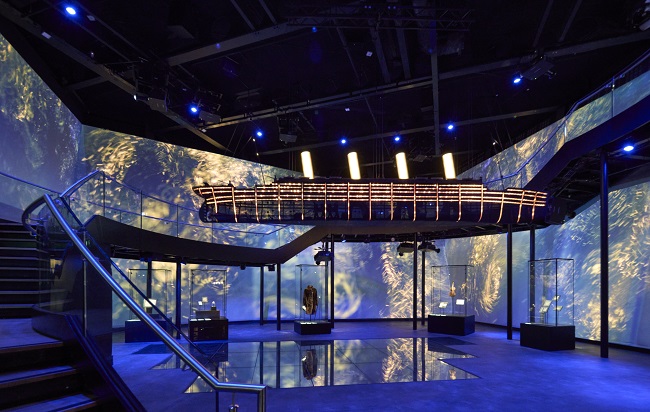 Original Shipyard Gates and Slipways
Popular with both maritime buffs and fans of the 1997 "Titanic" movie, the self-guided Titanic Experience extends across multiple interpretive, interactive galleries. Delving into the sights, sounds, smells and stories of Titanic, guests will learn so much about Belfast and the locals who built the ship.
Visitors will pass through the original Harland & Wolff gates, continue to the shipyard and take a dark ride, which combines special effects, animation and full-scale reconstructions. They'll learn how shipbuilding was accomplished in the early 1900s.
Another plus? Travelers will see the slipways on which both Titanic and her sister ship, RMS Olympic, once rested.
Computer Generated Imagery
Elaborate computer-generated imagery illustrates the ship's opulent fit-out. That includes exact replicas of the cabins. The experience will showcase dining areas, engine rooms, working interiors and a deck promenade, where visitors will see and hear the ocean and feel the engines rumbling.
The attraction also pays tribute to the 1,512 men, women and children who lost their lives on the tragic maiden voyage. Visitors will learn about the accident's aftermath, inquiries and sensational news reports back in the day.
In the Present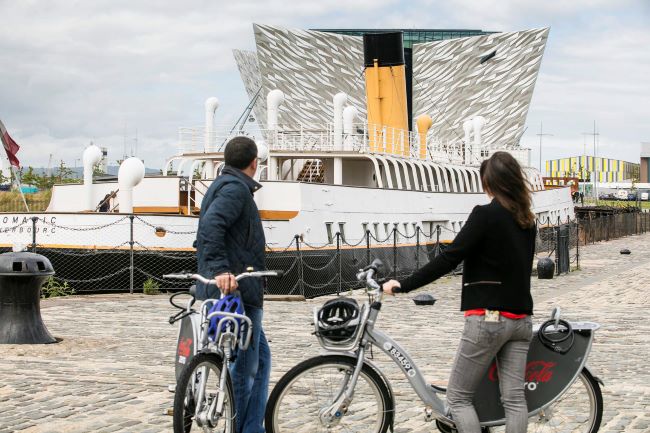 Titanic Belfast also focuses on the discovery of the shipwreck in 1985. And it offers live links to contemporary undersea exploration. Plus, visitors can still walk the decks of the Nomadic, an original tender vessel for Titanic. It's also the last remaining White Star Line vessel.
Traveler's tip? If you want the full experience, it's best to allow at least three hours to explore Titanic Belfast.
Many escorted tours or cruise shore excursions incorporate this attraction or offer it optionally. Those wishing to visit independently can book admission tickets online. Visit the Titanic Belfast website for all the details.
Tauck's "Best of Ireland"
One way to visit Titanic Belfast and enjoy a sumptuous, nine-course Titanic tasting dinner at the Merchant Hotel in Belfast, is to book Tauck's 14-day "Best of Ireland" escorted tour. The itinerary includes Dublin, Belfast, Giant's Causeway, Galway, Kilkenny, Killarney and more.
For example, the tour will transport guests through the scenic Irish wilds of Connemara and along the spectacular Antrim Coast. At the latter, tour guests will admire rugged cliffs, castle ruins and coastal vistas.
"Best of Ireland" is a Classic tour that Tauck operates on multiple dates between now and September 2023. Pricing starts at $7,380 per person, double occupancy, subject to change. While Tauck reportedly plans Classic tours of this itinerary in 2024, at press time, schedules were not yet finalized.
Consult your travel advisor about any interest, discuss accommodations, tour specifics, and any schedule updates.  
Top Belfast Attractions: #2 Ulster Folk Museum
Highly recommended for travelers who love culture and heritage is the Ulster Folk Museum. You'll likely feel yourself "slipping back into the past" as you delve into the everyday skills, customs and traditions of Northern Ireland's past.
Artifacts are displayed in historic buildings, plus travelers will discover "historic characters." You'll see craftsmen demonstrating their skills at basket making, blacksmithing and baking.
Why not pop into the museum's Ballycultra Tearoom for a light bite and refreshment? Or, you might bring along a local snack and dine at one of the on-site picnic benches.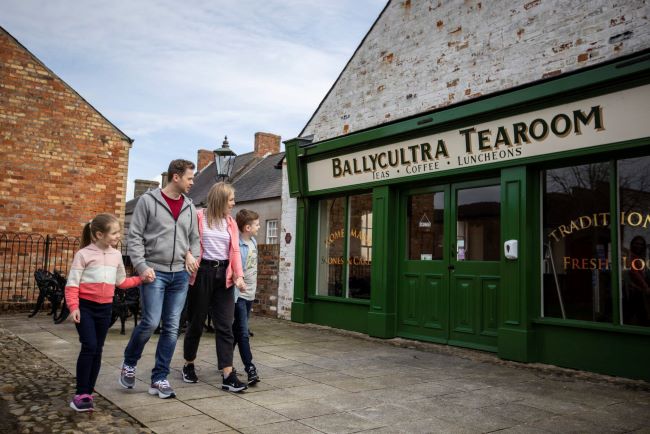 The museum may be available via certain tour or cruise excursions. If going independently, it's a good idea to pre-book tickets in advance. Find out more at this Northern Ireland tourism site and the museum's site.
For those seeking a luxury cruise, Seabourn offers a 14-day "Jewels of the British Isles" voyage, departing September 7, 2024. Seabourn Sojourn sails roundtrip from Dover (London), U.K.
What's nifty is that this voyage completely encircles England, Scotland and Wales with port calls along the way. Fortunately, it also includes a day in Northern Ireland — yes, at Belfast.
Best Belfast Attractions: #3 St. George's Market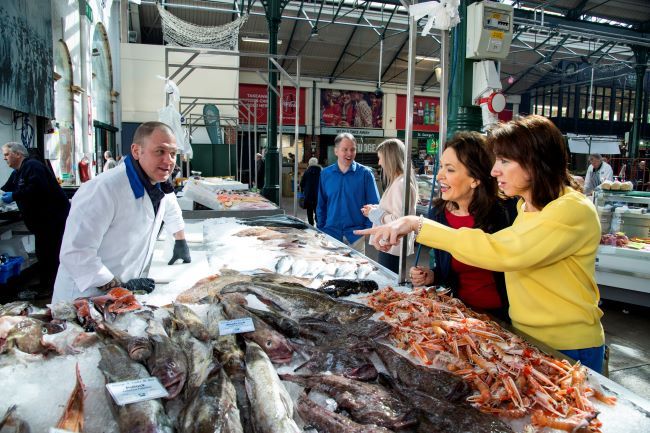 For a slice of Belfast lifestyle and savory tastes too, head for the renovated St. George's Market on Friday, Saturday or Sunday morning. You'll discover more than 150 vendors and craftspeople selling their wares.
Stalls are chock-full of everything from antiques to metalwork, vintage clothing, Celtic-style jewelry, pottery, and much more. Of course, local produce and tasty foods are sold too.
We enjoy chowing down on incredible seafood and fresh, crusted bread. Or, you might sample the Broughgammon Farm's goat meat.
While shopping on Sunday, you'll often hear entertainment including jazz. And when your sweet tooth calls, try the fudge at Aunt Sandra's Candy Factory.
Top Belfast Attractions: #4 Belfast City Hall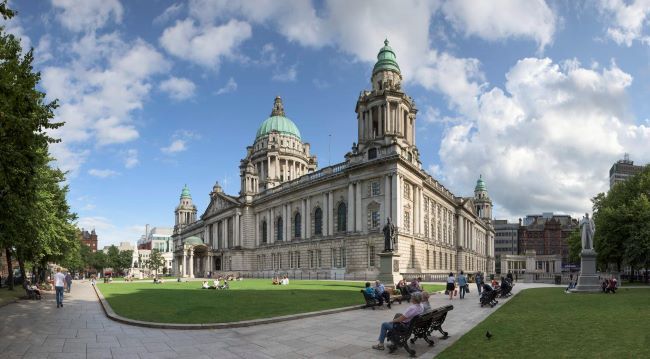 Built in classical Renaissance design, the iconic, 1906-era Belfast City Hall is a top draw for visitors. Best of all it offers free public tours.
Gorgeous stained-glass windows adorn the hall. They depict such Celtic myths and legends as the Cattle Raid of Cooley. In addition, the windows honor victims of the Great Famine and veterans of World War I and World War II.
The Meandering Traveler would also suggest travelers stroll around the grounds. City Hall's Titanic Memorial Garden displays bronze plaques inscribed with the names of the 1,512 people who perished during the ship's sinking.
Oceania's "Dreams of Britain"
We'd suggest checking out Oceania Cruises' 11-day "Dreams of Britain" itinerary. The 684-passenger Sirena will operate the voyage roundtrip from London on April 22, 2024.
Port calls in the United Kingdom will include: Edinburgh (Rosyth), Scotland; Kirkwall (Orkney Islands); Stornoway (Hebrides); Glasgow (Greenock), Scotland; Belfast, Northern Island; Holyhead, Wales; Plymouth, England; and Southampton (London), England. At press time, "Dreams of Britain" fares started at $3,899 per person, double occupancy.
During the Belfast port visit, the ship is in port for 12 hours. Among Oceania's shore excursions is "The Titanic Trail" (4.5 hours). Another shore trip is the half-day "Leisurely Drive through Beautiful Belfast."
On the latter, cruise guests will enjoy a panoramic drive, view the city's architectural treasures, plus see outdoor murals (separating Catholic and Protestant areas) with political messages. Plus, the tour will pause at Belfast City Hall so cruisers can take photos at the Titanic Memorial. 
Best Belfast Attractions: #5 Black Taxi Tour
A great way to explore the wall art in Belfast? Just sign up for a Black Taxi Tour. One popular option is the "Belfast Political and Mural Tour."
Black cabs surfaced during the early days of Northern Ireland's political troubles as public transportation wasn't often available in northern or western Belfast.
Today, knowledgeable drivers will take tour goers to see colorful street murals focused on modern sports, cultural and past-political icons. Many murals were created during a previous era of political tension and conflict.
Drivers will relate the history and tales including those from the "Troubles" era in the 20th century. For a bit more information, check out this Lonely Planet article from 2022, which also selects this Black Taxi Tour as a top pick for the best things travelers can do in Belfast.
Top Belfast Attractions: #6 Ulster Museum
Fresh from a multimillion-dollar revitalization, the Ulster Museum offers exhibitions about the rise and fall of Belfast's craft trades. A big surprise? The museum also is home to tens of thousands of fossils. Among them are the only dinosaur bones ever found on the island of Ireland.
Museum guests also can peruse Asian, African, European and Pacific art. Archaeological displays range from the Stone Age to late Medieval times. And fine art exhibitions feature costumes, fashions, pottery, jewelry and furniture.
The Ulster Museum is also home to the famous Egyptian mummy, Takabuti.
Best Belfast Attractions: #7 Botanic Gardens
If visiting the Ulster Museum, one option is to stroll to the nearby Botanic Gardens. In the 19th century, these lovely public gardens were designed by Sir Charles Lanyon. Coincidentally, Lanyon also designed parts of Belfast's Queen's University (also worth a visit).
The Botanic Gardens including the ornate, cast-iron Palm House (see photo below) are a tribute to Victorian Belfast.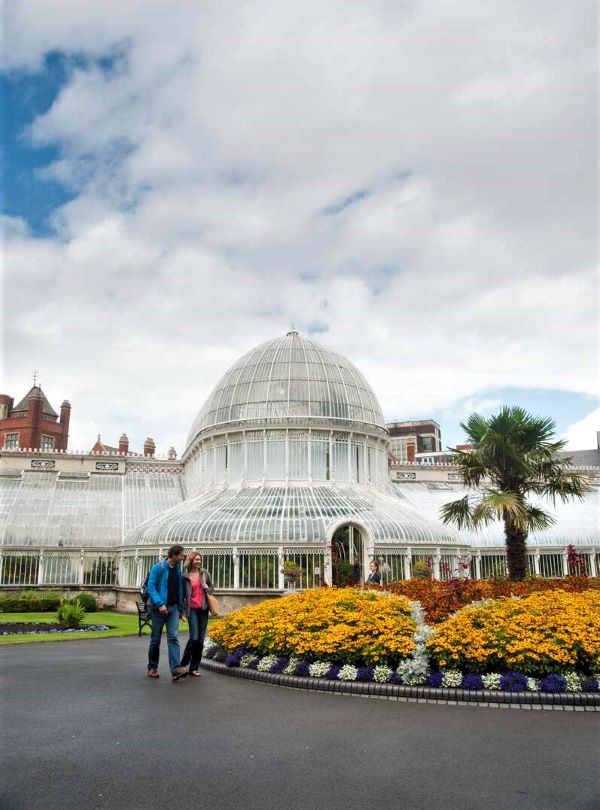 Flora fans will find a diverse assortment of plants, trees and flowers — from geraniums to fuchsia and begonia. Be sure to look for or ask staff about a hornbeam-leafed oak planted in the 1880s!
Entering the gardens' Tropical Ravine, visitors will see banana, cinnamon and orchid plants. And for visitor relaxation, a playground and bowling green are tucked away among 150-year-old ferns.
Top Belfast Attractions: #8 Crumlin Road Gaol
TripAdvisor.com readers have voted the Crumlin Road Gaol one of Belfast's top attractions. What is it? It's a former prison!
But for travelers seeking something unique to see and do, this tour definitely is unusual. Closed as a prison in 1996 after 150 years, it's considered to be one of Belfast's most haunted sites.
Today, it's popular with the locals as a site for business events, weddings and concerts. In addition, educational tours are offered.
We certainly recognize that this attraction isn't everyone's cup of tea for a tour. That said, for visitors who are interested in the paranormal and desire to visit spots of spooky activity, it's worth mentioning.
Interestingly, this attraction isn't just for adults. It also welcomes families and even offers some kid-friendly tours. For more information, check out the Crumlin Road Gaol. 
Best Belfast Attractions: #9 Traditional Music Trail
Not one site but rather a collection of stops that combine to create a great experience, the Belfast Traditional Music Trail is a unique way to experience Irish music.
Guided by two professional musicians, travelers will walk through cobbled alleyways, pass famous landmarks and enter private bars in some of the city's oldest buildings. At each stop, they'll be treated to a performance of traditional tunes, songs and stories.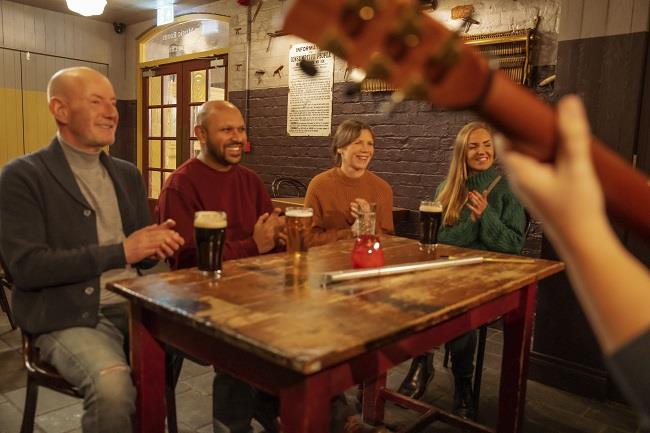 They can enjoy a local beer, cider, whiskey or Guinness while learning about the instruments, language, customs and history of Ireland's vibrant musical tradition. It's a fun way to stroll the city, see some sites and sample the brews. Visit this link for more information.
Best Belfast Attractions: #10 – It's Your Choice!
While we've selected the picks above as Best Belfast Attractions, it's also important to recognize that what a traveler might choose for his or her vacation is highly personal. It's all about one's interests or favorite activities.
So, rather than picking one attraction as #10 for this list, we're offering a range of choices. We'd simply be remiss in not mentioning some of these other top attractions in Belfast.
Among them are the 113-foot-high Albert Memorial, the 12th century Belfast Castle and the twin spires of St. Peter's Cathedral. Alternatively, do you love art, the great outdoors, Victorian architecture or trains/cars? Well, here are a few more enticing diversions:
Those who enjoy tapping into their creative passions should check out what's happening at MAC Belfast or the Metropolitan Arts Center. It's the hot spot for music, art, theater, dance and exhibitions galore.
Travelers who love the great outdoors should head for

Cave Hill Country Park

. Named for five caves on the Belfast bluffs, it's a great spot for outdoor activities. Visitors might tackle a hill "climb" or trek with ease along the park's walking trails.
If you're a railroad or automobile enthusiast, the

Ulster Transport Museum (a sister museum to the Ulster Folk Museum)

offers a permanent rail gallery with engines and railcars. Also displayed are many other motorized vehicles, trams, antique automobiles and even a DeLorean DMC-12.

 
Another option? Ask your tour leader, hotel concierge or cruise shore excursion desk about golf play in and around Belfast.
Exploring Beyond Belfast
Travelers might also head beyond Belfast on a day trip. One option is a trip to Northern Ireland's Antrim Coast, with dramatic views of ocean cliffs, castle ruins and the geologic wonder of Giant's Causeway.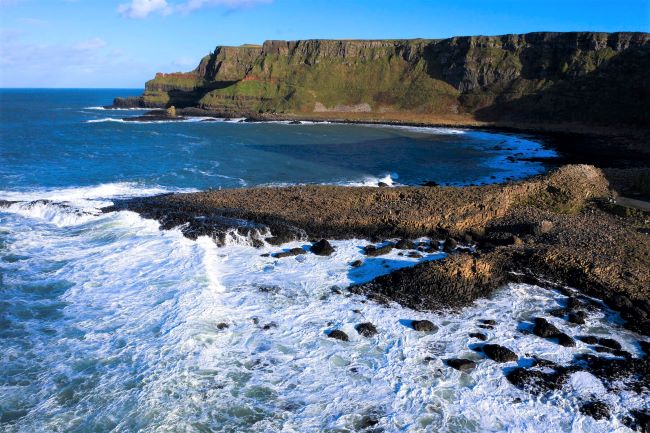 Now a UNESCO World Heritage Site, Giant's Causeway consists of 40,000 black basalt columns at the sea's edge. Did you know that this natural site was formed 50 to 60 million years ago! Yes, way, way back.
Seeing Giant's Causeway is a breathtaking experience. The Meandering Travel ventured here many decades ago. Seeing the columns — and standing atop them too — was one unforgettable highlight during our family's trip to Ireland.
In a different vein, if you're a "Game of Thrones" fan, you might consider traveling for the day from Belfast to Banbridge, Northern Ireland. Taking the "Games of Thrones Studio Tour," you'll view film sets, costumes and designs used during the making of the epic TV series.
Globus Journeys' Northern Ireland Escape
One way to see Giant's Causeway and also spend two nights in Belfast is on Globus Journeys' escorted, seven-day "North of Ireland Escape" tour. It operates roundtrip from Dublin in the Republic of Ireland.
Guests will spend two nights in Belfast, though, providing plenty of time to explore Northern Ireland's capital city. Included on the Globus itinerary is a Belfast orientation tour and visit to Titanic Belfast.
An optional Belfast tour can take tour guests to "Hillsborough Castle and Afternoon Tea." "What's special is that for travelers who are also 'royal fans,' this is King Charles III's official Northern Ireland residence," adds Shelby Steudle, president, Pavlus Travel. 
Given the monarch's recent coronation in London, this site is perfect for travelers who desire to explore spots with "royal connections."
Globus' tour includes a castle tour, time to stroll the lovely gardens, and afternoon tea at a local eatery. It's officially listed by Tauck online as "$$" in price (between $51 to $100 per person). For more information on the "North of Ireland Escape" itinerary, visit the Globus Journeys website.
Journeys to Belfast 
Most importantly, "If you're interested in finding out about the range of upscale escorted tours or luxury cruises that spend time in Belfast, be sure to contact your skilled professional travel advisor," says Pavlus' Steudle.
She continues: "Personal travel planners are ready to assist you, answer any questions you may have about accommodations, and talk about itineraries and departure dates. They'll also tap into any special promotions or discounts, providing you with great value."
We hope that you've enjoyed our picks for Best Belfast attractions. Safe and happy travels, wherever you're heading across the globe!