Ready for a great steak or lobster dinner? Well, read on about the inspiration behind Prime 7, the "reimagined" signature steakhouse aboard Regent Seven Seas Cruises' new Seven Seas Grandeur.
That new 732-passenger, ultra-luxury ship will begin sailing in November 2023. But while you'll have to wait until year's end or 2024 to dine at Prime 7, here's the scoop on what to expect — for both aura/decor and cuisine.
Studio DADO's Vision
Designed by Miami-based Studio DADO, the new venue will focus on two factors:
Yes, it will take its cues from those classic New York steakhouses of the late 1890s and early 20th century. In other words, it will reflect the "roots" of that experience.
But it also will reflect the latest evolution in luxury dining at sea. Regent Seven Seas says that means the Prime 7 experience will incorporate design touches and surprises catering to "sophisticated, worldly guests who expect only the finest culinary experience."
Classic, Yet Modern Too
Essentially, Prime 7's design will allude to a bygone era of New York City's gentlemen industrialists. It was a different time for sure.
These icons of industry were an unapologetically hearty clientele who desired the finest aged beef, not to mention a bottle or two of Bordeaux.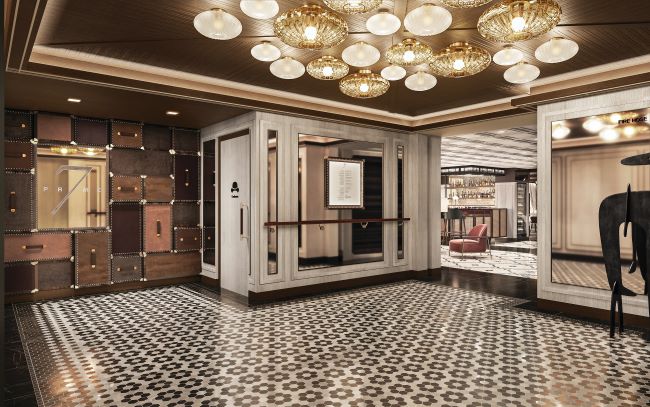 As a nod to that intrepid spirit, Seven Seas Grandeur's guests arriving at Prime 7 for dinner will find many antique travel cases, crafted of fine-tooled leather. Plus, they'll see black-and-white photography from the past. 
"Regent's guests are among the hospitality world's most sophisticated travelers," says Yohandel Ruiz, one of the four founders of Studio DADO. She explains the thinking behind the design of Prime 7 in this video interview, provided to the media by Regent Seven Seas Cruises.
"Our challenge was to create something comfortable, traditional, even classic, but in a way that feels fresh, new and unabashedly contemporary," Ruiz emphasizes.
A Journey Home, Plus Steak or Lobster!
So, starting in the vestibule, guests will begin walking through Prime 7's various spaces. Regent hopes that along the way they'll begin to feel akin to "taking a journey home" or back to an earlier era.
For instance, the entrance space decor will recall the period where traditional streetcars were the best way to get around. In a nod to the Big Apple, a glass, lenticular screen above the bar will showcase New York City's growth from the 19th century through today.
The steakhouse is expected to be on par with the first-class steakhouses found in New York and Chicago today, according to Ruiz: "Every element of Seven Seas Grandeur's Prime 7 has been treated as a piece of art."
So, you'll see stitched ceilings, whiskey decanters and fashion-inspired furniture.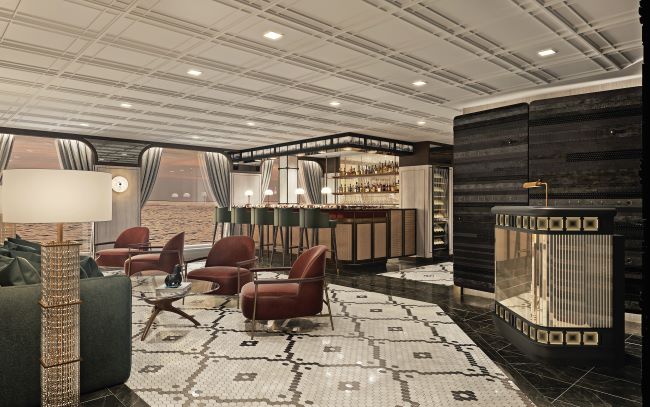 Moving through the restaurant, guests will also see that the aesthetic will shift to a more residential feel.
How so? Diners will encounter Persian carpets underfoot and residential-style lighting. Plus, memorabilia in glass cases will help disguise server stations and back-of-house areas.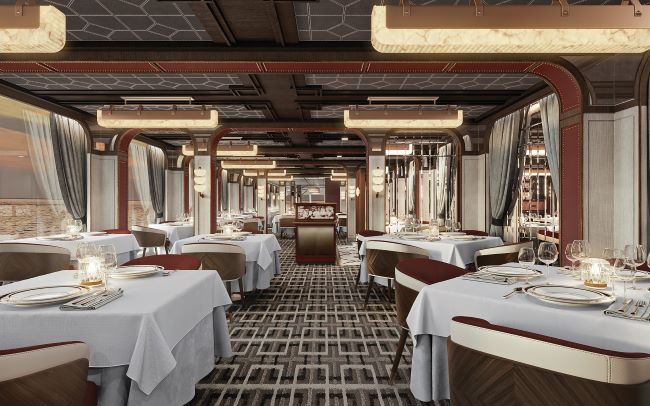 The Main Event – Steak or Lobster!
Design aside, we know it's the tasty cuisine that truly counts.
In Prime 7, diners will start off with mouthwatering appetizers. How about ordering jumbo lump crab cakes with tartar sauce and lemon?
Or alternatively, you might order Black Angus Beef steak tartare with truffle-beer bread. Another appetizer choice will be jumbo shrimp with a citrus cocktail sauce.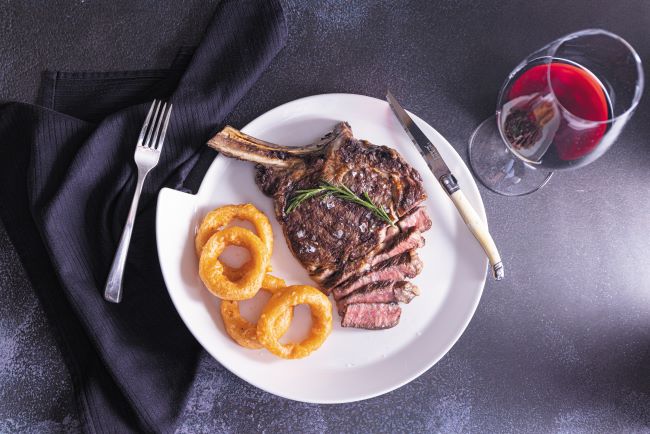 USDA Prime and Dry-Aged 
For steak lovers, Prime 7 will offer a selection of steaks that are all USDA prime beef and dry-aged 28 days. That will help ensure the ultimate in taste and tenderness.
So, order away — perhaps a prime New York strip, porterhouse or succulent filet mignon, just to name a few.
Not a steak lover? No problem. Regent Seven Seas says Prime 7 will offer such options as whole Maine lobster, the ever-popular Dover sole and New Zealand double-cut lamb chops.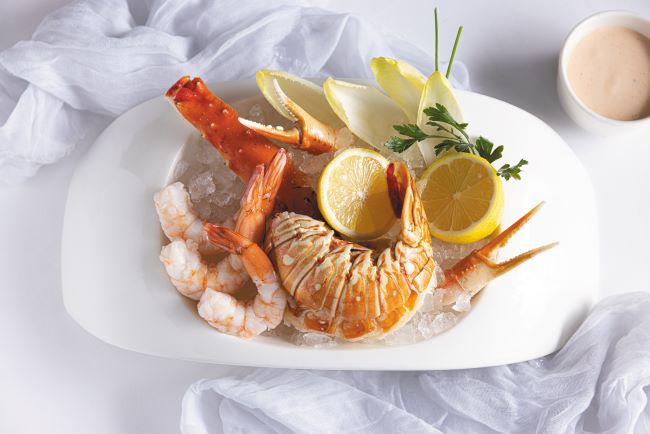 But another option for dinner in Prime 7 is to order a range of small plates. Chat with your server about the spice-crusted seared ahi tuna steak and grilled chicken supreme, among other options.
Dessert should be a treat too. We can't even imagine the decadent chocolate mousse cake. Why? It's 14 layers!
Prime 7 is also expected to offer such other desserts as a caramel chocolate sundae, cheese plate and fresh seasonal berries with crème anglaise.
More on the Culinary Front
Regent Seven Seas Cruises has a strong culinary focus. The ultra-luxury line recently unveiled its Epicurean Perfection program, which has a multitude of new culinary elements.
The Meandering Traveler also covered this new program in a previous blog. Foodies should definitely check that out.
In addition, guests sailing on Seven Seas Grandeur will be able to sharpen their culinary skills and learn new recipes in a hands-on cooking class in the ship's Culinary Arts Kitchen.
Steak or Lobster? Epicurean Spotlight Voyages
Finally, the line is also offering Epicurean Spotlight Voyages. Many are hosted by top chefs, while others indulge guests' passion for "everything wine."
For instance, on April 14, 2024, an "Epicurean Spotlight on Wine with Cast Wines" voyage by Seven Seas Splendor will set sail from Barcelona, Spain, to Civitavecchia (Rome), Italy. At press time, cruise fares started at $10,299 per person, double occupancy.
Desire more information? Here's Regent Seven Seas' list of other upcoming Epicurean Spotlight Voyages. 
To discuss culinary options on this or other of the line's vessels, or other cruise lines that best dovetail with your personal interests and travel "bucket list," talk with your personal travel planner.
Don't have a skilled, experienced travel advisor? Check out the helpful information from Pavlus Travel below!
Important Information from Pavlus Travel
If anything tweaks your interest in this blog and you'd like to talk about a future vacation, please DO call us at 800-528-9300.
Definitely, if you have questions about specific pricing, brochures, savings, itineraries, dates of travel, accommodations, accessible options and so on, please contact us.
Again, call us at 800-528-9300 or visit and "live chat" at Pavlus Travel's official agency Web site.