Sailing the Mississippi River is a Mark Twain-like experience, right? Well, it often is if you're sailing on American Queen Voyages' flagship, American Queen. As the largest steamboat ever built, that river vessel sports an 1880s-era, Victorian flair. But if diversity is the spice of life, the lovely, boutique-style American Duchess provides a different look and feel.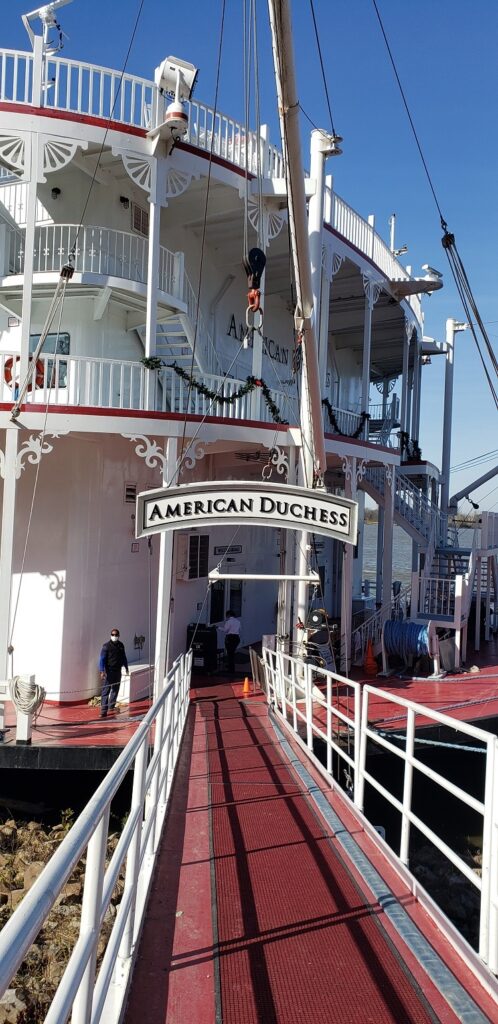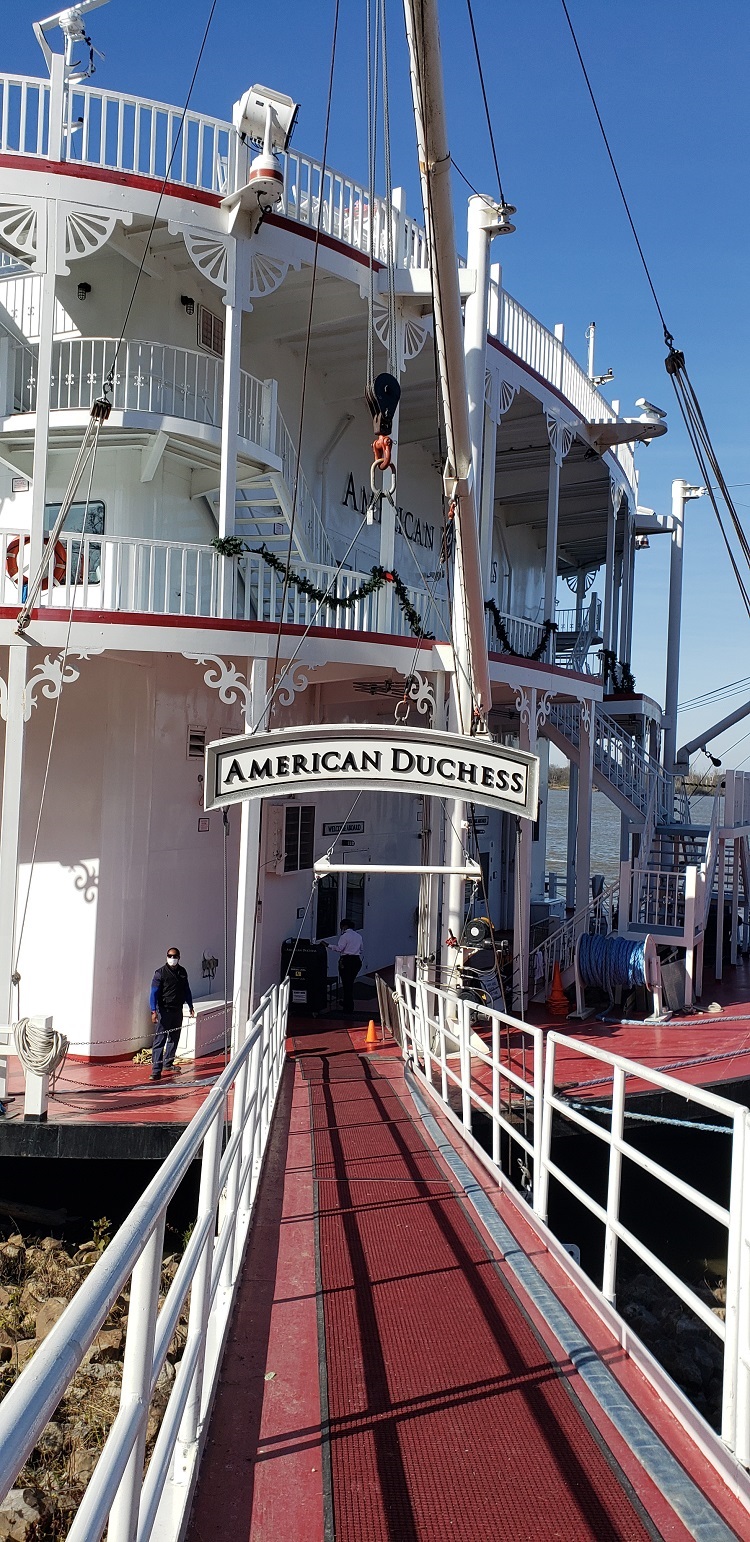 Simply put, all AQV's river vessels plying U.S. rivers are "paddlewheel" in style on the outside. But inside, they offer diversity in interior design and features.
So, while American Duchess "looks the part" of a throwback river vessel outside, inside she's a more modern, contemporary lady.  Yet, she's warm and welcoming too.
A stay on this vessel is best described as a "luxury boutique hotel' stay.  It's pampering and relaxing.
Yet, while much of the ship's artwork is modern, cruisers will also find nice touches of steamboating history, such as historic paddlewheeler wall paintings. It's a pleasing balance of old and new.
A First-Hand Look
The Meandering Traveler has sailed twice on this gentle voyager. Our first voyage was pre-pandemic, our latest visit in December 2021.
During that recent Memphis-to-New Orleans sailing, a seven-night "Lower Mississippi" cruise, only 90 guests or so were aboard. That's far less than the ship's maximum capacity of 166.
Despite fewer folks aboard, we had a ball and met many new friends from across the country. Right now, AQV is holding down guest capacity for all four of its U.S. paddlewheelers, based on its COVID-19 era health/safety protocols.
So, here's a first-hand look at our two-level Loft Suite accommodations on this cruise — (not the voyage itself, which is clearly a story for another time).
American Duchess: Loft Suite Basics
Travelers considering an American Duchess cruise — particularly those seeking space galore, plus a good dose of pampering — might check out these 630-square-foot Loft Suites.
The river vessel offers four such suites on Deck 2 (#202, #203, #206, and #207).  It's worth noting that Loft Suites aren't found on AQV's three other U.S. paddlewheelers — American Countess, American Empress and American Queen.
These Loft Suites are "the top digs" on this ship along with Deck 3's Owner's Suites (#300, #301 and #302). Big difference? As the name suggests, the Loft Suites offer soaring inside space, an interior staircase, an upper master bedroom loft and ceilings two levels high.
In contrast, the 630-square-foot, two-room Owner's Suites are just as spacious but everything is on one level (no stairs). Both are great, so pick your fancy, depending on your personal preference. On our most recent cruise, we stayed in American Duchess' Loft Suite,  #207.
Before diving deep into this suite's "nitty gritty specifics," though, let's talk "location, location, location."
In the photo below, check out what's within the circled area. Those are two adjacent Loft Suites.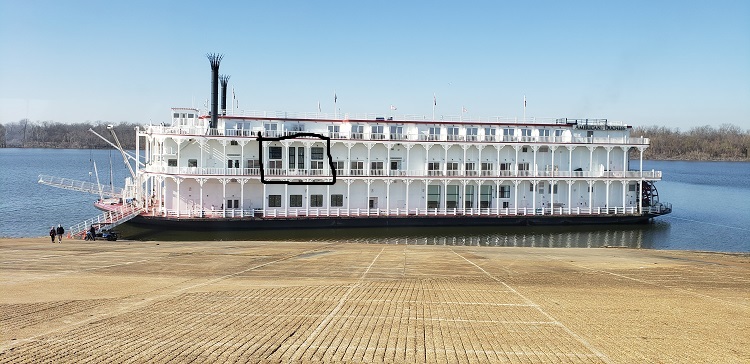 Each Loft Suite has a sliding glass door to a private balcony. You can see above that atop the sliding doors are additional large glass panels. Adjacent is a separate, narrower, two-level panel of glass. As a result, even more natural light streams into American Duchess' Loft Suites.     
American Duchess: Loft Suite Location
The ship's four Deck 2 Loft Suites — two on the port side, two on the starboard side — are just steps away from the fitness center and Perks. The latter is the ship's 24-hour hot spot for self-serve coffee, tea, cookies, soft ice cream, popcorn and, at times, other snacks.
So, it's quite handy for Loft Suite guests to pop in and out. Why not grab a snack prior to watching a movie on your in-suite television? We did. Also nearby are the forward stairs and one elevator.
Walking in the opposite direction along Deck 2's corridor, at mid-ship one finds another elevator. Also, here guests can take a lovely grand staircase downward to the cozy Lincoln Library. That's the relaxing spot for enrichment lectures, classes, books, comfortable seating areas and more. It's a good spot for socializing, playing games and reading a good book.
But if guests instead continue along the Deck 2 corridor aft, they'll arrive at the River Grill and Bar. This spacious, casual eatery is open for breakfast and lunch as a buffet restaurant with a full-service bar.  Servers dish out the food onto the guest's plate, per current health/safety protocols.
At dinnertime, this space transforms into an even more robust, specialty dining experience with a menu and table/bar service. 
So, that sets the stage about about where the American Duchess' Loft Suites are located. Now, here's a first-hand look at what they are…
American Duchess: Loft Suite Living Area 
Opening the suite door, we were awed by the spaciousness and the towering feel of the space. Natural light flows through two levels of glass.
Upon opening the suite door for the first time, our first thought was "wow." Check out the photo from AQV below; we've included this to show you the full scope and breadth of the suite's design and lay-out.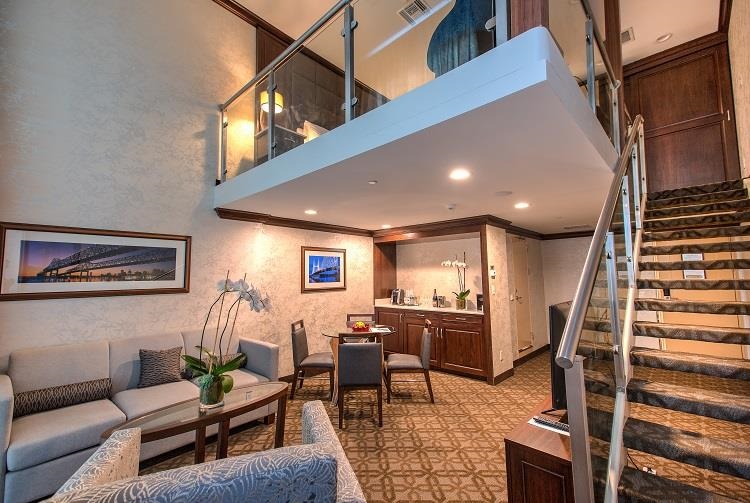 So, you get the picture. Continuing on, we know our original photos below don't reflect that soaring grandeur. They were snapped quickly and designed more as close-up "visual notes" so we'd remember the suite features.
But we hope they're helpful for potential guests seeking a good sense of what's in a Loft Suite.  
First, let's talk about the two-level curtains and sheers. After all, the two levels of glass are a big feature of this suite.
Withing the living room area, on a small, high-tech wall panel above the chair shown below, guests push buttons to open and shut the curtains. Working that panel can be a bit tricky on first blush. But the river butler gladly will demonstrate how to operate it.
In the living room area, as shown below, guests will kick back and relax on a large couch with pillows. A moveable glass coffee table and an upholstered chair complete the look.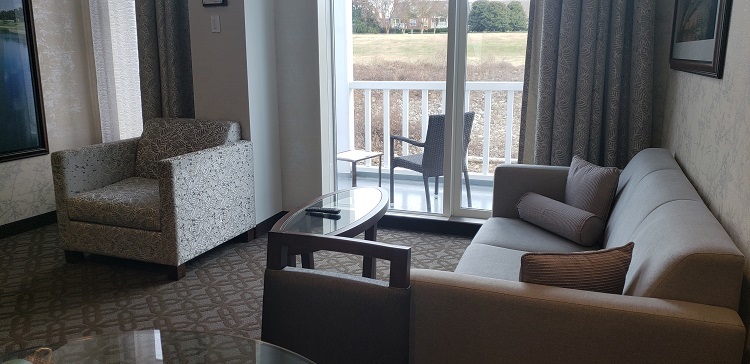 One note? When we entered, we found the upholstered chair up against the wall (as you see it above). We found that simply angling it a bit toward the couch created a more unified living room look. Plus, it allowed for better socialization. .
Across from the chair is the staircase that leads upward to the loft master bedroom and master bath.  In addition, the living area also has a large credenza with flat-screen TV. Suite guests also will discover good storage space within the cabinetry.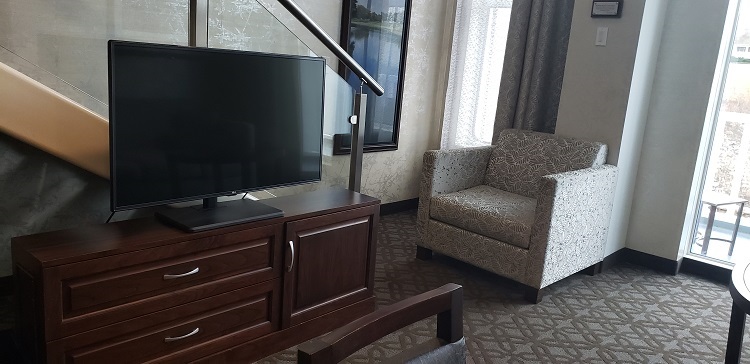 Entertaining "Newfound" Friends
One tip on the entertaining front? Sometimes, Loft Suite guests choose to travel with other family members or their friends who are staying in other accommodations. Or, perhaps they've met fun, interesting folks aboard.
One option, given the space of this Loft Suite, is to host a late afternoon cocktail hour. That's a great activity, particularly after a day exploring ashore. Guests can share stories, tell tales, enjoy river views and socialize.
For guests who provide advance notice, AQV can often arrange to bring in a portable bar and a server to concoct drinks or pour wine. So, if you stay in this suite, setting up an hour-long, private cocktail or wine event with friends or family is definitely doable.
It's particularly appealing if a family is bonding over a parent's 50th wedding anniversary, milestone birthday or other special occasion.
So, talk to your travel advisor or your butler about this option. All guests staying in Loft Suites receive the perks of AQV's Commodore Service too. That includes pampering from a "river butler. "
Moving on… Here's another shot below of the living room couch and coffee table, plus the adjacent dining table.  This photo was taken from the staircase about halfway up between the suite's two levels.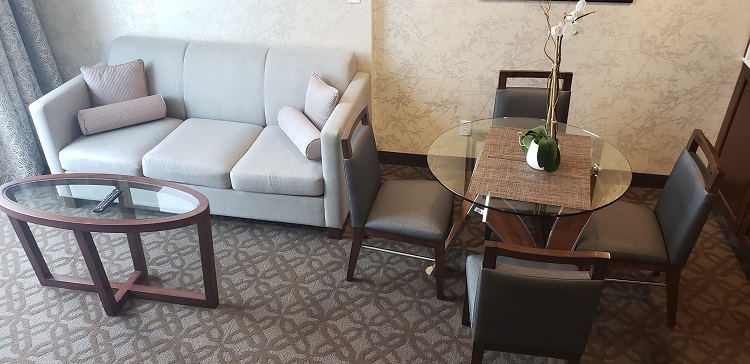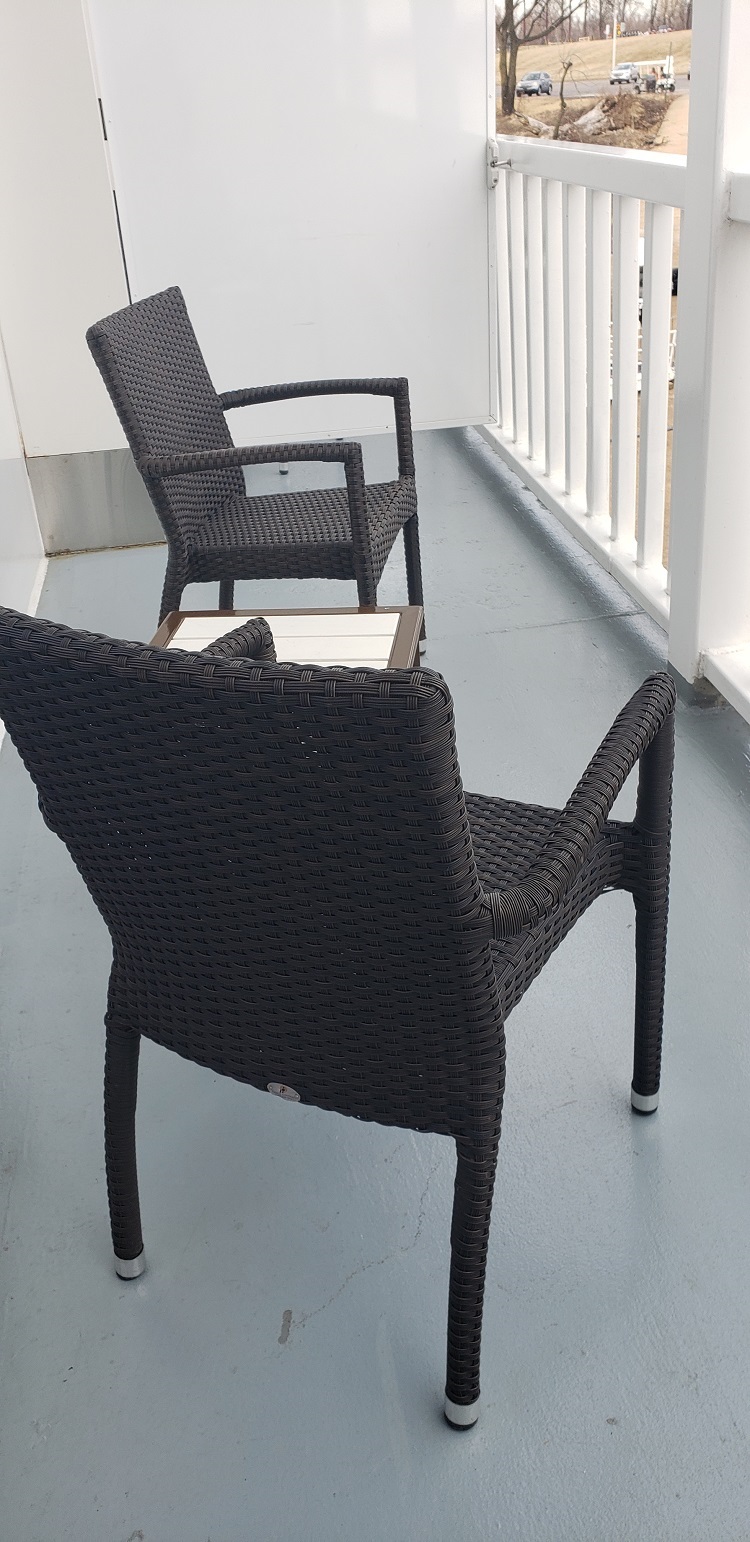 While not shown (except a bit in the earlier AQV photo of the entire suite look, guests will walk into the suite and find a huge open area just inside the entry door. That open space also extends under the staircase.
So, the portable bar brought in for a private event could be positioned in this space. Or, the space could also be used for a rollaway bed, as needed.
A Great Perch for River Views
One of the joys of a river cruise is the simple pleasure of floating along close to land. So, one can watch the riverbank scenery unfold as the ship sails along the Mighty Mississippi.
Guests can also admire such port destinations as "Natchez Under the River" in Mississippi or downtown New Orleans or Nashville, for example.
From the river, cruisers also can view river barge traffic, plantation mansions, eco-areas and scenes of everyday life unfolding along the river. Fortunately, they'll have a fantastic perch.
Just head outdoors to this Loft Suite's private balcony. As shown in the photo at right, this balcony is furnished with two chairs and a small table.
Since the balcony extends along the suite's full width, there's plenty of al fresco space. If you ask friends or family to join you outside, ask the river butler to provide two additional folding chairs.
Grab a bottle of wine, a few glasses and toast to the river, which just "keeps on rolling." White panel dividers on both ends provide visual privacy from the adjacent suites on both sides.
However, those dividers can be opened to create a larger space if, for example, the guests' adult children or parents are staying in the adjacent suite. That way, it's even a larger family-use balcony.
Cruising the Mississippi: Dining Space
Back inside, let's look closer at the dining area and entertainment/bar area. Guests will find a glass-topped dining table topped with a live orchid plant. Plus, there are four comfortable chairs.
For our needs, the table also doubled well as a work-space. Cruisers will discover a power plug on the wall immediately behind the table. So, if guests must work a bit remotely even on vacation, well, this works relatively well for that. (There are no USB ports as yet, though, so bring an adaptor to plug in your USB cord to techie devices; the line also has some adaptors for guests).
During our cruise, we really only needed two chairs at our table. To provide more space in the dining area, we moved the other two chairs — placing them out of the way under the stairs. As a result, we could move around more freely in this dining space.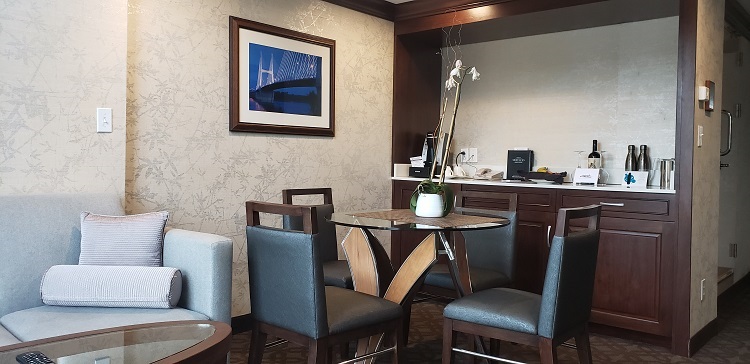 The Loft Suite's large, elongated entertainment bar area has a long counter. Underneath is a mini-refrigerator stocked with sodas and water.
A bottle of red wine and basket of fresh fruit are placed by AQV on the counter. They're automatically replenished as needed or upon request.
Upon arrival, we asked our river butler (yes, both Loft Suites and Owner's Suites have river butler services) to replace the red wine with a bottle of white.  It was done in a flash.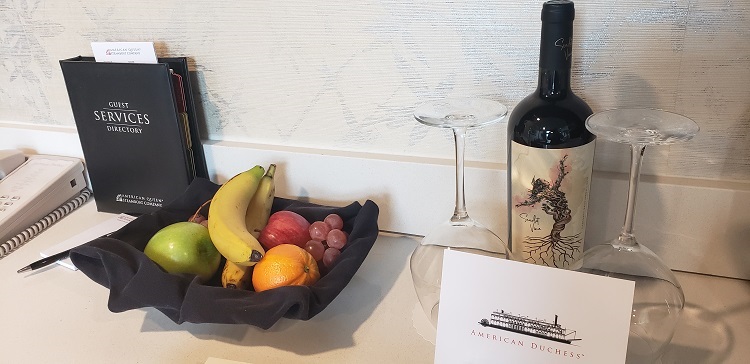 Fresh fruit and a bottle of wine await cruisers in American Duchess' two-level Loft Suites. Photo by Susan J. Young
More About Perks of a Loft Suite 
Can't start the day without your cup of coffee or tea?  While you can certainly order these hot drinks with AQV's breakfast room service, we appreciated the suite's single-use Keurig coffee machine.
Several different coffee varieties are provided, along with different varieties of tea bags. Again, those are replenished as needed. Both our river butler and the suite steward continually asked us: "Is there anything else we can do for you?"
Requests were met with affirmative action. "Alfonso," our butler, was very professional in style and demeanor. We also loved the added level of service. Proactively, he offered us a choice of times (and then brought us the appropriate tickets) for the "hop on, hop off" motorcoach excursions or other offered tours.
Also, he arranged for reserved, front-row seating in the show lounge, brought us drinks there and assisted us with our luggage in leaving the ship, among other helpful services.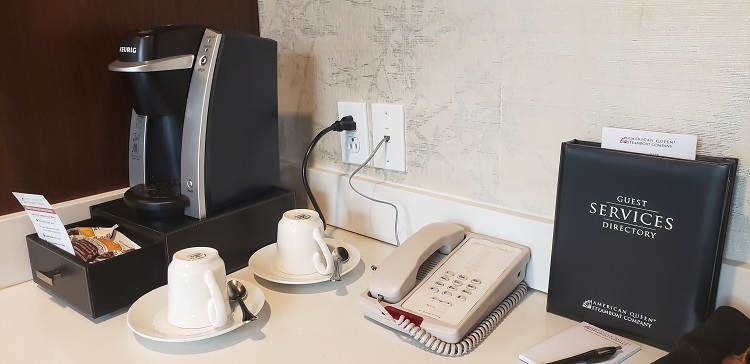 But let's return to looking at exactly what's atop that entertainment/bar counter in the dining space. Guests will find a telephone as well as a Guest Services Directory. Tucked away inside that directory are paper door tags for ordering a room service breakfast.
Also atop the counter are an ice bucket, water glasses, wine glasses and coffee cups. Below the counter is, as previously mentioned, the mini-refrigerator. One perk is robust storage space within the cabinetry.
It's another nice perk that AQV provides two complimentary, refillable water bottles for guest use. They're viewable in the photo below and are placed on the counter prior to guest arrival.
Guests just zip to water dispensing machines around the sip to refill them. Our butler happily re-filled ours as well on several days.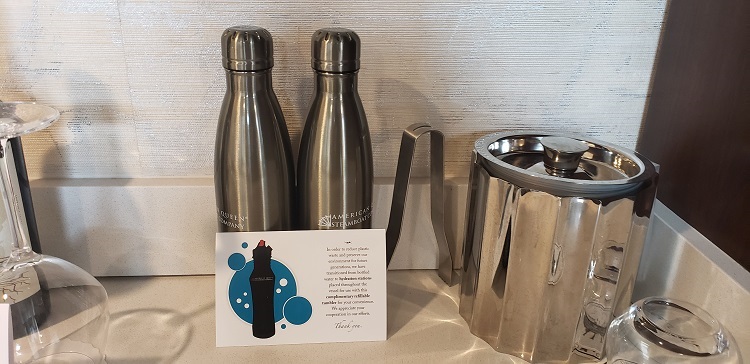 Two refillable water bottles and an ice bucket are atop the entertainment/bar area. Photo by Susan J. Young.
First Floor Bathroom
While relaxing and enjoying your Mississippi River cruise in this suite's first-level living room, dining space or private balcony, you'll also have a fully-equipped guest bathroom on that same level too.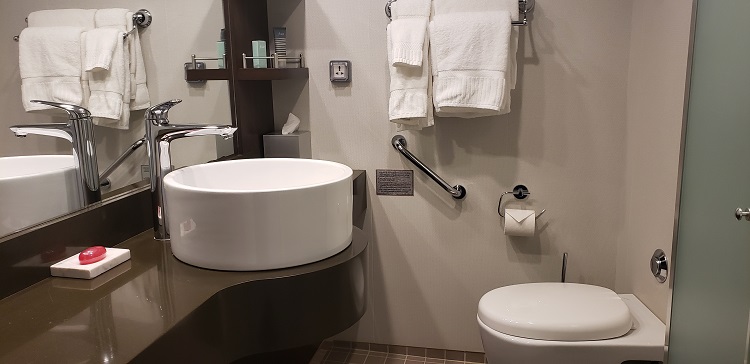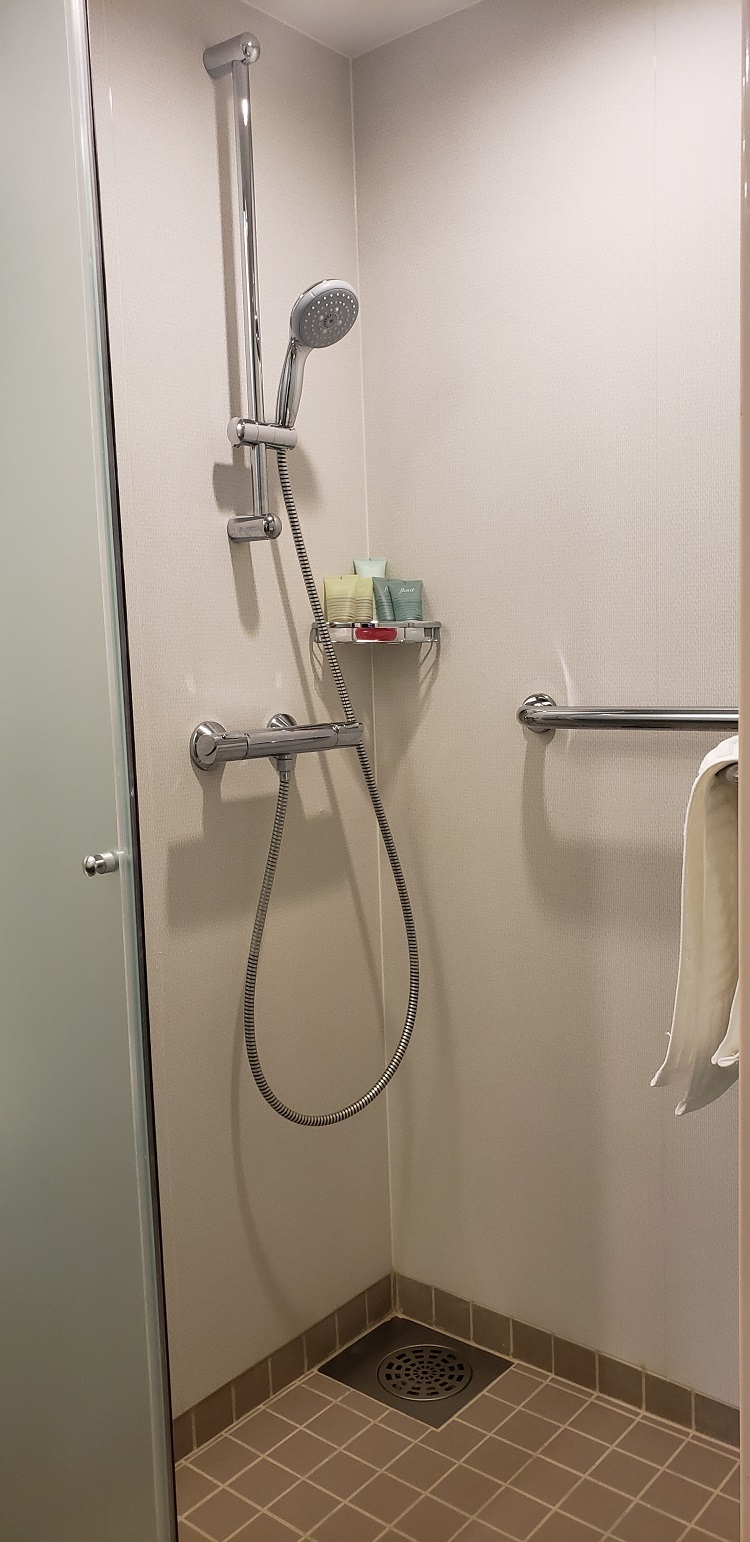 It's great to not need to go upstairs for a restroom. In addition, this lower level bathroom is a "complete" set-up. So, it has a walk-in shower, toilet and singular vanity with sink.
A photo of the shower and its adjustable shower head is shown at right. We felt that the safety grab bars were a great feature.
Equipped with plush towels and a bath mat, this lower-level shower is stocked twice daily by the suite steward. It's outfitted with complimentary soap, shampoo, conditioner and shower gel.
If guests staying upstairs desire to bring along a third person on vacation — perhaps an elderly parent or a child, then that person can sleep downstairs and have access to this complete bathroom.
Where would that extra person sleep? The living room couch folds out into a queen bed, or the line can bring in a rollaway with advance notice.
Up to the Loft
Now for "the main event" — the loft!
To reach the loft master bedroom and bath, guests climb a staircase from the living room area. Here's a look at the stairs in the photo below left .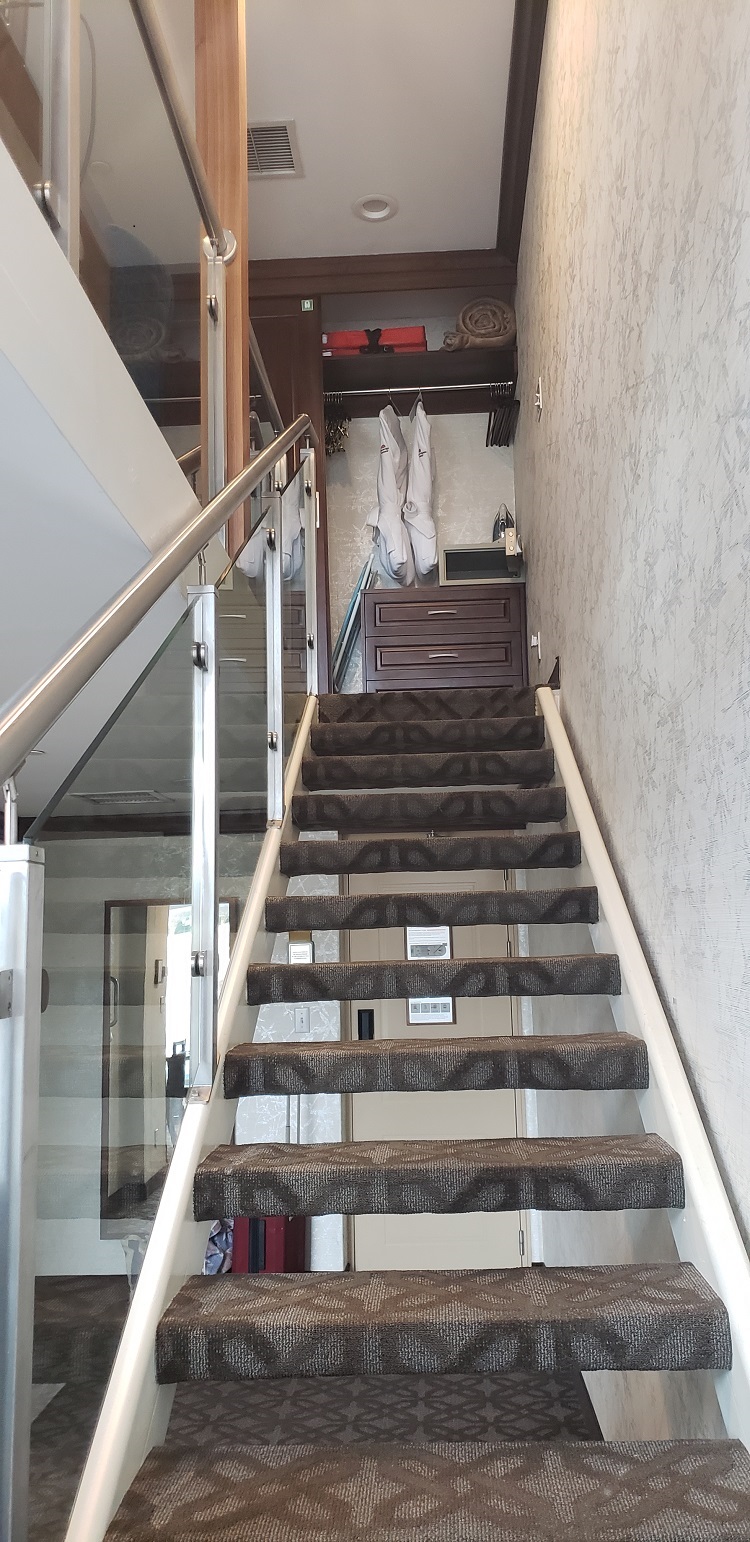 We appreciated that these stairs didn't seem overly "steep" between the steps.
Guests also have a handrail to grab along one side.
As one heads up the stairs, all we could say to ourselves was: "Space, glorious space." Also, the stairs themselves are "open."
That allows a constant flow of natural light (streaming through two levels and expanses of glass) into the Loft Suite.
American Duchess: Master Bedroom 
Reaching the top of the staircase, guests encounter the master bedroom's storage/closet area.
Here you'll find cabinets with multiple drawers, a personal safe, two soft robes, slippers and a laundry bag.
We felt there was an adequate amount of space for hanging clothes. That's as long as you aren't a "clothes horse," as the old expression goes, or in today's language, "a fashionista bringing a zillion suitcases."
Rounding the corner from the stairs, guests will enter the open-concept master bedroom.
Space, Glorious Space
What's nifty is that the loft bedroom is directly above the entry space and dining area on the lower level, but open to the living area below. Just look over the loft railing and it's easy to chat with your spouse or travel companion seated on the couch below.
Anecdotally, we also liked throwing our winter jacket over that railing, where it could softly land below on the living room chair. That was helpful when getting ready for a big day ashore and needing to carry a lot down the stairs.
Mostly, though, we loved viewing gorgeous river scenery unfolding through the two-level expanse of glass. Perhaps look at it this way. The loft space is essentially a huge, interior balcony with railings on two sides and walls on the other two.
As for ambiance, our bedroom proved comfortable and quiet. We did not hear noise from other suites. Overall, we slept well here — sinking into dreamland on plush bedding outfitted with premium linens.
Before arrival, guests are usually asked by AQV in advance about their bed preference — one queen bed or two twins.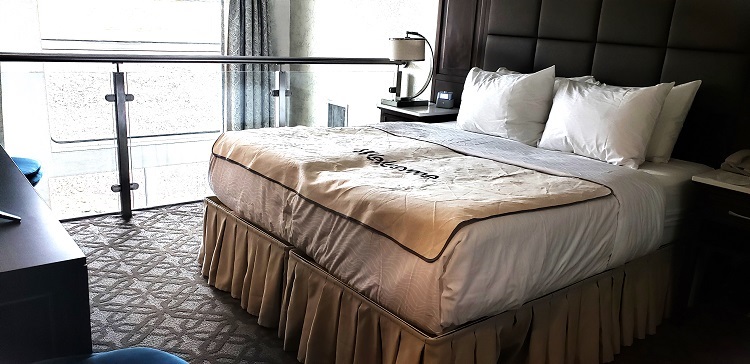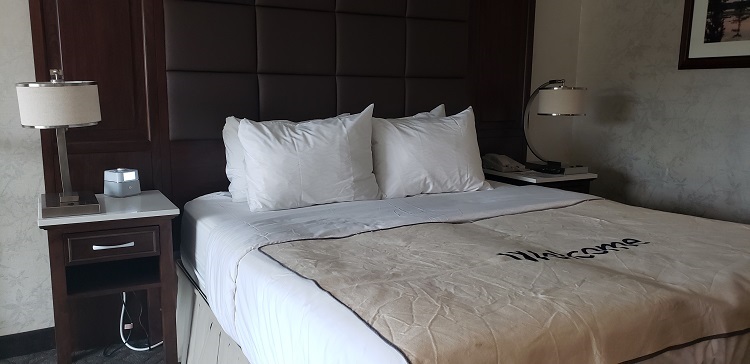 Bookending the bed on both sides are two nightstands with lamps. One holds a clock, another a phone, and each has an electrical outlet. So we used an adaptor (to plug in using our USB cord), so we could charge our phone at night.
That said, the electric clock that's on one of the end tables does have one USB port.
For most suitcases, simply push them under the bed. That said, guests also can store a suitcase in the closet, if desired.
Once settled in bed, AQV's guests desiring to watch a movie, documentary or cable TV channels on the master bedroom's large, flat-screen TV can simply reach for the remote control.
From the bed, guests can look directly across to a credenza/dresser and that TV, the second one in the suite. See our photo below.
The credenza offers two large drawers as well as a cupboard that opens to shelves. Two side chairs flank the credenza.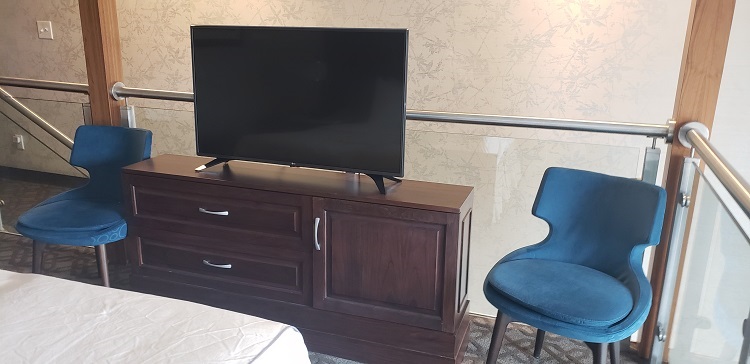 Master Bathroom
The upstairs master bathroom is highly attractive with floor-to-ceiling marble. The bathroom offers one sink and a toilet, plus complimentary bath amenities.
Most notable? One can luxuriate in the master bath's large soaking tub; it also has a shower apparatus so guests can shower inside the tub as well.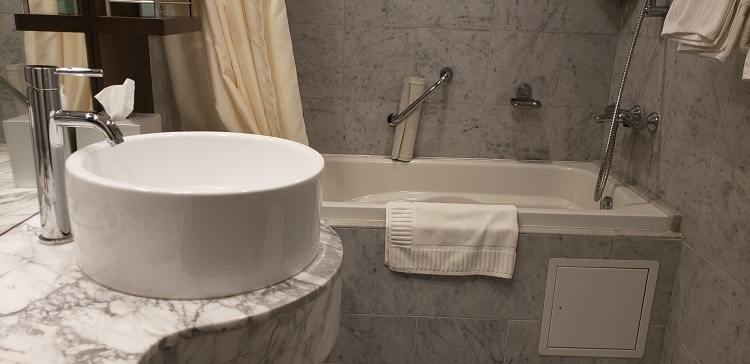 To see how the tub looks close up, check out this photo below…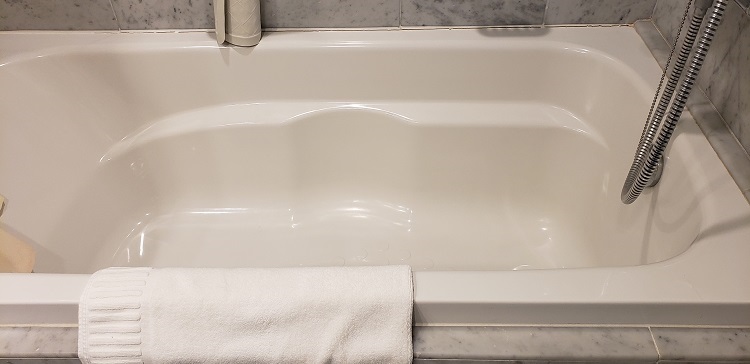 Here are photos below of the master bathroom — revealing the marble look of the space. Plus, we photographed the robes that guests will discover in their master bedroom closet.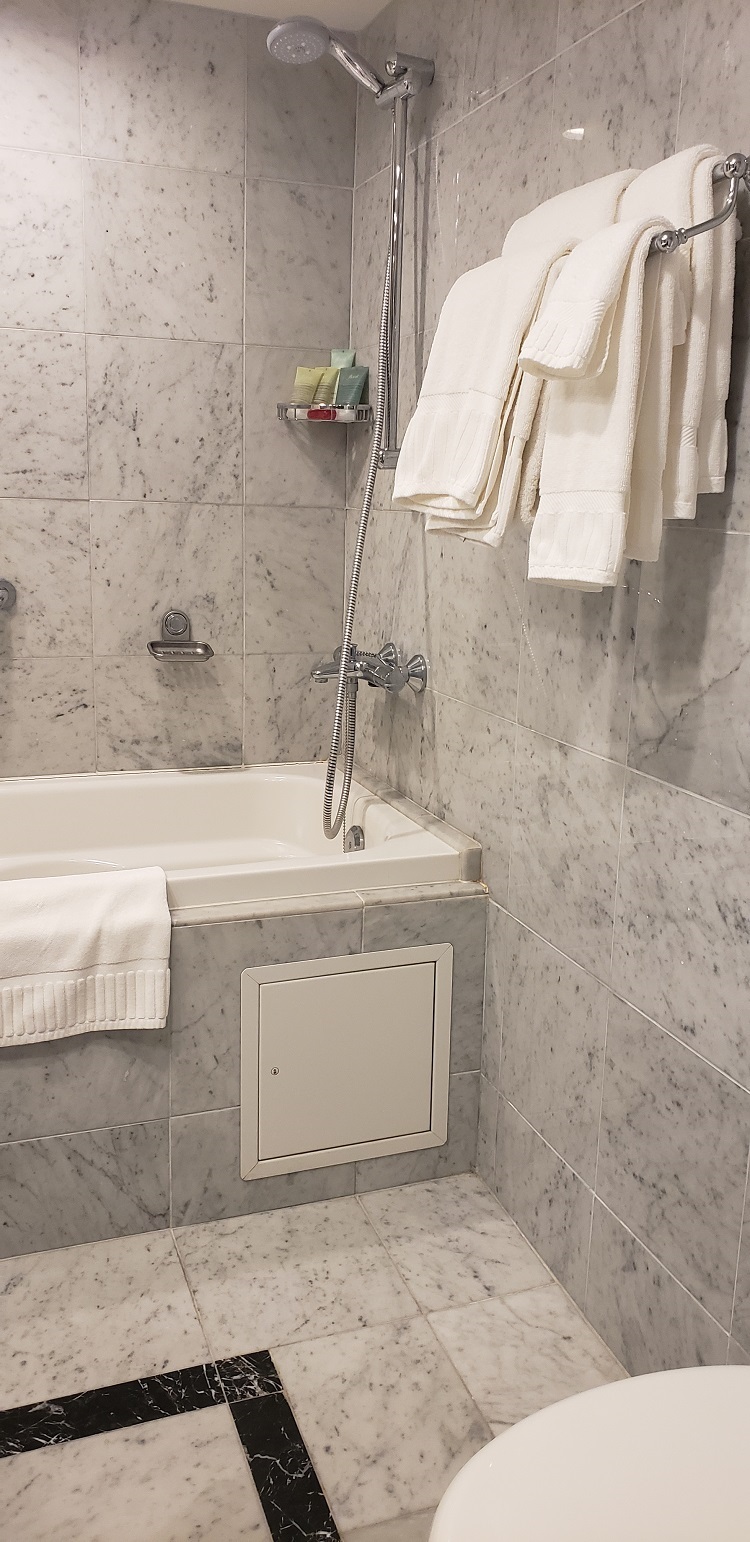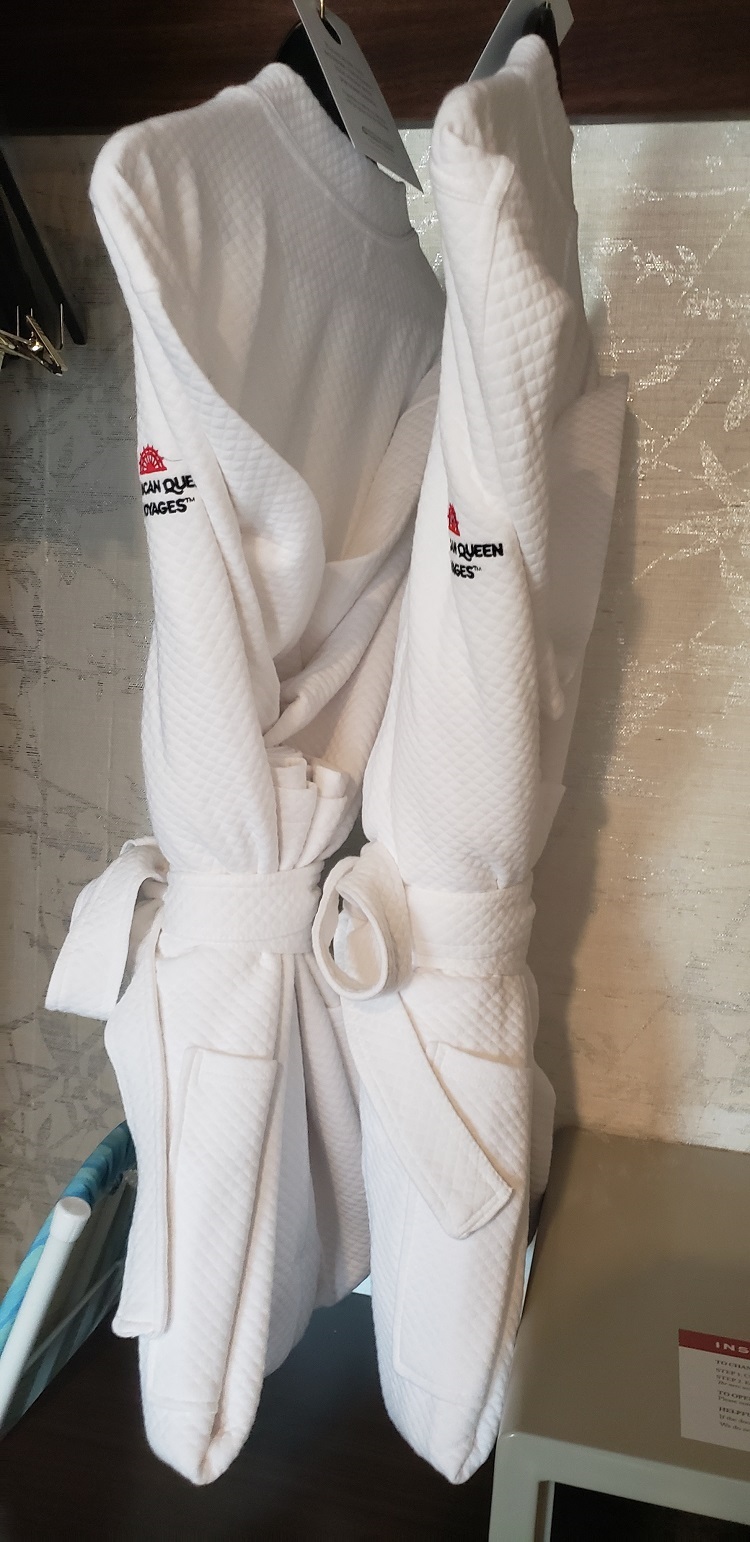 Again, these photos were originally taken to capture the up-close features of the Loft Suite spaces (think "notes" for a writer).
So, while they're tight on the subject matter, we hope they've offered a snapshot look at what to expect within a two-level Loft Suite on American Countess.
Much is exciting this year and next year for America's rivers, lakes and coastal waters, both for AQV and others.  In our last blog, for example, we covered the new hybrid-catamarans planned by competitor American Cruise Lines. Viking River Cruises will also debut on the Mississippi River later this year.
Of course, if you're more interested in a European river cruise experience, much is new on that front too. And increasingly, European river cruises are offering options for "active travelers" who desire to work out, stay fit and enjoy active adventures ashore.
So, what's coming up next for The Meandering Traveler blog? From "rolling on the Mississippi," we head "North to Alaska! Stay tuned next week for a look at what's new in the Last Frontier in 2022 for Alaska cruisers and those taking Alaska land adventure or pre- or post-cruise land stays.