Aah, the Douro! Within northern Portugal, this waterway flows through gorgeous hilly terrain. River cruises float by seemingly unending vineyards clinging to hillsides. River traffic is less prevalent than on many European rivers and quaint towns deliver culturally enriching port days. Best of all, most Douro River cruises depart from Porto, an urban center that's a Portugal travel "star."
Wine enthusiast? Then, you're in luck. Port wine and "vinho verde" (green wine) tasting opportunities abound everywhere along the river.
Porto, also known as Oporto, is a UNESCO World Heritage Site. It's home to one-of-a-kind museums, lovely blue-tiled historic sites and a theme-park-like attraction showcasing the grand era of Portuguese global expansion.
Travelers can also visit one of the world's top bookstores in Porto, plus enjoy a fitness climb along a bridge, starting in nearby Gaia. We loved the city's metropolitan aura. Yet, it also has a laid-back style.
Simply put, Porto is urban but has a small-town feel. Also nice to know? The "locals" are exceptionally friendly.
Portugal Travel: Gateway to Cruising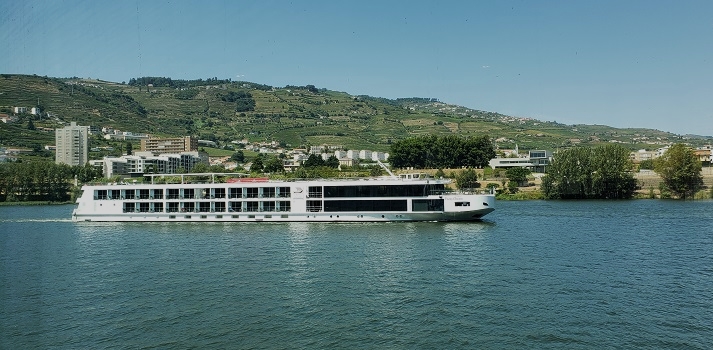 More than 1.2 million travelers a year sail the Douro River, typically between March and October. A recent Meandering Traveler blog focused on five voyages we'd love to take on Viking; among them was a Douro River cruises.
Most major European river lines including AmaWaterways, Emerald Cruises, Riviera River Cruises, Scenic, Tauck, Uniworld Boutique River Cruises, Viking River Cruises and others ply the Douro's waters between March and October.
In addition, Porto is among stops on many escorted tours too, such as Tauck's eight-day "A Week in … Porto."
During a week-long Scenic Azure voyage during 2021, we stayed pre-cruise in Porto. Plus, the cruise itself included a full day in Porto at voyage's end. Here's our first-hand feedback from our Porto land exploration.
One-Michelin Star Cantinho do Avillez
Food first! During the start of our Porto exploration, we "lunched" at the one-Michelin-star Cantinho do Avillez, in downtown Porto. Definitely, if you have time for lunch, make a reservation for a table at Cantinho do Avillez. It's a casual, tasty and trendy eatery that's popular with locals and visitors alike.
This urban bistro is Chef José Avillez's first venture outside Lisbon. Offering a reasonably priced contemporary menu, it's located at Rua Mouzinho da Silveira 166, Porto, 4050-416, Portugal.
Here's the Web site with the menu.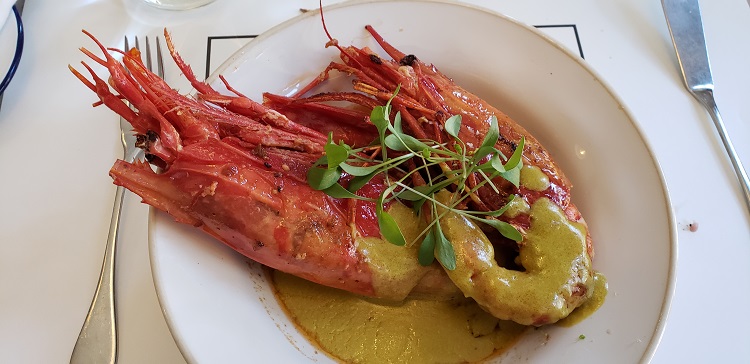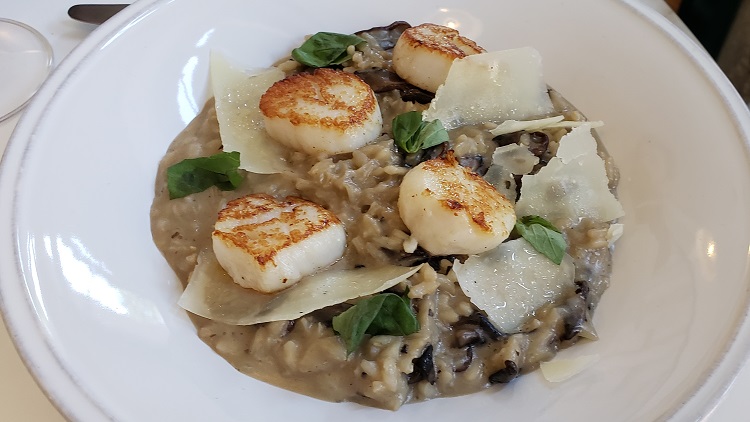 So, now that we have your attention and your mouth watering (at least for seafood fans),  let's look at what we enjoyed seeing and doing in Porto.
Here are five specific experiences to consider, plus bonus tips for a few more.
1. Exploring Porto: Livraria Lello (Lello Bookshop)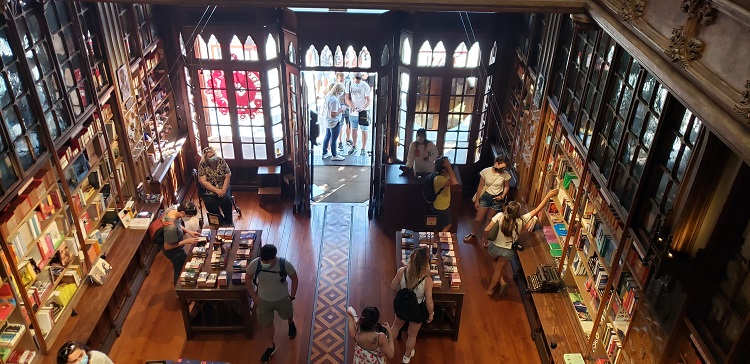 Don't miss a visit to the Livraria Lello, a stunningly gorgeous bookstore with a neo-Gothic interior. Founded in the early 1900s, it displays a wide array of books, sports a grand staircase and has a gorgeous, stained-glass ceiling.
In fact, it's such a visitor draw that only a certain number of people at a time are allowed inside. Those desiring to explore and browse inside should visit the bookshop's Web site to learn about its required ticket-vouchers for entry.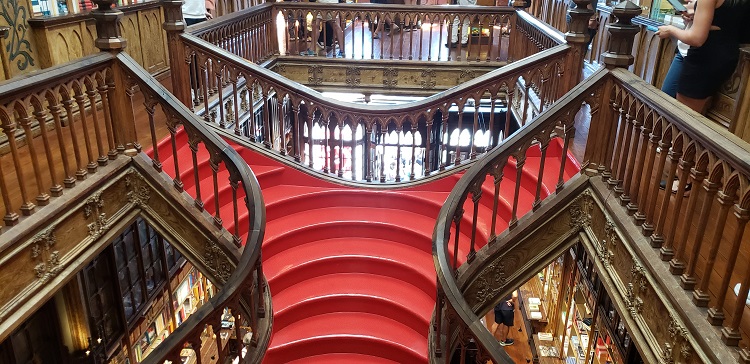 As it is,
Even with tickets, a line had formed outside during our visit. The manager told me the bookshop's goal is to control the crowds. In the past, that had become problematic with people crowding in, taking selfies and not even browsing, let alone buying anything.
Ticket-Voucher Options
So, now the bookshop requires that potential visitors buy a ticket-voucher in advance. A basic ticket-voucher purchased at 5 euros will give you entry into the book store (after waiting first in any line). While there's no obligation to buy anything inside, the voucher price is nicely applied as a credit toward any book purchase you choose to make.
Another higher level ticket option, at 15.9 euros allows  for "priority entry," plus you'll receive a free book.
Whether you desire to pop in for 15 minutes or spend an hour or two, if you love books and old bookstores, this is a delightful experience. The web site gives directions to the bookstore at Rua das Carmelitas, 144, 4050-161 Porto, Portugal.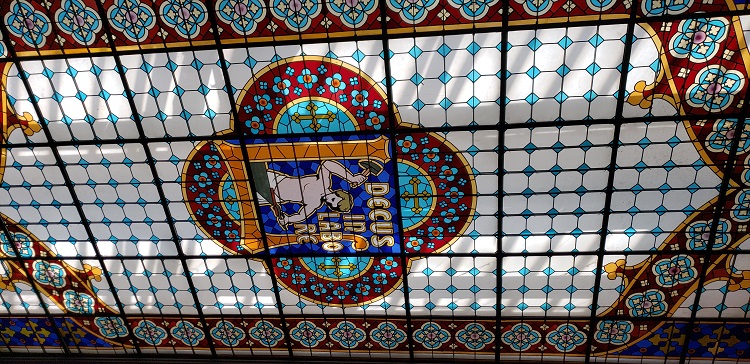 2. Exploring Porto: Azulejo Tiles & Murals
Portugal is renowned for lovely azulejo tiles (blue tiles) that adorn many historic buildings and residences. King Manuel 1 of Portugal brought these tiles from Seville, Spain, after a visit there in the early 1500s. During the Islamic era of the Middle Ages, the ocean-hued tiles became quite popular for architectural design throughout the Iberian Peninsula.
Did you know that the word, "azulejo" is derived from the Arabic word, "al zellige." Translated, that means "the polished stone." Originally in Portugal, most tiles were of geometric designs. Most were also imported from other countries and regions.
Then in the 16th century, Portuguese artists came into their own with the craft. As the artistry grew, more elaborate scenes unfolded, many of a religious nature.
To see fabulous azulejo tiles, we'd suggest visiting two churches. One is the 18th century Baroque church, Igreja do Carmo with fabulous rococo architecture.
Another perk of going here is that the Carmo Convent houses an archaeological museum with Pre-Columbian and other artifacts. While the museum has never been fully restored following a 1755 earthquake, it still has a valuable collection that's worth a look.
Another blue-tiled church is the Capela das Almas (shown in the photo below), with a magnificent exterior of blue-tile artistry. It's also often called the Chapel of Santa Catarina.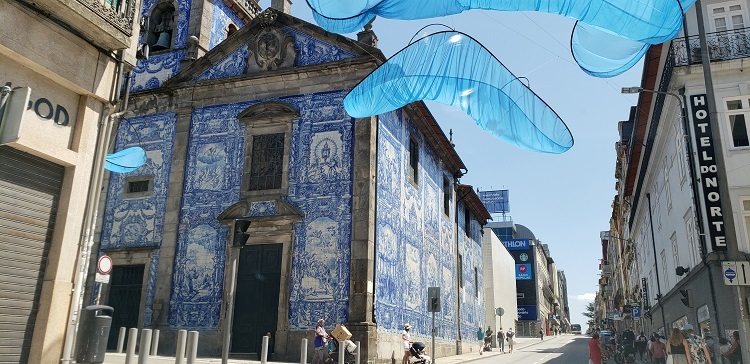 The Capela das Almas's tile exterior was created in the early 20th century by Eduardo Leite, painter and ceramist. The panels depict such scenes as the "Martyrdom of St. Catherine" and the "Death of St. Francis of Assisi," among others.
Sao Bento Railway Station
Another fabulous spot to see blue tiles in Porto is at the Sao Bento Railway Station. Many of the scenes are historical in nature — covering entire walls at the train station's entrance hall.
Reflecting 12th to 15th century historical events, the scenes cover everything from coronations to battles and meetings of "royals." 
3. Portugal Travel: Porto's World of Discoveries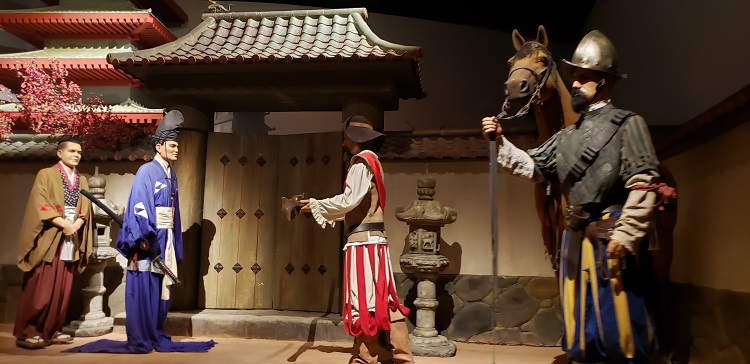 If travelers love diving into the tales of the grand era of Portuguese exploration, then the World of Discoveries will likely delight. Billed as an interactive museum and theme park, it's part history museum, part boat ride. 
The family-friendly, three-floor museum/attraction focuses on the Age of Discovery between the 15th and 17th centuries. Glass cabinets hold models of sailing ships and travelers can peruse armor, barrels and maritime items.
Definitely, it's a hoot to board a boat inside the attraction for a "Disney-esque-like" grand odyssey across the globe — from Latin America to the Far East, Africa and beyond.
Popular with adults and kids alike, the boat ride takes visitors deep into the travels of Portugal's greatest explorers including Henry the Navigator, Vasco de Gama, Bartholomeu Dias and others.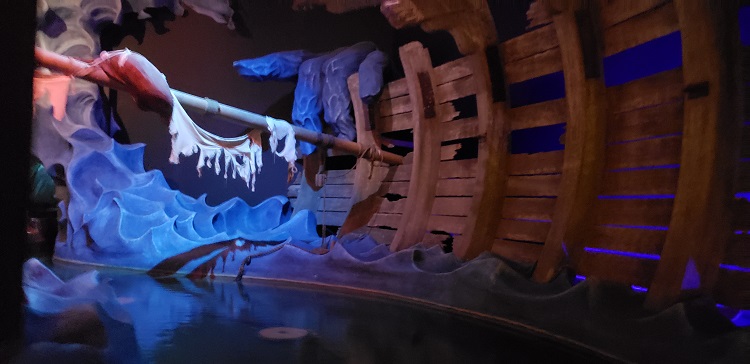 Into the Unknown
Just as the explorers did, boat riders experience what it's like inside a massive, wooden ship. They'll peruse large cannons and even the crew's cramped sleeping quarters (see photos below).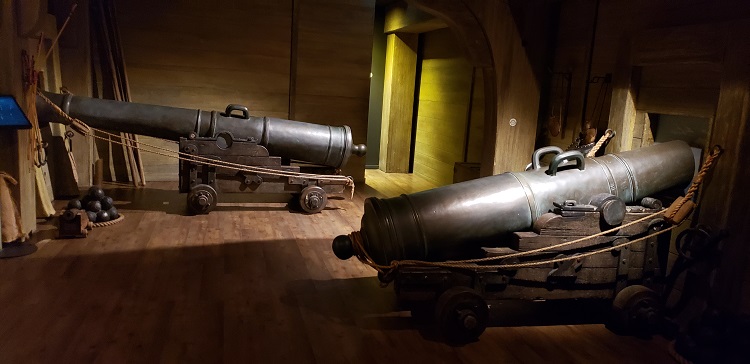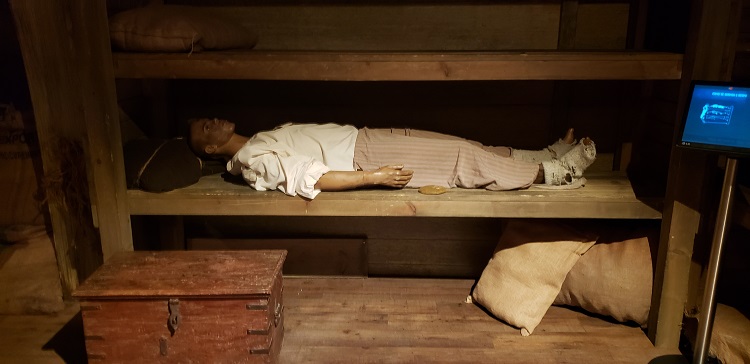 Visitors get a sense of the cramped quarters aboard Portuguese ships in the 15th to 17th centuries. Photo by Susan J. Young
In a mildly scary scene (for me at least, but probably pretty tame to many others), eerie music ensues as the boat enters a dark tunnel area. That's designed to replicate the ship sailing at night on the high seas — and into the great unknown.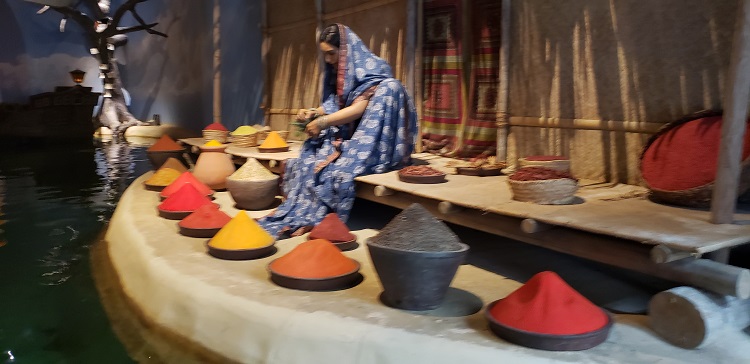 Then, visitors emerge into the light and a series of colorful dioramas showing interactions between the Portuguese explorers and indigenous peoples they met across the globe.
In the real world, Portugal's "discoveries" created new maritime routes. In turn, the explorers' maritime travels introduced Europeans to other cultures, animals and plants from across the globe.
On this ride, the themed areas feature an African elephant, jungle cat, large snake, Indian elephant and more critters too. (see photo below, and note the snake on the center log.)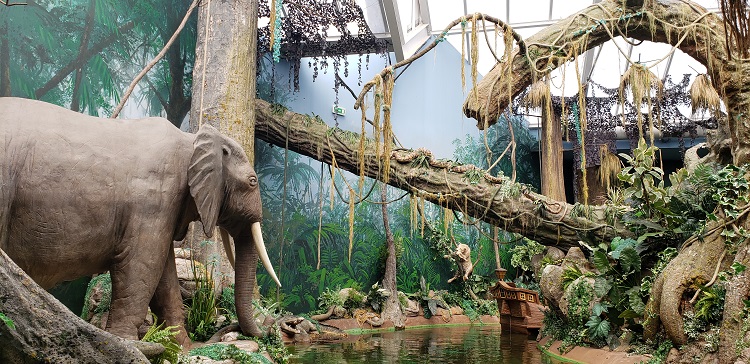 Shop and Restaurant
World of Discoveries has a very nice souvenir/gift shop, "Sphera Mundi." In addition, at the on-site Mundo de Sabores restaurant, visitors can order exotic delicacies and dishes from Portugal, Africa, India, China, Japan and Brazil.
So, if you're now ready to put on your explorer hat and head to this attraction, it's located at Rua de Miragaia, 106, 4050-387 Porto, Portugal.
4. Exploring Nearby Gaia: A Climb to Remember.
For those who'd like to get out and move, how about a fun, fitness climb up steps along a famous bridge? Yes, it's possible to climb along the Dom Luis I Bridge, which connects Porto and the neighboring city of Gaia across the Douro River.
Designed by a student of Gustav Eiffel, this 19th century bridge is famed for its double spans connected by a humongous metal arch.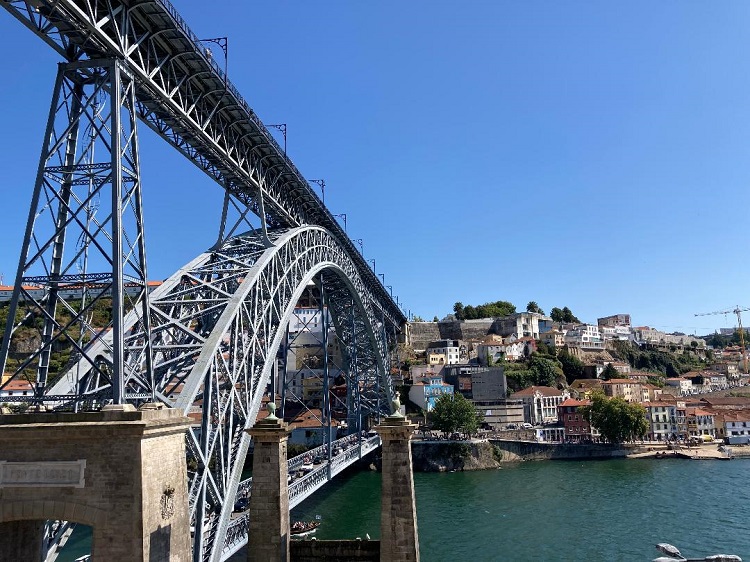 By way of disclosure, no, I didn't climb the steps along the bridge. But a friend sailing on my Scenic Azure river cruise absolutely did! Judi Cuervo, well-known travel writer and experienced world traveler, is highly adventuresome. She loves getting out to explore a city. 
So, Cuervo and a friend headed for Vila Nova de Gaia (or simply Gaia). That's the city directly across the river from Porto. Cuervo describes Gaia as "a traveler's dream with bustling cafes bordering the edge of the Douro River."
She also tells us that Gaia is home to such port wine tasting houses as Sandeman, Calem, Ferreira and Taylor; they beckon visitors with bold neon signage.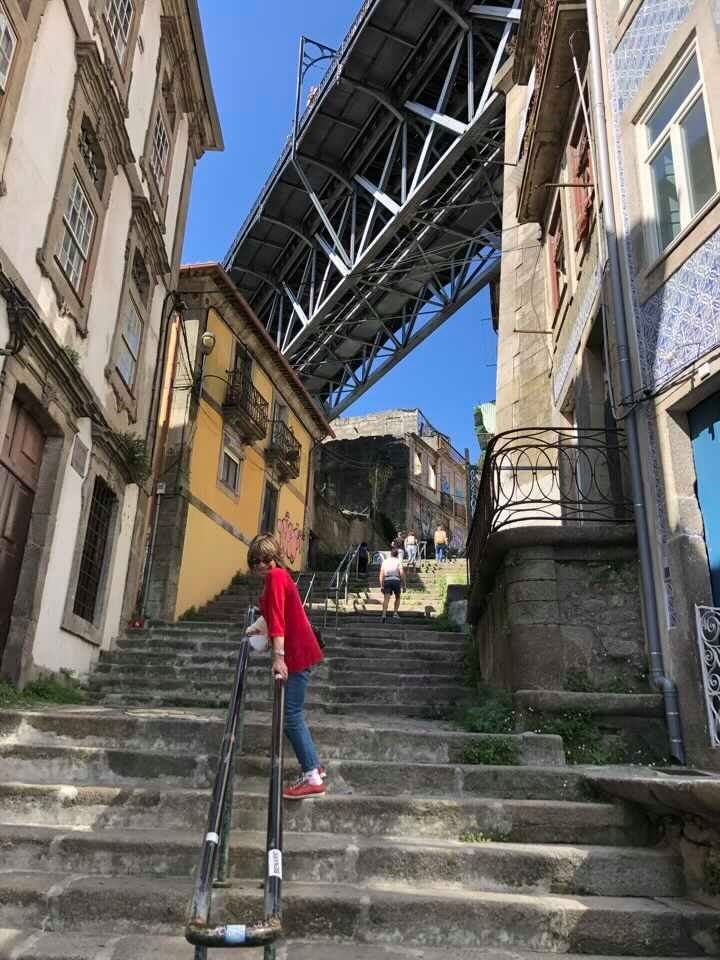 In Cuervo's view, though, "the most imposing structure along the river" is that Dom Luis I Bridge."
Making the Climb
"A stroll through Gaia will, no doubt, bring you to the foot of the bridge and the gray stone steps where you may begin a climb to the top," Cuervo notes.
Certainly those who undertake the climb along the bridge — which is free — should be reasonably fit.
From her perspective, though, "the ascent is ambitious but not overly challenging." In addition, "on the way up, shops, food stalls and rustic structures offer pleasant rest stops," she says.
At the top, "the reward is a breathtaking aerial view of the red-rooved pastel-colored buildings that climb high up into the hills, with spires of gothic churches and palaces peeking out above the panorama," Cuervo emphasizes.
She adds that "best of all, after that invigorating climb, you can indulge — guilt-free — at one of those bustling cafes or port houses that line the river's edge."
5. Exploring Porto: Contemporary Art at Serralves 

Brimming with contemporary art is the Serralves Foundation site in Porto. It's home to a large, "minimalist" Serravles Museum of Contemporary Art Museum, designed by Alvaro Siza Vieira, a Porto-based architect.
Even more gorgeous in our view is the newly reopened Art Deco-era Serralves Villa, (shown in the photo above). It was once owned by a count. The buildings are works of art unto themselves.
From our perspective, we also loved the sense of calmness felt while strolling through the sprawling parkland grounds. If you go, you'll see lily ponds, a tree-arched walkway, rose gardens and other eco-areas. 
Large, fanciful sculptures await too within the parkland and outside the museum and villa. Above, you'll see a huge spider sculpture, adjacent to the Serralves Villa. Also, below are photos of the parkland and one of the site's large sculptures.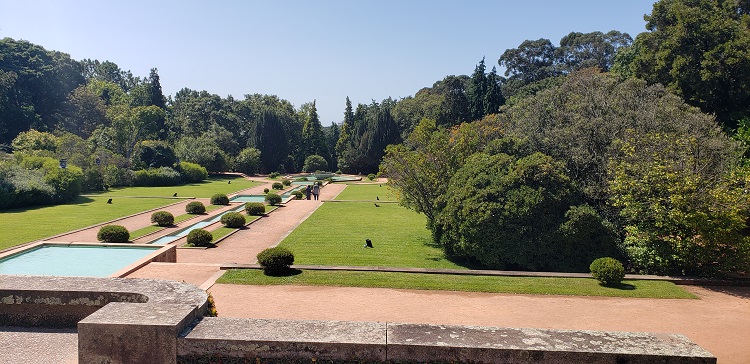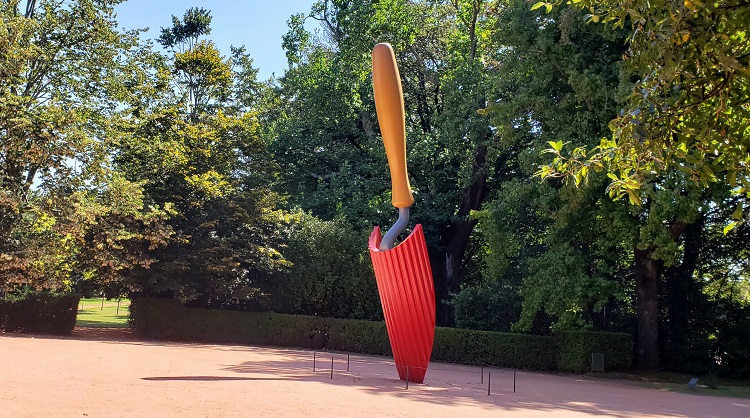 This large-scale urban sculpture, "Plantoir," is by Claes Oldenburg & Coosje van Bruggen. Photo by Susan J. Young
New Treetop Canopy
In addition, the Serralves Foundation, in collaboration with the Portuguese State Environmental Fund, has constructed a new "Treetop Walkway" in Serralves Park.
While we weren't able to experience that during our brief visit, visitors told us they loved seeing the park's bio-diversity from atop the canopy.
Here's a link to the Serralves ticketing site, so you can see the many options; one can visit the entire complex or just one museum, for example. It's located at Rua D. João de Castro, 210 4150-417 Porto, Portugal.
6. A Portugal Travel Bonus: More Porto
Other draws for Porto visitors include a plethora of historic sites. For instance, the neoclassical Palacio da Bolsa or the Stock Exchange Palace, is built on ruins of the Saint Francis Convent.
Constructed in the 19th century, this building has welcomed monarchs, presidents and ministers from countries across the globe.
Another draw is Avenida dos Aliados in the heart of the city. The large granite-faced City Hall (shown in the photo below) is one historic structure of note. But many impressive buildings line this area.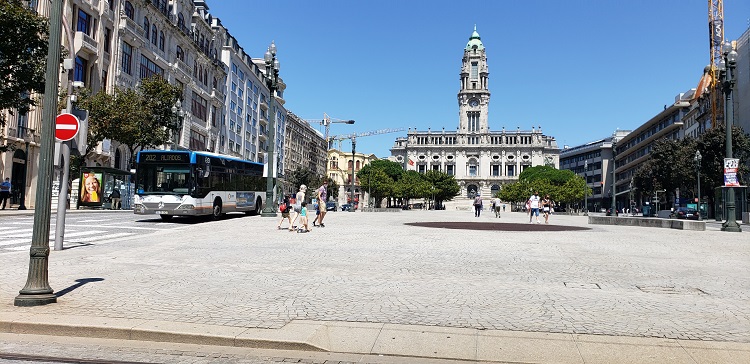 Atop the city is the fortress-like Porto Cathedral. Two claims to fame?
First, Prince Henry the Navigator was baptised in this cathedral. Second, during the 14th century, King John I married English Princess Philippa there too.
While the Romanesque-styled structure dates to the 1110s, the Gothic rose window is reportedly the only part of the cathedral's original facade.
One touring tip? Definitely, check out the Gothic cloisters, sporting gorgeous blue-and-white tiles from the 1700s.
Friendly Feel, Enticing Attractions
For wine enthusiasts, one " must-see" attraction is the World of Wine (WOW) in Gaia. After five years of development, it opened in 2020 and reflects a $117 million investment.
WOW spans 420,000 square feet and extends over many restored wine cellars. It's dedicated to "everything wine," and also offers several on-site restaurants.
Elsewhere in the area, travelers might enjoy a beachside outing along the area's Atlantic Coast or a night visit to the Clérigos Tower. A symbol of Porto, the tower is the city's highest monument. So, the night-time views are amazing.
Port Wine Haven
We'd be remiss in writing a Porto story without simply mentioning the many opportunities to "taste" port wines and other Portuguese wines including green wine (vinho verde).
During our visit, we stopped for a port wine tasting at Graham's Port Lodge in Gaia. We watched a video in the theater, then perused wine-making artifacts before getting down to business.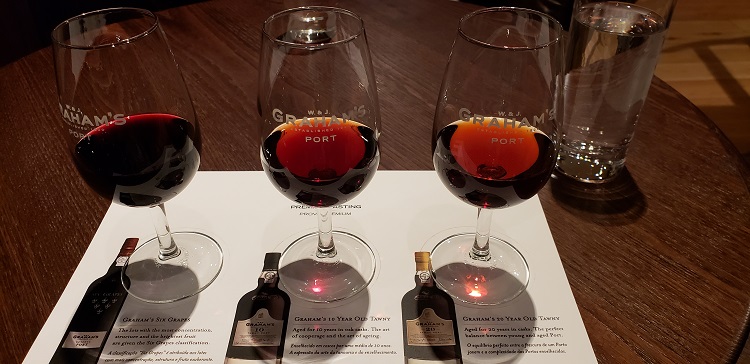 Graham's has a main tasting room, and then also a more exclusive Vintage Tasting Room, where travelers can taste some of the rarer port wines (see above photo).
In addition, if you desire a splendid dinner, consider Graham's on-site Vinum, an extention of Graham's 19th century cellars where its port wines are aged.
The restaurant's main room exudes that same historic feel with pine wooden beams supported by 1890-era iron pillars. From this historic perch, guests can also see some 3,200 barrels of wine aging in the cellars.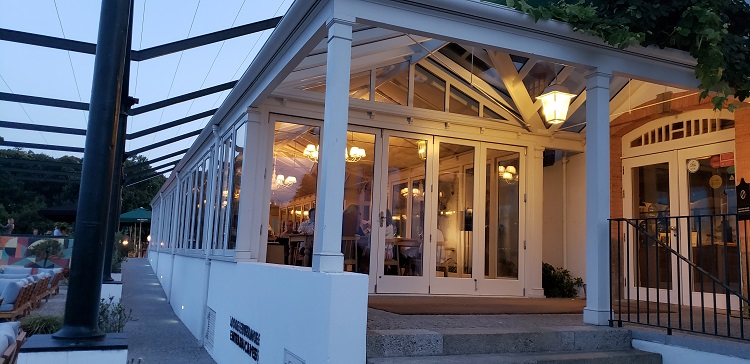 An extension of the main room, though, is the winter garden or Atrium. (See the photo above). We dined here and the rewards are clear — savory cuisine coupled with splendid views of Porto, the Douro River and the Dom Luís Bridge. 
Graham's Port Lodge is at Rua do Agro 141, 4400-281 Vila Nova de Gaia, Portugal.
The Porto Experience
After two days exploring Porto, we loved the friendly feel of the city, its unique sites, and easy access for boarding a river cruise.
Have you been to Porto and toured the city? Let us know what you liked best.
For more information on the Porto area, check out Visit Porto's Web site.  For more information on Portugal, visit the Visit Portugal Web Site.
Important Note from Pavlus Travel: For any information about a river cruise from Porto, a tour that includes Porto or independent travel there, talk with your personal travel advisor, contact us at 800-528-9300 or visit us online where you can "live chat" with an advisor too.