A river cruise is a superb way to visit many destinations or even multiple regions within a continent. So, why not layer a "themed" cruise — one that fits your vacation style and favorite activities — on top of the already-great experience? In terms of best vacation ideas, themed cruises are certainly a way to rachet up the fun!
Varying in how they're set up, themed cruises have "many looks." On the grandest scale, the line itself will sell the entire cruise as a themed voyage, or the group presenting the themed programming will charter the entire river vessel.
More commonly, though, themed cruises are within regularly scheduled voyages.  Sometimes, it's the line itself that sets these up; other times it's a club, organization or travel agency.
Guests who book into the themed group receive more targeted programming.  Sometimes, that programming is exclusive solely for the themed group. Other times it's for all guests aboard. 
Also, some river cruises have major themed special events that guests can attend. That's perfect for those who love a particular activity or interest. Think of it as theming for the day.
Whatever the approach, theming gives travelers the opportunity to enjoy their favorite activities. The choices are prolific, but here's a sampling of options.
Themed Sailings: Wine-Focused Cruises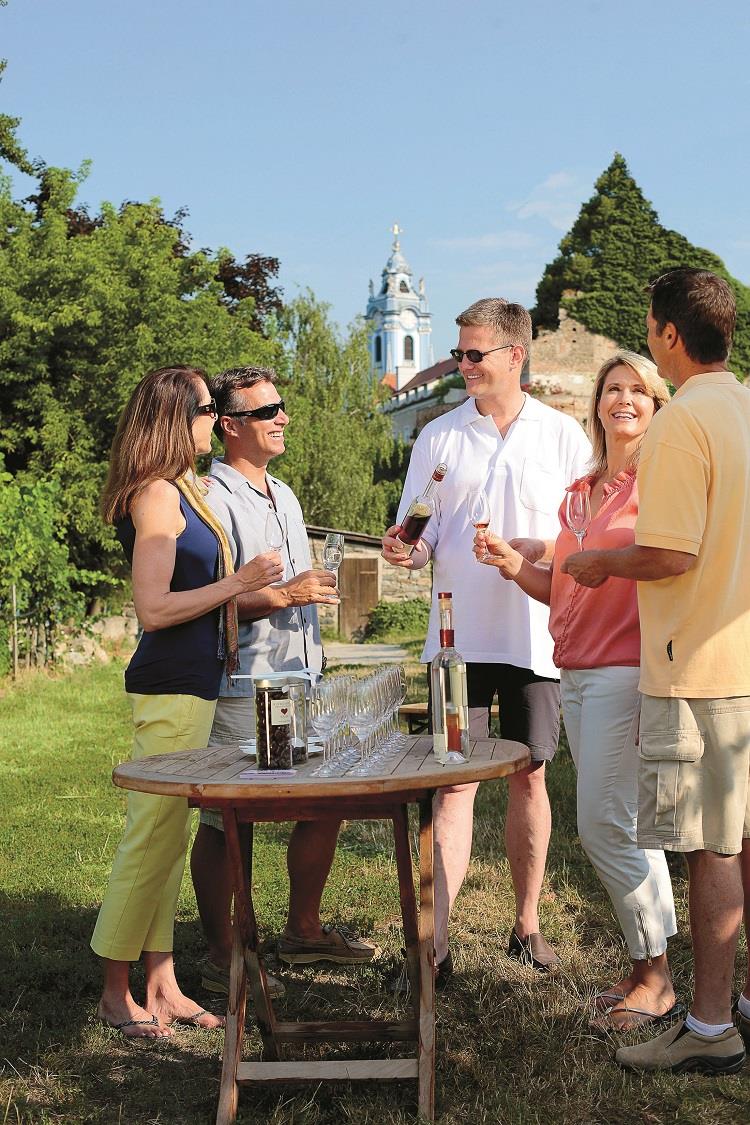 Given the regions that many European river cruises operate in — such as on the Seine, Rhone/Saone and Dordogne rivers in France, the Rhine River in central Europe, the Po River and Venetian Lagoon in Italy and the Danube in southeastern Europe — it's easy to find wine-focused activities within most voyages.
But again, for rabid wine enthusiasts, why not take that a step higher with a wine-themed river cruise? Many cruise lines have wine-themed cruises. For example, AmaWaterways offers 60 wine themed cruises in 2022, and plans others next year too.
What's special? A wine expert host (vintner or sommelier, for example) will sail on each designated wine-themed cruise to mix and mingle with guests.
The wine hosts will offer lectures and bring hand-selected wines (often from their own winery's cellars) to serve during special meals aboard the ship.
He or she will also lead wine-focused activities ashore. For instance, guests will travel to wine estates, vineyards and wine cellars for tours and tastings.
They'll meet local vintners and also learn how to pair food and wine. For 2023, the wine hosts have not yet been announced (at press time).
Melodies of the Danube
Looking to voyages in 2023, one example of an AmaWaterways wine-themed itinerary is "Melodies of the Danube," which operates between Vilshofen, Germany and Budapest, Hungary. Departure dates include:  March 27 on AmaBella, April 1 on AmaViola, August 21 on AmaVerde, November 5 on AmaLea and November 11 on AmaViola.
At press time, the fares for the April 1, 2023, departure, for example, started at $3,199 per person, double occupancy in a cabin. A 50 percent single supplement is charged, except in AA+ and suite categories (then it's 100 percent). Talk to a travel advisor, though, for the latest pricing and availability.
Themed Cruises: Explore Your Creative Side
During American Cruise Lines' U.S. voyages, it offers some cruises designated as themed cruises, where essentially the entire voyage is themed naturally given the destinations — a Mark Twain themed cruise along the mid-Mississippi River region or a Lobster Bake cruise in New England, for example.
But other themed cruises are those that offer an extra layer of special interest activities on top of the regular itinerary. For example, the line's "Art Immersion Cruises" are offered on multiple sailings on multiple itineraries.
Throughout these designated Art Immersion voyages, here's what's special: An onboard artist-in-residence will offer step-by-step watercolor and mixed-media instruction throughout the cruise.
He or she also will lecture aboard. Also, at times, toward the end of a cruise, the host will set up an onboard art show where guests can display their creations.
We experienced this in the past on an American Harmony sailing and can report that the guests really "got into it." They developed a great rapport with the artist-in-residence and eagerly showed up for classes.
Guests — including those who didn't participate in those classes (myself included) — really enjoyed seeing the other guests' art creations during the art show.
Painting Afloat 
So, if you're interested in art but have never had the opportunity for instruction, here's your chance. Or, if you're already an artist and just want to indulge your passion on vacation, it's another fun option.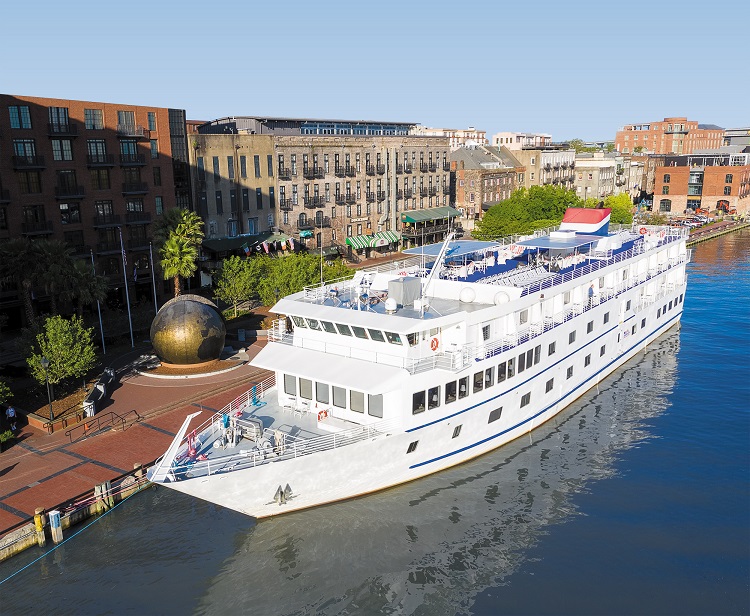 For example, later this year, ACL will offer three art-immersion cruises on its "Great Rivers of Florida" sailings by the 100-passenger American Star, shown in the photo above. Departures are on November 20, November 27 and December 4, 2022.
At press time, fares started at $3,950 per person, double occupancy, for the December 4 sailing, for example; the single cabin with balcony option was sold out on this sailing. Fares and availability of accommodations can change rapidly, so please check with a travel advisor for the latest.
American Star offers one fully accessible cabin, #213, on this ship. But an ACL spokeswoman adds that:  "The staterooms are all large and we also have additional items available to add to staterooms."
For example, the line can provide such items as a shower bench, hand-held shower head, raised toilet seat, medicine refrigerator, sleep recliner, wedge pillows and even a potty box for service animals.
Themed Cruises: Bring the Family! 
A river cruise is an easy way to travel through Europe – no continual packing and unpacking, yet travelers explore a new destination nearly every day. While most river cruises attract an adult crowd, some lines have designated family sailings that are perfect for multi-generational travel with kids.
For example, Uniworld Boutique River Cruises offers many types of themed cruises, among them "Generations" sailings on select European river cruises. These voyages are targeted at families and hosted by local experts.
Among the perks are:
Two dedicated Family Hosts to oversee all activities for Junior Cruisers (ages 4 to 12 years) and Teen Cruisers (ages 13 to 17 years).
Excursions that are tailor-made for families and hosted by local experts.
Kid-friendly menus for each meal and unlimited beverages onboard.
A Young Travelers' Table, a special dining table reserved on certain nights just for younger guests and Family Hosts (Translation? Mom and dad get a break and can relax and enjoy cocktails, entertainment, a stroll or a romantic dinner without the kids in tow).
Onboard activities just for kids, such as cooking classes and dessert-making with the ship's chef and pastry chef.
Hands-on craft workshops tailored to the destinations visited.
A young travelers' lounge and game room, complete with PlayStation, games, movies and local treats. Opportunities to "Live the Lingo" and learn words and phrases in other languages from our Family Hosts
Supervised kids-only movie nights with family-friendly films and popcorn.
A special VIP ship tour with the ship's captain or hotel manager.
Complimentary use of bicycles, helmets and Nordic walking sticks for use ashore.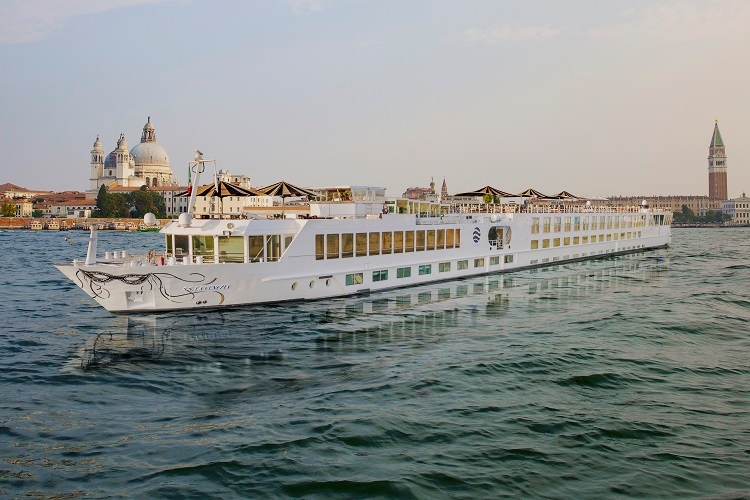 Venice, Here We Come
Convenient departures are scheduled during summer and winter breaks. One such voyage, for instance, is the eight-day "Venice and the Gems of Northern Italy" sailing, which operates roundtrip from Venice, Italy on July 3, 2022.
Among the itinerary highlights for cruisers on that "Venice and the Gems of Northern Italy" sailing is an after-hours lighting ceremony (without the crowds) inside St. Mark's Basilica in Venice. In Chioggia, Italy, families also can head out on the line's fun "Bike the Beaches" excursion. The entire family will enjoy stops at Adriatic beaches and capping off the outing with a cool gelato.
Contact your travel advisor for accommodations and fare details, based on how many people in the family are traveling on the same voyage, when you'd prefer to go, and what accommodations you desire. Sometimes group rates may apply or not.
Themed Events: Music & Lee Greenwood
Rock, swing, sway and sing along during American Queen Voyages' voyages along the Mississippi River that ply waters rich in musical history — from blues to rock & roll, country and other genres. Depending on the voyage, look for some musically themed onboard activities such as as a late night country music jamboree, sock hop or blues jams.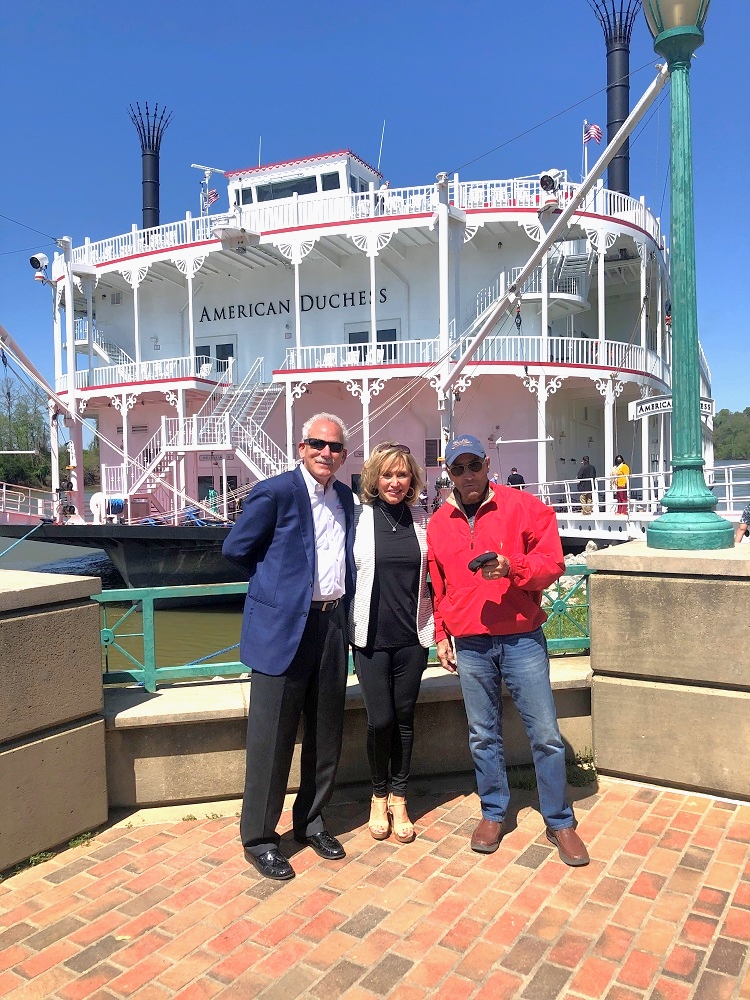 Some cruises, though, are "special event" focused, with a singular, musical draw (not the entire voyage). But again, for those who love a particular music genre, these should be enticing.
In particular, select cruises this summer will feature country music legend Lee Greenwood, a resident of Clarksville, TN.
He's a long-time friend of the line. (See photo at right showing, left to right, John Waggoner, the line's chairman, his wife Claudette and Greenwood.)
Lee Greenwood Appearances 
In total, the country music star will join three AQV voyages this summer. Look for Greenwood to come aboard for one day during these sailings:
June 27 on American Countess from Louisville to Nashville (Clarksville);
July 3 on American Queen from Memphis to Nashville; and
July 10 on American Queen from Nashville to Memphis.
Boarding in Clarksville, Greenwood will mix and mingle with guests onboard and also perform his iconic hits, including "God Bless the U.S.A." He will not sail on the full cruise.
The July 3 "Star Spangled Cruise" on American Queen starts at $2,599 per person, double occupancy, for example.
Add-On Nashville Package
Guests sailing on cruises ending in Nashville can also choose to experience a two-night "Nashville Music City Stay Package," which features some of Nashville's most celebrated and renowned musical attractions, including the Grand Ole Opry and the Country Music Hall of Fame and Museum.
With the City Stay Package, not only will guests get a behind-the-scenes look at the Grand Ole Opry through a backstage tour, but they can also enjoy one of the institution's acclaimed, once-in-a-lifetime music performances. Tours of the Country Music Hall of Fame and Museum are also available for guests.
Available on multiple sailings throughout the 2022 season, the expanded Nashville City Stay package also includes luxurious accommodations at the Gaylord Opryland Resort and an American breakfast at the hotel each morning, in addition to roundtrip ground transportation. AQV tells us the package starts at $699 per guest.
Another Themed Event that Wows!
For flora lovers out there — for people who love flowers or gardening — this is the year of Floriade 2022.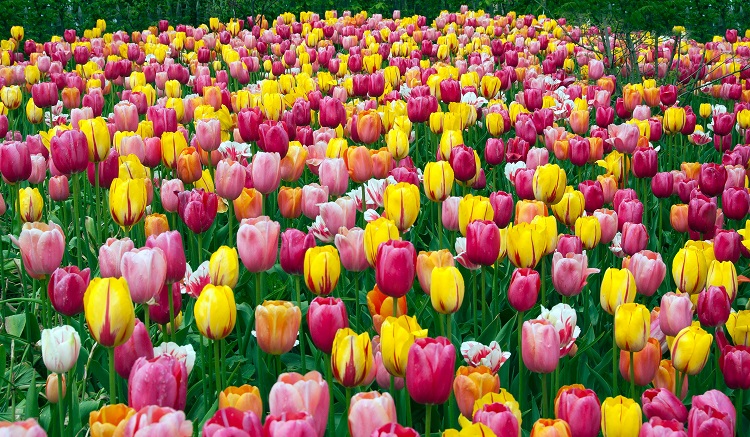 Think of it as the "world's fair of horticulture," a once-a-decade event that unfolds outside Amsterdam, the Netherlands. Postponed from 2021, it now will run between April 2022 and October 2022.
Many river cruise lines including Tauck have secured tickets to the event and cruises that include Amsterdam may feature Floriade. While the entire cruise isn't themed around Floriade, it's clearly a big part of the itinerary for many guests.
On most of its eight-day "Cruising the Dutch Waterways" sailings on the Rhine River, Tauck will offer guests a chance to head for Floriade; fares begin at $4,190 per person double.
The first cruise Tauck offers with time at Floriade is an April 13 departure; guests can explore the grounds on April 18.  Then the Floriade is included for multiple departures of this same itinerary throughout late spring, summer and early fall 2022; the only exception is the October 12 sailing, which does not include Floriade.
Fragrant Blooms
Floriade features fragrant flowers and greenery from across the globe. Expect to view trees, plants, crops and flowers from 40 different countries. This year's Floriade is also focused on sustainable greenery, architecture, food, energy and healthy living.
Live entertainment, art and themed exhibits add to the mix of options for visitors.
In addition, these cruises also offer separate activities in Amsterdam, Delft and Rotterdam, the Netherlands. Guests also can visit the Rijksmuseum and Zuiderzee Museum.
Holiday Theming: Christmas on the Rivers 
While Viking says it doesn't offer "themed cruises" per se, many of  its cruises are "naturally themed," simply by region of sailing or time of year. For example, the upscale line offers a wide range of European Christmas cruises including those celebrating an Old World Christmas on the Danube or Rhine rivers. That happens for other river lines too.
What's special? Cruisers can soak up the holiday spirit by strolling on a cool day through festively decorated Christmas markets. Browse lovely, home-made crafts, hand-carved toys and creative holiday ornaments at local market stalls. Listen to carols or sing along if you like!
During the experience, you might also sip on a spicy glühwein and savor yummy gingerbread cookies. Frankly, nothing puts cruisers in the holiday spirit as much as a Christmas Markets cruise does.
In addition, those guests who so desire often can head out to a local church for services. Depending on the voyage's timing, they may be able to attend Christmas Eve or Christmas Day services.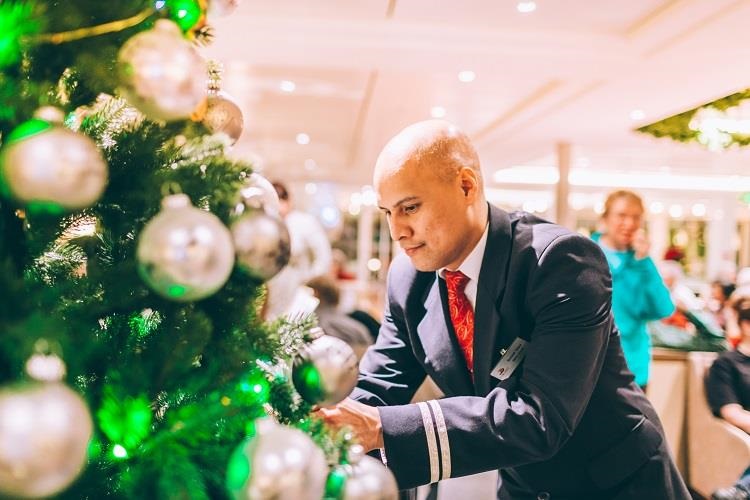 And onboard, the river vessel is dressed in holiday attire with everything from holiday trees (see photo above) to decorations. As the aroma of freshly baked cookies fills the air, crew and guests really get into the spirit of the season at special events or with carol singing.
U.S. Holiday Spirit
In late 2023 and in late 2024, Viking also comes to the United States with its first Christmas cruises on the Mississippi River. Guests will depart on an eight-day "Mississippi Holiday Season" cruises between Memphis and New Orleans.
One nice perk is that five guided tours are included in the cruise fares, which start at $3,999 per person, double occupancy.
On tap for these Lower Mississippi River voyages are special holiday experiences too. Among them? Cruisers will have exclusive Privileged Access to Graceland, Elvis Presley's Memphis home, lovely all year round but particularly when it's all decked out for Christmas.
Lighting Displays, Savory Cuisine
In addition, cruisers can check out the light displays in Natchez, MS, and Baton Rouge, LA. When the munchies hit, they can head out to savor Cajun cuisine or traditional dishes of the Old South. Of course, it's also the season for "shop 'til you drop" activities in New Orleans.
These are just a few of the many river cruise options for themed experiences or special events that appeal to a particular interest.  Other themed cruises involve U.S. Civil War History, culinary programming, Jewish heritage cruises in Europe and more.
We also previously wrote a two-part blog series about how to customize your vacation experience. That may provide other ideas for personalizing your vacation. Here's Part One of that series, as well as Part Two.
When it comes to finding what you love to see and do on vacation, many river cruises fit the bill.
Important Notes from Pavlus Travel:
This is a blog site designed for "basic, general information" about travel; it's not staffed by travel advisors.
So, please don't use the Reply Section below if you are asking for pricing, travel dates, accommodations, brochures or other requests of a specific nature.

That said, we are most happy and eager to assist you. Here's how…

If anything does tweak your interest in the story and you DO have questions about specific pricing, brochures, savings, accommodations, accessible options and so on, instead contact us at

 800-528-9300 or visit us online at Pavlus Travel's official agency Web site;  there you can "live chat" with us online too!
Thanks for reading!