Ready for a beachfront getaway? Desire to "bundle" the fun with fantastic inclusions? Then, head to an all-inclusive tropical resort!
Soon, you'll be soaking up some rays, kicking back with a cool drink and enjoying pool and beach play. But you won't need your wallet, as that's the beauty of an all-inclusive resort.
The tab doesn't keep going "cha-ching, cha-ching" as you order this or that drink. You won't create a huge tab to pay at the end, just because you grab a snack or watch a live musical performance.
Typically, the room/suite, dining, on-site entertainment, drinks including alcoholic beverages, waterpark play and nonmotorized water toys, are commonly part of an all-inclusive resort's rates. The inclusions vary by property, but often the list of perks goes on…
Perfectly Playa
Running an all-inclusive resort requires a skilled, veteran operator or hospitality management firm that understands what guests need and want. So, let's look, for example, at Playa Hotels & Resorts, which owns, operates/manages or develops all-inclusive beachfront resorts.
At last count, the company offered 22 different all-inclusive resorts with 8,366 total rooms in Mexico, Jamaica and the Dominican Republic.
If you're thinking, "I'm not familiar with Playa," that's probably because many of the resorts are "flagged" with Playa's partner names. For instance, you'll see such well-known brands as Hyatt, Wyndham or Hilton, for instance. Here's a couple of examples.
All-Inclusive Resorts: Hyatt Ziva & Hyatt Zilara, Cap Cana, D.R.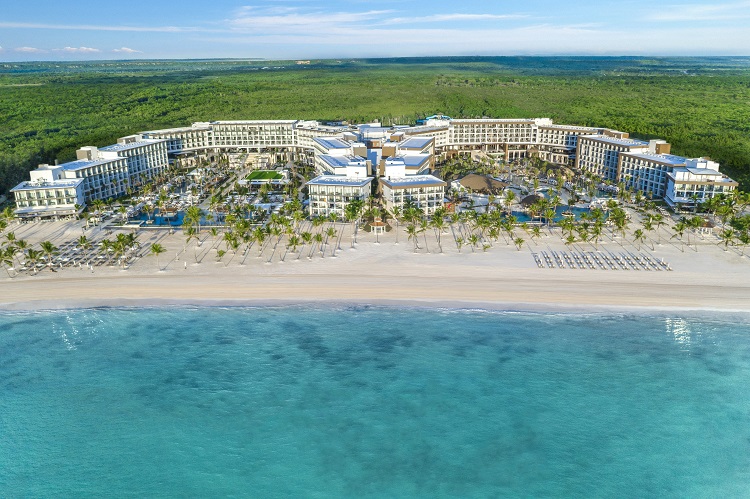 Hyatt Ziva Cap Cana and Hyatt Zilara Cap Cana are shown above. Photo by Playa Hotels & Resorts
Along Juanillo Beach, Hyatt Ziva Cap Cana is the newest all-inclusive, "all-ages" resort — built from the ground up — in an exclusive area of the Dominican Republic.
Located in a pristine setting, this lovely, family-friendly resort isn't crowded by other signs of "civilization." This resort offers 375 accommodations.
What's nifty too is that Playa also manages the adjacent, nearly new Hyatt Zilara Resort, an adults-only resort, also with 375 accommodations at Cap Cana. You can see both resorts in the photo above; each is horseshoe-shaped in design.
To stay at either resort, guests arrive at Punta Cana International Airport in the Dominican Republic. Opened in November 2019, the resorts are just a 15-minute ride by taxi or car from that airport.
Top draws at the all-inclusive resorts? Guests enjoy all-inclusive luxury surrounded by local culture, ocean views and such amenities as sprawling infinity pools, a water park with a lazy river and slides, floating swim-up suites, six unique restaurants and seven bars and lounges, a world-class fitness center and more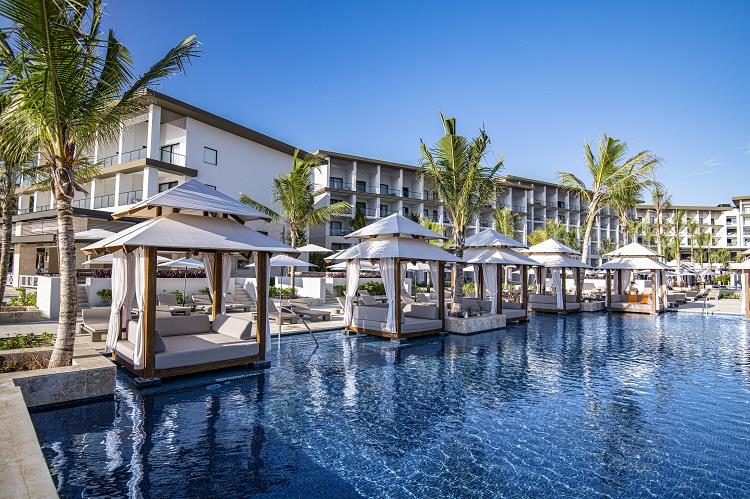 This all-inclusive resort complex is also minutes away from championship golf courses. Also nearby are a state-of-the-art marina for deep-sea fishing departures, eco-parks and other attractions.
So, what's included? Both properties have unlimited dining with extensive themed options. Those include a la carte restaurants, gourmet buffets, bars, lounges, food carts and 24-hour, in-room dining.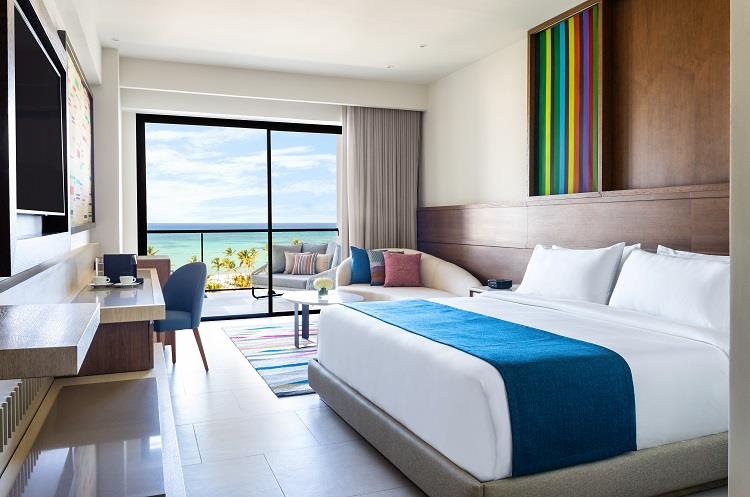 Drinks and More
As for drinks, those too are endless. Seven bars and lounges await, and adults can order unlimited cocktails, spirits, beer, wine and soft drinks; all are included in the nightly price. In addition, the mini-bar is restocked daily too.
Guests can keep in touch with family and friends back home via free Wi-Fi.  They can continue their work-out regimens at the resort's 14,000-square-foot fitness center. For instance, it features a separate cardio area, strength zone, TRX training and spinning room.
If you love exercise classes, you'll like that these two resorts offer yoga, step and Pilates classes.
Activities Galore
So, how about a game of water volleyball or an aqua gym class? That's doable. Guests can also watch cooking demonstrations, enjoy live entertainment and enjoy non-motorized watersports.
And kids and adults alike will likely love the fun features of the resort's water park. One of its thrilling slides is shown in the photo below.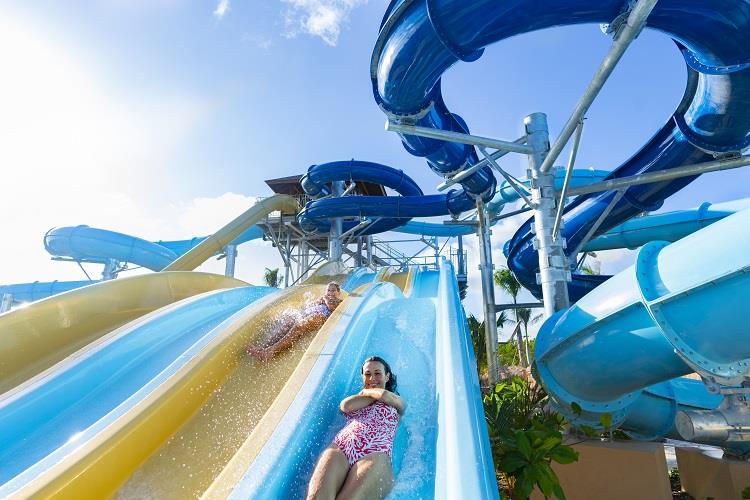 A 300-seat, open-air theater is the "hot spot" for nightly live performances. Adults staying in the all-ages resort also will have access to the adults-only resort facilities, such as the full-service Larimar Spa, and vice versa too.
Just for kids, the Hyatt Ziva also offers a children's club and teen lounge. So, kids will be both occupied and happy during their vacation.
No Resort Fees
One big plus? Guests pay no resort fees. At press time, nightly all-inclusive rates for the two resorts' "entry-level" or "base" accommodations started at:
Hyatt Ziva Cap Cana :$426 per person, double occupancy (tax included ) for the base category.** Single occupancy in the same category was $374 nightly.**
Hyatt Zilara Cap Cana: $467 per person, double occupancy (tax included ) for the base category.** Starting nightly base pricing for solo travelers is $414.**
**Important: These are the starting prices for the lowest-level (base) category;  pricing increases for higher level accommodations. So, talk with a travel advisor to get the best pricing in the accommodations category that meets your needs. Prices shown above and availability are subject to change.
Here's the property fact sheet from Playa for the Hyatt Ziva Cap Cana. Definitely, the first page gives a good overview, with more detail than what's mentioned above. In addition, here's a property fact sheet for the Hyatt Zilara Cap Cana.
Wyndham Alltra Cancun in Mexico's Yucatan Peninsula
Playa's newest branded resort is the Wyndham Alltra Cancun, a sprawling, all-inclusive Mexican beachfront resort.
What's special? With 458 rooms, this family-friendly resort was designed to give the "everyday traveler" an outstanding, all-inclusive hotel experience. So, it has accommodations that are a bit easier on the budget.
In fact, the Alltra brand is new for Wyndham — created in a strategic partnership with Playa. Look for other resorts to be similarly branded.
In case you're wondering, the name "Alltra" reflects a philosophy of "All-Inclusive Travel for All."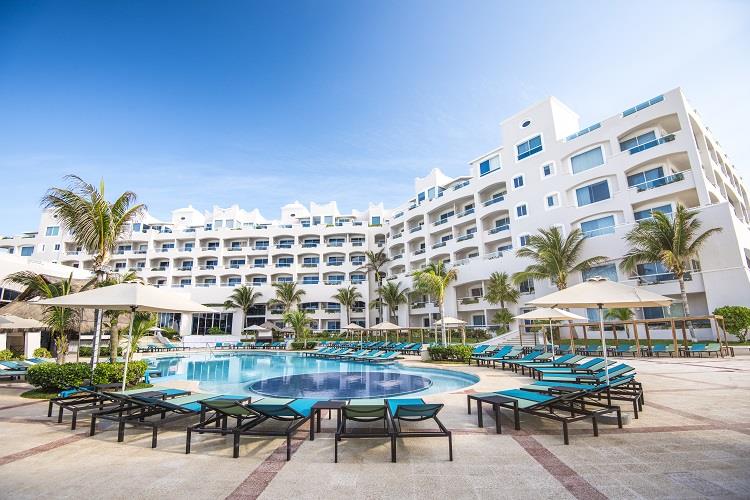 Family Fun in the Sun
Situated in Cancun's lively Hotel Zone, the Wyndham Alltra Cancun All-Inclusive Resort offers a great escape. Guests include solo travelers, couples, families and groups. It's just 13 miles from Cancun International Airport (CUN).
What's on site? Guests will discover an unending flow of drinks and food at 10-plus restaurants, bars and lounges. Also, this resort has multiple pools. In addition, its robust portfolio of "included" activities range from yoga classes to tequila tastings.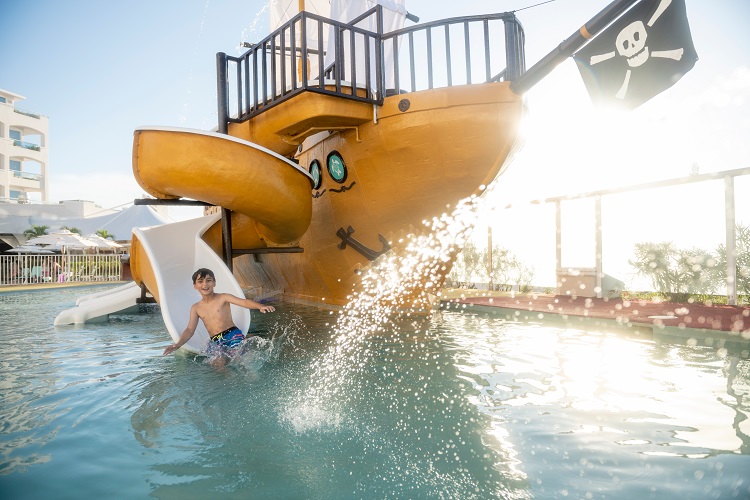 Kids of all ages will love the pirate-themed splash park (see the photo above), water slides and mini-golf courses. For children ages 4 to 12 Camp Alltra offers supervised kids' club activities
For older kids, it's nice to know that teens can spend afternoons and evenings in the #Hashtag hangout room. Throughout their stay, guests can keep fit at the state-of-the-art fitness center or participate in a group fitness class.
Well-Appointed Rooms & Suites
Wyndham Alltra Cancun's rooms and suites are all well-appointed. Best of all, guests can enjoy Caribbean Sea views from their terraces.
Even entry-level rooms offer 387 square feet of space. Guests staying in those accommodations can expect plush bedding, an inviting sitting area with table and chairs, a stocked minibar and room service.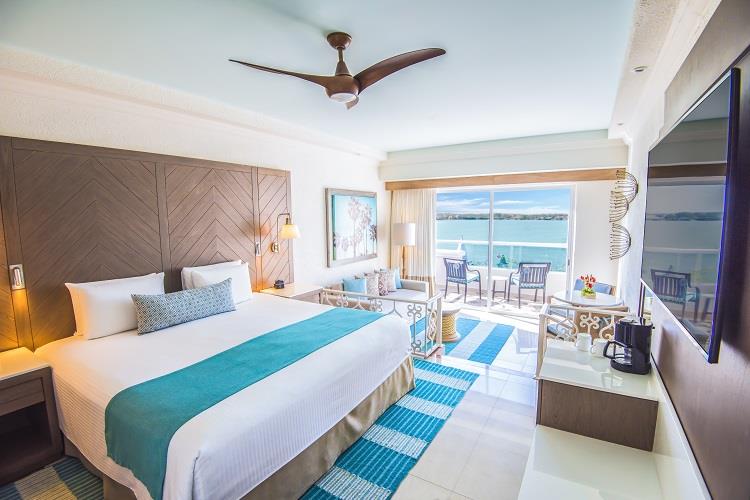 Shown in the photo above is a Premium Junior suite. It's easy to sense the airy feel of this space.
Desire the top suite? Well, if you're going "all in" for the best digs, definitely ask about the opulent, 1,366-square-foot Presidential Suite. This penthouse accommodation has two private balconies.
Guests staying in this top suite will also discover a large living and dining area, separate bedroom, exclusive beach cabana and easy Alltra VIP Club access.
What else is pampering? Presidential Suite guests can soak in the two double hot tubs, stretch out on a hammock, raid the stocked minibar and enjoy room service.
All-Inclusive Base Rates
At press time, nightly, all-inclusive base rates at the Wyndham Alltra All-Inclusive Resort in Cancun started at $251 per person, double occupancy (tax included ) .** Solo occupancy was $199 nightly for base-rate single occupancy.** Guests will discover some accessible accommodations at this resort too.
**Important: These are the lowest "base rate" category prices. So, pricing for other accommodations (beyond the entry level rooms) rises accordingly.  Talk with a travel advisor to get the best pricing and category to meet your needs. Prices shown above are subject to change, based on availability and other factors. 
Here's a fact sheet for the Wyndham Alltra Cancun with a short description of all room/suite categories. .
If you're more interested in a romantic getaway than a family vacation, consider a new sister property. Also located in the Yucatan, it's the adults-only Wyndham Alltra Playa del Carmen. A fact sheet on that all-inclusive resort is here. 
Hilton Rose Hall Resort & Spa, Montego Bay, Jamaica
Recently renovated and more gorgeous than ever is the Hilton Rose Hall Resort & Spa in Montego Bay Jamaica. Spanning 400 tropical acres, it's situated on the legendary, 18th century Rose Hall estate.
With 489 rooms, this all-inclusive, "all ages" resort delivers an exclusive waterfront location. Guests have access to a white sandy beach.
In addition, the on-site Sugar Mill Falls Water Park is brimming with fun – lazy rivers, sparkling pools and thrill slides.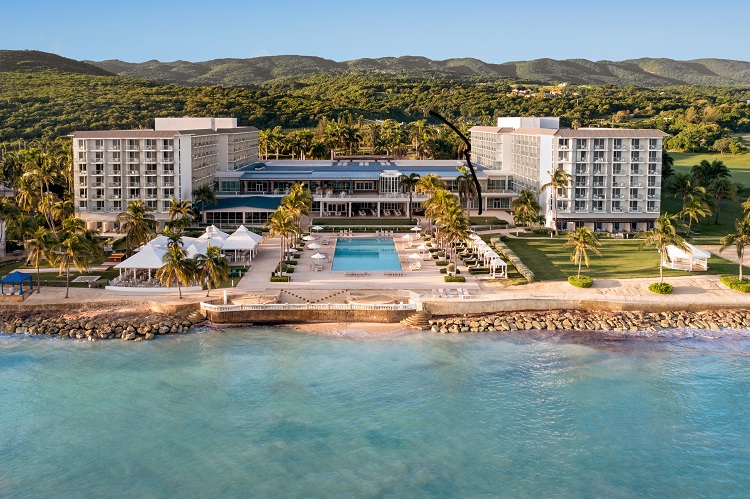 What does all-inclusive mean for guests staying at this resort?
All food including three meals a day plus snacks;
Beverages including non-premium brand liquor, draft beer and wine by the glass;
Free Wi-Fi; non-motorized watersports;
Kids Klub programs and activities;
Unlimited access to the fitness center;
Access to Sugar Mill Falls Water Park;
Unlimited access to the Internet Café;
Gourmet dining;
Tax and service charges;
Kids under 3 stay free;
Beach activities;
Services of the pool concierge; and
Activity options including kayaking and spinning classes.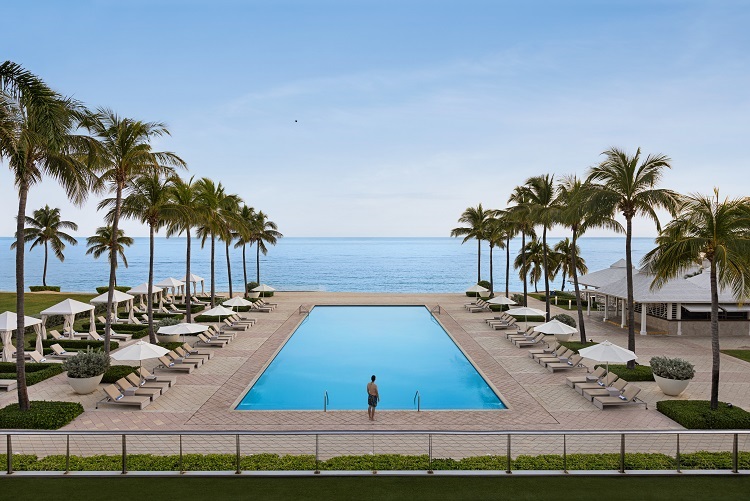 Staying in Style
As for accommodations, entry category Resort View rooms are situated amid landscaped courtyards and lawns. At 370 square feet, they're spacious and can accommodate up to four people. Bedding can be king-sized or double.
Guests can also choose Mountain View, Partial Ocean View, Ocean View and Oceanfront category rooms. Plus, sumptuous suites range from 740 square feet to 2,220 square feet. Both resorts have some accessible accommodations too.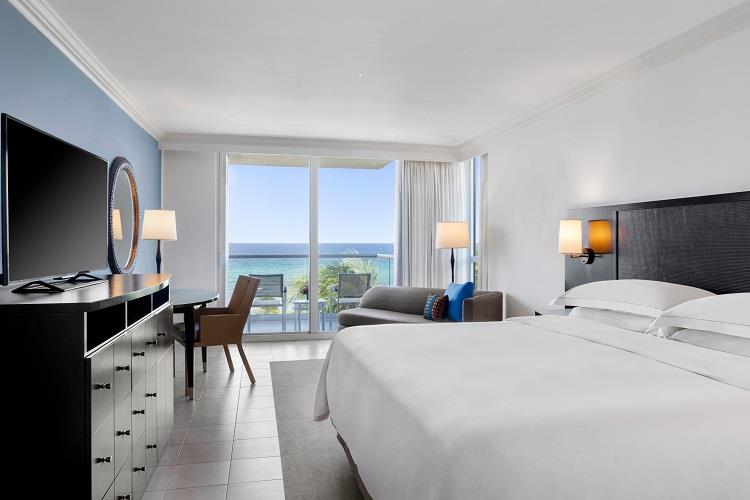 At press time, nightly all-inclusive rates at the Hilton Rose Hall at Montego Bay started at $296 per person, double occupancy (tax included); that's for the entry-level, base category.** Single occupancy base rates started at $249 nightly.** This resort also does have some accessible accommodations.
**Important: These are the lowest "base rate" category prices. So, pricing for other accommodations (beyond the entry level rooms) rises accordingly. Talk with a travel advisor to get the best pricing and category to meet your needs. Prices shown above are subject to change, based on availability, dates of travel and other factors. 
All-Inclusive Resorts — Know Before You Go
Here are a few helpful, general tips that apply when you're considering the full range of all-inclusive options in any destination.  So whatever all-inclusive resort you're considering across the globe (not simply the ones listed above), these tips apply industry-wide.
All-inclusive resorts certainly create an "easier" vacation experience for guests. The big plus is not having to constantly open your wallet. Vacationers aren't "nickeled and dimed" for everything. Also, an all-inclusive resort can be an incredible value, depending on how much you eat, drink and play.
Be sure to let your travel advisor know, though, if you desire a family-friendly, all-inclusive resort, or in contrast, one that's adults only. That can help you begin to narrow the choices.
What Exactly Is Included?
Be sure to always clarify "exactly" what's included and what isn't within any all-inclusive resort rates. Usually, even for all-inclusive resorts, some elements of the vacation may carry an added charge.
For instance, pampering spa treatments or a round of golf both may cost extra.
Dining is typically included at all-inclusive resorts. But the approach to dining can vary. Is room service 24 hours a day (as it is at Wyndham Alltra Cancun), or, in contrast, limited to certain hours?
If there's a romantic, intimate restaurant that's a hot commodity for guest dining, can you show up every night? Or is it just a once-per-stay eatery and by reservation only?
Also remember that while most food is included, some over-the-top special dishes may cost extra. For example, an extra fee might apply if you order a gigantic 40-ounce steak or a humongous lobster.
As for drinks, basic wine and spirits are usually included. But what about premium category brands? To some travelers, this doesn't matter. To others, that higher level of liquor quality matters immensely.
For example, the Hilton Rose Hall says "top shelf spirits" are included, but other resorts may not have that feature.
Tips and Dress Code?
Ask about tips. Are they included or not? Even if they are, we'd suggest taking along a stash of $1 or $5 bills (or having enough local currency) so, at times, you can reward some staffers who provide exceptional service.
Also, you'll need those kinds of tips for taxi drivers or guides who are providing services beyond the resort's boundaries.
Another good question is what, if any, dress code does the resort have? Can you show up for dinner in shorts and a tee-shirt or is the resort more "dress up" at night? It's important to find an all-inclusive that fits your vacation style.
And if you're bringing the family, ask about any requirements for use of kids' facilities. For example, as with many waterparks in the U.S., kids must have a minimum height of 3.94 feet if they desire to ride the slides in the Hyatt Ziva Cap Cana's water park. Just good to know in advance.
Ask too about what constitutes entertainment. Some resorts may offer live music while others may have a broader range of options including themed parties, fun contests or theater presentations.
What's to See and Do Beyond the All-Inclusive Resort?
Definitely consider venturing outside the resort at least once during your stay. Yes, you'll surely want to explore the resort and take advantage of all or most activities or experiences there. After all, you're paying for those in your nightly price.
But taking at least one day trip beyond the resort allows you to connect in a different way with the locals. It's rewarding to mix and mingle and to learn about local heritage and culture. For example, you and your spouse might take the Bob Marley musically-themed tour in Jamaica.
Parting Thoughts
All-inclusive resorts can be a good or great value, depending on your style of vacation. Such resorts also provide an "easy, comfortable" vacation without "nickel and diming." Guests love that drinks, snacks, meals, activities, taxes, tips and so on are included, depending on the resort.
Just check with an expert about what's best based on your vacation personality, desired destination and budget.  But one fact is clear in early 2022. After the past few years, many consumers are saying: "It's truly time for a tropical getaway. I deserve it!"
Important Notes from Pavlus Travel:
This blog site is designed for "basic, general information" about travel; it's not staffed by travel advisors.
So, please don't use the Reply Section below if you are asking for pricing, travel dates, accommodations, brochures or other specific requests. 
That said, we are most happy and eager to assist you. Here's how…
If anything does tweak your interest in the story and you DO have questions about specific pricing, brochures, savings, accommodations, accessible options and so on, please contact us at 800-528-9300.
Or visit us online at Pavlus Travel's official agency Web site; there you can "live chat" with us online too!
Thanks for reading!