Editor's Note: This is Part 2 of a two-part series about Royal Caribbean International's new Wonder of the Seas.
From vivid aqua to bright yellow, color "pops" everywhere throughout Royal Caribbean International's new 5,700-passenger Wonder of the Seas, the world's largest cruise ship.
Whether cruisers are solo travelers, couples, families or small groups of friends, they'll find the line's fifth Oasis-class ship to be fanciful and brimming with "choices."
Wonder of the Seas: Water Play Galore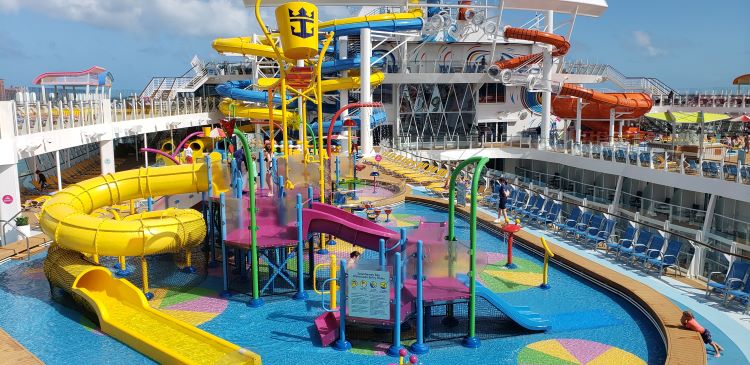 On much of Wonder of the Seas' outside deck space, it's water, water, everywhere. Cruisers will find pools of varying types, water slides, and even a new kids' water play park, Splashaway Bay (shown in the photo above). 
Designed for tots and tweens alike, Splashaway Bay is located on Deck 15 forward. The youngest travelers will delight in finding colorful waterslides, water cannons, fountains, pools and whirlpools. 
Hint? A great spot for adults to watch kids having fun there is at the Lime & Coconut Bar on the next deck up, with tables along the railing overlooking the waterpark.
On a sunny sea day, not surprisingly, guests also head for Wonder of the Seas' multiple pools. We spotted cruisers enjoying loungers both in and out of the water, whirlpools, a pool (with a lifeguard) and shallow water areas for sitting and cooling off.  (see photo below).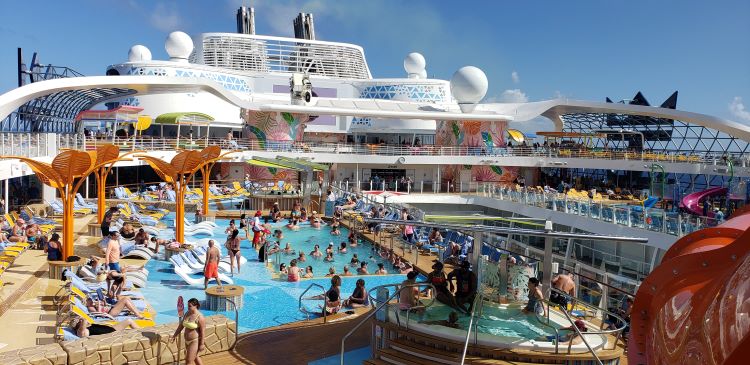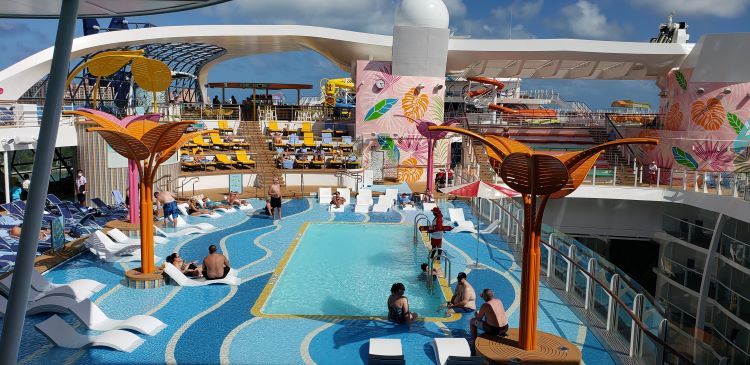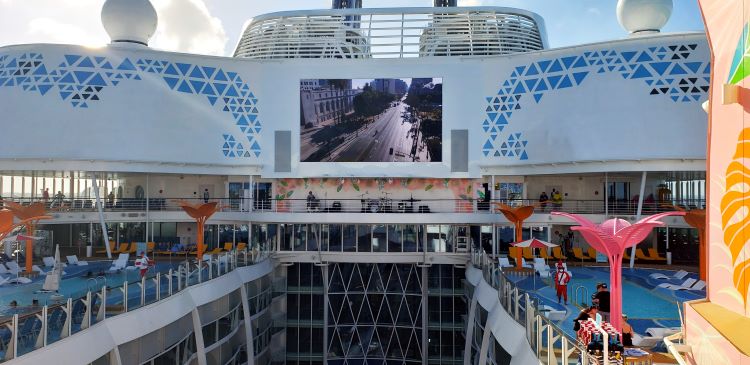 Wonder of the Seas: Slip Sliding Away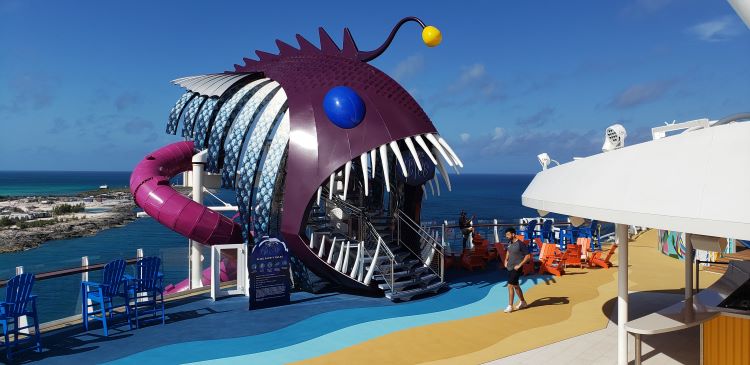 Waterplay aside, thrills rule in many attractions on Wonder of the Seas. To ride the Ultimate Abyss, the highest thrill slide at sea, one enters an eerie marine critter's mouth. Guests walk upward via a staircase, but then the action is all downhill.
Yippeee ….Guests set off on an incredible slide — 10 stories down. It's only a few seconds of action, but hefty on the thrill scale.
As the "slide" ends, participants "emerge" from the Ultimate Abyss near the AquaTheater in the Boardwalk neighborhood, far below where they originally started their slide.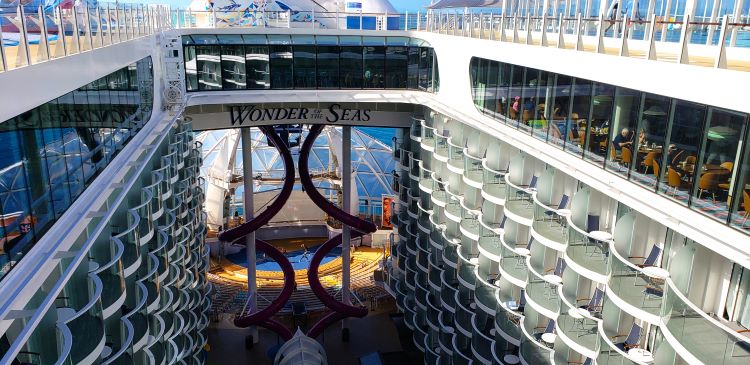 The Ultimate Abyss is the tallest slide (not a water slide) at sea — extending 10 decks. Photo by Susan J. Young.
Wonder of the Seas: So Much to See and Do!
So, what else is there to see and do on Wonder of the Seas? The ship's many activity choices include such Royal Caribbean signature features as the Perfect Storm with high-speed waterfalls and the FlowRider, a fun, surf simulator.
The ship also has a large skating rink, Studio B, which is home to entertaining ice shows for guests. Guests can also go skating themselves at designated times throughout the cruise.
If you'd like to skate, it's good to know that helmets are provided by the line and required. Also, guests are required to wear long pants and socks.
Other diversions? Active guests can also head for twin rock-climbing walls and a 10-deck high zip line. On Deck 16 aft, there's a Sports Court where we watched teens and adults "getting competitive" with a game of hoops.
Prefer soccer or dodgeball? Those activities are doable too.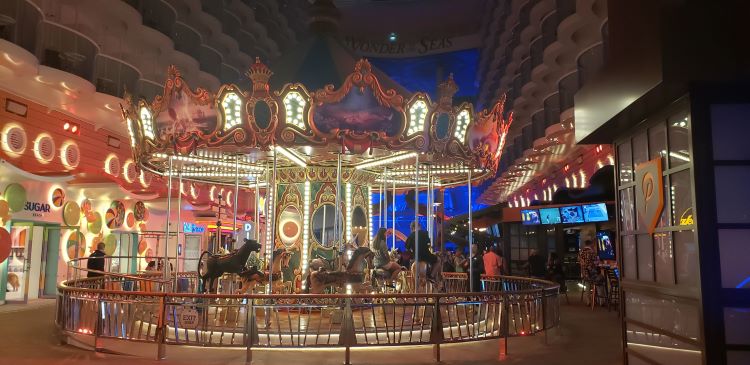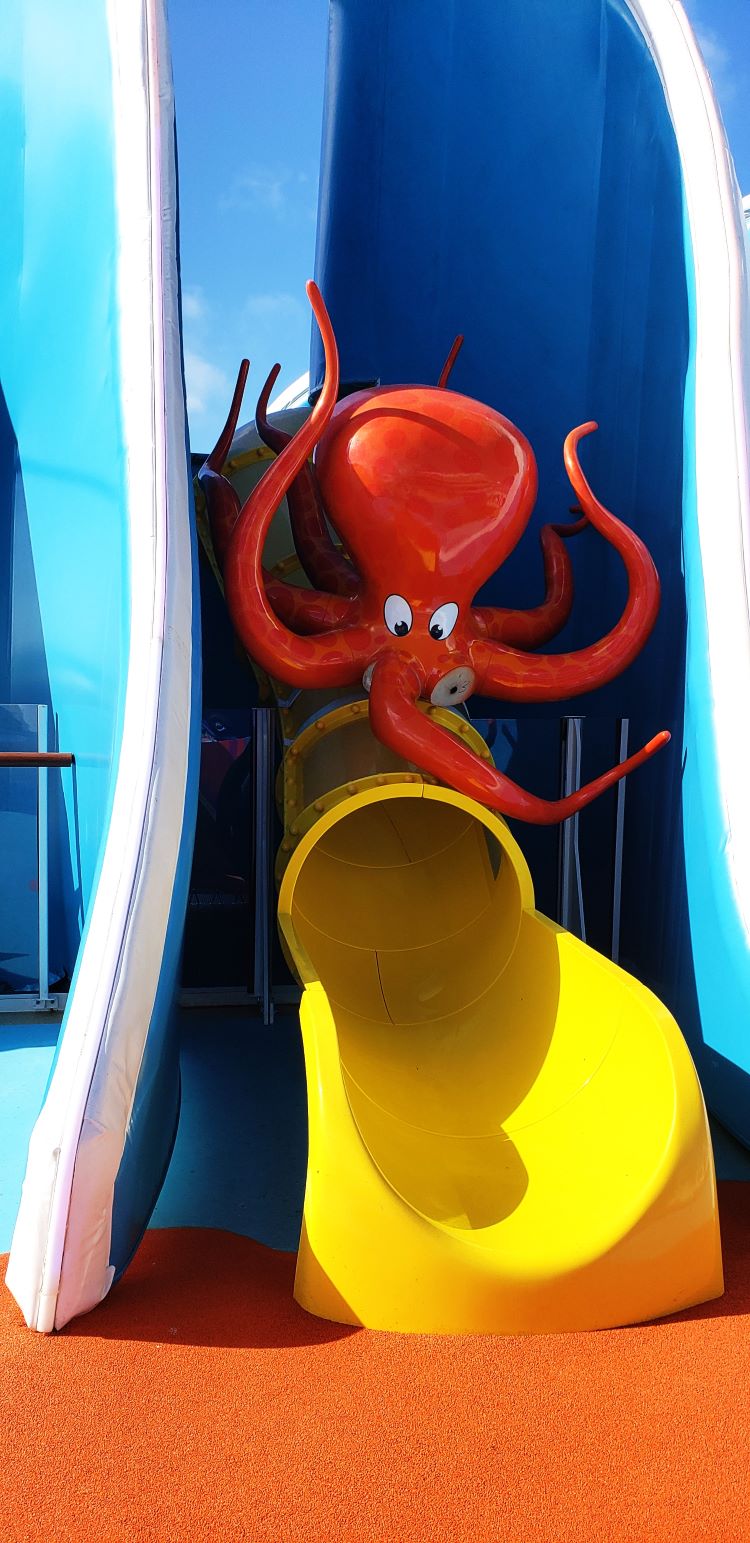 For a less active but fun experience, cruisers might head for the Boardwalk neighborhood.
On all Oasis-class ships, we've loved riding the ship's Carousel (shown in the photo above), bringing back memories of a past era.  
Boardwalk is also home to many entertaining AquaTheater shows. 
New Wonder Playscape
New to the Oasis-class ships is Wonder of the Seas'  Wonder Playscape, an interactive, open-air kids' play area with awe-inspiring views. Kids must be accompanied by parents.
But this new underwater-themed play area is a whole new adventure for families with kid-sized slides (see photo at right; photo by Susan J. Young).  
In addition, children will discover climbing walls, games, and an interactive mural activated by touch and puzzles.
We'd describe it as a creative playground, of sorts.  One popular element was the "bridge." Kids can pretend they're the captain steering the ship at the helm. There's also a compass adjacent to the helm as well.  (see photo below).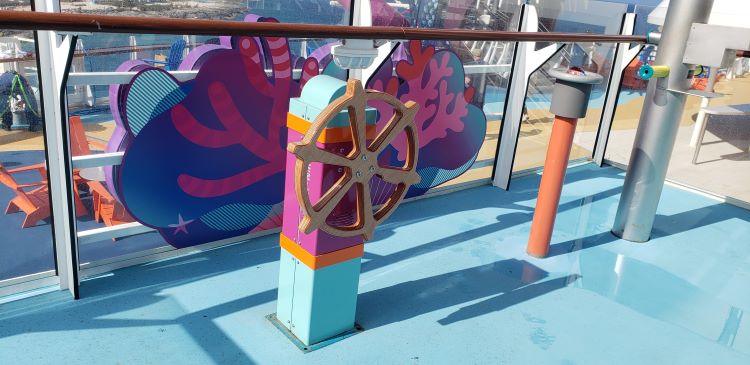 Programs for Kids & Teens
For families traveling on vacation, a big advantage is picking a cruise line with a robust, supervised kids club and teen programming.
Children like socializing with kids their own age. They enjoy playing games, drawing, watching movies together, learning about the marine world and attending themed evening events such as a pirate night or carnival games.
In turn, parents at times also love having the kids occupied– allowing the adults some "me time" or "couple's time." So, while the kids are happily engaged and supervised, how about a pampering, couple's spa treatment?
Or, alternatively, parents can take in a high-quality theater show or savor a romantic dinner at a specialty restaurant. All that's possible as Wonder of the Seas is home to Adventure Ocean, a supervised kids' club on Deck 14 forward (the entrance is shown in the photo below).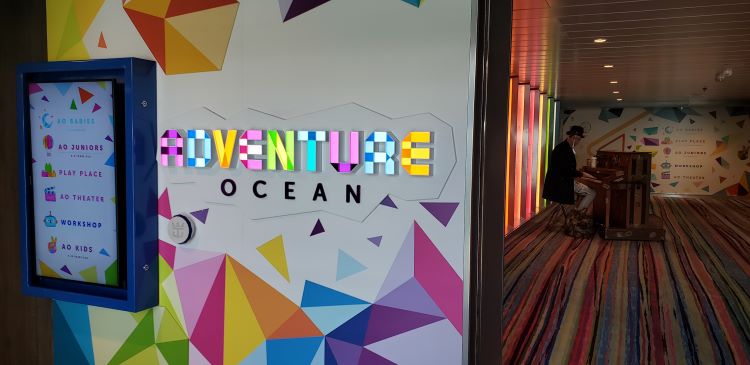 That children's club is split into the Adventure Ocean Juniors program for kids 3 to 5, and an Adventure Ocean Kids program for children ages 6 to 12.
In addition, Wonder of the Seas offers Social 100, a teen club for those ages 13 to 17. Teens have an outdoor deck area reserved exclusively for their use. It offers a hot tub, selfie area, non-alcoholic bar, games and plenty of comfortable seating.
Wonder Dunes
Kids aside, adults too love colorful "play spaces." In particular, we loved the creativity of Wonder Dunes, a miniature golf course with underwater theming. 
Adults couldn't help admiring the large sea "creatures." Check out the octopus, whale, eel and coral (see photo below).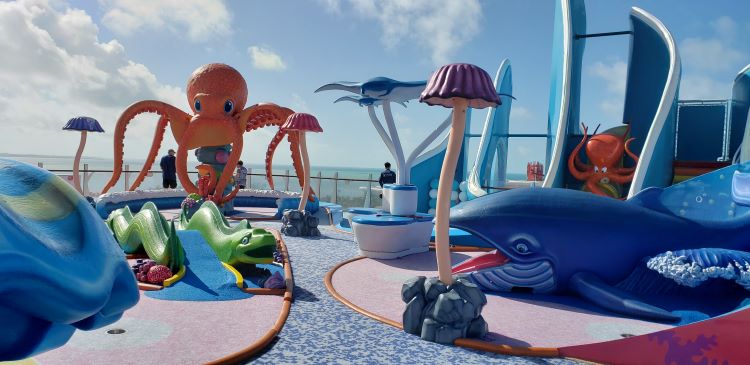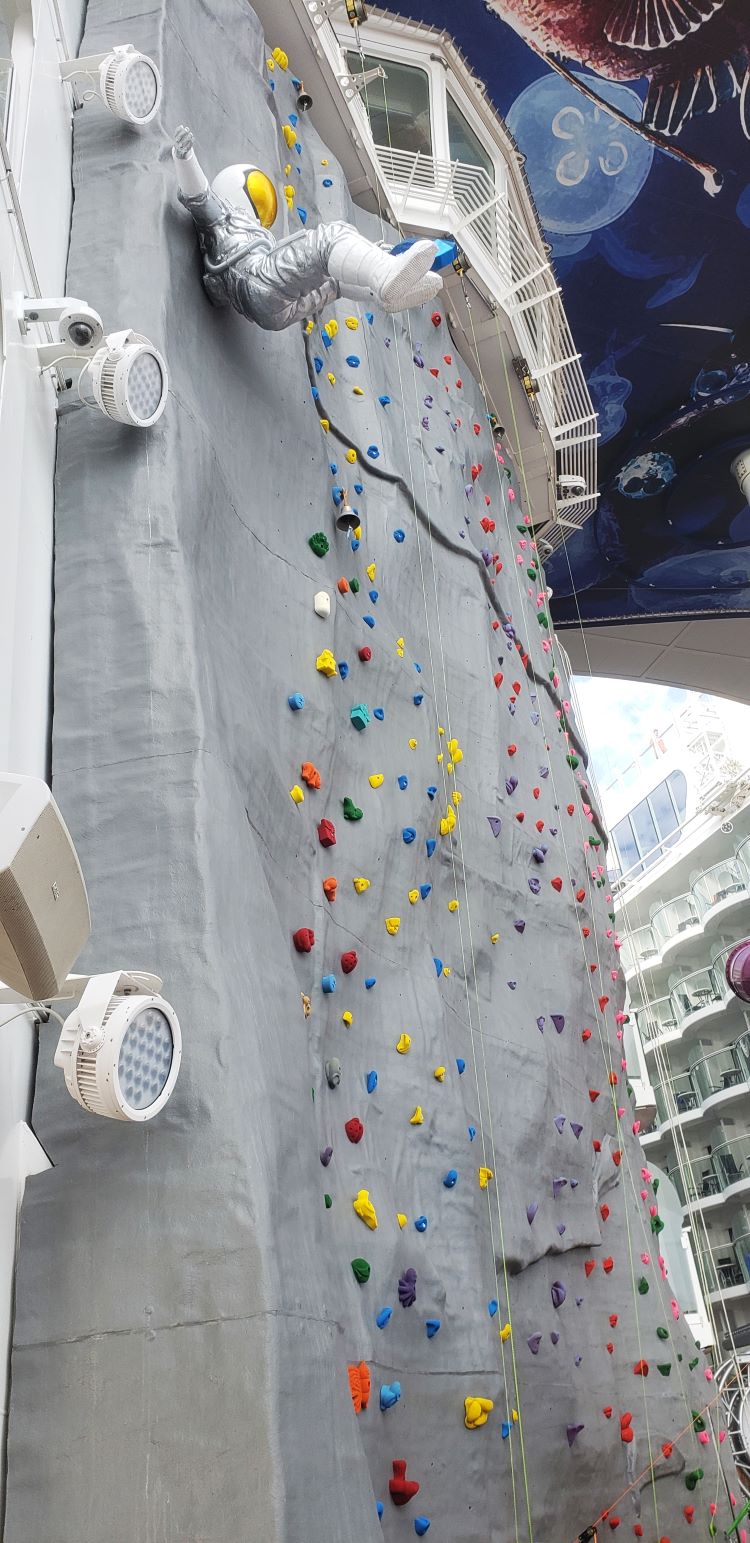 Wonder of the Seas: Art Collection
When it comes to art, most visible is a giant purple dragon that hangs down multiple decks within the atrium.
We preferred Wonder of the Seas' collection of three astronauts. Yes, they're decked out in space suits.
You'll spot these "space explorers" in three different spots around the ship.
One astronaut clearly appreciates Royal Caribbean's active options. We spotted this explorer hanging on the ship's rock-climbing wall (see photo at right).
Another astronaut is seated within the pool deck's movie-screen seating area. Guests love taking selfies with the astronauts.
A third can be found in Deck 8's Central Park neighborhood — peering down through glass to the Royal Promenade on Deck 5.
Wonder of the Seas: New Suite Neighborhood
Check out Part 1 of this Wonder of the Seas blog for photos and details about our Ocean View Balcony Suite, #7308.
That said, some travelers may desire to "step up" in accommodations and gain some exclusive spaces and amenities.
If that's of interest, consider the ship's new Suite Neighborhood, tapped as the ship's eighth neighborhood. This ship-within-a-ship enclave is exclusive and private.
In addition, it provides a gorgeous elevated Suite Sun Deck — complete with an infinity plunge pool, full-service bar, loungers, lounge beds with canopies and more.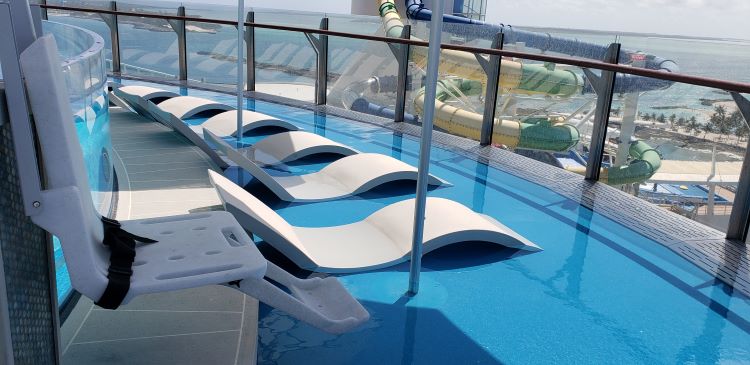 In this new neighborhood, suite guests have exclusive access to a private restaurant, Coastal Kitchen, as well as the Suite Lounge with comfortable seating areas, a concierge desk and full bar.
The Suite Neighborhood is home to several types of high-end suites. Among them is the grandest Ultimate Family Suite in the line's fleet. This two-level loft-style suite  accommodates up to 10 people.
That suite was booked during our cruise so, unfortunately, we weren't able to check it out. However, we did get a quick peek at a Grand Suite, #1770 (see photo below), which can accommodate up to four people.
For those seeking accessible accommodations, Grand Suite #1752, is designated as an accessible suite.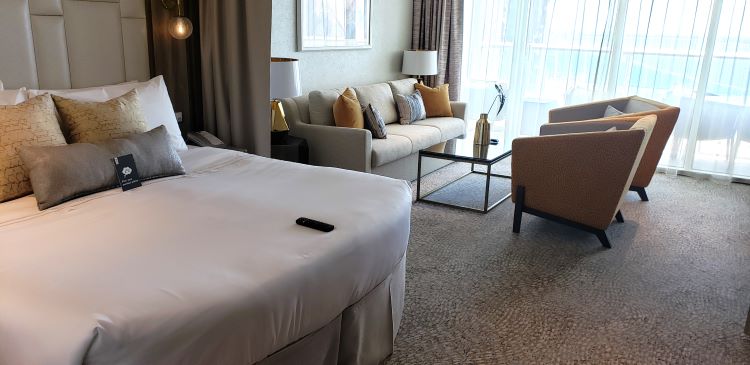 The Suite Neighborhood also is home to other types of suites too. These include the two-level Royal Loft Suite, the one-bedroom Owner's Suite and the Crown Loft Suite with Balcony.
Suite guests staying elsewhere on the ship can use their key cards to access the Suite Neighborhood's Sun Deck, Lounge and Coastal Kitchen too.
Wonder of the Seas: 2022 Itineraries
Wonder of the Seas embarked guests today for a Caribbean cruise and will operate another voyage or so before  sailing aross the Atlantic Ocean to begin the 2022 European summer season.
Sailing between Barcelona and Civitavecchia (Rome), the ship's seven-night western Mediterranean cruises will visit Palma de Mallorca, Spain and Capri, Italy, among other ports.
At press time, prices for a 2022 seven-night western Mediterranean cruise started at $870 per person, double occupancy; prices are subject to change.
The ship will then return to the U.S. and home port at Port Canaveral, FL, later this year.
Parting Thoughts
We were working aboard Wonder of the Seas, so we didn't have a chance to experience everything, particularly on the show side. But overall, our personal perspective is that Wonder of the Seas is big, beautiful and brimming with activity options.
After a week aboard, it's clear we could have used a second week aboard just to see and do everything!
In fact, our table mates at dinner on the final night of the cruise told us they had booked back-to-back cruises. That's a brilliant idea if you're booking a vacation voyage on this venue-rich, amenity-laden ship.
Important Notes from Pavlus Travel
This blog site is designed for "basic, general information" about travel; it's not staffed by travel advisors.
So, please don't use the Reply Section below if you are asking for pricing, travel dates, accommodations, brochures or other specific requests. 
That said, we are most happy and eager to assist you. Here's how…
If anything does tweak your interest in the story and you DO have questions about specific pricing, brochures, savings, accommodations, accessible options and so on, please contact us at 800-528-9300.
Or visit us online at Pavlus Travel's official agency Web site; there you can "live chat" with us online too!
Thanks for reading!