Where can you go within the U.S. but a world away? Where can you enjoy a truly magical vacation? How can you escape to incredible fun? Well, just as with professional athletes who've just won the Super Bowl, you might say:  "I'm going to Disney World!"
So, we wanted to look at what's new at Walt Disney World Resort in Lake Buena Vista in Central Florida. See our five "picks" below for top attractions or developments.
In a few weeks, we'll also run a blog focused on what's new at Disneyland in California.
So pack your shorts! Grab your clubs! (yes, there are links galore in the Orlando area). Corral the kids — and adults too — and head out to discover these new attractions or enticing developments.
1. Disney World: 50 Years and Counting
During the early 1970s, Walt Disney World Resort became a major, new vacation destination for Florida visitors. So, it seems amazing that we're in 2022 and now marking the resort's 50th Anniversary Celebration. It's a top draw for theme park visitors this year.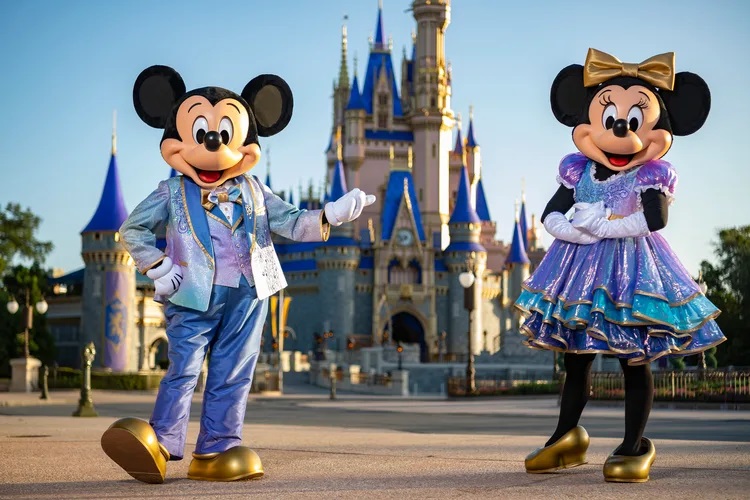 During this 18-month, 50th anniversary celebration, visitors have a slew of activity options, Simply put, the choices are prolific.
That said, we'd definitely head to "Remy's Ratatouille Adventure" at EPCOT, where one can imagine shrinking to Chef Remy's size while scurrying through Gusteau's famous restaurant.
Separately, "Disney Enchantment" will light up the night-time sky over Cinderella Castle at Magic Kingdom Park.
Plus, "Harmonious" at EPCOT is one of the largest nightly spectaculars ever created for a Disney park.
You'll also notice that Mickey Mouse and Minnie Mouse, hosts of the 50th anniversary celebration, have gorgeous new clothes (check out the photo above). Their clothes are made from an "EARidescent" fabric, which sports embroidered impressions of Cinderella Castle and pops of gold.
2. Disney World: New "Star Wars: Galactic Starcruiser"
Most exciting, though, is that Disney imagineers have created a new, first-of-its-kind immersive adventure, "Star Wars: Galactic Starcruiser," a two-day adventure that's separate from but nestled behind Disney's Hollywood Studios, one of several major theme parks at Walt Disney World Resort.
It opened on March 1, 2022, and Star Wars fans and media who've previewed this new experience already are "oohing" and "aahing."
So, what's it like to travel to a galaxy far, far away? What's it like flying on a starship? How does one make friends with an alien or wield a lightsaber?  Simply put, this new experience will allow park goers to "see, feel and live Star Wars: Galaxy's Edge."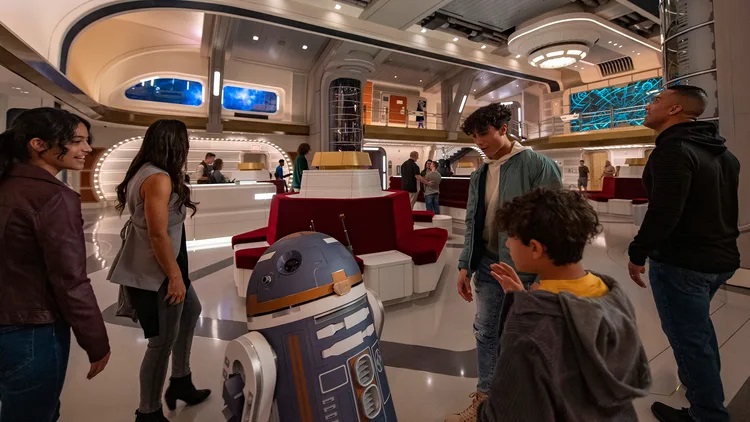 Guests become heroes within their own stories in a two-night galactic adventure aboard the Halcyon starcruiser.
No, it's not a traditional ride, nor a stay in a typical hotel. Rather, it's a two-night, Star Wars-themed adventure stay in a low-rise, boutique-like "starship" hotel, located adjacent to Disney's Hollywood Studios.
The Galactic Experience
Think of it as similar to a two-day cruise. Guests drive up to the front of the "terminal," drop their bags (which are taken to their accommodations), check-in, and, simply put, leave reality behind as they board their "starcruiser" and enter the world of Star Wars.
Guests will stay in well-appointed "starcruiser cabins,"and enjoy two days of included, themed activities and incredible dining (excluding alcohol and specialty drinks). They'll spend two nights here totally immersed in a galactic experience.
For example, within the Halcyon starcruiser, guests will explore and search for hidden secrets. Guests' own choices will determine their personal stories as they interact with Star Wars characters, crew members and other passengers.
Visitors may be asked to keep a secret from the First Order, deliver a covert message for The Resistance, take part in a high-stakes heist, defend the ship, hide an ally such as Chewbacca and more.
Decisions the guests make affect how the Star Wars tales unfold. Their actions intertwine with those of other passengers and well-known characters such as the aforementioned Chewbacca as well as Rey.
Planetary Exploring
Of course, travelers will likely desire to explore the galaxy too, so they'll have a port adventure to Batuu.
Hint? They'll be transported from the starcruiser to the "Star Wars: Galaxy's Edge" area of Disney's Hollywood Studios. Think of that trip as a "port call" of sorts from the mother ship to a planetary destination.
There, guests will have a mission to accomplish that ties back to their choices made earlier onboard. It's a hoot to watch the adventure unfold. 
In Disney's words: "Momentum builds during an action-packed adventure that may determine the fate of the galaxy." Here's Disney's official blog with visuals and more details about the experience.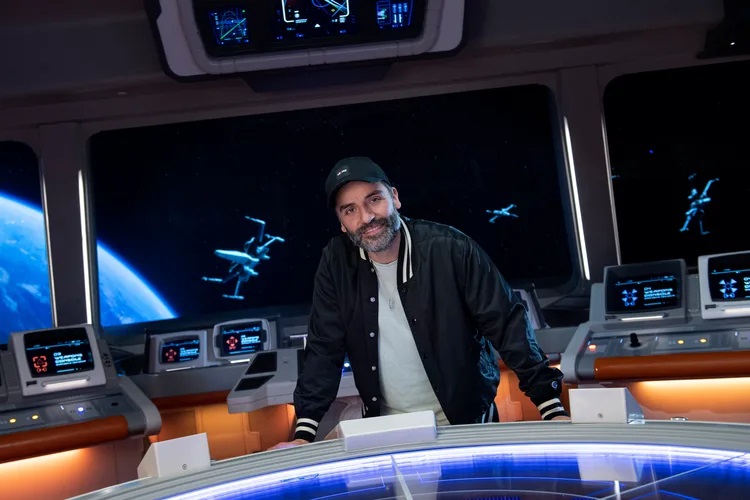 This page on the Disney World site explains more about the accommodations, features and has a few pricing examples. But pricing varies widely — even on this page — and can change quickly. 
So, talk to your travel advisor for specific pricing, as rates are dependent on dates of stay, how many people are staying in the accommodations including children, type of accommodations, any add-on hotels or ticket options, resort capacity, and much more.   
Galactic Video Preview
It's definitely a bit difficult to visualize this Stars Wars thematic experience without actually seeing it first-hand. So, we turned to veteran travel journalist Jason Leppert, a self-proclaimed Disney super-fan and captain/editor of "Popular Cruising."
Leppert provides a great first-hand look at the new experience during his YouTube video. It shows his brief press visit with other writers to the new adventure earlier this year. 
Yes, you'll see other writers milling around and taking video, but, given the fantasy quotient, regular guests are likely now doing that too! The video truly gives a good sense of the Star Wars-themed experience.
So, here's that Popular Cruising link to check out his fun Galactic Starcruiser tour, a deck-by-deck look at Halcyon.
When you're finished, though, we hope you'll return to this Meandering Traveler blog to keep reading about other big developments for Walt Disney World this year.
3. Festival of Fantasy Parade Returns
As COVID-19 era protocols have evolved and infection rates have dropped, the popular "Disney Festival of Fantasy Parade" returned to Magic Kingdom Park on March 9, 2022.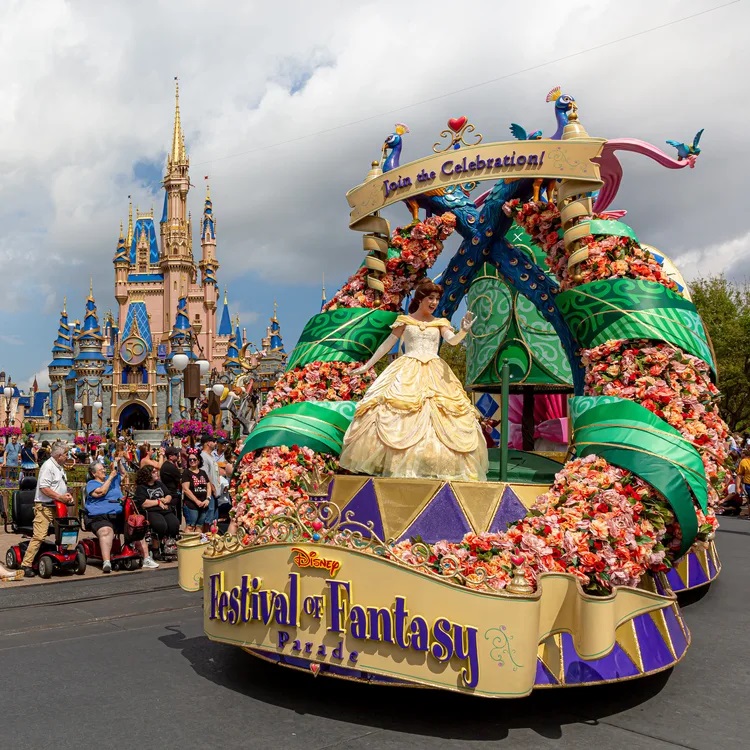 This popular live parade event is back to delight visitors after after nearly a two-year absence.
Also at Magic Kingdom, visitors will see "Mickey's Magical Friendship Faire," a newly enhanced show with characters from "Frozen," "Tangled" and "The Princess and the Frog" (see photo below).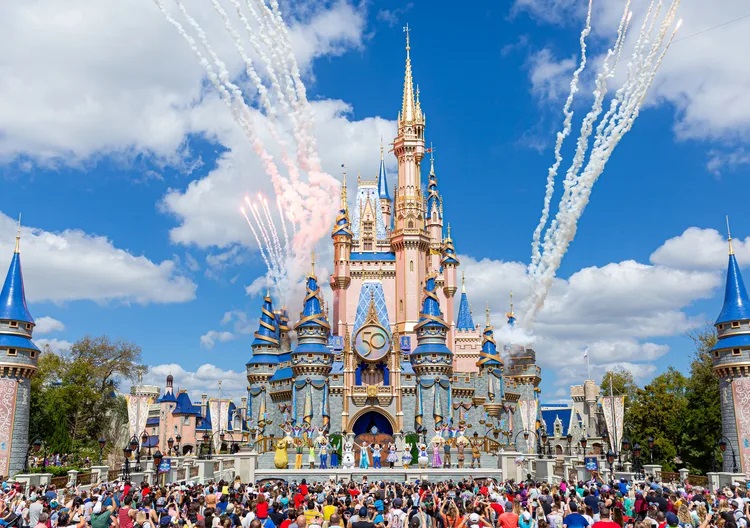 Those characters will join Mickey Mouse and all his friends in a musical extravaganza on the Cinderella Castle Forecourt Stage (see photo above).
4. Disney World's Guardians of the Galaxy: Cosmic Rewind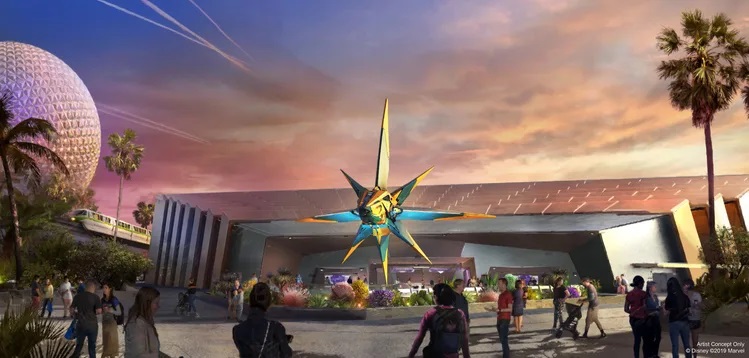 Debuting in summer 2022 is "Guardians of the Galaxy: Cosmic Rewind," a new coaster attraction. Riders will head out for an intergalactic chase through time and space.
The family-friendly attraction is another major milestone in the ongoing transformation of EPCOT and debuts as part of the Walt Disney World 50th Anniversary celebration.
It's a thrilling ride to match the fun and grandiosity of the blockbuster "Guardians of the Galaxy" films. Guests will be rotated along the ride track in any direction while traveling at high speed.
In addition, the ride will showcase such lovable cosmic misfits as Rocket, Groot, Drax, Gamora and Star-Lord.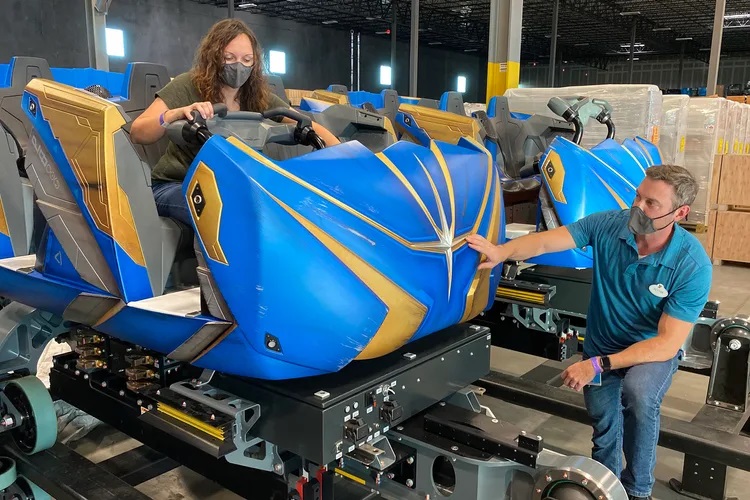 5. Disney World: A New Wish on the Horizon
The reality is that many travelers to Walt Disney World Resort desire a combination land-and-sea vacation. So, they combine a few days at the theme parks with a Disney Cruise Line sailing from Port Canaveral, FL.
That's an "attraction" in its own right, and something new is on the horizon, starting July 14, 2022.
Cruisers are eager for the debut of the new, 144,000-gross ton Disney Wish. With 1,254 guest staterooms and a maximum capacity of 4,000 passengers, the ship will be the first in a new class of ship for Disney.
Slightly larger than the Disney Dream and Disney Fantasy, the new Disney Wish will begin sailing in mid-July. Then it will offer a season of three- and four-night cruises to Nassau and Disney's private isle, Castaway Cay, both in the Bahamas.
Combination Land-and-Sea
So travelers can take a cruise from Port Canaveral and then spend three or four days in the parks — or vice versa — to create a week-long vacation.
Guests preferring a longer vacation, alternatively, might book a week-long cruise — available on another Disney ship sailing from Port Canaveral — and pair that with another week at Walt Disney World Resort.
One new option for that? Beginning in January 2023, nine week-long sailings on the Disney Fantasy will include a new, day-long celebration, entitled "Pixar for the Day."
Here's a link to the Disney Cruise Line page that talks about combining park and cruise elements.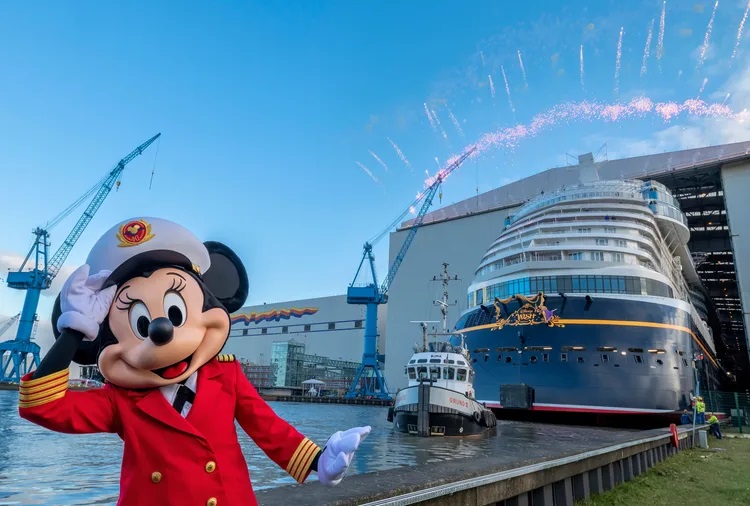 In February, Disney Wish was floated out of a German shipyard, a major construction milestone. The event was celebrated with fireworks and a special appearance by Captain Minnie Mouse.
When it sets sail this summer, the newest Disney Cruise Line ship will be filled with innovative new experiences steeped in Disney storytelling. Among those is a high-end lounge set in the Star Wars galaxy.
Original Stage Spectaculars
Disney Wish also will debut two original stage spectaculars in the onboard Walt Disney Theatre. One is an innovative, Broadway-style "take" on "The Little Mermaid."
The other is an embarkation day celebration helmed by Captain Minnie, Goofy and an all-star cast of Disney and Pixar characters.
Disney Wish also will offer three, new family restaurants with theming around an enchanted "Frozen" kingdom, an Avengers technology showcase and the golden age of Hollywood.
For pricing on any Disney vacation options including a Disney park stay, a Disney cruise or a cruise coupled with a resort stay at Walt Disney World Resort, talk with your travel advisor.
Pricing is very dependent on individual factors such as the type of vacation, whether a package is purchased, the dates of travel, number of people, type of accommodations, ticket add-ons, dining choices and many other factors. .
What's cut and dry, though, is that for 2022, there are some "magical" new activity choices to consider at Walt Disney World Resort, now celebrating its 50th year, as well as at sister brand, Disney Cruise Line.
Important Notes from Pavlus Travel
This blog site is designed for "basic, general information" about travel; it's not designed to provide specific pricing nor is it staffed by travel advisors.
So, please don't use the Reply Section below if you are asking for pricing, travel dates, accommodations, brochures or other specific requests. 
That said, we are most happy and eager to assist you. Here's how…
If anything does tweak your interest in the story and you DO have questions about specific pricing, brochures, savings, accommodations, accessible options and so on, please contact us at 800-528-9300.
Or visit us online at Pavlus Travel's official agency Web site; there you can "live chat" with us online too!
Thanks for reading!