Opened in 1955, the iconic Disneyland theme park in Anaheim, CA, was designed and constructed under the watchful eyes of Walt Disney himself.
Today, the park's rich history and "magical" aura still beckon visitors from across the globe.
Geographically speaking, it's good to know that Disneyland is part of the larger Disneyland Resort. Spanning more than 500 acres, that also includes several Disney resorts and a second theme park, Disney California Adventure.
Here's a peek at what's new and notable for 2022 at the Disneyland Resort. So, grab your kids, grandkids or anyone who's a kid at heart, and head out to explore.
1. Disney California Adventure Food & Wine Festival
For foodies heading to the Disneyland Resort now through April 26, 2022, savory flavors await.  The annual "Disney California Adventure Food & Wine Festival" is currently showcasing cuisine from California regions and neighborhoods.
More than a dozen festival marketplaces are serving up regional beverages and mouthwatering culinary bits. Visitors will find yummy dishes with such California specialties as avocados, berries, cheeses, chicken, peppers and garlic.
If you've previously attended the EPCOT Food and Wine Festival in Florida, then you'll understand how this festival unfolds. Expect appetizer-sized portions of dishes as well as cocktails, beer, and wine.
Throughout the festival dates, other park dining venues also will offer specialty foods and drinks. Those include the Pym Tasting Lab and Terran Treats in the new Avengers Campus, as well as certain venues at the Downtown Disney District.
To prepare for your visit, we'd eyeball this handy .pdf guide about the foods and where you'll find them. Also, if you go, you can expect entertainment, new merchandise and even Chef Goofy!
2. Disneyland Resort: Night-Time Spectaculars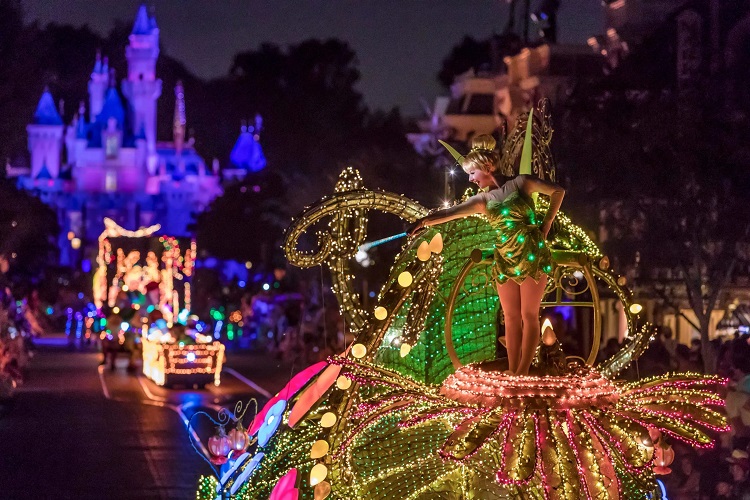 Happily for visitors, Disneyland Resort is "restarting" its colorful, night-time spectaculars. First, it's introducing a new grand finale to the "Main Street Electrical Parade" (see photo of the parade above).
On April 22, 2022, that "Main Street Electrical Parade" and the "Disneyland Forever" fireworks spectacular will light up the sky at Disneyland Park.
That same night, "World of Color" (see photo below) will return to Disney California Adventure Park.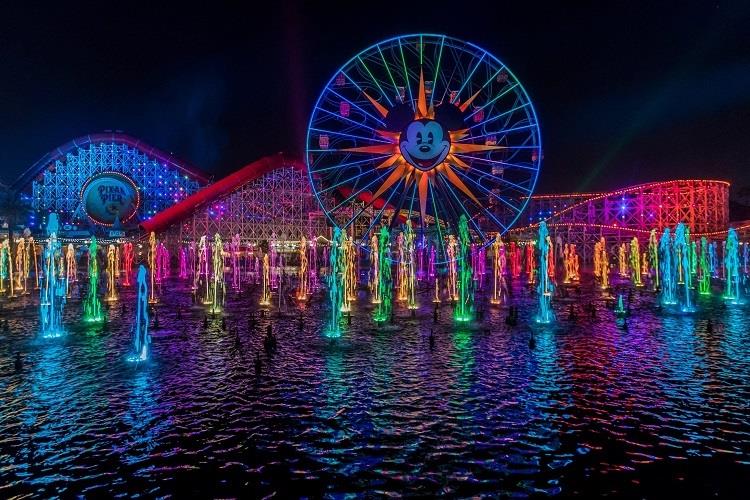 But there's more coming later this spring…
On May 28, 2022, "Fantasmic," the night-time pyrotechnic and light performance, will return to Disneyland too.
3. A New Land: The Avengers Campus
At Disney California Adventure, guests arriving this year will discover an entirely "new land" — Avengers Campus. Opened in 2021, it's dedicated to discovering, recruiting and training the next generation of super heroes.
So, hey what are you waiting for? If you have a super hero persona, just team up with the Avengers and their allies to fulfill your super dreams.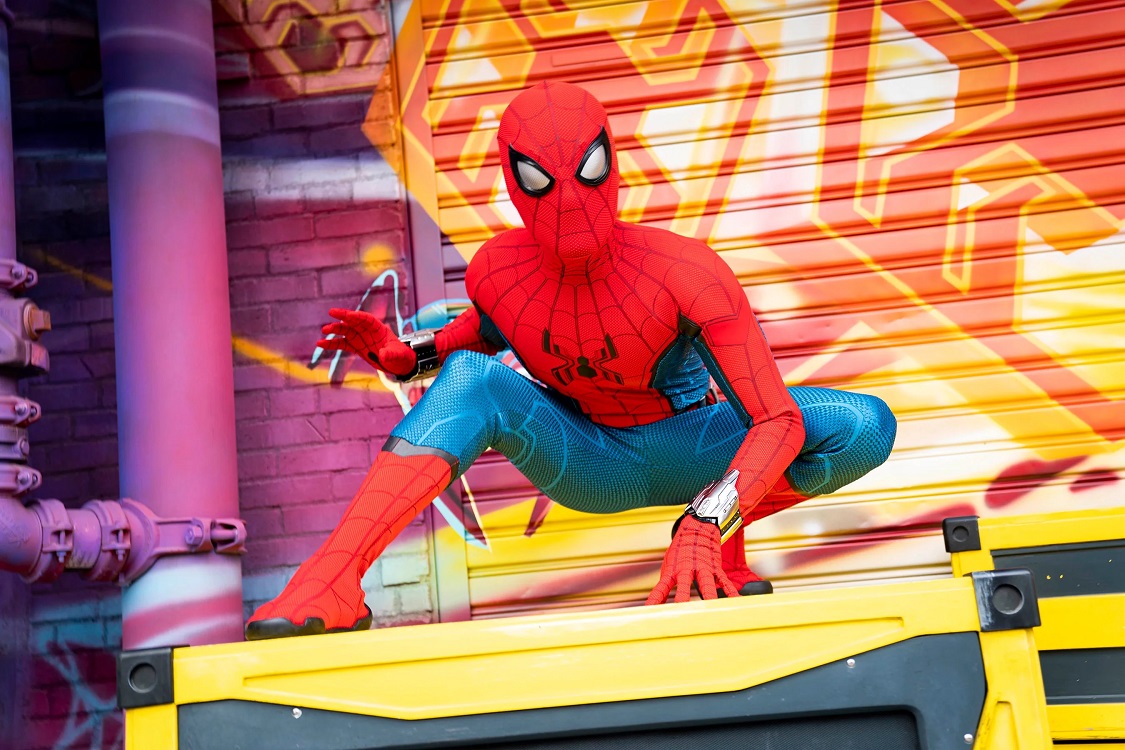 First, park guests will witness Spider Man (see photo above) swinging into action and performing acrobatic feats high above the Avengers Campus.
That will lead them to the new attraction, "WEB SLINGERS: A Spider-Man Adventure" which takes guests on an interactive escapade.
And that's just the start of the fun. Park guests will train with Black Panther (see photo below) and Wakanda's elite guards, the Dora Milaje.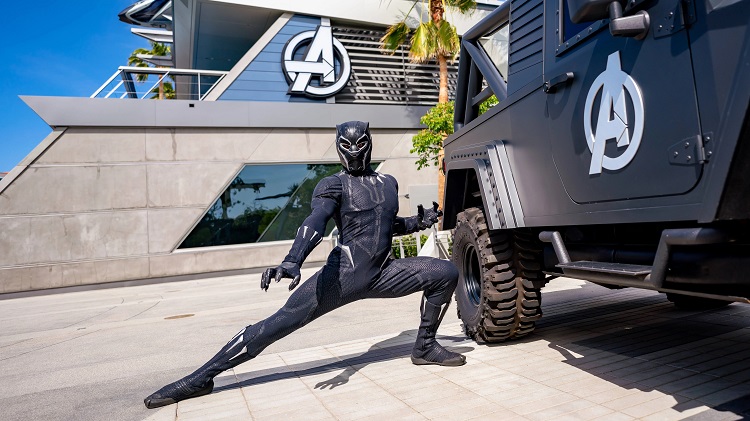 They'll team up to save the Guardians of the Galaxy from The Collector's Fortress. In addition, they'll encounter more super heroes and villains.
Let's just say that they'll experience thrills as the Avengers hold off their foes and save the day.
If guests need provisions for their next mission, well they can simply head to the Pym Test Kitchen.
4. Relaxation Central: Tenaya Stone Spa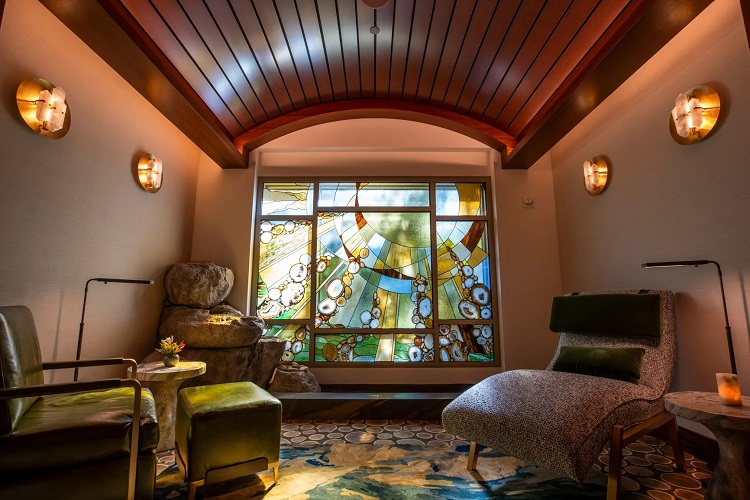 Prefer serenity to thrills? Opened in fall 2021, the Tenaya Stone Spa, nestled within the Disney Grand Californian Hotel & Spa at Disneyland Resort, can deliver both serenity and rejuvenation for guests.
Combining the spirit of nature with California heritage, this new boutique retreat was designed by Disney Imagineers.
Full-Service Spa
What's available? This full-service spa offers pampering body treatments, massage, facials and salon services.
Guests will discover robust facilities including eight treatment rooms (two designed for couples' massages), four manicure/pedicure chairs, a relaxation lounge, men's and women's changing rooms and a retail boutique.
One positive tidbit?  You don't have to stay at the hotel to enjoy a Tenaya Stone Spa treatment. Reservations for spa treatments are available for both hotel guests and the public.
If you're a hotel guest, though, Tenaya Stone Spa  offers fitness classes inside Disney California Adventure before that park's normal opening hours.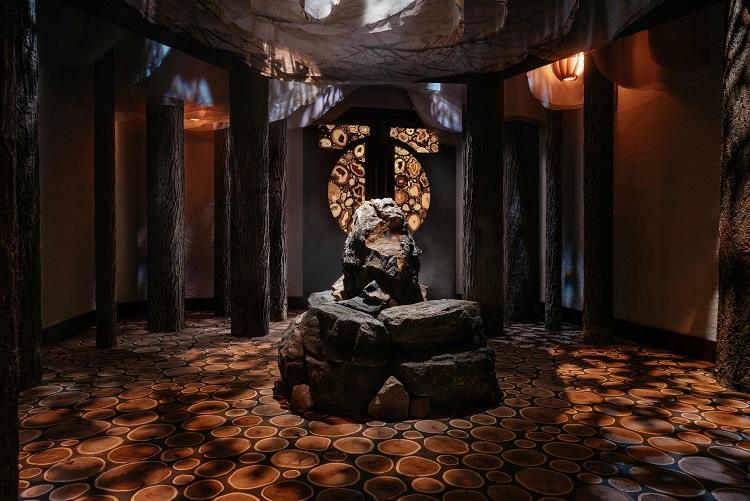 5. Disneyland Theater to Host: "Tale of the Lion King."
Certainly a big hit with guests when it debuted in 2019 at Disney California Adventure, "Tale of the Lion King" will soon open in a different venue. Look for it this year at Disneyland's Fantasyland Theater.
Starting in spring 2022, storytellers of the Pride Lands will present Simba's journey in story-theater style. Guests can expect live music and dance.
Bonus Experience: Downtown Disney District
One of the most fun areas of Disneyland Resort is the Downtown Disney District.  Open by day and night, it's a hub of family-friendly dining, shopping and entertainment.
In addition, it's a gateway between the Disneyland Resort's two theme parks and the resort's hotels. It offers dozens of distinct areas, so just choose your fun.
Best of all? Admission is free.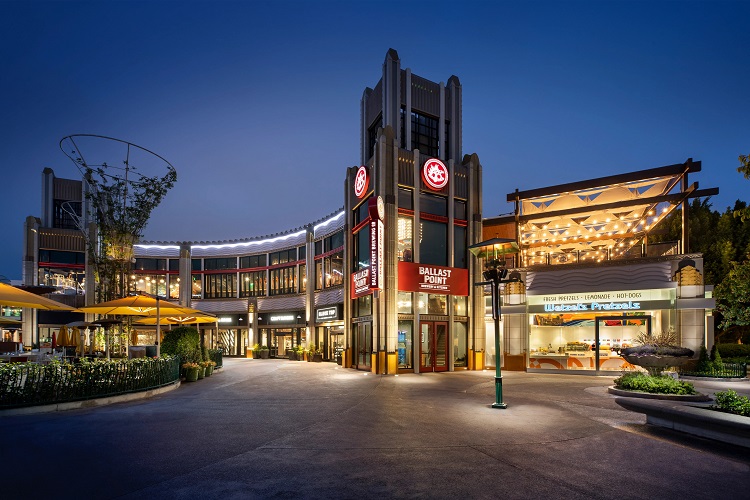 Look for the following:  World of Disney, Naples Ristorante e Bar, Ballast Point Brewing Company (see photo above), WonderGround Gallery, Salt & Straw, Black Tap Craft Burgers & Shakes, Splitsville Luxury Lanes, The LEGO Store, Pelé Soccer, Lovepop, Uva Bar & Café, Sephora, Sprinkles, Pandora Jewelry, Disney Home, The Disney Dress Shop and more.
New and Notable
So, as Disney ramps up for spring, summer and fall, travelers will discover new, notable and certainly appealing ways to have fun. Here's a link to the Disney page with theme park ticket information.
Prefer to vacation in Central Florida? Then check out our blog of last week about what's new for attractions and developments at Walt Disney World Resort. 
Whichever park, whichever coast, we're ready to "grab our ears" and go!
Important Notes from Pavlus Travel
This blog site is designed for "basic, general information" about travel; it's not designed to provide specific pricing nor is it staffed by travel advisors.
So, please don't use the Reply Section below if you are asking for pricing, travel dates, accommodations, brochures or other specific requests. 
That said, we are most happy and eager to assist you. Here's how…
If anything does tweak your interest in the story and you DO have questions about specific pricing, brochures, savings, accommodations, accessible options and so on, please contact us at 800-528-9300.
Or visit us online at Pavlus Travel's official agency Web site; there you can "live chat" with us online too!
Thanks for reading!