Affectionately called the "Biscuit Queen of Natchez," Chef Regina Charboneau, culinary ambassador for American Queen Voyages, knew from early childhood that she wanted to become a chef.
"I always loved cooking from the time I was 10 years old," says Charboneau, born and raised in Natchez, MS. "I would prefer making pies and cookies over going to school."
She quips that "I faked a lot of sore throats to stay home from school just so I could play in the kitchen."
A fascinating lady, Chef Charboneau is the author of multiple cookbooks and now teaches others to cook at her own Natchez cooking school.
Regina and Friends Sailings
On North American waterways, she's also teaching river, coastal and expedition cruise guests about cooking techniques, recipes and local foods and beverages.
Most notably, Chef Charboneau is hosting eight 2022 "Regina Charboneau and Friends" sailings on AQV.
Guests can expect cooking demonstrations and presentations aboard. Plus, Charboneau will lead market or foodie-focused stops ashore. Also, in some cases, she'll introduce guests to fellow chefs along the voyage route.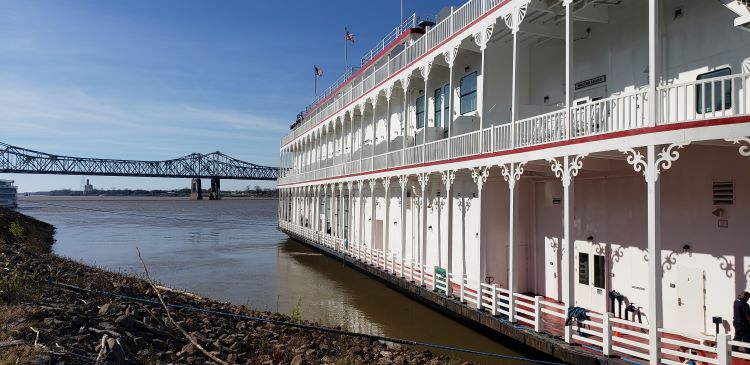 American Queen Voyages' Hosted Cruises
This month, Chef Charboneau hosted her first 2022 voyage on American Empress on the Columbia and Snake rivers of the Pacific Northwest.
Upcoming hosted "Regina Carboneau and Friends" voyages include the following sailings on AQV's river, coastal and expedition ships.:
May 6-17, 2022: Vancouver, B.C. to Sitka on Ocean Victory, an expedition vessel
July 4-12, 2022:  Nashville (Clarksville) to St. Louis (Alton) on American Countess
July 17-24, 2022: Memphis to St. Louis (Alton) on American Queen
July 24-August 1, 2022:  St. Louis (Alton) to Louisville on American Queen
September 12-19, 2022:  Louisville to St. Louis (Alton) on American Countess
October 2-12, 2022: Montreal roundtrip with overnights in Quebec City and Toronto on Ocean Navigator
November 5-13, 2022: Louisville to Memphis on American Duchess
In one example, the July 24 departure of American Queen, pricing starts at $2,249 per person, double occupancy. Some accessible cabins are available on every ship.
However, for the most accurate pricing and availability information on that voyage and all the cruises listed above, contact your travel advisor.  Sample prices are subject to change.
New American Queen June Sailings
Also just recently announced are four newly added sailings on American Queen for the Lower Mississippi in June 2022. These feature exclusive new experiences with Chef Charboneau.
Spelling it out, suite guests on those four voyages will receive biscuits classes at the chef's Natchez cooking school, while all guests will enjoy cooking demonstrations and champagne toasts aboard.
A "tipster" also tells us that it's even possible that, at times (not guaranteed, though), Natchez Mayor Dan Gibson may hop aboard to play the piano for guests.
The Meandering Traveler experienced this during an American Countess voyage last year. Gibson is a crowd pleasing entertainer and a talented musical talent.
Biscuits and Much More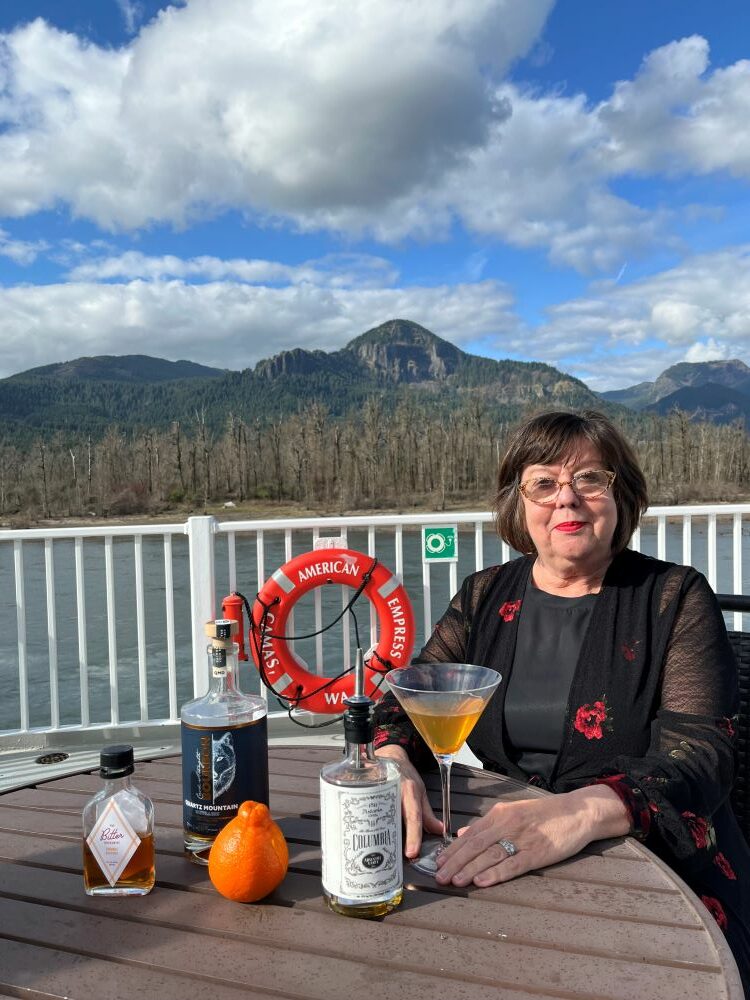 What will cruisers learn to cook if they take one of these voyages? As a purveyor of southern cuisine, "I do everything biscuits," says Charboneau.
"I love my pot pies with biscuit crusts," she notes. "I transform my popular biscuits into savory and sweet."
In addition, "I love giving classes onboard," she adds. But when it comes to the voyage line-up listed above, she says that "as much as I love biscuit making, I reserve that for the Southern region" where it fits best with the culture.
Instead, for voyages in Alaska, the Pacific Northwest or Great Lakes, for example, cruisers can instead expect Chef Charboneau to focus on local foods and beverages from those regions of sailing.
"My repertoire as a chef for over 40 years allows me to focus on the regions we are traveling," she stresses. "Just as the landscape of the Mississippi River differentiates from the landscapes of the Great Lakes and the inside passage in Alaska, so does the foodways."
She tries to bring local foodways to the line's guests via menu items and onboard cooking demonstrations.
What's nifty? She loves sharing her "finds" along these routes — from local distilleries to breweries, bakeries, food trucks or anything else that's food-or-beverage focused.
The Meandering Traveler asked Charboneau what her personal favorite foods are? "Oysters, grits and hot dogs prepared any way and also my white Bolognese," she responds.
A Career Beyond the South
So, let's look briefly at Chef Charboneau's culinary journey. While her passion for cooking first took root in Natchez, her career took her elsewhere for several decades.
In remote Alaska, she worked as a camp cook. In addition, Charboneau served as the first female chef at the Petroleum Club of Anchorage. There, she also met her husband and even prepared a signature salmon dish for the late media icon Walter Cronkite.
A key figure in the 1980s American food scene in California, the chef opened Regina's at the Regis in San Francisco in 1985. Nestled in the heart of the city's theater district, Regina's was a favorite late nightspot for theater goers as well as directors, musicians and actors.
In 1995, Regina created the Biscuits & Blues nightclub in San Francisco. Featuring classic southern cuisine and live music nightly, Biscuits & Blues has won multiple WC Handy awards for Best Blues Club in America.
Return to Natchez
Considered one of the nation's top Southern chefs, Charboneau has come full circle during the past few years. How so?
In 2001, she returned to her native Natchez to raise her two sons. She bought the historic home, Twin Oaks, and in 2014, she restored Natchez's King's Tavern.
A savory specialty of that tavern (now permanently closed) was her signature brisket flatbread, baked in a wood-fired oven.  More than 14,000 orders were taken. The brisket flatbread proved a tasty favorite of locals and visitors alike.
In 2019, the chef opened Regina's Kitchen, a popular restaurant-wine bar that also hosted her biscuit and Southern cooking classes.
But after 42 years of cooking professionally, Charboneau recently opted to turn that business over to a talented, young friend, Chef Josh Harmon.
Retirement: No, It's Not Happening
Recently, Chef Charboneau actually tried to retire. But, alas, she quips that the effort only lasted about 90 days or so.
Today, she's focusing on her fifth cookbook and still does the AQV hosted sailings as well as guest chef appearances and speaking engagements.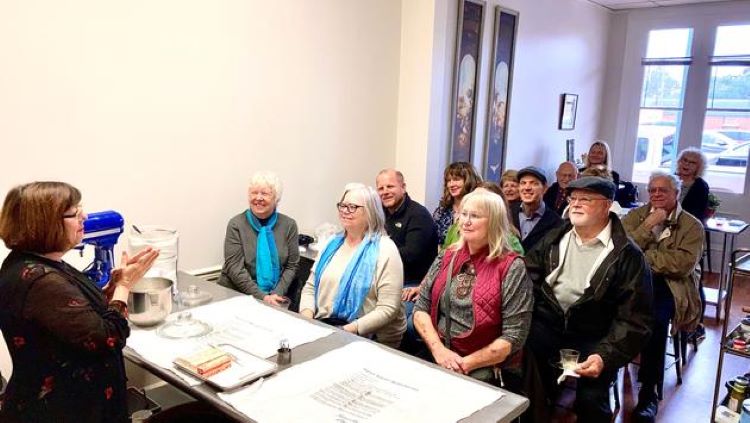 And during the pandemic, she opened a new cooking school, Regina's Biscuits 101, 621 Franklin Street (between Union and Rankin) in Natchez. No, it's not a restaurant, but solely dedicated to cooking classes.
Interested in possibly taking a cooking class while visiting Natchez on a river cruise port day? Check out Chef Charboneau's Web site for online reservations needed to participate in her scheduled biscuit making and other cooking classes.
Tip? If your river vessel isn't visiting at a time when there are scheduled classes, you also can use this Web page to ask about private classes for four people or more.
Chef Charboneau's Web site also has recipes and other culinary information for visitors.
Natchez Suggestions
If river cruisers desire to dine ashore in Natchez for lunch, Chef Charboneau has graciously provided this list of some of her personal favorite dining spots.
At Fat Mamas Tamales, "I get their Gringo pie," she says.  As for fried chicken, she says it's well-prepared at three places:
The Magnolia Bluffs Casino with Charboneau noting that a shuttle will pick guests up from the riverboat.
Rolling River Café on Main Street, which she describes as "a soul food staple."
The Carriage House Restaurant on the grounds of the elegant Stanton Hall.
For tasty southern grits, she explains that Tate Taylor and John Norris opened The Little Easy with a "boozy brunch all day long."  In addition, she says, "Chef Jay Yates rocks the kitchen. His grits waffle is original and delicious."
Cruisers can order shrimp and grits there, plus more food choices and fun cocktails. (Yates is shown in the photo below with Charboneau and Devin Heath from Visit Natchez.)
Biscuits and Beignets
For biscuits and beignets, she suggests Biscuits and Blues. Chef Charboneau explains that she started this concept in San Francisco in the mid-1990s. Later, she helped her brother Peter open a similar restaurant in Natchez.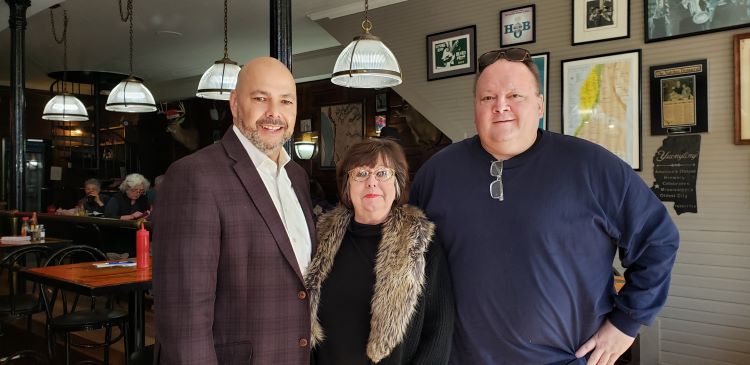 "He put his personal stamp on the Natchez location with his amazing smoked ribs," she emphasizes. "Guests love our biscuits and apricot butter."
Also, she reports that the beignets are very popular as is the savory crawfish. To really indulge your sweet tooth, though, she'd order the dessert beignet filled with vanilla bean ice cream and praline sauce.
Advice for Potential Chefs
The Meandering Traveler asked Charboneau what advice she'd give to someone who loves to cook and desires to become a chef. She provided a straightforward response.
"I love my life and career but so many who think they want this cannot take the hours and pace of the professional kitchen," Chef Charboneau stresses. "I tell anyone who wants to go into cooking for a living that it is not all Food Network."
She strongly encourages potential chefs to take basic accounting and business classes for at least two years, "or do as I did and marry a smart CPA."
While taking those classes, she advocates that people "work in a hotel kitchen with a European chef and start at the bottom.  If you survive two years in that hotel kitchen, then think about going further."
For more information on American Queen Voyages, visit https://www.aqvoyages.com/
Important Notes from Pavlus Travel
This blog site is designed for "basic, general information" about travel; it's not designed to provide specific pricing nor is it staffed by travel advisors.
So, please don't use the Reply Section below if you are asking for pricing, travel dates, accommodations, brochures or other specific requests. 
That said, we are most happy and eager to assist you. Here's how…
If anything does tweak your interest in the story and you DO have questions about specific pricing, brochures, savings, itineraries, dates of travel, accommodations, accessible options and so on, please contact us at 800-528-9300.
Or visit us online at Pavlus Travel's official agency Web site; there you can "live chat" with us online too!
Thanks for reading!