This week, The Meandering Traveler spoke with four notable travel writers, journalists, authors and/or bloggers to learn a bit about their world. We asked for their personal travel tips for our readers.
How do they dive deeply into a destination? What do they do to keep the memories alive after returning home? How can interacting with locals add value to a vacation?
Of course, we also couldn't resist asking them what their own personal, favorite destinations are. Where do they travel to in their free time? Or, what was a one-of-a-kind trip?
So, here are travel tips and insight from Heidi Sarna, Ramsey Qubein, Sarah Graves-Gabbadon and Monte Mathews. Check out their feedback and give us your tips too.
Travel Tips – Editor & Author Heidi Sarna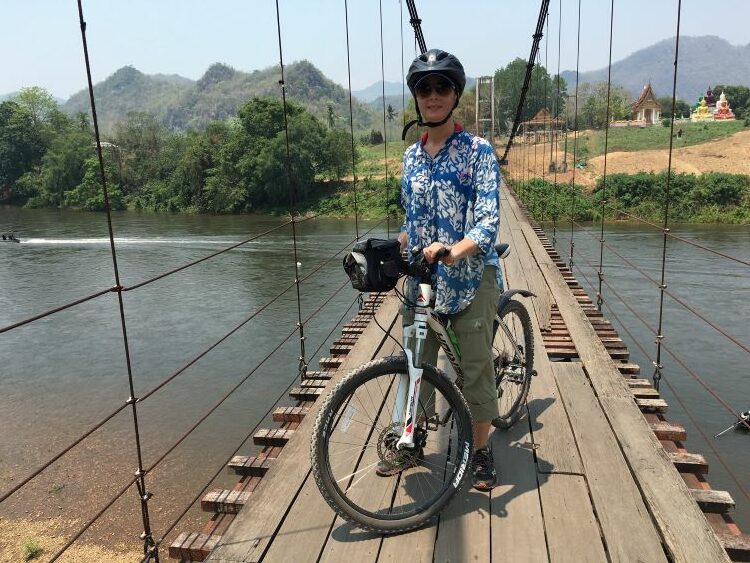 Exploring 78 countries worldwide by boat, road, plane, foot, bicycle and camel, Heidi Sarna is a journalist, author and travel enthusiast who enjoys off-the-beaten-path travel and outdoor adventure pursuits.
Her first big journey was a six-month trip around the world "back in the day" when Pan American World Airways sold a 16-leg flight package for a song.
"My future husband and I hit 20 countries on six continents with memorable adventures including a three-day 'cruise' down the Amazon aboard a rickety fishing boat held together with a combination of luck and rust," she quips.
Today, Sarna, a member of the Society of American Travel Writers (SATW), is co-editor and co-founder of QuirkyCruise.com, an online travel editorial site covering small-ship river, coastal and expedition cruises.
Over the years, her freelance travel stories have appeared in CNBC.com, Travel Weekly, Frommers.com, Afar.com, USAToday, CNN.com, Porthole and others.
She's also the co-author of "Secret Singapore," an excellent guidebook uncovering more than 160 secret, hidden and/or forgotten places and things in Singapore.
Exploring by Bicycle
"For me, one way to dive into the local culture is some cycling," says Sarna. "It's a great way to really take in the street and/or countryside life." She adds that small ships — river and canal boats, in particular — often carry a fleet of bicycles for guests' use in port destinations.
So, travelers can either pedal around on their own or sign up for the cruise line's organized bike excursion. Often, "you can cycle between ports, meeting the boat at the next stop," Sarna explains.
Whether Sarna travels by land or sea, "I've done great guided cycling tours, as well as cycling on my own, in Barcelona, Spain; Bordeaux and Provence, France; Siem Reap, Cambodia; Kanchanaburi Province, Thailand; Mandalay, Myanmar; and even Delhi, India."
Favorite Destinations
Two of her favorite destinations for a personal vacation? One is French Polynesia. "On a Star Flyer tall-ship cruise I still dream about, I was moved to tears of spiritual joy while snorkeling near the island of Tahaa," she says.
"Our small group headed by speed boat to a site near a remote motu, all set against the backdrop of brilliant blue skies and the teal sea," Sarna continues. In single file, her small group glided atop the clear water in slow motion. They looked down through their masks to the spectacular scene beneath them.
"Fuchsia sea anemones exposed their 'noodle-y' appendages and ridged clam shells seem to smile with bright purple and green lips, she says. "I was stunned by the unreal beauty of the electric-colored Checkerboard Wrasse fish and others."
Another favorite trip? Sarna and her family cruised the Norwegian fjords when her twin sons were just six years old.
"We signed up for what has become one of the top five cruise excursions of my life so far," she reports. "It was definitely my favorite hike of all times, a scenic six-mile hike across the top of Flo Mountain."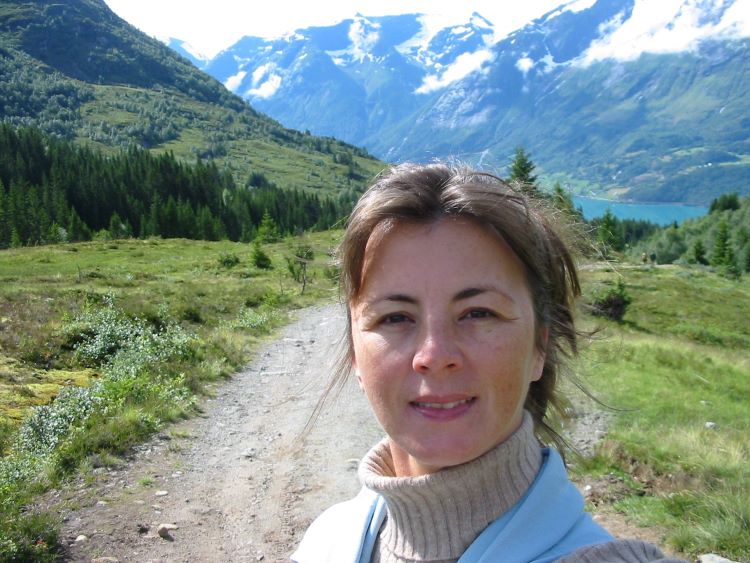 From Hellesylt, the guide allowed participants to hike for about three hours at their own pace and only met up with them at the walk's end. "We felt like we were doing it on our own, which added to the serenity and specialness of the excursion," Sarna says.
Bucolic Scenes, Stunning Views
As the path weaved along a river, hugged cliffs and meandered past moss-covered farm cottages, the hikers viewed pastures of wildflowers and tall grasses where cows and sheep grazed. That was all framed by mountains and a distant, mineral-rich mountain lake, which Sarna describes as an unreal blue-green.
"The views were simply exhilarating," she says. "Even my young sons easily handled the walk and soaked up the soul-stirring panoramas." The excursion concluded with a coach ride to the top of the Dalsnibba peak for views of Geirangerfjord below.
How does Sarna keep her vacation memories alive? "Well, I'm not a big collector of things per se, but I love going over my photos endlessly when I return from a trip," she notes. "I revel in the ones that capture something special."
She also brings items home that are incorporated into her daily life. Among those are a lacquer serving tray and snack plates from Vietnam and Myanmar. She's also brought home earrings from Amsterdam, a Swedish baseball hat and a wine glass from a Rhine River cruise.
For more insight from Sarna, check out QuirkyCruise.com and "Secret Singapore."
Travel Tips – Globetrotter Ramsey Qubein
Few travelers spend more time in the skies than Ramsey Qubein, who regularly wracks up 450,000 miles a year flying to points across the globe. As a freelance travel journalist covering the hotel, cruise, and airline industries, he's traveled to all seven continents including Antarctica (see photo below).
He's also explored 50 U.S. states and 166 countries. And he's not done yet!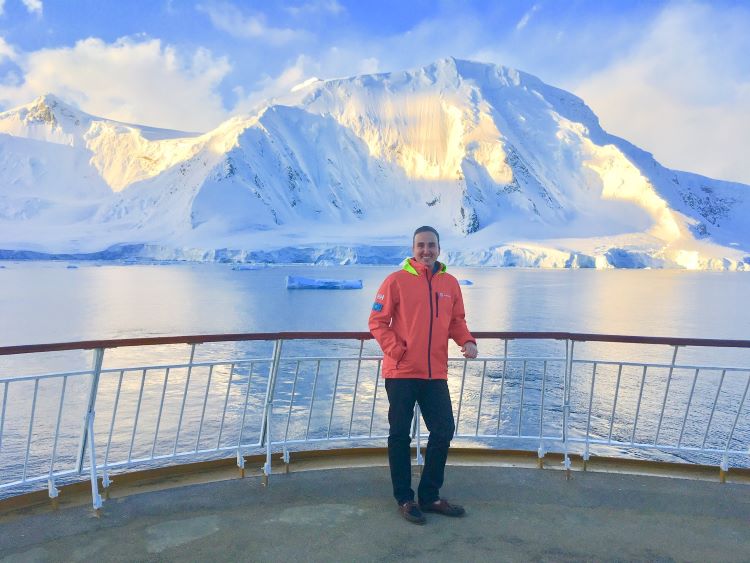 Qubein's articles have appeared in Conde Nast Traveler, Forbes, Travel+Leisure, Business Traveler, CNBC, NerdWallet.com, AFAR, Robb Report, Readers Digest, BBC Worldwide, USA Today, Frommers, Fodors, Islands, Fortune, Airways, Yahoo, Travel Age West, MSN.com, and AAA magazines, among others.
So, you get the picture. He travels all the time and never met an airplane he didn't like.
Read in Advance
His advice for travelers seeking to dive into a destination with gusto and hit the ground running? "I've always found that reading up on a destination before visiting proves more rewarding than waiting until you get there," Qubein advises.
"It really helps you to appreciate what you're going to see and what you want to do," he says. So, pick up a book about the destination, look for a YouTube documentary or find a blog post about where you're going.
Qubein suggests finding "anything that can give you some insight into a place." If you're busy prior to traveling, simply print out a few articles to read on the plane, he suggests.
When it comes to his own free time, what are his favorite destinations? What draws him in?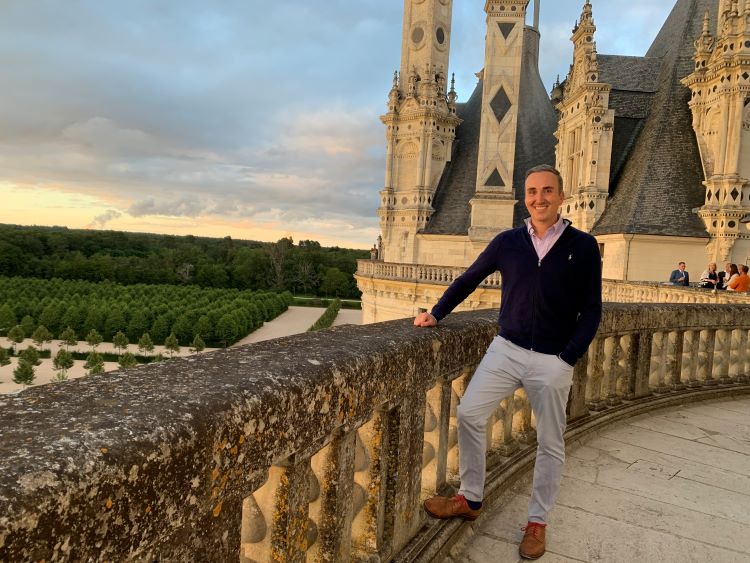 "My favorite places are all sprinkled around the Mediterranean," says Qubein. "I just love the way of life, the food, the culture."
Spain is a particular favorite of Qubein's, so he spends much time in Madrid, whenever possible.
Travel Tips – Head for the Food
To dive deeply into the destination, his advice is to head for the food, he says: "Everyone loves to talk about the food markets in the capital. But, no matter where I am, I always pop into a neighborhood grocery store."
He peruses what's of interest to locals, and of course, to pick up some fun souvenirs to bring home." An added perk? "You'll save cash that way, too, buying snacks in a supermarket rather than a tourist shop."
But how does he keep the journey alive after returning home? "For me, I like buying things for my home when I travel," says Qubein. Those might include typical purchases people would make at home.
So, he might buy plates, towels, picture frames or decorative pillow cases. "But these have something special or familiar about that place," he emphasizes. "That way, everywhere I look at home reminds me of a different trip."
Whether Qubein buys "pottery from Morocco or pillowcases from the Greek islands, everything tells a story, and it's more 'natural' than buying a magnet from every place." That said, he acknowledges: "I do that too!"
Talk with Concierges & GMs
One tip for hotel guests who return repeatedly to the same hotel in a particular city? "From time to time, I have befriended hotel concierges and general managers who are really well-connected in an area," he says.
While Qubein often talks with those locals to secure quotes for his articles, travelers on vacation also might connect with them. Just ask what's new, trendy or rewarding to see and do during your visit.
Local insight and knowledge can truly add rewarding activities to any trip. For more from Qubein, visit his Web site, check out his Forbes page or read his tips stories on NerdWallet.com.
Travel Tips: JetSetSarah – Sarah Greaves-Gabbadon
Known as JetSetSarah, Sarah Greaves-Gabbadon is a talented writer, on-screen host and self-described "Carivangelist."
What's that mean? She's traveled to the beach and beyond to share the culture, lifestyle and personalities of the Caribbean with the world for more than two decades.
Appearing as a travel expert on PBS, she's also been featured in National Geographic and the Washington Post. Based in Miami, Greaves-Gabbadon is also "jetsetter-in-chief" at JetSetSarah.com,  where her passions – travel, style and fitness – meet.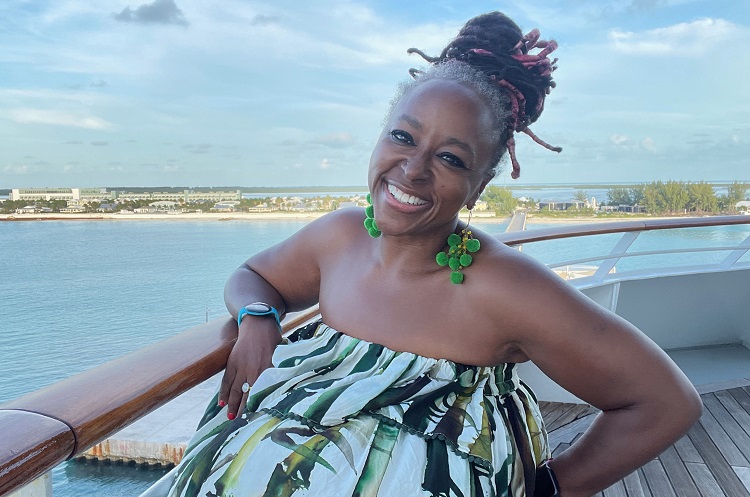 So, what one or two tips would she give travelers seeking to dive into "the local culture or heritage" no matter the destination?
"Sure, you could ask the concierge or a taxi driver, but I find I get my best local recommendations from hotel housekeepers," says Greaves-Gabbadon. That always leads her to non-touristy spots and the places that residents go — whether for a cute outfit, supermarket souvenir or an inexpensive lunch.
Curious Mind, Open Heart
In addition, "I travel with a curious mind, an open heart and a respect for the people who live in the places I visit," she emphasizes. "Pair that with a dose of street smarts and you can't go wrong!"
Not surprisingly, her favorite destinations — the ones that have touched her soul most — lie in one sunny region.
"There's nowhere in the world like the Caribbean – not just because of the sun, sea and sand but because Caribbean people have a warmth and a 'joie de vivre' that you just don't find anywhere else," says Greaves-Gabbadon.
She adds that each of the 30-plus countries in the region have their own distinctions. That extends from cultures to topography, cuisine, music, history and personality.
"That means that there's always something new to discover and so much more to do than just lie on the beach," she notes.
Travel Tips from a Black-Belt Shopper
Keeping the vacation alive after returning home is easy for JetSetSarah. "I consider myself a black-belt shopper and pride myself on being able to sniff out a 'shopportunity' wherever in the world I am," she says.
JetSetSarah wears colorful, cheery outfits that reflect her outgoing personality! Also, she loves to collect original art from the places she's traveled to. "They're a colorful reminder of a trip well taken," she says.
"My current favorite is a mixed-media portrait purchased in Panama," she explains. "It's a colorful combination of acrylic paint and shards of mirrored glass."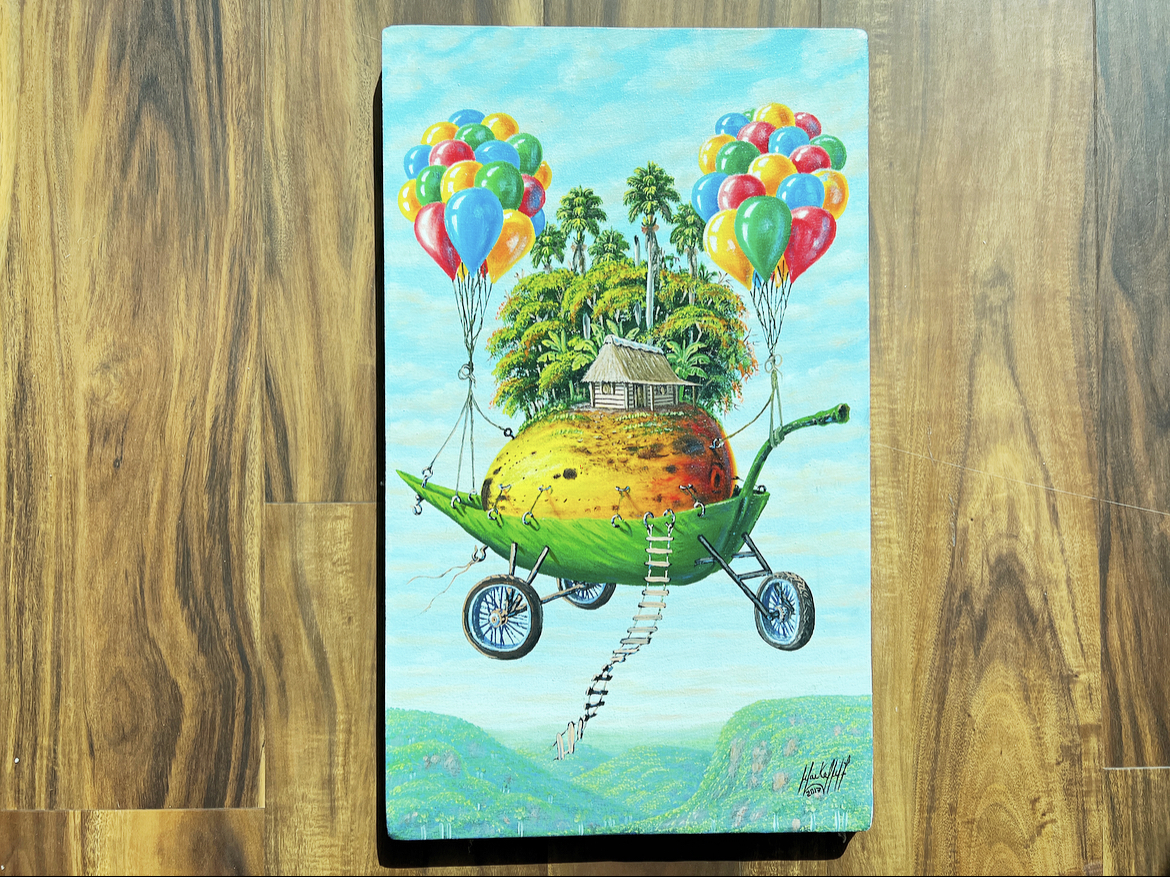 In Havana, Cuba, she also scored a surreal painting of a giant pumpkin in a wheelbarrow, suspended over the Cuban countryside by a bunch of multicolored balloons (see photo above).
To learn more about Greaves-Gabbadon's passion for everything Caribbean, people can follow her adventures on Instagram, Twitter or Facebook.
Travel Tips: Chewing the Fat with Monte Mathews
"If we can make it, you can make it," says the header atop the "Chewing the Fat" online culinary site. It's co-authored by Monte Mathews, travel journalist, blogger and culinary writer, New York City, and his partner Andrew Phillips, a world-class home baker and real estate expert.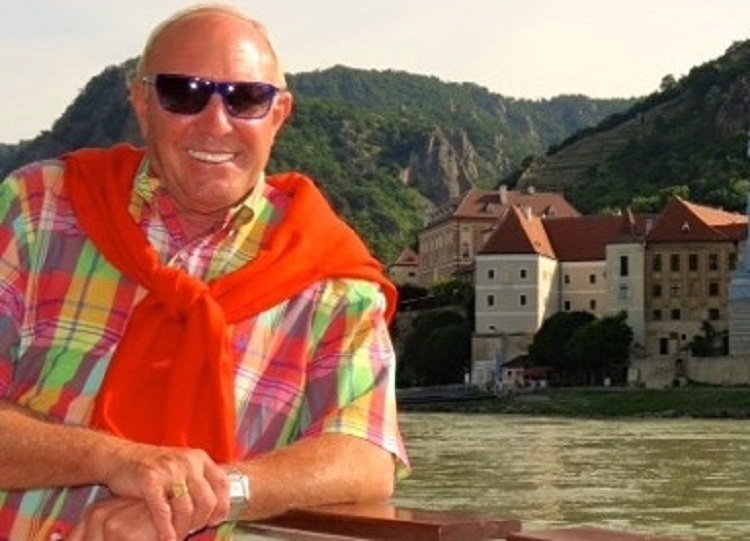 To "chew the fat" is a phrase that typically means to talk or discuss informally or to talk at length about a variety of subjects. On Mathews' site, the fat being chewed refers to food and travel talk.
The site delves deep into what we eat, where it came from and stories that surround almost every recipe shared.
Mathews believes that you don't have to be a world-class chef to create similar, yummy cuisine in your own abode. And the site's recipes, tips and culinary pointers help consumers do just that.
Finding Culture via Cuisine
"Since I write about all things culinary, I am a big proponent of discovering a culture through its food," Mathews says. "Virtually every country on earth can be explored through food."
He also believes that some cuisines reveal a country's history. Take Vietnam, for example.
"This is a truly multi-national food culture," he emphasizes. "Its Asian roots are obvious in its wonderfully fresh, green ingredients. But many of its preparations owe their invention to its years under French rule."
Pointing to Vietnam's Banh Mi Sandwich, he explains that the sandwich bread is French. Yet, the bed is the freshest of local vegetables. Pork belly — a classic Vietnamese protein — is then often topped with Foie Gras, which is pure French.
Banh Mi Sandwiches are sold everywhere in Vietnam, according to Mathews: "Travelers might buy one from vendors standing roadside throughout the country to Hoi An where Anthony Bourdain found Nirvana for the equivalent of one dollar."
Favorite Trip – Any Cruise Ship
As for a favorite trip, Mathews readily admits that his favorite place on Earth is aboard a cruise ship. "I can't think of a better way to see so much of the world in great comfort and style. All those old saws about unpacking just once are true. And oh, the people that you'll meet!"
He believes travelers can always find open-minded, adventurous and wonderful companions on a cruise ship. Plus, the port destinations offer amazing opportunities for exploring.
"Meanwhile back on board, you can be as busy as you want with lectures, games, spa treatments or just finding yourself in a quiet corner with a good book," Mathews notes.
His advice to travelers is this: "If you've never cruised, try it just once. You may never travel any other way after you do."
Travel Tips: Preserving Memories
When returning home, Mathews fondly remembers past trips from looking at lovely pottery or glass pieces displayed in his home (see photo below). He's acquired those during trips to Portugal, Italy, Norway and the Philippines.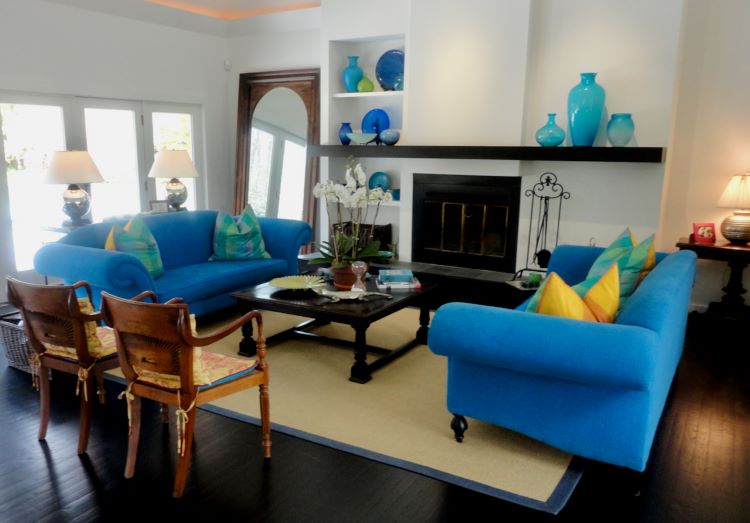 "We never come home without a piece," he adds, noting that to make sure they will fit in, "we have a blue/green palate that guides our purchases."
But it's the personal interactions with "locals" that also create vivid memories. "On a visit to Bali, I had the good fortune to hire a guide, Wahyu," says Mathews.
"His affection for his island was apparent from the moment he picked us up at our hotel," he notes. "Let's just say that there was simply nothing that Wahyu didn't know. His widespread knowledge ranged from rice-growing to the biographies of every Hindu deity."
As a result, Mathews became particularly intrigued with Ganesha, the lord of success and destroyer of evils/obstacles. Ganesha is also the Hindu deity of education, wisdom and wealth.
"And then there's Ganesha's appearance," Mathews adds. Ganesha has an elephant's face, a curved trunk and big elephant ears, as well as a pot-bellied body of a four-armed man. And he sits upon a turtle shell.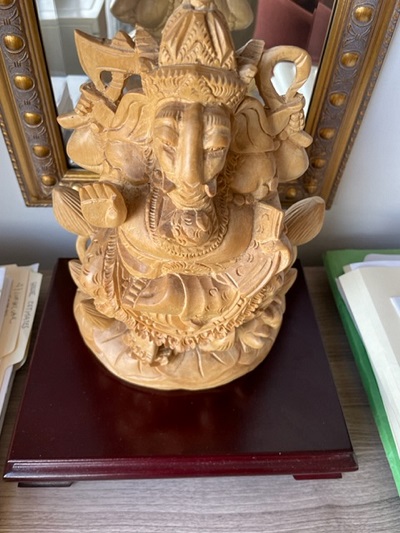 In Search of Ganesha
"Well, I had to have one," quips Mathews. So, for weeks after his short Bali stay, he and Wayhu exchanged many photos. From afar, he could see the individual Ganesha art pieces that Wahyu had identified.
The writer finally picked one to buy. Three months later, the "selected" Ganesha arrived at Mathews' abode (see photo at right).
"He overlooks where I work at home, and I like to think his ability to remove obstacles has been a great help whenever writer's block threatens," he quips.
At the same time, the writer fondly remembers his interactions on tour with Wayhu, a friendly, caring spirit.  That too is a bright memory.
For more of Mathews' travel tidbits, culinary gleanings, recipes and culinary tips, visit Chewing the Fat.
Any of Your Own Travel Tips?
How did you dive deeply into a favorite destination you visited on a recent trip? What did you bring home as a trip memory? What interactions with "the locals" were unforgettable?
Send us your brief tidbits in the reply section below. We'll pick out some to include in this story's comments. And happy travels in 2022.
Important Notes from Pavlus Travel
This blog site is designed for "basic, general information" about travel; it's not designed to provide specific pricing nor is it staffed by travel advisors.
So, please don't use the Reply Section below if you are asking for pricing, travel dates, accommodations, brochures or other specific requests. 
That said, we are most happy and eager to assist you. Here's how…
If anything does tweak your interest in the story and you DO have questions about specific pricing, brochures, savings, accommodations, accessible options and so on, please contact us at 800-528-9300.
Or visit us online at Pavlus Travel's official agency Web site; there you can "live chat" with us online too!
Thanks for reading!