Planning your future vacation? How about a pampering, winter-season cruise to a sunny, warm-weather climate? The Meandering Traveler has selected three Regent Seven Seas Cruises winter-season voyages we'd love to take — one each in 2022, 2023 and 2024. Check out our selections!
Inclusivity in Fares 
Before we start, though, it's good to chat a bit about Regent Seven Seas' cruise fares. It's an ultra-luxury cruise line, so it offers a super-inclusive product.
Translation? Many elements of the vacation that the traveler might typically pay for separately are covered within the cruise fare itself.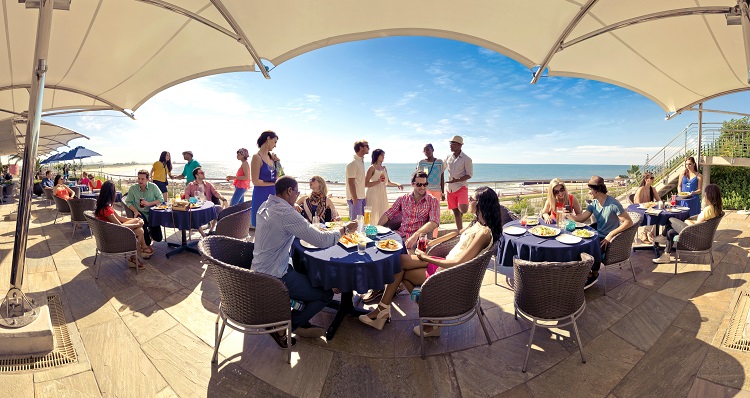 Cruisers receive such "included perks" as roundtrip air tickets; transfers between the airport and ship; and unlimited shore excursions (only premium experiences carry an added charge).
As for beverages, the cruise fare also covers unlimited beverages. That includes fine wines and spirits, open bars and lounges and an in-suite mini-bar that's replenished daily.
But wait, there's more! Additional perks included within the cruise fare are pre-paid gratuities for onboard service, specialty dining aboard the ship, unlimited WiFi and more. Guests definitely aren't "nickeled and dimed" aboard.
Plus, the fares for Concierge Suites and higher-level suite categories include a one-night, pre-cruise hotel package. Guests staying in Penthouse Suites or higher category accommodations also are pampered by a private butler.
One last tidbit to know. Regent also provides two-for-one fare savings. But it's good to understand that this big discount has already been applied when you see the "per person" prices on the luxury line's website. Similarly, that's true for what we list in our sample pricing below, and all prices are subject to change.
Now that the basics are out of the way, let's get to our three winter-season picks of Regent Seven Seas Cruises'  voyages we'd love to take. Here you go…
1. "Wines, Dunes & Wildlife" – December 2022
For consumers with pent-up energy who want to travel in late 2022, we've picked a dandy of a voyage. Southern Africa awaits, so prepare to dive into diverse cultures, sip local wines, gaze at incredible natural beauty and search for African wildlife. 
That's all possible when the 680-passenger Seven Seas Voyager sets sail on a 15-night "Wines, Dunes & Wildlife" itinerary roundtrip from Cape Town, South Africa, on December 6, 2022.
This exotic itinerary touches multiple cultures and destinations in South Africa as well as Namibia and Mozambique.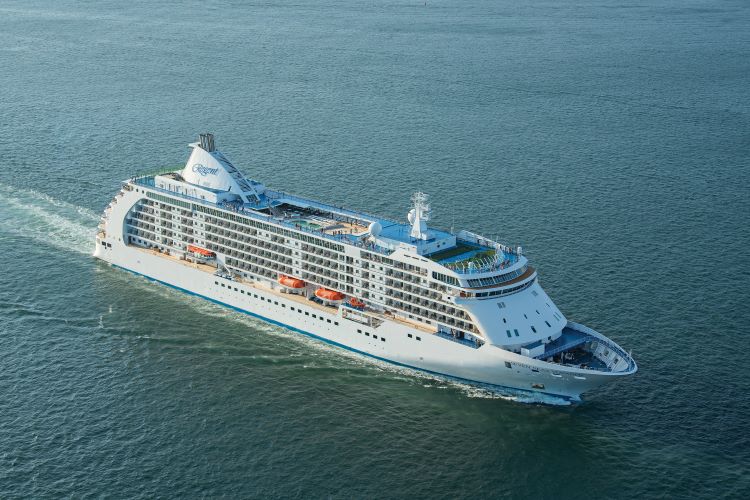 Namibian Desert & South African Safari
Unspoiled Walvis Bay is a natural lagoon and the Namibian Coast's only deep-sea harbor. Seven Seas Voyager will overnight here. So, it's a plus for travelers who'd like to do two different shore excursions on two different days.
Spectacular bird-watching is one option. Another is viewing "Dune 7," towering over the bay and a great "selfie" spot for scenic photos.
Walvis Bay is also a popular jumping-off point for off-road adventures in the Namibian Desert. Alternatively, how about a scenic "flightseeing" excursion in search of dolphins and whales? 
Next, get ready to go on safari! The ship will call at Port Elizabeth, South Africa, a prime gateway to African wildlife spotting and eco-activities. We'd suggest heading out on Regent Seven Seas' shore trip through Lalibela Game Reserve.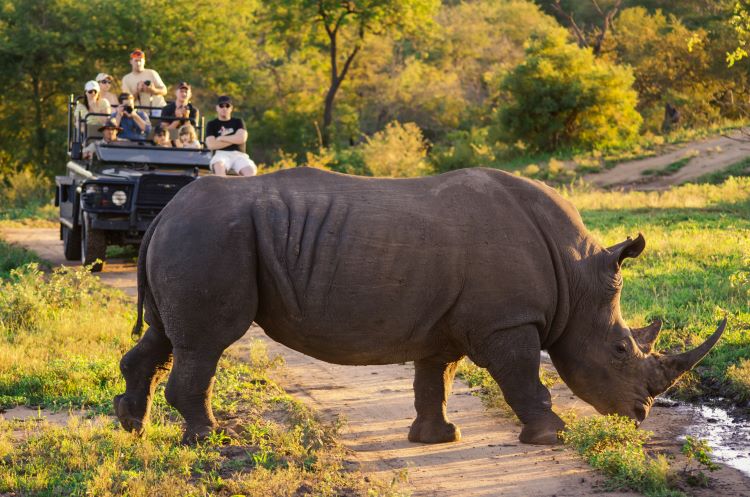 Riding in a 4×4 safari vehicle, cruise guests will explore this private game reserve in search of the "Big Five" — the lion, African elephant, Cape buffalo, leopard and rhinoceros.
Frequently, cruisers exploring Lalibela Game Reserve will spot zebra, giraffe, antelope, hippopotamus and monkeys.
Delightful Durban
Arriving in Durban, South Africa, at 5 p.m. one day and departing at 8 p.m. the next, Seven Seas Voyager will overnight in this urban destination. That's advantageous if you'd like to go ashore in the evening.
One option is to head out independently with new friends met aboard. Why not sip South African wines during a savory wine-pairing dinner in Durban?
During the daytime, Durban also offers a colorful mosaic of ethnic neighborhoods to explore. In addition, travelers often enjoy visiting Old Market Square, basking on the Golden Mile beachfront or touring the Botanic Gardens and Gray Street Mosque, largest in the Southern Hemisphere.

That said, Durban is also a great spot for embarking on game viewing shore excursions. So, ready, set, go! Soon, you'll be searching for lions, zebras, antelopes, birds, elephants and other exotic African wildlife.
Game drive excursions also provide the opportunity for learning about the lifestyle of the local Zulu people.
What we find even more appealing, though, is Regent's line-up of "overland trips" from Durban that include a stay in a safari lodge. For instance, one option is a two-day, overland tour to Kruger National Park and the Lukimbi Safari Lodge.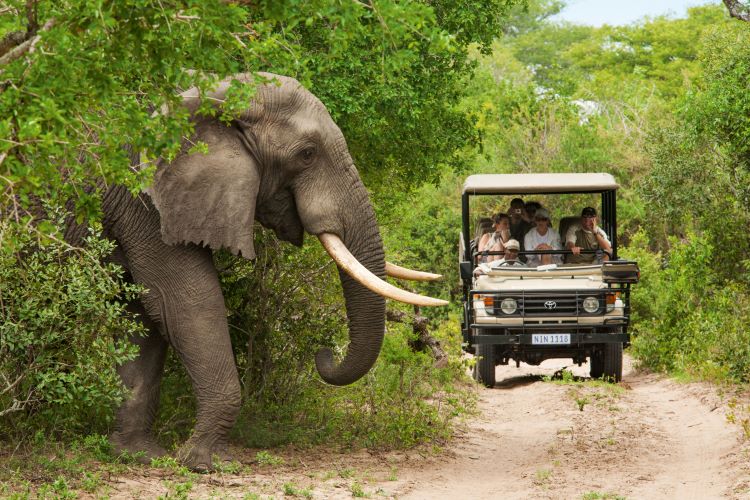 That lodge has a well-stocked cellar, so cruisers can sip South African wine while savoring river views. Plus, they'll enjoy multiple safari outings — which afford a better chance of seeing the Big Five.
More About This Cruise
On this itinerary, Seven Seas Voyager also will overnight in Richards Bay, South Africa. It's the gateway to Zululand, once the mightiest of the sub-Saharan African Kingdoms.
Not surpringly, Richards Bay is a destination with strong safari options, such as the Hluhluwe-Umfolozi Game Reserve. Another draw? This destination is blessed with spectacular wetland scenery and pristine beaches along the north coast of KwaZulu Natal.
On this "Wines, Dunes & Wildlife" itinerary, Seven Seas Voyager also spends a day in Maputo,  Mozambique. With wide European-style boulevards and tropical foliage, Maputo is a city of great contrasts.
How so? Travelers will delight at seeing old colonial palaces as well as modern high-rise buildings and the 19th century Praca dos Trabalhadores, designed by Gustave Eiffel.
To dive into Mozambique culture, cruisers might visit the 1944-era cathedral in the shape of a cross; the lively Mercado Central; or the National Museum of Art.
It's also fun to stroll along Avenida Julius Nyerere with its boutiques, restaurants and local vendors. Check out the African fabrics, crafts and artistic creations.
Another port of call is Mosel Bay, South Africa, a prime beach destination.
In summary, The Meandering Traveler selected this African itinerary for its exotic flair, coupled with adventure and wildlife options. We also like its "reach" into the cultures, heritage and cuisine of three diverse African nations, as well as a hefty availability of Regent Seven Seas overland tours.
Suite Availability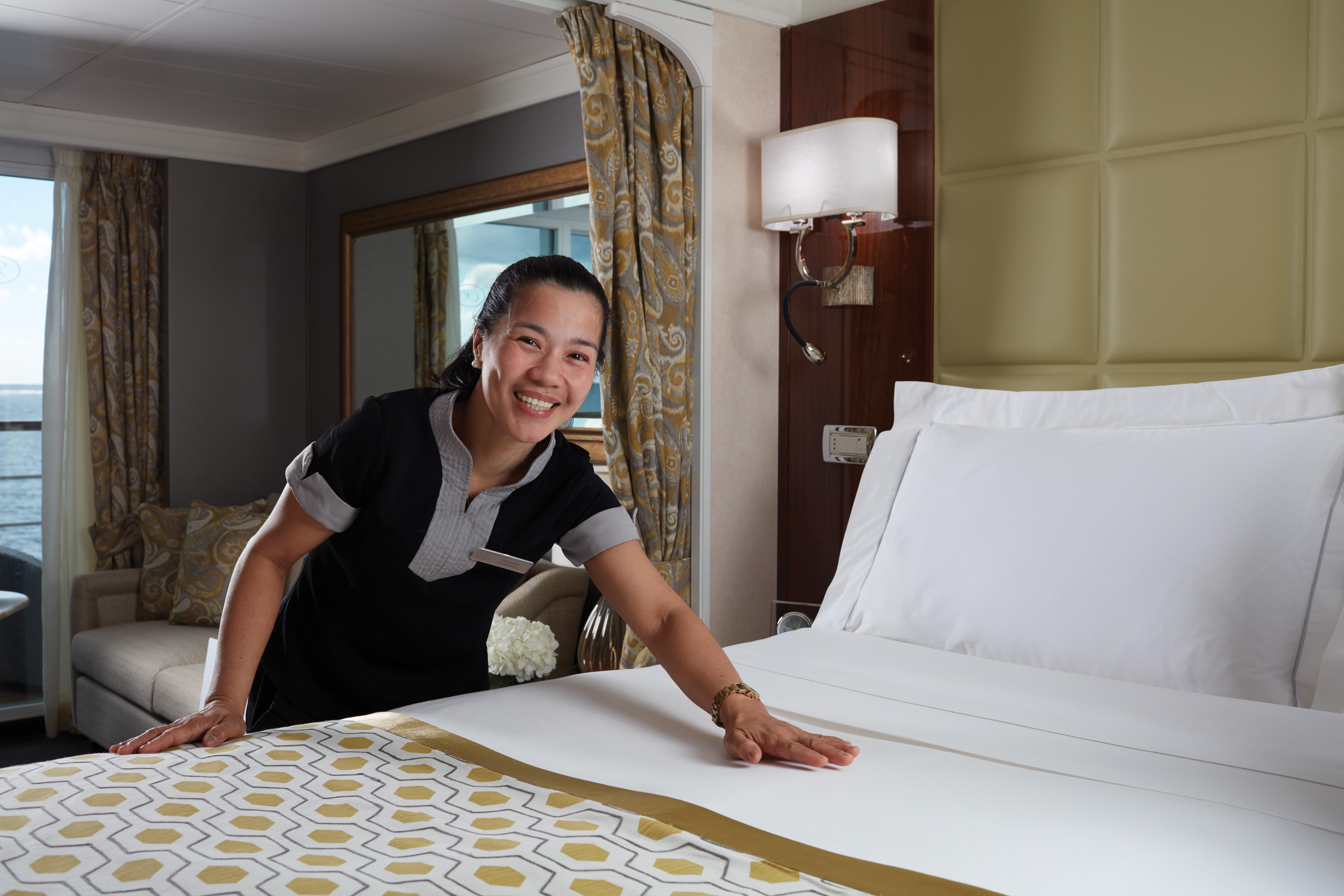 Showing the popularity of this 15-night itinerary, Seven Seas Voyager's top suite categories were "wait listed" at press time. But the good news is that 320-square-foot Penthouse Suites and 306-square-foot Concierge Suites were still available.
Sample fares for those accommodations started at $19,599 per person, double occupancy, and $18,799 per person, double occupancy, respectively. Deluxe Veranda Suites were also available at press time.
For the latest and best pricing, though, as well as any deals, solo travel or accessible accommodations options, chat with your travel advisor.
Desire to know more about the itinerary, ports of call and shore excursions? Check out this link to Regent Seven Sea's website page for "Wines, Dunes and Wildlife."
2. "Earth, Fire and Ice" — December 2023
Eager to "get out there" and see the world again? For an appealing voyage to South American ports, we're intrigued by Regent Seven Seas Cruises' 21-night "Earth, Fire and Ice" itinerary.
On December 20, 2023, the luxurious, 750-passenger Seven Seas Splendor sails from Callo (Lima), Peru to Buenos Aires, Argentina. The itinerary affords opportunities to travel throughout South America, learn about multiple cultures and view incredible scenic beauty.
This cruise includes port calls in Peru, Chile, the Falkland Islands (U.K.), Argentina and Uruguay. What's also special is that this is a holiday voyage — spanning Hanukkah, Christmas and New Year's Day.
That holiday period timing affords a way for travelers to reconnect with family members and friends that they may not have seen for several years.
The Nazca Lines
From our perspective, "this itinerary rocks." Seven Seas Splendor's first port call is Pisco, Peru. The big draw here is the opportunity to see the Nazca Lines, which are giant geoglyphs. Their designs or motifs were etched into the dry landscape thousands of years ago by people of the ancient Nazca culture.
Today, this unusual site along the Peruvian coastal plain is a UNESCO World Heritage Site. Why were the etchings created? That's still a mystery today to researchers.
What is clear is that the best way to see the Nazca Lines is from the air. Fortunately for cruisers, Regent Seven Seas offers a "Nazca Lines Overflight" as one of its many shore excursions from Pisco.
Sailing the Chilean Coast
Seven Seas Splendor will then set sail for two days of cruising the Pacific coast. The ship will arrive next at Coquimbo Chile, and to Santiago (San Antonio), Chile.
Coquimbo is home to a seaside promenade, gorgeous 19th-century architecture in the English Neighborhood and several fine beaches. The ship actually calls Christmas Day at Santiago.
Next is Puerto Montt, gateway to the Chilean Lake Country. Cruisers can head out shopping with a Regent Seven  Seas' chef, enjoy panoramic vistas, or go horseback riding or river rafting.
Seven Seas Splendor then calls at Puerto Chacabuco, a laid-back area in Patagonia, where cruisers might spot black-necked swans, ice sheets in the sea, and perhaps even an endangered giant condor.
Then, the ship heads for Laguna San Rafael, Chile, and for two sea days  (spanning New Year's Eve and New Year's Day), the vessel will sail along the spectacular Chilean Fjords. 
Home to glaciers, penguins and towering peaks, the fjords deliver gorgeous vistas. For many travelers, seeing the Chilean Fjords allows them to check off a box on their "bucket list" of most-desired travel activities.
Strait of Magellan
Continuing on, Seven Seas Splendor calls at Ushuaia, Argentina, where active guests might go kayaking within the Strait of Magellan, the natural passage between the Atlantic and Pacific oceans.
In 1520, it was first traversed by Europeans, specifically Portuguese explorer Ferdinand Magellan, for whom it's named. At the time, Magellan was commanding a Spanish government expedition.
While visiting Ushuaia, travelers might consider Regent Seven Seas' shore excursion via catamaran to Magdalena Island. The reward is seeing penguins in the wild; a 2019 survey estimated the penguin population at 42,000 breeding pairs.
Rounding the Horn
Seven Seas Splendor then tackles a "bucket list" experience for many travelers — sailing around Cape Horn. That's the southern-most headland of the Tierra del Fuego archipelago in southern Chile.
By way of background, the strait was named "Hoorn" in honor of the birthplace of Dutch navigator Willem Corneliszoon Schouten, who rounded it in 1616. Cruisers love having "bragging rights" — proudly telling friends upon their return home that: "I rounded the Horn."
Next on the itinerary is Ushuaia, Argentina; Port Stanley in the Falkland Islands; and Puerto Madryn, Argentina. Then it's on to Punta del Este (Montevideo) in Uruguay, before the three-week cruise concludes in Buenos Aires, Argentina.
Holiday Cruise Availability
Holiday cruises sell out quickly, and, not surprisingly, that's the case for most of this cruise's top suites.
That said, Concierge, Superior and Deluxe Veranda suites were still available to book at press time.  For example, Deluxe Veranda category fares for this three-week cruise started at $17,599 per person, double occupancy.
However, if you really want to splurge (or simply dream of splurging) for the top-of-line suite on the ship, you're in luck. The most spacious, cruise line suite on the planet was still available at press time!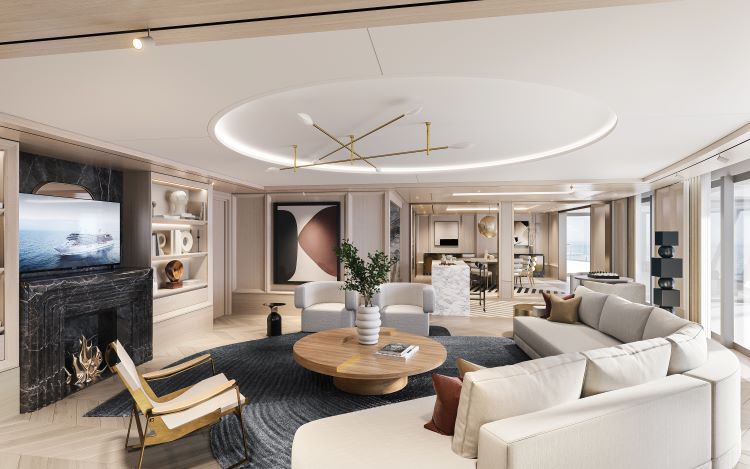 For this holiday voyage, the 3,151-square-foot Regent Suite, the absolute pinnacle of accommodations on Seven Seas Splendor (see photo above) is yours for the taking (with the right deposit, of course). At press time, it was priced from $115,499, per person, double occupancy.
All fares are subject to change and availability. So, if you desire more details on any of the still-available accommodations — from Deluxe Veranda to The Regent Suite — speak to your travel advisor.
Extending the Vacation 
Another plus of this itinerary is the traveler's ability to extend the vacation to see more of South America. For instance, Regent Seven Seas offers everything from a trip to Iguazu Falls on the Argentinian/Brazilian border to the Galapagos Islands of Ecuador.
Other add-ons explore the ancient Inca city of Machu Picchu in Peru, head out for adventure in Patagonia or spend more time in Buenos Aires.
For a more in-depth look at this cruise itinerary and the many possible add-ons, visit the "Earth, Fire & Ice" page on Regent Seven Seas' website.
3. "Pomp & Romance in the Caribbean" – February 2024
Not into the exotic? Seeking a voyage a bit closer to home? Or hoping for a leisurely Caribbean voyage for a winter getaway, with timing that's farther out?
If so, we'd opt for Regent Seven Seas Cruises' 12-night "Pomp & Romance in the Caribbean" cruise. Departing February 5, 2024, it sails roundtrip from Miami.
The top hook? Cruise guests will sail on the sparkling, new 750-passenger Seven Seas Grandeur (see photo below). With interior design by Miami's Studio DADO, the amenity-laden ship will debut in late 2023.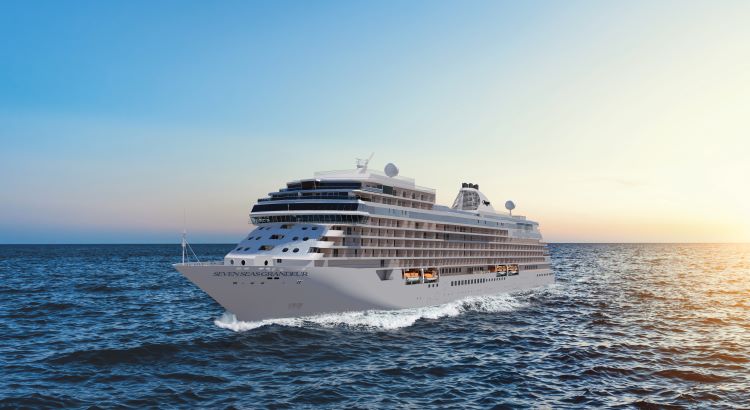 Regent Seven Seas Cruises will introduce the new Seven Seas Grandeur in late 2023; the ship will sail anticing 12-night "Pomp & Romance in the Caribbean" itinerary in February 2024. Photo by Regent Seven Seas Cruises.
Appealing Factors
Beyond the draw of a new ultra-luxury ship, The Meandering Traveler also likes this "Pomp & Romance in the Caribbean" voyage for these reasons:
Close to Home/Ease of Access: The voyage sails roundtrip from South Florida, a great option for those who don't wish to fly overseas and deal with international airline flights or foreign requirements.
Optimum Length: At 12 nights, this cruise provides plenty of time to see and do much, so guests won't feel rushed. In contrast, those on a seven-night cruise typically board and then two or three days later start thinking that the trip is half over.
Four Days at Sea: Two days heading into the southern Caribbean and two days on the return from the British Virgin Islands provide four days of do-as-you-want onboard bliss. Those sea days allow guests to relax and indulge their personal interests while aboard.
Cruisers can head out for pool time, spa treatments, enrichment programming, fitness workouts, cooking classes, personal training, socializing with friends, wine tasting or other activities. Or, they might simply relax in their suite with a good book.
Two Caribbean Regions: The 12-day length of this cruise allows Seven Seas Grandeur to sail deep into the Caribbean, first to the ABC (Aruba, Bonaire, Curacao) islands of the Dutch West Indies, before heading to Grenada and St. Lucia.
So, cruisers have good exposure to the southern Caribbean region, before the ship sails to two popular eastern Caribbean isles. Guests will go ashore at the lovely French island of St. Barthelemy as well as Tortola in the British Virgin Islands.
Regent Seven Seas' Fares
For "Pomp & Romance in the Caribbean," Regent Seven Seas' website pricing for a 219-square-foot Veranda Suite started at $7,299 per person, double occupancy. In another example, the 577-square-foot Seven Seas Suite started at $14,199 per person, double occupancy. These press time rates are subject to change and a travel advisor can help you sort out all the options.
In conclusion, those are The Meandering Traveler's picks for three appealing, ultra-luxury cruises we'd love to take on ultra-luxury Regent Seven Seas Cruises.
We've also recently blogged about the top vacations we'd love to take on Tauck in the U.S. and for Viking across the globe. Look for more of these pieces in the coming months.
Overall, we're certainly ready to get back out there exploring the globe. How about you?
Important Notes from Pavlus Travel:
This blog site is designed for "basic, general information" about travel; it's not staffed by travel advisors.
So, please don't use the Reply Section below if you are asking for pricing, travel dates, accommodations, brochures or other specific requests. 
That said, we are most happy and eager to assist you. Here's how…
If anything does tweak your interest in the story and you DO have questions about specific pricing, brochures, savings, accommodations, accessible options and so on, please contact us at 800-528-9300.
Or visit us online at Pavlus Travel's official agency website; there you can "chat live" with us online too!
Thanks for reading!