The Great Lakes conjur up imagery of dramatic scenery, vibrant cities, gorgeous islets, eco-adventure, quaint small towns, fantastic museums and other cultural or heritage activities.  Many consumers book their cruise to see thundering Niagara Falls or soak up the romantic feel of a time gone by at Mackinac Island, MI.
One easy way to cover sizable territory in the region is to take a small-ship cruise. Cruisers will float from destination to destination without the hassles (and gas cost) of driving.
So what are the Great Lakes all about? For a geographic primer about the lakes, it's advantageous to first read our "Great Lakes 101 blog-Part 1," published a week ago.
In turn, this "Great Lakes 101 blog-Part 2" will examine a few of the enticing Great Lakes itineraries. Below, we've laid out the basics from American Queen Voyages, Pearl Seas Cruises, Ponant and Viking.
Since many departures are already sold out (or close to that) for summer 2022, we'll mostly look at a few 2023 and 2024 itineraries.
FIRST Great Lakes Itinerary: Sailing from Chicago
One unique sailing is offered by small-ship line, American Queen Voyages. Currently, this small ship line is the only one with scheduled embarkations at Chicago in 2024.
The line's 202-passenger Ocean Navigator will sail a nine-day "Chicago to Niagara Falls" journey on June 6, 2024, and August 31, 2024. Sister Ocean Voyager will operate that same itinerary on August 23, 2024.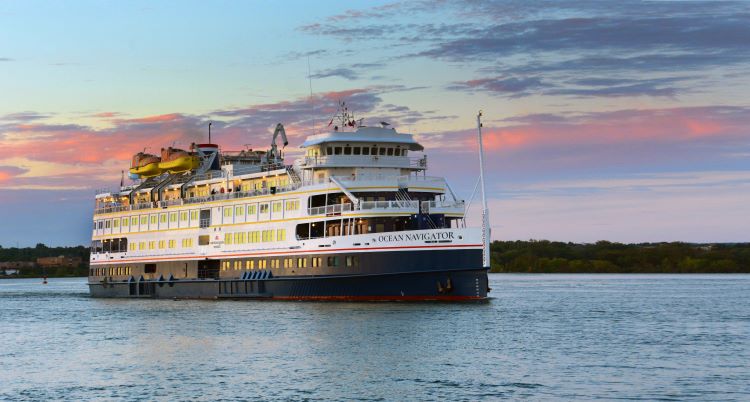 Voyages that embark in Chicago will sail to Port Colborne (the port for exploring Niagara Falls, about 45 minutes away by motorcoach).
Guests will arrive in Chicago, overnight at a city hotel as part of their cruise itinerary, and then tour Chicago the next day before the ship sails.
Chicago Activities
While in the city, we'd suggest cruisers possibly check out:
Millennium Park: This 24.5-acre park is home to the Jay Pritzker Pavilion, Cloud Gate – a shiny bean-shaped sculpture, Crown Fountain and Lurie Garden.
The Magnificent Mile: Shopaholics will adore this 14-block stretch of Michigan Avenue from the Chicago River to Oak Street. Here, they'll find malls and boutiques selling designer fashions, plus more affordable clothing too.
Adler Planetarium: For science geeks, this planetarium is a treasure trove of experiences focused on the universe, stars and planets.
The Skydeck observatory at 360 Chicago: On a clear day here, you can can't see forever — but you can see Michigan, Indiana, and Wisconsin. Thrill seekers should visit The TILT attraction on the Skydeck's open-air viewing deck. Look down to admire Michigan Avenue, 1,000-feet below.
Cruisers will embark their ship at Chicago's Navy Pier. Hungry pre-boarding? We'd suggest visiting pier area eateries for delicious deep-dish pizza, Italian beef or Chicago's famous hot dogs.
After departure, guests will enjoy a day of scenic cruising, followed by a day at Sault Ste Marie and transit of the Soo Locks. Sault St. Marie is situated along the U.S. and Canadian border.
In addition, the ship will call at Little Current (Manitoulin Island, Ontario). With a bustling harbor brimming with small boats, it's a lovely, picturesque small town and a great spot for a stroll.
Cleveland Bound
As this itinerary progresses, the ship then will call at Cleveland, OH. Top places to explore? We'd suggest these highlights — all featured in AQV's complimentary "Hop-On, Hop-Off" motorcoach tour.
Here are the AQV stops:
Cleveland Museum of Art: Housed in a 1916-era building, this multi-gallery museum is comparable to art museums in Europe. It's a top spot for art buffs.
Cleveland History Center: Top draws are the center's automobile collection and restored carouse Plus, a visit here offers cruisers the chance to to wander through a millionaire's former mansion.
Rock and Roll Hall of Fame: A "must do" stop for most music lovers, this complex offers seven floors brimming with music-focused exhibits. Cruisers will learn about the world's great rock musicians, their stories and musical achievements.
The Arcade: Cruisers can hop off across from the famous 4th Street to shop for apparel at the historic Arcade shopping center.
Old Stone Church: This downtown landmark overlooks the plot founded by Moses Cleveland. It's also near the Soldiers' and Sailors' Monument.
A guide will provide commentary for riders aboard the coach. Guests hop on and off at designated stops.  So,they can pick and choose – get off at one stop, at two stops or all stops!
The coaches "circle" the route. Cruise guests hop back on at those same designated stops. Alternatively, guests can simply stay on the coach — not getting off — to enjoy a Chicago sightseeing tour.
On to Niagara Falls
This week-long cruise then ends in Port Colborne, Ontario, for access to Niagara Falls.
Good to know? AQV's optional premium experience will take guests by boat past Niagara Falls and massive rock formations (see photo below.)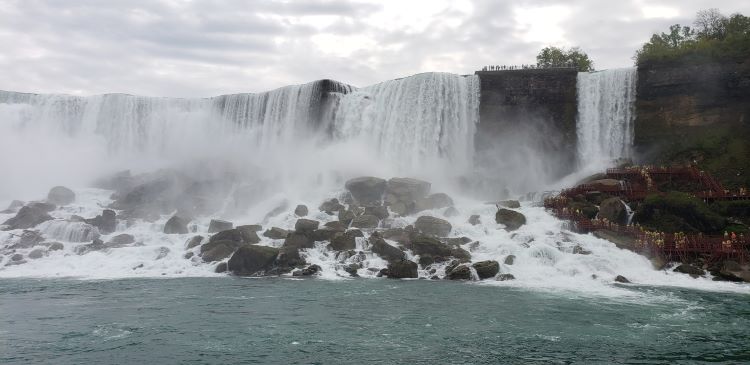 That tour also includes a visit to a winery for a tasting and shopping time. No price for this premium excursion was yet available at press time.
Cruise fares themselves? Prices for American Queen Voyages'  nine-day "Chicago to Niagara Falls" itinerary, departing June 6, 2024, started at $2,999 per person, double occupancy.
Prices are subject to change. Talk to your travel advisor for more cruise specifics, based on your travel dates, accommodations choice and individual needs.
For more information, check out American Queen Voyages' Web page about this itinerary.
SECOND Great Lakes Itinerary: Bold, Vibrant Toronto
With a population of 2.8 million residents, Toronto, Ontario, is Canada's largest city. It's also Canada's leading tourism destination — welcoming 43-plus million visitors annually.
Cruise guests visiting Toronto might stroll past Rosedale's Victorian bay-and-gable homes or the historic enclave of Wychwood Park. Architectural buffs also typically love viewing Victorian-era industrial buildings in the Distillery District.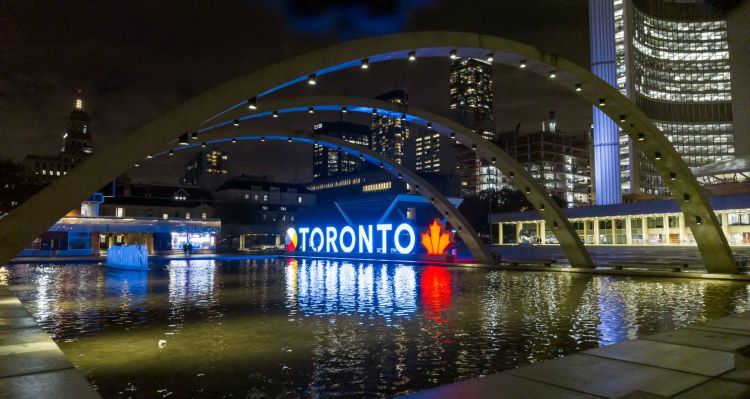 Not surprisingly, Toronto is a popular embarkation port for many Great Lakes Cruises. For example, Viking's 378-passenger Viking Octantis will sail eight-day "Niagara and the Great Lakes" itinerary between Toronto and  Milwaukee, WI, on May 5, 12 and 27, 2023.
Cruisers starting their vacation in Toronto will discover an incredible array of sightseeing, attractions, shopping and outdoor activities. Here's a link to Toronto's official tourism website for all the sightseeing/activity options.
After sailing from Toronto, the ship's first call is Port Colborne. Many guests will likely get off and head for Niagara Falls for the day. Then, the voyage continues on to the Welland Locks (described in Part 1 of our Great Lakes 101 blog).
Pointe Pelee and Detroit
Next, cruisers will encounter Point Pelee, a pristine peninsula with woodlands and the region's largest freshwater marshes. Now a national park, it's located at the convergence of two major bird migration flyways.
Let's just say it's an absolute birder's delight with 350 species recorded here. Visitors can explore the eco-system via boardwalks.
The ship then continues to Detroit, "Motor City USA." One popular activity river cruisers often enjoy is a shore excursion to the Henry Ford Museum.
Yes, of course, historic automobiles are displayed, among them the vehicle John F. Kennedy was riding in when assassinated on November 22, 1964.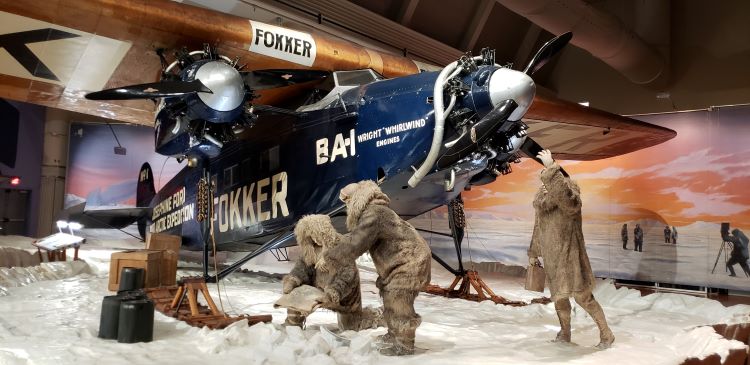 But the museum also displays a fabulous collection of historic aircraft (see photo above). Unique artifacts? Check out Abraham Lincoln's rocker and the bus that Rosa Parks was riding on in 1955 when she refused to give up her seat.
Then it's on to Alpena, MI, before a call at Mackinac Island; and then the cruise ends at Milwaukee Island, MI.
Factoid: Did you know that Michigan has more lighthouses than any other U.S. state? It's true! As a result, during that Alpena stop, cruisers can view the Presque Isle lighthouse.
They also might visit the Great Lakes Maritime Heritage Center or perhaps kayak over shipwrecks in Thunder Bay.
Look to 2023
Just "fyi," this cruise is showing "sold out" for all 2022 dates on Viking's website. That said, Viking is offering plenty of departure dates between late April 2023 and September 2023, all with availability at press time.
Voyages are offered on both Viking Octantis and Viking Polaris. At press time, starting 2023 prices for entry-level accommodations on Viking's "Niagara and the Great Lakes" cruise ranged from $5,999 to $6,999; that varies by departure date.
Prices are subject to change; talk to a travel advisor for specifics based on your individual needs. Here's a link to this itinerary on the Viking site. 
THIRD Great Lakes Itinerary: A Longer Option
Seeking a longer, more robust Great Lakes voyage on either of those Viking expedition ships? Then, we'd suggest taking a look at the line's 15-day "Great Lakes Collection" itinerary from Toronto to Duluth, MN. The latter destination is situated along the far western shores of Lake Superior.
During that two-week cruise, cruisers will sail through the Welland Canal between Lake Ontario and Lake Erie; and head out on port calls at Port Colborne for a Niagara Falls excursion; Cleveland; Detroit; and Alpena.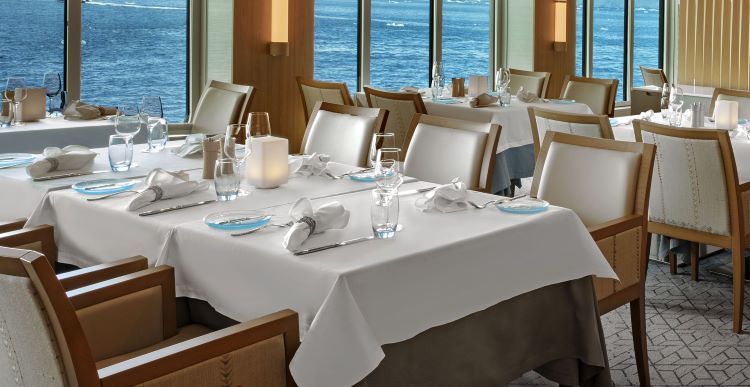 Then the cruise continues on to Algoma, WI, for Cave Point at the Door Peninsula, delivering stunning eco-beauty.
Next the ship will call at Mackinac Island, MI; Little Current at Georgian Bay, which is a UNESCO Biosphere Reserve with 30,000 islands; and Sault Ste Marie and the Soo Locks.
Following another day of scenic cruising, the ship arrives at Thunder Bay Island, known as "Canada's Gateway to the West." It's located at the final navigational point on the Canadian side of Lake Superior.
Farm, Food & Beer
One shore excursion that's worth a look? Characterized as "moderate" in physical activity (1.5 to three hours of walking or standing), it's Viking's six-hour "Thunder Bay Farm, Food & Beer" excursion.
Savory indulgence awaits with this excursion's artisanal cheese tasting, brew sampling and a cooking class.
Then, the voyage concludes in Duluth, MN. Activities might include a vintage train ride, a stroll along the downtown waterfront or a fun-filled marine outing to the Great Lakes Aquarium.
Viking's two-week "Great Lakes Collection" itinerary is available on eight different departure dates between June and September 2023. At press time, cruise fares started at $13,995 per person, double occupancy; fares include 10 shore tours.
Pricing is subject to change. Talk with a travel advisor for specifics to suit your needs. Here's the link to the full "Great Lakes Collection" itinerary on the Viking website.
FOURTH Great Lakes Itinerary: Toronto to Milwaukee
For a pearl of a vacation, check out Pearl Seas Cruises' 11-night "Great Lakes and Georgian Bay" itinerary from Toronto to Milwaukee. Cruise guests sail through four of the Great Lakes from the comfort of the 210-passenger Pearl Mist.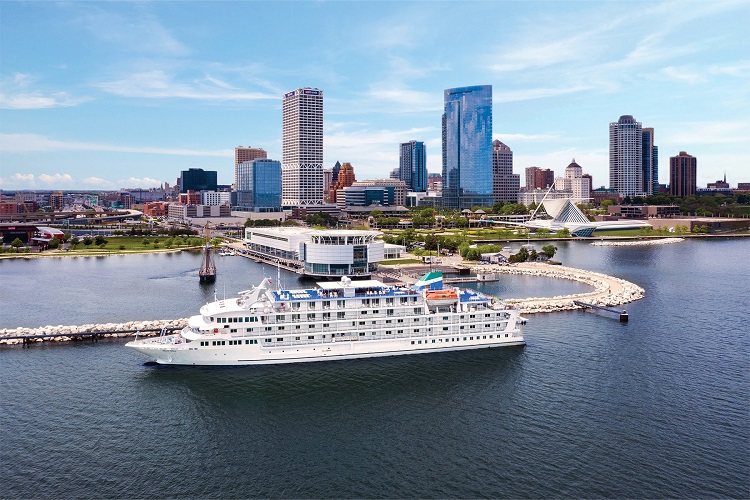 Pearl Seas Cruises is offering guests a new Signature Pre-Cruise Package at the Four Seasons Hotel Toronto. Enjoy a one-night stay at this five-star hotel, located in the heart of Toronto's exclusive Yorkville neighborhood.
On the morning of the cruise, guests will receive a breakfast at the hotel, followed by a Toronto excursion. So, they'll see the Saint Lawrence Markets, Chinatown, the Distillery District and the Fashion District.
The excursion concludes at the ship. Guests' luggage will be waiting in their staterooms. This pre-cruise package must be reserved at least 30 days prior to the cruise date.
The Cruise Begins
Then, cruisers will enjoy a relaxing afternoon cruise out of the harbor as they begin their Great Lakes voyage. It's then on to Port Cloborne for a shore excursion, if desired, to Niagara Falls.
Next, the ship continues to Windsor, Ontario. Known as the "City of Roses," Windsor is home to large parks and gardens adorning its waterfront. Eco-friendly, it offers 3,000 acres of green space, 180 parks and 40 miles of trails.
In addition, Windsor is the "Automotive Capital of Canada," so cruisers will find a Henry Ford Museum here that's worth touring too (separate from the previously mentioned Henry Ford Museum outside Detroit in Dearborn, MI).
Alternatively, if you love history and culture, head for Greenfield Village, a living museum that chronicles 300 years of American history.
Trumpeter Swans
Pearl Mist then sails the lakes for a day before calls at Midland, Ontario. Along the harbor, cruisers will discover a picturesque destination with a large statue of the trumpeter swan, a symbol of Midland.
Want to see the real thing? For bird lovers, Midland's Wye Marsh Wildlife Centre is a habitat for Trumpeter Swans, Black Terns, and Least Bitterns.
The ship then makes port calls at Parry Sound and Little Current, Ontario, before heading on to Sault Ste Marie, Mackinac Island and Muskegon/Holland, MI.
From historic ships and lighthouses to the restored "lumber baron" mansions, Muskegon is often referred to as "The Riviera of the Midwest." Over the years, it has transformed from a fur trading and lumbering town to a vibrant tourist destination.
In addition, cruisers typically love visiting Holland, MI. Why? Hundreds of immigrants hailing from The Netherlands live in the town, so it provides a deep, immersive dive into Dutch culture.
Pearl Mist continues to Milwaukee for an overnight prior to the conclusion of the voyage. This itinerary is also operated in reverse.
Space to Spread Out
Cruise guests will enjoy plenty of space as Pearl Mist's staterooms range from 300 to 600 square feet, and this line has a free cocktail evening every night on board
The line's website site is showing some availability on two voyages in 2022, with prices at press time starting at $9,100 per person, double occupancy. Prices are subject to change.
For next year, there are many more options with departures between June 2023 and August 2023. At press time, those sample prices started at $8,640 to $9,100 per person, double occupancy. Prices are subject to change.
Readers might review the full "Great Lakes and Georgian Bay" itinerary on the Pearl Seas Cruises website.
FIFTH Great Lakes Itinerary: Another Toronto-Milwaukee Cruise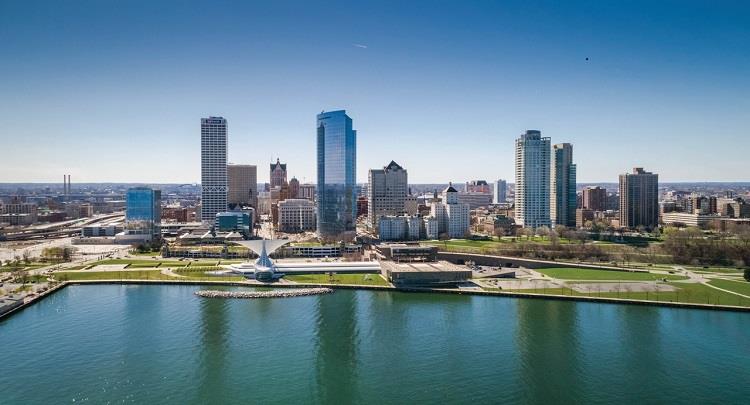 For those seeking a seven-night cruise but also with Toronto-to-Milwaukee routing, Ponant 184-passenger Le Bellot will sail a "Voyage along the Great Lakes – with Smithsonian Journeys," on September 19, 2022. It also offers multiple dates in 2023.
French Flagged
Good to know? Ponant is French owned and operated, plus all its small ships are French flagged. A cruise on this line is a way to soak up an international vibe.
Yet, conducted in partnership with the Smithsonian Journeys program, this cruise is part of a Ponant collection of voyages designed for English-speaking travelers.
So, let's get to the itinerary. Sailing from Toronto, the ship will head for Port Colborne and the option for a Niagara Falls excursion.
Then, it's a relaxing day of cruising on Lake Erie, named for one of the native tribes that lived in the area before the 17th century arrival of the French. Get out your binoculars as the lake attracts many species of migratory birds.
Next up on the itinerary is Detroit. Sailing into the city, cruisers will see the Ambassador Bridge. Spanning the river, this steel suspension bridge provides access to Windsor on the Canadian shore of the river.
More than a mile long, it was constructed in 1929. The bridge carries more than 25 percent of all trade between the United States and Canada.
The Ponant ship will then spend a day sailing the St. Clair River, flowing from Lake Huron into Lake St. Clair, as well as a day sailing Lake Huron. 
Georgian Bay Discovery
Arriving in Little Current, Le Bellot (or its sister ship) will offer several excursions. We'd opt for the "Georgian Bay Discovery" to explore the world's largest freshwater archipelago.
Known locally as 'The 30,000 Islands," the geology of the archipelago is a complex intertwining of bays, inlets, sounds, islands and shoals.
Ponant's "Georgian Bay Discovery" excursion is a cruise on the 132-foot Island Queen. For instance, guests will gaze at a landscape of forests, wetlands and rocky habitats.
Offering comfortable seating, the tour boat has large viewing windows, spacious outside observation decks, wheelchair- accessible washrooms, a snack bar and a bar. Passengers are free to move about during the cruise.
Good to know? This is an easy, relaxing tour. It requires little walking other than to and from the ship and the tour ship.
Another option at Little Current is Ponant's "Killbear Provincial Park." As a good choice for those who like to keep active, this excursion involves 1.8 miles of walking over forest trails and rocks.
More Ports
Other port calls on this voyage include Sault Ste Marie and Mackinac Island. Plus, the ship sails a day on Lake Michigan before arriving in Milwaukee, where the voyage ends.
If interested in traveling this summer, though, definitely act quickly. Talk to your travel advisor today. Cabin availability for one 2022 departure of this Ponant "Voyage along the Great Lakes – with Smithsonian Journeys" itinerary was very limited.
At press time, the starting price for that September 19, 2022 voyage was $7,710 per person, double occupancy. The good news is that Ponant also offers this itinerary on August 28, 2023, on sister Le Dumont d'Urville. 
Pricing at press time for that 2023 voyage began at $7,450 per person, double occupancy. Check with your travel advisor for any solo or accessible options, as well as accommodations choices.
In addition to the usual elements of the Ponant experience, the prices include transfers to and from the ship, talks and discussions aboard ship by world-class experts, and a shore excursion or activity in each port of call. 
Parting Thoughts
What's good to know? Most of the four major, small-ship lines mentioned above have other Great Lakes itineraries too.
So, ask your travel advisor about the options (limited this year although some cabins may be still available) or in 2023 or 2024.
Important Information from Pavlus Travel
This blog site is designed for "basic, general information" about travel; it's not designed to provide specific pricing nor is it staffed by travel advisors.
So, please don't use the Reply Section below if you're asking for pricing, travel dates, accommodations, brochures or other specific requests. 
That said, we are most happy and eager to assist you. Here's how…
If anything does tweak your interest in the story and you DO have questions about specific pricing, brochures, savings, itineraries, dates of travel, accommodations, accessible options and so on, please contact us at 800-528-9300.
Or visit us online at Pavlus Travel's official agency Web site; you can "live chat" with us online too!
Thanks for reading!