From 1977 to 1986, tuning into "The Love Boat" on TV was a favorite American past-time. For many consumers, each of the 250 prime-time ABC episodes delivered an hour of pure escapism.
Most notably, this comedy-drama show showcased the cruise vacation experience on the high seas – and not simply for rich folks. "Come aboard, we're expecting you," was the philosophy.
"The Love Boat" brought the joys of cruising to millions who would never have considered it otherwise," says Peter Knego, cruise journalist, historian and owner of Peter Knego's MidShipCinema YouTube channel.
"Until then, cruising was mostly considered a past-time for the elderly and very wealthy," Knego says. Acknowledging that the show was "over the top and a bit corny at times," he stresses that watching it today, it's easy to see that "it had a warmth and uplifting vibe that is very comforting in these troubled times."
Ahoy Pacific Princess!
As "The Love Boat's" opening theme and credits rolled, viewers saw the Pacific Princess heading from Los Angeles to the Mexico's Pacific Coast and the ports of Puerto Vallarta, Mazatlan and Acapulco.
Later, it also sailed (particularly on "The Love Boat" specials) to other far-flung destinations around the globe such as Europe, Asia and the South Pacific.
Brimming with infectious enthusiasm for the show still today is Jill Whelan, who played Vicki, Captain Stubing's daughter. "It was incredible," she says. "I was a fan of the show so, for me, it was really wonderful."
Before the television series began, an original, made-for-TV movie, also called "The Love Boat," aired in 1976. It was based on "The Love Boats," a nonfiction book by Jeraldine Saunders, a former cruise director on another line.
Two more TV movies aired prior to the TV show's debut in September 1977.  Then it was a television run of nine seasons, followed by multiple specials that aired between 1986 and 1990.
Baby Boomers watched, learned and, in many cases, later sailed. "The Love Boat" did much to develop "mainstream cruising" and foster cruise industry growth.
In fact, Cruise Lines International Association (CLIA), the cruise industry's trade association, inducted the show into the Cruise Industry Hall of Fame in 2006.
The Love Boat Cast

Not surprisingly, week after week, consumers became quite fond of "the crew."
Viewers followed the story lines of their favorites — from Captain Stubing (played by Gavin MacLeod) to Julie (Lauren Tewes), the cruise director and Isaac (Ted Lange), the bartender (See photo at right). 
While the crew were professional, they also were friendly and welcoming to guests. Plus, there was a hefty dose of humor and comedic magic.
Consumers loved the interactions of Burl "Gopher" Smith (Fred Grandy), the yeoman purser and later chief purser, as well as Adam "Doc" Bricker (Bernie Kopell).
And, of course, there was Captain Stubing's daughter, Vicki (Whelan), the youngest member of the cast. She joined the show as a regular cast member when she was just 11 years old.
Fast Forward to 2022
Two major happenings centered around the "The Love Boat" are planned for 2022. So, The Meandering Traveler interviewed Whelan and asked about her "show insight," interactions with the cast, love of cruising and what's ahead.
First, a new CBS series, "The Real Love Boat," will air this fall. No, it's not the same concept as the original show.
Instead, it's a reality dating show with both U.S. and Australia editions planned. Inspired by the long-running scripted classic, though, scenes will be filmed aboard a Princess ship.
"The Real Love Boat" will air Wednesday nights following "Survivor" and "The Amazing Race."
Look for the new reality show to be all about romance. It will chronicle the adventures of real-life singles brought together for a Mediterranean voyage.
Navigating compatibility and chemistry challenges, singles will search for "The One." After a month at sea, only one lucky couple will complete their voyage with a cash bounty and gift of a future Princess Cruise.
Original Love Boat Cast Involvement?
Will Whelan and other former cast members be involved, perhaps with guest appearances or otherwise? That's not known at this time.
Celebratory Memorial Cruise
But Whelan, who serves as Princess Cruises' official "Celebrations Ambassador," is definitely involved with a second major happening related to the original show.
On October 22, 2022, she'll host a celebratory memorial cruise dedicated to Gavin MacLeod, aka Captain Stubing. MacLeod died in May 2021 at the age of 90.
"When you think about The Love Boat, you think about Gavin," Whelan says. It's that simple.
Upon MacLeod's death, Charles Sylvia, vice president, industry and trade relations, Cruise Lines International Association (CLIA), described the actor as "the very first cruise influencer," citing his and other cast members' ability to bring cruising into people's homes every Saturday night.
Discovery Princess will host that seven-day "Love Boat" themed cruise. The ship will sail roundtrip from Los Angeles to Mexico.
Here's a link to the Princess page that shows itinerary and voyage details. At press time, a sample starting price for this fall cruise was $641 per person, double occupancy.
Prices are subject to change. Contact your travel advisor to book this cruise, after you've discussed your specific needs, accommodations preferences or accessibility options.
Just a Few Months Away 
Readers may recall that the celebratory memorial cruise was originally scheduled for earlier this year. But it was postponed in the midst of the rise of the Omicron COVID-19 variant.
Whelan looks forward to sharing the memories with "The Love Boat" fans who are coming on board to memorialize the actor. "It's going to be a very special, memorable, heartfelt opportunity," she believes.
She's also looking forward to being with other cast members on this Princess cruise, sharing memories with them on the cruise line where "The Love Boat" began.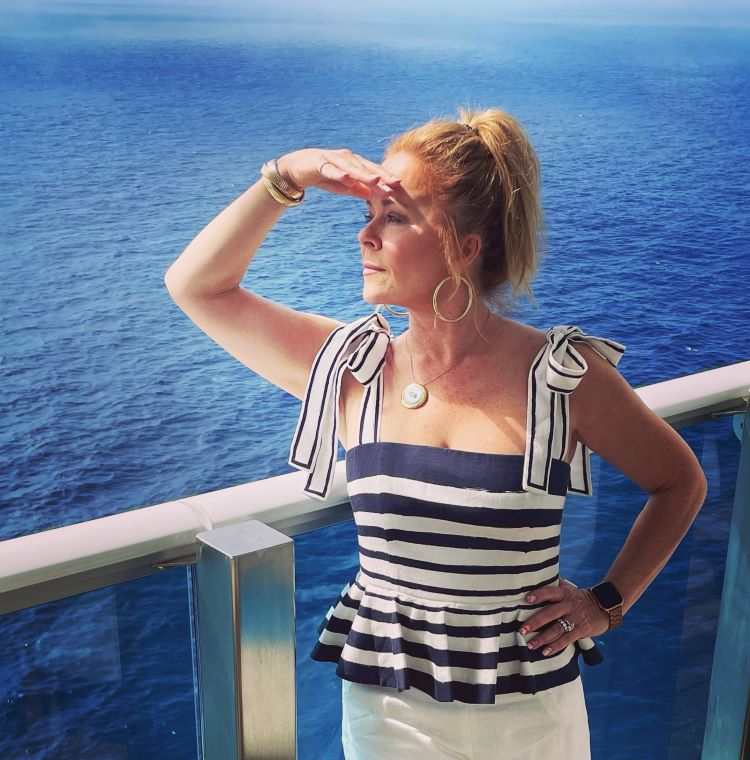 The Early Years 
So, how did acting begin for Whelan? When she was eight, her mother wanted a place for her to go in the summer that would be fulfilling for her. "I was a pretty energetic kid," Whelan says.
Noticing a local production of "The King and I," her mother talked a reluctant local voice coach into giving the young Jill a song and a bit of coaching. She auditioned and got the part.
Soon after, a friend of that voice instructor introduced Whelan to an agent. That resulted in a successful audition. She was chosen to play the role of Annie in that musical's national touring company.
That's when the stars really began to align. A talent scout for producer Aaron Spelling just happened to attend one of her performances.
Presto, Whelan was asked to audition for a new series called "Friends" (no, not the hit 1994-2004 series; this was an earlier TV venture). Whelan soon landed the part in that show too.
"So, I had to choose," she says, but tells us: "I had always wanted to be on TV." So, she picked the TV show over the theatrical production.
During this period, she also made a guest star appearance as Vicki on "The Love Boat." She wasn't a part of the regular cast yet, though, as "I still had a show," she stresses.
That said, the new TV show had a short run. It lasted only five episodes between March through April 1979. "At the time, we were up against 60 Minutes," Whelan explains.
That popular CBS show delivered powerhouse ratings every week. Simply put, positioning any show against that popular news feature show in that same time slot often resulted in a death knell.
Relationship with MacLeod
As Whelan's series was ending, she was asked back to "The Love Boat." In 1978, at just 11 years old she became a regular cast member. "I was on the show nine seasons, all told, with the specials that we did," Whelan explains.
On screen, the family relationship between Captain Stubing and his daughter Vicki was sweet and loving. Similarly, Gavin and the young Whelan had chemistry from the "get-go," one reason that she believes she was asked back.
MacLeod had a storied acting career with a robust body of work. When cast for "The Love Boat," he'd just finished seven years on "The Mary Tyler Moore Show" playing Murray Slaughter. He then spent almost another TV decade on "The Love Boat."
Remembering the late actor, "he was amazing," says Whelan. "He could not have been more loving, open and gentle with his time, talent and wisdom."
Child Actor on "The Love Boat"
Given that she was a child actor during much of the TV show's production, Whelan also stresses that "he was incredibly protective as were all cast members." As an adult, she now realizes how the cast members probably felt a daunting responsibility with a youngster in their midst.
But in contrast, "as a child, I thought, 'I'm going to play with these people now,'" she quips. But, above all, "it was a loving, protective environment."
What about school? For many years, "I had a teacher on set and completed at least three hours a day with the tutor."
Still, Whelan's mother desired to create as normal an upbringing as possible for her daughter. "My mom really insisted that on days with a light schedule that she would take me to my real school," Whelan notes "Or, if I didn't work until the afternoon, I'd go to the real school in the morning."
More "Love Boat" Cast Memories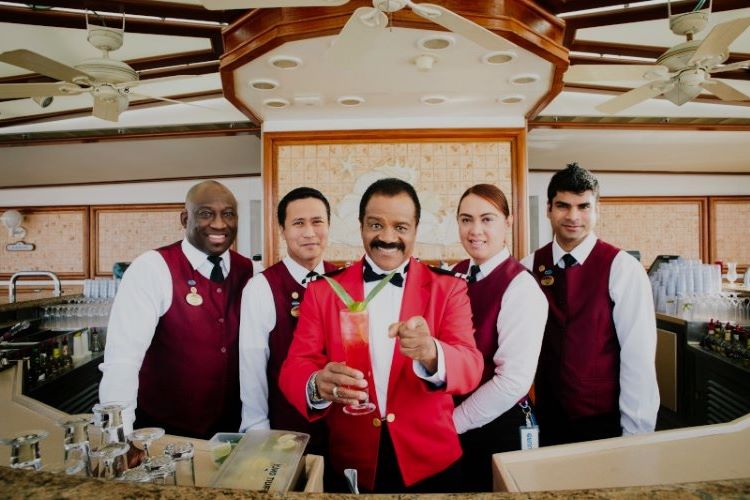 In talking about Ted Lange, who played Isaac, the bartender, in Seasons 1-9 and for four specials, Whelan calls him "a teddy bear."
Even though she was a child or teenager on the set, "he always treated me like a young adult, never spoke down to me, a kid," she notes.
Later, Lange also played a yeoman purser in one of the made-for-TV movies. "We were and are extremely close even today," she says. "He's like a brother to me."
In fact, Lange has written and co-produced a series for Whelan's production company. "I had Ted direct all the episodes," says Whelan. "He's a dear, sweet, amazing man, so brilliant and so talented."
Already well-known to most TV viewers prior to his "Love Boat" arrival was Bernie Kopell, who played Adam "Doc" Bricker, the ship's doctor.
In a previous role, Kopell had taught himself to speak with a Russian accent. He played Siegfried, a recurring role as Maxwell Smart's nemesis on the hit show, "Get Smart." He also appeared many times on ""That Girl" and "Bewitched."
Describing Kopell as "hilarious, just like a funny uncle," Whelan says that he's "terrific at comedy, so talented and has a beautiful heart."
A Future U.S. Congressman
 Before "The Love Boat," Fred Grandy, who played Burl "Gopher" Smith, yeoman purser in Seasons 1-6, chief purser Seasons 7-9, co-wrote an off-Broadway play with Jane Curtin, future "Saturday Night Live" star.
After the show, from 1987-1995, Grandy served as an elected member of the U.S. House of Representatives from Iowa.
Describing him "like an older brother, super smart, super funny," Whelan says, "you can't sit in a room with Fred and not laugh every time."
In a sad moment, though, she recalls filming the show in Turkey. The cast went to a government event, it was a beautiful evening and everyone wanted to take home the balloons.
But they didn't know the balloons were filled with hydrogen not helium. Think Hindenburg and you get the picture.
"Ted, Fred and Lauren Tewes and her husband were horribly burned in an accident with those," says Whelan. Whelan remembers going to visit Grandy and "he was in so much pain," but the time was a bonding experience for them.
"He's just such a wonderful guy," she says.
Actress Lauren Tewes played Julie, the cruise director in Seasons 1-7 plus a season 9 guest appearance and in specials.
"She was and still is like a big sister to me, extremely protective and supportive," according to Whelan, who adds, "and she has the biggest heart."
Ships on TV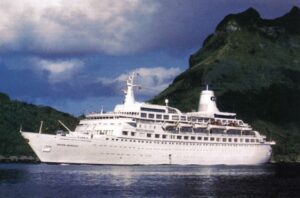 What happened to the original ships used in the filming? Many consumers are surprised to learn that a number of ships were used.
Of the "major players," all three ships left the Princess fleet years ago. They were subsequently operated by other owners and all sadly have been scrapped.
Sun Princess was featured in at least one episode of "The Love Boat," involving a competition between Captain Stubing of Pacific Princess and the captain of Sun Princess. The ship also sailed in the original 1976 TV movie, "The Love Boat."
During nine seasons on the air, Pacific Princess (shown in the photo above right) sailed into the public view during opening credits and was shown in many of the scenes.
Not surprisingly, consumers most often identify with that ship as "The Love Boat."
Identical "Love Boat" Sister
But its identical sister ship, Island Princess was also used for onboard filming, according to Knego. As a cruise historian, he often films interiors of older ships.
For a throw-back moment, here's Knego's YouTube video with a tour of  that historic Island Princess. 
One important point: Don't confuse that old Island Princess with the current ship that sails for Princess today with the same name. That's a different, much newer ship!
Looking Back, Sailing Forward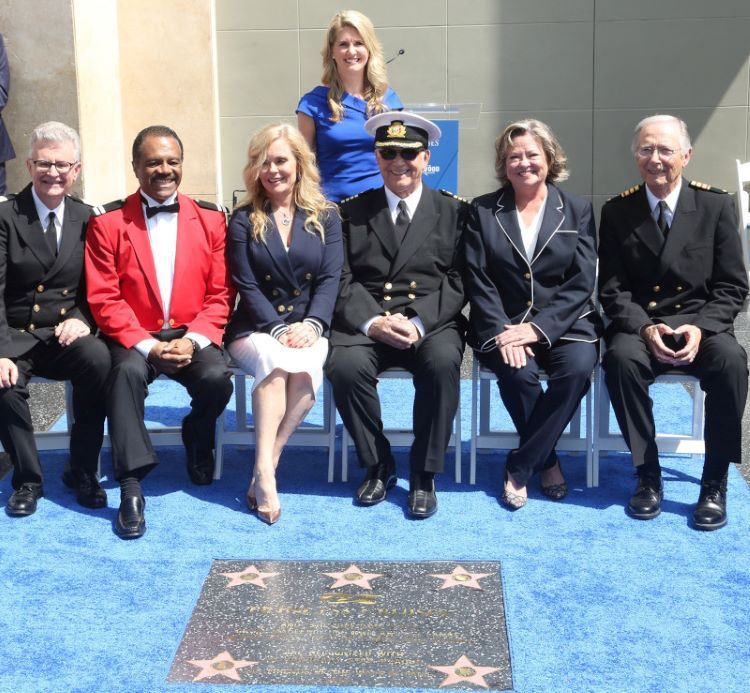 The original "Love Boat" cast still love reliving their show memories and applauding the support of loyal fans at special events or ship christenings.
For example, they received this honorary star plaque on the Hollywood Walk of Fame (see photo above, taken prior to MacLeod's passing) a few years ago.
Are you interested in sailing to Cabo San Lucas, Mazatlan or Puerto Vallarta to create your own "Love Boat" memories? You too can go ashore at those ports as the cast, crew and guests did "back in the day."
One way to do that with family or friends is to book a holiday cruise on Princess Cruises. Among many voyages to Mexico offered from the West Coast is the "Baja Peninsula & Sea of Cortez" cruise, sailing roundtrip from San Diego, CA.
Departing December 14, 2022, Majestic Princess will visit Puerto Vallarta, Loreto, La Paz, Cabo San Lucas and Ensenada, all in Mexico.
At press time, starting prices were $948 per person, double occupancy. Prices are subject to change, so chat with your travel advisor about all the options. Here's the itinerary.
More Love Boat Memories
This concludes Part 1 of our "Look Back at 'The Love Boat.'" Stay tuned for Part 2 coming up on Friday.
We'll have more from Whelan about the many celebrities who sailed aboard the ship, her favorite "Love Boat" shows, her other roles (including Princess' Celebrations Ambassador) and her "take"on why she loves cruising.
So with that Part 2, we'll be "making another run." Be sure to come back.