From 1977 to 1986, Americans by the millions tuned into a Saturday night of TV viewing by watching "The Love Boat." Viewers watched the shipboard lifestyle of cruise guests and became familiar with "the crew." 
Appearing weekly were: Captain Merrill Stubing (Gavin MacLeod), Cruise Director Julie (Lauren Tewes), Bartender Isaac (Ted Lange), Burill "Gopher" Smith (Fred Grandy), Adam "Doc" Bricker (Bernie Kopell), Vicki (Jill Whelan), Captain Stubing's daughter, and others.
Earlier this month, The Meandering Traveler interviewed Whelan, and you can read our Part 1 blog about "The Love Boat," past and present, by going here. Now, in Part 2, we continue our chat with Whelan about her memories of the show and her love of cruising as a vacation.
So, come aboard, we're expecting you!
Memories of Celebrity Guest Stars
Executive producer for the original "Love Boat" TV series was Aaron Spelling, who produced several television series for Four Star Television and ABC over a 30-year period, starting in the 1960s.
Spelling's vision sought to tell tales of average folks, not just the wealthy, sailing the high seas. Those roles, though, were often played by celebrities. Sometimes, they even played fictitious celebrities too.
Watching "The Love Boat" reruns, "it's just so fun to see the roster of guest stars from the Golden Age of Hollywood and all the latest up and coming TV actors from the time," says Peter Knego, cruise journalist, historian and owner of Peter Knego's MidShipCinema YouTube channel.
A Child Actress
As a child actor who started on the show at age 11, what did Whelan think about meeting the celebrities? "You know, I'm kind of 'old soul' so even as a youngster, my favorite stars were those from the black-and-white pictures, such as Douglas Fairbanks Jr., Olivia de Havilland, Lillian Gish, Jane Withers, Gene Kelly, Ethel Merman and the list goes on," she emphasizes.
Whelan emphasizes that "The Love Boat's" guest stars "weren't simply actors, they were legends." Many of the guest stars too were such "up and comers" including Michael J. Fox, Tom Hanks and Billy Crystal.
Also appearing were the Osmonds and John Ritter. Plus, there were a slew of other 1970s guest stars – everyone from Charlene Tilton to the Hudson Brothers, from Bobby Sherman to Bert Convy.
TV viewers also saw the Brady Bunch "kids" or cast members from "Happy Days," "Leave it to Beaver," "WKRP in Cincinnati," "Eight is Enough," "The Dick Van Dyke Show" and so on.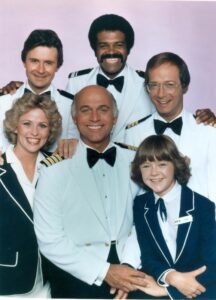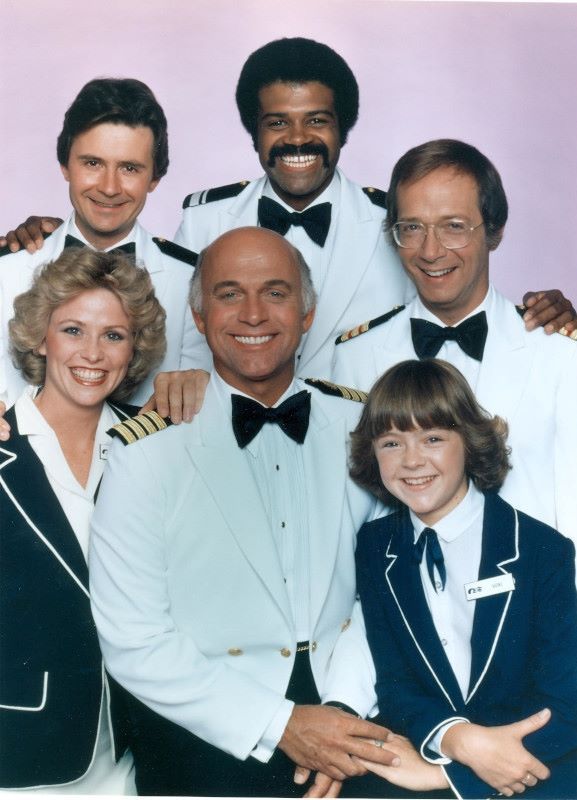 The producers also liked to surprise viewers. Whelan cited appearances by fashion designer Halston and Andy Warhol. Janet Jackson was another surprise guest star.
The Meandering Traveler asked Whelan what it was like as such a young person meeting all these famous stars. "I was so young I wasn't nervous," she acknowledges. "Everything was new and exciting. For me, it was just awesome."
Cuchie-Cuchie
One frequent guest star Whelan met was Charo, who appeared eight times on the show. Best known to Americans for her "cuchie-cuchie" persona, Charo is also an amazing musical talent — one of the world's top flamenco guitarists.
In 1995, her flamenco album Guitar Passion (1994) won the Female Pop Album of the Year award at the Billboard International Latin Music Conference.
Having just spoken to Charo two weeks ago, "we're still very dear friends," Whelan says, noting that the musician still practices four hours a day on her guitar. "She's the sweetest, most beautiful soul, truly incredible."
Favorite Episodes
What was Whelan's favorite episode or two? She cites the musical that the cast did, plus she liked the "big cruises" that journeyed to Australia, the Mediterranean or Asia.
She remembers studying eastern civilizations while doing an Asian cruise: "While reading about the Great Wall of China, I was sitting on it."
During a show episode with a port call in Egypt, Whelan fondly remembers American servicemen who were based there inviting her and others to go horseback riding. They accepted that invitation and it was an unforgettable experience.
"They took us riding at the Pyramids on these gorgeous Arabian horses at sunset," she says.
Other Acting Roles
Pre-Love Boat, Whelan appeared in an M&M commercial as a young child. Other roles throughout the years included the comedic "Airplane" (1980). She also became the face of "Just Say No," a campaign created by First Lady Nancy Reagan to work toward stopping illegal drug use.
Over the years, Whelan has appeared as a guest star in many TV shows including "Fantasy Island," "Matt Houston," "Vegas," "Trapper John," "Martin," "The Young and the Restless," "Diagnosis Murder" and "The New Adventures of Robin Hood," among others.
As an adult performing, Whelan quips that "now I get more nervous," adding that back then as a child star she was just soaking it all in and loved being with the cast members.
In contrast, in the post-"Love Boat" period, she recalls being a guest star on a show with Dick Van Dyke. She had worked with him as a kid.
But as an adult – after she had her own children and thought of him as the star of such hit movies as "Mary Poppins" and "Chitty Chitty Bang Bang" — she became "so star struck."
Chuckling, she explains, "I remember being a bumbling idiot and I even tripped over his foot."
Princess' Celebrations Ambassador
Highly personable, Whelan keeps in touch with her former "Love Boat" cast members regularly. Even older friends are children she knew as a child and graduated with from high school in Sherman Oaks, CA.
She recently hosted 20 friends from that high school at a get-together. Among them was actress Laura Dern in her grade and Melissa Gilbert, just a few grades apart in that same school.
Today, Whelan is 55, a mother of two and married to Jeff Knapple, a former quarterback for the NFL's Denver Broncos.
Upbeat to the core, she's a vibrant champion for cruising as well as a Celebrations Ambassador for Princess Cruises.
While the role suits her perfectly, "if I wasn't the ambassador, I would still be a heavy cruiser," Whelan says emphatically. "It's such a fabric of who I am as a person."
"I grew up on the water and my dad had a sailboat," she notes. So, she's introduced her husband and children to cruising.
Heading to Sea
Today, she loves being part of the Princess family with the job of Celebrations Ambassador. From the minute she sets up her Medallion Class voyage, "that's when the celebration starts for me."
Whelan says it's truly an exciting moment to step on board, having the crew welcome guests and applaud. When she reaches her cabin, she even gets excited unpacking.
"For me I couldn't have a better job," she says. "I actually think I like it more than having been on the show."
On boarding day, the first thing Whelan does is "run up to the Sanctuary and book a day or two on sea day. Nestled on one of the top decks, the Sanctuary is an exclusive, adults-only, sundeck space.
"There's nothing than I love more than high tea in the Sanctuary," she says. On that first day, she also books her specialty restaurant reservations (which can also be done online in advance by guests).
She's particularly fond of such dining experiences as the Salty Dog Grill, Sabatini's and Harmony Chinese Restaurant on Majestic Princess. Whelan also says: "On Enchanted Princess I love to go to Bistro Sur La Mer."
The Value of Cruising
An accomplished businesswoman, Whelan owns a production company with many projects in development. "I hope to have more to tell soon," she tells The Meandering Traveler. "There's a lot of fun stuff happening."
She also does podcasts including a recent one with Jeanne Tripplehorn of the HBO series, "The Gilded Age."
But when it's time for fun, she loves to cruise. Soon Whelan, her husband and two best friends will board Regal Princess for a Mediterranean cruise.
"My husband has never been to Greece and we'll be celebrating our first adult vacation with our friends," Whelan says. "It will be a huge celebration."
One Greek Option
Readers interested in seeing a bit of Greece — Santorini, for example — as well as other countries in Europe might check out this voyage. On more than a dozen dates this summer and into fall, either Regal Princess or Enchanted Princess operate a seven-day "Mediterranean with Greek Isles & Italy" itinerary.
Sailing from Piraeus (Athens), Greece to Barcelona, Spain, the Princess ship will call at Santorini, plus Kotor, Montenegro; Messina in Sicily and Naples for Capri & Pompeii, Italy.
Starting prices at press time were $639 per person, double occupancy, for an interior cabin. Talk to your advisor about all accommodations and itinerary options in the Mediterranean.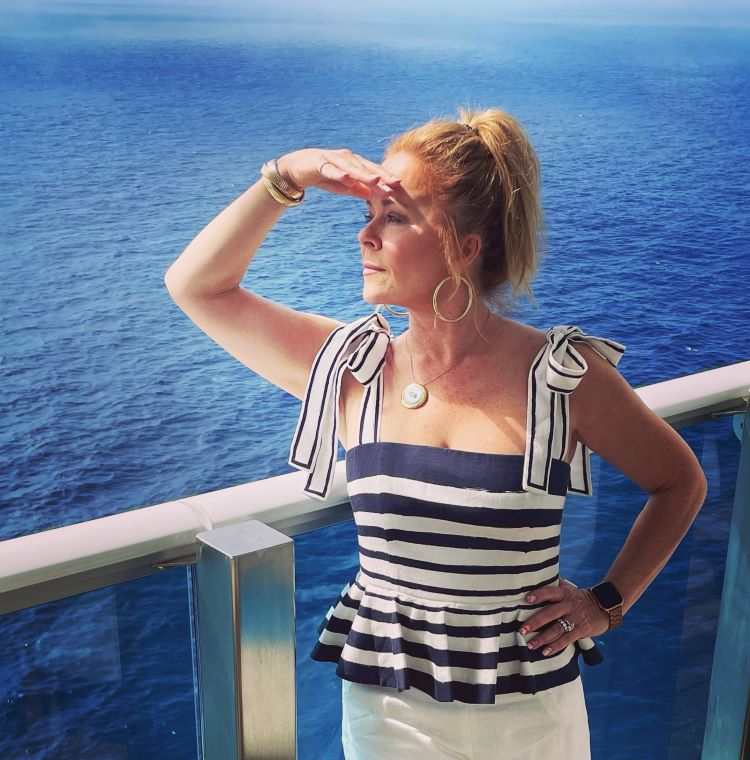 Jill Whelan loves to cruise and is shown here on a Princess Cruises ship. Photo by Jill Whelan.
Cultural Discovery
As a mother of two children, Whelan clearly sees another important benefit of a cruise vacation: "It's so vital in our world – as the Internet has made the world smaller and smaller — to introduce your children to different cultures and experiences so they understand globally what it means to be a member of our planet."
"There is no better way to do that then to take them on a cruise of 14 days to eight or nine countries, to experience what it's like to be in France, Italy or at Ephesus, Turkey," she says.
"My son just joined a fraternity, so, to see the Greek letters at Athens, he actually got teary eyed," she says, stressing that the experience of travel and cruising is so valuable in life.
When she's asked about other reasons why cruising is fantastic, she talks about the dining: "Where can you go to an incredible steakhouse and pay only $20 or $30 dollars? You couldn't get that on shore."
Another cruise perk, she adds, is unpacking only one time instead of seven or eight. Also, "it's so much cheaper too than going to a theme park."
Most important are the experiences and stories gleaned from others on the cruise who've shared the moments. Simply put, from Whelan's perspective: "The great part of being on a cruise ship is having the same experiences that are life changing.