On December 17, 1903, Wilbur and Orville Wright successfully completed their first aircraft flight at Kitty Hawk, NC. So, it's amazing to consider that only 116 years later, nearly 39 million airline flights took off across the globe in 2019, while 26 million flights are expected this year. For travelers who love "anything airplane," here's Part 1 of the The Meandering Traveler's top picks for "Best Aviation Museums in the U.S."
1. Best Aviation Museums: Museum of Flight, Seattle, WA
Taking a summer 2022 or 2023 Alaska cruise with a pre- or post-cruise stay in Seattle is a great way to dive into aviation history. Whatever your reason for being in Seattle, though, consider a visit to the Museum of Flight, 9404 E. Marginal Way South, Seattle, WA.
As the world's largest independent, nonprofit air-and-space museum, this attraction displays more than 175 aircraft and spacecraft.
More enticements? The museum sports tens of thousands of artifacts, a slew of rare aviation photos, well-designed aviation exhibits, a world-class library and more.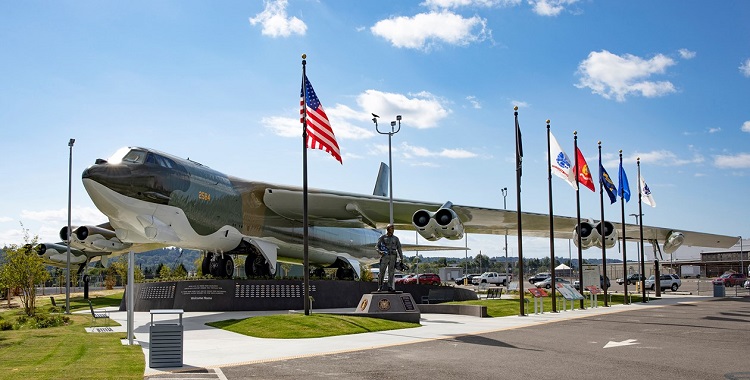 Ambling through the Concorde
Definitely take time to stroll through the G-BOAG, a Concorde donated by British Airways. If you couldn't afford or never had the opportunity to fly on that supersonic jet back in the day, this is the next best thing.
Just walk inside to see Concorde's luxury passenger seating and the cockpit. They're protected by plexiglass. So, you can't sit in the seats, touch those or any cockpit controls.
But it's still an interesting experience to stroll the aisle. You'll also have terrific views of the museum's Aviation Pavilion from the Concorde's staircase.
Historic Chinook
Among other aircraft/rotorcraft to check out is a veteran U.S. Army Boeing CH-47D Chinook helicopter (see photo below taken in 2016).
Nicknamed My Old Lady, it was the oldest flyable Chinook in the world-wide Army inventory when it was taken off of flight status in 2017 after 54 years of service. It's now part of the museum's collection.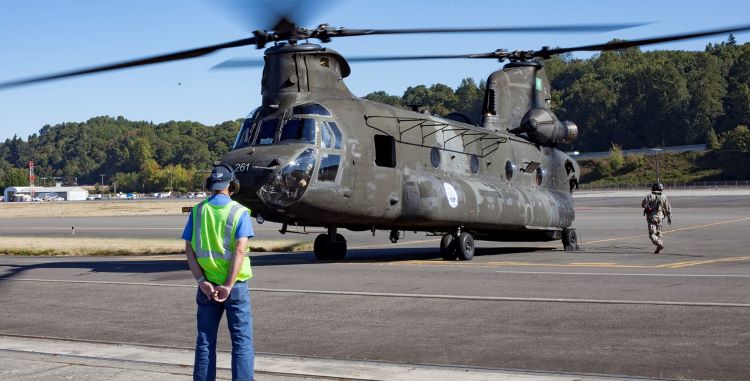 Special Temporary Exhibition
Now through February 5, 2023, the Museum of Flight also is offering a special exhibition, "The Walt Disney Studios and World War II." It's a retrospective of The Walt Disney Studios' extensive contributions to the Allies' World War II effort.
Visitors will see hundreds of rare artifacts, illustrations and film clips displayed. The exhibition was created in partnership with The Museum of Flight and The Walt Disney Family Museum in San Francisco.
The Museum of Flight is open daily. Tickets at press time were $25 for adults 18 and older, $21 for those 65 and older; $17 for children 5 to 17; and free for kids 4 and under.
Learn more by visiting the Museum of Flight's website.
Boeing Future of Flight
Important note to readers: A separate attraction in the Seattle area is The Boeing Future of Flight, 8415 Paine Field Blvd., Mukilteo, WA. It's at Paine Field Snohomish County Airport about 25 miles north of Seattle.
Open Thursday through Monday, this attraction offers an interesting hour-long theater presentation, "Boeing Backstage Pass — the Everett Factory." Guests can also explore the Gallery, Sky Deck and Boeing Store.
However, it's important to know that the popular Boeing Everett Factory Tour (at the nearby plant where Boeing manufactures its jets) is closed. No tours are being given. At press time, no date had been set for the factory tour to reopen to visitors.
Talk with your travel advisor about city stay getaways, tours or cruises that might allow you to explore Seattle's many attractions.
For example, Holland America .Line's seven-night "Alaskan Explorer" sailing on the 1,964-passenger Westerdam is offered on multiple dates through September with fares starting at $449 per person for an inside stateroom.  
2. National Museum of the U.S. Air Force, Wright-Patterson Air Force Base, Dayton, OH
If you're seeking to explore a treasure trove of military aviation history, head for the National Museum of the U.S. Air Force in Dayton, OH. Founded in 1923, it's the world's oldest and largest military aviation museum.
In its early days, the museum was situated in an aircraft hangar at the edge of McCook Field near downtown Dayton. Today, the aircraft collection, located at Wright-Patterson Air Force Base near Dayton, has evolved sizably.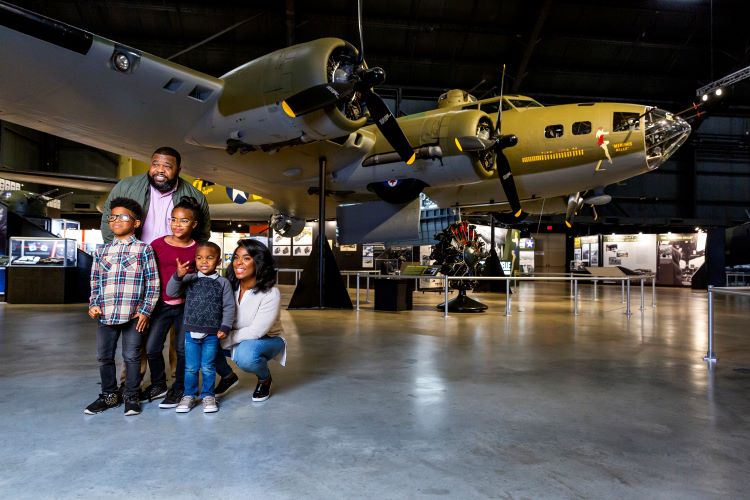 Visitors will view more than 360 aircraft/aerospace vehicles and missiles, plus thousands of aviation artifacts. Galleries cover everything from Early Flight to the Korean War, the Cold War, Vietnam and periods in U.S. military aviation history.
Over the decades, the National Museum of the U.S. Air Force has expanded with new buildings and facilities. Among them is a 500-seat IMAX Theater. 
Don't Miss These Highlights!
The Meandering Traveler suggests that aviation buffs check out these highlights:
The Apollo 15 Command Module Endeavour that orbited the Moon 74 times in 1971;
One of four surviving Convair B-36 Peacemakers;
The only surviving North American XB-70 Valkyrie; and
Bockscar (or Bock's Car), the Boeing B-29 Superfortress that dropped the atomic bomb on Nagasaki, Japan, during the last days of World War II.
The museum is typically open daily, but closed on such holidays as Thanksgiving, Christmas Day and New Year's Day. Admission is free.
Check out the National Museum of the U.S. Air Force's web site, which includes a link to a virtual museum tour.
For hotel, restaurant and other activity options in Dayton, OH, visit the Dayton Convention and Visitors Bureau website.
If travelers also desire to visit Cincinnati on a road trip, another option is the The Lytle Park Hotel, Autograph Collection by Marriott.
Located at 311 Pike St., Cincinnati, it's about an hour's drive south of Dayton and opposite Lytle Park. Nestled in a 1909-era building, this genteel hotel is about a two-minute walk from the Taft Museum of Art. Rates start at $305 per night.
3. Western Antique Aeroplane & Automotive Museum (WAAAM), Hood River, Oregon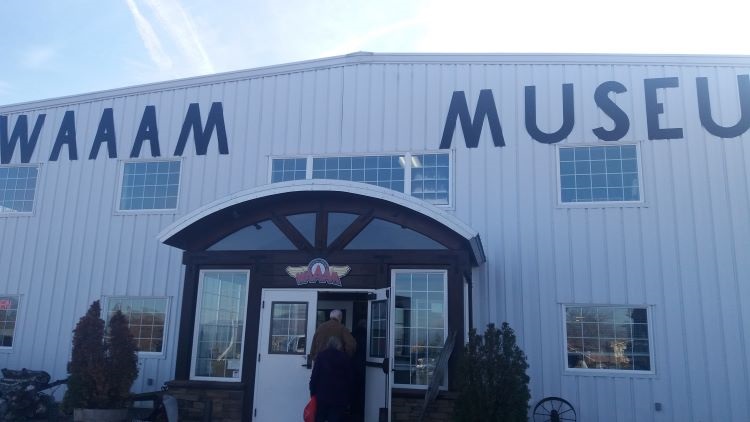 Basically, the historic items at the Western Antique Aeroplane & Automotive Museum (WAAAM) aren't simply historic artifacts.
Yes, they are, but they seem "full of life." That's because many are either flyable or drivable. The Meandering Traveler loves this aviation attraction as it has one of the nation's largest collections of "still flying" antique aircraft.
Among the aircraft that visitors can view in the interior exhibit space is a 1917 Curtiss JN-4D Jenny featuring an OX-5 90 HP engine. In addition, they'll gaze at a Piper Cub as well as amazing WACO, Aeronca and Stearman collections, among other draws.
And we said "drivable" above because WAAAM also has one of the largest collections of still-drivable antique automobiles in the U.S.
For example, car buffs will discover 130-plus antique cars – everything from a 1914 Detroit Electric to a Ford Model A, Ford Model T, Packard, Studebaker and even a Locomobile.
Showcasing the Eras
One big plus for this museum is that many aircraft and antique automobiles are displayed together by era. It's fun to soak in the vibe of each different era, based on the aircraft and automobiles that people flew and drove back then.
You'll also see such "period touches" as clothing or decorative items, plus news accounts from "back in the day."
Another highlight? If you have a choice of days to visit, aim for the second Saturday of each month. At press time, the museum was offering visitors rides in the historic cars. Plus, vintage aircraft take off and land on the museum's adjacent runway.
Best Aviation Museums: Visiting WAAAM
Admission to WAAAM ranges from $10 for kids 5 to 18, $17 for veterans and seniors, and $19 for adults. Kids 4 and under are admitted free.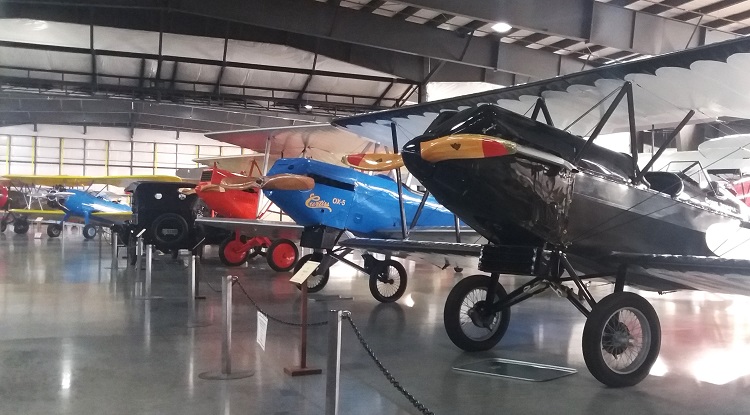 Typically, the museum is open daily, but closed on Thanksgiving, Christmas Day and New Year's Day. For additional museum details, visit the WAAAM website.
One way to see this museum is on a shore excursion from a cruise on the Columbia and Snake Rivers of the Pacific Northwest. We went ashore at The Dalles and boarded an American Queen Voyages shore excursion to WAAAM.
For example, AQV's nine-day Portland-to-Spokane and Spokane-to-Portland journeys on American Empress operate March through November. Fares start at $4,199 per person, double occupancy.
Talk to your travel advisor about this and other options on the Columbia/Snake Rivers.
American Cruise Lines, UnCruise Adventures and Lindblad Expeditions-National Geographic are among others that operate in the region.
4. Intrepid Sea, Air & Space Museum, New York, NY
Whether you arrive in New York City for a Broadway show weekend getaway or plan a pre-cruise stay, one fun option is the Intrepid Sea, Air & Space Museum, located Midtown along the Hudson River. It's adjacent to the Manhattan cruise piers.
The museum is actually located aboard the legendary Intrepid, an aircraft carrier. You can't miss it!
Here you'll see the Space Shuttle Enterprise; the world's fastest jets, including a former British Airways Concorde; and a guided missile submarine.
You'll navigate through a collection of aircraft and vessels, learn about American innovation and bravery, and enjoy educational programming.
Several times a day, the museum offers "The Kamikaze Experience." For military history buffs, it's a fascinating presentation.
A huge screen drops down for a multi-media show that puts the visitors in the place of the seamen aboard the ship during World War II attacks.
The show is loud and intense as the narrator bluntly points out: "If you were standing here on November 25, 1944, you'd be dead."
At press time, tickets ranged from $33 for those ages 13-64, $31 for those 65 and older, $24 for kids 5 to 12 years of age, and free for both children four and under and U.S. military and veterans.
Check the Intrepid Sea, Air & Space Museum's website for more information and opening hours, varying by seasonality.
As noted, the Manhattan cruise piers are nearby. One fall 2022 option is Silversea Cruises' "Canada and New England" voyage from New York City to Quebec City, Canada.
Guests sail on the 352-passenger Silver Whisper, departing October 11, 2022. Fares start at $8,500 per person, double occupancy. Talk to your travel advisor about accommodations, accessible options and other details.
5. Best Aviation Museums: National Naval Aviation Museum, Pensacola, Florida
With the soaring success of the new movie, "Top Gun: Maverick," it's no wonder that The National Naval Aviation Museum is atop the list of "must see" attractions for many travelers visiting north Florida.
As the world's largest Naval Aviation Museum, the museum offers 350,000 square feet of interior exhibit space that tells the story of naval aviation's rich history.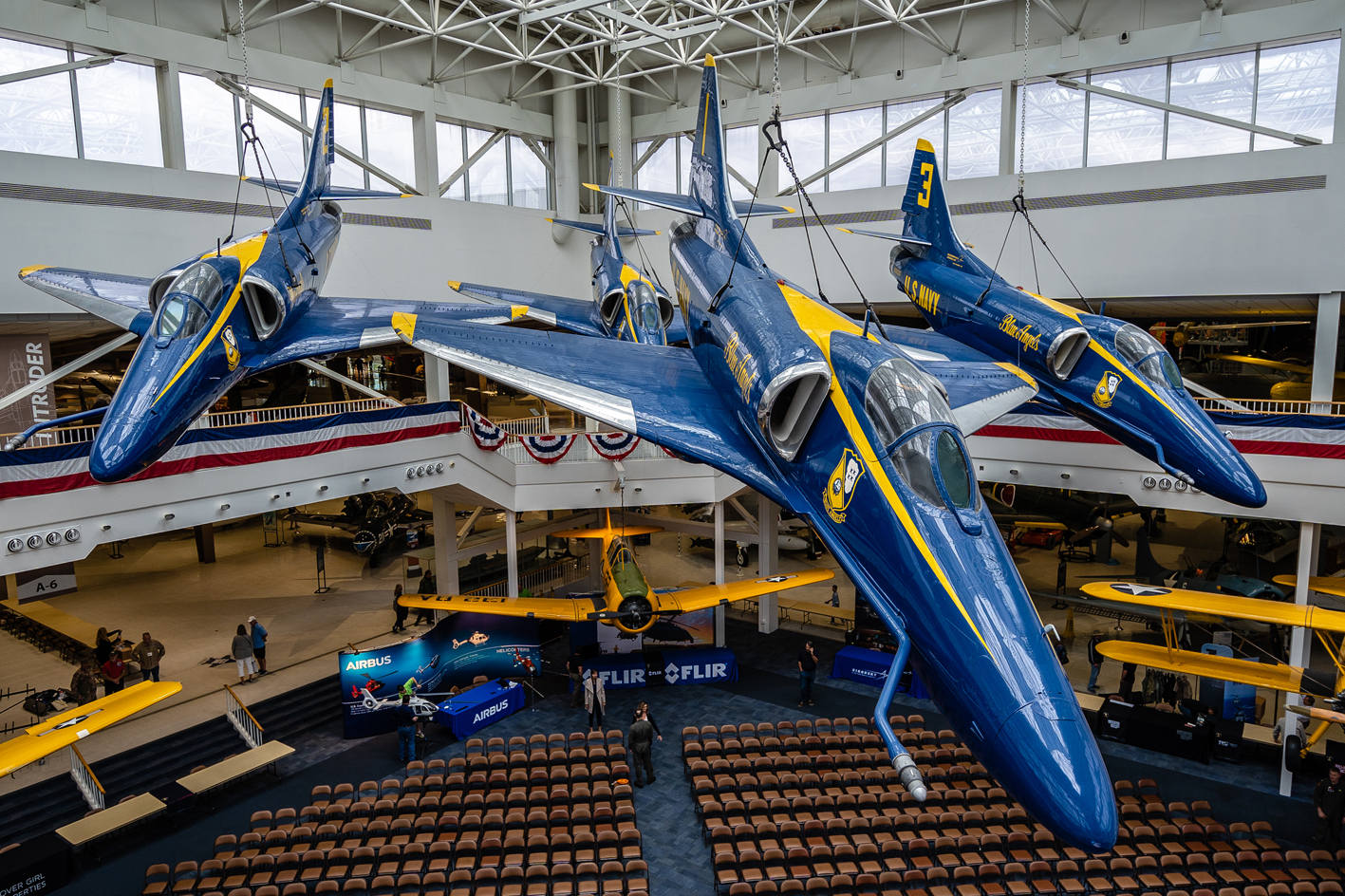 Visitors will see more than 150 beautifully restored aircraft representing U.S. Navy, Marine Corps, and Coast Guard aviation. They're displayed both inside and also outside on the 37-acre grounds.
While you won't find "Maverick" at the museum, on select days each month, visitors can view Blue Angels practice flight demonstrations; click the link above to see the practice dates.
Gates open at 9:30 a.m. Typically, the Blue Angels take to the skies at 10:30 a.m.
Open seven days a week, the museum is closed on Thanksgiving, Christmas Day and New Year's Day. For more information, visit the National Naval Aviation Museum website.
Entry to the museum is free, but not everyone can enter. Bottom line? Don't just show up and expect to gain admission onto the base.
Access to the Museum 
Access to the air station — and therefore the museum — is limited to all holders of current Department of Defense (DoD) IDs. That means active-duty U.S. military service members, retirees and their families.
Under the Trusted Traveler program, those DoD ID card holders can escort a maximum of up to 15 guests in one vehicle. The DoD ID card holder must be in the vehicle with the guests and remain with them at all times on base.
All non-DoD ID card holder adults being escorted must have an acceptable form of identification; that may include a local or regional DoD credential, REAL ID-compliant driver's license or passport.
For more information for military veterans holding a Veterans Health Identification Card (VHIC), visit this link about VHIC access to the museum. VHIC holders are not permitted to escort other guests.
Frankly, here's our advice. It's best for anyone thinking of driving to the museum to call first. Ask about your status for entry, any options for tours and any other questions you may have. Call the special visitors information line at 850-452-8450.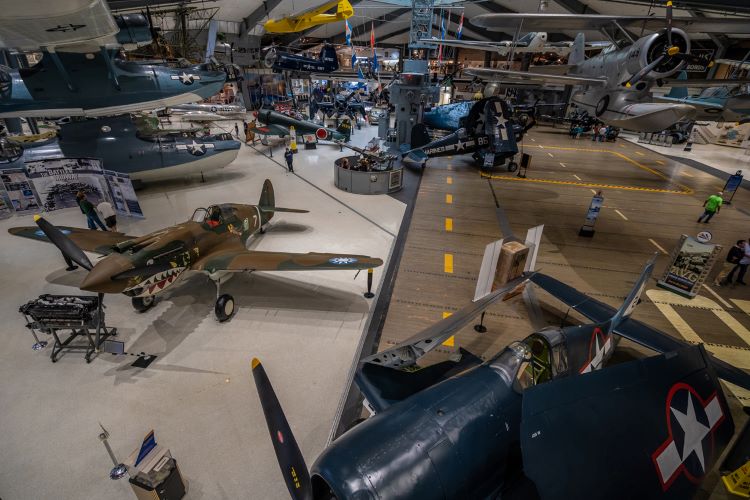 Panhandle Beach Delights
Pensacola is in the far northwestern region of Florida's Panhandle. It's the last big city before drivers reach the Alabama state line when heading to Mobile, AL.
This Gulf of Mexico coastal region has lovely beaches and is home to numerous hotels and beach resorts. In addition to chatting with your travel advisor, the Visit Pensacola website is helpful for scoping out your trip.
For those seeking a beachy feel and fun aura, we like the 162-room Margaritaville Beach Hotel in Pensacola. Inspired by the Jimmy Buffett song of the same name, the hotel is a great places to chow down on a "Cheeseburger in Paradise."
Decorated in a pale blue and white color scheme, the hotel's guest rooms offer flat-screen TVs, free Wi-Fi, and sweeping views of the Gulf of Mexico or Little Sabine Bay. Rates range from $440 per night.
 6. Wings Over the Rockies Air & Space Museum, Denver, Colorado
Located on the former Lowry Air Force Base, the Wings Over the Rockies Air and Space Museum in Denver, CO, preserves the history of the base's operations from 1938 to 1994 in its collections, archives and research library.
Visitors will see more than 50 historic aircraft, space vehicles and interactive exhibits. The goal? It's to educate and inspire visitors about aviation and space endeavors of the past, present and future.
What's special? Military aviation buffs will love seeing a rare B-18A Bolo, one of only five of these remaining World War II-era bombers.
Other must-see aircraft include Century-Series fighters, an RF-84K Thunderflash and one of only two B-1A Lancers.
A Galaxy Far, Far Away
Most fun, however, is that the museum also looks to a galaxy far, far away. You'll see a "Stars Wars" X-Wing Starfighter. Built as a promotional item in 1996 to celebrate the completed movie trilogy, it's one of the museum's most popular attractions.
The Starfighter has been signed by numerous cast and crew members including Harrison Ford and George Lucas.
Open daily, except on Thanksgiving, Christmas Day and New Year's Day, admission ranges from $18.95 for adults ages 17 to 64; $14.95 for active military, veterans and those 65 and older; $11.95 for children 4 to 16; and free for kids ages 3 and under.
For more information, visit the Wings Over the Rockies Air & Space Museum's website.
If overnighting in Denver, CO, we'd suggest the Four Seasons Hotel Denver. Located in the Mile-High City's historic Larimer Square district, the hotel recently reopened after a multimillion-dollar renovation.
Guests will discover a design that's both modern and sophisticated, yet this luxury hotel also offers a warm ambiance and lively atmosphere. Rates start at $599 per night. For more information, talk to your travel advisor about booking a stay to see the city and visit the aviation museum.
7. Alaska Aviation Museum, Anchorage, Alaska
Aviation is invaluable in Alaska, an extremely vast frontier. As the largest U.S. state by land mass (twice as large as Texas), Alaska stretches 1,400 miles north to south and 2,500 miles east to west.
And with 640 square miles of land for every mile of paved road, it's not that easy to get from Point A to Point B. So often there is no way to reach particular towns or cities except by air, rail or sea.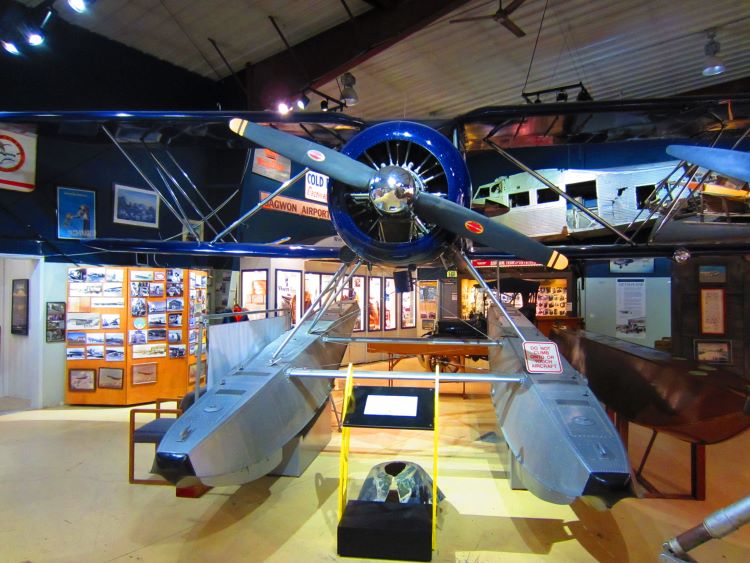 One way to learn more about aviation in "The Last Frontier" is to plan a land tour or cruise that includes time in Anchorage, home to the Alaska Aviation Museum (see photo above).
If time permits, or if staying over on a tour or pre- or post-cruise stay, consider a stop at the museum. Each aircraft and artifact holds a fascinating back-story about Alaska aviation history.
The museum offers interactive displays, memorabilia, photographs, films and artifacts from personal collections of Alaska's pioneer aviators.
World's Busiest Seaplane Base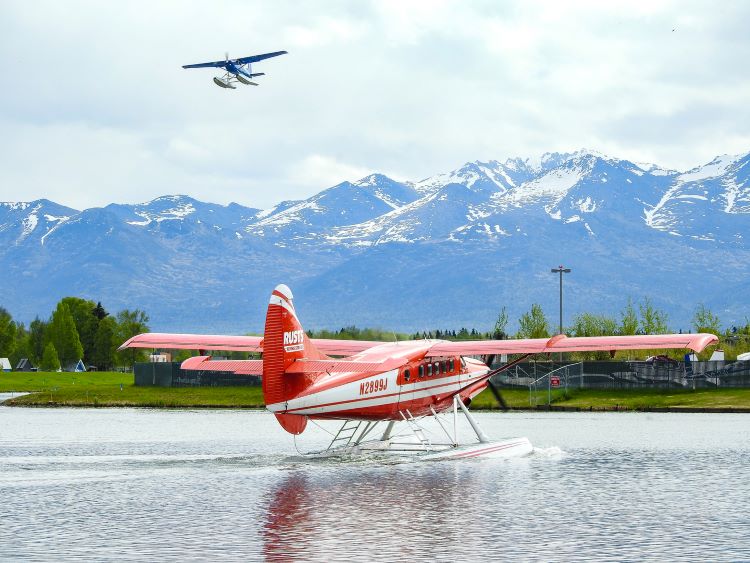 One fun fact is that the museum is on the south shore of Lake Hood. That's the world's busiest seaplane base with more than 87,000 take-offs and landings per year.
For instance, just showing up outside the museum often provides visitors with great aviation viewing.
The Alaska Aviation Heritage Museum is open daily. Admission is $17 for adults, less for seniors, veterans and children. A family of up to two adults and three kids can enter for $45.
For opening times and more about the aviation museum, visit https://alaskaairmuseum.org.
Cruising to/from Seward
Many cruises sail one-way between Vancouver, BC and Seward, AK, the latter a short trip from Anchorage. So, cruisers often stay over for a pre- or post-cruise visit in the region.
Among the luxury cruise options? Regent Seven Seas Cruises has several ships sailing to/from Seward. Among them is the 732-passenger Seven Seas Explorer. The ship's seven-day itineraries from Vancouver to Seward (Anchorage) or in reverse, start at $6,099 per person, double occupancy. That all-inclusive pricing provides many perks, including airfare.
Talk with your travel advisor about this option or the ultra-luxury line's other sailings to/from Seward, such as those on Seven Seas Mariner.  
Part 2: Coming Soon!
We hope you've enjoyed Part 1 of our "Best Aviation Museums in the U.S." All prices, opening days and other specifics below are subject to change so check the individual attraction's website for the latest.
Also, tune in next week for Part 2 with tales of five more amazing museums that host "The Spruce Goose," the "Miracle on the Hudson" plane and more. We'll also talk about Oshkosh, WI, and also "Sun 'n Fun" in Lakeland, FL.
Also, there's the Smithsonian yet to come. So check back next week!
Important Information from Pavlus Travel
This blog site provides only "basic, general information" about travel; it's not designed to provide specific pricing nor is it staffed by travel advisors.
So, please don't use the Reply Section below if you're asking for pricing, travel dates, accommodations, brochures or other specific requests. 
That said, we are most happy and eager to assist you. Here's how…
If anything does tweak your interest in the story and you DO have questions about specific pricing, brochures, savings, itineraries, dates of travel, accommodations, accessible options and so on, please contact us at 800-528-9300.
We will discuss your travel style, personality, likes/dislikes and what travel products match with your vacation desires, as well as the best features of those products.
Or visit us online at Pavlus Travel's official agency Web site; you can "live chat" with us online too!
In addition, for your own protection, please do not put any personal information (address, phone, email, etc.) in the Reply Section below. Contact us via the phone or Web site link listed above.
Thanks for reading!