Straddling the Equator 600 miles off the South American coast, the remote Galapagos Islands of Ecuador offer wildlife and marine life found nowhere else on Earth. For adventure-minded travelers, a great way to explore this archipelago is on a small-ship Galapagos cruise.  
Mind-Boggling Diversity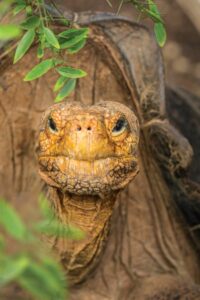 "Mind boggling" is the best way to describe the islands' diverse array of critters.
For instance, cruisers often spot blue-footed birds, seals, sea lions, marine iguanas, flamingos and gigantic tortoises (see photo at right, copyright by Marco Ricca), among other species.
If you plan to go, it's good to know that another "sailor" nearly two centuries ago loved the experience. In 1835, Charles Darwin (1809-1882) arrived at the Galapagos during a global voyage by the HMS Beagle, a British Navy ship.
Darwin was incredulous at the creatures he encountered. In fact, the naturalist's island research formed the basis for his 1859 book, "The Origins of Species," considered to be the foundation of evolutionary biology.
As we lay out what modern day explorers might see on their small-ship Galapagos cruise, The Meandering Traveler would like to thank Lindblad Expeditions-National Geographic for use of the amazing photos shown here.
In addition, an appreciative shout-out goes to Ecuador's Ministry of Tourism for the excellent species details. So, come along to check out the wildlife wonders of the Galapagos.
Galapagos Cruise: Spotting Marine Iguanas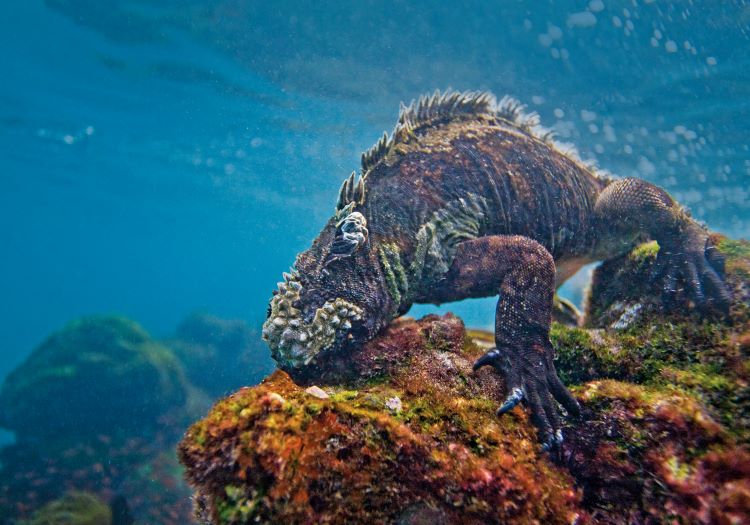 A huge, scaly reptile, the Galapagos Marine Iguana resembles what one might expect from the Dinosaur Age. Part of the Iguanidae family, it's endemic to the Galapagos and the only species of its genus.
Chances are that cruise guests will spot some of these prehistoric-looking creatures during their Galapagos cruise. Marine iguanas love hanging out on coastal rocks, in mangroves or on beaches.
But they truly thrive in the underwater world. They're great swimmers, spending much time in the water (see photo copyright by Michael S. Nolan above).
So, while you're dining in style aboard a comfy small ship, they're feasting underwater almost exclusively on marine algae.
Galapagos Sea Lion
A carnivorous mammal of the family otariids, the Galapagos Sea Lion lives nowhere else on Earth. It's endemic to the isles, which now are home to approximately 50,000 sea lions.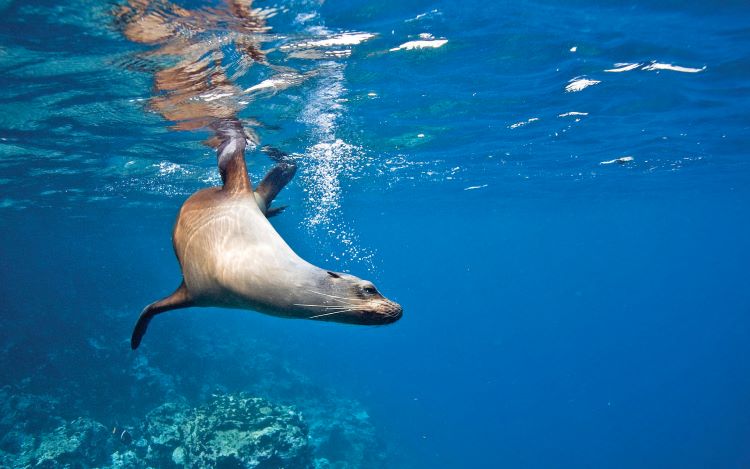 What's nifty? Their fur color can vary – from gray to dark brown, depending on gender and age. You'll see these mammals and often their offspring along beaches of soft sand. Or, they might be sunning on rocks.
They're playful with each other, but visitors are urged to stay a decent distance; talk to the naturalist guide about what's appropriate, depending on the locale.
One unique activity? On the island of Lobos, visitors can snorkel in proximity to Galapagos Sea Lions.
Galapagos Cruise: Lumbering Giant Tortoise
When one thinks of the Galapagos, top of mind is often the Galapagos Giant Tortoise. It is truly gigantic. Adults can be three feet in length and weigh more than 600 pounds.
Native to seven isles in the archipelago, these tortoises are the largest on Earth.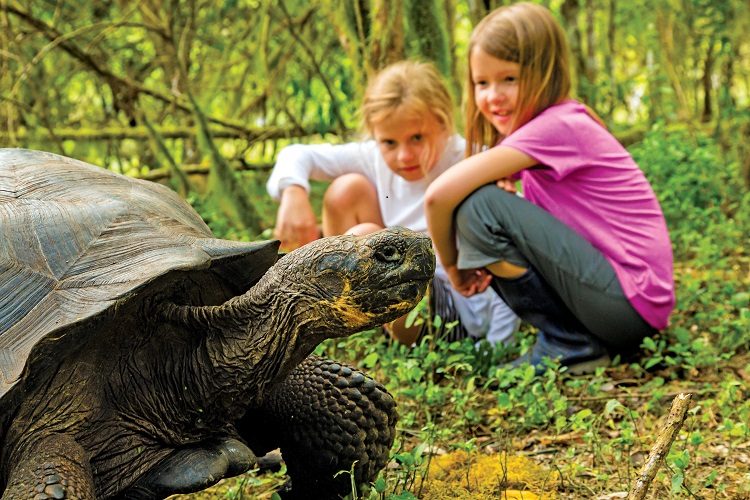 One unique factoid is that these Galapagos Giant Tortoises will likely outlive nearly all of us. For instance, the life expectancy of a Galapagos Giant Tortoise is a century or even much more — 100 to 150 years!
Since the 17th century, the populations of these critters have declined due to hunting and the introduction of predators and grazers that consume the food supply and cause loss of habitat.
Today, 10 subspecies of the original 12 still exist in the wild, though. Fortunately, conservation efforts are making a difference.
The establishment of Galapagos National Park and the Charles Darwin Foundation have helped. As a result of those organizations' efforts, hundreds of juvenile turtles bred in captivity have been released back into the wild within the islands.
Wildlife Wonders: Galapagos Penguin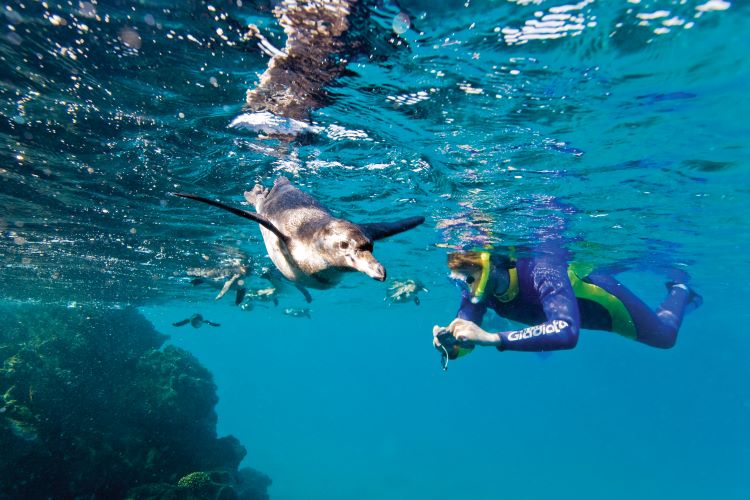 Ecuador's only penguin is the Galapagos Penguin, another endemic species in the islands. But don't penguins like cool weather?
Seems these penguins like the Humboldt Current's low temperatures and deep depth cool water from the Cromwell Current.
You'll primarily find Galapagos Penguins on Fernandina Island and Isabela Island's western coast. That said, small populations of penguins inhabit other isles.
Galapagos Cruise: Check Out the Blue-Footed Booby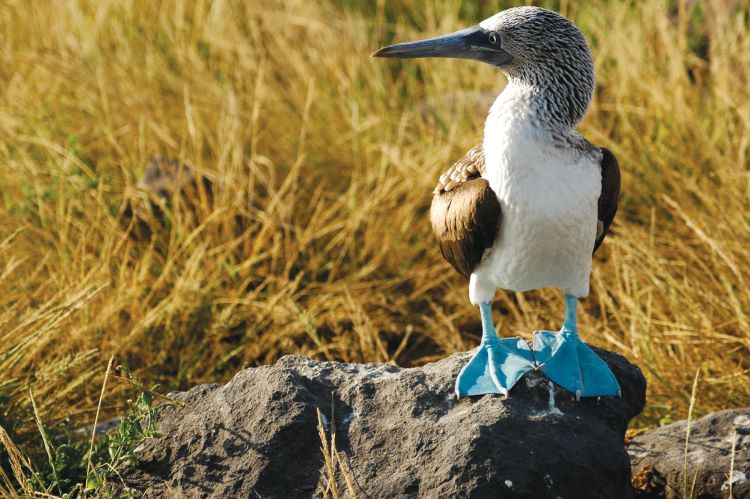 For many travelers, the Galapagos Blue-Footed Booby is their absolute favorite critter in the islands. Fortunately, you have a very good chance of seeing these tropical seabirds with long tails and blue feet.
They're famed for their "dive" into offshore waters, as well as their mating dance. Coloring-wise, these birds have upper brown plumage, their belly and underside are white, and of course, they have blue feet!
In contrast, the youngsters start out brown and begin getting their coloring around their first birthday. Cruise vessels often arrange hikes for guests to see Blue-Footed Boobies in a cliffside rookery.
Alternatively, they also take guests out in Zodiacs for rookery views. For example, hundreds or even thousands of birds — often with youngsters in the nests — may be spotted.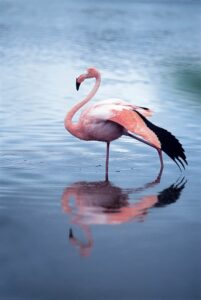 Galapagos Flamingo
No, these aren't Bahamian flamingos. With an s-shaped neck, tall legs and a pink color, though, Galapagos Flamingos appears to be stately cousins.
The lovely wading birds live mainly on the islands of Floreana, Santiago and Rabida. They also can be found nesting in mud mounds in Cerro Dragon, Turtle Bay and Garrapatero in the Santa Cruz Islands.
Cruisers who are lucky might catch a pair of adult flamingos in what appears to be a finely choreographed courtship dance. While in close proximity, the couple raise their long necks and open their large flight feathers.
Galapagos Cruise: Fragata Aerialists
Also known as the "Man o' War" or "Man of War," the Galapagos Fragata is a spectacular sea bird.
Let's just say that these birds are akin to the "air force" of the bird world. Why? They're absolutely superb in aerial maneuvers. Often, travelers see them doing these gyrations to steal food from other frigates.
Where will you find them? Galapagos Fragatas are found on North Seymour Island, Floreana, Isabela and Genovesa. You might also see them along Lake El Junco on San Cristobal Island.
When it's time for mating to produce offspring, the male is tasked with building a nest. He also inflates his impressive red crop below the neck — a move designed to impress the ladies.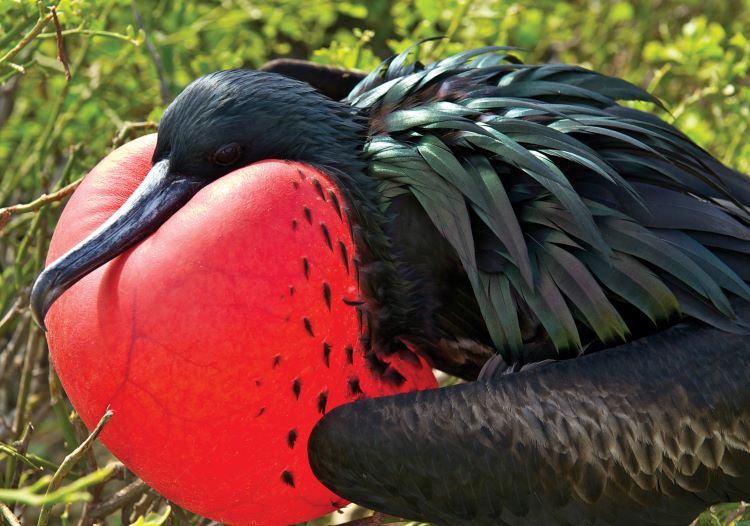 In fact, when the crop is inflated, male Galapagos Fragatas appear to be 40 percent larger physically than they truly are. So, female fragatas will check out the competitors before choosing a partner.
Females are evaluating both the appearance of the nest (whether it's properly built) and that red crop. The goal is to select the most striking male who will be the best partner.
More about the Galapagos
In 1999, leaders recognized that the Galapagos' terrestrial ecosystems couldn't survive without a similarly protected marine environment.
Thus, the islands' surrounding waters –- extending up to 24 miles offshore from the archipelago's most exterior isles — became the Galapagos Marine Reserve, the world's second largest such reserve.
The islands also are one of the world's most active volcanic areas. Taking an expedition cruise is a great way to see the dramatic scenery, birds, animals and marine life.
In addition, travelers can head into unique landscapes or seascapes for kayaking, surfing, diving, snorkeling and cycling.
Galapagos Cruise: Which Lines Sail? 
Small-ship expedition cruises operate within the Galapagos, as large ships aren't permitted. All Galapagos cruise ships also operate with Ecuadorian crew members.
Several lines own/operate their own small ships. Among them is Celebrity Cruises, which has several small ships plying Galapagos waters. For instance, the 100-passenger, all suite Celebrity Flora launched in 2019.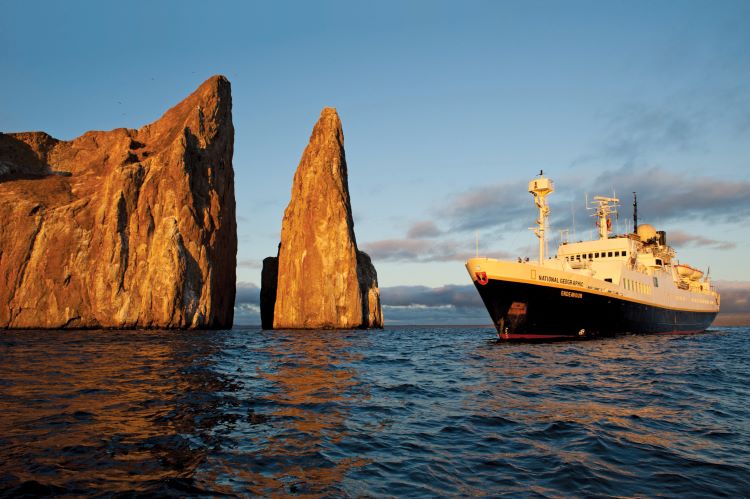 Lindblad Expeditions-National Geographic offers several enticing Galapagos itineraries with an adventure bent.
For example, a seven-night "Wild Galapagos Escape" itinerary starts at $9,390 per person, double occupancy, excluding air.
That said, right now the line is offering free Ecuador-to-Galapagos air, solo traveler savings and group rates, so talk with a travel advisor about those rates, see if your travel plans qualify and ask about family options.
Lindblad's newest Galapagos vessel begins year-round cruises this August. That's the recently revitalized, 48-passenger National Geographic Islander II.
Ultra-Luxury in the Galapagos
Ultra-luxury Silversea Cruises recently launched its new 100-passenger Silver Origin, designed specifically to sail the Galapagos. Cruise enthusiasts can choose from dozens of departure dates through the rest of this year and in 2023.
For example, on December 10, 2022, that ship's seven-day Galapagos Islands itinerary operates roundtrip from San Cristobal, Galapagos. At press time, door-to-door, all-inclusive fares started at $12,500 per person double. For a look at this cruise itinerary, visit this Silversea link. 
Silversea fares include everything from private airport transfers to economy flights, business class upgrades or air credit, shore excursions and an all-inclusive onboard lifestyle. Talk to your travel advisor for the latest deals and promotions. 
More Galapagos Cruise Options
Beyond the lines operating their own vessels, Hurtigruten Expeditions, Avalon Waterways, Tauck and others charter space on ships that sail within the Galapagos.
For example, Tauck offers an eight-day "Wildlife Wonderland," a Family Bridges itinerary. Families spend time at Guayaquil and Quito on the Ecuadorian mainland. Plus, they explore the Galapagos during a four-night cruise on the 90-passenger Santa Cruz II. 
This Tauck itinerary is offered on 13 dates between March and August in 2023. Fares start at $7,690 per person, double occupancy. The price includes the "on-tour air" between the mainland and the islands. Talk with your travel advisor for sample rates, dates and accommodations options.
Based on The Meandering Traveler's first-hand experience and that of other travelers, the Galapagos is an incredible destination for small-ship cruising. Wildlife wonders are prolific.
Most travelers say it's an unforgettable vacation — often a once-in-a-lifetime eco-experience.
Important Information from Pavlus Travel
This editorial blog site provides only "basic, general information" about travel; it's not designed to provide specific pricing nor is it staffed by travel advisors.
So, please don't use the Reply Section below if you're asking for pricing, travel dates, accommodations, brochures or other specific requests. 
That said, we are most happy and eager to assist you. Here's how…
If anything does tweak your interest in the story and you DO have questions about specific pricing, brochures, savings, itineraries, dates of travel, accommodations, accessible options and so on, please contact us at 800-528-9300.
We will discuss your travel style, personality, likes/dislikes and what travel products match with your vacation desires, as well as the best features of those products.
Or visit us online at Pavlus Travel's official agency Web site; you can "live chat" with us online too!
In addition, for your own protection, please do not put any personal information (address, phone, email, etc.) in the Reply Section below. Contact us via the phone or Web site link listed above.
Thanks for reading!