Travelers who visit Europe — such fascinating cities as Rome, Monte Carlo, Venice, London or Istanbul — often recall famous movies filmed there. The trip is often impetus to re-view a famous flick, such as "Roman Holiday," or alternatively, to see a film for the first time.
In this "Travel to the Movies – Part 2" blog, The Meandering Traveler checks out more movie filming sites and provides an example or two of trips to those cities. Here's a link to Part 1 of this blog — "Mamma Mia! Travel to the Movies in Greece, Belgium, Spain and Beyond."
Roman Holiday (1953) – Rome, Italy
Overwhelmed by her packed, suffocating schedule, European princess Ann (Audrey Hepburn) takes a night off while touring in Rome. However, having taken a sedative from her doctor, she falls asleep on a park bench. Calling herself "Anya," she's found by an American reporter, Joe Bradley (Gregory Peck), who takes her to his apartment for safety.
But then, while at work the next day, he discovers her regal identity and bets his editor that he'll get an exclusive interview with her. So, he takes her around to see Rome's scenic sites on a scooter. Joe's photographer friend, Irving Radovich (Eddie Albert) is tasked by Joe to clandestinely shoot photos.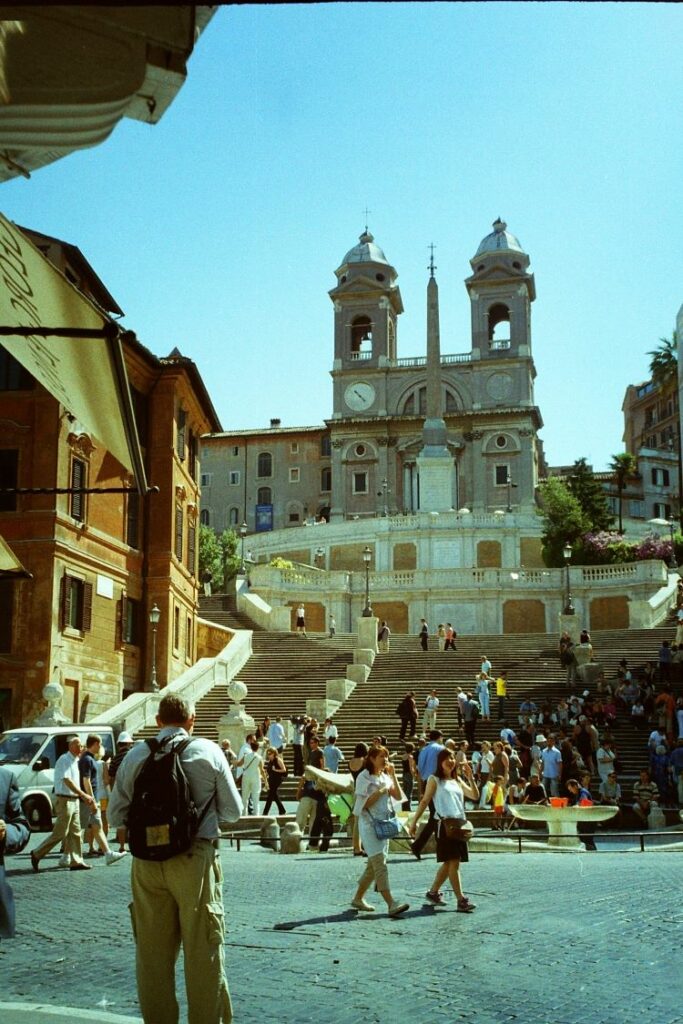 But as Ann's "Roman Holiday" progresses, the newspaper reporter and the princess start to fall for each other. It impacts what both decide to do. Let's just say it's a classic rom-com.
The movie opens with a view over St. Peter's Square in Vatican City. The Altar of the Fatherland, Piazza Venezia, and Ponte Sant'Angelo (the bridge leading to Castel Sant'Angelo), are seen during the film's opening credits.
The Spanish Steps is the setting for a key scene in which where Bradley convinces Princess Ann to spend the day with him. The Colosseum is also shown in the movie, and the film's climactic scene was filmed in Sala Grande Galleria in Palazzo Colonna (only open on Saturdays).
Seabourn's Roman Holiday
Now through November, ultra-luxury Seabourn offers many Mediterranean voyages that provide options for Rome. On October 29, 2022, for example, Seabourn Ovation sails a seven-day "Riviera Treasures and Rome" itinerary from Rome (Civitavecchia) to Barcelona.
Cruisers can explore the "Roman Holiday" city sites, and then board to enjoy ports of call. Those include Propriano (Bonifacio), Corsica, France; La Joliette (Marseille), France; Sete, France; Palamos, Spain; and Palma de Majjorca, Spain.
Or, if cruisers prefer a long itinerary, on that same date, they can instead book the ship's 14-day "Mediterranean Treasures" itinerary roundtrip from Rome (Civitavecchia). 
That voyage sails the same first seven nights but then continues on for a second port call at Palamos, plus these other ports: Sete, France; Monte Carlo, Monaco; Toulon, France; Ajaccio, Corsica; and Livorna (Pisa/Florence).
Starting fares are $4,299 per person, double occupancy, for the week-long cruises. For the two-week cruise, fares start at $6,199 per person, double occupancy.
The Talented Mr. Ripley (1999) – Venice, Italy
While "Roman Holiday" is one stellar movie set in Italy, so is "The Talented Mr. Ripley," a 1999 flick.
In the 1950s, Manhattan lavatory attendant, Tom Ripley (Matt Damon), borrows a Princeton jacket to play piano at a garden party. When Herbert Greenleaf, Sr. (James Rebhorn), the wealthy father of a recent Princeton graduate converses with him, Tom lies. He pretends he knows Greenleaf's son.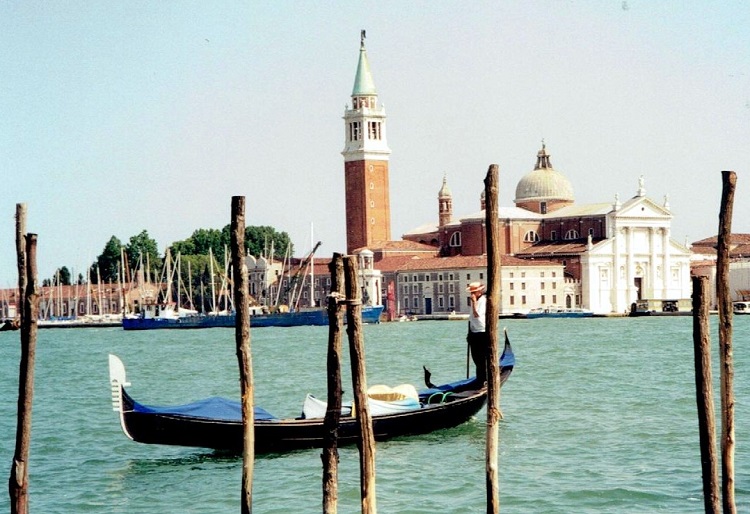 So, the father offers him $1,000 to go to Venice (shown in the photo above) to convince his son, Dickie Greenleaf (Jude Law), to return home. In Italy, Tom attaches himself to Dickie and to Marge (Gywneth Paltrow), Dickie's cultured fiancée. It's all a facade, though.
He pretends to love jazz and soaks in the luxury. But he has strong, unrequited, obsessive feelings for Dickie. When Dickie tires of Tom, though, lying, forgery and false impressions rule.
Tom goes to extreme lengths to make Dickie's privileges his own. 
Movie buffs can easily visit Caffe Florian in Piazza San Marco, Venice. In the movie, that's where Greenleaf, Sr., meets Tom and Marge. Another movie filming site was Venice's Ca'Sagredo hotel, Campo Santa Sofia 4198/99 – Ca' D'Oro 30121 Venezia; the hotel served as the scene of Tom's apartment site.
Uniworld River Cruise
For river cruise fans, Uniworld offers amazing river voyages from Venice on the S.S. Venezia. It's a great way to see the sights in the movie.
A week-long, roundtrip "Venice and the Gems of Northern Italy" itinerary, offers three full days in Venice plus embarkation day there. Other port calls are within northeastern Italy.
Check out this itinerary at Uniworld's web site and talk with your travel advisor for any questions or details. Fares start at $1,999 per person, double occupancy.
Uniworld also offers cruises and rail packages that feature Venice, but also can include Milan, Italy; Zurich, Switzerland; Istanbul, Turkiye; or other destinations. The 14-day packages run from $12,099  per person, double occupancy. Eighteen-day packages start at $21,399.
Palazzo Hotel Stay
One ultra-luxury property to consider if you're planning an independent stay in Venice, or perhaps an add-on to a Uniworld river cruise is Aman Venice. Located along the Grand Canal, it's nestled within the 16th century Palazzo Papadopoli, Calle Tiepolo 1364, Sestiere San Polo, Venice, 30125, Italy.
More a magnificent home than a hotel, the property displays gorgeous Tiepolo frescoes, gilded ceilings and centuries-old leather wall coverings. Rates start at $968 per night.
Talk with your travel advisor about this and other options. 
Taken 2 (2012) – Istanbul, Turkey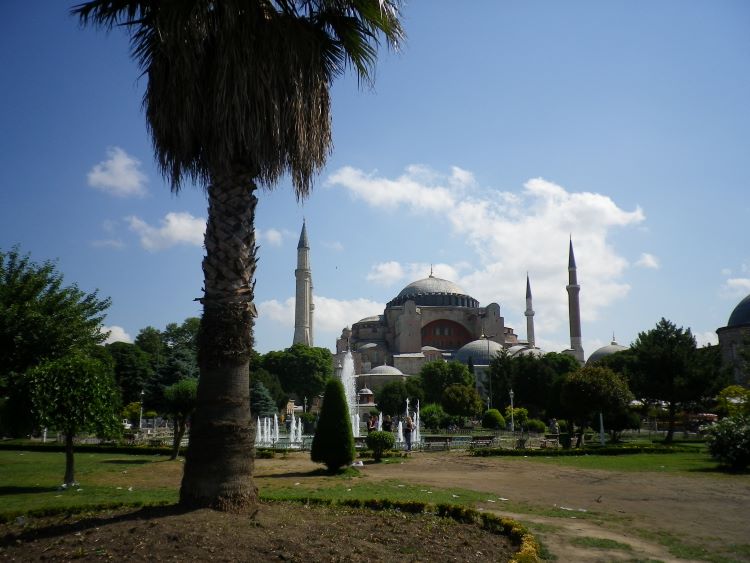 Taking a "Roman Holiday" is far different than surviving a kidnapping plot in Istanbul, Turkiye. At the crossroads of Europe and Asia, Istanbul, formerly called Constantinople, has exotic sites, many showcased in the action-thriller, "Taken 2."
In this flick, retired CIA agent Bryan Mills (Liam Neeson) has invited his teenage daughter Kim (Maggie Grace) and ex-wife Lenore (Famke Janssen) to Istanbul.
Simultaneously, the patriarch of an Albanian gang of human traffickers, Rade Serbedzija (Murad Krasniqi), seeks revenge for the death of his son. So, he organizes another gang to kidnap Bryan and his family.
Bryan and Lenore are abducted by the Albanians, but Kim escapes. She becomes Bryan's hope for his escape to save Lenore.
Movie buffs who are seeking to visit places that were filmed in "Taken 2" can check out the New Mosque (Yeni Cami), which is actually an Ottoman-era building dating to the mid-17th century. In addition, there's the somewhat older Süleymaniye Mosque; Galata Tower (aka Galata Kulesi Museum); and the Grand Bazaar.
Oceania's Istanbul 
One way to visit Istanbul is via an ocean cruise. We'd check out Oceania Cruises' numerous 2022 and 2023 itineraries that include Istanbul; they operate between May and November.
For example, on October 23, 2023, the 1,238-passenger Riviera sails a 10-day "Adriatic & Aegean Wonders" itinerary from Trieste, Italy, to Athens, Greece. Port calls include Split, Croatia; Bari, Italy; Kotor, Montenegro; Kavala/Philippi, Greece; Istanbul (overnight); Izmir, Turkiye; and Heraklion (Crete), Greece.
Here's the Oceania page with itinerary details. Fares begin at $1,699 per person, double occupancy.
Talk to your travel advisor about cruise and land options including accommodations choices, accessibility needs, and special discounts. 
If you desire an independent land stary, one option, for example, is a stay at the luxury hotel where parts of "Taken 2" were filmed. Living up to its name, Legacy Ottoman is set in a historical Byzantine-style building within Istanbul's central Eminönü District.
This upscale property offers very reasonable rates from $150 per night; it's located at Hobyar, Hamidiye Cd. No:16, 34112 Fatih/İstanbul, Turkey
To Catch a Thief (1955) – Cote d'Azur (Monte Carlo, Monaco, plus Nice and Cannes, France)
The turquoise waters and dramatic coastlines of the Mediterranean's Cote d'Azur (Monaco, Monte Carlo, and Nice and Cannes, France) are scenic stars of Alfred Hitchcock's  "To Catch a Thief."
This 1955 classic thriller combines gorgeous scenery, an enticing mystery and glamour. Here's the basic plot.
Notorious cat burglar John Robie (Cary Grant) has long since retired to tend vineyards on the French Riviera. But when several robberies are committed following his style of heist, he needs to clear his name.
Looking at the list of those who currently own the most expensive jewels in the area, John begins following the first owner, young Francie (Grace Kelly). When her jewels are stolen, Francie suspects John. That destroys their budding romance.
So, John goes on the lam to catch the thief and clear his own name.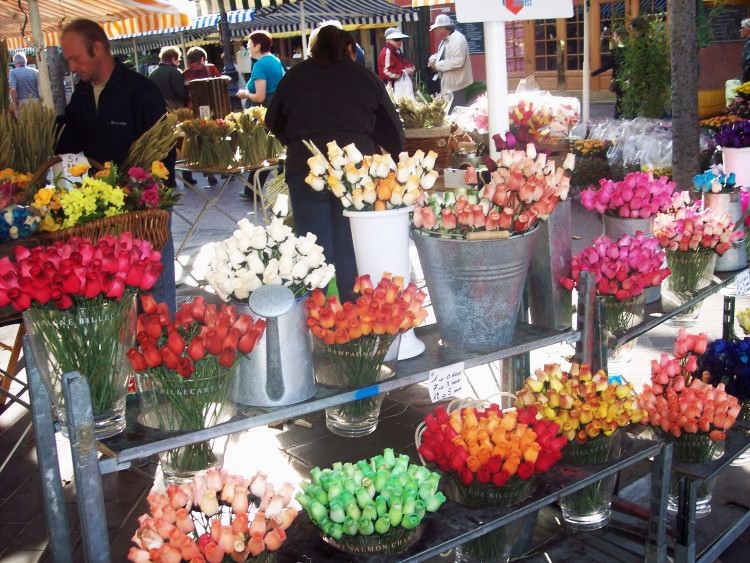 For those who've watched the movie, the flower market where Robie meets the insurance man from Lloyds of London is a replica of the real market found on Cours Saleya in Nice's Old Town. They "moved it" a few blocks north on the wider Boulevard Jean Jaures to facilitate filming.
Another movie filming locale? That's Cannes' InterContinental Carlton, where Frances and her mother (Jessie Royce Landis) stayed.
Silversea's Cote d'Azur
Love to cruise? Well, this region has prolific choices that include calls along the Cote d'Azur. We'd suggest checking out the voyages of Monaco-based Silversea Cruises, which offers many Monte Carlo and Côte d'Azur travel options.
For example, Silver Moon sails a nine-day cruise from Civitavecchia (Rome) to Barcelona on May 21, 2023, that calls along the Cote d'Azur. Port calls include Obia, Sardinia; Ajaccio, Corsica, France; Portoferraio (Elba), Italy; Portofino, Italy; and Livorno (Florence/Tuscany), Italy.
But what's truly special is that the 596-passenger ship calls at Monte Carlo for two full days during the Monaco Grand Prix. So, in addition to seeing sites reflecting "To Catch a Thief," motorsports fans can get their adrenalin fix by watching the Formula One action.
Fares start at $8,600 per person, double occupancy. That said, the line says the fares will increase by August 31, 2022, and possibly before that based on availability.
More Detail
Those fares are described as "door to door." They include private executive transfers, economy class flights (or business class upgrades at reduced rates) and food and beverage perks, butler service and shore excursions.
Readers can check out the itinerary and other details of the cruise here. Plus, chat with your travel advisor if interested in this voyage.
If you plan an independent stay in Monte Carlo, head for the Hotel de Paris Monte-Carlo. It offers an ultra-luxury aura, Cote d'Azur heritage and location, location, location.
How so? It's located next to the Casino de Monaco. Rates start at $1,500 per night.
Notting Hill (1999) – London, U.K. 
It's a dream come true for William Thacker (Hugh Grant), a Notting Hill bookstore owner, when Anna Scott (Julia Roberts), the world's most beautiful woman and best-liked actress, enters his shop.
A little later, he still can't believe it himself, but he runs into her again — proceeding to spill orange juice over her. Anna accepts his offer to change in his nearby apartment.
She thanks him with a kiss, surprising her even more than him. Eventually, Anna and William get to know each other better taking walks all over scenic London.
But let's just say that being together with the world's most wanted woman is not easy. Friends want to know the score plus the press are ever present. You'll have to watch the movie to see the final rom-com outcome!
In the movie, 142 Portobello Road was used as the location for the Travel Bookshop. It's actually a gift shop but owing to the film's popularity there is now a sign on the side of the building the reads "The Travel Book Shop."
Similarly, the blue door that marks William's flat — at 280 Westbourne Park Rd London W11 1EH — is not the original. But it was painted that same color so fans could spot it.
In addition, the Nobu restaurant where William and Anna go on a date is at 19 Old Park Lane, Mayfair.
Luxe-Adventure Small Ship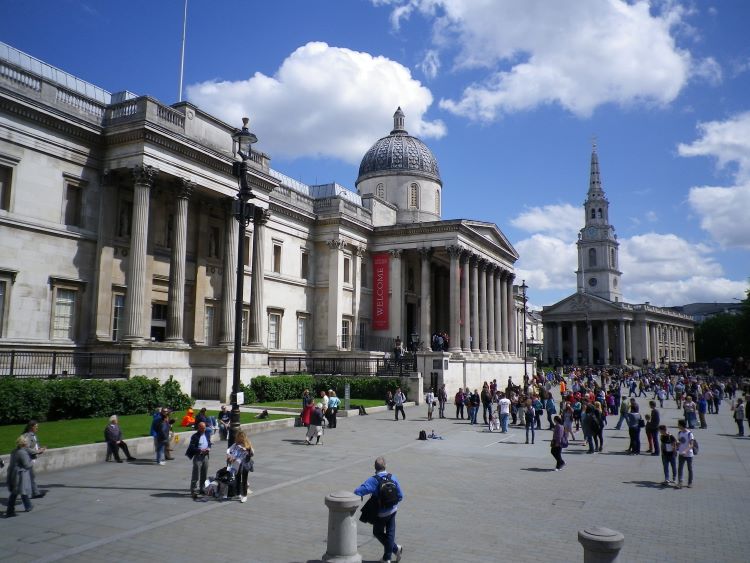 To explore more of London, cruisers might check out luxe-adventure Atlas Ocean Voyages' "London to Dublin" itinerary on July 6, 2023.
The 196-passenger World Navigator operates this 13-night voyage. The itinerary includes calls at St. Mary's, Isles of Scilly, U.K., and then multiple ports in Ireland and Northern Ireland.
They include: Cobh (Cork), Foynes, Galway and Killybegs in Ireland; Londonderry, Belfast (overnight) and Warrenpoint in Northern Ireland, before arriving in Dublin (overnight).
Fares for the entry-level Verandah accommodation start at $7,499 per person, double occupancy. Top-of-the-line is the ship's Navigator Suite with fares starting at $13, 799 per person, double occupancy.
Definitely, chat with your travel advisor about options.
"Roman Holiday" to "Taken 2"
So, when it's time for vacation, why not explore the Eternal City, much as Audrey Hepburn and Gregory Peck did in "Roman Holiday." Or, you might instead check out movie filming sites in Venice, the Cote d'Azur, and beyond.
By cruise or land, options abound. Talk to your travel advisor about your favorite flicks, your favorite cities and vacation options to get you there. It might be a "Roman Holiday," or alternatively, a getaway to London, Istanbul or Venice.
Let's head out and "Travel to the Movies!"