The Meandering Traveler boarded Oceania Cruises 1,238–passenger Marina last Sunday for the 10-day "Northern Realms" voyage from Copenhagen, Denmark, to Stockholm, Sweden. We're sailing this week and early next week too.
We'll share personal tips and tidbits about this cruise as it progresses. Here's our initial look at boarding, the lifeboat drill process and information about and photos of our Penthouse Suite, #10032.
Check back at the end of the week for a bit more on the ship including several OceaniaNEXT updates and more.
Oceania Marina: A Breeze to Board
Three ships were in Copenhagen on Sunday embarking guests – Marina plus Norwegian Dawn and MSC Grandiosa. Fortunately, Marina was docked at a smaller pier, so we weren't in the terminal with thousands from the other two ships.
Overall, the process was smooth and easygoing. After clearing security, we checked in, got a red wristband and then proceeded to the next check-in desk for our key card.
Since we are staying in #10032, a Penthouse Suite, we were able to board a bit earlier than regular guests, one of many perks for suite guests. Those in higher level suites were able to board before we did, while those in balcony staterooms waited a bit longer than we did to board.
Marina Lifeboat Drill Process
As most lines have, Oceania has done away with the regular lifeboat drill with everyone gathered in one spot. Instead, guests watch a mandatory online safety video. We did that as part of our online check-in process.
Then, we were reminded of it via email too as guests can only board if they've watched it in its entirety at least 72 hours prior to boarding (or so the documentation stated). After boarding, we then were directed immediately to Marina Lounge, our Muster Station A.
They simply wanted us to know how to find it. Key cards were scanned, and presto, our cruise had officially begun.
Observation? This was the easiest lifeboat process I've had of late. Often cruise lines ask you to watch the safety video in your stateroom/suite after boarding, then go out to the muster station.
It's not hard, for sure. It's certainly less disruptive for the start of a cruise than the former "in person" lifeboat drills in the theater or dining room.
Frankly, we thought that this process – with watching the video online in advance and going to the muster station immediately upon boarding (before getting to the suite) — was an absolute breeze.
Oceania Marina: Lunch in Terrace Café
Lunch was served in Terrace Café, starting mid-day. At this buffet-style restaurant, cruisers will find food stations such as a meat carving area, hot fare (such as vegetarian lasagna, a Colombian pork specialty, fresh green beans and so on) and a fabulous salad bar.
Plus, the cafe has a grilling area for steak, hamburgers and other grilled fare. And of course, the yummy desserts had their own sweet spot.
Pre-pandemic, Oceania's approach in this restaurant was for servers behind the counters to place the food the guest selected on his or her plate. It's the same process today. Guests don't simply help themselves.
Other cruise lines had been self-serve, ceased that during the pandemic, and are now back self-serve. From our personal perspective, and we know feelings vary on this, we liked Oceania's approach. It seemed civilized, clean and safe.
Guests are not required to wear masks, but all servers and restaurant managers are doing so. Sanitizers are at the entry to every restaurant aboard the ship.
Welcome Aura
Crew warmly greeted guests as they entered the ship. After dining in Terrace Café and being "fortified to cruise," we ambled on down to Deck 5 near the atrium. Here guests were checking on dining and shore reservations.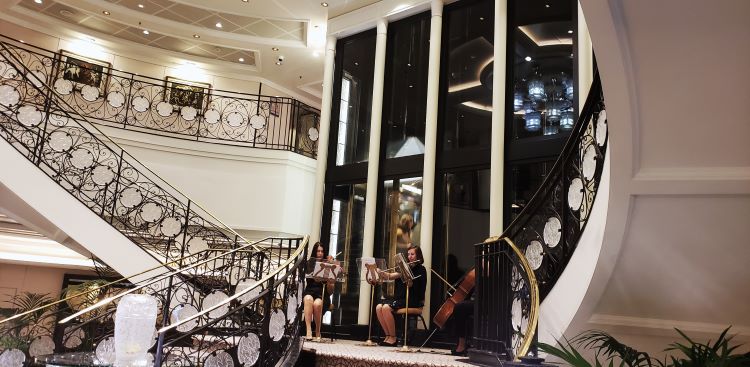 But adding a classy, calming aura was a trio of string players – a chamber music group – playing live music. They were seated on the landing level halfway up the atrium staircase. My view? Nice touch by the line.
Arriving at our suite, we met our friendly butler, Ankit, from Nepal. He adeptly explained everything about the suite and provided his contact information. Butler service is 24-7. Of course, when Ankit is sleeping, someone else covers for assisting his guests.
A good perk is that the butler also can provide helpful tips about things around the ship. For instance, Ankit recommended that we look for the black wall phone when disembarking the elevator. That way, it's easy to head immediately to the correct side of the ship to reach our suite.
Oceania Marina: Penthouse Suite #10032
Penthouse Suites on Oceania's Marina offer 420 square feet of space. Our suite, #10032, is directly adjacent to the elevator lobby.
Tip? If you don't want to hear people (at times) talking in the elevator lobby, we'd suggest instead booking #10030, one suite down farther in the corridor, or perhaps even two suites removed from the lobby. For us, it's no issue, but just good to mention.
Our suite is an enclave of luxury. Walking into the suite, the bathroom is to the left, a large walk-in closet to the right (with a sliding pull door and automatic light turning on and off).
The closet also features a chest of drawers, fluffy robes and slippers (as well as an umbrella) for guest use, laundry bags and a personal safe.
Penthouse Suite: Bedroom Area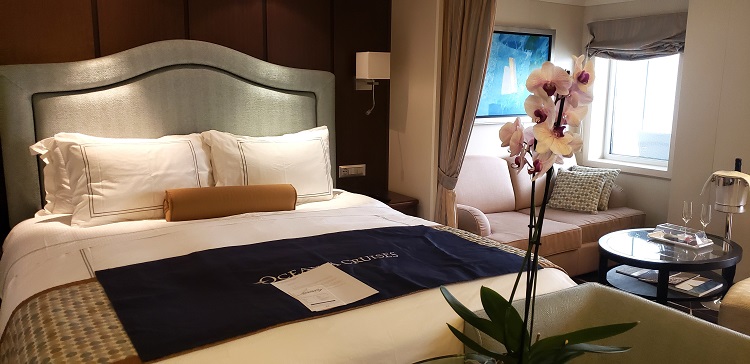 Entering the main suite area, the bedroom area is first. Directly across from the Ultra Tranquility Bed, an Oceania exclusive, is a large, elongated credenza with a large, flat-screen TV that's wall-mounted.
Here you'll also find two Vero water bottles filled with your choice of still or sparkling water; they're refilled daily. Two "take-along" aluminum, reusable water bottles are also provided for guests to take on tours and take home too.
Under the credenza are cabinets with interior shelves and a mini-refrigerator, stocked with guest sodas. Talk to the butler about what else you might want placed there, such as beer or wine, at an added charge.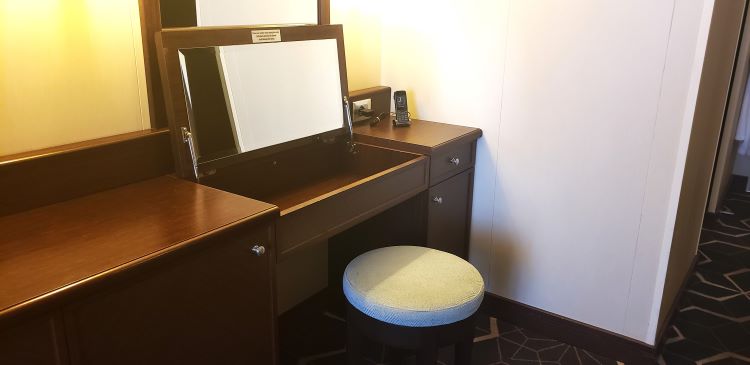 One of the neat features of this credenza is its make-up area with stool (see photo above). One part of the credenza surface lifts up to reveal a large rectangular mirror and a handy space to store make-up. When not in use, the mirror simply folds down into the cabinet. There's also a separate, moveable, lighted make-up mirror for guest use.
The bed itself, as noted, is an Ultra Tranquility Bed, designed just for Oceania. It's sumptuous, has four pillows, a soft, comfortable duvet, and we slept well here.
Cozy Dining Area
Our favorite part of the bedroom area, though, is the foot of the bed. Nestled between the bed and the credenza is a cozy dining area for two (see photo below). It's really a nice use of space.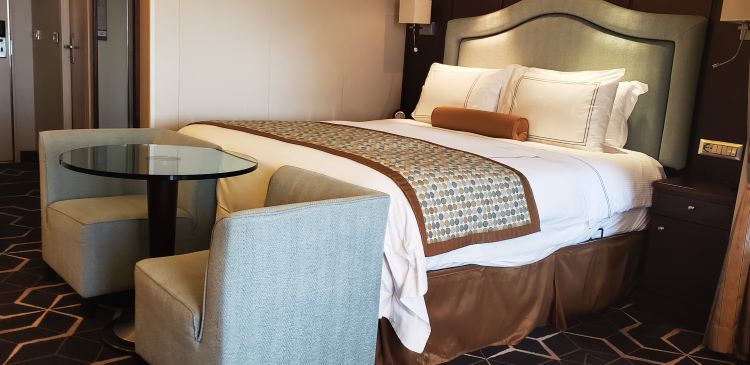 A glass-topped, round dining table and two upholstered chairs offer great visibility to the wall-mounted flat screen TV. If the table is moved out of the way, those two chairs also can fit together to create a small loveseat for evening movie viewing.
But for dining, the set-up is comfortable. Our complimentary room service "made to order" breakfast was set up here. FYI, the croissants on Oceania are fresh, light and flaky, plus the fresh fruit tray was superb with seven or eight kinds of fruit.
Penthouse Living Room
Pull curtains between the bedroom area and the living area offer a bit of privacy — if someone wants to sleep, another wants to read perhaps.
Guests can relax within a living room area that includes a comfortable couch; one small, upholstered chair; glass-topped coffee table; and a large desk area with chair. We work "on the road" while cruising, so we found the desk set-up very useful; it offers three drawers plus two cabinets that open to interior shelves.
We found the ship's Wi-Fi service to be reliable, at least in the initial part of this cruise. We'll talk more in an upcoming blog about takeaways from the full cruise and how the Wi-Fi was throughout our voyage.
Could be improved?  In terms of techie plugs, the desk has two U.S. electric power outlets and one European one (but that one is already in use by a line-installed desk-top communications device). But there are no USB ports at the desk, so be sure to bring an adaptor.
Bathroom and More 
Let's head for the bathroom. It's spacious with both a full-size, soaking bathtub (with shower apparatus) and a separate, walk-in shower.
Bulgari bath amenities are provided, along with two kinds of bath salts (a nice touch) placed on the bath vanity. We also liked the vanity's two pull-out elongated mirrors that reveal small shelves.
Of course, this suite also has a private veranda with two chairs (with cushions) and a small table.
This suite has a slew of suite privileges; here's the link to the Oceania page about that. Talk with your travel advisor about any questions on Oceania, accommodations of all levels, accessibility needs and more.
In a previous blog, The Meandering Traveler covered "The Three Best Oceania Cruises We'd Love to Take!" so check that out too.
Stay tuned for our blog next week, which will provide more information about the private Executive Lounge aboard the ship for suite guests. We'll also look at some OceaniaNEXT enhancements involving food and wine, and one specialty dining experience on Marina.
Important Information from Pavlus Travel
This editorial blog site provides only "basic, general information" about travel; it's not designed to provide specific pricing nor is it staffed by travel advisors.
So, please don't use the Reply Section below if you're asking for pricing, travel dates, accommodations, brochures or other specific requests. 
That said, we are most happy and eager to assist you. Here's how…
If anything does tweak your interest in the story and you DO have questions about any of the travel products above, their pricing, brochures, any discounts, itineraries, dates of travel, accommodations, accessible option and so on, please contact us at 800-528-9300.
Or visit us online at Pavlus Travel's official agency Web site; you can "live chat" with us online too!
In addition, for your own protection, please do not put any personal information (address, phone, email, etc.) in the Reply Section below. Contact us via the phone or Web site link listed above.
Thanks for reading!