Viking is expanding on Egypt's Nile River by ordering two more Nile River vessels.  The news surfaced this week as Viking executives, Egyptian government officials and invited guests attended the christening of the new Viking Osiris on the Nile River in Luxor, Egypt.
The 82-passenger Viking Osiris will join Viking Ra, which launched in 2018, on the Nile. A third ship, Viking Aton, a sister to Viking Osiris, will set sail in 2023.
Hagen also announced that two more sister ships, Viking Hathor and Viking Sobek, are under construction. So, they'll be delivered in 2024 and 2025, respectively.
As for the new Viking Osiris, it hosts 82 guests in 41 staterooms. The sparkling new ship features the Scandinavian design for which Viking is known.
Viking's repeat guests will also notice familiar brand features including a distinctive square bow and indoor/outdoor Aquavit Terrace.
Earl of Carnarvon Is Ship's Godfather
As part of the intimate event, George Herbert, the eighth Earl of Carnarvon, served as Viking's first ceremonial ship godfather. He offered a blessing of good fortune and safe sailing for the new Viking Osiris. That's an evolution of the naval ship christening tradition that dates back thousands of years.
Designed specifically to navigate the Nile, the state-of-the-art ship was built at Cairo's Massara shipyard. It's now sailing the Nile on Viking's popular, 12-day "Pharaohs & Pyramids" itinerary.
Viking Osiris and the Growing Egypt Fleet
On that robust "Pharaohs & Pyramids" itinerary, guests begin with a three-night stay at a first-class hotel in Cairo. During that time, they can visit the Great Pyramids of Giza, the necropolis of Sakkara and other iconic sites.
Beginning in late 2022, guests will have the opportunity to explore the new Grand Egyptian Museum too. Guests then will fly to Luxor, where they'll visit the Temples of Luxor and Karnak.
Then it's onto a Viking river ship to begin an eight-day, roundtrip Nile River voyage.
The cruise will also offer Privileged Access to Nefertari's tomb in the Valley of the Queens and Tutankhamun's tomb in the Valley of the Kings.
Excursions and Abu Simbel Visit 
Cruisers will also take excursions to Esna's Temple of Khnum and Qena's Dendera Temple complex. They'll also visit Abu Simbel and Aswan's High Dam.
Also on tap is a visit to a colorful Nubian village, where guests will visit a traditional elementary school. Finally, the journey concludes with a flight back to Cairo for a final night in the ancient city.
In total, guests will receive 11 complimentary tours included within their cruise fare. At press time, fares started at $5,299 per person, double occupancy.
The Meandering Traveler also talked about Viking Osiris in a blog earlier this year, which covered Viking voyages "we'd love to take." Also, readers can check out Viking's website page with more details about this cruise.
Major 2022 Events in Egypt
Viking Osiris' naming comes as Egypt marks several key events this year. For instance, the new Grand Egyptian Museum will open outside Cairo on the Giza Plateau.
What's to see? The museum will house 100,000 ancient artifacts including some 4,549 of those from King Tutankhamun.
Most notable this year — with a direct connection to Viking Osiris' godfather — is the 100th anniversary of the discovery of King Tutankhamun's tomb.
In November 1922, famous Egyptologist Howard Carter and his benefactor and co-explorer, the fifth Earl of Carnarvon, discovered that tomb. Globally, it became a major media event, given the public's intense interest. 
Drawing Curious Explorers
"Egypt has always drawn curious explorers for its rich history and ancient antiquities, and ever since we first began operating on the Nile River in 2004, our guests continue to be amazed by the country's many cultural treasures," said Torstein Hagen, chairman of Viking.
Continuing, he explained that Viking Osiris' launch and Viking's expanding Nile fleet will allow it "to welcome even more curious explorers to this incredible destination."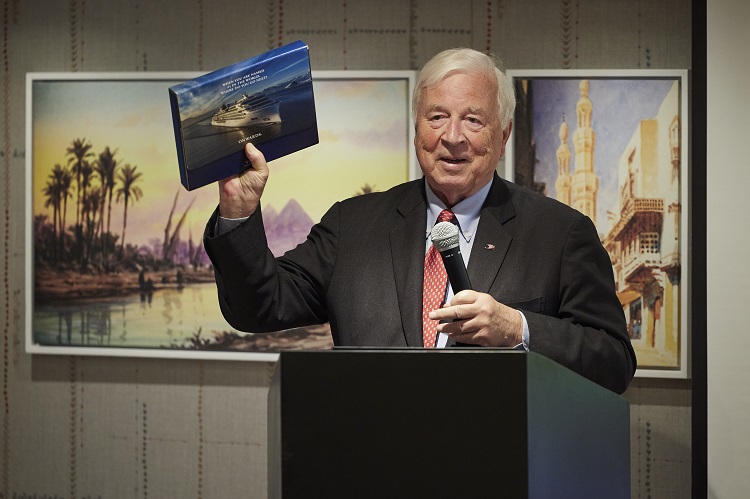 During the milestone year for Egypt, Hagen says: "We are also very grateful for the continued close friendship with the Carnarvon family, and that Lord Carnarvon has honored us by serving as the first godfather in our history."
Viking Osiris: The Godfather Speaks
"It is a great honor to be asked to be godfather to the Viking Osiris, " said Lord Carnarvon. He described the ship as "one of the most beautiful river vessels to have ever graced the Nile."
He continued: "This is especially the case in the centenary year of my great grandfather's discovery of the tomb of the Pharoah Tutankhamun. No doubt he and my great-grandmother, Lady Almina, would have been delighted to board the Viking Osiris had it been sailing in their day."
He added that the fifth Earl of Carnarvon was one of the era's great explorers and excavators. "Today, you may join in his love of the glories of ancient Egypt, all in the exceptional comfort and style of the Viking Osiris," he told invited guests.
Carnarvon Family Tree
Looking at the Carnarvon family tree, the ship's godfather, the eighth Earl of Carnarvon, is the son of Henry Herbert, seventh Earl of Carnarvon, and Jeanie Margaret Wallop (1935–2019). His mother was born in Big Horn, WY, to Oliver Wallop, who was the brother of the eighth Earl of Portsmouth.
Desire to know more? The eighth Earl of Carnarvon was educated at Eton College and St. John's College, Oxford. He succeeded to the title of Earl of Carnarvon when his father passed away on September 11, 2001. He lives at Highclere Castle with the eighth Countess of Carnarvon, and they run the estate and business together.
The earl is a keen horseman and sits on the board of the Historic Houses Association (HHA). He also takes a considerable interest in conservation and farming and has been an investor in start-up technology businesses.
Together, the Carnarvons are Viking's first "godparents." Lady Carnarvon served as godmother of Viking's newest ocean ship, Viking Mars, as well as river ship, Viking Skadi.
Discovery of King Tut's Tomb
In her newest book, "The Earl and the Pharaoh: From the Real Downton Abbey to the Discovery of Tutankhamun," the Countess of Carnarvon tells the behind-the-scenes story. She also explores the life of the fifth Earl, an avid photographer.
Photo albums at Highclere Castle's library show photos of the discovery of Tutankhamun's tomb. They also offer a historic look at daily life in Egypt.
With permission, the Carnarvons are allowing Viking to share this private collection of photos with guests sailing on board Viking Osiris.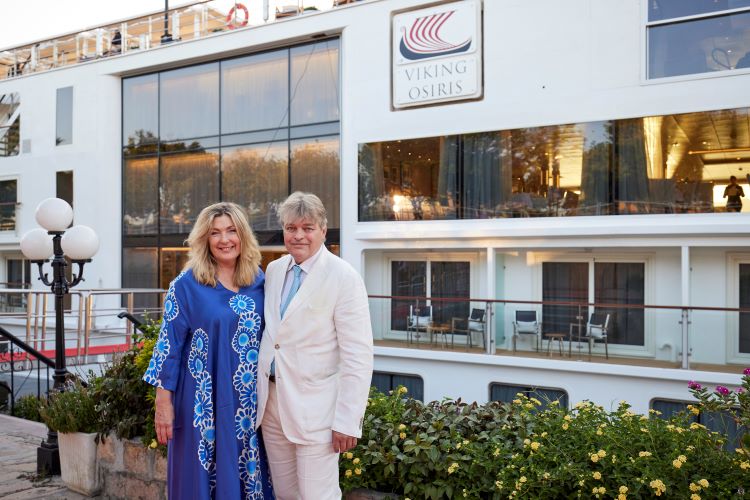 Viking and Highclere Castle
For years Viking has offered ways for cruisers to experience life at Highclere Castle. This historic U.K. estate is the home of the Earl and Countess of Carnarvon. Plus, it was the filming location of "Downton Abbey."
Viking became a household name by sponsoring PBS' "Masterpiece" series through the years that "Downton Abbey" aired.
Karine Hagen, Viking's executive vice president, then worked closely with the Carnarvon family. For instance, she developed Privileged Access pre- and post-cruise extensions that feature the famous estate.
Those include Viking's "Oxford & Highclere Castle" and "Great Homes, Gardens & Gin" extensions. Guests on select river and ocean voyages can take these.
Viking Osiris: Pre-Cruise Extension
For guests sailing the "Pharaohs & Pyramids" itinerary, Viking offers a "British Collections of Ancient Egypt" pre-cruise extension. At press time, this optional package was $3,699 per person, double occupancy.
On this four-night extension, guests thus receive a introduction to Egyptian antiquities. That will help prepare them for their Nile experience. For example, they'll "retrace the steps" of Howard Carter and the fifth Earl of Carnarvon.
What's involved? Guests receive Privileged Access to archives and museum exhibits not normally open to the public.
That includes a private, early morning tour of the British Museum's Egyptian Collection. Plus, guests also visit Sir John Soane's Museum, the Petrie Museum, Ashmolean Museum and Oxford University's Griffith Institute; the latter houses Carter's archives.
At Highclere Castle, guests on pre- and post-cruise extensions can also view the Earl's private collection of Egyptian artifacts.
Video Enrichment Channel
If readers cannot take one of the pre- or post-extensions, they can see more inside Highclere Castle by watching Viking's enrichment channel, Viking.TV.
In her ongoing video series, "At Home at Highclere," Lady Carnarvon offers virtual Privileged Access to the castle and grounds. Both she and Lord Carnarvon share their memories with viewers.
For more information on Viking, visit www.viking.com. Or, speak to your travel advisor about Viking's river cruise options in Egypt and in other regions of the world too.
Important Notes from Pavlus Travel
This blog site is editorial in nature. It's designed for "basic, general information" about travel; it's not designed to provide specific pricing nor is it staffed by travel advisors.
 So, please don't use the Reply Section below if you're asking for cruise or land pricing, travel dates, accommodations, brochures or other specific requests.
That said, we are most happy and eager to assist you. Here's how…
If anything does tweak your interest and you DO have questions about specific  cruise lines, itineraries, pricing, brochures, savings, dates of travel, accommodations, accessible options and so on, please contact us at 800-528-9300.
Or visit us online at Pavlus Travel's official agency Web site; there you can "live chat" with us too!
Thanks for reading!