As 2022 winds down and we look ahead to 2023 and beyond, let's check out what's new at Avalon Waterways. Here are five developments to pique your interest.
We believe these also deliver interesting "intel" about one river cruise line's approach and the latest trends. Did you know that Avalon Waterways is part of the Globus Family of Brands?
So, in addition to offering lovely ships, upscale service, fine dining and relaxed luxury, Avalon Waterways fields enticing river cruise itineraries and robust Avalon Choice touring options. 
That's reflective of the Globus "family touch," bringing 90-plus years of tour experience to the equation.  
1. The New "Suite Ship" Avalon View
Certainly, the top development for Avalon Waterways this year is the recent launch of its new 166-passenger Avalon View. After television personality Meredith Vieira christened the new vessel this past spring, this 14th Panorama-class "Suite Ship" set sail on Europe's Danube River.
Shown in the photo above are (left to right): Pam Hoffee, president, Avalon Waterways; Vieira, the new ship's godmother; and Captain Ambrose Manolache; photo by Avalon Waterways.
Cruisers can select from a slew of appealing itineraries on Avalon View. One we like? On select dates in 2022, 2023 and 2024, the new river vessel will operate an eight-day "Danube Dreams for Wine Lovers" itinerary.
Among the departure options? One is an eastbound cruise from Deggendorf, Germany to Budapest, Hungary on October 31, 2023. Onboard, wine enthusiasts will enjoy these kinds of experiences:
On Day 2, when the ship is in Passau, Germany, guests can attend an onboard wine lecture.
In Linz, Austria, on Day 3, guests will be treated to an onboard food and wine pairing dinner.
On Day 4 from Ybbs, Austria, cruisers can head out to Melk, the Wachau Valley and Durnstein with the ability to choose one tour (among many options) that visits a wine cellar.
Fares for Danube Dreams
Fares for this "Danube Dreams for Wine Lovers" itinerary start at $2,549 per person, double occupancy, for a Deluxe Suite. Or, guests can step up to a Panorama Suite starting at $3,848 per person, double occupancy.
The popular, top-of-line, Royal Suite is priced from $5,098 per person, double occupancy.
One nice perk right now for solo travelers too is that single supplements are waived for Avalon Waterways voyages, while supplies last. That's based on remaining availability and subject to change.
Chat with your travel advisor about whether that works on your planned departure date. Avalon View also operates other Danube itineraries.
14th in a Series
Did you know that the first Panorama-class "Suite Ship," Avalon Panorama, launched in 2011. With two full decks of 200-square-foot Panorama Suites with beds facing "the view," it was a hit from the get-go.
Today, cruisers can count on the widest-opening window in river cruising. How wide? The glass extends 11 feet across.
As the glass panes slide aside — out of the way — the result is a seven-foot wide, open-air balcony.
Yet, when the glass is closed, guests can sit in comfort within their living space in any weather. So, the space is versatile and the views always captivating.
Since the launch of the first Panorama-class "Super Suite" vessel, Avalon Waterways has built a fleet of 14 in this class. Lovingly maintained by the line, they've become exceptionally popular with repeat guests.
Fine-tuning and Tweaking
The good news is that Avalon also has honed and fine-tuned these "Suite Ships." As a result, you'll find enhancements on all the Panorama-class vessels, such as a lighter color palette on Avalon View.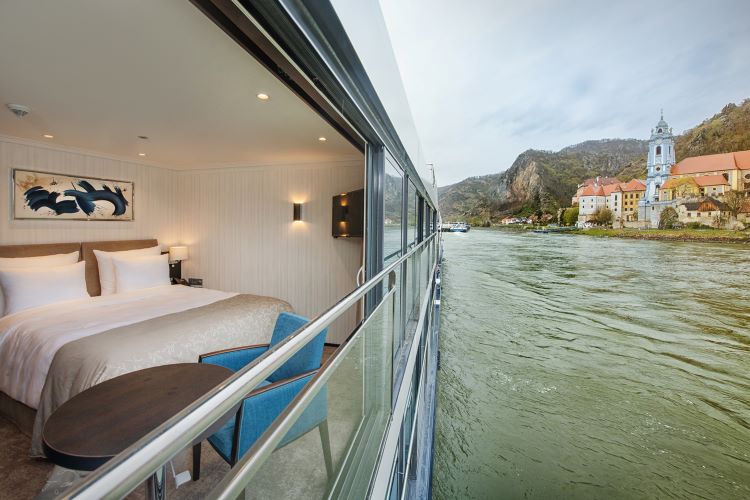 In addition, Avalon View is also the line's first "Suite Ship" to have flat glass panels on the open-air balconies. That provides unobstructed scenic views.
Look for the line to keep building new Panorama-class ships. Pam Hoffee, Avalon Waterways' president, explains that the Panorama-class has been so beloved by guests that the perspective is: "Why change what's working so well?"
Yes, moving forward, you'll definitely see tweaks for each new vessel. But the concept itself is a "keeper."
2. More Active and Discovery Choices
For those seeking a more "out-and-about" vacation — to explore, discover and remain active while vacationing — Avalon Waterways' "Active and Discovery" itineraries and new Avalon shore excursions await.
The line's portfolio of shoreside options has grown by leaps and bounds, so to speak.
For the first time, travelers can choose an "Active and Discovery" cruise by Avalon Waterways on every major European river. Guests who so choose can head out on treks, biking or kayaking adventures, as well as enjoy cooking tours and other discovery options within destinations.
So, for 2023, "Active and Discovery" designated cruises are available on the upper and lower Danube, Rhine, Moselle, Rhone and Seine rivers as well as the waterways of The Netherlands and Belgium.
In fact, since launching its very first "Active and Discovery" cruise on the Danube in 2017, the company has increased those offerings by 560 percent. At the same time, its cruise berths have grown by 610 percent.
No, it's not impossible to stay fit on a cruise, as we wrote about in a "Staying Healthy and Fit on a Cruise" blog earlier this year. Now, Avalon Waterways is offering even more options for active adventures.
Infusing Your Interests
Travelers love to customize and personalize their vacation activities. See one of our previous blogs for tips on how to do that.
From Hoffee's perspective, the "Active and Discovery" cruises with new Avalon Choice excursions are a great opportunity to "infuse interests and passions into each cruise."
Certainly, travelers have many more options than in the past. The average number of Avalon Choice excursions on "Active and Discovery" cruises is 22!
"That gives travelers the choices they crave," she emphasizes.
And when cruisers return to their river vessel, an enclave of pampered luxury, they'll find public spaces (see photo of a lounge below) in which to relax, socialize and tell tales of the day's activities. For fitness buffs, alternatively, the onboard gym is ready and waiting.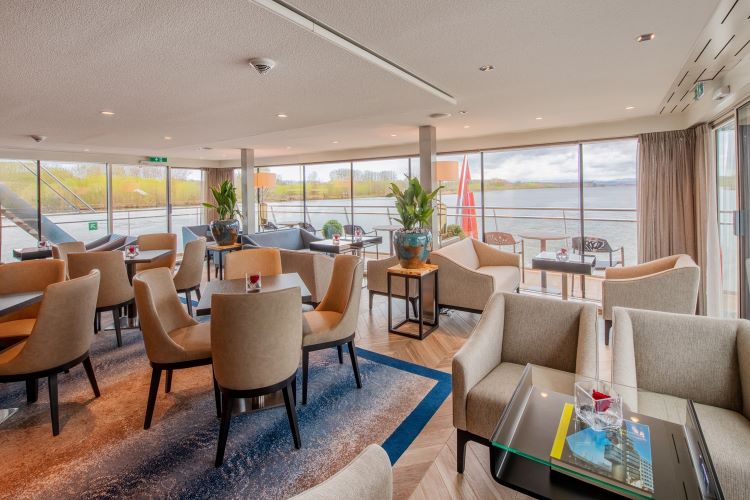 Building the Choices Portfolio
In 2023, Avalon will offer a portfolio of eight "Active and Discovery" itineraries for a total of 53 departures. That's 14 percent of the company's total cruising portfolio and 25 percent of its main cruising season departures.
What's new? For the 2022 and 2023 cruise seasons, Avalon Waterways has unveiled four new "Active and Discovery" itineraries. This year, those have included two new options on the Moselle and Seine rivers; departures are also available for 2023 and beyond too.
For 2023, a third new option is on the Lower Danube, while a fourth in 2023 is "From Croatia to the Black Sea" (Be sure to keep reading below — more robust details are provided for this itinerary in Number 4 of our New Developments).
Active and Discovery: Lower Danube
Avalon Waterways' new nine-day "Active and Discovery on the Lower Danube" itinerary features 23 Avalon Choice excursions including these active options:
A guided nature walk in Vacaresti Park Nature Reserve in Romania;
Hiking to Krushuna Waterfalls in northern Bulgaria;
A bike ride through Vidin, Bulgaria; and
Hiking through Djerdap National Park in Serbia.
On that same itinerary, guests can also opt for these "discovery" options: Bulgarian wine-tasting; a guided tour to Lepenski Vir, a Mesolithic archaeological site chronicling prehistoric cultures; a food tour revealing Serbian culture in Belgrade; and learning about beekeeping in Novi Sad, Serbia.
Classic Still Available Too
What's also neat is that even on these "Active and Discovery" itineraries, classic shore trips are also offered.
For example, on the Lower Danube, those include: a visit to the Fortress of Golubac, one of Europe's best-preserved medieval fortresses; exploration of one of Bulgaria's oldest towns, circa 4,300 BC; and views of lovely Vidin followed by a guided tour of Belogradchik.
3. New "From Croatia to the Black Sea"
Our view is that one new 2023 "Active and Discovery" itinerary deserves its own shout-out. That's the nine-day "Active and Discovery on the Danube From Croatia to the Black Sea" itinerary.
Operating from Zagreb, Croatia, to Bucharest, Romania, Avalon Passion will cruise the Lower Danube River. Cruisers will travel through four countries – Croatia, Serbia, Bulgaria and Romania.
Activity Highlights
Let's spotlight a few of the activities:
One night is spent in Zagreb where Avalon Waterways' guests can take a city tour.
In Belgrade, Serbia, travelers will head out to explore this city where the Danube and Sava Rivers meet. One active option is a guided bike tour. Cruisers have many other tour choices too.
One highly scenic section of the Danube is the Iron Gates Gorge. Guests will eyeball this majestic area from the river after their visit to the Fortress of Golubac or perhaps a hike in the Djerdap National Park.
Another option is a visit to the amazing archaeological site of Lepenski Vir, dating from 9500/7200 to 6000 BC. This site is from the Mesolithic Iron Gates culture of the Balkans. It's so ancient that Greek and Roman archaeological sites seem like "spring chickens"!
Avalon Passion then sails to Vidin, Bulgaria, where guests will gaze at dramatic Balkan Mountains' rock formations in Belogradchik.
Guests who wish to be active, can explore Belogradchik by bike, see the ancient architecture in Veliko Târnovo and Arbanassi, or join a local guide for a hike to Ivanovo Rock Church.
While visiting Romania's Black Sea jewel, Constanta, cruisers can take a guided tour, explore Roman history or join a delicious food tour.
Guests then disembark the ship and spend the night in Bucharest, known as the "Paris of the East."
Departures, Pricing and Excursions
Avalon Passion operates one departure monthly of this "Active and Discovery on the Danube From Croatia to the Black Sea" itinerary in July, August and September 2023.
Here's a link to the Avalon Waterways website page showcasing more itinerary details, the departure dates, many accommodations choices, fares and more. 
At press time, the fare for a 172-square-foot Deluxe Stateroom started at $2,957 per person, double occupancy. For those seeking a bed with the view and the sliding glass panels/open air balcony, the fare for the 200-square-foot Panorama Suite started at $4,071 per person, double occupancy.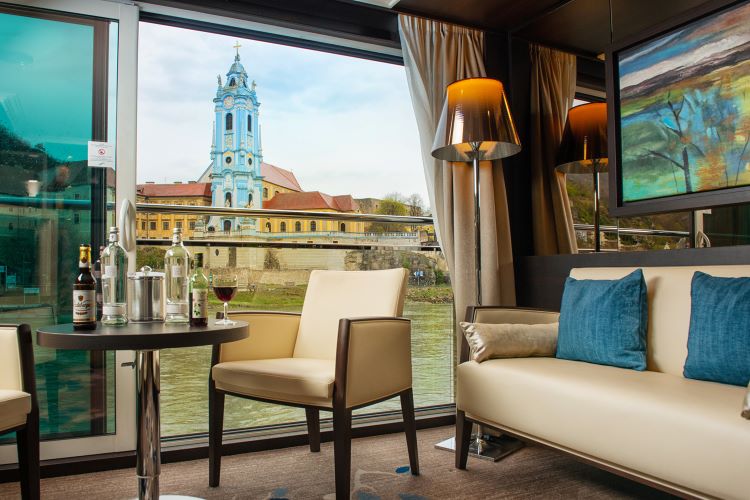 The cruise fare for a 300-square-foot Royal Suite (see photo above) began at $5,099 per person double. In addition, ask your travel advisor about waived single supplement options.
Guests can choose from 21 Avalon Choice excursions – many of which parallel those on the Lower Danube itinerary (mentioned earlier).
In addition, even more Avalon Choice excursions will be offered on this itinerary. For instance, in Constanta, Romania, guests can bike through the area, visit a local winery or learn more about the region's history.
4. A Return to Southeast Asia's Mekong River 
All of Avalon Waterways' European river vessels are back cruising with guests aboard. Next up? The line is ready to resume Southeast Asia river voyages in October 2022, says Hoffee.
Doing the honors for this Asian restart will be the line's newest ship in the region, the 36-passenger Avalon Saigon. An English-speaking crew, staff and professional Cruise Director will serve and assist guests
Beds Facing "The View"
On this nonsmoking ship, guests will sail in 18 245-square-foot staterooms. Of course, the beds face the view.
These air-conditioned accommodations offer many amenities. Among them is a flat-screen satellite TV with English-speaking channels and more than 100 free movie options.
In terms of public spaces, guests can access the air-conditioned Panorama Lounge with complimentary WiFi (when the signal is available), a spa treatment room, fitness room, library with games, open-air Observation lounge with a shade system and premium lounge chairs, and more.
Just in case you're wondering, house wine and beer (including local beers) are complimentary on all Avalon Waterways sailings; cocktails and other alcoholic beverages are available at an added charge.
Among the many other perks Avalon Saigon's guests receive aboard this Southeast Asian river vessel include complimentary specialty coffees such as espresso and cappuccino available throughout the day; complimentary water stations; a daily cocktail hour with the cocktail of the day; onboard lectures and entertainment; a behind-the-scenes galley tour and much more.
Sightseeing along the Mekong
Along the Mekong, guests will head ashore for sightseeing with expert local guides. They'll receive headsets to use for all excursions. They also can select from a choice of Classic, Active or Discovery excursions.
So, if you want to be active, you'll find a slew of options including hiking and biking. If you're a foodie, there are tours that fit that interest, and if you just desire classic sightseeing, you'll find those options too.
Hoffee told The Meandering Traveler that assuming all goes as planned with the countries in the region, the first "restart" cruise of Avalon Saigon will sail from Ho Chi Minh City (Saigon), Vietnam, on October 13, 2022.
Guests will enjoy a robust Mekong River cruise to Phnom Penh, Cambodia's capital city. Avalon will transport them from that city via a flight to Siem Reap; that's the gateway destination to the magnificent ancient city of Angkor, which they'll then explore.
At press time, cruise fares for this Southeast Asia voyage started at $3,349 per person, double occupancy. Chat with your travel advisor for more details.
5. New Trends in Vacation Choices  
As cruising returned this summer in full force, Hoffee has noticed several new consumer booking trends. For example, many guests are opting for "back-to-back" cruises – combining two or even three itineraries.
Hoffee notes that it's particularly the case for travelers who haven't taken a trip in a few years. Back-to-back voyages are also proving popular with travelers who believe that if they have to deal with airline/airport crowds, that they don't want to go for just a short trip.
They want to make their vacation last as long as possible. Often, they're creating a trip of two, three or even more weeks by booking back-to-back voyages.
Selecting More Luxurious "Digs"
Also noticeable is that staterooms and suites on river ships are selling "from the top down," not the bottom up. So, what's that all about?
It means that consumers are increasingly booking higher-level, more spacious accommodations and suites. Hoffee reports that the Royal Suites, other suites and largest staterooms are selling out first.
The philosophy is "Let's Splurge. I deserve it after two years of pandemic era restrictions curtailing my travel plans."
From The Meandering Traveler's perspective, we concur. We're ready to sail now!
New to River Cruise
Another trend this year is that more ocean cruise fans — those who regularly sail on medium-sized to large ships or even mega-ships — are "trying out" river cruising, according to Hoffee.
They're seeking a much smaller ship — one that's more intimate and less crowded.
Another factoid? Because of its relaxed luxury travel style, Avalon Waterways finds that its customers on average are skewing about five years younger than guests of many other river lines.
Increasingly, it's attracting the youngest Baby Boomers and even younger folks too.
Much new is happening with Avalon Waterways, as you can see above. Why not chat with your travel advisor to see if Avalon Waterways is a good fit for your travel style, personality and preferences?
Again, solo travelers should keep the "no single supplement" offer top of mind. It's subject to change and availability of accommodations.
But at press time, Avalon Waterways was waiving the single supplement for a number of staterooms on every cruise departure. Now, that's an enticing reason to cruise!
For more information on all the Avalon Waterways options, visit www.avalonwaterways.com. And look for an upcoming blog in a few weeks about Avalon Waterways' sister brands in the Globus Family of Brands. We'll check out "What's New with Globus and Cosmos?"
Important Notes from Pavlus Travel
This blog site is editorial in nature. It's designed for "basic, general information" about travel; it's not designed to provide specific pricing nor is it staffed by travel advisors.
 So, please don't use the Reply Section below if you're asking for cruise or land pricing, travel dates, accommodations, brochures or other specific requests. 
That said, we are most happy and eager to assist you. Here's how…
If anything does tweak your interest and you DO have questions about specific  cruise lines, itineraries, pricing, brochures, savings, dates of travel, accommodations, accessible options and so on, please contact us at 800-528-9300.
Or visit us online at Pavlus Travel's official agency Web site; there you can "live chat" with us too!
Thanks for reading!