A sparkling new, amenity-laden ship — the 3,260-passenger Celebrity Beyond — is now sailing on the high seas during its European launch season. The official christening of the ship and its U.S. debut is coming up this November.
So, it seems an opportune time for The Meandering Traveler to look at some of the new ship's razzle-dazzle features.  
As a sister to Celebrity Edge and Celebrity Apex, the amenity-laden ship is definitely enhancing Celebrity's guest experience, thanks to new venues, enlarged and redesigned spaces, new category accommodations and more.
We'll find out more and provide first-hand photos for readers when The Meandering Traveler is aboard for the ship's christening/inaugural cruise from Port Everglades (Greater Fort Lauderdale), FL, on November 4, 2022.
For now, though, here's a sneak peek.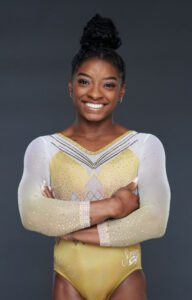 Gymnastics Legend and Godmother
Celebrity has once again chosen a woman of accomplishment as a godmother for one of its new ships. For Celebrity Beyond, that's gymnastic superstar Simone Biles.
She's most often viewed on TV sports programs — jumping, twirling, somersaulting, singing and completing other incredible gymnastic moves.
But on November 4, 2022, she'll have another important role. The 19-time World Champion and seven-time Olympic medalist will christen Celebrity Beyond at a ceremony in Port Everglades.
Sophisticated, Cutting-Edge Design 
So, what's special about the new Celebrity Beyond? Well, the simple answer is: "a lot!"
Most notably, the ship will gain height in its exterior stature — as it has one more deck than previous Edge-class ships. As a result, the ship offers 179 more accommodations — 22 suites and 157 staterooms.
From our personal perspective, we also can't wait to see the final product created by designers Kelly Hoppen CBE and Nate Berkus. They've contributed to other Edge-class ships too.
They're cutting-edge in style but also soft in the design touches. The result is elegant, sophisticated — yet relaxed and comfortable — luxury styling.
Other designers and architects have also provided design expertise in creating some of the new ship's spaces.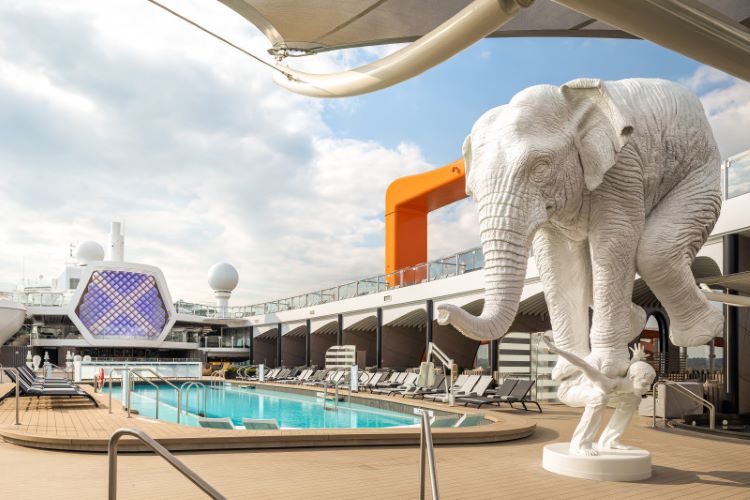 Check out Hoppen's vision for the asymmetrical Resort Deck (shown above). From the initial sailings, one fact is clear: That elephant sculpture is proving a top "selfie spot."
Rooftop Garden Playscape
How about gazing at the sea from float pools cantilevered over the open ocean? It's possible on Celebrity Beyond's redesigned Rooftop Garden (see photo below).
This urban playscape differs from that on other Edge-series vessels as it extends over the water's edge. The revised look reflects the vision of Hoppen, CBE, and architect Tom Wright.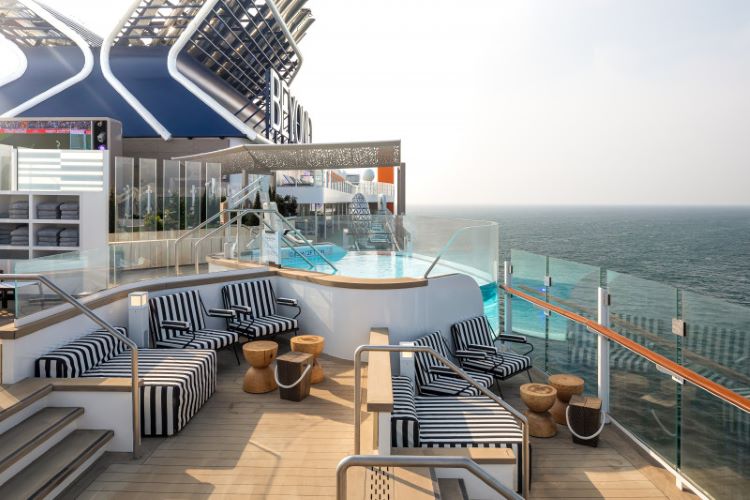 In the Grand Plaza, the lighting shifts from warm and inviting by day to bright and dramatic at night. For this project, Celebrity once again enlisted the creativity of design firm Jouin Mank.
That's the firm that originally created Celebrity Edge's three-story Grand Plaza space. But inspired by Italy's piazzas, this Grand Plaza has its own look and feel.
Located in the middle of the Grand Plaza, the circular Martini Bar (see photo below) is the center of the action. It's also located beneath a newly designed LED chandelier.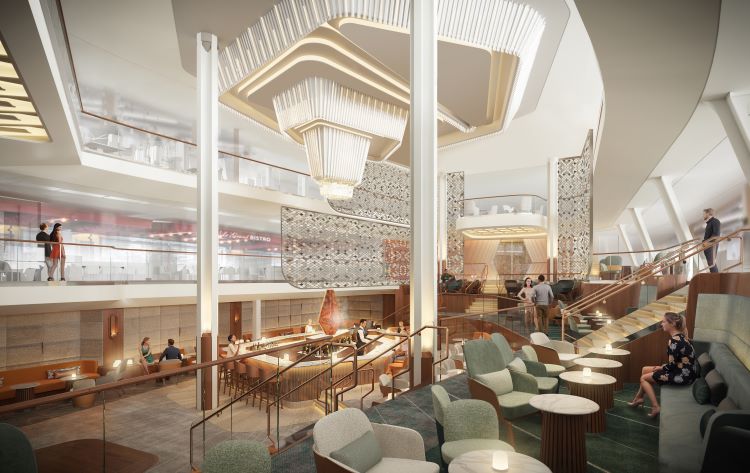 Exclusivity in The Retreat
Luxury travelers who enjoy big ship amenities but also love a more intimate, private, ship-within-a-ship enclave will find that on Celebrity Beyond. In fact, The Retreat, the ship's key-card-accessible complex, is much larger than on previous Celebrity ships.
For example, the Retreat Sun Deck is 40 percent larger. While staying at The Retreat, guests also have exclusive dining, lounge and pool options. And, of course, they're also pampered with a heightened level of services.
Accommodations-wise, guests have many choices, all reflecting Hoppen's interior design touches and fresh color palettes.
For instance, one popular option with cruisers is the two-story, 739-square-foot Edge Villa. Designed with one bedroom and two bathrooms, this villa category offers an outdoor plunge pool and 211-square-foot private veranda.
Celebrity Beyond: The Retreat's Suite Spots
Or, cruisers might step up with the 1,378-square-foot Penthouse Suite. Look for a master bedroom, master bathroom and dressing room, plus another guest bedroom and bathroom.
Penthouse Suites also have a living/dining area, a 187-square-foot private veranda and a private hot tub.
For the "top digs" on Celebrity Beyond, look to the largest suite in Celebrity's entire fleet. That's the 1,892-square-foot Iconic Suite.
It has a 689-square-foot veranda, plus the best views on the ship – akin to what the captain sees on the bridge. No, you can't steer the ship. But you can certainly imagine doing that, given the stellar views.
FYI, for suite pricing, that's entirely based on itinerary, date of departure and availability. So, talk with your travel advisor about options, as fares vary widely. That said, keep reading as — toward the end of this blog — we provide a few itinerary examples with sample starting fares.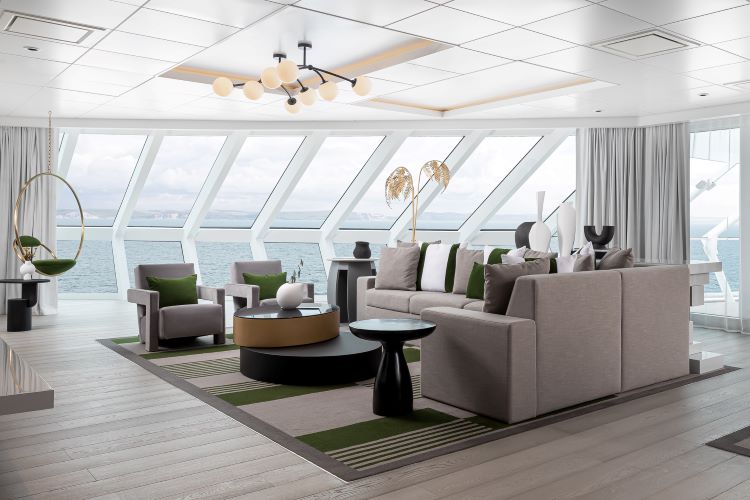 The Retreat: Suite Perks
Need something while staying in a Retreat suite? Just ask your butler who is waiting to assist.
Other suite perks include eXhale bedding, king-size Cashmere mattresses designed exclusively for Celebrity, and plush Frette robes and slippers.
All guests in Retreat suites also receive complimentary premium drinks, premium Wi-Fi, included gratuities, and an onboard credit to use however they choose.
The Retreat:  Luminae and Lounge
Best of all, Retreat guests can dine at Luminae, a private, exclusive restaurant set in a new location within the Retreat complex. Boldly and elegantly designed by Hoppen, it's been repositioned forward. The reward is a panoramic floor-to-ceiling view.
Another perk of Luminae? Get your taste buds ready for some new signature dishes by famed Master Chef Daniel Boulud (see photo below). He's Celebrity's global culinary ambassador.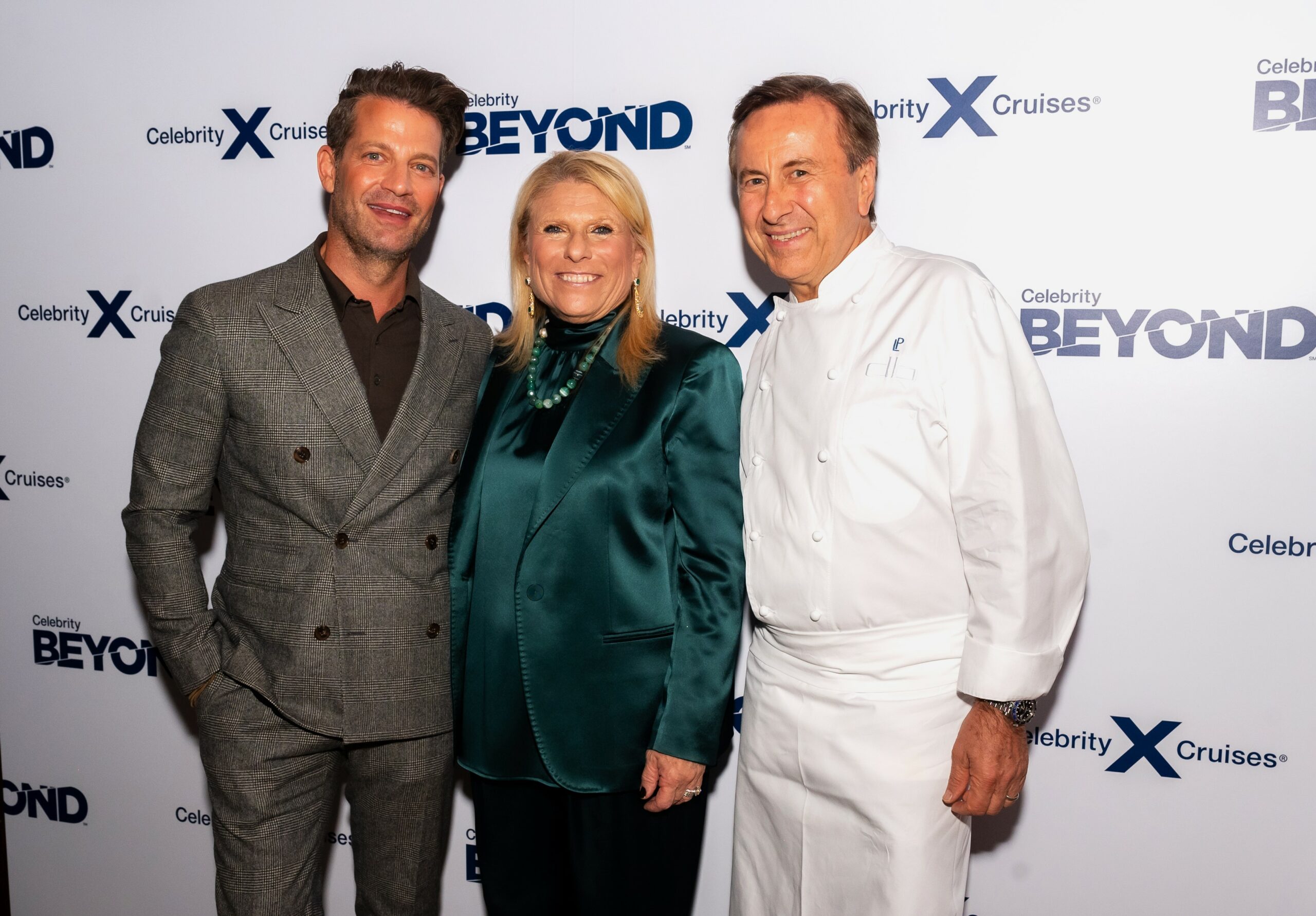 Nestled in a new locale, the exclusive Retreat Lounge also reflects Hoppen's design touch. Offering dramatic floor-to-ceiling views, it's the relaxing spot for complimentary beverages and gourmet bites.
The lounge's concierge is also at the service of Retreat guests and can make dining or shore excursion reservations or assist with other requests.
So, be sure to ask the concierge about "customizing" your vacation. He or she could set up a private party for family members staying aboard or, alternatively, a private romantic dinner ashore.
Celebrity Beyond: Shipwide Accommodations 
Beyond The Retreat, though, Celebrity Beyond has a mix of appealing accommodations.
We particularly like the new, two-level Aqua Sky Suites (shown in the photo below). These are 319 square feet and also offer a 79-square-foot private balcony.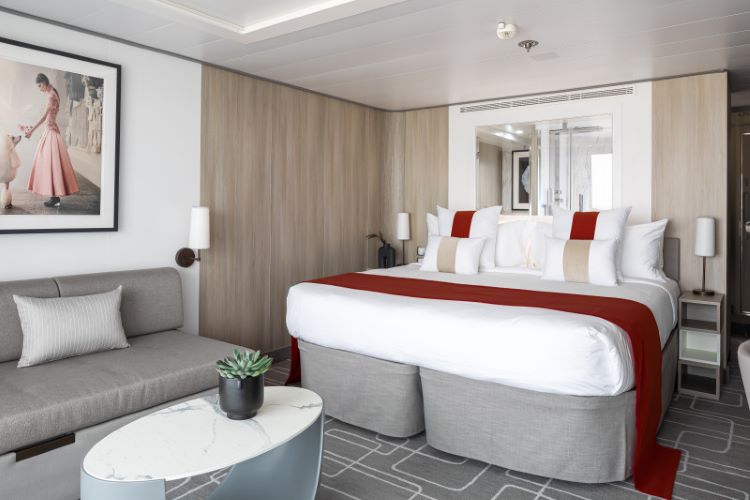 In addition to the thoughtful design, wellness amenities for guests staying in an Aqua Sky Suite combine the best of AquaClass and the ultimate luxury of The Retreat.
AquaClass Stateroom on Celebrity Beyond
Also, guests can choose the popular AquaClass Stateroom, with 243 square feet of space and a 42-square-foot veranda.
Guests love these because of the Infinite Veranda stateroom that erases the boundaries between indoor and outdoor living. So, it's an optimum use of space in all kinds of weather.
In addition, spa-inspired elements are thoughtfully infused throughout, including pillow menus,  exclusive eXhale bedding, plush cotton robes and slippers, a massaging showerhead, eco-friendly bath products, on-demand wellness programming on the stateroom TV, yoga mats and daily bottled water service.
Plus, an enhanced air filtration system is now found in all accommodations.
Another good option is the Concierge Class Stateroom, which pair the perks of an Infinite Veranda stateroom with an array of added services and amenities. For instance, these include an exclusive lunch, destination seminar and dedicated concierge service.
Heightened Wellness Bent
Celebrity has completely re-thought how wellness is achieved during a cruise with help from a partnership with actress Gwyneth Paltrow. She's a successful entrepreneur and the cruise line's well-being advisor. Look for new options throughout this ship with wellness in mind.
In addition, Celebrity's "Women in Wellness" initiative has brought together some of the wellness world's leading minds and practitioners to curate spa treatments, mind-body wellness activations, fitness classes and stateroom TV programming.
Celebrity Beyond's Cuisine
Celebrity Beyond offers guests 32 different food and beverage options. Menus are crafted by Michelin-starred Chef Cornelius Gallagher. They take inspiration from the regions the ship visits across the globe.
For those who love specialty dining, Celebrity Beyond also debuts a new specialty restaurant, "Le Voyage by Daniel Boulud." It's Boulud's first signature restaurant at sea.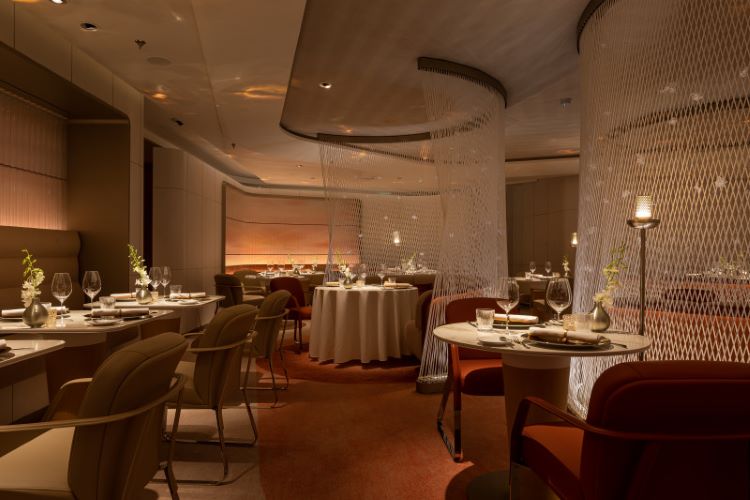 Chef Boulud is also introducing new, exclusive signature dishes for Retreat guests dining at Luminae as well as for diners at Chef's Table.
Counting off the numbers, we've discovered that this new ship has 14 cafes, bars and lounges, eight specialty restaurants, four main dining restaurants, four complimentary casual dining venues and two exclusive restaurants (Luminae for The Retreat's guests, as mentioned above, plus Blu for those staying in AquaClass accommodations).
Complimentary Dining
If you don't want to pay extra for more dining choices, you'll still find that the ship has many complimentary options.
First, there are the ship's four main restaurants, with dining at no charge.
In addition, guests will find complimentary dining at Eden Café, The Spa Café and Juice Bar, Oceanfront Café and the poolside Mast Grill.
Redesigned Sunset Bar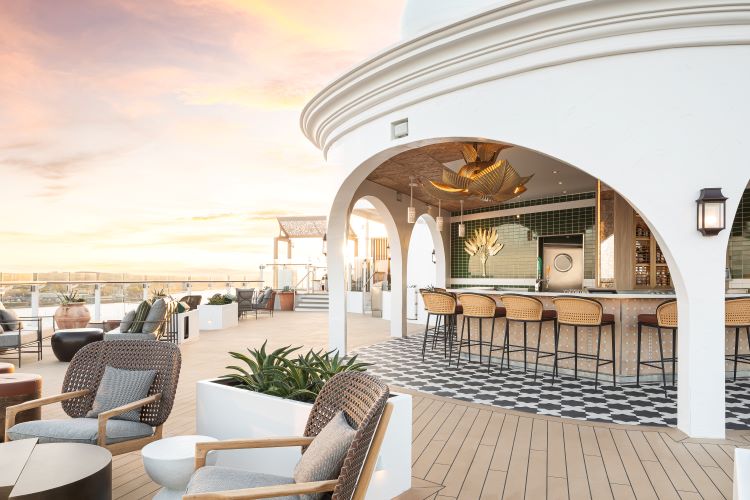 The two-story, aft Sunset Bar is 180 percent larger than that on any other Celebrity ship. Berkus redesigned the bar, which sports comfortable Moroccan styling.
The World Bar, popular on other non-Edge-series ships, is also making its Edge-series debut.
Craft Social Bar is casual, fun, relaxing and serves a vast selection of craft beers, all served by a certified cicerone (beer sommelier), plus wines and cocktails.
Yes, There's an Eden
One of the most iconic spots on every Edge-series ship is Eden. The sheer size of the venue is amazing, plus it has an intriguing look and feel.
With robust outward-facing glass, Eden connects cruisers to the ocean. Those who enter also will discover an Eden Cafe, Eden Restaurant, and Eden Bar.
Plus, this venue has three levels of cozy nooks, lounge seating and lively entertainment. As a result, no matter what time of day or night you visit Eden, it's a great spot to relax and socialize. 
That's Entertainment
From a spectacular Daniel Wurtzel-designed air fountain to shows developed at London's famed Palladium, Celebrity Beyond's entertainment is said to be a "cut above."
New entertainment venues include a "speakeasy" reflecting a flavor of the early 20th century. Cruisers also can discover 10 mesmerizing experiences that change nightly.
In the Theatre, Celebrity is introducing all-new production shows, programming exclusive to Celebrity Beyond and state-of-the-art technology.
A 20-foot-tall 4K LED screen comprised of 17 million pixels curves 110 feet around the stage, for example. In addition, that integrates with new floor projection technology to immerse guests in the experience.
Celebrity Beyond: Keeping the Kids Happy 
Celebrity's first and only fully customizable "Camp at Sea" program is designed with a kid-pleasing array of 500 activities around the ship. They're targeted at specific age groups, of course.
Young cruisers (ages 3-5) who are fully potty trained are called "Shipmates." In the Camp at Sea program, they can learn camp songs and interact with other kids their age under the supervision of an experienced youth staff.
One perk for "Cadets," those ages 6-9, is enrollment in a nautical program to learn the basics of sailing including navigation, time, weather patterns and more. Or, Cadets can participate in such activities as Lawn Club games, campouts, and movie nights.
Captains and Teens
Those ages 10-12 are classified as "Captains," so they have a bit more freedom while aboard. For instance, activities might include a scavenger hunt, STEM, and sports and gaming tournaments.
Finally, the separate Teen Club allows those ages 13-17 to hang out with their peers and enjoy sports competitions, silent disco parties and video game tournaments.
Celebrity Beyond's Itineraries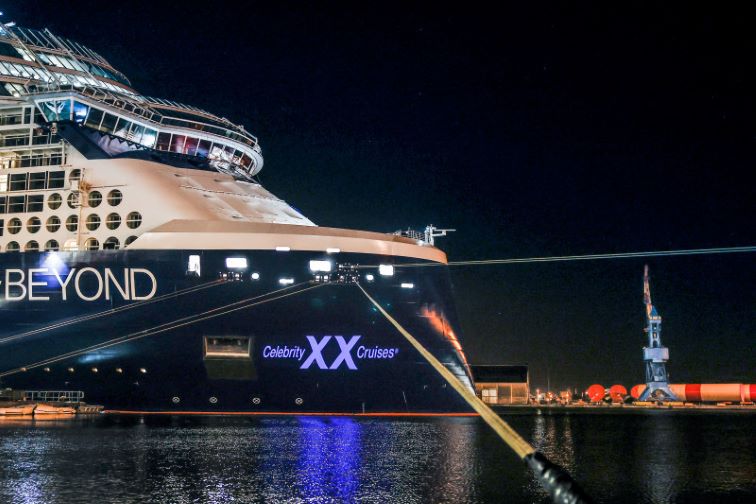 Prior to its official christening and 2022-2023 winter inaugural season with home porting at Port Everglades (Greater Fort Lauderdale), FL, Celebrity Beyond is now sailing this summer in Europe.
But it's coming to the U.S. this fall. For those in the Northeast or others who can't wait to see the ship, one great option is the repositioning "Southern Caribbean" itinerary from Cape Liberty, NJ (New York metro area), to Port Everglades.
Departing October 26, 2022, the ship will spend five days at sea. Port calls will include Bermuda, Curacao and Aruba.
Sample fares? Per person, double occupancy fares at press time started at $1,229 for an Inside cabin, $1,647 for an Ocean View stateroom, $2,485 for a Veranda stateroom, $2,974 for Concierge class accommodations, and $4,870 for AquaClass accommodations. Or, step up to The Retreat, starting at $9,141 per person, double occupancy.
Fares are subject to change and availability. So chat with a travel advisor if interested in this close-in voyage.
Bahamas, Mexico and Caribbean
During the inaugural winter season 2022-2023, Celebrity Beyond will sail from Port Everglades, FL, on several Caribbean region itineraries. Among them is the seven-night "Bahamas, Mexico and Grand Cayman" itinerary. Guests will head out on a seven-night voyage roundtrip from Port Everglades, FL.
Guests will go ashore at Nassau, the Bahamas; Costa Maya and Cozumel, Mexico; and Grand Cayman. Departures include November 20 and December 4 in 2022, plus the following 2023 dates: January 15, January 29, February 12, February 26, March 12, March 26 and April 9.
At press time, a sampling of starting fares (per person, double occupancy) for the March 12 sailing are as follows: $649 for an Inside cabin, $709 for Ocean View, $1,096 for Veranda, $1,246 for Concierge Class, $2,194 for AquaClass and $5,113 for The Retreat. Again, prices are subject to change and availability.
Celebrity Beyond will then reposition to Europe for the 2023 spring/summer season.
Resources for Readers
To view all the itineraries and learn more about Celebrity Beyond, check out this page on the Celebrity website.
For accessible travel, here's a helpful resource about Celebrity's accessibility options, both at sea and ashore. 
And, of course, for ALL the details on departures, itineraries, accommodations, special perks and ship features, talk with your professional travel advisor. 
Late Breaking News – An Update on Shipboard WiFi
At press time, Celebrity announced a major breakthrough in the constant quest of cruise lines to provide guests with adequate WiFi. Frequent cruisers know that WiFi at sea can be "iffy" at times.
But on August, 30, 2022, Celebrity and parent Royal Caribbean Group said they're going "all in" on Elon Musk's Starlink.
The goal is to supersize Internet capabilities across the group's entire fleet. See the press release HERE.
Essentially, the high-speed, low-latency connectivity is designed to give guests and crew access to a WiFi connection that's as strong in their staterooms/suites as it would be at home.
The innovative, broadband Internet service will be on all Celebrity Cruises, Royal Caribbean International and Silversea Cruises ships, along with all new vessels for the three brands. Best yet, Celebrity says there won't be an additional charge to guests for the service.
Most notably, CelebrityBeyond is slated to be one of the first ships to receive the new service on September 5, 2022.
Celebrity said the new WiFi will also be on all its Edge-series ships (Celebrity Edge and Celebrity Apex) by the end of 2022. All Celebrity ships will have the new WiFi service by May 2023.
Inclusivity and Expertise at the Helm
Captain Kate McCue is Celebrity Beyond's new ship's captain. When selected in the past as captain of Celebrity Edge, she was — and still is — the only American female chosen to captain a major cruise ship.
In fact, she led the Celebrity fleet – and industry – back into operation on June 26, 2021, when Celebrity Edge began to sail again.
Meanwhile, another new Edge-series sister is on the horizon. The keel was just laid for the line's fourth Edge-class ship, the new Celebrity Ascent, launching in 2023.
Important Notes from Pavlus Travel
This blog site is designed for "basic, general information" about travel. So, it's not designed to provide specific pricing nor is it staffed by travel advisors.
Please don't use the Reply Section below if you are asking for pricing, travel dates, accommodations, brochures or other specific requests. 
That said, we are most happy and eager to assist you. Here's how…
If anything does tweak your interest in the story and you DO have questions about specific pricing, brochures, savings, accommodations, accessible options and so on, please contact us at 800-528-9300.
Or visit us online at Pavlus Travel's official agency Web site; there you can "live chat" with us online too!
Thanks for reading!