Another razzle-dazzle new ship, the 3,100-passenger Norwegian Prima, is sailing the ocean blue. As the first of six new Prima-class ships for Norwegian Cruise Line, this vessel offers new spaces, new thrills and, of course, The Haven (an enhanced one too!).
The ship was christened last week in Iceland by its godmother — pop superstar Katy Perry. Norwegian Prima is now sailing an inaugural month of European voyages from the Netherlands, Denmark and the United Kingdom.
After repositioning to the U.S., the ship will operate Caribbean cruises from New York City; Galveston, TX; and Miami in October and November 2022.
Then, Norwegian Prima will home port at Port Canaveral, FL, and Galveston, TX, for the 2023 and 2024 winter Caribbean seasons. The ship will sail in Northern Europe in summer 2023.
The Meandering Traveler will be aboard the ship in early October. Rest assured, we'll return here during that cruise with photos and "intel" for readers about the experience. But until then, here's a look at some of the ship's best offerings.
Three-Story Atrium 
The 965-foot-long Norwegian Prima has capacity for 3,100 guests at double occupancy, so it's a big ship.  Yet, according to Norwegian, it also offers the highest staffing levels and space ratio of any contemporary or premium cruise ship.
Here's a look at its three-story Atrium (see photo below).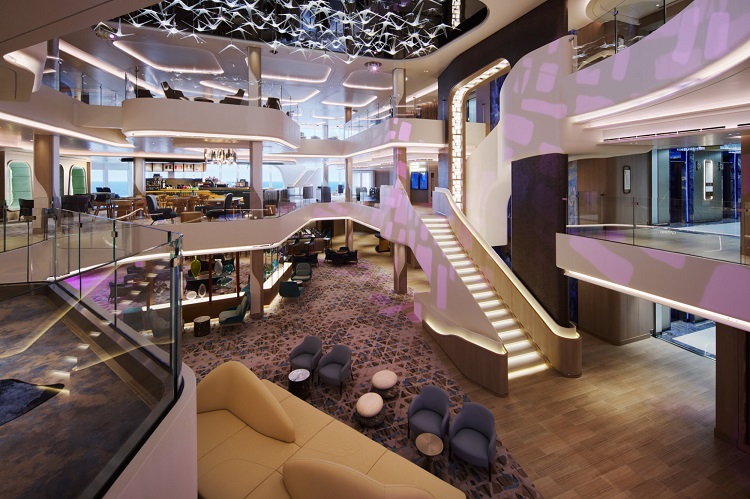 More Suites, Expanded Haven
Norwegian Prima fields the largest variety of suite categories available at sea.
Many of these pampering accommodations are in The Haven, an exclusive, ship-within-a-ship complex. It's enhanced on Norwegian Prima. 
Good to know? The Haven's accommodations and public spaces are aft — providing views of the ship's wake.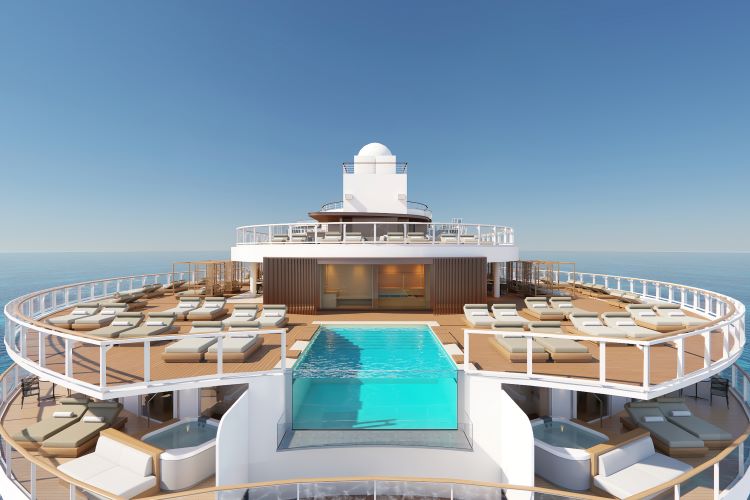 Designed by Italy's renowned Piero Lissonio, The Haven offers panoramic ocean views, upscale amenities and spacious suites. It's accessible via a private elevator.
While Haven guests have access to all the ship's activities, lounges, entertainment and dining venues, they also will feel cocooned when staying or relaxing within the complex's more intimate environment.
For instance, they can soak up some rays and cool off at The Haven's private infinity pool (see photo above) or enjoy a cocktail from one of two Haven bars. In addition, they can visit the complex's outdoor sauna, cold room or its private Sun Deck.
Guests are pampered with 24-hour butler service, as well as a personal concierge for hassle-free travel. Plus, they can select a range of suite accommodations.
Suites that Wow!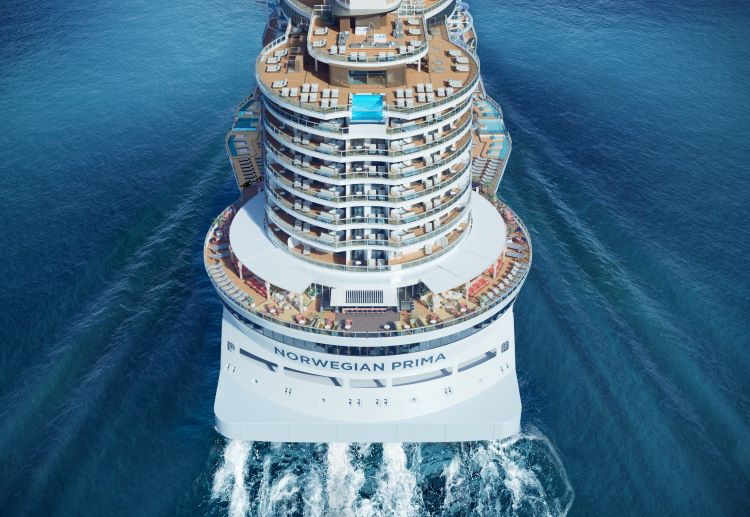 Top digs in The Haven? That's "The Haven Premier Owner's Suite with Large Balcony." Guests staying here will have stunningly gorgeous views from the suite's aft-facing, 828-square-foot balcony.
Heck, the balcony is much bigger than many accommodations at sea – or three or four of them combined. Inside, the 2,100-square-foot suite can accommodate up to eight guests.
This top suite offers living and dining areas (see photo below), three bedrooms with king-size beds, a double sofa bed, three bathrooms with jetted showers, a half-bath, an outdoor hot tub and more.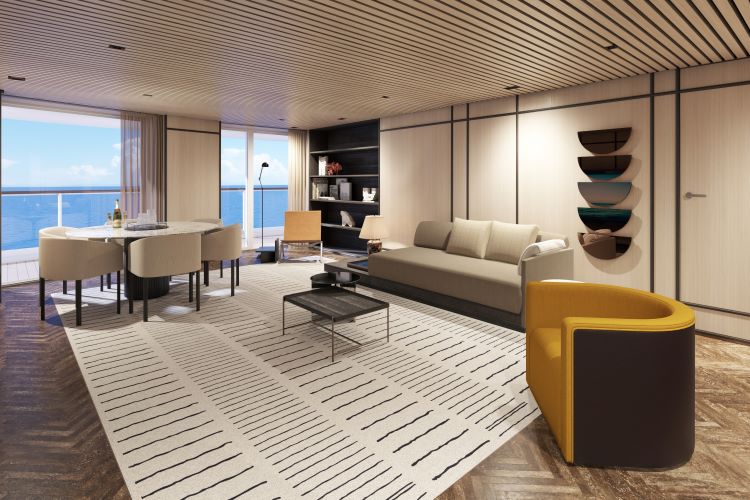 Just fyi, this is the first three-bedroom suite offered by Norwegian in 15 years or so. For a seven-night "Caribbean: Harvest Caye, Cozumel and Roatan" cruise departing Galveston on March 15, 2024, this top suite was priced (at press time) at $15,839 per person, double occupancy. 
Family Villa
Another option is "The Haven Two-Bedroom Family Villa with Large Balcony," accommodating up to six people. It ranges from 606-658 square feet with a 138-190-square-foot balcony.
Bedding includes one king-size bed, one queen-size bed and a double sofa bed. This Family Villa also offers two bathrooms with jetted showers. On that same roundtrip itinerary from Galveston mentioned above, this family villa was priced at $7,255 per person, double occupancy.
Here's the cruise line's webpage with more about The Haven's accommodations and floorplans.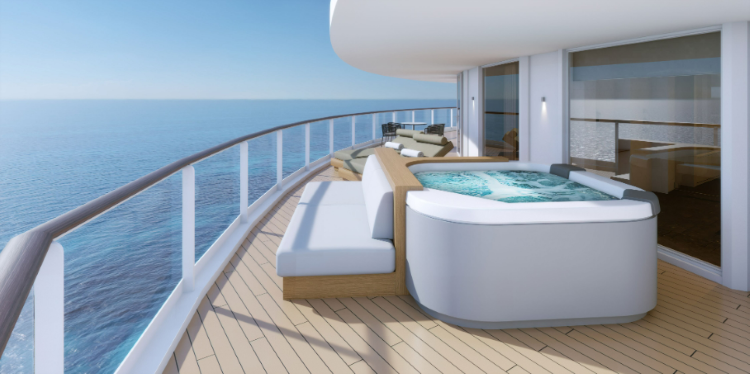 One important point! Many upscale and also budget-friendly accommodations are also available outside The Haven.
For instance, balcony accommodations for that same voyage from Galveston started at $1,589 per person, double occupancy, while inside cabins started at $1,135 per person, double occupancy. Fares were "at press time" and are subject to change.
Talk with your travel advisor about this ship's varied itineraries, accommodations, accessibility options and more, based on your preferred travel date.
Ready for Thrills?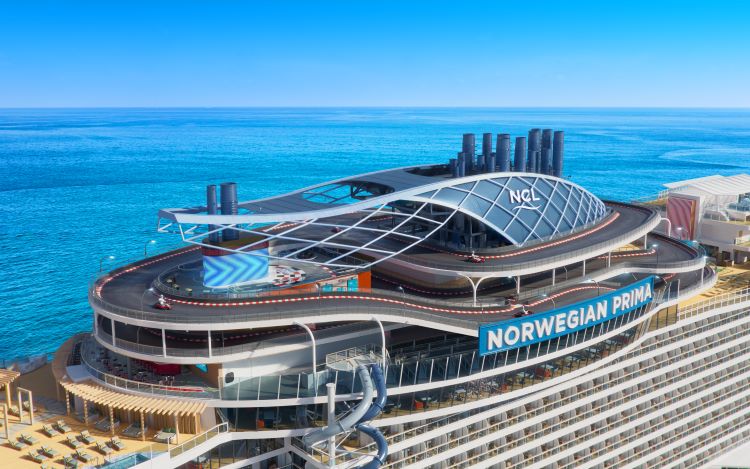 Now, let's chat about the ship's razzle-dazzle public spaces. For thrill seekers, Norwegian Prima offers the three-level Prima Speedway (see photos above and below).
Did you know that Norwegian was the first cruise line to create a racetrack at sea? Yes, that happened in 2017 on Norwegian Joy. Several subsequent ships have featured enhanced versions.
Now, on Norwegian Prima, the line has taken that concept to a new level. This three-level racetrack winds through Decks 18, 19 and 20. So, why not climb into a racecar and "zzzooooom!"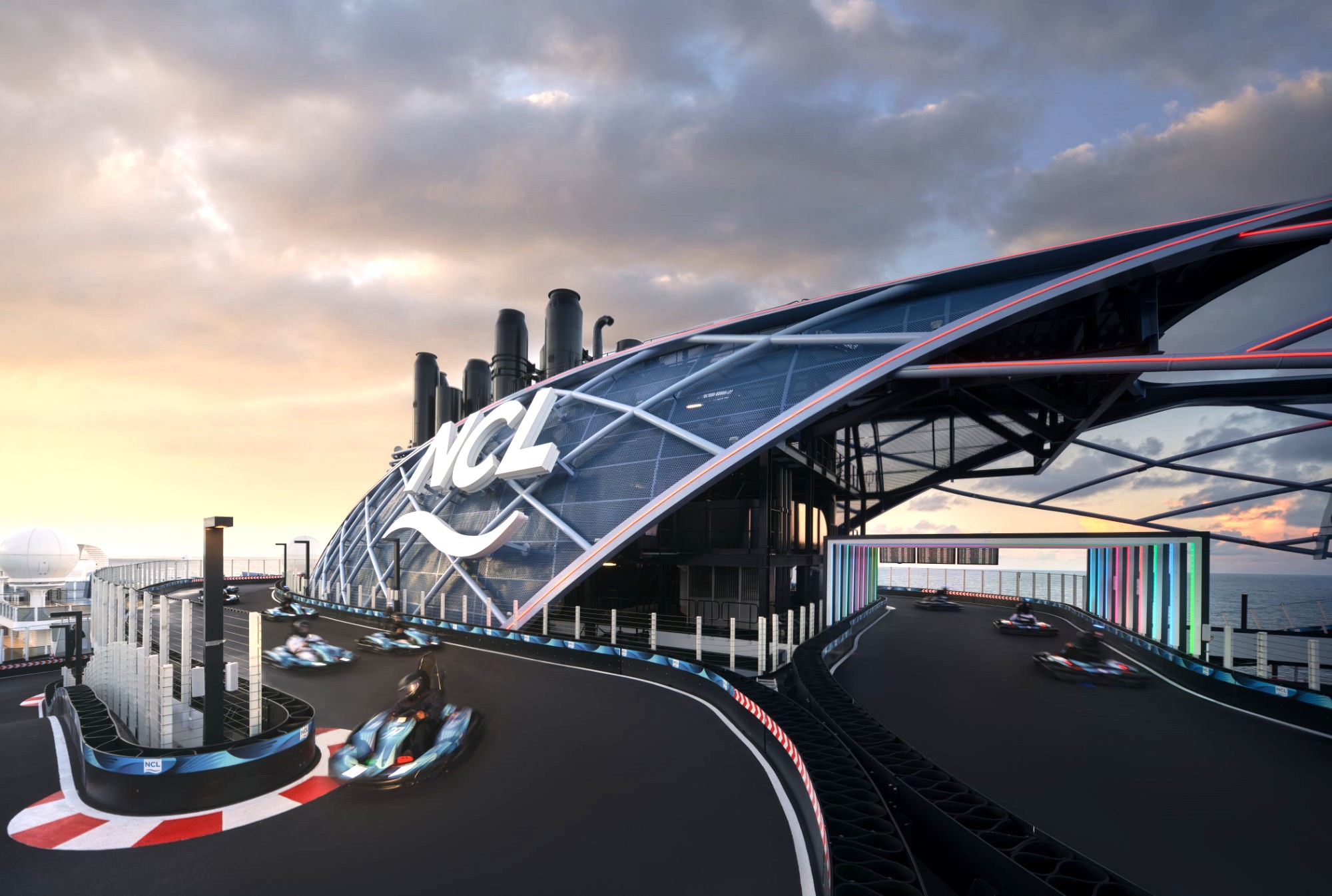 But wait a minute…. For more adrenaline-pumping moments, head to Norwegian Prima's 10-story-high slides – The Rush and The Drop. They're dry slides not water ones.
For exciting immersion in a "virtual world," check out Galaxy Pavilion. There you'll find such diversions as escape rooms and racing simulators. Here you'll also find the first flying theater simulator at sea and you can tee off via Norwegian's exclusive TopGolf Partnership.
More Relaxing Options
Not really a "need for speed" traveler or simply prefer more relaxing activities? No problem.
Enjoy relaxation and sea views with a walk around Ocean Boulevard. That 44,000-square-foot outdoor walkway wraps around the entire ship.
Or, if you enjoy combining an outdoor stroll with art viewing, head for The Concourse, which offers a multimillion-dollar outdoor sculpture garden (see photo below).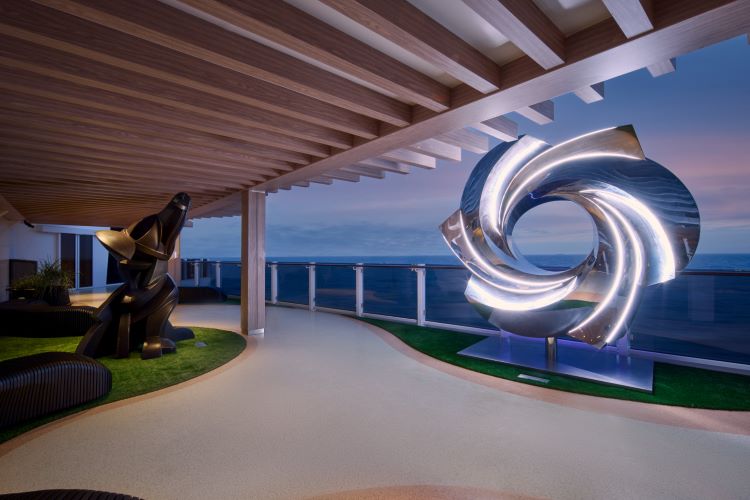 The Concourse features six installations created by international metal artist Alexander Krivosheiw, plus an art wall designed by David Harber.
Deck 8's Oceanwalk offers the cruise line's first glass walkway at sea.  At La Terraza, also on Deck 8, you can relax with a book, drink or conversation with friends.
Or, for the ultimate indulgence, just head for the ship's Mandara Spa. From multiple detoxifying saunas to state-of-the-art pools to a two-story waterfall, the spa experience is designed to pamper and awaken the senses too.  Here's a link to the webpage describing spa offerings. 
Water Fun and Working Out
Water lovers and sun seekers will also discover expansive pool decks and two infinity-style pools at Infinity Beach. On Deck 17, guests will discover Norwegian's first tidal-wave water slides.
At the Pulse Fitness Center, it's fun to work out with 270-degree ocean views. So, pick your passion – lifting weights, taking a yoga or exercise class, stretching or running on a treadmill.
At The Stadium, cruisers will find new twists on such classic games as ping pong and foosball. Complimentary tabletop shuffleboard, pickleball, subsoccer, and beer pong await.
Family Time at Sea
Children will likely love the new Kids' Aqua Park with multiple cascading water features.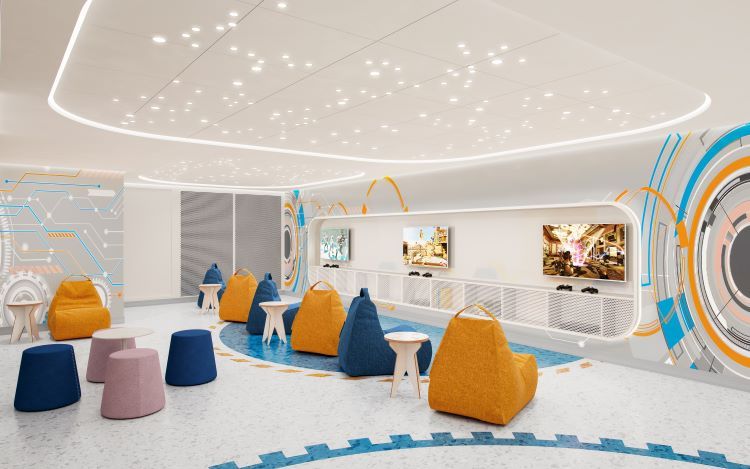 As for entertaining the kids while mom and dad enjoy a sea day with a couple's spa treatment or spend time ashore, Norwegian provides Splash Academy. It's the spot for play and sports, all supervised of course.
For a new twist on the putt-putt concept, Tee Time (see photo below), the cruise industry's first, tech-immersive mini-golf experience at sea, is designed for the entire family.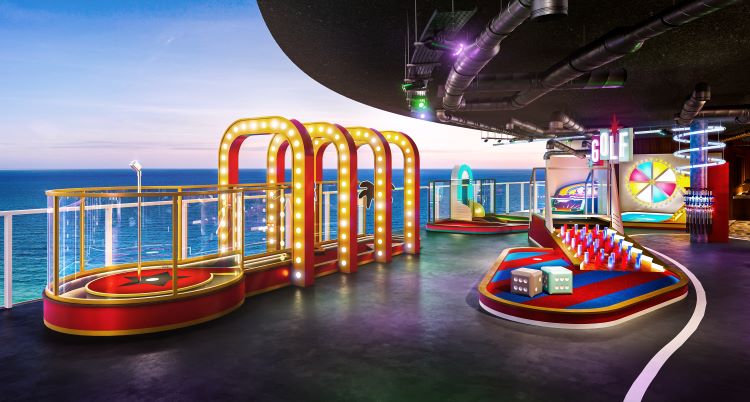 Food and Beverage
What's new on the culinary side? We're psyched about the new Indulge Food Hall, a great way to taste and try specialties from across the globe.
The food hall offers a mix of artisanal mini-restaurants (such as The Garden shown in the photo below) and food trucks. How about some tacos or instead Italian fare or Indian tandoori?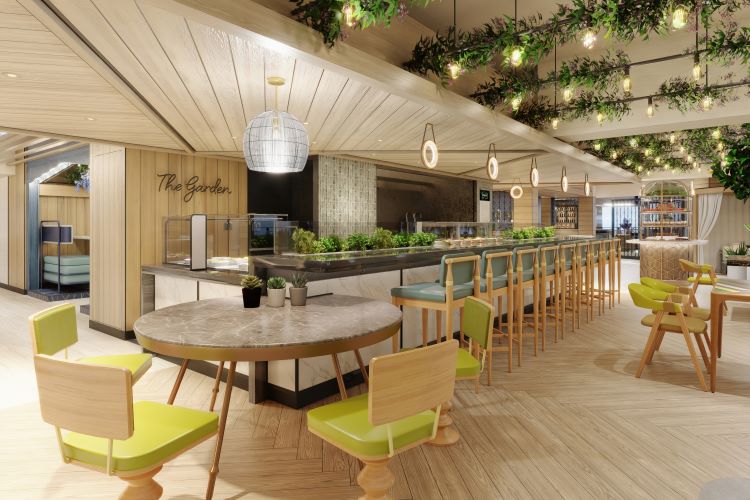 With both indoor and outdoor offerings, cruisers can eat and drink at a table, bar or hammock. Nearly all the cuisine (except for Coco's with a la carte pricing) is complimentary.
Hudson's, the main dining room, has a new design, both in space and in the menus. This complimentary dining venue offers 270-degree views through floor-to-ceiling windows.
Other dining options await too. And, interestingly, for soda fans, the line has recently inked a new partnership deal with Coca-Cola.
Norwegian Prima is the first ship to feature the drink, with all ships in the fleet gaining Coca-Cola products by year's end.
More About Prima
Here are two itinerary examples. But talk with your travel advisor for specifics, dates and accommodations options.
In late 2023 and early 2024, Norwegian Prima will sail a seven-day "Caribbean: Harvest Caye, Cozumel and Roatan" itinerary roundtrip from Galveston.
Planned port calls are Costa Maya, Mexico; Harvest Caye, Belize; Roatan in the Bay Islands of Honduras; and Cozumel, Mexico. At press time, fares for the January 12, 2024, sailing started at $899 per person, double occupancy.
Starting fares in balcony accommodations were $1,375 per person double occupancy, while The Haven's starting fares were $4,661 per person, double occupancy. Solo cabins are also available.
Bermuda and Virginia
Desire to travel a bit sooner? A seven-day "Bermuda and Virginia Beach" itinerary will operate roundtrip from New York on April 23, April 30 and May 7, 2023.
Ports of call will be the Royal Naval Dockyard in Bermuda and Virginia Beach (Norfolk), VA. Fares on the April 30 departure, for example, start at $759 per person, double occupancy. 
For all itinerary options including those this year, contact your travel advisor.
Again, The Meandering Traveler will be aboard the new Norwegian Prima in early October.  So, look for our first-hand feedback and photos next month.
Also, be sure to read our blog earlier this week about another new ship, Celebrity Beyond.