New cruise ships are launching at a fast pace. It's hard to keep up! Given the proliferation of new oceangoing vessels, The Meandering Traveler today begins a three-part series about the upcoming debut of those sparkling new ships.
In this first blog, we'll look at a sampling of new beauties debuting between October 2022 and December 2022. These include:
Carnival Cruise Line: Carnival Celebration
Viking: Viking Polaris and Viking Neptune
MSC Cruises: MSC Europa and MSC Seascape
Atlas Ocean Voyages: World Traveller
Aurora Expeditions: Sylvia Earle
Then we'll move on to the first half of 2023 for our second blog, and then to the latter half of 2023 with the third piece. Many 2023 ships are either upscale, luxury or ultra-luxury. So, stay tuned for those two blogs.
First, though, here are the new ocean cruise ships — big and small — debuting in fourth quarter 2022.
New Cruise Ships: Carnival Celebration
As Carnival Cruise Line's second LNG-powered vessel, the 5,374 passenger Carnival Celebration is surely big at 183,900 tons. But the "Fun Ship" is also expected to reflect a beautiful look inside and out.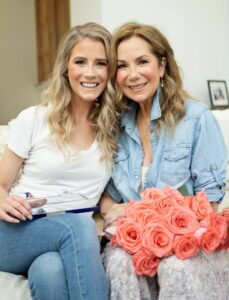 Also fun is the godmother selection. New godmother, Cassidy Gifford, will christen the ship at PortMiami on November 22, 2022.
She's the daughter of Kathie Lee Gifford, Emmy-Award-winning TV personality and godmother of the former Celebration back in the day. (See photo at left of the two Gifford ladies.)
Most notably, though, consumers often remember Kathie Lee singing her way through Carnival's ship spaces and pool decks in the line's 1980s "Ain't We Got Fun" television commercials.
Sailing from Miami
After a transatlantic voyage from Southampton, UK, Carnival Celebration will offer year-round service to the eastern and western Caribbean from PortMiami's new Terminal F; that facility was built specifically for Carnival Cruise Line.
Heading into the ship, cruisers will find six different "zones." For instance, if you're sailing on a family vacation, it's good to know that kids and teens can play all day at the Ultimate Playground.
That's home to "WaterWorks," Carnival's onboard water park; SkyCourse, a ropes course; and "Bolt: Ultimate Sea Coaster," which is a roller coaster that travels up to 40 mph.
Meanwhile, adults can relax at Lido where the RedFrog Tiki Bar flanks one of the ship's pools. Or, they can also head for a comedy club, casino, Family Feud Live and a full-service spa.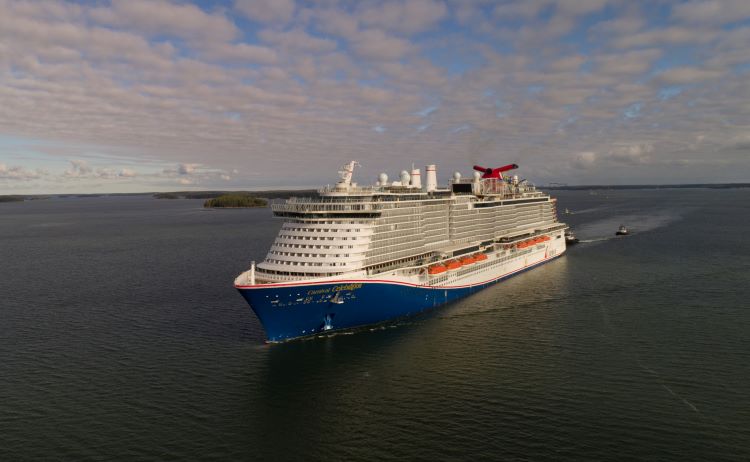 Celebration Central
Spanning Decks 6, 7 and 8, Celebration Central is an update to the three-deck, starboard-side atrium that debuted on the initial ship in this class, Mardi Gras. What's unique is a ceiling that appears as a burst of a confetti cannon; its 1,400 color-changing lighting fixtures transform from day to night.
In addition, this gathering space has 3,000-square-foot floor-to-ceiling windows. Those can transform into 16 individually controlled LED screens. As a result, those six-foot by 14-foot screens provide unique entertainment in tandem with live music, special effects, aerial acrobatics performances and high-energy shows.
Dining-wise, Carnival Celebration offers 25 options. You'll find everything from casual fare to fine dining and specialty eateries.
New Cruise Ship Offers Big Chicken from Shaq!
For something fun, head to Big Chicken, a restaurant created by former NBA All-Star Shaquille O'Neal. He happens to be Carnival's CFO or "Chief Fun Officer."
Serving up chicken sandwiches, crispy chicken strips or juicy fried chicken baskets, this eatery also serves such sides as potato salad and jalapeno slaw.
Travelers seeking a good brew, a fine wine or a colorful cocktail can visit one of the ship's seven bars and lounges. Desire to watch a movie and stay in your stateroom? It's nice to know that the ship has 24-hour room service and pizza deliveries.
Sailing in Comfort to the Caribbean
As for accommodations, Carnival Celebration's 2,687 staterooms span 28 categories. Budget-minded guests or those who want to be out and about as much as possible (and stay minimally in the room or don't care about having a view) might choose a 158-square-foot interior stateroom.
In contrast, those seeking the "top digs" can book the 1,120-square-foot Carnival Excel Presidential Suite.
Among its itineraries, Carnival Celebration will operate a seven-day "Eastern Caribbean" sailing roundtrip from Miami; it's available on multiple dates in late 2022 and throughout 2023.
In addition to spending three days at sea, the ship will call at Amber Cove in Puerto Plata, Dominican Republic; San Juan, Puerto Rico; and St. Thomas, United States Virgin Islands.
At press time, for the January 25, 2023, departure, per-person, double occupancy fares started at: $474 for an inside cabin, $774 for a veranda stateroom and $1,129 for a suite. The Carnival Excel Presidential Suite was not available on this sailing.
These are sample prices only and subject to change, so talk with your travel advisor. And for more ship information about Carnival Celebration, visit this website page.
New Cruise Ships: Viking – Expedition and Ocean
It was just a few months ago that Viking Octantis, Viking's first expedition vessel, debuted. Now, an equally snazzy new sister, the 378-passenger Viking Polaris, will set sail on October 22, 2022.
With a Polar Class 6 certification, the 675-foot-long vessel has an ice-strengthened hull and state-of-the-art stabilizers. It's truly designed for remote exploration.
The Meandering Traveler also covered the ship's delivery in a blog last week.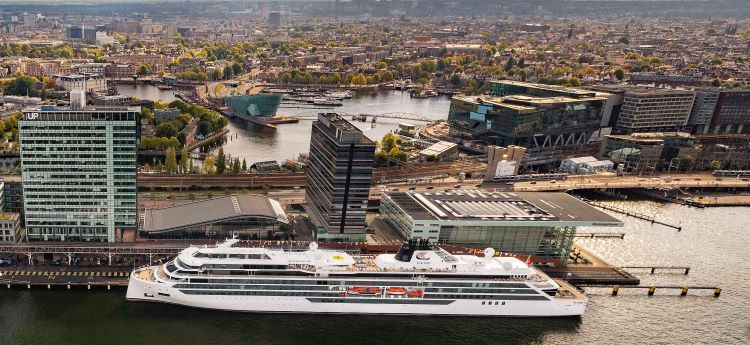 As for the itineraries, the ship will spend this coming winter in Antarctica, then cruise up the South American coast, transit the Panama Canal and head to the Great Lakes in summer 2023.
Modern Scandinavian Look
Viking Polaris' 189 staterooms exude modern Scandinavian design, which the line has created for all its vessels – ocean, river and expedition.
Where can you stay? Six stateroom categories range from 222 square feet to 1,223 square feet, all with a Nordic Balcony, a sunroom that easily converts into an al fresco viewing platform.
Suite lovers should check out the multi-room Owner's Suite. This sumptuous accommodation has a private garden lounge area with badenstamp (a Norwegian hot tub) and a separate dining area and boardroom seating six people.
One nice touch is the suite's private library, plus wine and music collections curated by Viking's Chairman Torstein Hagen. Talk with your travel advisor about availability as these suites tend to book up quickly.
New Cruise Ship: Expedition Itineraries
As for itineraries, Viking Polaris' 15-night "Antarctic Adventure" itinerary, which operates between Buenos Aires, Argentina, and Ushuaia, Argentina, is priced from $15,995 per person, double occupancy. Departures are December 1 and December 14, 2023. 
For a truly unique adventure, those with an explorer mindset might consider Viking Polaris' 71-day "Longitudinal World Cruise" from Duluth, MN, to Ushuaia, Argentina, on September 12, 2023. With port calls in nine countries, this grand voyage is priced from $49,995 per person, double occupancy.
Both examples above are sample fares and subject to change.
Important to note? If you're interested in the "Longitudinal World Cruise," a promotion is under way with a slew of benefits including business class airfare, $1,000 per person shipboard credit, $1,000 per person for shore excursions and much more.
But the trip must be booked and a deposit paid by December 15, 2022. Talk with your travel advisor for more details. 
Polar Terrain, Great Spaces for Views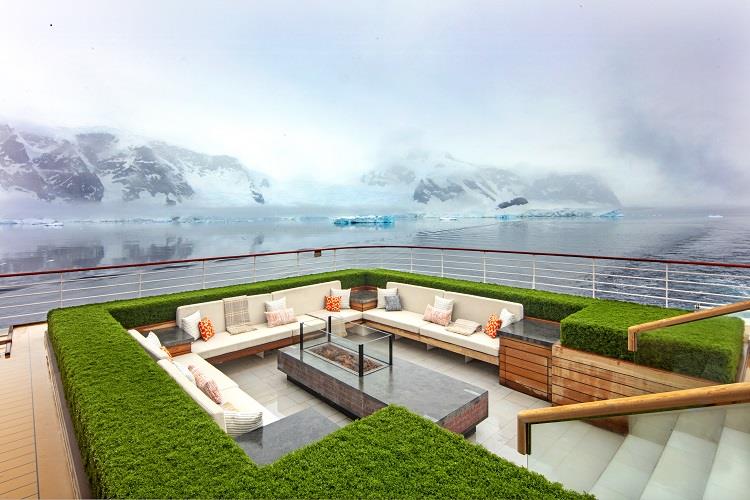 We can't wait to see the landscapes of Antarctica from the ship's Finse Terrace, a comfortable outdoor lounge for viewing dramatic scenery. Positioned just above sea level, it offers recessed, heated seating and lava rock firepits.
The Bow is a forward viewing platform, and in case of inclement weather, The Shelter is a comfortable, partially enclosed space for guests to warm up with a hot drink before going back out outside.
But among the most spectacular views are likely to be those from the ship's two yellow submarines – aptly named "George" and "Ringo." Six guests can hop aboard the sub to search for marine life while gazing out of 270-degree spherical windows.
For more details about Viking Polaris, visit this page on the line's website. 
Another New Ocean Ship
Another new Viking ship, the 930-passenger oceangoing Viking Neptune debuts on November 17, 2022. If you've sailed on another Viking oceangoing (non-expedition) ship, then this one is very similar.
In fact, Viking Neptune is the eighth ship of the same class in the Viking fleet. At 47,800 gross tonnage, the ship offers 465 all-veranda staterooms, Scandinavian design, light-filled public spaces and many al fresco options.
After its Mediterranean debut in November, the ship will then reposition to Port Everglades (Greater Fort Lauderdale). From there, it will sail a blockbuster, 137-night World Cruise, but that sailing is sold out.
New Cruise Ship: To Iceland and Beyond
Space is available on many other voyages in the coming year. One we like? In summer 2023, Viking Neptune sails a 15-night "Iconic Iceland, Greenland and Canada" itinerary from Reykjavik, Iceland to New York City on several dates; sister Viking Saturn does so on other dates. 
Pluses? Guests will spend six days exploring various Icelandic destinations including Seydisfjordur. Then, the ship calls at Nanortalik and Qaqortoq, Greenland; L'Anse aux Meadows, Newfoundland and Labrador, Canada; and Halifax, Nova Scotia, Canada.
In addition, this voyage ends in the U.S., so the homeward journey is domestic with plenty of air options from New York airports.
At press time, fares for Viking Neptune's June 6, 2023, departure started at $7,499 per person, double occupancy for a veranda stateroom and $21,999 per person for the Owner's Suite. Fares are subject to change.
Here's a Viking Neptune information page and more information about this "Iconic Iceland, Greenland and Canada" itinerary.
Then, chat with your professional travel advisor about accommodations, pricing based on departure date, flights needed or discounts or promotions that might be available.
MSC Cruises – Two Different Classes of New Ships
Clocking in at 205,700 tons, the 5,252-passenger MSC World Europa will launch November 13, 2022, as MSC Cruises' biggest ship.
In fact, it can accommodate up to 6,727 passengers with every berth filled. It's big but also environmentally friendly – powered by LNG (liquefied natural gas) and many other green technologies too.
Certainly, one stunning design feature is the 295-foot-long promenade that opens aft, with panoramic ocean views. Plus, it's home to a thrill feature — The Venom Drop @ The Spiral. That's a dry slide spanning 11 decks.
Adults-Only Zen District
MSC Cruises' loyal guests will find much new on this latest ship in the fleet. For example, an adults-only Zen District will have a promenade with bars, entertainment and luxury boutiques.
In addition, a new Family District will focus on kids' activities. Plus, MSC World Europa will offer the fleet's largest water park, plus six pools and 14 whirlpools. Luna Park Studio is a 300-seat multi-functional space.
As for dining, if you like buffets then you're in luck. MSC World Europa has three separate buffet restaurants, each with its own aura.
Accommodations-wise, there are 2,626 staterooms or suites, spanning 31 different categories. Those range from 108-square-foot solo cabins to the 840-square-foot Owner's Suite in the MSC Yacht Club.
Middle East and Mediterranean Itineraries
MSC World Europa initially will sail Middle Eastern itineraries in the Persian Gulf before repositioning to the
Mediterranean for summer 2023.
For example, this winter the ship sails a seven-night "Dubai, Abu Dhabi, Qatar" voyage roundtrip from Doha, Qatar. That itinerary is also offered roundtrip from both Abu Dhabi and Dubai, United Arab Emirates.
For the March 5, 2023, departure from Doha, at press time, fares started at $528 per person, double occupancy, for an inside stateroom.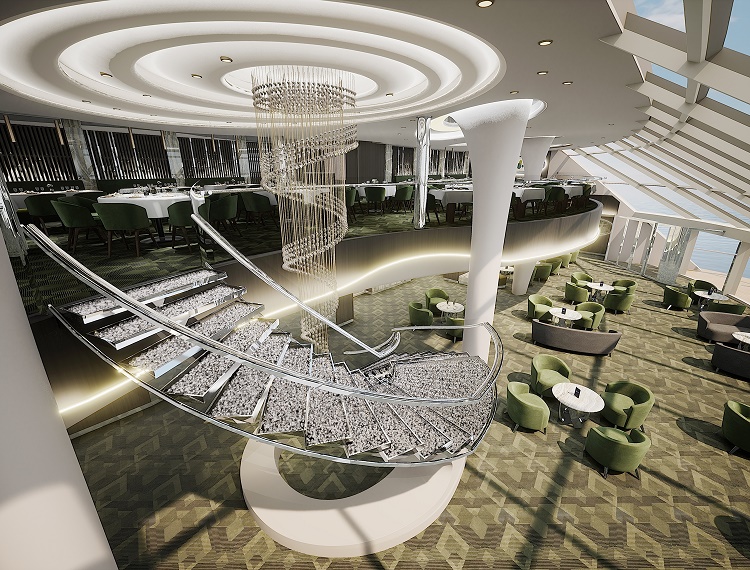 For luxurious pampering, check out the MSC Yacht Club, the exclusive "ship-within-a-ship" key-card-only-accessible complex on MSC World Europa. Guests staying here can dine at the Yacht Club's exclusive restaurant and enjoy cocktails at its lounge below (shown in the photo above).
Accommodations in the Yacht Club are luxurious. For instance, the Royal Suite accommodates up to four guests and offers a private whirlpool bath.
At press time, though, this suite was "sold out" on the March 5, 2023 departure, as well as five other cruises before and after that date. To give you a sense of pricing, though, Royal Suite fares (for most sold-out dates) started at $5,412 per person, double occupancy.
Go here for ship information on MSC World Europa. For more about the new ship's accommodations, pricing and departure dates, chat with your travel advisor.
MSC Seascape, Sister to MSC Seashore
Setting sail on November 19 is the 4,560-passenger MSC Seascape, a sister to MSC Seashore.  What's nifty design-wise is that the 169,000-ton ship pays tribute to New York City.
For instance, a 10-foot-high replica of the Statue of Liberty graces the casino. In addition, the Times Square retail and entertainment area has a 28-foot-high LED wall spanning four decks.
On that wall, cruise guests can see a projection of New York's iconic Manhattan skyline with a look that changes from day to night. MSC Seascape's theater will also offer Broadway-style shows and musical productions.
The ship will be christened in New York on December 5. After that, MSC Seascape will homeport at PortMiami for year-round Caribbean and Bahamas cruises.
Robust Activity Spaces
One facet of the new MSC Seascape is that it's designed with abundant outdoor spaces for sunning, strolling and bar hopping. In addition, it has plenty of razzle-dazzle activity spaces including these:
Four pools;
A water park with waterslides and a hanging bridge;
Two 345-foot-long zip lines, the longest at sea, running from funnel to stern;
Sports court;
Formula 1 racecar simulators;
Virtual arcade games;
Bowling; and
An XD cinema showing 3D movies and with such special effects as moving seats.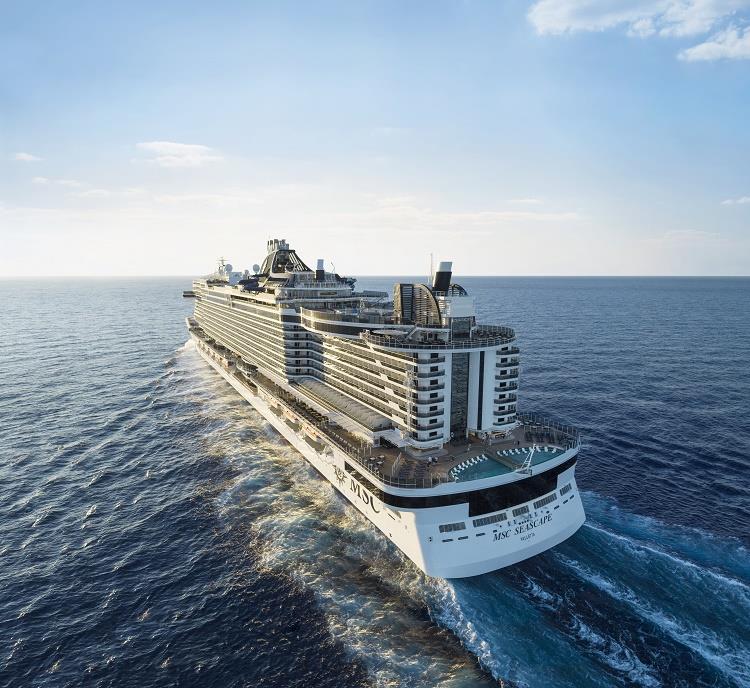 Thrills with Robotron
We can't wait to see and ride the new Robotron, though! Totally new for MSC Cruises, Robotron is an amusement ride that combines the rush of a rollercoaster with personalized music and lighting.
In essence, it's a robotic arm with a three-seat attached gondola. So, ready, set, go…. as guests will "fly" nearly 175 feet above the sea.
Typical for MSC Cruises' ships, guests also will cruise amid a diverse mix of restaurants. For instance, they'll dine at two main dining rooms, two buffet eateries, a pan-Asian restaurant, sushi bar, Teppanyaki area, American steakhouse, seafood restaurant and much more.
In addition, MSC Seascape will offer plenty of watering holes — more.than a dozen bars and lounges.
Staterooms and Suites
Newly designed staterooms and suites span 11 categories. Those include balcony accommodations including aft suites, 50 terraced suites with extended balconies and 32 different suites with outdoor private whirlpools.
Within the MSC Yacht Club, that exclusive "ship-within-a-ship complex," the top suites are the palatial Owner's Suites.
For the ship's seven-night "Caribbean and Bahamas" voyage departing on December 11, 2022, pricing starts at $469 per person, double occupancy for an inside stateroom. For those seeking "top digs," fares begin at $4,648 per person, double occupancy, for the Grand Suite Aurea.
Many other departure dates throughout the winter season are available too. For more information, visit this MSC Cruises page about MSC Seascape. 
Atlas Ocean Voyages' Second Ship Arrives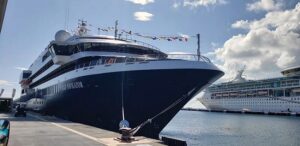 The second Atlas Ocean Voyages' ship, the 196-passenger, World Traveller, debuts on November 21, 2022. It's a sister to World Navigator, already sailing the globe.
Both are polar-class, small ships that deliver a mega-yacht experience but to the ends of the Earth. Guests can expect intimate, yacht-style cruising to off-the-beaten-path destinations.
Sustainability-wise, World Traveller will use a propellor-less hybrid propulsion system and anchor-less positioning.
Both are designed to leave the marine environment undisturbed, while at the same time, giving guests "close up" access for spotting marine mammals and wildlife ashore.
New Cruise Ship: Art Deco, but Warm and Chic Too
Exuding a warm, chic Art Deco style blended with modern touches, the ship also will offer many creature comforts. Guests can book a pampering spa treatment at L'Occitane Spa-at Sea, work out in the fitness studio, and enjoy a swimming pool and hot tubs.
The ship carries paddle boards, sea kayaks, jet skis and a fleet of Zodiacs for exploring.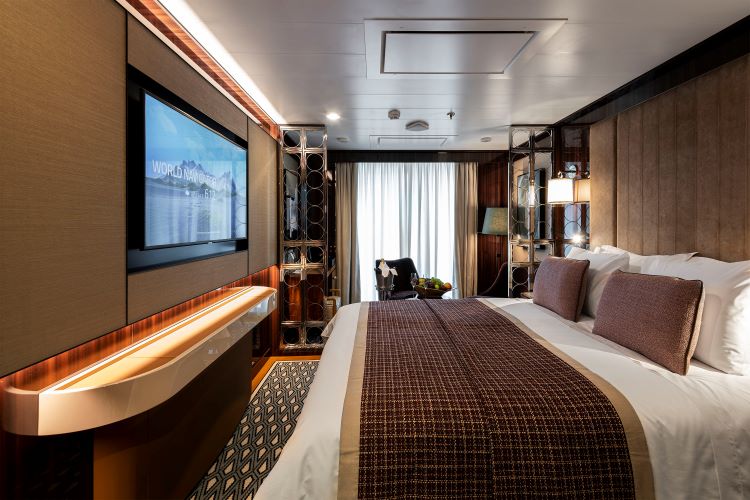 The ship's 98 suites and staterooms are all oceanview and most have private balconies (see photo of a veranda stateroom above). They range from solo suites to veranda staterooms and the top-tier Navigator Suites.
Dining will unfold in the Porto Restaurant, the 7AFT chophouse, Paula's Pantry Café (with coffee, pastries and light bites). In addition, there is even a charcoal grill at sea!
For "après sea," derived from the term, "après ski," Atlas has lounges and comfortable public spaces in which to relax.
A Global Explorer
World Traveller's inaugural Antarctica season kicks off later this year. For example, on February 12, 2023, the small-ship explorer will operate a 12-day Antarctica Circle crossing roundtrip from Ushuaia, Argentina.
What's special? Guests who cross the 66th Parallel are qualified to join the "Order of the Red Nose" for the "bucket list" adventure achievement. Think of the bragging rights for chats with friends or family members!
Most notably, guests will view spectacular polar scenery and possibly spot humpback whales or penguins. At press time, fares for these winter 2022-2023 season voyages on World Traveller started at $13, 999 per person, double occupancy.
Seeking more details about the route and specifics of the voyage? Check out this Atlas itinerary page.
In spring 2023, the ship will sail northward along the South American coast, through the Panama Canal and into the Caribbean. After sailing to the United Kingdom and Ireland, World Traveller will sail Nordic itineraries in summer 2023.
New Cruise Ship: Aurora Expedition's Sylvia Earle

Carrying just 142 guests, Aurora Expeditions' new Sylvia Earle will be christened in December 2022 – named to honor Dr. Sylvia Earle.
She's a renowned marine biologist, oceanographer, explorer and the first woman to become chief scientist of the National Oceanic and Atmospheric Administration. (NOAA).
One factoid of interest? This eco-friendly small ship is certified as 100 percent carbon neutral. Reducing fuel consumption, for instance, is its streamlined Ulstein X-BOW, which provides a smoother transit through waves.
For guests, one appealing perk from a sightseeing perspective is that bow's interior Glass Atrium Lounge. You can expect huge windows and superb views.
Shipboard Spaces 
Sailing on the Sylvia Earle, guests will dine at two restaurants and enjoy a dip in a heated outdoor pool. Views are everywhere too. We're looking forward to watching icebergs drift by during time in the wellness center's glass-walled sauna!
In addition, the ship has a modern lecture lounge, where guests will attend talks by the ship's resident photography guide along with other experts in their fields.
As for adventure, the new ship will offer sea kayaking, scuba diving, polar snorkeling and trekking excursions around the Antarctic region.
One option that's a bit different from some other Antarctic itineraries is the 14-day "Deep Weddell Following Nordenskjold" itinerary. This sailing focuses more on the Weddell Sea region than any other of Aurora Expeditions' voyages. 
Renowned for its vast amounts of ice, the Weddell Sea region has prolific sea ice, pack ice and gigantic icebergs. Even icebreakers have difficulty getting around the Weddell Sea.
Did you know that in 1902 Otto Nordenskjöld, a Swedish explorer, was forced to spend two winters in the Weddell Sea? His expedition's main hut built on Snow Hill Island still stands.
Also, in the early 20th century, British explorer Ernest Shackleton's crew had to abandon their ship, Endurance, in the Weddell Sea after it became trapped in ice. They were eventually rescued thanks to some incredible efforts by Shackleton.
But most interesting, the ship itself was discovered in good condition, given that it had been underwater for more than a century. That's thanks to the cold water, which prevented organisms from devouring the wooden vessel.
The Weddell Sea
On Sylvia Earle's modern day exploration, guests sailing through the Weddell Sea will look for ice seals such as crabeater and leopard seals hauled out on ice floes. Also, while ashore they can scour for ancient fossils of gastropods, large clams and spiral-shaped ammonites.
Sailing roundtrip from Ushuaia, Argentina, on March 24, 2024, this two-week "Deep Weddell Following Nordenskjold" itinerary is priced from $12,236 per person, double occupancy.
For more information about the ship, visit Aurora Expeditions' website page.
In the future, Sylvia Earle will journey to such other expedition destinations as Costa Rica, the Canadian Arctic, Norway, Greenland and Iceland. 
More New Ships Coming! 
Other new ships too are launching. Stay tuned for Part Two of this "New Cruise Ships" blog series within the next week or so — focused on ships launching in the first six months of 2023.
They'll include Oceania Cruises' Vista, Explora Journeys' Explora I, and other sparkling new ships from Viking, Swan Hellenic, MSC Cruises, Virgin Voyages and others.
Then we'll follow with Part Three with new ships debuting between July and December 2023.
As the global cruise fleet expands, travelers have many new options —  so, let's eagerly proclaim,"Ships Ahoy!"
Important Notes from Pavlus Travel
This blog site is designed for "basic, general information" about travel. So, it's not designed to provide specific pricing nor is it staffed by travel advisors.
Please don't use the Reply Section below if you are asking for pricing, travel dates, accommodations, brochures or other specific requests. 
That said, we are most happy and eager to assist you. Here's how…
If anything does tweak your interest in the story and you DO have questions about specific pricing, brochures, savings, accommodations, accessible options and so on, please contact us at 800-528-9300.
Or visit us online at Pavlus Travel's official agency Web site; there you can "live chat" with us online too!
Thanks for reading!