As September 2022 draws to a close, The Meandering Traveler picks its top highlights and tidbits in the travel industry for the month. From the new Four Seasons Yachts to Viking's second expedition ship and Virgin Atlantic joining the Star Alliance, let's check them out!
1. New Four Seasons Yachts to Launch in 2025
Do you like staying in the lap of luxury at a Four Seasons Hotel or Resort? Then you'll likely love that Four Seasons Hotels & Resorts plans to bring its ultra-luxury service to the high seas with the launch of Four Seasons Yachts in late 2025.
The luxury hotel company will partner with luxury shipping experts Marc-Henry Cruise Holdings and Italian shipbuilder Fincantieri to create the first Four Seasons Yacht (see rendering of the new yacht above; photo by Four Seasons Yachts).
The order for the first vessel, which includes the option for two additional vessels, amounts to approximately $1.78 billion. The brand plans to have four ships operating within five years.
Top Travel News: "No Expense Spared"
Right now, the first Four Seasons Yacht is being designed in Trieste, Italy. Look for a 14-deck yacht that's 679 feet long and 88.6 feet wide.
More importantly, in its press announcement, Four Seasons said, "no expense will be spared in terms of the bespoke craftsmanship and personalized service that will be offered to discerning guests looking to reimagine their love of travel."
On board, the vessel will deliver an appealing 1:1 guest-to-staff ratio. Likewise, its restaurants, lounges and bar concepts will celebrate Four Seasons' history of culinary innovation and attention to guest preferences.
Luxurious public spaces will include a full-service spa and salon. Plus, the yacht will offer a diverse mix of wellness programming – from fitness to health and nutrition.
A classic canoe-shaped aft area will offer a spacious pool deck. In addition, this area will transform into an outdoor movie theater or space for private events.
One new feature is the industry's first "transverse marina," although it's a bit too early for more precise design information. Guests are expected to arrive here to enjoy the ocean, sunbathe or use specially designed aqua leisure toys and accessories.
Spacious Luxury Suites
Here's a good tidbit to consider. The cost to build each yacht breaks out to $4.2 million per suite for each of the Yacht's 95 spacious, luxurious suites. Many adjoining suite combinations will create villa-like residences.
Sporting floor-to-ceiling windows, they'll offer nearly 50 percent more living space per guest — starting at 581 square feet of indoor/outdoor living space — than what's currently in the market, according to Four Seasons. Ceiling heights will extend more than 7.9 feet.
Sixty percent of the accommodations will be in excess of 818 square feet.
Here's one incredible factoid. The most spacious residence, the "Funnel Suite" will span four levels. It will offer more than 9,601 square feet of combined indoor/outdoor living space. For instance, that will include a private wading pool and dedicated private spa area.
Tillberg Design of Sweden is serving as lead architect responsible for the design of exterior and guest suites. Meanwhile, Four Seasons has tapped London-based Martin Brudnizki Design Studio to design the public spaces. These design partners will be joined by the creative direction of Prosper Assouline.
The Next Chapter 
Who will lead the new enterprise? Loyal past guests of SeaDream Yacht Club and Azamara will likely be happy to learn that it's veteran luxury travel industry expert Larry Pimentel.
"In partnership with Four Seasons, we are creating a new category of luxury lifestyle travel that appeals to discerning guests," says Pimentel. He adds that guests will enjoy a pinnacle yachting experience that combines world-class ship design, curated experiences and exceptional service.
Here's the full press release about the new Four Season Yachts. While no detail is yet available on regions of sailing or itineraries, Pimentel says: "When we launch in 2025, there will be nothing else like it on the open seas."
2. Cunard's QM2 Adds "Best Exotic Marigold Hotel"
We love this one. It's likely to be such fun. Cunard Line's flagship ocean liner, the 2,691-passenger Queen Mary 2 will host three matinee and evening performances of "The Best Exotic Marigold Hotel" on its December 15, 2022, sailing.
Better yet, headlining the "feel-good" tale of love and adventure show are several celebrated stars of stage and screen including:
Hayley Mills ("Pollyanna," "The Parent Trap," "Whistle Down the Wind") who stars as Evelyn;
Paul Nicholas ("Jesus Christ Superstar," "BBC 1's Just Good Friends," "Eastenders") who plays Douglas; and
Rula Lenska (ITV's "Rock Follies," "Coronation Street," "Celebrity Big Brother") who performs as Madge.
"Cunard's rich history is one of sophistication, catering for the most intrepid of travelers, and it is enormously flattering to be associated with this legacy," says the show's producer Simon Friend.
He adds: "As a show about exploring the world and finding yourself anew, I hope too that it will connect to patrons watching while on the voyage."
"I thought I'd done it all but performing on the Queen Mary 2 in the North Atlantic will be an incredibly exciting new adventure to me and for the whole company," emphasizes Mills.
Currently, the show is in production at London's Richmond Theatre. On board QM2, the show will "go on" during several performances in the ship's Royal Court Theatre during the seven-night transatlantic crossing.
Even more fun? Guests will have the opportunity for a "behind the scenes" Q&A, as well as workshops and other appearances with the star-studded cast.
Journey to India
"The Best Exotic Marigold Hotel" theater show is based on the bestselling novel which, in turn, inspired a beloved film of the same name. As the show unfolds, QM2's guests will see an eclectic group of British retirees embark on a new life in India.
Upon arrival in that country, the luxury residence they were promised is far from the opulence they expected. But, as their lives begin to intertwine, they embrace modern-day India's vibrance and charm. Their lives, subsequently, change in unexpected ways.
"The Best Exotic Marigold Hotel" is a joyous, feel-good comedy about taking risks, finding love, and embracing second chances, even in the most surprising of places.
For more information about this sailing, contact your travel advisor as soon as possible; this transatlantic voyage is expected to be a big draw and likely sell out quickly. Here's Cunard's website with more information about QM2 and the itinerary.
3. Top Travel News: Viking Takes Delivery of 2nd Expedition Ship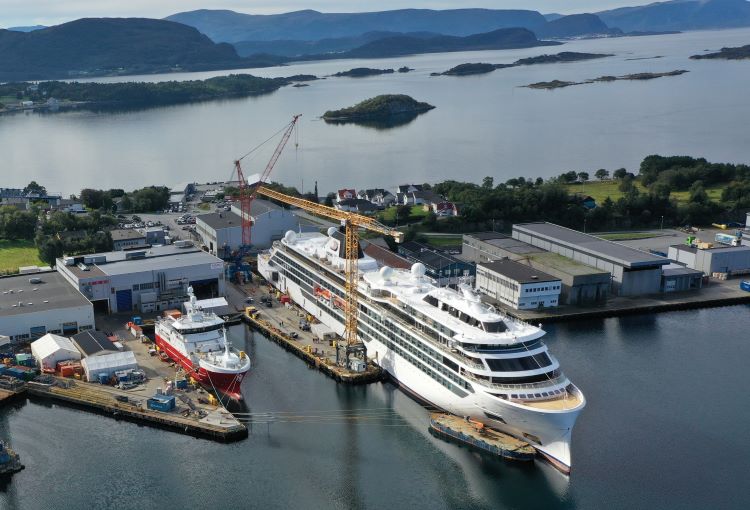 Global expedition cruising continues to expand in a rapid manner. Viking has taken delivery of its second expedition ship, the 378-passenger Viking Polaris.
This week, the polar-class ship left its Norwegian shipyard (see photo above) and later was christened by polar explorer and ceremonial godmother, Ann Bancroft, in Amsterdam, the Netherlands.
Next up? The new polar-class vessel will then sail to South America and on to Antarctica for a full winter season of voyages; it will be joined there for the season by sister Viking Octantis.
Next spring and summer, both ships will reposition to the Great Lakes of North America. So, consumers can book a far-flung Antarctica voyage or one closer to home.
The new Polar Class Viking Octantis and Viking Polaris each have 189 staterooms, plenty of indoor and outdoor viewing areas and The Aula, a panoramic auditorium inspired by the University of Oslo's famed ceremonial hall, the former venue for the Nobel Peace Prize ceremony.
Also special is The Hangar, a state-of-the-art, in-ship marina that provides shelter from the weather while guests embark and disembark the line's special operations boats and other equipment.
Science, Dining and Comfort 
Desire to dabble in scientific research? Developed in partnership with the University of Cambridge and Akvaplan-Niva, the ship's 380-square-foot Science Lab supports research activities; it's equipped with wet and dry laboratory facilities. Guests have supervised access to the lab to learn from and participate in research with scientists.
Of course, the ship has a slew of savory dining options including The Restaurant, Mamsen's and Manfredi's, which Viking's past guests will recognize as a specialty Italian cuisine favorite on the line's ocean ships.
In addition, guests can enjoy a pampering spa treatment at the Nordic Spa. Plus, all accommodations, starting at 222 square feet offer a Nordic Balcony.
That's a sunroom that converts into an al fresco viewing platform. What's neat is an elbow-level observation shelf that guests can use for binoculars or a camera.
Viking Polaris'  Top Suites
If travelers truly desire to spread out in style, Viking Polaris offers 322-square-foot Nordic Junior Suites and 580-square-foot Explorer Suites. Both are similar to those on Viking's fleet of ocean ships.
Additionally, each ship features one 1,223-square-foot Owner's Suite with a living room, a board/dining room and a separate bedroom. That top suite also offers a 792-square-foot private deck with a traditional Norwegian badestamp (hot tub).
For more Viking Polaris information, visit the line's Web site. Likewise, for details on accommodations, pricing for specific itineraries, departure dates and more, talk with your travel advisor. 
4. Top Travel News: Virgin Atlantic to Join SkyTeam Alliance
Travelers who favor airlines that belong to SkyTeam, the global airline alliance, have another flight partner option, starting in early 2023. Virgin Atlantic will become the newest SkyTeam member.
Plus, it's Sky Team's first and only United Kingdom member airline. SkyTeam said in an announcement that the addition of Virgin Atlantic will enhance transatlantic options and services to and from London's Heathrow Airport and Manchester Airport.
Additional Perks for Virgin Atlantic Customers

Virgin Atlantic customers will benefit from a consistent, seamless customer experience across more than 1,000 global destinations.
They'll also have more opportunities to earn and redeem points across member airlines.
And Virgin Atlantic customers will gain access to a network of 750-plus airport lounges, spanning six continents. The airline's Flying Club members will enjoy significant benefits from the day of joining, with a global expansion of its loyalty offering.
Virgin Atlantic Silver Card holders will be recognized as SkyTeam Elite members, whilst the airline's Gold Card members will become Elite Plus.  This recognition provides a raft of benefits, including priority check-in, baggage handling and boarding.
Flying Club members will be able to take advantage of the benefits as soon as Virgin Atlantic officially enrolls in SkyTeam, which is expected in early 2023.
Delta and Air France-KLM
Virgin Atlantic's entry into the alliance builds upon its transatlantic joint venture partnership with Delta Air Lines and Air France-KLM, each already long established SkyTeam members. The four partners are co-located at London Heathrow's Terminal Three, alongside existing SkyTeam members Aeromexico and China Eastern.
Codeshare agreements are already in place with Aeromexico and Middle East Airlines with options for more codeshares to follow. Virgin Atlantic flies to 12 destinations throughout the USA in partnership with Delta and Air France-KLM including New York, Los Angeles, Miami, and San Francisco.
In May 2022, Virgin Atlantic launched new service to Austin, TX. Starting in November 2022, Virgin Atlantic will begin daily flights to Tampa, FL.
Here's the StarAlliance and Virgin Atlantic press release with more details.
5. "The Real Love Boat" Co-Hosts Announced
While this isn't purely travel, its focus is rooted in cruise travel. Debuting this Wednesday, October 5, 2022, from 9 p.m. to 10 p.m. Eastern time on CBS, "The Real Love Boat" will showcase a new television dating adventure. This new TV reality series is inspired by the 1970s hit TV series, "The Love Boat."
Guess what? It's filmed on a Princess Cruises ship sailing in the Mediterranean.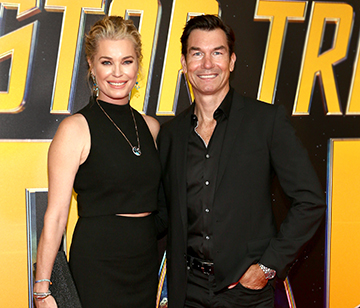 Newly announced as co-hosts for the series are Hollywood couple, Rebecca Romijn and Jerry O'Connell, a husband-and-wife team.
She's best known from "Star Trek: Strange New Worlds" while O'Connell has appeared on CBS' "The Talk." The duo will guide TV viewers through the series.
"The Real Love Boat" will bring singles seeking to find "love" together on an upscale ship. As the singles sail across the Mediterranean, they'll have destination dates, challenges and surprises to test any potential couple's compatibility and chemistry.
As with the beloved original scripted series, several indispensable crew members, including the captain and cruise director, will play pivotal roles in the matchmaking and navigation of the romantic (and sometimes turbulent) waters ahead.
Then, after nearly one month at sea, one winning couple will dock in the final port and take home a cash prize. Plus, they'll receive a once-in-a-lifetime trip courtesy of Princess Cruises, the series' exclusive cruise line partner.
Earlier this year, The Meandering Traveler talked one-on-one with Jill Whelan, who as a young girl played Vicky, Captain Stubing's (Gavin MacLeod's) daughter in the original series. It was one of our most popular blogs ever – with Part One and Part Two here, if you'd like to revisit those.
6. Top Travel News: It's Easier to Enter Countries 
In good news for smoothing travel across the globe, more countries, destinations and cruise lines have eased or eliminated their COVID-19 protocols and processes.
For instance, the Government of Barbados said that it's discontinued all COVID-19 travel protocols. Travelers entering Barbados will no longer have any testing requirement, whether they're vaccinated or not.
In addition, the wearing of masks generally will now be mostly optional. Mask wearing will remain mandatory in health care settings, for people traveling on public transportation, and those who are COVID-19 positive. For more information on Barbados' travel protocols visit www.barbadostravelprotocols.com
In another thread on this topic, Hurtigruten Expeditions has removed pre-departure testing across all departures and ships (except for Antarctica expedition cruises). That's effective October 1. For details, visit this link to the Hurtigruten announcement.
The Meandering Traveler also covered the removal of COVID-19 restrictions by the Government of Canada in a blog earlier this week. 
7. Tauck Increases Sailings on France's Seine River 
Based on strong demand by travelers, Tauck has added more 2023 departures for France's Seine River. For instance, cruise guests can head out on a 12-day journey, "Cruising the Seine, Plus Paris and London" trip.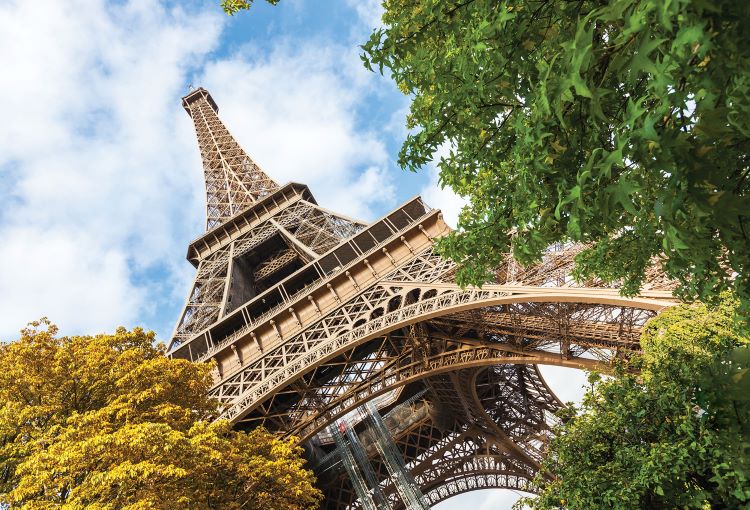 The journey includes two nights at the Savoy Hotel in London plus three nights in Paris on either the Sapphire or Esprit. Also included is another six nights sailing the Seine to the Normandy Coast.
Along the way, river cruisers can visit Auvers-sur-Oise to learn about Vincent van Gogh's last days and stroll through Claude Monet's gardens at Giverny. Also on tap are Rouen, where Joan of Arc met her fate, seaside historic sites and dinner in a private château.
Pricing was not available on Tauck's Web site at press time, as itineraries were being added. So chat with your travel advisor about the latest information and ask about deals/promotions too.
Rendezvous on the Seine
Alternatively, Tauck's nine-night "Rendezvous on the Seine" itinerary (on either of the same two Tauck river vessels) spends two nights docked in Paris and offers an after-hours Louvre tour.
In addition, guests will take a private tour and enjoy a red-carpet dinner at the elegant Chateau du Taillis . They'll also make a pre-opening morning visit to Giverny so they'll travel there without the crowds. There are also visits to riverside towns, the D-Day Beaches and Normandy Coast.
For a look at Tauck's Seine journeys, here's the Tauck website page.  Just remember that 2024 journeys were still being loaded at press time.
8. St. Barthelemy Resort Adds New Experiences
Enjoy taking a Caribbean vacation? One option is the Hôtel Barrière Le Carl Gustaf at St. Barthelemy, opened in 2020. At this resort, you'll discover an ambience of well-being and relaxation, amid tropical elegance.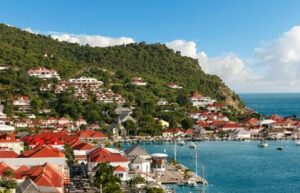 Adding to the appeal, in September 2022, the hotel announced that its concierge team had created new guest activity options.
Top Travel News: New Guest Experiences 
Hiking to Colombier: Visitors can discover the island's most protected beach during a 20-minute walk to Colombier. Nestled amid St. Barth's western tip, this natural reserve is off-the-beaten path and a great adventure for eco-enthusiasts. In addition, guests have the option of visiting Colombier by boat for snorkeling.
Cook My Fish: Guests will head out on a new fishing excursion to reel in the "catch of the day." Then, one of the resort's chefs will show them the steps in preparing the catch, using Caribbean recipes with local flavors.
Catamaran Excursion Around the Island: Guests looking for a calming afternoon in St. Barthelemy can set sail on a catamaran and explore the island's iconic beaches. The voyage includes a picnic prepared by the resort's five-star chef and complimentary champagne. Visitors can choose from a half a day, full day or sunset cruise.
Yellow Submarine: Families can discover the creatures that call St. Barths home through the glass bottom of the island's Yellow Submarine. Guests can gaze at underwater flora and fauna during a one-hour ride.
Tennis Lessons: The Saint Barth Tennis Club welcomes players of every level to their plexicushion tennis courts to enjoy private or group lessons.
Rates at Hôtel Barrière Le Carl Gustaf start at 1,100 Euros nightly (or, about $1,077 US); that varies widely by date, type of accommodation and exchange rate at time of booking.
9. Top Travel News: New 2024 South Pacific Cruises 
Aah, the islands of French Polynesia and other idyllic spots in the South Pacific…
For many of us, they conjure up dream-like imagery. The good news is that the islands are also closer than one might think and there's an easy way to explore them.
First, they're located halfway between California and Australia, and south of Hawaii. Second, for travelers seeking an immersive experience aboard a boutique ship, Paul Gauguin Cruises has just announced enticing new 2024 itineraries.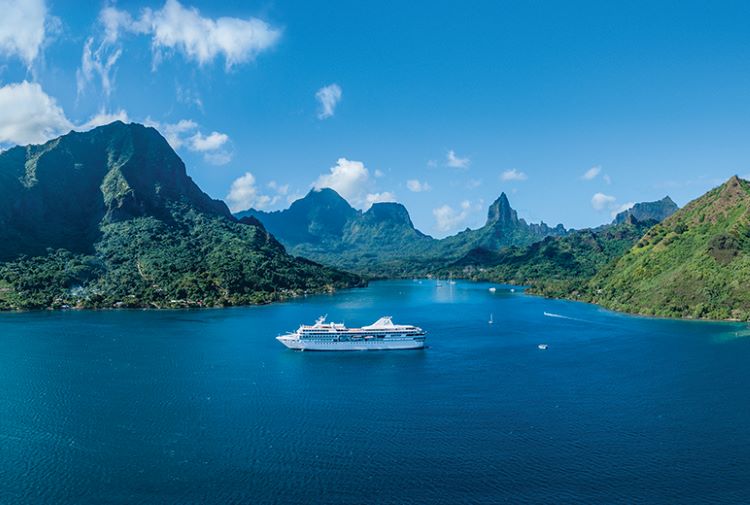 Guests will sail on the Paul Gauguin, recently voted #1 Small-Ship Ocean Cruise Line by the readers of Travel + Leisure.
Reservations are now open for the ship's 2024 line-up of 33 voyages to the South Pacific. What's enticing are two new itineraries, among seven offered.
The first new itinerary is the seven-night "More Society Islands & Tahiti" itinerary featuring the line's return to Raiatea.  Also on the schedule is a new 14-night "Islands of the Marquesas & Tuamotus" itinerary.
The latter voyage features maiden calls at Hatiheu, Nuku Hiva, and Hakahau, Ua Pou, both in the Marquesas Islands. For a March 13, 2024, departure of that two-week cruise, fares start at $7,030 per person, double occupancy.
Prices are subject to change and other departures are also available, so chat with your travel advisor about the options.
"Drawing upon our intimate familiarity with these islands, we are thrilled to introduce new itineraries with inaugural visits to little-explored tropical gems," says Navin Sawhney, CEO Americas, Paul Gauguin Cruises and Ponant.
2024 Itinerary Highlights
Highlights of the 2024 deployment include more voyages that include Bora Bora and more overnights in Moorea. Plus, every cruise includes a visit to the line's private islet, Motu Mahana on Taha'a.
Been to Tahiti, Bora Bora and Moorea? Well, beyond exploring the Society Islands, the Paul Gauguin will cruise to the Cook Islands, Marquesas and Fijian isles.
There is also a rare visit to the Kingdom of Tonga, and guests also can explore Fakarava's UNESCO-listed Biosphere in Tuamotus.
All voyages travel roundtrip from Papeete, Tahiti, except for two 14-night itineraries between Papeete and Lautoka, Fiji; those also cross the International Date Line.
For more information, check out the press release about Paul Gauguin Cruises' new 2024 schedule. Then, chat with your travel advisor about departure dates, accommodations and pricing.  
10. Florida Cleans Up as Ian Heads North
While most of the above announcements impacting travel and tourism are upbeat, we'd be remiss if we didn't talk about this past week's challenges with Hurricane Ian.
Certainly, our hearts and prayers go out to those across Florida and elsewhere who've been negatively impacted by Hurricane Ian. As the storm storm heads north to the Carolinas and other states too, our thoughts are with all those in the storm's path.
In Florida, the southwestern and west central coastlines, where the storm hit first, were sizably impacted. Recovery will take time in some areas. But in others, clean-up is either under way or, in some cases, nearly complete.  
Top Travel News: Clean-Up Begins
On the tourism re-opening front, here are a few updates.
The Florida Keys and Key West:  Flights have resumed at Key West International Airport. Clean-up is also under way in Key West with debris expected to be gone by today, plus most hotels are open. See this update from The Florida Keys and Key West.
Walt Disney World Resort: According to the official Disney update page, Walt Disney World Resort in Orlando is expected to resume theme park and Disney Springs operations in a phased approach starting today, September 30.
Universal Orlando: The official page of Universal's Orlando theme parks offers this update. At press time, it too expected to reopen on September 30.
Kennedy Space Center Visitor Complex: At Cape Canaveral, FL, the Kennedy Space Center Visitor Complex, expects to reopen at 9 a.m. on Saturday, October 1, 2022.
Again, for all those impacted, please know we are thinking about you. Stay safe for all in the hurricane's path!
Moving into October 
So, that's it for September 2022. Now it's on to October, as the last quarter of 2022 starts counting down. Soon, it will be 2023!
Have you planned your vacation for next year? It's never too soon to start.
Important Notes from Pavlus Travel
This blog site is designed for "basic, general information" about travel. So, it's not designed to provide specific pricing nor is it staffed by travel advisors.
Please don't use the Reply Section below if you are asking for pricing, travel dates, accommodations, brochures or other specific requests. 
That said, we are most happy and eager to assist you. Here's how…
If anything does tweak your interest in the story and you DO have questions about specific pricing, brochures, savings, accommodations, accessible options and so on, please contact us at 800-528-9300.
Or visit us online at Pavlus Travel's official agency Web site; there you can "live chat" with us online too!
Thanks for reading!