Many cruise lines are highly kid-friendly with razzle-dazzle family activities. But for travelers who instead desire adult only cruises, Viking, Virgin Voyages and several other brands offer those, as The Meandering Traveler discussed in a blog last week.
But there's another option! Many lines have family-friendly ships with plenty of kids aboard, but they also have carved out a few adult only spaces or experiences. Those range from adult only lounges to entertainment, pools and even private island experiences.
It's a great way for seagoing travelers without kids in tow to have an "adult only cruise" – at least in some parts of the ship or ashore.
In addition, private, exclusive, key-card-accessible areas of the ship – so-called "ship within a ship" enclaves – are another option. While not typically banning kids, they do tend to have far fewer of them.  That's because these are more high-end, suite-class accommodations.
The result? It's often a more intimate, private and quieter experience.  So, here's a "sampling" of just a few of the many adult only experiences on family-friendly ships.
Close to Adult Only: The Age 16+ Solarium
Some ships have spaces that accept older teens and adults. So, you won't encounter toddlers, 10-year-old children or 14-year-old tweens. One example is Celebrity Cruises' complimentary Solarium, located on the Sun Deck of all ships
Guests must be 16 years of age or older to spend time in the Solarium. Designed for all-weather-use, this glass-domed space is nicely bathed in natural light and offers a pool and/or whirlpools. Configuration typically varies by ship (see photo of Celebrity Beyond's Solarium atop this blog; photo by Celebrity Cruises).
On one cruise, I sauntered into the Solarium with a good book and lingered for a few hours. It's a fabulous spot for reading or napping. If you go, you might grab a light breakfast or lunch at The Spa Café and Juice Bar.
A Celebrity press spokesperson told us: "That's the only space on Celebrity's ships that is adult only. To clarify, the minimum drinking age is 21+ on all bars and The Club, and we rarely see children in these spaces." But she added that if a couple had a cocktail in a bar and brought along their child who sipped on a soda, "we wouldn't necessarily enforce it as adults only. The only official adult only space would be The Solarium."
On Celebrity Beyond and other Edge-class ships, the line's exclusive Retreat space is another option. While it's not only for adults, by its nature with upscale suites, kids are typically not here in great numbers. On Celebrity Beyond, a larger ship and with one more deck than other Edge-class vessels, The Retreat has a two-level sundeck, bar, loungers and more.
We'd suggest chatting with your travel advisor about the differences in Celebrity's ships and what the new Edge-class ships offer as well as any deals or discounts?
Also a Solarium for 16+
Celebrity's sister cruise line, Royal Caribbean International, also has a space of the same name (Solarium) that's also not open to younger children. Located at the front of every ship in its fleet, The Solarium is also designed for guests 16 years of age and older.
With impressive sea views, it's an indoor-outdoor oasis, except on Quantum-class ships where it's indoor only. It's the spot for sea views, plus there's a full glass canopy over the interior space. So, adults can enjoy quiet lounging areas, swimming pools and whirlpool tubs with a view, no matter the weather.
In the Oasis- or Quantum-class ships, The Boleros Latin Bar and English Pub are good spots to frequent if you're an adult, solo traveler and have no kids in tow.
Royal Caribbean's ships also feature a Comedy Club; comedians offer late-night adult only live performances.
Adult Only: The Age 18+ Sanctuary
Desire to escape from the bustling public spaces, often with many children, on a large ship? Princess Cruises offers The Sanctuary, a relaxing, top-deck, adult only retreat (for ages 18 and up). This spa-inspired space features plush loungers.
With signature beverages, light meals, and al fresco massages, Serenity Stewards attend to the guest's every need. How about a chilled face towel? Or perhaps you'd like an Evian water atomizer.
Guests going ashore at Princess Cays, the cruise line's private Bahamian island experience, should check out the adults-only Sanctuary Bungalows; those can be rented starting at $299 and can accommodate up to six people or three couples. Or, for a more romantic option, just book this bungalow for you and your spouse.
Surprise! Disney Has Great Adult Only Options
On Disney Cruise Line, one would think there would only be a family experience filled with children. Yes, you'll get plenty of family-friendly options aboard Disney's ships.
But, unbelievably, Disney also has some amazing adult only spaces, both aboard and ashore. I can vouch for that first-hand. A few years back, I hosted my 80-something parents on a four-night Disney sailing from Port Canaveral, FL.
Upon boarding, after seeing a sea of kids in the terminal, my elderly dad — with a pained look on his face — asked me, "Will there be a lot of children on this cruise?"
"Oh boy," I said to myself. "This could be interesting."
While I was sailing on business, I had the ability to bring along "plus 2" in the same stateroom. So, I thought taking the folks would be fun. That said, we quickly learned that there were 900 children sailing on our cruise.
But to be perfectly honest… The reality was that we never felt they were a disruption. How so?
Keeping the Kids Totally Engaged
Disney truly knows how to split up the experiences, design fabulous kid-friendly and teen-friendly programming. So, all the kids on our cruise, almost without exception, seemed occupied, entertained and in their own world, so to speak. The line has both supervised children's and teen spaces.
On one evening in Animator's Palace, one of the main restaurants, my mom turned to me and said: "Look. There is at least one child at every table. Do you hear screaming or raucous behavior? No. They are so engaged, they just seem almost invisible."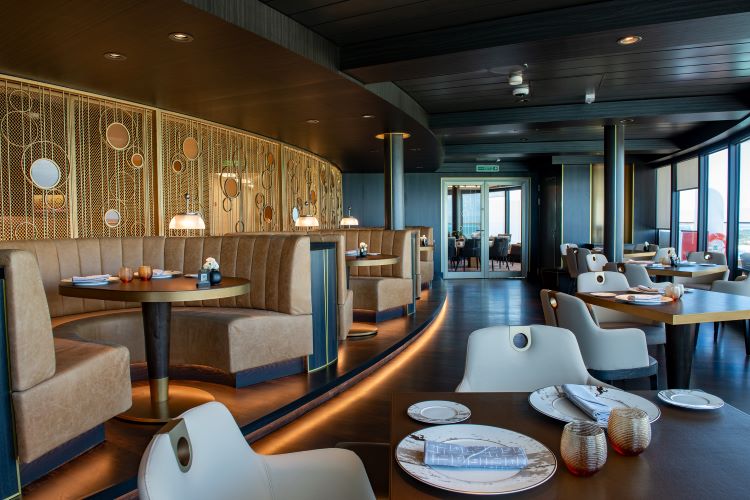 But for adults, there are many options that are kid-less too. For example, we dined on several nights in the adult only Palo Steakhouse, a specialty restaurant. You can expect savory cuisine, 270-degree views of the ocean, brunch service and even high tea during at-sea days. A second adult only eatery, Remy, is on some Disney ships.
Some new spaces designed for adults also grace the new Disney Wish. The ship has an adult only pool, sundeck space and more. Plus, on Deck 3, children can slide down to Deck 2's supervised Oceaneer Club, as their parents watch but then head nearby on Deck 3 for three different lounges.
Those lounges include: The Bayou (perhaps order the signature Hurricane), Nightingale's (one specialty is an Ice Bubbles cocktail) and the Star Wars Hyperspace Lounge (an immersive "everything Star Wars experience" for adults).
Adult Only: Quiet Cove Pool
Separately, the adult only Quiet Cove Pool is a peaceful onboard oasis for guests 18 and older. Another area for adults is the Satellite Sun Deck, (Deck 13) on Disney Fantasy and Disney Dream. Disney Fantasy's Satellite Falls has a circular pool and "cascades" for adults.
In addition, Disney Wish's new adult-centric spaces are located on Deck 12 aft including pools, sundeck space, and the ship's two adult restaurants. On Disney, adults can also head to the Vista Spa & Salon. Plus, a night-time, adult only entertainment district includes a traditional pub, piano bar and dance club.
Best of all, for all Disney adult travelers arriving at the line's private isle, Castaway Cay in the Bahamas, it's easy to hop aboard a Disney tram to the absolutely lovely, quiet adult only beach. It's a world away from the family-friendly island spots.
Go ahead. Soak up some sunshine, sit in the sand at the water's edge, and let the water lap your legs. Alternatively, enjoy a spa treatment in a beachside cabana or sip drinks at the adults-only bar. Then chow down at a beach barbecue, again with not a kid in sight.
The line is currently creating a second private island experience in the Bahamas, Lighthouse Point.  To learn about how to make the most of a vacation on Disney Cruise Line and enjoy adult only activities, dining and beach relaxation, talk with your travel advisor. 
Adult Only: Comedy and Spice
On Norwegian Cruise Line, guests can head out for night-time comedy shows that are adult only. Spice H2O is an adult only retreat with hot tubs, lounge chairs and a massive TV screen.
Plus, the Posh Beach Club on Norwegian Epic and the Vibe Beach Club on Norwegian Prima, Norwegian Bliss, Norwegian Breakaway, Norwegian Getaway, Norwegian Escape, Norwegian Joy, Norwegian Encore and Norwegian Prima is an adult only spot. Varying by ship and location, it offers hot tubs, loungers, canopies, and, yes, at times, even waterfalls.
A full-service bar, fruit skewers and chilled towels await. Guest must purchase passes, which start at $15, plus weekly passes are available too. The line limits admission to assure a more exclusive, quiet retreat on the sundeck.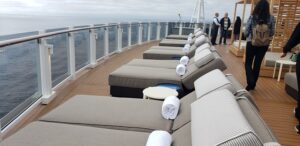 In addition, while not adult only, The Haven, the line's exclusive "ship-within-a-ship" complex of suites, is typically a quiet retreat. By its nature and higher price points, it attracts fewer families with kids. Your travel advisor can discuss the facilities and amenities for guests staying in this key-card-only-accessible complex. He or she can also talk about any special offers. 
Personal story? I sailed on Norwegian Encore just last week. Ninety-five percent of all the folks I saw at The Haven's private lounge, living room area, lounge, snack and drink bar and pool deck were adults. I did observe one tween in the pool with mom watching him. But he was quiet and, overall, the ambience was relaxing.
Adults Only – Tiki Bar and Serenity Retreat
MSC Cruises also has an adults only Top 18 Sun Deck and Garden Pool. Highly popular is the Tiki Bar as well as concierge spa service. This kidless space is available on such ships MSC Divina, MSC Fantasia, MSC Splendida and MSC Preziosa. 
Separately, MSC Cruises offers the MSC Yacht Club, a ship-within-a-ship enclave; it's an exclusive complex of top suites and staterooms with access to a private restaurant and lounge for Haven guests, as well as concierge service, a Haven pool and more. Again, children are accepted there, but it's less of a hustle-bustle environment that one would find on the main pool deck.
Even the most family friendly of cruise lines, Carnival Cruise Line offers a tranquil, adult-only space, the Serenity Retreat. Look for loungers, hammocks, hot tubs and pools. Guests must be 21 or older to enjoy this retreat area.
Adult Focused Simply by the Product's Nature
Some lines by their nature are simply adult-focused. Among those is Azamara, which discourages families with kids under 18. You won't find babysitting or supervised kids clubs, a deterrent for families thinking about traveling.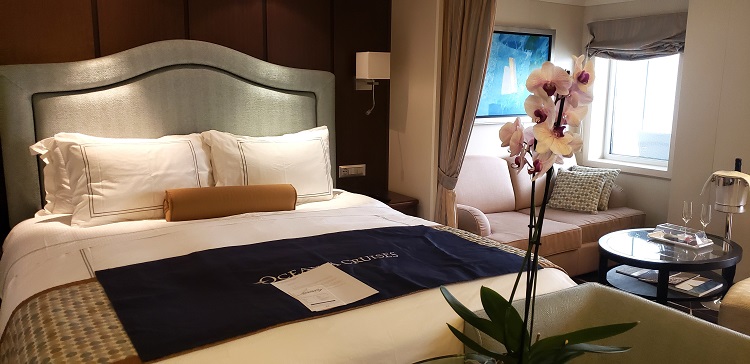 Most other upscale or luxury lines cater mainly to adults, such as Oceania Cruises, although infants and kids are also permitted to board with their families. If you're seeking a totally child-free ambience, though, head for the adult only Spa Terrace on Oceania Marina. While there's a fee, travelers who book a spa treatment at the Canyon Ranch Spa can enjoy the terrace for free.
Another line with many adult travelers is Holland America Line, but the complimentary Sea View Pool on Eurodam and Nieuw Amsterdam assures that you won't be communing with toddlers or young children. Guests using this pool must be 14 years of age and older. You'll find a bar and a pizza parlor here.
We personally love the evening and late night-Music Walk entertainment on certain Holland America ships. I can't wait to return to do "the walk" between the Rolling Stone Rock Room, Billboard Onboard and B.B. King Blues Club. It's a vibrant night-time option for adults. There are also classical musical performances by Lincoln Center Live.
Other luxury lines also have spaces that appeal to adults. For example, the new Explora Journeys, setting sail in late summer 2023 with Explora I, will have three onboard pools — one of those for adults only.
The above is just a sampling of how cruisers seeking a voyage without a ton of families aboard still have good options, even if the ship itself isn't adults only. For Part 1 of this adult only cruises blog, visit this Meandering Traveler page.  
To find the right cruise brand and ship to satisfy your "adults only" mindset, chat with a professional travel advisor. The advice is free and the expertise invaluable. Your advisor typically also will know where to go for great deals, discounts, contract air tickets and more.
Important Information from Pavlus Travel
This blog site offers "basic, general information" about travel; it's not designed to provide specific pricing nor is it staffed by travel advisors.
Any personal views expressed reflect the anecdotal perspective of the author — simply one opinion by a frequent traveler. The views expressed should not substitute in any way for use of a professional travel advisor. And that applies to either advice or booking of any vacation.
Also, please don't use the Reply Section below if you're asking for pricing, travel dates, accommodations, brochures or other specific requests. 
That said, we are most happy and eager to assist you. Here's how…
If anything does tweak your interest in the story and you'd like to talk about a future vacation, please DO call us at 800-528-9300.
Definitely, if you have questions about specific pricing, brochures, savings, itineraries, dates of travel, accommodations, accessible options and so on, please contact us. Again, call us at 800-528-9300 or visit and "live chat" at Pavlus Travel's official agency Web site.