Can't stand screaming toddlers, children all over the pool deck or groups of teens congregating in public spaces? While a family vacation is fantastic fun on the high seas for many travelers, for others, it's not. So, if having kids around isn't your perfect vacation plan, what are the best cruise lines for adults only? Here's our look at two popular cruise brands offering adult only cruises.
Specifically, Viking and Virgin Voyages will only accept travelers who are 18 and older on board. So, what can you expect aboard these adults only cruise lines? What's their cruise personality? What dining, activity, enrichment, entertainment and touring options are offered?
To find out what makes these brands the best cruises for adults seeking kid-less vacations, chat with a professional travel advisor who can answer all your questions. Generally, though, here's "our anecdotal take" about what to expect.
Adult Only Cruises: Viking 
All of Viking's ships — ocean, river and expedition — are adults only. It's a concept that works both for the line and its guests. Torstein Hagen, the line's chairman, likes to bill these cruises as the "thinking person's cruise." That's because Viking places a high value on enrichment programming and destination-focused itineraries across the globe.
Viking's cruises are curated for travelers interested in history, science, food or culture. Guests also receive special access to behind-the-scenes destination experiences. And thanks to Viking's long partnership with PBS and "Downton Abbey," guests on certain itineraries can book pre- or post-cruise extensions that visit Highclere Castle, where Downton Abbey was filmed.
Alternatively, guests often enjoy cooking classes or lectures aboard. But while guests are indulging in exploration ashore and enrichment experiences aboard, Viking's 930-passenger oceangoing ships also offer comfortable, Scandinavian-style accommodations. All have private balconies. It's not a stuffy onboard aura, despite the luxurious nature of the product.
Viking's expedition ships and river ships have similar Scandinavian decor and styling. No, you won't find white-gloved butlers aboard, but you will discover a consistent product and great service.
Also, Viking doesn't try to be different with every ship. It may tweak decor or some spaces with each new ship. But generally, if you've been on an oceangoing ship or Longship, then you know what to expect the next time. Consistency in product delivery is among the reasons why Viking has been chosen repeatedly as a top-rated luxury line by both Conde Nast and Travel+Leisure magazines.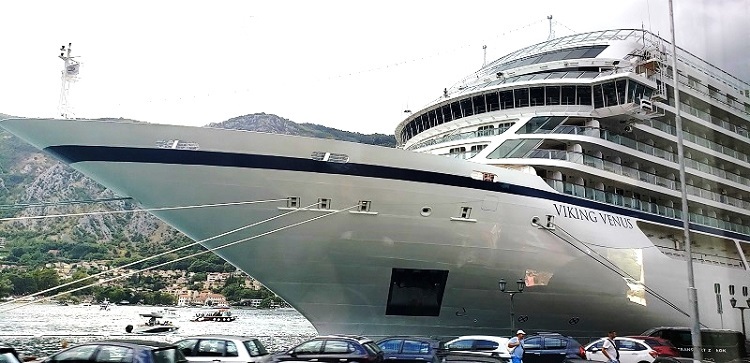 Viking: Adult Only Ambience
With Viking's "for adults only" concept, travelers will definitely find quiet, abundant spaces for relaxing with a good book or watching the ocean waves. Personally, I love the outside Aquavit Terrace. as well as the Living Room, the ship's comfortable atrium/main gathering space.
A plus is that the ocean ships' thermal suite, which is complimentary for all guests to use, has a nifty "snow room" with snowflakes wafting from the ceiling.
"Viking is adults only by nature," emphasizes travel writer Chris Owen of Orlando, FL, who has sailed on the upscale line repeatedly. "It's a highly intelligent experience that leads us through history that adults have lived through but not seen in person."
Owen also says that culinary-focused adults appreciate Viking's menu and wine list, both reflecting the specific part of the world they are traveling within. From his perspective, "it's a flawless brand that is delivered with a high rate of consistency and quality."
Or, putting it another way, Owen says: "In other words, most kids wouldn't be interested."
Adult Only Cruises: Expanding Horizons 
Having started sailing on Russia's Volga River in the late 1990s, this year Viking is celebrating its 25th year. The new ships just keep on coming too. It's amazing to consider that Viking has added 26 new ships — ocean, river and expedition — since 2019.
In 2022, Viking took delivery of two 930-passenger ships, Viking Neptune and Viking Mars. It's also begun cruising to the Great Lakes and Antarctica, among other spots, with two new purpose-built expedition ships, Viking Octantis and Viking Polaris; they're Polar Class 6 and guests can expect plenty of Zodiac excursions, hiking and other adventures.
On global rivers this year, Viking has welcomed eight new Viking Longships in Europe. Plus, new purpose-built river vessels have launched on the Nile, Mekong and Mississippi rivers. Did you know that  Viking operates more than 80 river vessels around the world? It's amazing but true.
If you're seeking adults-only and also a highly inclusive experience, this is a line to check out. Included in the cruise fare are dining, wine and beer at lunch and dinner, a shore excursion in every port and complimentary use of that thermal spa mentioned above.
Viking's Diverse Global Itineraries
The sky's the limit in terms of itineraries for Viking's ships. They ply global rivers in Europe, Asia, Africa and North America. Plus, the line's ocean and expedition ships sail across major oceans, sail to Antarctica and the Arctic, and visit all seven continents.
Giving just one example, on July 12, 2023, the oceangoing Viking Sea will depart on a 10-day "Empires of the Mediterranean" sailing from Venice, Italy, to  Athens, Greece. It explores both the Adriatic and Aegean seas.
Along the route, guests will go ashore at Koper, Slovenia; Zadar and Dubrovnik, Croatia; Kotor, Montenegro; Corfu, Katakolon and Santorini, Greece. At presstime, fares for a Veranda Stateroom started at $4,599 per person, double occupancy.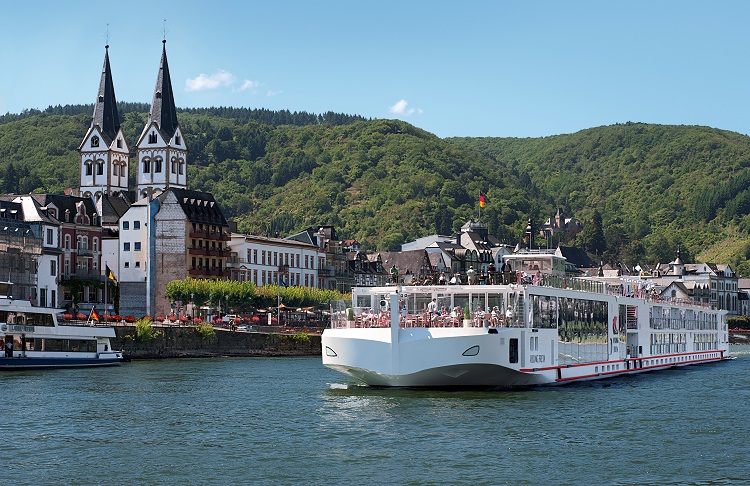 More interested in an adult only cruise on global rivers? On August 6, 2023, Viking offers an eight-day "Romantic Danube" sailing from Budapest, Hungary, to Regensburg, Germany, onboard the 190-passenger Viking Jarl. Guests will visit Budapest's Castle District and cross the famous Chain Bridge.
They can also explore Göttweig Abbey, a revered Austrian monastic center; make dumplings with Wachau Valley apricots; or visit historic Salzburg, Austria.
Cruisers will also spend two days in Vienna, Austria. During that time, they can attend a concert of Mozart and Strauss music. At presstime, fares for "Romantic Danube" started at $2,799 per person, double occupancy.
For all Viking itinerary, accommodations and fare options, contact a professional travel advisor, who can also discuss any discounts and deals.
Adult Only Sailings: Virgin Voyages 
From the beginning, owner Sir Richard Branson sought to create a different type of sailing experience. And so he did. Today, another adults only cruise line is Virgin Voyages. Sailors (Hint: They're not called cruisers, per the line) can sail this winter from PortMiami.
The line's first ship, the 2,770-passenger Scarlet Lady, is sailing from the line's new terminal at that South Florida port. Sister Valiant Lady is now sailing too. And in 2023, the line will take delivery of two more sister ships, Resilient Lady and Brilliant Lady. 
A larger fleet should help this line — which started amid the pandemic — to spread its reach across the globe. That can create more "kidless voyages" for those who prefer to travel without the youngest family members. The line's upcoming itineraries span destinations in the Caribbean and Europe.
All ships feature 1,330 cabins, most with balconies. We'd recommend the RockStar Quarters suites, a step up on the luxury scale. Guests staying in any of these 78 suites can access to Richard's Rooftop, an exclusive outdoor deck space.
Adult Only Cruises: Yacht Style and Romance
The Virgin ships have a radically different vibe than other cruise line products. John Diorio, vice president of sales, North America, Virgin Voyages, describes the experience as "boutique glamour."
While they're large, Virgin's vessels also have a modern luxury feel. Think superyacht style combined with a romantic flair. The ships are designed for couples traveling on their own, solo travelers, or those traveling with adult friends and family members.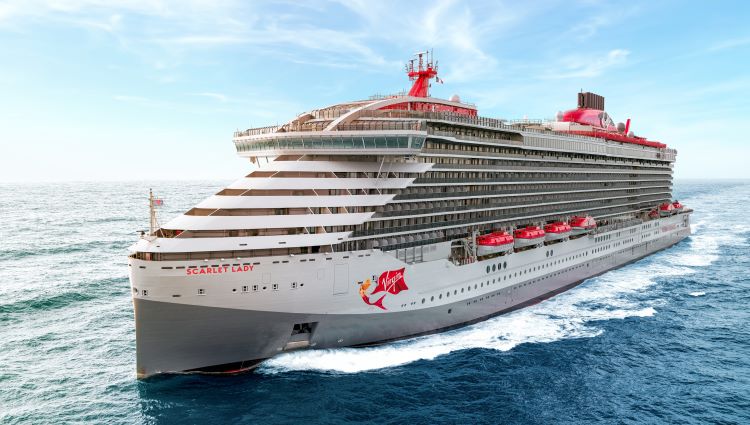 Although the ships offer adult only cruises, this definitely isn't a ship experience that's designed only for mature travelers. Instead, the line actually attracts mostly people who are 34 to 62 years of age. Some are older, some younger too. But most "sailors" travel as couples.
The most interesting factoid? Diorio says that 62 percent of guests have children under the age of 18 at home. Couples are simply heading to sea for an adult only cruise. They're seeking a couple's getaway and happy to leave their kids at home with relatives or friends.
Relaxed, Adult Only Luxury
Decor-wise, the vibe on Virgin Voyages is best described as hip and trendy. As noted, cruisers are instead called "sailors," and crew are instead "hosts." "This is relaxed luxury, says Diorio, "not a lot of stuffy formality."
Guests who sail will discover 20-plus eateries including restaurants by Michelin-starred chefs. We like that all dining is included. One extra item we love, though, is that you can order a bottle of Champagne for yourself or friends anywhere on the ship; just use the Virgin Voyages Sailor App's secret "Shake for Champagne" feature.
Guests will also discover onboard fitness and wellness spaces including the Redemption Spa; it offers such spaces as a mud room and salt therapy chamber.
Highly inclusive, the cruise fares cover meals at all the dining venues; basic beverages such as water, tea and coffee; gratuities for the crew; Wi-Fi for two devices; and unlimited fitness classes.
Guests can buy a "Bar Tab" for $300 which can be used aboard or at the line's Beach Club at Bimini, in the Bahamas. If the Bar Tab is prepaid, the cruise line will provide an additional $100 in value as a perk.
While on board, be sure to indulge in a swanky dinner at The Wake and a show at The Red Room, the first multiform theater at sea. Oh, and also be sure to hang out in the hammock on your balcony, a great way to kick back and relax to the nines.
Eastern Caribbean Antilles
As an example of one voyage close to the U.S., on April 8, 2023, Valiant Lady will set sail on an eight-night "Eastern Caribbean Antilles" voyage from Miami. The ship will call at Puerto Plata, Dominican Republic; offer a late-night stay in San Juan, and a visit to St. Croix.
After three days of indulging in the very good life aboard, guests will head ashore to the Beach Club at Bimini, the line's version of a Bahamian private island experience. They'll enjoy a private beach club day ashore as well as a bonfire soirée. At press time, fares for the voyage start at $2,387 per person, double occupancy for a Social Insider cabin.
If you'd like to consider a voyage on Virgin Voyages, why not ask a professional travel advisor more about the onboard experiences, the vibe and the specific accommodations options.
Adult Only Cruises: More Options 
When it comes to best cruises for adults, certainly Viking and Virgin Voyages are good options. They're the most recognizable cruise lines catering to the North American market with an all-adult approach. Another adult only cruise line, Saga, is based in the U.K., as is P&O Cruises, which has two adult only ships.
Interestingly, many cruise lines that aren't adult only also DO HAVE great "just for adults" areas within their ships – allowing people to go and have different experiences. So, while the ships are kid-friendly and offer activities for families, they also have dining, shows, pools and even private island experiences classified as "adults only."
Those also may rank high as best cruise lines for adults and we'll get into that more in the next blog. In addition, luxury "ship within a ship" suite complexes (while not necessary adults only) tend to attract mostly adults seeking a quieter, more relaxed and exclusive onboard experience. We'll cover those in Part 2 of this Adult Only cruises blog in the next few weeks.
But as the year begins to count down to its final month, talk with your travel advisor if interested in adult only cruises on Viking or Virgin Voyages in 2023. Happy Thanksgiving 2022 and let's look ahead to a fabulous vacation in the new year!