From a new tour in Greece to major Belmond resort updates and several upscale cruise developments, here's The Meandering Traveler's look at the "Best Travel News, Tidbits and Developments for November 2022."
1. Travel News: Perillo Tours Will Debut a New 11-Day Greece Program
If you're looking for an escorted tour in Greece, here's a snazzy new option. Veteran tour operator, Perillo Tours, a recognized leader in escorted travel to Italy for more than 75 years, will expand its 2023 travel portfolio with a new 11-day tour program to Greece.
"We've been looking for a new Mediterranean destination to offer our thousands of loyal, Italy tour alumni guests," says Steve Perillo, the third-generation owner of Perillo Tours. "Greece has so much to experience from the history to the food, to the beaches, making it the perfect complement to our Italy product. Plus, with a favorable exchange rate, now is the ideal time for travelers to book."
Here's the scoop. Perillo Tours' new 11-day Deluxe Greece 2023 itinerary features three nights in Athens, three nights in Mykonos and three nights in Santorini. Guests are welcomed to Athens with a sunset rooftop dinner with views of the Acropolis (see photo by Perillo Tours above).
This is an experience that "never gets old." Personally, I returned to Athens a year ago prior to a cruise. After dark, I loved gazing at the Acropolis' illuminated hilltop columns. Despite the passage of many millenia, the ancient site is an integral part of the "city's persona."
New Greece Tour Highlights
Highlights of the new tour include walking tours, a sunset catamaran cruise, and strolls through ancient ruins, a market, winery, medieval village and more. Perillo also says the itinerary will offer plenty of free time for self-exploration, cultural immersion, and beach play or relaxation.
Departures operate from April 2023 through October 2023. Pricing starts at $3,995 per person,  double occupancy.
We'd also opt for the three-night Crete extension. It includes three nights' hotel accommodations, daily sightseeing with a private guide, daily breakfast and transfers. That extension starts at $995 per person, double occupancy.  
At the core of its operation, Perillo Tours operates nine core Italy itineraries. In addition, a 13-day guided program in Spain and three Hawaii itineraries are also available next year. All Perillo itineraries include hotels, sightseeing with expert guides, transfers, baggage handling, daily breakfast, select scheduled meals, tips, taxes, free time for self-discovery, and complimentary Wi-Fi on all Perillo coach buses.
For more information, visit the Perillo Tours website. For expert advice, information and booking of a Perillo Greece tour, contact a professional travel advisor, an invaluable expert who can provide details on any special promotions, discounts and contract air prices, often lower than what the consumer would pay themselves. Also, your advisors can be an invaluable asset to have on your side while you're traveling across the globe.
2. Travel News: Silver Endeavour Christened, Sets Sail in Antarctica
Ready to gaze at colonies of penguins and watch polar bears transit across icy terrain? We are too! That's why The Meandering Traveler's top travel news development of the month is the fast-paced growth of expedition cruising.
For example, in November 2022, Silversea Cruises, Viking, Atlas Ocean Voyages, Aurora Expeditions, Seabourn, Quark Expeditions, Swan Hellenic Cruises and other lines either christened expedition ships or began Antarctica service. Let's talk about Silversea's new Silver Endeavour, for example.
Just one year ago, I ambled through the gorgeous new Crystal Endeavor at PortMiami. What was noticeable was how well this spacious, new expedition ship straddled the line between adventure and ultra-luxury. While the Crystal Cruises ship was laid up during parent Genting Hong Kong's financial woes earlier this year, thankfully, the 200-passenger ship was acquired by Royal Caribbean Group for its ultra-luxury brand, Silversea Cruises. From my perspective, it's the perfect match-up.
In November 2022, Silver Endeavour was christened in Antarctica and is now sailing there. Some onboard design and amenity/space changes have been made with others yet to come.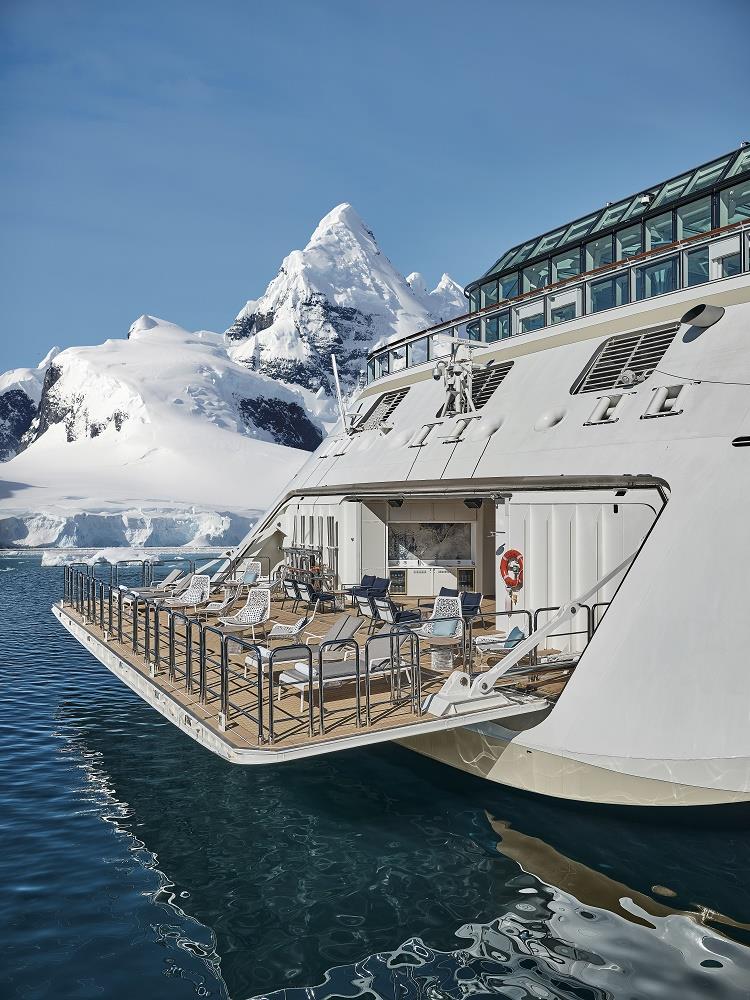 Travel News: New 2024-2025 Itineraries for Silver Endeavour
So, what's new? During November, Silversea unveiled its itinerary line-up for voyages between April 2024 through February 2025. Look for six- to 21-day voyages to more than 125 of the world's most remote, extreme destinations in Antarctica, the Arctic (including Greenland and the Canadian High Arctic), the United Kingdom and Iceland.
We can't wait to zip around icy, glacial scenery looking for wildlife via Zodiacs and kayaks. But even while guests are aboard Silver Endeavour, they'll have superb views of the remote landscapes and possible wildlife sightings. A shipboard gimbal camera system will capture high-quality images from up to three miles away.
Itinerary highlights? Nine Arctic region voyages will begin in June 2024 from Reykjavik, Iceland. Or, check out these stand-out experiences: Arctic voyages that call at Hudson Bay and Baffin Island; a Northwest Passage voyage that's just 10 days, perfect for those who don't have two or three weeks; and a journey to Greenland's spectacular Disko Bay and exploration of the UNESCO-listed Ilulissat Icefjord and Northeast Greenland National Park.
More Adventure Options
If a long voyage is desired, we'd opt for the 67-day grand voyage — combining several expedition cruises between July 15, 2024, and September 19, 2024. It will operate between Churchill, Manitoba, Canada and Reykjavik, and explore Greenland and the Canadian High Arctic.
In addition, Silver Endeavour will return to Antarctica beginning October 29, 2024, undertaking 14 voyages. If you wish to avoid the Drake Passage and have limited time, definitely consider Silversea's "Antarctica Bridge" voyages that include an air flight directly to Antarctica. That avoids that sometimes-rocky Drake Passage transit from southern South America.
3. Travel News: Belmond Announces Major Enhancements at Multiple Properties for 2023
When it comes to luxury, Belmond has been a luxury travel pioneer for 46 years since it acquired the iconic Hotel Cipriani in Venice.  Today, it operates 46 luxurious hotels and resorts including Splendido in Portofino, Italy, the Cap Juluca beach resort in Anguilla and Hotel das Cataratas inside Brazil's Iguazu National Park. 
Part of LVMH, Belmond also operates luxurious river barges and the Venice Simplon-Orient-Express train. In November 2022, Belmond announced significant updates.  We've selected these top developments.
Updates from Belmond
100 Years of Copacabana: In 2023, Copacabana Palace, A Belmond Hotel in Rio de Janeiro, Brazil, will celebrate its centenary year in 2023. We'd love to see the traditional 'White & Gold' New Year's Eve party, or the lavish, star-studded Copa Ball during Rio Carnival in February 2023. The luxury hospitality brand also plans a year of events and cultural programming focused on arts, music and gastronomy.
The Reopening of Marona: In May 2023, Mexico will welcome the return of Maroma, A Belmond Hotel in Mexico's Riviera Maya. Nestled between lush jungle scenery and white-sand Caribbean beaches, Marona will offer 10 new waterfront suites. It will also debut a nature-focused wellness experience in partnership with Guerlain, new sustainability initiatives and a new Mexico-inspired gastronomic approach.

New Belmond Barge to Launch:  Taking to French canals in 2023, the new Coquelicot, a Belmond luxury barge in Champagne, France, will set sail with guests. They'll find three glamorous cabins with ensuite facilities. Public spaces will include an indoor salon with a champagne bar and an extensive outdoor deck.
What's nifty? An exclusive partnership with Maison Ruinart will include private champagne pairing lunches by the property's Chef-In-Residence Valérie Radou and Coquelicot's head chef. For the very first time, Maison Ruinart's Chef will be cooking a private "four hands" lunch outside of Maison Ruinart. Guests will also have guided tours of the historic Taissy vineyard.
At press time, rates for the new luxury barge started at $89,699 for a weekly sojourn for up to six people.
More Travel News from Belmond
Multi-Phase Update to Splendido, Portofino: The iconic Splendido, A Belmond Hotel, Portofino will begin a multi-phase renovation, taking place over several years. Expected is a meticulous restoration of the former 16th-century Benedictine monastery — honoring the historic nature of the building while injecting contemporary relevance.
Over the course of the next few summer reopenings, the hotel will unveil new spaces, with the first phase completed and revealed in June 2023.
New Suites Category for Venice Simplon-Orient-Express: Beginning in June 2023, the opulent Venice Simplon-Orient-Express, A Belmond Train, in Europe, will unveil a new 'Suites' cabin category. Design will reflect a luxurious vision that combines Art-Deco indulgence with the legend of the rails. Eight new Suites will join the two pre-existing cabin categories.
The new suites will offer a private marble ensuite bathroom and a lounging area by day, converted to either double or twin beds, by night. At press time, suite prices started at $6,755.  We like one perk in particular — pampering onboard service by a cabin steward.
For more information, visit the Belmond website, and for travel bookings, contact your travel advisor.
4. Travel News: Princess Cruises Unveils "360: An Extraordinary Experience" on Discovery Princess, Soon on Enchanted Princess
In our fun, "quirky" pick for November, we've selected Princess Cruises' announcement of a new, invitation-only "360: An Extraordinary Experience," which will "transport" suite guests nightly to the Mediterranean, no matter where they're sailing.
This fully immersive experience is a fun way for guests to engage their senses with the tastes, sounds, sight, touches and fragrances of the Mediterranean region. It's now on Discovery Princess and coming to Enchanted Princess in late January.
With the "360: An Extraordinary Experience," guests booked in suite accommodations are invited to embark on a six senses journey showcasing the hilltops of Santorini, Greece; Italy's Amalfi Coast; Barcelona, Spain; and the Provence region of France.  
In one of two seatings nightly, up to 20 suite guests are immersed in the region via synchronized authentic storytelling, imagery, music, scents, cuisine and film.  The "cloaked" venue is surrounded by LED walls in a circular format that places guests into featured destinations using stunning 4D cinematography.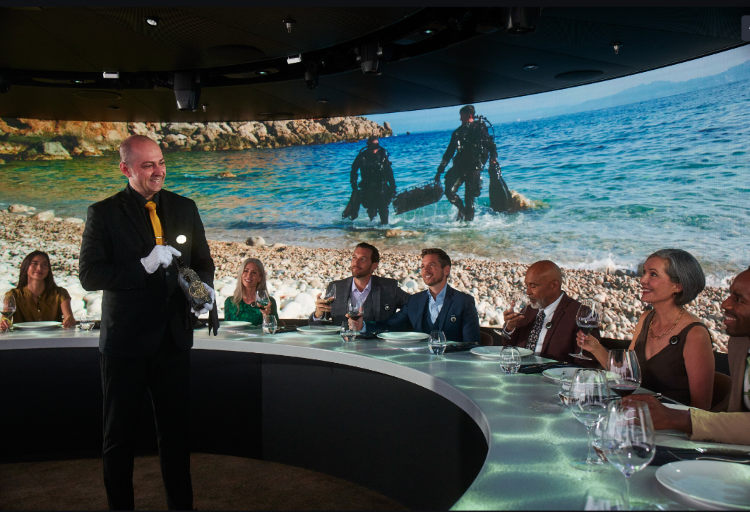 Voiced by Brooke Shields
Bethany, who is "voiced" by actress Brooke Shields, draws guests into the memories of a fellow traveler,  Bethany relives her adventures and local connections made in each destination as her travel journal comes to life. 
Suite guests enjoying this experience are introduced to the Mediterranean's local ingredients, artisans, passionate purveyors and culinary methods. Plus, they enjoy a seven-course gourmet experience including wines. 
Explaining the concept, "360 is a fusion of master storytelling, world-class cuisine, visual entertainment and ground-breaking technology that manifests in what can only be described as an 'extraordinary experience,'"  says John Padgett, Princess' president. He describes it as a "remarkable adventure that immerses our guests into the compelling cultures and flavors of the Mediterranean in a 90-minute celebration of the senses."
Venue personalization is enabled by the OCEAN platform that powers the exclusive MedallionClass on all Princess ships. In addition, each receives a unique, limited-edition "360" Princess Medallion. That's only available to guests who've participated in this experience.
What's the Availability?
Who can participate?
Suite guests sailing on Enchanted Princess or soon, Discovery Princess; 
Guests on either of those two ships who book a future cruise with suite accommodations on any Princess ship including Princess Premier at non-cancellable rates; and
Guests participating in specific "VIP" casino gaming and retail event sailings who may receive an invitation.
Here's a link to the Princess Cruises website. For more information on this program or bookings, contact your professional travel advisor. Ask about suites, other accommodations, onboard activities, dining, entertainment, accessibility needs, itineraries and pricing, based on your specific interests.
5. Travel News: Slip, Sliding Away! SeaDream Yacht Club Adds New Water Slides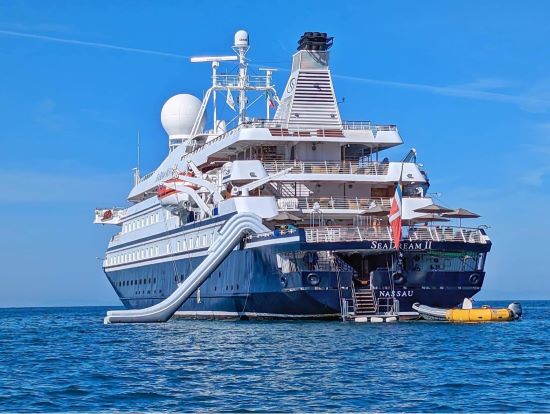 Waterplay, anyone? Well, if you're a luxury traveler planning to sail on SeaDream Yacht Club's SeaDream I or SeaDream II this winter or beyond, you'll have a new fun option aft on both ships. The yacht line has installed a new inflatable, SeaDream branded slide on both boutique mega-yachts.
Personally, I'm ready to go — the vessels have wonderful service and a yacht-like ambience.  Now they have a new amenity.  
"SeaDream is always looking for opportunities to enhance our guest experience," says Andreas Brynestad of SeaDream Yacht Club. "Slides have become popular aboard yachts and we know that our guests will enjoy this new amenity on their SeaDream yachting vacation. This can be a more fun way for guests to enjoy the beautiful waters of the exclusive harbors and secluded ports we visit, as well as reach our retractable marina to enjoy the water-sports activities we offer."
Wondering where the slide is deployed? Check out the photo of the new slide on SeaDream II (shown in the photo above). Essentially, it extends from the pool deck about 19 feet down to the water.
Guests will slide down a 23.5-foot-long, 4.4 foot-wide slide to the water. For more information about SeaDream Yacht Club, please visit www.SeaDream.com. Then contact your travel advisor to discuss your vacation desires, level of accommodations desired, pricing, travel dates and options available for personalization.
More from November 2022: Upcoming Coverage
Many other notable announcements or travel developments occurred in November 2022 — among them the christenings of multiple other ships. That includes Seabourn Venture, which we covered a few weeks ago. But we'll also be showcasing that ship during an upcoming story about dining.
In addition, Olympic gold medalist Simone Biles christened the newest Celebrity Cruises' Edge-class ship, Celebrity Beyond. Rest assured, we'll be doing a full-blown blog on that new ship and our experiences during a cruise in November. So, stay tuned.
Enjoy December and the holiday season. And, don't forget to contact your travel advisor if you'd like to give "the gift of travel" to friends or family members this holiday season.