Cruise travelers will sail within Alaska's waters on 60 ships, large and small, during the 2023 cruise season. Did you know that 700 voyages are planned between April and September? So, you'll have a big choice of voyage options.
Some sail roundtrip from Vancouver, B.C. or Seattle, WA, others one-way between Seward, AK,  and Vancouver, BC. In addition, expedition vessels call at remote destinations within Alaska as part of a one-of-a-kind journey, such as a Northwest Passage sailing.
Right now, consumers can tap into great Wave Season deals for an Alaska cruise or cruisetour vacation this summer.
But cruising isn't the only way to go. People are also taking escorted land tours. And, they're taking flights into Alaska for an independent land vacation with stays at urban hotels, rural resorts or wilderness lodges.
Sea or Land
"Whether exploring by sea or land, people desire to view Mother Nature's incredible scenery, learn more about indigenous Alaskan culture, 'dive deep' into Gold Rush history and savor the local cuisine and beverages," says Shelby Steudle, president of Pavlus Travel, Albuquerque, NM.  "And, of course, there's the wildlife.  Steudle says that "looking for whales, seals, birds, moose and, of course, bears in the wild is great fun."
So, what's new in Alaska this summer? What's different? What new activities, programs and options await travelers? The Meandering Traveler is pleased to present a peek at some new options, thanks to updates from Travel Alaska, the state's official tourism organization.
New "Alaska Native Culture Guide"
First up, we'd like to start with a new resource for travelers, the "Alaska Native Culture Guide." We'd suggest downloading it prior to taking a an Alaska cruise or land trip.
It will give you a deeper understanding of Alaska's First Peoples and lands in all five regions of Alaska.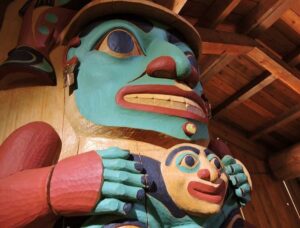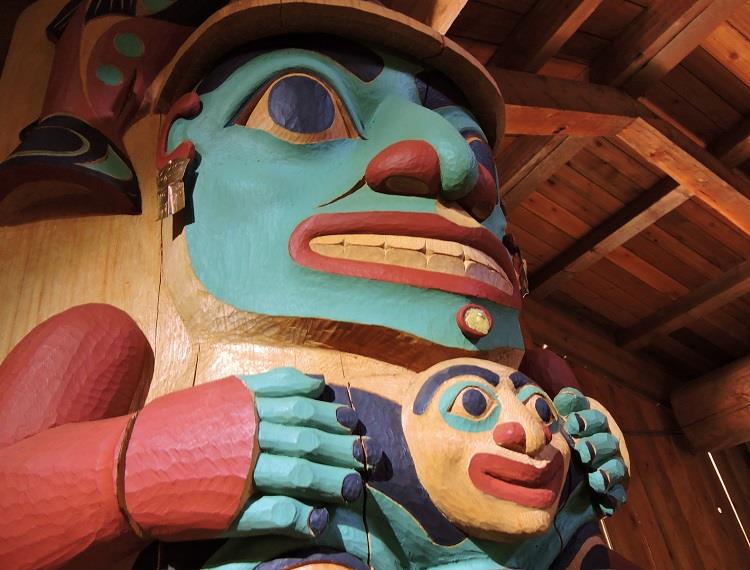 Written by Mary Goddard and Samantha Phillips, both of Tlingit heritage, the guide offers insightful content from the Alaska Native Heritage Center (see photo above), Alaska's statewide cultural center. You'll find the following:
A regional map of the five main Alaska Native cultural group;
Alaska Native events, values, traditions and stories;
Cultural tours, experiences, museums and heritage sites;
Indigenous culinary opportunities;
Ways to support Alaska Native businesses and artisans; and
Traveler's etiquette.
So, follow this link to download the new guide. 
Cruise Port Infrastructure Enhancements
New port infrastructure projects are under way in Seward, Whittier and Juneau. In addition, Klawock, a totally new port destination for cruise calls, will open for cruise tourism this spring. The first port call and three others this Alaska season will be by Oceania Cruises.  
A project of Alaska native businesses Na-Dena` LLC and Klawock Heenya Corporation, Klawock will be developed over several years. Look for the Klawock port destination to occupy a 16-acre site along the Pacific Coast side of Prince of Wales Island.
Supported by logging, fishing and canning, the nearby town of Klawock has fewer than 1,000 residents. The site of Alaska's first cannery, the town has been a native Tlingit village for thousands of years.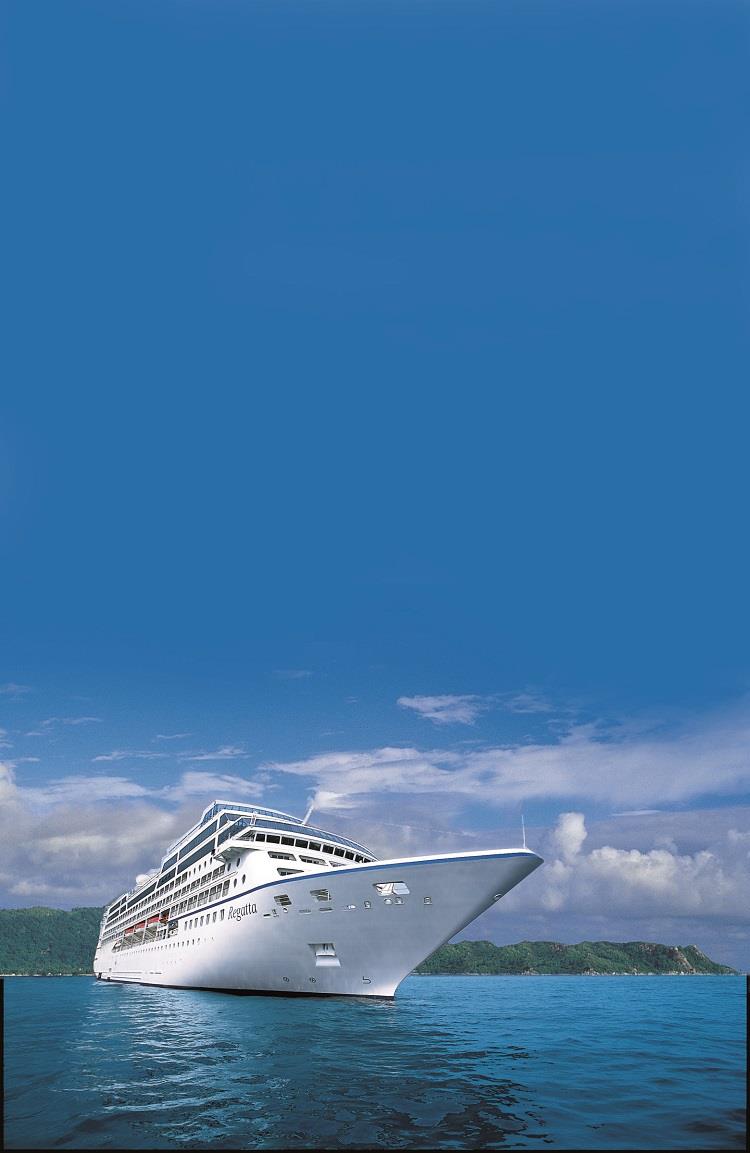 One big perk for those going ashore here? Get ready for incredible artistry. Klawock town has one of the world's most extensive collections of totem poles.
In several years, look for the new Klawock port destination to ultimately resemble something akin to what was created at Icy Strait Point. This Alaska cruise season's activity options will focus on totem carving traditions, fishing and wildlife viewing.
Oceania's 2023 Options
Oceania's 656-passenger Regatta will first call at Klawock during its 12-day "Glitz to Glaciers" voyage from Los Angeles to Vancouver on May 12. At press time, pricing for an inside cabin started at $2,699 per person, double occupancy. The highest category suite with availability, the Penthouse Suite, started at $6,499 per person, double occupancy.
Many other categories in between including oceanview, veranda and concierge veranda accommodations were also still available. It's a great opportunity to see Alaska and visit an up-and-coming new port destination. So, talk with a professional vacation planner about booking options, discounts, Wave Season deals, and solo travel or accessibility needs.
Three other 10- to 11-day voyages on Regatta also will call in 2023 at Klawock. Operating roundtrip from Vancouver, those departures are June 23, July 3 and August 8.
Techie Explorations
The University of Alaska Fairbanks Museum of the North is offering visitors the ability to experience the museum as an outdoor exhibit. How so? Visitors use the museum's new mobile app and GPS.
Experience the architecture and the grounds while seeing historical artifacts, scientific specimens and larger-than-life artwork.
Separately, MyAlaskaGuide is another new app that puts a local, experienced tour guide in a visitor's pocket. Two-hour, GPS-activated "Anchorage Historical Walking Tours" unfold as travelers walk through Anchorage.
It's a great way to learn about fun, historical stories and insight from the early days of living in Alaska. It includes both free and paid content.
Next up for MyAlaskaGuide's mobile app tours will be "The Anchorage Art Tour," "Anchorage Down & Dirty Tour" (painted trash can, murals and dive bars); the "Anchorage to Seward/Seward to Anchorage Driving Tour," plus city tours throughout the state.
Pre-Cruise Stay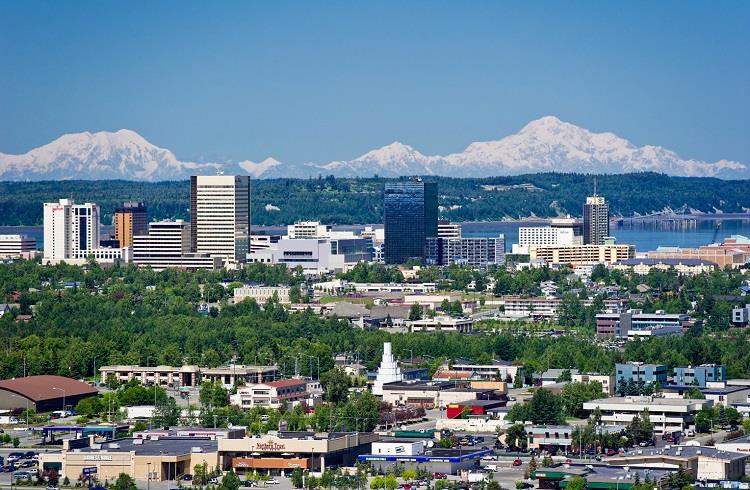 Many cruises depart from Seward, giving travelers good pre-cruise options for visiting Anchorage. For example, Viking's 10-night "Alaska and The Inside Passage" cruise sails from Seward to Vancouver on many dates throughout the summer.
Offered on the 930-passenger Viking Orion, the itinerary also operates in reverse — from Vancouver to Seward  — on many dates. That can allow travelers to book a post-cruise Anchorage area stay.
At press time, cruise fares started at $4,999 per person, double occupancy. Prices cited in this story are all subject to change. Talk with your travel advisor about options, discounts and deals.
Best Eats in Anchorage
Are you a culinary buff? As the only culinary tour company operating in Anchorage, Alaskan Footprints will offer visitors new full-day tours in summer 2023. A local guide will share the history of the city and samples of food and drinks along the way.
In Juneau, Alaska's capital city, we're also excited about a new four-hour "Sip, Savor and Explore Jeep Adventure" tour from Juneau Food Tours." Travelers will view the Juneau area's Mendenhall Glacier, Tahku Whale statue and more. They'll also "lunch" at a local brewery and pair the food with a flight of craft beers or seltzers.
Zip, Zipping Away
Near Palmer, AK, Alaska Zipline Adventure Park  is now open. It's a new activity option for those who enjoy outdoor adventure and fun. Top draw? That's the tandem zip lines that soar 255 feet over the boreal forest.
Riders reach speeds up to 45 mph and cover nearly 4,000 feet over the course of six ziplines. Wheeeeee… here we go.
In the Seward area, Seward Hospitality Group, which owns multiple restaurants and overnight accommodations in that area, has also opened an Alaska Adventure Park. Along with an aerial park and rope course, visitors in 2023 will be able to go mountain biking, rent kayaks, go ATVing and more.
For Hiking and Biking Fans
Revel Treks & Tours is offering day and extended trips for hikers of all abilities, including the "Hike and Brew" trip that includes a stop at a local microbrewery. Also new for travelers, this summer Go Hike Alaska will be offering a heli-hiking experience at the Knik Glacier (see photo below).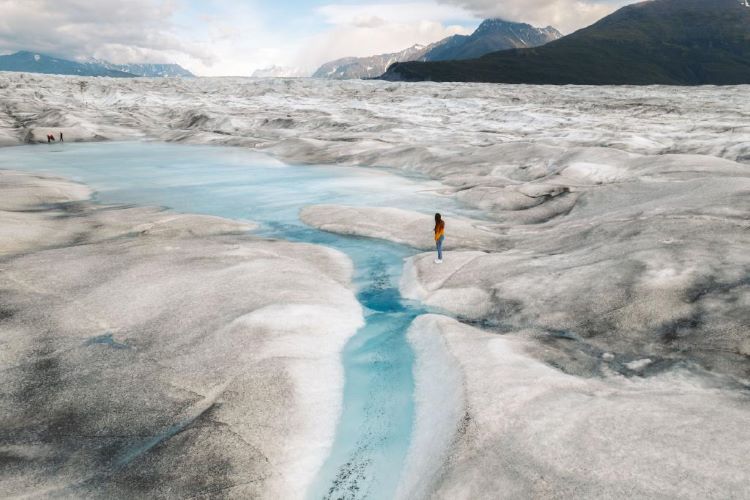 In Skagway, Klondike Electric Bicycle Rentals and Tours will offer a new "Trail & Sail Tour," combining the guided "Skagway City Highlights and Gold Panning Tour" with a sailboat experience and a lunch.
For the first time, the U.S. National Park Service, which created its own Dyea walking tour, will permit private companies to offer tours of the Dyea townsite. Originally the Tlingit people used this area as a summer camp. During the Klondike Gold Rush, though, Dyea swelled to a town of around 10,000 people.
Today, some of Dyea's former streets can be explored via flat, hard-packed trails, suitable for mobility devices, according to Alaska Travel update.
New in Ketchikan
Just south of downtown Ketchikan, the Herring Cove area is home to a salmon hatchery. It's also popular for fishing, and wildlife viewing. To provide safer and more accessible bear viewing, Alaska's Department of Transportation has begun upgrades to the Herring Cove Bridge to install a new structure with pedestrian walkways on both sides.
Alaska Native-owned Cape Fox Lodge is installing a new funicular to help further connect guests to downtown Ketchikan.
Adventure Ketchikan Tours will begin operating marine charter tours of Neets Bay in 2023. Neets Bay is located at Revillagigedo Island approximately 30 air miles from Ketchikan. On these new marine charter tours, travelers can possibly see black bears fishing for salmon in the area's crystal-clear waters.
New in Juneau
Coming in 2023, Juneau Lighthouse Tours will be offering tours across Auke Bay to the 1902-era Sentinel Island Lighthouse. Travelers will view the original lighthouse's exterior and look for whales along the way. The tour also includes views of Mendenhall Glacier (see photo below) and the Lynn Canal.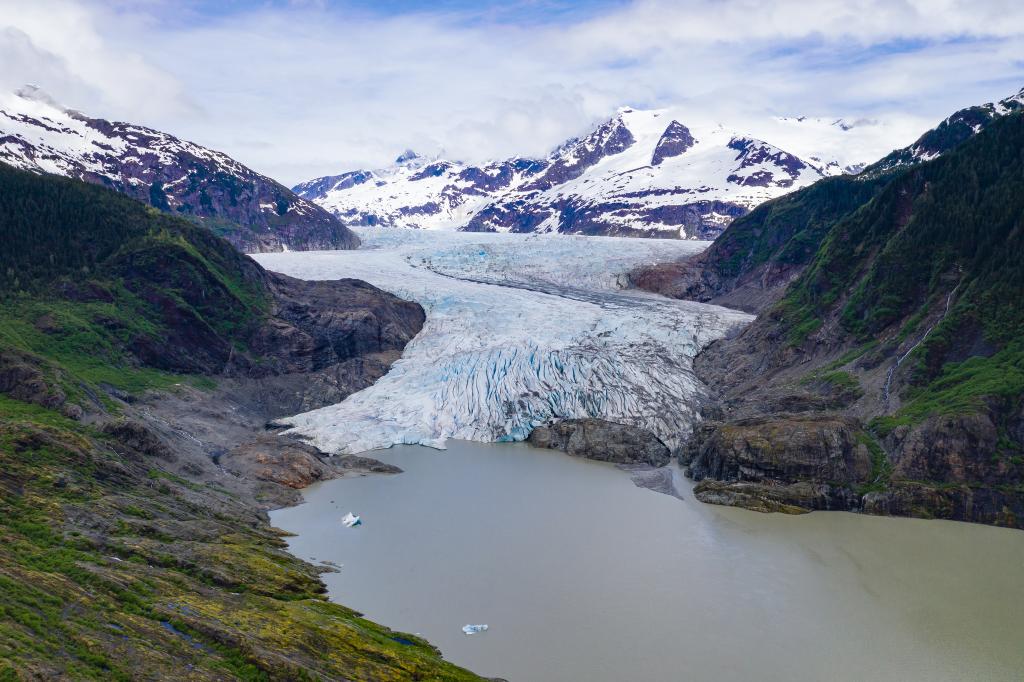 Sealaska Heritage Institute is currently working with nine commissioned Indigenous master carvers to create 10 totem poles. They'll be placed along Juneau's waterfront as part of the Kootéeya Deiyí or Totem Pole Trail.
Once completed, the trail will reflect Tlingit, Haida and Tsimshian spiritual beliefs, continuing to promote the area's Native cultures.
Significant Anniversaries
One of the most popular activities for cruise travelers is taking a ride on Skagway's famed White Pass & Yukon Route Railway. Traveling along a historic route of the Klondike Gold Rush, the train is celebrating 125 years of service in 2023. The railway will commemorate the anniversary with a variety of events and happenings throughout the summer.
Holland America Line, which will sail 121 cruises to "The Great Land" in 2023, is celebrating 150 years of sailing in 2023.  The Meandering Traveler wrote about  some of the 150th anniversary happenings in a recent blog.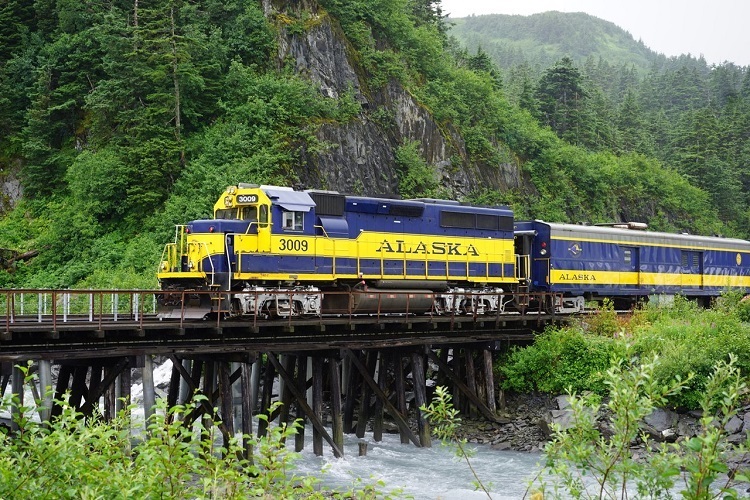 The Alaska Railroad (shown in the photo above) turns 100 this year. Connecting visitors and Alaskans since 1923, it is the last full-service freight and passenger railroad in the U.S. On July 15, 2023, in Nenana, the railroad will commemorate the moment a century ago when President Warren G. Harding drove in the ceremonial golden spike to signal the completion of the 470-mile mainline.
So, how can passengers learn more about the railroad's heritage? They'll experience the centennial through special onboard commentary revisiting 10 decades of the Alaska Railroad's impact in Alaska. In addition, special centennial-themed touches will cover such elements as food or commemorative souvenirs.
Head to Alaska
As mentioned earlier, 700 cruise departures for exploring Alaska are planned for 2023. Many tour operators also take travelers to "The Great Land."
Tauck, for instance, offers both land-based touring and small-ship cruises. Its "Alaska's Inside Passage" offering on Silversea Cruises' 596-passenger Silver Muse is a 10-day journey between Anchorage and Vancouver.  At press time, 2023 pricing started at $7,290 per person, double occupancy; prices are subject to change.
For more information on Alaska travel activities and destinations, visit this Travel Alaska link. To discuss all the top 2023 tours, cruises and resort/wilderness lodge stays in Alaska, consult an experienced personal travel planner.
If you're considering an Alaska cruise, tour or independent land trip in 2023, talking with an advisor is a great way to get the most out of your vacation to America's Last Frontier!
Important Notes from Pavlus Travel
If anything does tweak your interest in the story and you DO have questions about specific pricing, brochures, savings, accommodations, accessible options and so on, please contact us at 800-528-9300. Or visit us online at Pavlus Travel's official agency Web site; there you can "live chat" with us online too!
This blog site is designed for "basic, general information" about travel. It's not staffed by travel advisors.
Any price examples used in the above blog are subject to change. They also do not represent the full range of options; a travel advisor can assist with additional information.
Please don't use the Reply Section below if you are asking for pricing, travel dates, accommodations, brochures or other specific requests. Please use the 800 number or online link. 
Thanks for reading!