Starting in late April and May, cruise travelers will begin arriving in Vancouver, B.C. as the 2023 Alaska cruise season gets under way. Last year, the Port of Vancouver welcomed a record 307 cruise ships, with more expected this year. So, what's ahead for Vancouver fun? 
For travelers planning a pre- or post-cruise stay or those visiting during a tour or land vacation, here's a sampling of what's new or enticing to see, do, taste and experience. This is Part Two of a two-part blog. Part One focused on Seattle, WA, was published a few days ago.
Michelin "Foodie" Delights 
The inaugural Michelin Guide Vancouver is out! Eight restaurants have earned the coveted one Michelin star, 12 received Bib Gourmands, and the number of Michelin-recommended eateries totals 60.
"Travelers who are 'foodies' will simply love Vancouver's cornucopia of culinary delights," says Shelby Steudle, president, Pavlus Travel. "It's just another reason that many of our customers stay in the city for a few days pre- or post-cruise or after a tour or rail trip. They can't wait to sip, savor, taste and enjoy the city's food scene."
Here's a sampling of three Vancouver eateries that earned a one-Michelin-star rating.
A Polished Experience   
You'll find "dining to impress" at Chef Mike Robbins' Anna Lena restaurant, 1809 West 1st Ave. It's just steps from Kitsilano Beach.
From top to bottom, this eatery is a polished experience. Diners enjoy graceful service and impeccably prepared dishes.
Anna Lena's delightful tasting menu focuses on seasonal local ingredients from local farms and suppliers. Here's a look at the tasting menu for March 22-April 30, 2023.
Savory Quebecois Bistro
A big hit with the locals ever since its opening is St. Lawrence, a charming Quebecois bistro at 269 Powell St.
Chef Jean-Christophe Poirier's kitchen serves up rustic and hearty French-Canadian cooking (see photo at right; photo by St. Lawrence).
In addition, St. Lawrence has a charming look and feel with textured walls, a mosaic-tiled floor, antiques and open kitchen.
Crispy, Juicy Beijing Duck
Another one-Michelin-star restaurant — and the only such Chinese eatery tapped for that honor in Canada — is iDen & QuanJuDe Beijing Duck House, 2808 Cambie St.
With a pedigree that traces back to Beijing in 1864, this Vancouver outpost proves that QuanJuDe hasn't lost any luster.
Here's a look at its menu, with prices listed in Canadian dollars. The signature dish is its crispy and juicy QuanJuDe Beijing Duck.
Again, here's the link to Michelin's reviews and accompanying photos for all eight of the one-Michelin-star restaurants.
New Vancouver Hotel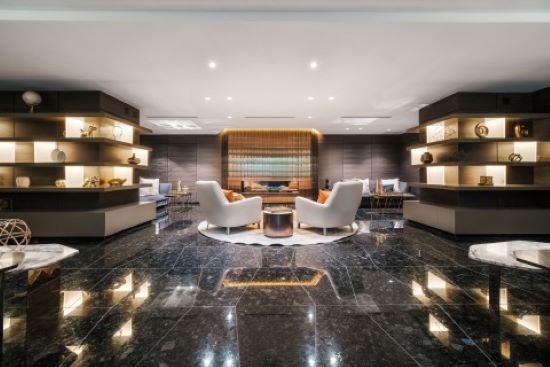 In mid-2022, Paradox Hotel Vancouver, a boutique lifestyle hotel designed by Amadeus, opened at 1161 Georgia St. With 147 rooms and suites, the hotel is framed by an eye-catching, twisting tower. As a result, no two rooms are the same.
Room and suites are outfitted with such sophisticated touches as European oak hardwood floors. Oversized beds sport leather and chrome headboards. In addition, the hotel's bathrooms reflect lovely design with Nublado Italian marble.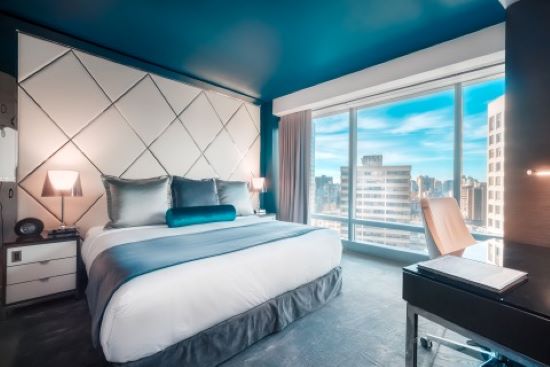 The hotel's signature restaurant is Mott 33, a top Chinese restaurant, while Karma Lounge is the go-to gathering spot for Vancouver's stylish night owls. Mansion Club is an 8,000-square-foot playground; it boasts soaring ceilings, cool lighting and a pulsating sound system.
The hotel also features a 6,000-square-foot spa, indoor swimming pool and relaxing outdoor whirlpool. Fitness enthusiasts can head for the hotel's state-of-the-art fitness center outfitted with Technogym ARTIS equipment.
At press time, rates at the new Paradox Hotel Vancouver started at $265.05; pricing is subject to change. Talk with your professional travel advisor for assistance in booking a pre- or post-cruise hotel stay and/or an Alaska cruise from Vancouver, perhaps an ultra-luxury voyage with Regent Seven Seas Cruises.
New Culinary Spots
Among the many new restaurants in Vancouver is Archer, 1152 Alberni St., which offers the tastes and flavors of modern Canadian cuisine. Suyo Modern Peruvian, 3475 Main St., combines the flavors of four continents, while Bar Susu, 209 E 6th Ave., is a sister to the popular Published on Main.
NOX, 1575 W. Georgia St., brings the legacy of Italian cuisine to life in new ways. Zarak by Afghan Kitchen, 2102 Main St., is an elevated Afghan dining destination with an innovative bar program.
The 18-seat Elephant Restaurant, 1879 Powell St., offers a five-course omakase-style experience; reservations are "a must." The menu changes daily to reflect seasonality. How about chicories with preserved crab roe, cumin and fermented chili? That's just one of this eatery's many tastes.
Monarca Cocina Mexicana, 181 Carrall St., was conceived by Chef Francisco Higareda in honor of his father who lived near the Monarch Butterfly Biosphere Reserve in Mexico's Michoacan region. Inspired by memories from his childhood, this eatery offers playful, modern-meets-Mexican dishes.
Vancouver Fun: Unique Experiences
Opened in late 2021, the Chinatown Storytelling Centre explores the story of Canada through the lens of Vancouver's Chinatown. Stroll into the exhibition hall to learn about the rich history of early Chinese immigration to Canada, and the contributions of Chinese Canadians. You'll find artifacts, photos and recordings dating from the 1880s.
Are you a die-hard movie buff? Then we'd suggest experiencing "Hollywood North" with Vancouver Film and TV Tours. Witness the glitz and glam of the world's third largest film production city. 
Among the Vancouver fun is a chance to meet local actors, hear their stories and explore common film locations used for major Hollywood movies and TV shows. It's a great way to learn the "ins" and "outs" of the local film industry.
Gastown Foodie Tour
Foodies shouldn't miss Taste Vancouver's Gastown Food Tour. During a 2.5-hour walking food tour, you'll stroll through the cobblestoned streets of Vancouver's oldest neighborhood.
Storytelling guides will impart tales about Vancouver and its "Wild West" history dating back 150 years.
Best of all, you'll taste local craft beer, Japanese Karage chicken, freshly made Sicilian Tortellini with local wine, vegan sweet and chili cauliflower, traditional Canadian poutine, organic soft ice cream, decadent waffles and award-winning cheesecake.
The food-focused tour has eight stops, seven food tastings and three alcoholic tastings (nonalcoholic drinks are also available). Offered daily, this tour is priced at $119 per person plus taxes/fees. To buy a Gastown Food Tour ticket for a specific time slot, visit this online site. 
Historic Streetcar 153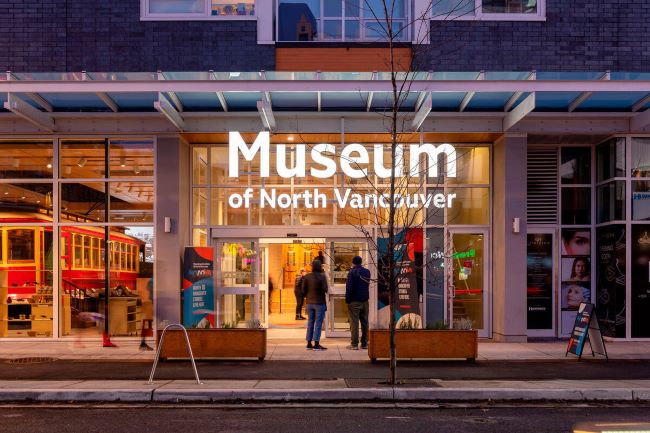 Opened in 2021, the Museum of North Vancouver (MONOVA), 3203 Institute Road, North Vancouver, is located on the traditional lands of the Sḵwx̱wú7mesh (Squamish), and Səl̓ílwətaɬ (Tsleil-Waututh) First Nations.
Exhibits encompass more than 9,000 artefacts — and tell the story of North Vancouver's neighborhoods, culture and people.
One museum highlight? Be sure to check out Streetcar 153, the last British Columbia electric railway streetcar of its kind. It's all that remains of a three-line streetcar network that operated in North Vancouver between 1906 and 1947.
Vancouver Fun: Festivals and Events
If you happen to visit on select 2023 dates, you'll find appealing special events and festivals for Vancouver fun. We've picked out just a few of our favorites. Be sure to check websites for tickets and prices. Reservations may be required for theater and some other events.
Early in the cruise season, the Vancouver Comic Arts Festival unfolds on May 20-21. If traveling to/from Alaska with children, one fun activity is the Vancouver International Childrens Festival, which runs May 30 to June 4.
Colorful and fun to watch is the Dragon Boat Festival on June 23-25, while the Vancouver International Jazz Festival runs June 23 to July 2.
Oh Canada!
On July 1, the country celebrates Canada Day, commemorating the Constitution Act's anniversary. In 1867, that consolidated three territories into the single nation of Canada. One family-friendly spot to help the locals celebrate is at the waterfront Canada Place, one of Vancouver's prime cruise embarkation points.
The city's Celebration of Light is July 22, 26 and 29 with spectacular fireworks.
From July 28 to 30, travelers  might sip and savor at the Vancouver Craft Beer and Wine Festival. Festival goers will discover more than 100 craft beers and 100 craft wines, plus local craft cocktails and four distilleries. Visitors can also enjoy the live music and plenty of shade in Esther Short Park.
Murals, Film and Shakespeare
On August 3-13, travelers can peruse artistic murals and street art at the Vancouver Mural Festival. In addition, B.C.'s biggest theater festival, the Vancouver Fringe Festival, runs September 7-17.
And ending the cruise season is the Vancouver International Film Festival from September 28 to October 8.
Not visiting on any of the above dates? Then check out Bard on the Beach, a summer-long Shakespeare festival — now in its third decade — running from June 8 to September 30.
Vancouver Fun, Thanks to PorterGenie
For cruise ship passengers in Vancouver, PorterGenie offers a valuable curbside luggage pick-up/delivery and storage service. PorterGenie can pick-up your luggage from anywhere in Metro Vancouver, store as long as you need, and deliver it back to you anywhere you like.
So, if you're disembarking a cruise ship, for example, you can use PorterGenie to transport your luggage from the Canada Place Terminal and later deliver it to you at the airport. That way, you can head out for a bit of exploring — without bags in tow — before your flight home.
Or, pre-cruise, guests can use it to transport their bags from Vancouver International Airport to hotels in the Metro Vancouver area or the cruise terminal. .
No payment is required for scheduling. Cancellations are free, but given high demand as the cruise season begins, early reservations are highly recommended.
Cruisers can schedule their PorterGenie service online or toll-free at 1-888-411-526.
Vancouver Fun!
"For more Vancouver fun options, I'd suggest checking out the official Destination Vancouver website," says Pavlus Travel's Steudle. "And to plan an Alaska cruise vacation departing from Vancouver, perhaps with several days in the city or elsewhere in British Columbia, be sure contact your personal travel planner."
So, ready, set, go…. and enjoy Vancouver fun!