Are you cruising to America's Last Frontier in 2023? If you're planning an Alaska cruise, you may be starting or ending your cruise at either Seattle, WA, or Vancouver, B.C.  Whichever the case, The Meandering Traveler has helpful tips and snippets about "what's enticing or new" for travelers during this summer's cruise season. First up is Part One of a two-part series that outlines the Seattle fun.
Exploring with Seattle CityPASS
If you're planning to see and do a lot in Seattle on a pre- or post-cruise stay, we'd suggest buying a Seattle CityPASS. Buyers receive five top attraction admissions, offering up to 46 percent savings.
Automatically included with the pass purchase are admissions to the Space Needle, 400 Broad Street, and the Seattle Aquarium, 1483 Alaskan Way. Plus, CityPASS purchasers can choose three other attraction admissions from these four choices:
The Seattle CityPASS costs $119 for those 13 and older, $89 for children 5-12. Visit Seattle CityPASS and click on "Child under 5?" to learn about each individual attraction's admission cost for younger kids.
Seattle Fun: The Iconic Space Needle
The Meandering Traveler believes that it's extremely helpful to hear from "the locals" about what to see and do in any destination. So, we asked two Pavlus Travel team members who live in Seattle about what they'd suggest readers see and do in the area.
Hosting more than a million visitors annually, Seattle's Space Needle is definitely a top draw, says Janet Anderson, director of luxury sales development, Pavlus Travel: "Whenever we have a friend visiting Seattle who's never been here, one of the first things they ask is, 'Can we go see the Space Needle?'" 
Built as the awe-inspiring centerpiece for the 1962 Seattle World's Fair, the Space Needle is freshly updated. A recent $100 million renovation added more than 176 tons of glass. Most notably, the Space Needle now houses  The Loupe—the world's first revolving glass floor.
"Yes, the views from the top are amazing," Anderson says. Personally, she loves watching the ferries sailing back and forth between Puget Sound's islands. She also notes that, on a clear day, it's gorgeous to see the Cascades and Olympic Mountains with "Mt. Rainier seeming even closer than it really is."
From the top of the Space Needle, Anderson adds: "It's also fun to see the University of Washington's Husky Stadium overlooking Lake Washington, 'floating bridges' and bird's-eye views of the Seattle Seahawks and Seattle Mariners stadiums. 
"When you're at the top of the Needle, it gives an extra touch of the beauty around Seattle," she believes.
Seattle Aquarium, Chihuly and More 
Another "must see" Seattle attraction, particularly for families and eco-enthusiasts, is the Seattle Aquarium on Pier 59.  Again, this admission is included in the Seattle CityPASS. But you can also go on your own and purchase a ticket at the door.
We'd check out the cute sea otters or harbor seals in their aquarium habitats. Also, we'd suggest taking in the aquarium's "Window on Washington" presentation. You'll learn about the marine life found in local waters. plus meet inhabitatnts of the rocky reef and the Salish Sea's kelp forest ecosystem.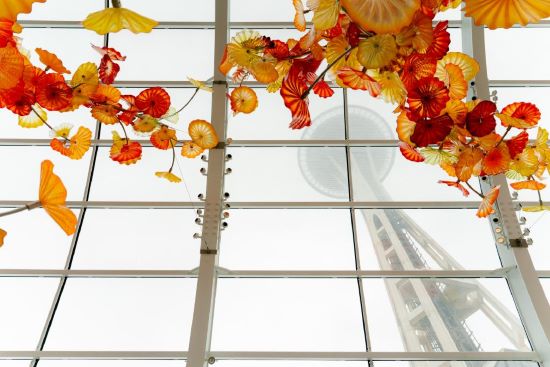 Another Seattle area resident is Renée Wallace, guest relations manager, top accounts team, Pavlus Travel,  Her top suggestion for visitors? She advises people to visit Chihuly Garden and Glass. Located in the Seattle Center, it's adjacent to the Space Needle.
"The glass art is breathtakingly beautiful," she emphasizes. Plus, "on site they have 'The Bar,' an amazing bar and eatery featuring small plates that showcase our Pacific Northwest palate, as well as local wines, beers, and signature cocktails."
Wallace's top insider tip is to "visit the Chihuly Garden and Glass during the last two hours before closing [varying seasonally]. The tour ends in the garden and there are glass art displays that light up in the evening. It makes the garden even more magical to see."
Again, Chihuly is among the attraction admission choices for those buying a Seattle CityPASS.
Volunteer Park Conservatory
In addition, Wallace offers another tip for travelers. She suggests they head for "Volunteer Park Conservatory in Seattle's Capitol Hill neighborhood. "It's a beautiful, Victorian-style glass greenhouse modeled after London's Crystal Palace," she explains. "The conservatory's vast botanical gardens offer five tropical and sub-tropical zones."
Visitors can view diverse flora ranging from cacti to coconut palms. In addition, Wallace relays that "the gift shop offers unique home and garden items, apothecary, and inspirational books and ideas for home gardeners and plant lovers."
Savory in Seattle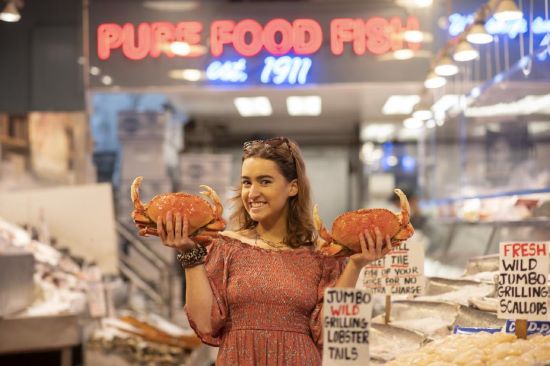 While we've all heard of "Sleepless in Seattle," we're totally enchanted by the thought of experiencing "Savory in Seattle." That's just our fond term for what's appealing and new on the culinary scene.
Certainly, seafood is one top draw for visitors and a visit to Pike Place Market is a "must do" experience — either to see the fresh seafood or to enjoy a fabulous meal.
Did you know 13 percent of U.S. seafood production takes place in Seattle? Let's just say that visitors will find plenty of options to indulge their seafood fix.
That said, in 2023, several new exotic dining spots await visitors too. For instance, Chef Frankland Lee has brought his Michelin-starred sushi concept to South Lake Union. A  coveted reservation at his Sushi by Scratch earns diners a welcome drink in a small bar before they move to the 10-seat sushi counter.
There they'll savor 17 courses of wild and original omakase. Yum, yum.
Modern Moroccan Cuisine
Still on the exotic side, but with a different slant, is the new SHAMA, a unique, fine-dining Moroccan restaurant. Serving authentic, modern Moroccan cuisine, it's on the lower level of Seattle's famous Pike Place Market.
At SHAMA, owner Hamid Majdi has created a menu with pairings of fragrant spices and sweet touches. Look for everything from light flatbreads, scratch-made dips and salads to richly braised lamb shanks and a fresh fish of the day.
Other perks include creative culinary presentations and sunset viewing from above Western Avenue.
Getting Your Coffee Fix
For those hankering for something truly special on the "coffee front," head to Starbucks Reserve Roastery on Pike Street in the Capitol Hill neighborhood. "These special Reserve Roasteries are only located in Seattle, Chicago, New York, Shanghai, Tokyo, and Milan," Pavlus Travel's Wallace tells The Meandering Traveler.
"It's amazing to watch the talented baristas craft your coffee with the imagination and vision of a five-star chef," she notes.
Another plus? While Starbucks was creating their Milan Reserve Roastery, they teamed up with Rocco Princi and his esteemed Milanese bakery. As a result, Wallace says: "These special Reserve locations feature Princi's exceptional menu of breads, pastries, sandwiches, and salads.
If that sounds yummy, here's a link to the Princi Bar menu for food and drinks. Wallace cites her favorite indulgences as Olive Sfilatino and Focaccia Pizza.
Seattle Fun: Wineries Galore
Washington state is absolutely brimming with viniculture and 1,000-plus wineries. So, travelers can relax, sip and savor at plenty of wine-focused spots.
A good case in point is Woodinville. Located just 30 minutes north of Seattle, this wine-focused destination has 130 or so tasting rooms!
To assist locals and visitors alike, the Washington State Wine Commission (WSWC) offers a new, interactive Map My WA Wine. It's an innovative mobile app available for both iOS and Android devices.
So, using the app, people can easily search for Washington wineries, tasting rooms and vineyards. Travelers can create and share itineraries. In addition, they can find out what events are happening during their vacation, and find wineries that offer live music, serve food and much more.
To learn more at Map My WA Wine, visit this website page.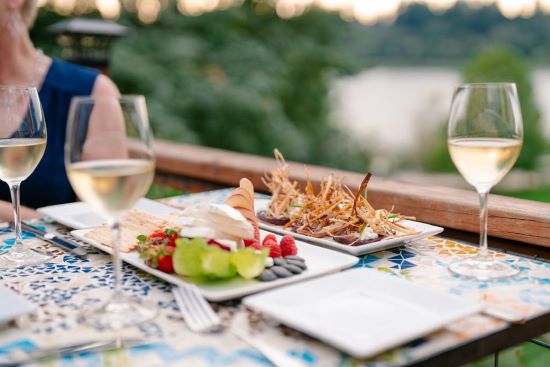 Seattle Fun with Festivals & Sports
For Alaska cruisers sailing between May and September, a journey to America's Last Frontier may afford the opportunity to enjoy festivals in Seattle pre- or post-cruise. Here are just a few of the many options.
On May 6, 2023, Seattle celebrates the official opening of Seattle's boating season. Sponsored by the Seattle Yacht Club, this year's festivities will include a morning of crew races, a sailboat race, and, most notably, the grand Opening Day boat parade.
Travelers who instead desire to explore Pacific Northwest culture can check out Seattle's Northwest Folklife Festival on May 26-29, 2023. Unfolding in the Seattle Center over Memorial Day weekend, this laid-back festival features live folk music, dance performances, art vendors, handmade goods and culinary treats.
Or, if visiting July 4 through August 8, 2023, you might take in the Seafair festival, A classic summer tradition since the 1950s, it encompasses a series of signature events in various Seattle locales.
Among the events are a Fourth of July party at Lake Union and the Milk Carton Derby at Greenlake. Top event for many is the Weekend Festival at Genesee Park and Lake Washington on August 5-6. The highlight is an aerial performance by the U.S. Navy's famed Blue Angels.
MLB All-Stars & Foodies
A top event for sports fans is on July 11, 2023, when Major League Baseball's (MLB) Seattle Mariners will host the 93rd edition of the MLB All-Star Game at T-Mobile Park. Beyond the game itself, MLB All-Star Week features the T-Mobile Home Run Derby, SiriusXM All-Star Futures Game, All-Star Celebrity Softball, fan events like PLAY BALL Park, and legacy projects to help the community.
And, if you're not able to visit during All-Star Week, you can still catch a professional baseball game throughout the summer. Here's a link to information on Mariners' tickets. 
If you're a die-hard foodie, consider heading for Bite of Seattle, a fun food festival. On July 21-23, 2023, it's a superb opportunity to experience some of the best tastes in Seattle. Restaurants, food trucks and other food vendors offer select bites priced around $5.
So, you can chow down on tacos, burgers, ribs, gyoza, Cajun food and more. The Bite also offers beer gardens, cider tastings, cook-offs and live music to keep you entertained while you eat.
New Hotels in Seattle
If you haven't yet booked your Alaska vacation or Seattle pre- or post-cruise stay, Pavlus Travel's Wallace and Anderson suggest chatting with a personal travel planner.
For those who do opt for an overnight or multi-night stay in Seattle (either for a Pacific Northwest journey or a pre-/post-cruise stay), here are a few highlights of what's happening with Seattle's hotel scene.
Part of Marriott's Tribute Portfolio, the 265-room Astra Hotel Seattle, 300 Terry Avenue North, is a new, centrally located hotel in the South Lake Union neighborhood. Offering "space theming," the stylish hotel fields tech-forward interior design, ground-level dining and a coffee bar.
Best of all, its Altitude Sky Lounge is a glitzy new rooftop bar offering charcuterie plates, a deck area and floor-to-ceiling windows. Travelers will have great Seattle skyline views. Plus, it's not far from the Space Needle, the Museum of Pop Culture and Climate Pledge Arena.
Also in the South Lake Union neighborhood is the new Level Seattle, 110 Boren Ave N, offering spacious studio, one- and two-bedroom luxury suites. Perks include full kitchens, a convenient in-suite laundry and spacious living areas.
Along with the convenience of 24-hour guest services and onsite parking, the hotel offers three pools, an indoor basketball court and climbing wall, karaoke and games rooms, and indoor-outdoor entertaining areas.
Lovingly Restored Arctic Club
Owned by the Oxford Collection, the 120-room Arctic Club Hotel, 700 Third Avenue, has been beautifully restored and reopened in 2022 within downtown Seattle. Prior to its establishment as a hotel in the 21st century, the Arctic Club was formed in 1907 by successful participants in the 1896-era Klondike Gold Rush who'd returned to Seattle after "striking it rich."
The 10-story landmark building reflects historic architecture, thoughtful details and modern luxuries. One special feature of note is a collection of terracotta, walrus-head sculptures. They adorn both the hotel's exterior and its famed Northern Lights Dome Room, which also has a stained-glass ceiling.
New in Seattle: citizenM and Railspur
Another newly opened hotel is the nine-story, 232-room citizenM, 201 Westlake Avenue North. Sporting a brick-and-glass facade, it's nestled within the historic Pioneer Square district.
One feature we can't wait to see is citizenM's large mosaic art installation. Created by a local artist, it incorporates different aspects of the city's and Pioneer Square's history. Consisting of more than 5,000 porcelain tiles, it melds indigenous beadwork with storytelling.
Opening in August 2023 is The Hotel at Railspur, 100 S. King St. Nestled in the Railspur Seattle district, it's a new boutique hotel within the Westland Building. The district includes three historic, brick-and-timber warehouse buildings in Pioneer Square, Seattle's first neighborhood.
Named for the railways that once ran through the area, the structures once connected the Great Northern Railway and the bustling port of Seattle.  When it opens, the hotel is expected to create Seattle fun times with its rooftop bar, restaurant and Puget Sound views. Another nifty feature of this hotel will be its multi-story "living wall" that connects guests to nature.
More Seattle Fun for Cruise Visitors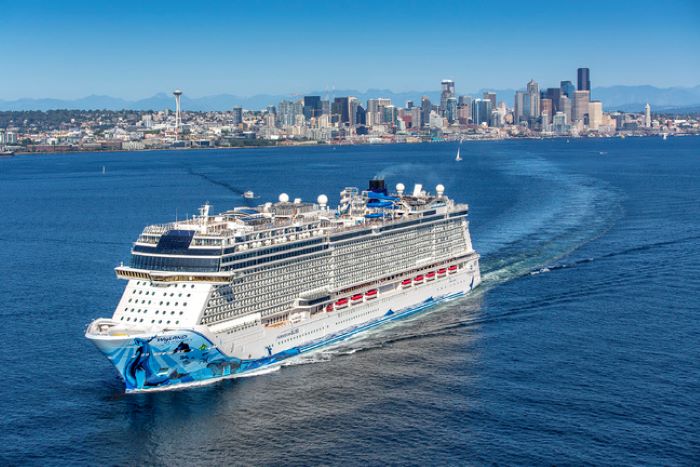 Hands-Free Seattle Fun with Port Valet
If you're disembarking your cruise ship in Seattle, want to tour around the city for a few hours, and then head later in the day to Seattle-Tacoma International Airport, we'd definitely suggest checking out the Port Valet service. It will allow you to go "luggage free" while exploring the city for a few hours.
Started in 2017, Port Valet allows cruise passengers to place their luggage outside their stateroom or suite door the night before disembarking their ship. Those bags are off-loaded from the ship and delivered directly to Sea-Tac via truck for security screening.
Next, that luggage flows into the appropriate airline's baggage system. Presto, it's waiting for the cruise guest in baggage claim after they reach their final destination.
Another plus of Port Valet is that participating guests also will receive their airline boarding pass while still on the ship. So, on disembarkation day, they just get off luggage-free. That allows them to often spend a few hours in the city without the hassle of dragging bags along.
Resources and Part Two
With the Alaska cruise season just a few months away, now's the time to book a cruise from Seattle to Alaska. So, chat with your professional travel advisor today. Be sure to also ask about pre- and post-cruise stays for Seattle. 
From savory coffee to stellar views from the top of the Space Needle, from world-class art at Chihuly Garden and Glass to cute sea creatures at the Seattle Aquarium, much awaits visitors in the Pacific Northwest. Two great traveler resources are these websites: State of Washington Tourism and Visit Seattle. 
Coming soon? In the upcoming Part Two of this series, The Meandering Traveler will look at what's new and notable for travelers planning pre- or post-cruise activities in Vancouver, B.C.
Important Information from Pavlus Travel
If anything tweaks your interest in this blog and you'd like to talk about a future vacation, please DO call us at 800-528-9300.
Definitely, if you have questions about specific pricing, brochures, savings, itineraries, dates of travel, accommodations, accessible options and so on, please contact us. Again, call us at 800-528-9300 or visit and "live chat" at Pavlus Travel's official agency Web site.
Note to Readers: Please do not use the reply section of this site to ask questions about potential vacation options. Instead, call the number above or visit the Pavlus Travel website. This blog site offers "basic, general information" about travel; it's not designed to provide specific pricing nor is it staffed by travel advisors. Any personal views expressed reflect the anecdotal perspective of the author — simply one opinion by a frequent traveler. The views expressed in the blog above should not substitute in any way for use of a professional travel advisor.