What's new in European touring? Well, many travelers will be excited to hear about six new Tauck river cruise itineraries for 2024. That's the most Tauck has ever added in a single year on the continent.
(Tauck's Esprit is featured above; it will operate two of the new itineraries. Photo by Tauck.)
"We're absolutely thrilled to be expanding our river cruise offerings in such an unprecedented way, with exciting new itineraries that will appeal to our loyal past guests and new travelers alike," says Dan Mahar, Tauck's CEO.
New Tauck Itineraries: Included Pre- or Post-Cruise Stays
One big perk is that several of the new offerings include (within the tour price itself) a pre- or post-cruise hotel stay in new-to-Tauck cities. Among those are Garmisch-Partenkirchen, Germany, and Montreux and Geneva, Switzerland.
So, Tauck's guests will enjoy a pampering hotel stay at such wonderful properties as these:
New Tauck "Included" Dinners Ashore
The Meandering Traveler is also enticed by several other inclusions within the tour pricing. Among those is an included dinner ashore in a lavish setting.
So, get ready to enjoy a lavish dinner in an elegant Viennese palace or a Dutch castle nestled on its own private island. Now, that's something special!
Alternatively, you might go to dinner in an Italian Renaissance-style mansion in a small commune in northern France.
Palais Pallavicini
Featured on Tauck's new 12-day "Danube Kingdoms: Bavaria, Austria and Hungary" itinerary is the Palais Pallavicini in Vienna, Austria. Constructed in 1784, it has served as home to the Pallavicini family for more than 180 years.
Tauck's guests will enjoy an exclusive evening at Palais Pallavicini that includes a reception, gala dinner and classical music played by performers dressed in period clothing.
They'll "wine and dine" in a palace that has hosted such luminaries as composers Ludwig van Beethoven and Franz Schubert. The palace also served as a major filming location for the classic 1934 film "The Thin Man."
Operated from Munich, Germany, to Budapest, Hungary, the new "Danube Kingdoms: Bavaria, Austria and Hungary" itinerary includes a four-night, land-based exploration of Bavaria. Guests will stay in hotels in Munich and Partenkirchen, plus enjoy a seven-night cruise along the Danube River.
They'll have opportunities to explore Passau, Germany; Linz, Salzkammergut, Melk and Vienna, Austria; Cesky Krumlov, the Czech Republic; Bratislava, Slovakia; and Budapest.
This Tauck river cruise is operated by the 130-passenger Savor or 130-passenger Joy. Pricing is from $6,990 per person, double occupancy (plus airfare).
Dwight D. Eisenhower's Former Home
Guests on Tauck's new 10-day "Three Rivers: Danube, Main & Rhine" cruise, priced from $5,990 per person, double occupancy (plus airfare), will be treated to an evening at the 130-year-old Schlosshotel Kronberg.
So, what's that? Well, first, it's the former residence of German Empress Victoria Friedrich. But there's also a pretty interesting U.S. connection.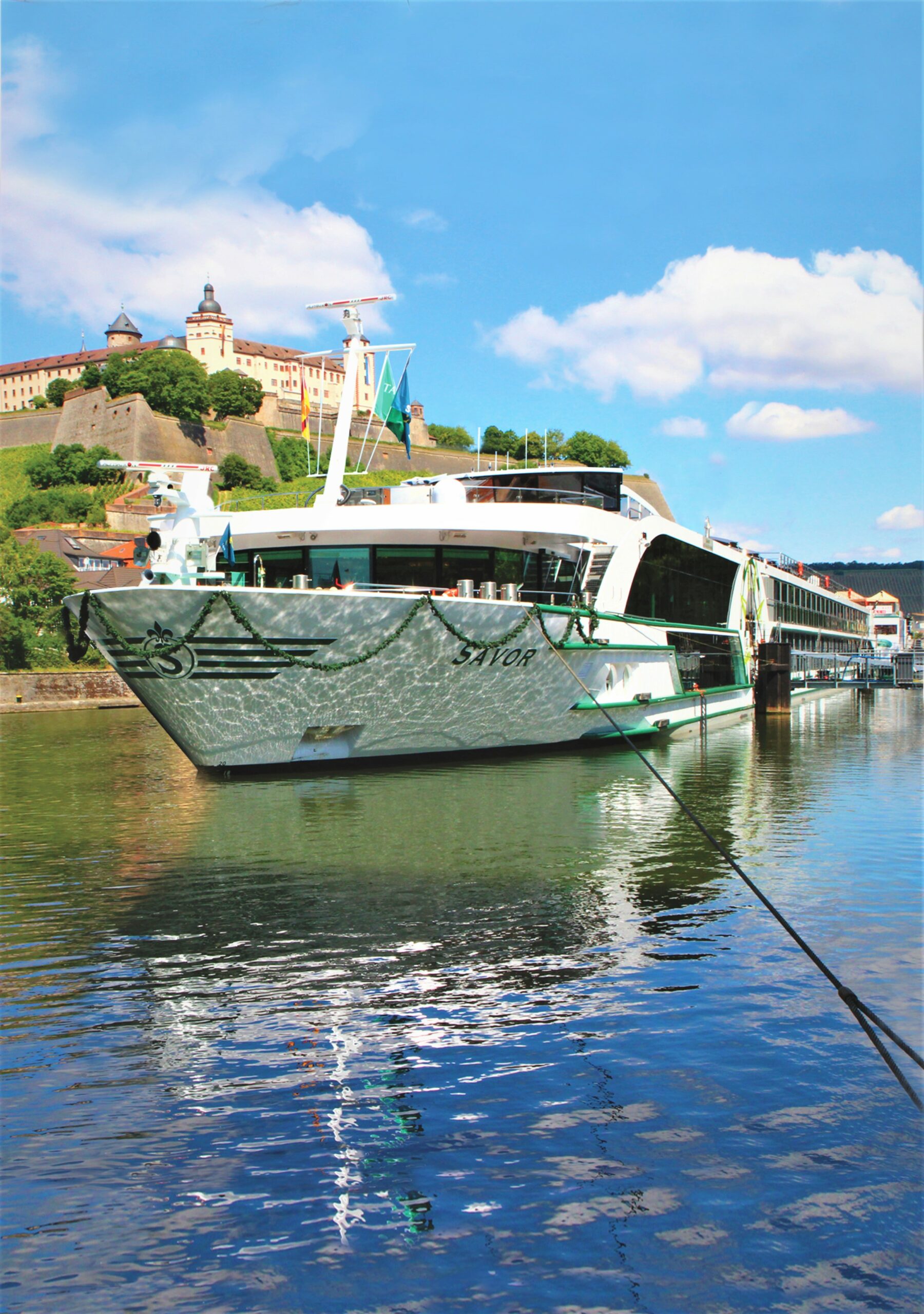 Schlosshotel Kronberg housed a U.S. Army officers club during the post-World War II occupation of Germany. Most notably, it was the temporary home of General Dwight D. Eisenhower for a seven-year, post-war period.
Interesting factoid? During Eisenhower's post-war time there, he designed the on-site, 18-hole golf course. Yes, it's still in use today.
Today, Schlosshotel Kronberg, which was built between 1889 and 1893, is operated by the royal House of Hesse as a luxury hotel, set amid parkland.
Operated by either Savor or Joy from Amsterdam to Budapest, the "Three Rivers: Danube, Main and Rhine" itinerary features these ports of call:
Amsterdam and Nijmegen, the Netherlands.
Koln (Cologne), Bonn, Koblenz, Boppard, Frankfurt, Wertheim, Marktheidenfeld, Wurzburg, Bayreuth, Nuremberg and Regensburg, all in Germany.
New Tauck Food-and-Drink Experiences
But there's much more! Those special evening dinners aren't the only unique food and drink-related experiences. 
Depending on the specific itinerary, Tauck's guests might also enjoy lunch at the summit of the Zugspitze. That's Germany's highest peak at nearly 10,000 feet.
Other lunch opportunities could include historic Weltenberg Abbey near Regensburg, and at a private Camargue region ranch in the south of France.
Tasting tours are also on tap in a number of cities and towns, including Frankfurt, Germany, and Strasbourg and Chalon-Sur-Saône, France. Tauck's guests will also have an opportunity to quench their thirsts with these fun options:
Wine tastings in Burgundy and the Lavaux region of Switzerland.
A craft beer tour in Dusseldorf.
A brewery tour in Antwerp.
A tasting of local brandies and apple ciders in Normandy.
Special Access, Memorable Moments
In addition, special access and memorable moments crafted for Tauck guests extend beyond the food-and-wine experiences.
For example, guests might enjoy early "pre-opening" admission to the home, gardens and studio of Impressionist painter Claude Monet in Giverny, France. Elsewhere, Tauck's guests might head out on a guided excursion into the rock-cut tunnels beneath Nuremberg, Germany.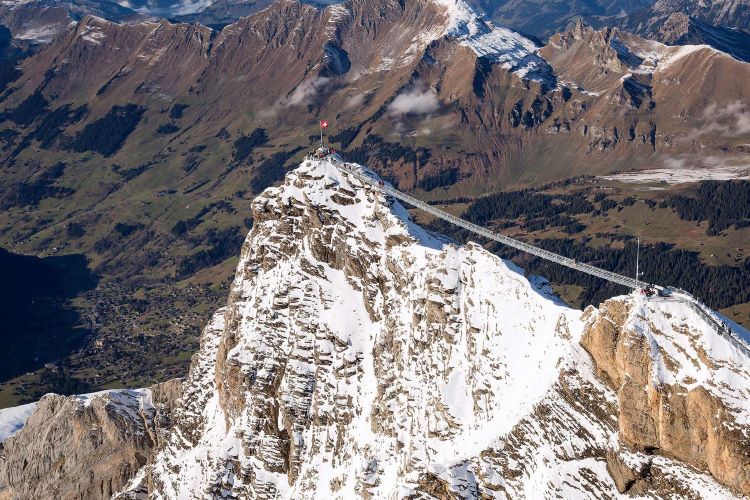 Ready for some thrills? Totally optional, but those seeking a daring eco-adventure might hang on tight and stroll across the Peak Walk by Tissot (see photo courtesy of Tauck above).
It's a high-altitude suspension bridge connecting two Swiss peaks. Get ready for stunningly gorgeous Alps views of the famous Matterhorn, Mont-Blanc and Jungfrau. Adventurous guests who complete the stroll will have some serious "bragging rights" with friends and family back home!
Inclusive Vacation, Excellent Value
All of Tauck's special dining-and-tasting experiences are included in the price of the company's river cruises. The cruise fare also covers all shore excursions, gratuities, onboard beverages (including all beer, wine and spirits), airport transfers, luggage handling and more.
Tauck's full portfolio of 2024 river cruises is available on the company's website.  To assist, a personal travel planner will gladly answer any questions and provide more information, based on your specific needs, budget and desires. Why not call today?
Here's a brief snapshot of the other four new Tauck river itineraries in Europe for 2024:
New Tauck: "Rhine Connoisseur: Montreux to Brussels"
This 11-day itinerary operates between Montreux, Switzerland, and Brussels, Belgium. Guests begin with a three-night stay at the Fairmont Montreux Palace. That will allow them to explore the Lavaux Vineyards, Montreux and Glacier 3000.
A subsequent seven-night cruise visits Strasbourg, France; Rudesheim, Koblenz and Dusseldorf, Germany, along the Rhine. Then guests will travel to Gorinchem, the Netherlands, and Antwerp and Brussels, Belgium.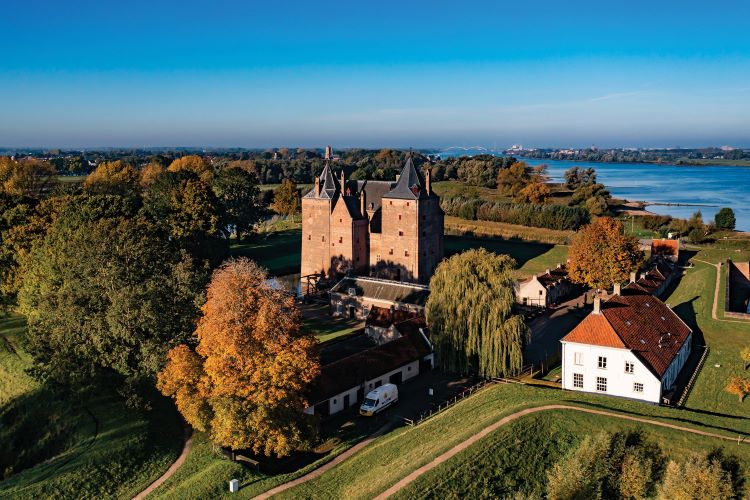 A Tauck-exclusive reception and dinner event is planned at the 14th-century Slot Loevestein, set in a nature reserve on a private island. Located in Poederoijen, the Netherlands, it has served as a residence, prison and toll station. 
This "Rhine Connoisseur: Montreux to Brussels" vacation, is operated by either the 98-passenger Esprit or the 98-passenger Treasures. At press time, prices started at $6,790 per person, double occupancy, plus airfare.
New Tauck: "Hidden Waterways of Flanders and Holland"
Operated between Brussels and Amsterdam, this eight-day journey by Esprit will visit scenic Dutch and Belgium spots including Brussels, Antwerp, Bruges, Gorinchem, Leiden, Rotterdam and Amsterdam.
On this "Hidden Waterways of Flanders and Holland" itinerary, guests also will be treated to that Tauck-exclusive reception and dinner at Slot Loevestein (as mentioned above).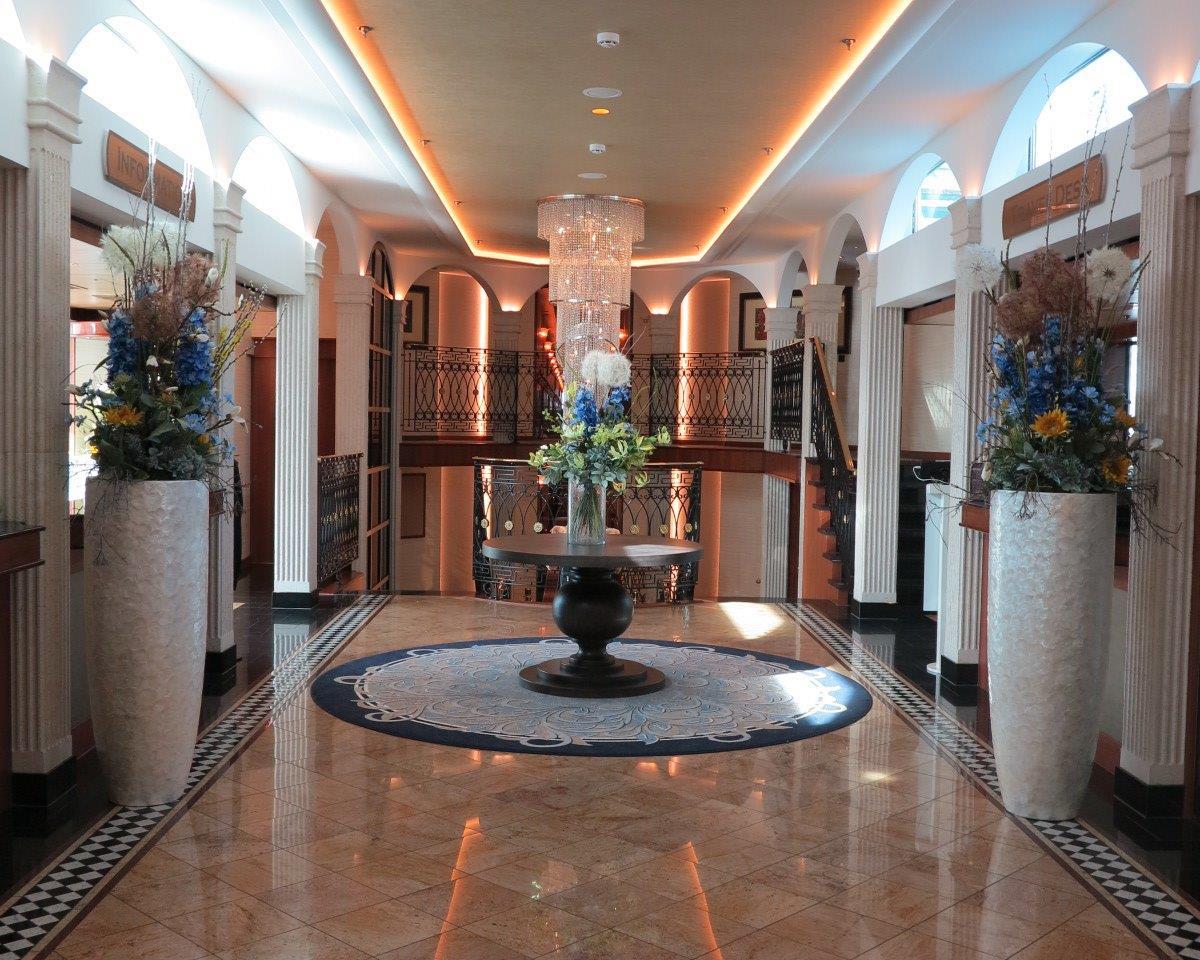 This new Tauck itinerary is priced from $4,690 per person, double occupancy, (at press time), plus airfare. Talk with your travel advisor for more details. 
New Tauck: "River Seine: Chateaux, Impressionism and Normandy"
Spanning eight days, this journey begins and ends near Paris, France, at Le Pecq.  The river itinerary will visit Auvers-sur-Oise, Les Andelys, Tilly, Mont-Saint-Michel, Etretat, Honfleur, the D-Day Beaches of Normandy, Rouen, Le Pecq and Giverny. At the latter, Tauck's guests will enjoy exclusive, early-entry admission to Impressionist painter Claude Monet's home and gardens.
Another highlight (in timing) is that 2024 is the 80th anniversary of World War II's D-Day Landings. So, it's a poignant time to travel, particularly for some families whose relative landed on a Normandy beach in 1944.
Tauck's guests will enjoy a private evening with a tour, dinner and music at the 1530-era Chateau du Taillis. Set on a parkland estate in Duclair, France, this Italian Renaissance mansion features baroque interiors. It's a brilliant architectural showcase.
The new "River Seine: Chateaux, Impressionism and Normandy" itinerary, with cruising on the 98-passenger Sapphire is priced from $4,990 per person, double occupancy, (at press time) plus airfare.
New Tauck: "La Belle Vie: The Rhone, Geneva and The Riviera"
Operating from Cannes to Geneva (or reverse), this 14-day itinerary includes a nine-night river cruise on the 98-passenger Emerald along the Rhone River. That's nicely bookended by two, two-night hotel stays with guided Tauck sightseeing in Cannes, France, and Geneva, Switzerland.
Along the way, guests will experience Aix-en-Provence, Arles, La Camargue, Avignon, Uzes, St-Remy, Chateauneuf-du-Pape, Tain l'Hermitage, Macon, Cluny, Chalon-sur-Saone, Beaune, Tournus, Cormatin and Lyon, all in France.
One highlight? Tauck's guests will set out for an exclusive evening at Duche d'Uzes featuring a private tour, dinner and cocktails. The family castle of the Duke of Uzes, the home was once the site of a Roman governor's residence and the haven of an exiled 9th-century duchess.
This "La Belle Vie: The Rhone, Geneva and The Riviera" itinerary is priced from $7,990 per person, double occupancy, plus airfare.
Six New Tauck River Itineraries
"It's exciting that Tauck has created six enticing, new itineraries on European rivers that should strongly appeal to many customers," says Shelby Steudle, president, Pavlus Travel, the world's largest seller of Tauck vacations.
"We encourage people to take a closer look, chat with their personal travel planner about the new options, and discuss options for timing and accommodations choices," she emphasizes. "Tauck is a highly inclusive, value-added product with a great service reputation. Our customers come back raving, time and time again."
In addition to the six new Tauck river itineraries listed above, Tauck continues to attract clients with its popular Small Group Journeys too.
For more  information on all Tauck offerings, contact your professional travel advisor or visit the Tauck website. 
Important Information from Pavlus Travel
If anything tweaks your interest in this blog and you'd like to talk about a future vacation, please DO call us at 800-528-9300.
Definitely, if you have questions about specific pricing, brochures, savings, itineraries, dates of travel, accommodations, accessible options and so on, please contact us. Again, call us at 800-528-9300 or visit and "live chat" at Pavlus Travel's official agency Web site.
Note to Readers: Please do not use the reply section of this site to ask questions about potential vacation options. Instead, call the number above or visit the Pavlus Travel website. This blog site offers "basic, general information" about travel; it's not designed to provide specific pricing nor is it staffed by travel advisors. Any personal views expressed reflect the anecdotal perspective of the author — simply one opinion by a frequent traveler. The views expressed in the blog above should not substitute in any way for use of a professional travel advisor.