For consumers "surfing" Uniworld Boutique River Cruises' online web site, one of the top searches is "Greece." That's amazing, given that the luxury river line doesn't even sail there. But this month, Uniworld took notice. It expanded its European portfolio to include Greece as a new post-cruise destination.
No, you won't be able to hop aboard a river cruise in Greece. But let's just say, "Mamma Mia!" The luxury river line announced the next best thing — two Greece post-cruise extensions! 
Greece Post-Cruise: Three- or Five-Night Extensions
Available to book for travel this summer and fall, one extension provides guests with a three-night stay in Athens. The other offers five nights in Athens and Santorini.
Specifically, the extensions can be added to these three Italian river cruise itineraries, which feature the 126-passenger Venezia:
For specific details (itineraries, pricing, accommodations options and so on) click the links provided above, or talk with a personal travel planner. 
"Greece has consistently been one of the top searched destinations on our website and although we don't currently sail in-destination, we want to give our guests the travel experiences they are looking for at the same quality they'd expect from Uniworld," says Ellen Bettridge, president and CEO of Uniworld Boutique River Cruises.
Bettridge says that "we're thrilled to bring the magic of Greece to life in partnership with our sister brand at The Travel Corporation, Siva Travel. The Travel Corporation is Uniworld's parent company.
"Our new Greece extensions create the ultimate Mediterranean travel experience combining the iconic destinations of Milan, Venice, Athens and Santorini in one luxurious journey by land and water," she adds.
Of course, Uniworld guests also have other pre- and post-cruise extension options too; those include land, rail and customizable options.
Greece Post-Cruise: Three Nights in Athens

Uniworld says its four-day stay in Athens will "delight any classicist, culinary enthusiast or culturally curious traveler." From the perspective of Shelby Steudle, president, Pavlus Travel, "it's a great way to get a taste of Greece's capital city."
On this post-cruise extension, Uniworld's guests will stay at the five-star Divani Caravel in the heart of Athens for three nights. This extension also includes many immersive experiences. Among them? Travelers will dine with a local resident in an Athens home, venture up to the Parthenon (see photo above) and savor a foodie tour of delicious Greek treats.
Also included in the three-night land extension are: daily breakfasts; service charges, taxes and porterage charges; flights from Venice to Athens; transportation and transfers; various walking tours; and the services of a local guide.
10 Venezia Departures
Starting in June 2023, this extension is available for guests sailing on 10 Venezia departures (see photo of the river vessel below).
For the September 6 departure, this three-night Athens extension starts at $2,099 per person, double occupancy. Solo travelers pay $2,099 plus the single supplement of $1,500.
Steudle urges blog readers to connect with their personal travel planner. "Learn more about Uniworld's Italian river itineraries that 'pair up' with this new three-night Athens extension," she says. "Ask questions. Our experts are here to assist."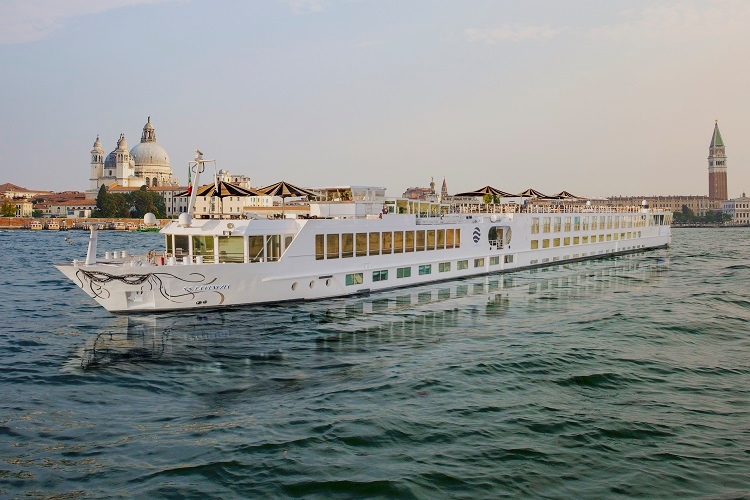 Greece Post-Cruise: Five Nights in Athens & Santorini
With Uniworld's new five-night Greece post-cruise itinerary, travelers can split their stay between Athens and Santorini. Certainly, they'll immerse themselves in Greek history, culture, cuisine and awe-inspiring sights.
What can travelers expect on this land extension? "Immersive activities include sampling the local fare, taking a Santorini village tour and enjoying wine tasting, cruising around Santorini's caldera and heading out on an Athens city tour," according to Pavlus Travel's Steudle.
This post-cruise extension offers daily breakfasts along with two other meals, service charges, five-star hotel stays, flights from Venice to Athens/Athens to Santorini, various guides and tours.
Starting this June, this Greece post-cruise extension is available on nine Uniworld departures. At press time, this five-night extension was priced at $3,999 per person, double occupancy. Solo travelers will pay $3,999 plus a single supplement of $2,000.
To learn more details, visit the line's website and review the specifics of the Italy itineraries (mentioned earlier in this blog) that pair with these extensions. Or, simply save yourself some time and chat with your professional travel advisor.
Other European river lines are also introducing new options for travelers. For example, Tauck recently introduced six new river itineraries for 2024.
Important Information from Pavlus Travel
If anything tweaks your interest in this blog and you'd like to talk about a future vacation, please DO call us at 800-528-9300.
Definitely, if you have questions about specific pricing, brochures, savings, itineraries, dates of travel, accommodations, accessible options and so on, please contact us. Again, call us at 800-528-9300 or visit and "live chat" at Pavlus Travel's official agency Web site.
Note to Readers: Please do not use the reply section of this site to ask questions about potential vacation options. Instead, call the number above or visit the Pavlus Travel website. This blog site offers "basic, general information" about travel; it's not designed to provide specific pricing nor is it staffed by travel advisors. Any personal views expressed reflect the anecdotal perspective of the author — simply one opinion by a frequent traveler. The views expressed in the blog above should not substitute in any way for use of a professional travel advisor.