In the 19th century, Alphonse de Lamartine, a French minister for Europe and foreign affairs, once remarked, "If one had but a single glance to give the world, one should gaze on Istanbul." To do so, readers can easily visit this Turkish city on a luxury cruise or tour. Before you go, though, be sure to check out our 10 picks below for "Top Istanbul Attractions."
But first, here's a bit of historical perspective about Istanbul to set the stage.
Global Crossroads
Straddling two continents – Europe and Asia — Istanbul exudes influences of both East and West. During its 3,000 years of history, this city on the Bosphorus — previously known as Byzantium and then Constantinople — has been home to the Greeks, Romans, Crusaders, Ottomans and Turks.
A city of timeless charm and exotic flair, it's chock-full of incredible cultural and heritage sites. Best of all, it's easy to explore on a cruise, escorted tour, hosted city stay or independent getaway.
Historical Perspective
While the city's earliest history is up for some discussion, most say it was founded as Byzantium in the 7th century B.C. by Greek settlers from Megara. Then, 10 centuries later, in 324 A.D., Roman Emperor Constantine renamed it "New Rome."
He declared it as the new capital of the Roman Empire. Just six years later, in 330 A.D., it was renamed Constantinople in his honor.
In 1453, Mehmed II the Conqueror led the Ottoman Turks in seizing Constantinople. The city became the new capital of the Ottoman Empire and was renamed Istanbul.
Next, fast forward nearly five centuries. The 1923 Treaty of Lausanne formally established the Republic of Turkey. The country moved its capital to Ankara.
And even though Istanbul had been commonly known by that city name for centuries, the city name became official in 1930.
Our Frequent Visits
The Meandering Traveler has ventured to Istanbul many times. For example, we've taken a Globus tour of Turkey (now officially renamed Turkiye). Other times we've stayed in the city pre-cruise and then sailed out to the eastern Mediterranean on Silversea Cruises, Viking or another line.
What stays the same? Each time we visit Istanbul, we absolutely love re-discovering the city's Byzantine architecture. We also can't wait to stroll again through the bustling Grand Bazaar. And certainly, the city's picturesque setting along the Bosphorus and Golden Horn is a big draw.
Today, travelers typically arrive in Istanbul at the new Istanbul Airport or at Galataport Istanbul, the city's main port. More than 150 cruise ships and 350,000 passengers and crew members visited last year.
So, if you're heading to Istanbul or thinking about a journey there, here are our choices for the 10 "Top Istanbul Attractions" to see and experience.
Top Istanbul Attractions: #1 – Topkapi Palace
For exotic tales of the sultans and impressive spaces and treasures, head for the 1453-era Topkapi Palace (see photo above courtesy of GoTurkiye). Built by Mehmet II, the sultans lived here until the 19th century.
Wandering through the palace and its harem is a fascinating walk "into history." Must-see artifacts or objects? Here are two of our favorites:
The Topkapi Dagger, famed for a handle sporting three humongous emeralds. (Hint? Ever seen the 1964 movie "Topkapi"? It's worth watching as this jewel is featured.)
And the teardrop-shaped Kasikci Diamond, an 86-carat gem surrounded by smaller stones. It's also known as the Spookmaker's Diamond.
Visit this website for more about the museum's other treasures, as well as the complex and grounds. Typically, the palace is open from 9 a.m. to 6 p.m. daily (closed on Tuesdays). Admission at press time was 500 Turkish lira or about $26 per person.
Viking Cruise from Istanbul
One way to see the Topkapi Palace is during a week-long Viking ocean cruise. The line's eight-day "Ancient Mediterranean Treasures" itinerary is operated on many dates between Istanbul and Athens, Greece.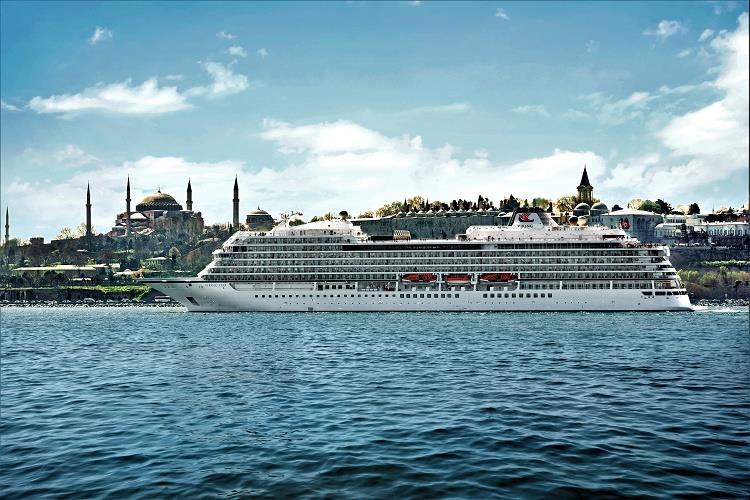 So, guests will either embark or disembark the 930-passenger Viking Star (shown in the photo above), Viking Sky or Viking Neptune in Istanbul. During the Viking voyage, they'll spend two nights in Istanbul, where they can head out on an included Viking shore excursion to the Topkapi Palace.
They'll also visit two other attractions we talk about below — the Blue Mosque and the Grand Bazaar. After the ship departs Istanbul, travelers will have an opportunity to go ashore elsewhere in Turkiye too.
For example, they can choose to visit the ruins of Troy and explore ancient Ephesus. In Greece, the ship will call at Rhodes and Crete and spend two nights in Athens.
Multiple departure dates are offered now through October 27, 2023. At press time, fares started at $3,599 per person for a Veranda Stateroom to $13,499 per person for the extravagant Owner's Suite.
Top Istanbul Attractions: #2 – Blue Mosque
While best known as "The Blue Mosque," the Mosque of Sultan Ahme, is one of Istanbul's most gorgeous landmarks. Generally, the mosque is open between 9 a.m. to about one hour prior to sunset.
That said, it's a "working mosque," so prayers are conducted five times a day for 90 minutes. Plus, Friday noon prayers span two hours. During non-prayer hours, though, visitors are welcome. Admission is free.
Famed for six exterior minarets, the mosque is a magnificent site and has lovely blue-and-white tiles. However, Sultan Ahmet I, its builder, was heavily criticized for creating a mosque with the same number of minarets as the mosque in Mecca's Kaaba.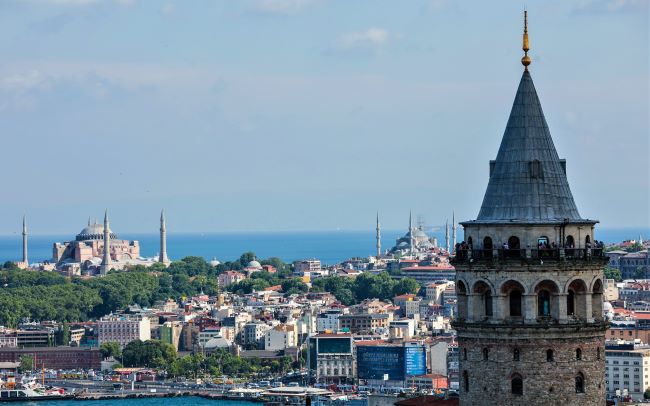 Pop Over to the Hippodrome
After touring the Blue Mosque, we'd suggest popping over to the nearby Hippodrome. It was built by the Romans around 200 A.D.
While there, it's fun to conjure up thoughts of the Roman-era chariot races at this spot. For more than a millennium, the Hippodrome was a gathering point in Constantinople.
Today, this famous public square is dominated by an Egyptian obelisk dating from 1500 B.C.
Top Attractions: #3 – The Grand Bazaar
If you're looking for a good excuse to go shopping, in Istanbul you can simply call it "a cultural experience"!
Just head for the city's Grand Bazaar or Kapali Carsi. A bustling spot with an exotic enclave of 4,000 shops, this "cultural experience" offers a colorful, sensorial view of local lifestyle.
You'll find both tourists and locals shopping for everything from precious gems, ceramics and pocketbooks to fabrics, dishes, footwear, hand-crafted rugs (kilims), clothing, tools, furniture and much more.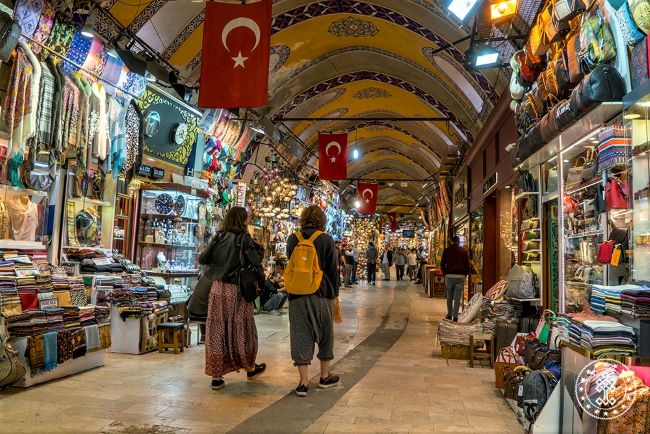 Be sure to bargain, though. Haggling is expected! Plus, it's part of the experience.
That said, we'd suggest doing some online research to get a general idea of what's appropriate to pay. So, you get a good deal, but at the same time, don't offend the shop owner or clerk. It's a balancing act of sorts.
Generally, the Grand Bazaar is open from 8:30 a.m. to 7:30 p.m. in the summer and 8:30 a.m. to 7 p.m. in winter. It's closed on Sundays and the first day of religious holidays. Best of all, though? It's free.
Check out our previous blog about "Travel to the Movies" and how you can spot Istanbul's top sites (such as the Grand Bazaar) that show up in top films. Did you know that the Grand Bazaar was featured in "Taken 2" starring Liam Neeson?
Top Istanbul Attractions: #4 – Aya Sofya/Hagia Sophia
Built around 536 BC, Aya Sofya or Hagia Sophia (in Greek) is a magnificent Byzantium-era architectural structure. With a massive, soaring dome, this structure reigned as the world's largest cathedral for nearly 1,000 years.
Then in 1453, it was converted into a mosque after Constantinople's defeat by the Ottomans.
For much of the 20th and early 21st centuries, it served as an architectural museum for all — with Islamic inscriptions and Christian mosaics among the interior design elements.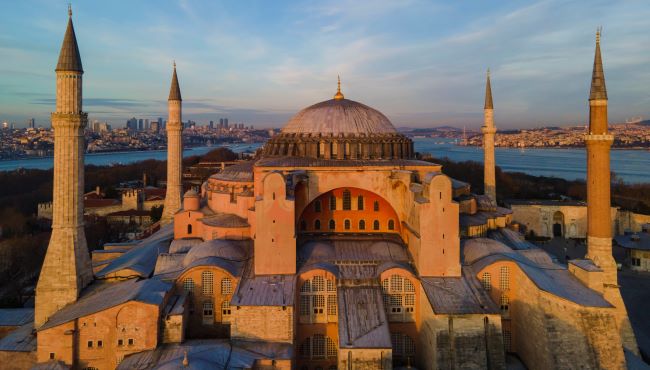 Recently, though, the government has converted Aya Sofya (Hagia Sophia) back into a mosque. So, during Islamic prayer services or religious holidays, the Christian mosaics are veiled, but generally they're still viewable at other times.
The structure remains a UNESCO World Heritage Site and a top draw for many travelers. Admission is free. Opening hours are between 10 a.m. and 10 p.m., exclusive of prayer periods or religious holidays. 
"Turkish Escape" Tour
The top sites of Istanbul including Aya Sofya/Hagia Sophia are viewable on many escorted tours, among them, Globus' eight-day "Turkish Escape" escorted tour. Traveling roundtrip from Istanbul, tour guests also will visit three of the most famous ancient sites in Turkiye — Troy, Pergamon and Ephesus
At press time, fares for the "Turkish Escape" itinerary, which is offered on multiple departure dates between October through December 2023, started as follows:
$1,099 per person, double occupancy (without airfare).
$1,599 to $1,699 per person, double occupancy (with airfare included), depending on your departure city and tour date selected.
Top Istanbul Attractions: #5 – Traditional Turkish Bath Experience 
Get steamed up for a full authentic hammam. That's a traditional Turkish bath experience. Talk with your hotel concierge, tour guide escort or cruise shore excursion staff about all the options.
One of the popular spots is Cemberlitas Hamami, which was built in 1584. Here bathers lie on a circular marble slab beneath a dome inset with glass stars. So, rays of light pierce the steam.
Hamami attendants scrub, press and pummel guests until they're smooth and flexible. Travelers can also arrange other services such as head massages or clay face masks, if desired.
Typically, the prices in the traditional hammams are a real bargain versus more expensive western spas. Prices vary depending on services selected but typically fees range from 759 through 1450 Turkish lira or $39 to $75. It's an experience, certainly.
Some cruise lines including Viking may offer a Turkish bath experience as a shore excursion.
Top Attractions: #6 – The Egyptian Bazaar or Spice Market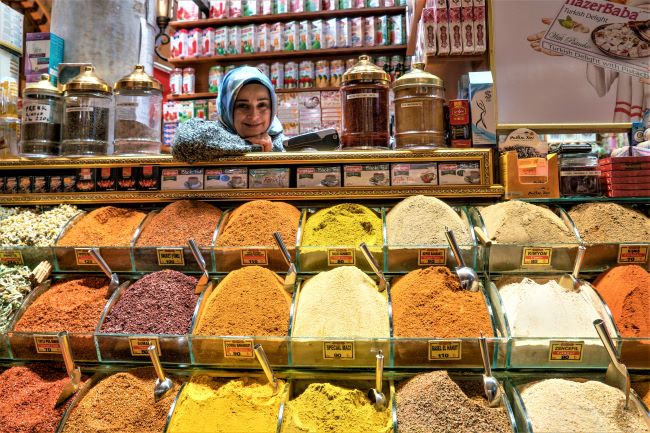 Whatever you see and do in Istanbul, don't miss the Egyptian Bazaar (Misir Carsi), more commonly known as the Spice Market or Spice Bazaar!
Inside, you'll discover a cornucopia of wooden kiosks with eager vendors selling bright spices, herbs, teas and sweet treats. Outside, you'll notice cheeses, veggies and fruits also for sale.
Something Unusual Too
Most unusual? Did you know that Turkiye is the world's leading exporter of medicinal leeches? So, you may spot leeches for sale! They're popular with the locals for medicinal purposes.
While we prefer to just look (not buy!), leeches certainly aren't something you see every day at a market.
The Spice Bazaar is typically open from 8 a.m. to 7:30 p.m. and closed on October 29 and on Islamic religious holidays. Admission is free.
Foodies typically love visiting the Spice Market. Certainly, one line that attracts many culinary buffs is Oceania Cruises. The upper premium line offers a 10-day "Greek Isles and Turkish Riviera" voyage, departing October 24, 2023, from Istanbul to Athens, Greece.
Pre-Cruise: Istanbul Attractions
Guests who want to have plenty of Istanbul touring time should plan to arrive a few days pre-cruise. One good option? The Meandering Traveler would suggest combining that October 24 cruise with Oceania's three-day, pre-cruise "Iconic Istanbul" package.
Priced from $999 per person, double occupancy, at press time, it includes hotel stays at the InterContinental Istanbul (or similar hotel) and touring of top attractions including the Spice Market. Here's the "Iconic Istanbul" package information. At press time, this pre-cruise package started at $999 per person, double occupancy.
Alternatively, Oceania offers one- to three-night, pre-cruise hotel stays for independent travelers. The line uses the Four Seasons Hotel Sultanahmet or InterContinental Istanbul.
Cruising Away
As for the "Greek Isles and Turkish Riviera" cruise itself, the 648-passenger Sirena will sail to other ports within Turkiye and the Greek Isles.
In Greece, guests can sip and savor at a winery tasting overlooking Santorini's caldera. Or, they can stroll through the ancient Greco-Roman ruins of Ephesus during a port call at Kusadasi, Turkey.
At press time, cruise fares started from $2,099 per person, double occupancy, for an Inside Stateroom to $9,799 per person, double occupancy, for the extravagant Owner's Suite.
Top Istanbul Attractions: #7 – Basilica Cistern
Constructed by Justinian I during the days of the Byzantine Empire, Basilica Cistern is the largest of several hundred freshwater cisterns that lie beneath Istanbul.
Once the cisterns were fed by a complex series of aqueducts more than 37 miles long. From this blogger's perspective, it's a fantastic "under-the-city discovery" for travelers.
Considering the lack of modern machinery at the time of its construction, this cistern is an engineering marvel. The first time The Meandering Traveler viewed this cistern, we were blown away in viewing its spectacular columns (336 in all) and cathedral-like ceilings.
The cistern just reopened in 2022, after being closed for updating.
Two Columns with Carved Medusa Heads
Be sure to check out the cistern's northwestern corner. There you'll discover two large columns supported by large carved Medusa heads. They date from Roman times.
Opening hours for the Basilica Cistern are usually 9 a.m. to 10 p.m. and the cistern is closed on religious holidays. Admission is 300 Turkish lira or about $15.50 U.S.
If you want "a blast from the past" before traveling to Istanbul, check out the 1963 James Bond film, "From Russia with Love," starring Sean Connery. Some scenes were filmed at the Basilica Cistern.
In addition, other movies scenes were filmed at this cistern during the film adaptation of Dan Brown's thriller "Inferno," starring Tom Hanks.
Top Istanbul Attractions: #8 – A Bosphorus Cruise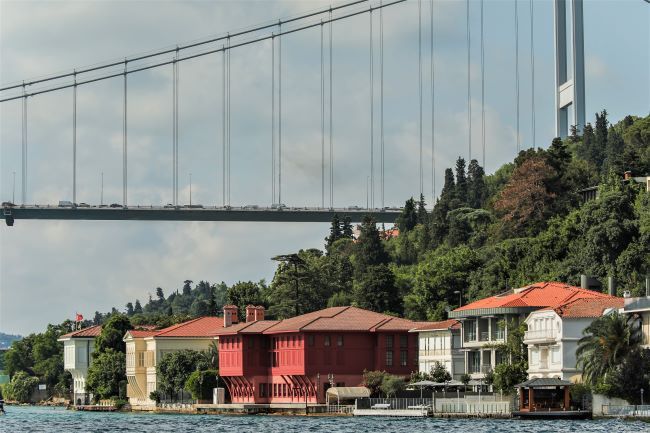 It never gets old. That's how we'd aptly describe any opportunity to cruise the Bosphorus. Each time, travelers seem to find something new. Yet, the ancient sites and cityscapes impress all over again too.
As a cruise fan, we also find the water traffic and diversity of ship sizes fascinating – from tiny boats to huge tankers.
Setting sail in the evening is akin to a fairytale-like experience. It's lovely to gaze at the illuminated Suleymaniye Mosque, Galata Tower, Aya Sofya (Hagia Sophia), along with the majestic walls of the Topkapi and Dolmabahce Palaces.
Typically, these cruises operate between 7 a.m. and midnight. Bosphorus cruise tour admissions vary based on cruise length, but are generally a good bargain. Ask your hotel concierge, escorted tour guide, or cruise shore excursion office about the options.
Post-River Cruise Option
Many upscale cruise lines offer ocean voyages that sail from Istanbul. Another way to see the city? AmaWaterways' guests sailing on the "Gems of Southeast Europe" itinerary on the Danube River can also opt for an "add-on package." That consists of a two-night pre-cruise stay in Vienna and a three-night post-cruise stay in Istanbul.
Guests can select from multiple dates in 2023 and 2024. For example, one "Gems of Southeast Europe" voyage departs March 18, 2024; that sailing is a designated wine cruise. Cruise fares start at $2,999 per person, double occupancy.
But those who've added on the package will check in and begin their vacation March 16 in Vienna. Then on the 18th, they'll board the 160-passenger AmaVerde for a cruise to Giurgiu, Romania. At the end of the cruise, guests will be transported to Bucharest, Romania. There, package guests will board an included air flight to Istanbul.
The Istanbul post-cruise package includes three hotel nights plus other perks including a tour of the Topkapi Palace. A separate, included Istanbul walking tour will provide entry to Hagia Sophia, the Blue Mosque and the Grand Bazaar. That add-on package is priced from $2,679 per person, double occupancy.
Top Attractions: #9 – Dolmabahce Palace 
While Istanbul's Dolmabahce Palace isn't as old as many other Istanbul landmarks, it's a top draw for its over-the-top, 19th century design, art and architecture.
It's also very big with more than 280 opulent rooms, some 40 halls, and six hammam complexes. Flora lovers can admire the palace's extensive gardens, while at the same time, enjoying amazing Bosphorus views.
Opening hours are 9 a.m. to 6 p.m. It's closed on Mondays and religious holidays. Admission at press time was 450 Turkish lira or about $23.
A 15-Minute Walk 
It's just a 15-minute walk from the Shangri-La Bosphorus to the Dolmabahce Palace. What's good to know is that the hotel is used by Seabourn as part of its pre-cruise, three-night "Istanbul and Cappadocia" package.
Priced from $3,099 per person, double occupancy, that package explores both Istanbul and Cappadocia. Then Seabourn's guests will board their cruise ship with a choice of nine different voyages.
Variety is a plus. Seabourn's itineraries to/from Istanbul vary sizably in length as they take guests to Greece, Turkey and the Holy Land. "For cruise departure dates now through October 2024, guests can choose from nine different cruises from Istanbul that are combinable with this pre-cruise package," according to Shelby Steudle, president, Pavlus Travel.
"So, be sure to talk with your personal travel planner about all the options and what length of cruise you prefer for your vacation," she advises. For example, combining the three-night Seabourn pre-cruise stay with a seven-night Seabourn cruise creates a 10-night vacation. "But other ultra-luxury voyages that the line operates from Istanbul can extend two or three weeks or even longer," she notes.
Top Istanbul Attractions: #10 – Istanbul Modern
Travelers preferring a more modern twist to the Istanbul experience should consider visiting Istanbul Modern. Founded in 2004, it's a fabulous, contemporary art museum that showcases the works of prominent and emerging Turkish artists.
Culturally speaking, Istanbul's contemporary art scene is hot right now. This is definitely a great way to dive right in.
The museum's permanent exhibition, "Modern Experiences," showcases the development of painting from the 19th century Ottoman Empire through the 1940s Turkish Republic.
Upcoming Move
Good to know? Founded in 2004, the museum is in the process of moving into a new building, situated at the museum's original location in Karakoy.
The structure's new design is by Pritzker prize-winning architect Renzo Piano. He's the mastermind of design for numerous international museums and art institutions, among them Centre Pompidou, the Whitney Museum, Centro Botín and Beyeler Foundation Museum.
Given the upcoming move, it's best to check the Istanbul Modern's website at the time of your visit for opening hours, admission fees and whether the new building is open as yet.   
Another Luxury Cruise from Istanbul
Desire to explore exotic Istanbul, but need more time to plan your vacation? Here's one ultra-luxury option. Silversea Cruises' 596-passenger Silver Dawn will sail an 18-day voyage from Istanbul to Lisbon, Portugal, on March 16, 2025.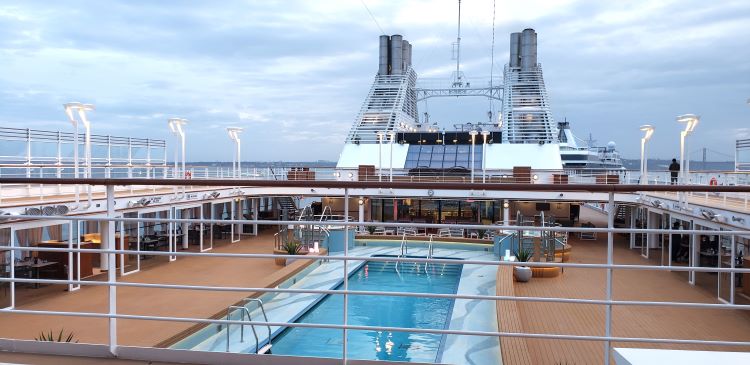 What's nifty is that guests will stay overnight on the ship in Istanbul on embarkation day. Plus, the ship will also remain in port the following day until 11 p.m. So, depending on their flight schedule and time of arrival, guests could have nearly two days to explore Istanbul — without even adding any desired pre-cruise hotel stay.
At press time, this luxury voyage was priced starting from $11,800 per person, double occupancy. Visit this Silversea page to see details of the extensive Mediterranean region itinerary, accommodations and more.
Pavlus Travel's Steudle also recommends that travelers consult with their personal travel planner to assist with questions or booking this ultra-luxury vacation.
More Istanbul Attractions  
Of course, the above 10 attractions, sites and experiences are just our assessment. Travelers also might tour other historic sites, climb up the Galata Tower or watch "Whirling Dervishes." 
The Whirling Dervishes as a "religious ceremony" began with Jelaluddin Rumi (1207-1273), a mystical poet and Sufi master, called Mevlana. Sufis seek a close relationship with God, and for Mevlana that occurred through chants, prayers, music and a whirling dance.
In Istanbul, it's possible to witness this ceremony at several spots. One highly popular is Hodjapasha, a 15th-century bathhouse (hamman) that's now a cultural center.
Its acoustics are what make the ceremony better here than in some other spots in Istanbul. Advance ticket purchases (see the link above) are necessary as the shows sell out quickly. The per person cost is $37.
New in Istanbul
Certainly, one of the delights of Istanbul is its cuisine. If you're going to be in the city for a few days prior to your cruise or tour, or arriving on a ship with an overnight call, check out the latest and greatest picks by the Michelin guide. Click on this Gastrocity link to see the full line-up of savory options.
If you're seeking a luxury hotel stay, perhaps arriving a few days early for your cruise or tour, or alternatively on an independent stay, there's a newly opened option — the waterfront Peninsula Istanbul.
Nestled along the Bosphorus, it's the latest luxury entrant in the city's revitalized Galataport. This hotel encompasses four buildings, three of them historic.
The Peninsula Istanbul offers 177 rooms and suites with marble-clad bathrooms, Turkish design touches and modern amenities.
Multiple dining venues on site focus on international, Turkish, Asian, and Mediterranean cuisine. An outdoor pool lies along the Bophorus. At press time, rooms started at $705 per night.
Pre-Cruise Stay
For example, the Peninsula Istanbul is one option to consider for a luxury pre-cruise stay. A traveler could then combine that with, for example, Regent Seven Seas Cruises' 10-night "Grandeur in the Greek Isles" itinerary.
Departing on June 11, 2024, that voyage will operate from Istanbul to Athens (Piraeus) voyage. One highlight? Guests will sail on RSSC's latest and greatest vessel, the 732-passenger Seven Seas Grandeur, launching in late 2023. Fares at press time started at $12,299 per person, double occupancy.
We hope you've enjoyed our picks for Top Istanbul Attractions. But, of course, you may have your own favorites too!
For more suggestions on what to do and see in Istanbul, check out these resources: Istanbul GoTurkiye and GoTurkiye.
We hope you enjoy thinking about future travel options that might include exotic Istanbul. From our side, we're ready to go back soon!