For the first time ever, a European river line will sail year-round on the continent. Doing the honors is Viking River Cruises, which just announced wintertime — December 2023 through March 2024 — sailings on the Rhine River.
Making Viking a 365-day-a-year operation in Europe is the new 10-day "Treasures of the Rhine" itinerary. Travelers will sail between Amsterdam, The Netherlands, and Basel, Switzerland.
Floating along storied destinations and stunning scenic beauty, guests will sail on either the Viking Tialfi or Viking Alruna. Both are 190-passenger Viking Longships. At press time, fares started at $1,999 per person, double occupancy.
More Flexibility
River cruisers will have more flexibility in their vacation timing. Another perk? "Traveling in January or February, guests can still immerse themselves in local culture, heritage and cuisine along the Rhine, yet often do so without crowds," emphasizes Shelby Steudle, president, Pavlus Travel.
"In many cases, travelers will gain easier access to iconic landmarks and museums," adds Steudle. "Yes, the weather is cooler, but for folks who like that, it's a new opportunity for touring during an off-peak period."
"Treasures of the Rhine"
Typically, European river cruises don't operate in January and February. So, why is Viking taking this step to go year-round?
"The Middle Rhine is one of our most popular destinations—with constantly changing views of hilltop castles, historic towns and terraced vineyards along the steep valley sides," says Torstein Hagen, chairman of Viking. "It is a region that will always be best explored by the river."
Hagen says that many guests have sailed the Rhine during the other seasons. "So, we're pleased to offer a new option for those who may be interested in experiencing Europe during a quieter time of year," he emphasizes.
During this voyage, travelers will view everything from turreted fortresses to grand cathedrals, Medieval towns, cascading vineyards and lovely scenery. 
Viking River Destinations
If guests choose the northbound option, for example, their river cruise will begin in Basel, Switzerland, with an overnight stay there.
Then, it's on to Breisach, Germany, the gateway to the Black Forest. One of Germany's warmest areas, it's across the river from French Alsace. The region is a wine lover's delight. Breisach itself is home to Europe's largest cellars — which can store more than 160 million liters of wine.
Next, the voyage heads for Strasbourg, France, the perfect spot to sample Alsatian cuisine. One touring highlight is to pop into the lovely Strasbourg Cathedral.
With a romantic setting around an old bridge and castle, Heidelberg, Germany, is home to the famed Heidelberg University. Guests can also explore Mainz, Germany.  One touring option? We'd head for the fascinating Gutenberg Museum of Printing.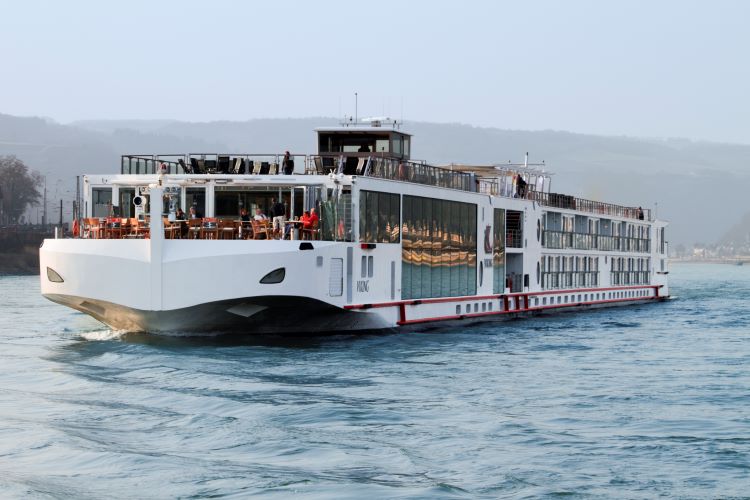 More Viking River Port Fun
As cruisers sail the Rhine River, they'll gaze at vineyards dating from Roman times. Yes, you can expect plenty of wine-tasting opportunities in this region, a UNESCO World Heritage Site. In addition, foodies can indulge themselves in Alsace's tasty cuisine.
The river vessel will also call at Cologne, Germany, where it's rewarding to drop into the Cologne Cathedral. Construction began in 1298, and thankfully, that magnificent cathedral miraculously survived World War II; yes, it had damage but it's truly resplendent today.
In writing this blog, we came across this fascinating story from the National World War II Museum in New Orleans. It's worth "a quick read."
If you go, here's a brief snapshot of what you'll find aboard a Viking Longship. Hosting 190 guests in 95 staterooms, both Viking Tialfi and Viking Alruna offer a range of stateroom categories.
Again, the pricing at press time started at $1,999 per person, double occupancy; all prices are subject to change.
Among the luxurious options are two-room suites with full-size verandas. For the January 31, 2024, departure date, those 455-square-foot Explorer Suites started (at press time) at $5,999 per person, double occupancy. Fares are subject to change.
"Talk with your personal travel planner to find the perfect accommodations that fit your style of travel and budget," notes Pavlus' Steudle.
As for design and decor, in a nod to the owner's heritage, the ships feature elegant, Scandinavian design. Guests will enjoy an onboard restaurant, bar and lounge, library and an expansive sun deck.
In particular, The Meandering Traveler hears often from past Viking guests who absolutely love the Aquavit Terrace. It's a great spot for spectacular river views and al fresco dining.
On the sustainability side, Viking Longships have energy-efficient hybrid engines, solar panels and an onboard organic herb garden.
Potential for More Winter Cruises? 
While Viking will sail year-round only on the Rhine River, it's an inkling of what may be ahead for future river vacations in Europe. It's something to watch in the river cruise industry as 2023 progresses.
So, if you're interested in booking a Rhine voyage this coming winter, check out the upcoming "Treasures of the Rhine" departures. They begin in December 2023 and run through early March 2024.
Voyages are either northbound or southbound on the Rhine. Again, fares at press time started at $1,999 per person, double occupancy; fares are subject to change.
Viking River Savings: 25th Anniversary Sale
Beyond the wintertime Rhine sailings, Viking simultaneously announced 20 more Christmas Markets voyages in Europe.
One perk that may apply for those who book in the next few days? Talk to your travel advisor, as now through May 31, 2023, Viking is offering its 25th Anniversary Sale for residents of the U.S. and Canada.
That means a $25 deposit and such perks as special savings on all 2023-2025 river voyages and free airfare. Also ask about any added discounts or amenities the travel agency itself might offer.
So, contact your your professional travel advisor today. Europe awaits!
Important Information from Pavlus Travel
If anything tweaks your interest in this blog and you'd like to talk about a future vacation, please DO call us at 800-528-9300.
Definitely, if you have questions about specific pricing, brochures, savings, itineraries, dates of travel, accommodations, accessible options and so on, please contact us.
Again, call us at 800-528-9300 or visit and "live chat" at Pavlus Travel's official agency Web site.